Even though Onelife Fitness is a relatively small gym chain, it's made a name for itself in the mid-Atlantic and southeastern regions of the US.
While I was traveling recently, I visited Onelife Fitness in Olney, MD to find out if a membership is worth it.
So, is a Onelife Fitness membership worth it? A Onelife Fitness membership is worth it. At most locations, you can find a variety of equipment that caters to different styles of training. The facilities are clean and the staff is friendly and knowledgeable. You also get access to some nice amenities and a lot of group classes for a reasonable monthly fee.
Keep reading to find out why I enjoyed Onelife Fitness so much and why I'd recommend it to almost everyone.
In this article, I'll also talk about:
My Experience Working Out At Onelife Fitness
The Olney, MD location just opened in 2021, so everything is still clean and in good condition. The staff is polite and friendly. Some of the personal trainers were walking around the gym floor even though they weren't working with clients, but they didn't interrupt anyone who was working out.
The cardio machines are all at the front of the gym. There's a turf area off to the side that has a couple of resistance machines on it but still has enough room for bodyweight workouts or some CrossFit WODs. A recovery room with massage chairs, the group fitness studio, a yoga studio, and the personal training office can also be found off to the side.
The resistance machines and free weights are all at the back of the gym. Everything is spaced far apart so even if the gym is crowded, you still have room to lift.
There are a couple of squat racks and lifting platforms in one secluded corner and even more in a back room on the other side of the gym. I liked this because you can focus on your squats or deadlifts without getting distracted by other people walking around.
The Olney, MD location also has a second floor with another turf area. This area has rowers, a ski erg, and a wide selection of functional training equipment.
Even though the Olney location is new, it gets crowded, especially in the evenings. But given how large it is, you can likely always find something to do even during its busiest times.
When I was there, there was a mix of people from all age groups. Some members stayed on the cardio machines but there were also several members in the weight room. A few teenagers hogged some of the machines and stood around talking the entire time, but I just stayed away from them. For the most part, everyone minded their own business.
I also appreciated that the members were good about wiping their equipment when they were done and reracking their weights, which can be rare to find in a large gym!
If there was a location closer to where I live, I would purchase a Onelife Fitness membership. I was impressed with how clean and organized the gym is, though that's to be expected for a gym that's only a few months old! Still, it was a great place to work out and from what I've seen, other locations that have been open longer are just as nice.
It's important to remember that this review is based on my experience at the Olney, MD location. Other locations may have different types of equipment, different amenities, and cater to a different audience. I recommend calling a location near you if you have questions or visiting one of the clubs to see how you like it.
Onelife Fitness: Pros & Cons
Onelife Fitness gyms have a lot of good qualities, but there are some drawbacks as well. Below are some of the pros and cons of this gym.
Pros
The prices are reasonable for all of the amenities you get access to. Other gyms with similar amenities can cost $10 or more per month. Onelife is a good gym for people who are looking for a nice place to work out without spending a lot of money.
Onelife Fitness has a lot of high-quality group classes. Classes at Onelife are offered all day long, and there's a large variety of them. Members also speak highly of the instructors and how positive and motivating they are. A couple of classes cost extra, but the majority of them are included with your membership.
Onelife Fitness clubs tend to be clean and the equipment is well-maintained. Onelife has a good reputation for keeping its facilities clean and making repairs quickly if the machines break.
Cons
Onelife Fitness is only in a small geographic area. Onelife Fitness is only in Georgia, Maryland, Missouri, Virginia, West Virginia, and Washington D.C. I wish it would expand further north because I loved working out there!
Onelife Fitness has high initiation fees (though you can save money if you join during a promotion). Initiation fees at Onelife Fitness can cost as much as $99. I'd recommend waiting until they're running promotions for discounted initiation fees if you're interested in joining.
How Much Does A Onelife Fitness Membership Cost?
The membership options at Onelife Fitness are pretty similar across all clubs. Exact prices may vary by location, but to give you an idea of what you can expect to pay, I provided the prices for the Olney location below.
Onelife Olney Basic
This plan costs $39.99/month plus taxes. The one-time initiation fee costs $249, but if you join during a seasonal promotion, the fee can cost as little as $19.
This membership includes:
Two Smart Start training sessions
Boutique and group fitness classes
Guest passes
Indoor saltwater pool
Locker room access
Access to the mind/body and cycling studios
Access to all strength and cardio equipment
Onelife Olney Premier
This plan costs $49.99/month plus taxes. The initiation fee is normally $149 but can cost as little as $9 if you join during a promotion.
With this plan, you get everything in the Basic plan plus:
15% off beverages
15% off the pro shop
Access to the HydroMassage beds
Monthly body composition analysis
One week free trial of small group training
Access to the Onelife Anywhere digital platform
Towel service
Annual Fees
Onelife Fitness charges all members an annual club enhancement fee of $39 every April 1st. This fee goes towards upgrades to the facilities and equipment and hiring of new staff members when it becomes necessary.
Planet Fitness made our list of Best Gyms For Seniors. Check out why we recommended it and who else made the list.
Special Discounts
Some Onelife Fitness locations offer discounts for college students, military personnel, and seniors. Before you join, I recommend asking the staff about these discounts if you think you may be eligible.
Onelife Fitness also has a corporate wellness program. If your employer participates in this program, you can save $5 or more per month on your membership.
Looking for a gym that offers free passes or trials? Check out our detailed guide: 14 Gyms With Free Passes & Trials.
Free Trial
On the Onelife website, you can sign up for a free trial pass that's good for five days.
If you're a student, membership costs might be cheaper. Check out our article Best Gyms For College Students.
Gym Equipment
At Onelife Fitness, you'll find equipment from most of the top fitness equipment suppliers. The Olney location has about two dozen treadmills from Precor and Freemotion Fitness and about a dozen elliptical machines from Precor and Octane Fitness.
You'll also find about a half dozen stationary bikes from Precor, a couple of Life Fitness and Freemotion spin bikes, and step climbers in the cardio area.
Most of the resistance machines at Onelife Fitness are from Precor and Life Fitness. You can train every body part with the variety of machines that are available. There are even two of some machines, which reduces your chances of having to wait or work in with someone else if the gym is busy.
The turf area on the first floor has a small selection of hex dumbbells as well as TRX bands, slam balls, medicine balls, and resistance bands.
In the free weights area, you'll find plenty of flat and incline benches, three bench press stations, round dumbbells that go up to 100lbs, and cast-iron kettlebells that range from 9lbs to 88lbs. There were also EZ curl bars that went up to 90lbs.
Onelife Fitness has XD bumper plates that go up to 45lbs as well as 5lb, 10lb, 25lb, and 45lb hex plates. I've heard of some locations that have safety squat bars and chains, but I didn't see any at the location I visited.
In the functional training area on the second floor, there are a couple of Concept 2 rowers, a ski erg, two Assault Air Runners, sleds, battle ropes, plyo boxes, and Strongman-style log bars. There are even more kettlebells, slam balls, and medicine balls in this area.
Does Onelife Fitness Have Squat Racks?
Onelife Fitness has squat racks. The location I visited has two racks and three power cages, but other locations may have more or less.
Does Onelife Fitness Have Deadlift Platforms?
Onelife Fitness has deadlift platforms, but the exact number of platforms at each club may vary. The Olney, MD location had one deadlift platform and four Olympic lifting platforms.
Special Features & Amenities
For a reasonable price, Onelife Fitness has a decent array of amenities. They may vary by club, but for the most part, you can find the same amenities at the majority of Onelife locations.
Does Onelife Fitness Have a Pool?
Onelife Fitness has an indoor saltwater pool.
Want our full list of gyms with pools? Check out our guide: 10 Best Gyms With Pools, Saunas, & Hot Tubs.
Does Onelife Fitness Have a Sauna?
Onelife Fitness has a sauna.
Does Onelife Fitness Have Showers and Locker Rooms?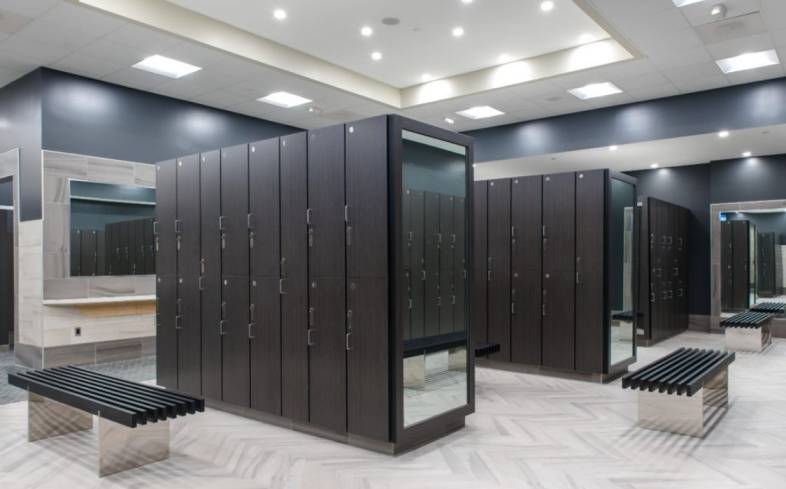 Onelife Fitness has showers and locker rooms. If you have a Premier membership, you also get towel service for free.
Want our full list of gyms with showers? Check out our guide: 18 Best Gyms With Showers (Cleanliness & What's Included).
Does Onelife Fitness Have a Basketball Court?
Not all Onelife Fitness locations have basketball courts, but many do. A lot of clubs also have racquetball courts.
Does Onelife Fitness Have Childcare?
Onelife Fitness has a Kids Club for children up to 11 years old. You have to pay an extra $17/month in order to use it.
Want our full list of gyms with childcare? Check out our guide: 12 Best Gyms With Childcare (What To Expect, Rules, Cost)
Does Onelife Fitness Have Tanning?
Onelife Fitness does not have tanning booths.
Want a gym with tanning? Check out our guide: Best Gyms With Tanning (What's Expected, Cost, How To Use)
Does Onelife Fitness Have a Yoga Studio?
Onelife Fitness has a yoga studio as well as a small ab/stretching room.
Does Onelife Fitness Have a Smoothie Bar?
Onelife Fitness has a smoothie bar where you can get smoothies, juices, bottled drinks, and protein bars.
Does Onelife Fitness Have Massage Chairs?
Onelife Fitness has HydroMassage chairs, but you can only use them if you have a Premier membership.
Does Onelife Fitness Have a Women's-Only Area?
Some Onelife Fitness clubs have a women's-only workout area.
Does Onelife Fitness Have Group Classes?
Onelife Fitness has a variety of group classes including spinning, yoga, barre, Pilates, Zumba, Les Mills, swimming, and cardio kickboxing. There are also classes for seniors.
Want our full list of gyms with classes? Check out our guide: 11 Best Gyms With Classes
Does Onelife Fitness Have a Cardio Cinema Room?
Many Onelife Fitness locations have a cinema room called the Onelife Cinema. This room has treadmills, stationary bikes, and ellipticals. The cinema rooms at some locations also have rowers and step climbers.
Is Onelife Fitness Open 24 Hours a Day?
Onelife Fitness isn't open 24 hours a day. Most locations are open from 5 AM until 10 PM during the week and 8 AM to 6 PM on the weekends.
Does Onelife Fitness Have Red Light Therapy?
Onelife Fitness does not have red light therapy.
Who Does Onelife Fitness Cater To?
Onelife Fitness caters to people with all kinds of training goals, whether you like to lift weights or you prefer to focus more on cardio and endurance.
Onelife Fitness is an excellent gym for bodybuilders. It has machines for every body part as well as a ton of free weights. If you incorporate steady-state cardio into your routine, you can choose between a variety of cardio machines.
While Onelife Fitness can be a good gym for powerlifters, it's not the best. The only reason I'm hesitant to recommend it for powerlifters is that chalk, grunting, and dropping weights are not allowed. If you can live with that, then Onelife Fitness is a great place for your powerlifting workouts. If it's a dealbreaker for you, you'll have to find a more powerlifting-friendly gym.
Their policy against dropping weights is also a drawback for CrossFitters. There's also a limited amount of barbells, so it may be difficult for you to find a free one during peak hours. There's also no convenient pullup bar option in the functional training areas so it would be hard to do a WOD with pullups, toes-to-bar, or bar muscle-ups.
But if you're willing to get creative and swap out some movements — for example, doing TRX rows instead of pullups or doing dumbbell thrusters instead of barbell thrusters — you can make most CrossFit WODs work.
Since there is a lot of free space throughout Onelife Fitness, you can easily find room to do an HIIT workout with bodyweight movements or lighter weights. You can also do interval training on any of the bikes, treadmills, or elliptical machines.
If you prefer to take a class, there are several HIIT-style classes to choose from. You can take Les Mills GRIT or BodyShred classes as well as high-intensity classes that incorporate tabata training, martial arts, and spinning.
Onelife Fitness also has signature classes called APEX and SPARK. APEX is a functional training class while SPARK incorporates speed and strength drills on the bike.
Less intense classes are also available, such as Zumba, yoga, Pilates, barre, and aqua aerobics. Classes run all day long, so if you like working out in a group, you can usually find something that fits your schedule.
If you're trying to lose weight, Onelife Fitness is a good gym for you. In addition to the classes I mentioned above, it also offers Zone 4 and Explosive Performance classes.
These classes utilize sport-specific and circuit-style training methods to help improve strength, endurance, and flexibility. They cost extra, but many members started taking them in order to lose weight and have achieved good results.
Onelife Fitness offers its members numerous ways to get accustomed to working out and being in the gym. If you've never worked out before, it's a good gym for you because the trainers will take their time to show you around and help you settle into a routine. You'll likely also find a variety of people at Onelife, so you shouldn't have to worry about not fitting in or being judged.
Onelife Fitness also offers one-on-one personal training packages. These packages are great for people who don't know where to start, those who want to switch up their routines, or anyone who needs help achieving a specific goal.
You get two free consultations with a trainer when you join Onelife, and you also have the option to sign up for three one-hour sessions for a discounted rate. I'll talk about the personal training packages at Onelife in more detail below, but if you're interested in them, you'll find that they're reasonably priced.
Specific Information For Women
I mentioned earlier that some Onelife Fitness locations have women's-only workout areas. These areas have a small number of cardio machines and a few resistance machines, but the free weight options are quite limited. However, if you're not comfortable working out in front of men, you can get an effective workout in the women's-only area.
If your local Onelife doesn't have a women's-only section, I don't think you should feel uncomfortable working out in the main area of the gym. When I was at the Olney location, nobody bothered me and the other members seemed to be respectful of each other.
But if you do happen to see someone who's doing something inappropriate, don't be afraid to stand up for yourself and speak to the staff if you're uncomfortable.
Onelife Fitness Policies
Re-Opening Policy & What Happens To Membership In A Lockdown?
Due to COVID-19, Onelife Fitness has trained its existing staff members or hired new staff members to clean the facilities several times throughout the day. They wipe down high-touch surfaces frequently and do a deep clean of the entire gym overnight.
The machines are either spaced far apart or blocked off so members can stay at least six feet apart. Onelife locations also have airPHX machines, which have the ability to sanitize both the air and hard surfaces, and hospital-grade disinfectants.
All Onelife locations have implemented a 15-minute buffer period in between their group classes to allow extra time for cleaning after each class. At some clubs, the classes are also limited to 10-15 members.
When we first went into lockdown in 2020, Onelife Fitness automatically froze all of its memberships. Once gyms were allowed to reopen, members had the option to extend their freeze periods if they weren't comfortable going back to the gym. If we have to go into another lockdown, I think it's likely they would do this again.
Policy On Dropping Weights, Grunting, & Chalk
Dropping weights and using chalk are both not allowed at Onelife Fitness. I can understand why chalk isn't allowed, but not being able to drop weights seems silly to me since there are bumper plates and lifting platforms. But there are signs by the squat racks asking members to avoid both.
Excessively loud grunting is also not allowed. There are signs throughout the gym warning members about this as well.
Cancellation Policy & Contract Length
Onelife Fitness's contracts are 12 months. You can cancel your membership at any time. But unless you're canceling for a medical reason or moving somewhere that doesn't have a club within 25 miles, you'll have to pay three months' worth of dues.
Once your 12-month term is over, you can cancel at any time, for any reason, with 30 days' notice.
To cancel your membership, you can send an email or mail a letter via certified mail to Onelife Fitness's corporate headquarters. They don't accept verbal cancellation requests.
You can also temporarily freeze your membership. Onelife will allow you to make your membership inactive for a minimum of three months. You'll have to submit a doctor's note to verify you have an injury, illness, or another medical issue that prevents you from working out.
Guest Policy: Can You Bring A Friend or Wife/Husband?
You can bring a friend or family member with you to Onelife. You'll have to pre-register them as a guest and send them an invitation from the website.
Pet Policy: Can You Bring Your Dog To Workout?
Only certified service dogs are allowed inside Onelife Fitness.
Are Onelife Fitness Memberships Transferrable?
Onelife Fitness memberships cannot be transferred to another individual.
If you want to transfer your home club to another location, I recommend asking a staff member about their transfer policies. You may have to pay a small transfer fee, and your new monthly rate will reflect the current rates at your new club.
Does A Onelife Fitness Membership Work Anywhere?
Onelife Fitness memberships are only valid at the location where you signed up. You can't use them at other clubs, but you can do virtual workouts from the Onelife Anywhere platform if you're traveling.
Is There A Dress Code?
There is no strict dress code at Onelife Fitness, but everyone is expected to use common sense when dressing for the gym. So this means no extremely baggy clothing, unsafe footwear, or clothes with metal grommets or decorations that can get caught on the machines. Men must wear shirts at all times, but women are allowed to just wear sports bras or crop tops.
If you prefer to squat or deadlift barefoot, I recommend calling your local Onelife club. Some clubs require members to keep their shoes on at all times.
Can My Child Work Out At Onelife Fitness?
Children who are at least 11 years old can use the gym equipment at Onelife Fitness as long as they are accompanied by an adult. Children under the age of 11 are only allowed on the gym floor if they're working out with a personal trainer.
Is Onelife Fitness Personal Training Worth It?
Whether or not a personal training package at Onelife Fitness is worth it is a personal decision. It depends on your goals and training history and whether you're a self-disciplined person or need more accountability.
Like the trainers at most gyms, Onelife's personal trainers must have certifications from an accredited institution. Although many trainers have college degrees, it's not required.
Onelife trainers are also not required to have previous personal training experience, so you may be working with a brand new trainer. That's not necessarily a bad thing, but if you prefer to work with someone who has a more established career, I recommend talking to the staff to ensure you're matched with an experienced trainer.
When you join Onelife Fitness, you can sign up for the Smart Start program for free. This program includes two one-hour sessions with a trainer so you can learn how to use the equipment, discuss your fitness background with a professional, and have a customized training plan created for you.
At the beginning of this program, a trainer will also weigh you and take your measurements. You'll then be able to schedule a complimentary follow-up 30 days later to see how much progress you've made.
I think the Smart Start program is a great deal since most gyms only offer one one-hour session for free with your membership. If you're new to fitness, I'd recommend taking advantage of this program so you can establish a baseline and have something to work towards.
When you join, you also have the option to sign up for three personal training sessions for a total of $99. After that, you can sign up for ongoing 30- or 60-minute sessions. The cost of a personal training package varies by location, but it's usually around $100/month. This is a better deal than the packages at a lot of other gyms, which often start at $60/session.
From what I've heard, Onelife treats its trainers well. This means you'll be more likely to work with someone who's happy with their job and will be more willing to put in extra effort to help you reach your goals.
As such, if you're interested in signing up for one-on-one training and you have the budget, I'd recommend signing up for a personal training package at Onelife.
Want our list of gyms with a personal trainer? Check out our guide: 9 Best Gyms With Trainers (And, How Not To Get Ripped Off)
Tips For New Members
1. It Makes More Sense Financially To Sign Up for the Premier Plan
Unless you sign up during a promotion, you'll have to pay high initiation fees. And even though the Basic plan is cheaper per month, when you add a $249 initiation fee on top of that, you'll end up spending almost as much money as you would if you bought the Premier plan.
Let's do the math:
Basic plan: ($39.99 x 12 months) + $249 initiation fee = $728.88
Premier plan: ($49.99 x 12 months) + $149 initiation fee = $748.88
So for just $20 more, you get access to more amenities, discounts at the smoothie bar and pro shop, and access to the Onelife Anywhere digital platform.
2. You Can Save an Additional $5/Month by Having Onelife Withdraw Monthly Payments From Your Bank Account
Many gyms only allow funds to be withdrawn from members' bank accounts through ACH, but Onelife also offers the option to sign up with a credit card. However, you'll save an additional $5/month by choosing checking account withdrawal as your primary form of payment.
It's not much, but that extra money can add up over time, especially if you remain a Onelife member for several years.
3. If You Want To Cancel Your Membership, Do So Between the First and Twenty-Fifth of the Month
Once your initial 12-month period is over, you can cancel your membership at any time for any reason. I recommend doing it between the first and twenty-fifth of the month. If you submit your cancellation request after that, you'll have to pay for an extra month since Onelife processes all of its payments around the twenty-sixth of the month.
Also, keep in mind that you have to give them 30 days' notice when you cancel, so it's best to plan ahead to ensure you're not charged for even more time afterward.
Onelife Fitness Complaints
All chain gyms have complaints about how difficult it is to cancel memberships, but Onelife Fitness has an exceptionally large number of them.
Some members are surprised to learn that their contracts are for 12 months and not month-to-month. If they try to cancel before 12 months is up, they get upset when they realize they have to pay an outstanding balance. This information is covered in the membership agreement though, so I recommend reading it carefully when you join.
There are also many complaints about Onelife continuing to charge members who followed the cancellation instructions properly and received confirmation that their requests were submitted carefully. You'll want to get written confirmation when you submit your cancellation request and keep an eye on your bank or credit card statements for a few months after you cancel.
Some members have also complained about Onelife temporarily closing some of their amenities without giving them a heads up. However, from what I've seen, this doesn't happen frequently and unless something needs major repairs, the amenities may only be unavailable for a day or two.
Alternatives to Onelife Fitness
If you decide that Onelife Fitness isn't the right gym for you, or if you live in an area that doesn't have one, you may want to consider one of the alternatives below.
1. World Gym
World Gym is one of my favorite chain gyms that I've visited over the past few weeks. It has a lot of cardio machines and group classes, but because of its large number of free weights and squat racks, it caters to powerlifters and Olympic weightlifters.
But even if you've never touched a barbell before, you'll feel comfortable at World Gym. The members are friendly and inviting, the gym is spacious and clean, and the membership plans are affordable.
Check out our complete review of World Gym
2. LA Fitness
LA Fitness isn't the fanciest or most modern gym around, but it's far from the worst. For about $35/month, you have access to cardio and strength training machines, free weights, a swimming pool, basketball courts, and saunas.
LA Fitness has more than 700 locations in the US, so if you travel a lot, it may be a good gym for you. You can use your membership at nearly every other club in the country.
Check out our complete review of LA Fitness
3. 24 Hour Fitness
Like Onelife Fitness, 24 Hour Fitness has squat racks, lifting platforms, and high-quality barbells and plates. It's a bit more expensive than Onelife, but price-wise, it still falls in the range of a mid-tier gym.
24 Hour Fitness has a pool, group classes, saunas, a pro shop, and basketball courts. In addition to the wide range of amenities, it's also a good gym for people who want access to a gym outside of standard operating hours.
Check out our complete review of 24 Hour Fitness
Other Gym Reviews
Onelife Fitness Gym Comparisons
Final Thoughts
Onelife Fitness is a good gym for almost everyone because of the large amount of equipment and amenities you have access to for a reasonable monthly fee.
The biggest drawback is that Onelife Fitness is only available in a small geographic area in the US. But if you have a club near you, I recommend checking it out.
---
About The Author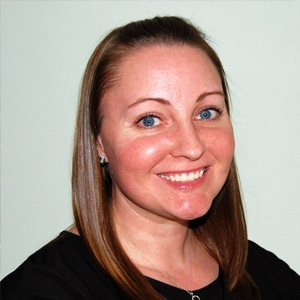 Amanda is a writer and editor in the fitness and nutrition industries. Growing up in a family that loved sports, she learned the importance of staying active from a young age. She started CrossFit in 2015, which led to her interest in powerlifting and weightlifting. She's passionate about helping women overcome their fear of lifting weights and teaching them how to fuel their bodies properly. When she's not training in her garage gym or working, you can find her drinking coffee, walking her dog, or indulging in one too many pieces of chocolate.