Owned by Equinox, Blink Fitness is the luxury gym's solution for budget-conscious individuals who still want a high-quality place to work out.
I recently visited Blink Fitness in Parsippany, NJ to determine if a membership is worth it.
So, is a Blink Fitness membership worth it? A Blink Fitness membership is worth it for almost everyone. Blink Fitness caters to people who prefer cardio workouts, but it has squat racks, barbells, and plenty of free weights as well. The only people who won't fare well at Blink Fitness are those who like group classes because it only offers virtual classes.
Keep reading to find out why I recommend Blink Fitness for the majority of people regardless of your training goals.
In this article, I'll also discuss:
My Experience Working Out At Blink Fitness
The first thing I noticed about Blink when I walked into the Parsippany, NJ location was how bright and shiny it was — but not in an obnoxious way. The bright colors were subtle and gave the gym an uplifting, energizing vibe.
The guy at the front desk who checked me in was very friendly and outgoing. He gave me a tour of the gym and assured me that I could ask him or any of the trainers if I needed help with any of the equipment. Out of all of the gyms I've visited, he was one of the nicest employees I've encountered.
This Blink Fitness was small, but the equipment is spaced out enough so you have room to do your workout without feeling cramped. The cardio machines are all on one side of the gym and the free weights and resistance machines are on the other. In the back corner is a stretching/ab area that also has some functional training equipment.
The members who were there when I visited were young adults in their 20s and 30s. This gym is an area where a lot of business corporations are headquartered, so it's common to see young professionals there, especially in the mornings and evenings.
The clientele at this location appeared to be mostly people who like to work out for fun, but there was an equal amount of members using the cardio machines and the free weights.
Overall, the atmosphere was pretty laidback. The members minded their own business and focused on their own workouts. Some of the trainers lurked around the gym floor, but they didn't get in anyone's way.
This location is the busiest in the evening so you may have to wait for a squat rack or bench press station to become available. However, you can usually find open cardio and resistance machines even when it's crowded.
I would purchase a Blink Fitness membership. I liked the large variety of equipment and how welcoming the staff was. And because most of the other members were about the same age as me, I felt comfortable working out there. Blink doesn't have the same kinds of amenities or group classes as other gyms, but those aren't dealbreakers for me.
Keep in mind that this review is based on my experience at the Parsippany, NJ location. Each club will have different types and quantities of equipment and cater to a different audience. I recommend calling your local Blink club if you have questions or dropping in to test it out.
Blink Fitness: Pros & Cons
Before I get into the full review of Blink Fitness, I think it's important to consider its positive and negative features. Below are some of Blink's pros and cons.
Pros
Blink Fitness memberships are affordable. Whether you only want access to your home club or you want to be able to visit other clubs in the country, Blink Fitness's monthly plans are reasonable.
Blink Fitness is modern and well-maintained. Blink Fitness is one of the nicest gyms in the mid-tier price range I've visited recently. While it doesn't have an upscale marble lobby or bamboo finishes, the decor feels modern and the equipment is high-quality.
Blink Fitness has free Wi-Fi. You can connect to the gym's Wi-Fi so you don't have to waste data while you're streaming music or videos during your workout.
Blink has flexible hours. It's not open 24 hours a day, but most clubs open at 5 AM and close at 11 PM, so it's still convenient for people with busy schedules.
Cons
Blink Fitness doesn't have in-person group classes. Blink doesn't have in-person classes like Zumba or spinning. However, if you have access to premium content on Blink's mobile app, you can take virtual classes.
Levels of cleanliness vary by location. Some Blink Fitness locations are cleaner than others. At any gym, you'll come across a few people who don't wipe their equipment when they're done or who leave water bottles or towels behind. At Blink, these issues seem to be more widespread than at other gyms.
How Much Does A Blink Fitness Membership Cost?
Blink Fitness has three membership plans. The exact costs will vary by location, but I listed the details of each plan at the Parsippany location below.
Gray
This is the most basic month-to-month plan. It costs $15/month plus taxes and fees.
This plan includes:
Single gym access
Free personal training start-up session
Touchless check-in with the Blink app
Blue
This is a 12-month plan that costs $23/month plus taxes and fees.
With this membership, you get everything in the Gray plan plus:
Access to 90+ locations (excludes certain locations in Manhattan)
Unlimited access to premium content on the Blink app
The ability to bring a guest at any time
Green
This is another 12-month plan that costs $27/month plus taxes and fees. It includes everything in the Blue plan, but you also get access to the Manhattan locations.
Annual Fees
Regardless of which membership you buy, you have to pay an annual fee of $54.99.
Free Trial
You can sign up for a one-day free trial pass on the Blink Fitness website.
Additional Discounts
Throughout the year, Blink Fitness offers promotions where if you sign up after the first of the month, you get the rest of the month free.
Depending on when you join, you may also only have to pay $1 for the startup fees, which normally cost anywhere from $49 to $99.
If you're a student, membership costs might be cheaper. Check out our article Best Gyms For College Students.
Gym Equipment
Blink Fitness has a disproportionate amount of cardio machines to free weights. This is true of a lot of gyms, but I noticed it more at Blink than anywhere else.
The Parsippany location had at least 30 ellipticals, close to 40 treadmills, a dozen stationary bikes, and several Concept 2 rowers.
On the other hand, it only had two squat racks and two bench press stations. There were about six other incline and flat benches in the free weights area, though.
The free weights area had Iron Grip dumbbells that went up to 90lbs and Iron Grip hex plates in 10lbs, 25lbs, and 45lbs. There were also sets of bumper plates that went up to 45lbs and Iron Grip straight and EZ curl bars that went up to 110lbs.
The functional training area had battle ropes, medicine balls, resistance bands, and round chrome dumbbells. Members are free to use this equipment as long as a personal trainer isn't working with a client in this area.
Except for the rowers, all of the cardio equipment was from Life Fitness. The resistance machines were also from Life Fitness.
Does Blink Fitness Have Squat Racks?
Blink Fitness has squat racks and/or power cages, but the exact number that each location has will vary.
Does Blink Fitness Have Deadlift Platforms?
Blink Fitness doesn't have deadlift platforms, but you can usually find a spot on the gym floor to do deadlifts.
Special Features & Amenities
As you'll see, Blink Fitness doesn't have a lot of amenities in order to keep its monthly costs low.
Does Blink Fitness Have a Pool?
Blink Fitness does not have pools.
Does Blink Fitness Have a Sauna?
Blink Fitness does not have a sauna.
Does Blink Fitness Have Showers and Locker Rooms?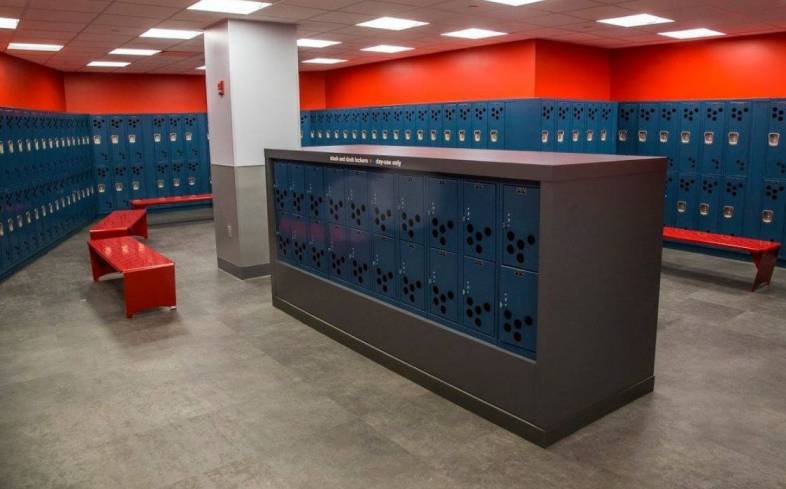 Blink Fitness has showers and changing rooms. However, the lockers at most locations are outside of the changing rooms. They're available for daily use only.
Also, Blink Fitness doesn't have a towel service, so you'll have to bring your own towel with you if you plan on showering at the gym.
Want our full list of gyms with showers? Check out our guide: 18 Best Gyms With Showers (Cleanliness & What's Included).
Does Blink Fitness Have a Basketball Court?
Blink Fitness does not have a basketball court.
Want a gym that has a basketball court? Check out our guide: Best Gyms With Basketball Courts.
Does Blink Fitness Have Childcare?
Blink Fitness does not have childcare.
Want a gym that has a pool? Check out our guide: 12 Best Gyms With Childcare (What To Expect, Rules, Cost)
Does Blink Fitness Have Tanning?
Blink Fitness does not have tanning booths.
Want a gym with tanning? Check out our guide: Best Gyms With Tanning (What's Expected, Cost, How To Use)
Does Blink Fitness Have a Yoga Studio?
Blink Fitness doesn't have a yoga studio, but it has a stretching area on the gym floor.
Does Blink Fitness Have a Smoothie Bar?
Blink Fitness doesn't have a smoothie bar, but you can buy bottled drinks at the front desk.
Does Blink Fitness Have Massage Chairs?
Blink Fitness doesn't have massage chairs.
Does Blink Fitness Have a Women's-Only Area?
Blink Fitness does not have a women's-only area.
Does Blink Fitness Have Group Classes?
Blink Fitness doesn't have in-person group classes. But if you have access to premium content on the mobile app, you can stream virtual classes from anywhere.
Want our full list of gyms with classes? Check out our guide: 11 Best Gyms With Classes
Does Blink Fitness Have a Cardio Cinema Room?
Blink Fitness doesn't have a cardio cinema room, but there are TVs throughout the gym.
Is Blink Fitness Open 24 Hours a Day?
Blink Fitness is not open 24 hours a day.
Does Blink Fitness Have Red Light Therapy?
Blink Fitness does not have red light therapy.
Who Does Blink Fitness Cater To?
Due to the large number of cardio machines, Blink Fitness caters to people who enjoy cardio workouts. People who enjoy HIIT will also likely enjoy Blink Fitness. You can do intervals on the machines or use the functional training area for workouts with weights or bodyweight movements.
Blink Fitness also has a large selection of strength machines, so bodybuilders can easily train each body part. There's also a decent selection of free weights, but the dumbbells only go up to 90lbs, so very strong individuals may feel limited by that.
Because Blink Fitness is more lenient about the use of chalk and dropping weights, it's a good gym for powerlifters. There are several squat racks and benches at each club and the barbells and plates are of decent quality. There are no deadlift platforms, but you can deadlift on the gym floor.
While Blink Fitness isn't the same as a CrossFit box, it has enough equipment for you to do CrossFit WODs. The only challenge may be trying to find a pullup bar close to where you set up the rest of your equipment. But for most workouts, you can swap movements such as bentover rows for pullups or V-ups for toes-to-bar.
Blink offers one-on-one personal training that's good for people who need more guidance and accountability. I talk about the personal trainers in more detail below, but while I don't think they're as good as the trainers at other gyms, they can still be a valuable resource if you need help coming up with a training routine.
The personal trainers can also help you if you're trying to lose weight. They'll be able to create customized training plans for you to help you reach your goals. You can also use Blink's mobile app to find healthy recipes or at-home training ideas so you have no excuse to skip a workout.
If you're a beginner, you'll feel welcome at Blink Fitness. The staff can help you feel at ease if you're nervous about working out for the first time.
The clientele at Blink Fitness doesn't skew heavily one way or the other when it comes to beginners vs. experienced gym-goers, so you shouldn't feel intimidated if you're new. And in my experience, the members at Blink mind their own business while they're working out, so there's no reason for you to feel self-conscious.
Blink Fitness isn't a good gym for people who like group classes because it doesn't have any in-person classes. However, if you purchase a Blue or Green plan, you can take virtual classes.
If you are a beginner looking for a gym, you can check out the Best Gyms for Beginners: My Top Picks + 7 Things to Consider.
Specific Information For Women
I haven't heard many complaints from women who felt uncomfortable or encountered any creepy dudes while working out at Blink Fitness. That's not to say that it never happens, but in general, Blink does a good job of keeping all of its members safe.
There are security cameras all throughout the gym. If you do have a negative experience with another member, the staff should be able to identify the other person and take necessary action against them.
Blink Fitness doesn't have a women's-only area, but there's always a good mix of males and females in the gym. And it's not uncommon to see women lifting heavy weights there, so you shouldn't get any funny looks if you venture into the weight room.
Blink Fitness Policies
Re-Opening Policy & What Happens To Membership In A Lockdown?
To keep its members safe during COVID, Blink Fitness has trained all of its staff members on how to properly clean and sanitize all equipment and high-touch surfaces. Gyms are cleaned at least three times a day, and the more commonly used pieces of equipment are sanitized more often than that.
Signs have been placed throughout the gym and markers have been placed on the floors to encourage members to practice social distancing. Machines have also been spaced further apart or marked as out of order to give members enough space to work out.
Some clubs are operating at limited capacity and require members to reserve time slots to work out. Staff members are taking members' temperatures during check-in, and they have to be below 100.4° in order for the member to enter the gym. Mask mandates vary depending on where you live, so be sure to check your local guidelines before you arrive at Blink.
In 2020 when much of the US first went into lockdown, Blink automatically froze all memberships. As the COVID situation has improved in different areas of the country, the freezes have been lifted. Members who aren't comfortable returning to the gym can request to have their freeze periods extended.
In some states, Blink Fitness is issuing credits to members who were charged accidentally while gyms were still closed. The credits can be applied to 30-minute personal training sessions or be put towards the next month's payment.
I think it's likely that if we had to go into another lockdown, Blink Fitness would follow a similar protocol.
Policy On Dropping Weights, Grunting, & Chalk
This will vary by location, but Blink Fitness tends to be more lenient about using chalk and dropping weights than other gyms.
While I was at the Parsippany location, I was told that I couldn't use powdered chalk, but liquid chalk was okay. They just asked that I clean up any residue left on the bar when I was done.
Dropping weights isn't encouraged, but if you have to bail a lift or you make a bit of noise during deadlifts, you won't get in trouble.
Grunting is also allowed as long as you're still respectful of the other people working out around you.
Cancellation Policy & Contract Length
The length of your Blink Fitness contract depends on what type of membership you purchased. The Gray plan is a month-to-month contract while the Green and Blue plans are 12-month contracts.
Members can cancel their contracts online through the member portal. You'll have to provide 45 or 60 days' notice — the amount of time varies by state.
Members with 12-month contracts who want to cancel early have to pay a $50 or $60 cancellation fee, which Blink calls a buy-out fee, depending on which state you live in.
Members with Gray plans can cancel at any time. You won't have to pay a cancellation fee, but you will have to pay a prorated amount of your monthly membership based on how long your notice period is.
Guest Policy: Can You Bring A Friend or Wife/Husband?
If you have a Blue or Green membership, you can bring a guest with you for free every time you go to the gym. Guests must be at least 18 years old.
Pet Policy: Can You Bring Your Dog To Workout?
Only certified service dogs are allowed at Blink Fitness.
Are Blink Fitness Memberships Transferrable?
You cannot transfer your membership to another person.
However, you can transfer your home club to another location if you move or simply prefer another club. You can ask anyone at the front desk to make the switch for you.
Does A Blink Fitness Membership Work Anywhere?
If you have a Gray membership, you are only allowed to work out at your home club.
Members with Blue plans can use their memberships at almost every club in the US except for these clubs in Manhattan:
54th
Bryant Park
East Village
Chelsea
Grand Central
NoHo
FiDi
Murray Hill
Penn Station
Members with Green memberships can attend any club, including the ones in Manhattan.
Is There A Dress Code?
Any kind of workout apparel is appropriate for Blink. Men aren't allowed to work out shirtless, but women can just wear sports bras. Open-toed shoes and dress shoes aren't allowed, but you can lift barefoot as long as you keep your socks on.
Can My Child Work Out At Blink Fitness?
You have to be at least 18 years old in order to sign up for a membership, but children who are at least 14 years old can use the gym if they're accompanied by an adult.
Is Blink Fitness Personal Training Worth It?
In general, I wouldn't recommend hiring a personal trainer at Blink Fitness for most people unless you're new and totally lost in the gym or you have a specific goal to train for.
Personal training packages at Blink are affordable, but the quality of the trainers varies. I've heard that a lot of the Blink trainers don't actually teach their clients proper form and aren't very attentive. If you do want to work with one, I recommend asking him or her a lot of questions to get a good understanding of their background and experience.
The personal trainers have to be certified through NASM, ACE, or another similar institution. However, they aren't required to have college degrees in a related area. Furthermore, Blink Fitness is considered an entry-level place for new trainers, so you may be working with someone who's new to the field.
This doesn't mean that someone is a bad trainer just because they don't have a lot of experience yet. But again, I'd suggest asking your potential trainer a lot of questions before you start working together to ensure they're a good fit for you.
Each Blink membership comes with a free 30-minute session. Beyond that, individual personal training sessions start at $42/session. You can also buy sessions in 4-month, 8-month, or 12-month packages. If you buy a package, the rate drops down to $30/session.
For monthly packages, any unused sessions can roll over to the next month. And if you cancel your plan early, you're still entitled to complete the sessions you already paid for in advance.
Blink Fitness also offers virtual personal training sessions that start at $25/session. These are a good option for people with home gyms or anyone who has a busy schedule and can't make it to the gym consistently. With these sessions, you can choose who you work with, so you'll be able to study the trainers' backgrounds and qualifications before you begin.
Want our list of gyms with a personal trainer? Check out our guide: 9 Best Gyms With Trainers (And, How Not To Get Ripped Off)
Tips For New Members
1. You Can Use the FlexIt App To Work Out at Some Blink Fitness Locations
FlexIt is an app that allows you to work out at participating gyms and only pay for the time you were there. You check-in at the front desk with a QR code and then scan that same QR code again when you leave.
You'll have to pay $20 to first sign up with the app, but that $20 acts as credits you can use towards each gym visit. FlexIt charges gyms by the minute, so you only have to pay for the time you spent at the gym. You can add money to your account at any time.
Using FlexIt alone won't really save you any money. But if you primarily work out at home and just want to go to a gym a few times a month to use machines you don't have at home, or you like the flexibility of being able to go to more than one gym without paying for multiple memberships, FlexIt may be a good option for you.
2. You Can Join Blink Fitness Through Your Employer's or Health Insurance Company's Active & Fit Program
Many employers and health insurance providers participate in the Active & Fit program, which offers health and fitness benefits to its members. Blink Fitness partners with Active & Fit to provide memberships for a flat monthly fee.
The Active & Fit program also has no-cost solutions for people who qualify. Even if you're not eligible for them, I would still recommend joining Blink through the Active & Fit program if you can.
With this program, you can switch gyms at any time, so if you don't like Blink, you can try another gym instead. This also saves you the hassle of having to pay cancellation fees if you're not happy there.
3. Take Advantage of the Mobile App
Blink Fitness's mobile app offers virtual workouts, recipes, virtual personal training sessions, and workout trackers. You can also manage your membership information and check-in at the front desk through the app.
The app is available for both Android and Apple devices. Members with Blue and Green plans don't have to pay extra for it, so I recommend downloading it to take advantage of all of its content.
Blink Fitness Complaints
It comes as no surprise to me anymore that the most common complaints about chain gyms are how difficult it is to cancel memberships. Blink is no exception.
Within the past few months, Blink has made an effort to make the cancellation process easier, though. Members are no longer required to send mail or cancel in person, which has cut down on the number of complaints about it being too inconvenient to terminate a contract.
However, former members do still report that Blink continues to charge them for several months after they submit their cancellation requests. Some members won't be charged for a while only to have Blink withdraw funds from their banking accounts several months later.
There are also some complaints about run-ins with rude staff members, but those are few and far between.
Alternatives to Blink Fitness
Even though Blink Fitness is a good gym, it's not for everyone. If you aren't happy at Blink Fitness or you don't have a Blink Fitness club near you, consider one of the below alternatives.
1. Gold's Gym
Gold's Gym memberships are pricier than Blink's, but the facilities are huge and you get access to more amenities such as saunas, basketball courts, smoothie bars, and tanning booths. Gold's Gym has a lot more locations, making it a good choice for people who travel a lot.
Gold's Gym also has in-person group classes, so it's a better option for people who like to work out with others.
Check out our complete review of Gold's Gym
2. World Gym
A World Gym membership costs less than a Blink Fitness Green membership, which is impressive considering that World Gym clubs are about five times larger than Blink clubs.
World Gym is like a paradise for powerlifters and bodybuilders, but beginners and casual gym-goers will fit in there as well. It's open 24/7 so you can train at a time that's most convenient for you.
Check out our complete review of World Gym
3. Crunch Fitness
Crunch Fitness is pretty on par with Blink in terms of costs, quality of equipment, and the overall atmosphere of the gym. But I thought Crunch was nicer, and it has a better reputation for cleanliness and upkeep across all of its locations.
There's also a larger selection of resistance machines and heavier dumbbells at Crunch, so powerlifters, bodybuilders, and other strength athletes will likely enjoy it more.
Check out our complete review of Crunch Fitness
Other Gym Reviews
Blink Fitness Gym Comparisons
Final Thoughts
For a mid-budget gym, Blink Fitness is an excellent choice. It's ideal for people who like cardio workouts because of the large number of cardio machines, but bodybuilders, powerlifters, and anyone who enjoys CrossFit or functional training will fit in here as well.
However, if you prefer to take group classes, you should consider another gym. Blink Fitness only offers classes through its digital app and doesn't have any in-person classes.
---
About The Author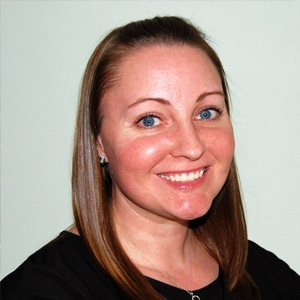 Amanda is a writer and editor in the fitness and nutrition industries. Growing up in a family that loved sports, she learned the importance of staying active from a young age. She started CrossFit in 2015, which led to her interest in powerlifting and weightlifting. She's passionate about helping women overcome their fear of lifting weights and teaching them how to fuel their bodies properly. When she's not training in her garage gym or working, you can find her drinking coffee, walking her dog, or indulging in one too many pieces of chocolate.