Equinox is a luxury chain gym that has over 300 locations in most of the US's large metro areas as well as London, Toronto, and Vancouver.
I recently worked out at Equinox with one of my friends to find out if a membership is worth it.
So, is an Equinox membership worth it? If you live in a big city or near an Equinox that has a lot of amenities, a membership is worth it. But if your Equinox club is in a smaller suburb and doesn't have a lot of amenities, it's not worth it. You can find the same kind of equipment or take similar group classes at less expensive gyms.
After reading this article, you'll be able to decide whether or not Equinox is the right gym for you.
In this article, I'll also talk about:
My Experience Working Out At Equinox
I wasn't sure I was in the right place when I first walked into Equinox. The lobby has high-end marble and bamboo finishes and it definitely didn't feel like a gym at first. It felt like a spa that added some gym equipment as an afterthought.
When I checked in at the front desk, the woman who helped me was friendly and informative. She wasn't overly aggressive about getting me to sign up for a membership when I was at the club, but Equinox has been contacting me via email and text almost every day since I visited.
I didn't notice the staff having to police the members too much, but at gyms like Equinox, I've found that the members tend to be more mature and respectful.
There are trainers walking around the gym floor all the time, so I'm sure they'd say something if they noticed anybody engaging in inappropriate behavior. Brand image also seems very important to Equinox as a whole, so I'm confident the staff would do their best to not have anyone tarnish their reputation.
Most members were at least in their 30s, which makes sense since college students or young professionals probably can't afford a membership.
I didn't have any negative encounters with the members, but I felt a little out of place while I was there. The other members seemed to have expensive taste and were very trendy. There's nothing wrong with that, but it's not my style.
While I was working out, I sometimes felt like I was getting in the way of some of the trainers who were working with their clients at the time. I think this is mostly due to the location itself. The gym is attached to another store, and Equinox didn't have much room to expand when it was built. The space is long and narrow, so it's easy to feel cramped.
There were no dedicated areas for strength training and cardio like I've seen at some other gyms. The Paramus location had cardio and resistance machines set up on both floors since there's not enough space to include everything on one floor.
I can see this being annoying if you have to go up and down the stairs multiple times during your workout to access different machines — though, to be fair, you are at the gym to work out and move your body, so that's not necessarily a bad thing!
I wouldn't purchase an Equinox membership, but it's not because I had a bad experience or because it has terrible equipment. Other than the showers and locker rooms, I just didn't think it was any better than some other less expensive chain gyms. For the number of amenities the Paramus location offers, I don't think the cost is justifiable.
However, I have heard different things about other Equinox locations, particularly some of the ones in New York City and other big cities. They tend to have more amenities such as pools, rock climbing walls, and basketball courts that you can't always find in the suburban locations. If I lived in NYC or another big city, I would probably feel differently about joining.
It's important to remember that this review is based on my experience at the Paramus, NJ location. Because the amenities at Equinox vary so much by location, I recommend calling or dropping in if you have questions about what's available at a club near you.
Equinox: Pros & Cons
Despite what you might think, luxury gyms such as Equinox are not perfect. Below are some of the pros and cons of an Equinox membership.
Pros
Equinox has a lot of fun group classes. Equinox has a great selection of classes, including Pilates, boot camp, barre, martial arts, boxing, spinning, and yoga. You can also take strength-based and running-based classes. People love the instructors and find them motivating and supportive.
You can use chalk. Equinox is one of the few chain gyms I've gone to recently that has no qualms about chalk. They just ask that you clean up after yourself and wipe your barbell down afterward (which everyone should do, anyway).
The cold eucalyptus towels are great for cooling down. Before I visited Equinox, I had read reviews about how much people loved the cold eucalyptus towels. I normally don't get excited about that kind of stuff, but I used one after my workout and I could see why people love them. It was such a refreshing way to get my body to cool down before I left the gym.
Equinox has amazing showers. The shower stalls are luxurious and Equinox provides items like shampoo, conditioner, cotton balls, hairspray, and blow dryers. If you shower at the gym, you won't have to bring any toiletries with you.
Cons
Some locations can get really crowded. Every gym has its peak hours that are usually between 5 PM and 7 PM, but you can usually still find a free machine. At the very least, you may only have to wait a couple of minutes for one to become available. Some Equinox locations — particularly those in big cities — get so crowded that members spill out onto the gym floor while they're waiting for classes or waiting to take a shower.
The hours at some locations are limiting. Unlike other gyms that are open 24 hours or at least until 11 PM, some Equinox locations close at 8 or 9 PM. This is a drawback for people who work odd hours or like to work out late at night.
How Much Does An Equinox Membership Cost?
Prices vary by location, but you can expect to pay at least $100/month no matter where you live. Memberships can cost double or triple that amount in big cities.
To give you an idea of what you can expect to pay, below are the membership plans available at the Paramus, NJ location. There are two plans: one with which you can only access the Paramus club and one with which you can choose between having access to other clubs in the US or internationally.
Access to Paramus
This plan costs $176/month plus taxes. It includes access to all of the group classes and amenities at the Paramus location only.
Access to Multiple Clubs
This plan starts at $280/month plus taxes but can go higher depending on which other clubs you want access to.
Initiation Fees
Initiation fees at Equinox start at $100, but they often have promotions throughout the year where you don't have to pay an initiation fee.
Looking for a gym that offers free passes or trials? Check out our detailed guide: 14 Gyms With Free Passes & Trials.
Free Trial
Before you join Equinox, you can sign up for a free day pass online. This pass is only good for a one-time visit.
If you're a student, membership costs might be cheaper. Check out our article Best Students Gyms.
Gym Equipment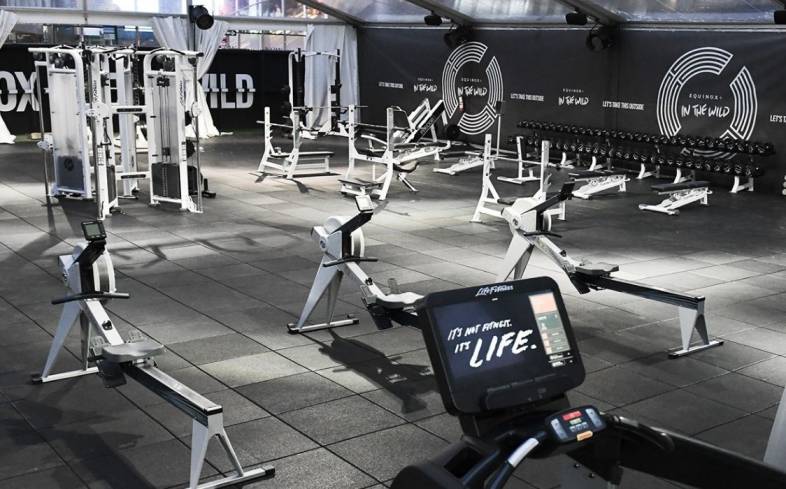 The equipment at Equinox is from the same brands you'd find at most chain gyms. It has Schwinn spin bikes, Life Fitness and Hammer Strength resistance machines, and Life Fitness and Precor cardio machines.
Equinox also has some unique machines that I haven't seen at other gyms. It has Woodway treadmills, which are similar to the AirRunners or TrueForm machines used in CrossFit. You can also find ladder-climbing machines and VersaClimbers at some locations.
The plates on the machines are from Iron Grip, as are the preloaded barbells, EZ curl bars, and dumbbells in the free weights area. The location I visited had a mix of flat and incline benches from Cybex.
For as much as an Equinox membership costs, I would expect them to have high-quality lifting equipment. The bumper plates and barbells at the Paramus Equinox were from a brand called Perform Better, which I'd never heard of before.
The plates and bars seemed like they were of decent quality, but for a gym that costs almost $200/month, I was surprised that they didn't have equipment from some of the bigger brands like Rogue.
Some locations have at least one women's 15kg bar, but most locations only have 20kg bars. I also saw a few trap bars at the Paramus location.
Does Equinox Have Squat Racks?
Equinox has squat racks. The Paramus location has two, but I know some locations only have one and others have four or more.
At locations that don't have a lot of squat racks but have functional training areas, you can use the rigs as long as there are no classes in session.
Does Equinox Have Deadlift Platforms?
Equinox has platforms that are attached to the squat racks.
Special Features & Amenities
Does Equinox Have a Pool?
The Equinox in Paramus, NJ does not have a pool, but other locations have Olympic-sized indoor pools. Some locations also have outdoor pools.
Want our full list of gyms with pools? Check out our guide: 10 Best Gyms With Pools, Saunas, & Hot Tubs.
Does Equinox Have a Sauna?
Most Equinox locations have saunas and steam rooms.
Does Equinox Have Showers and Locker Rooms?
Equinox has showers and locker rooms. The showers are arguably the nicest showers of any chain gym in the US, and Equinox provides toiletries from Kiehl's, a luxury skincare and cosmetics brand.
The lockers are available for all members to use, but you can't leave anything in them overnight.
Want our full list of gyms with showers? Check out our guide: 18 Best Gyms With Showers (Cleanliness & What's Included).
Does Equinox Have a Basketball Court?
The Equinox location I visited doesn't have a basketball court, but some locations do.
Want our full list of gyms with basketball courts? Check out our guide: 7 Best Gyms With Basketball Courts.
Does Equinox Have Childcare?
Equinox has a Kids Club where your kids can do arts and crafts, go to storytime, or do gymnastics while you work out. Depending on your membership, you may have to pay extra to bring your child to Kids Club.
Want our full list of gyms with childcare? Check out our guide: 12 Best Gyms With Childcare (What To Expect, Rules, Cost)
Does Equinox Have a Yoga Studio?
Equinox has a studio that they use for yoga, barre, and some group classes. It also has a separate stretching area on the main gym floor.
Does Equinox Have a Smoothie Bar?
Equinox has a juice bar where you can get juices from Juice Press, protein bars, smoothies, and other beverages and snacks.
Does Equinox Have Massage Chairs?
Equinox doesn't have massage chairs, but you can get massages at the spa.
Does Equinox Have a Women's-Only Area?
Equinox doesn't have a women's-only area.
Does Equinox Have Group Classes?
Equinox has group classes. Each location has a unique selection of classes but they typically include yoga, cycling, cardio boxing, Pilates, Precision Run®, barre, and metabolic conditioning.
Want our full list of gyms with classes? Check out our guide: 11 Best Gyms With Classes
Does Equinox Have a Cardio Cinema Room?
Equinox doesn't have a cardio cinema room, but there are TVs all over the gym.
Is Equinox Open 24 Hours a Day?
Equinox isn't open 24 hours a day. Hours vary by location, with a handful of clubs staying open until 11 PM and others only staying open until 8 or 9 PM.
Does Equinox Have Red Light Therapy?
Equinox doesn't have red light therapy booths, but a handful of locations have HigherDOSE infrared saunas.
Who Does Equinox Cater To?
From what I saw when I visited Equinox, its primary audience is people who like to take group classes. It has a yoga studio, a Pilates studio, a cycling studio, and a group fitness studio. The Paramus location has almost 90 group classes per week that are offered all day long.
Equinox also offers specialty classes such as Precision Run®, which is taught by a certified running coach, and STRONG, which is a strictly strength-based class.
The classes are also good for people who enjoy HIIT workouts. Some of the group classes such as MetCon3 and Athletic Conditioning utilize a combination of bodyweight, dumbbell, and kettlebell movements. Most of the classes are 30-45 minutes long and go through three or four circuits with about 10 movements in each.
Depending on the location, Equinox can be a decent gym for CrossFitters. I know of some gyms in New York City that have functional training areas — which they call The Playground — where you can do most CrossFit movements. The Paramus location had a small turf area for functional fitness, but it would be difficult to do a WOD there when it's crowded.
I think Equinox is an okay gym for powerlifters. You can use chalk and drop your weights, but it's still not a true powerlifting gym. If you go to a smaller Equinox at a busy time, you may have to wait for a squat rack. And depending on the location, you may also find that the benches aren't well-maintained and have rips or tears in the padding.
Equinox is a good gym for anyone interested in one-on-one training or anyone who's looking to lose weight. The quality of personal trainers at Equinox is better than it is at other chain gyms, and the gym has InBody machines and other tools to help you monitor your weight loss progress.
It's also good for bodybuilders since you can find a variety of resistance machines and free weights.
I wouldn't recommend Equinox for most first-timers simply because of the price. I think you'd be welcomed at Equinox even if you've never worked out before, and the personal trainers and staff members are helpful and knowledgeable.
But paying almost $200/month is a lot for something you may not enjoy. If you're new to fitness, I'd recommend starting at a less expensive gym first and then moving over to Equinox once you've developed a good routine.
Specific Information For Women
As a female, I didn't feel uncomfortable working out at Equinox. In my experience, the people who can afford Equinox don't spend almost $200/month to waste their time staring at women at the gym. The clientele in general skewed more towards females which also helped me feel comfortable there.
At the Paramus location, I also saw quite a few women using the free weights and squat racks, so a female lifting weights isn't anything surprising at this gym.
Want a gym that allows kids & teens? Check out our guide: Gyms That Allow Kids & Teens (Polices & Prices Explained)
Equinox Policies
Re-Opening Policy & What Happens To Membership In A Lockdown?
Equinox is following local guidelines when it comes to capacity limitations and mask mandates.
Where I am in NJ, vaccinated individuals don't have to wear masks, but unvaccinated individuals have to wear masks at all times.
Rules for other states vary, with some states not requiring masks at all and others only requiring masks when entering and leaving the building. Some locations may ask for proof of vaccination if you don't want to wear a mask.
Most locations are operating at 30% or requiring members to reserve time slots for when they can come in.
You'll also have to complete a Health Declaration in the app before you're allowed in the gym to confirm that you don't have any COVID-19 symptoms and haven't been in contact with anyone who has symptoms.
At all Equinox locations, cleaning staff deep cleans the facility three times during the day and once overnight. Lockers are disinfected after each use and extra hand sanitizers are available around the gym.
During the first lockdown in 2020, Equinox didn't automatically freeze its memberships, but members who requested a freeze were able to get their monthly freeze fees waived. In some instances, Equinox only waved the fee for the first 30 days of lockdown and forced its members to pay the fee after that.
Equinox received a lot of backlash for this, so it's possible that they'd rethink their freeze policy if the government ordered another mandatory lockdown.
Policy On Dropping Weights, Grunting, & Chalk
Some Equinox locations that have platforms or functional fitness areas allow you to drop weights. In most instances, you can't drop weights on the main gym floor. I've also heard that some locations only allow you to drop weights from waist-high and not from overhead.
I asked the staff at the Paramus, NJ location and they said they don't encourage dropping weights, but it's okay if you have to do it every once in a while and only if you drop your weights on the platforms.
I was happy to find out that the Paramus location allows chalk. Most chain gyms that I've visited recently don't allow any kind of chalk, so it was refreshing to find one that does. They just asked me to make sure I wiped down the barbell and cleaned up any dust left on the floor before I left.
Grunting is also allowed as long as you don't do it frequently.
Cancellation Policy & Contract Length
Canceling a gym membership at most chains is difficult and is especially so at Equinox. They're notorious for having contracts that are close to impossible to get out of.
Equinox contracts are typically 12-month contracts. You can cancel within three days of joining without any repercussions.
Beyond that, Equinox doesn't allow you to cancel unless you become sick or injured and can't work out for at least six months, die, or move at least 25 miles away from an Equinox location. Regardless of your reason for canceling, you'll have to pay a cancellation fee of at least $100.
You can notify the club in person, via email, or over the phone if you want to cancel, but you have to give them at least 45 days' notice.
If you want to freeze your membership, you can do so for a minimum of 30 days and a maximum of 90 days. You can only freeze your membership once during a calendar year and you have to pay a $30 monthly freeze fee until the freeze period is over.
There are exceptions for how long you can freeze your membership, however. For example, if you're pregnant and on bed rest, you can freeze your membership for up to nine months.
Guest Policy: Can You Bring A Friend or Wife/Husband?
You can bring a guest to Equinox as long as he or she registers for a day pass on the website first.
Pet Policy: Can You Bring Your Dog To Workout?
You can't bring your dog to Equinox. Only dogs that are certified service animals are allowed to accompany members with disabilities.
Are Equinox Memberships Transferrable?
You cannot transfer an Equinox membership to someone else, but you can transfer your home club to another location by talking to the staff at the front desk.
Does An Equinox Membership Work Anywhere?
Depending on which membership you choose, you may or may not be able to use your membership at any club. Even if you sign up for an all-access membership, there are still some exclusive locations that you won't be able to visit.
Is There A Dress Code?
Equinox doesn't have any strict dress code policies, but members are expected to dress appropriately on the gym floor. Men need to have shirts on at all times unless they're in the sauna, locker room, or pool areas. Women are allowed to wear booty shorts and crop tops.
While I was at the Paramus location, I asked about lifting barefoot and was told that I need to keep my shoes on unless I'm in the yoga studio or sauna.
Can My Child Work Out at Equinox?
You have to be 18 years old to sign a contract at Equinox, but children who are at least 14 years old can work out as long as they are accompanied by an adult.
Is Equinox Personal Training Worth It?
Whether or not Equinox personal training is worth it depends on your goals, fitness background, and budget.
Since you're already paying for a hefty membership, you may want to save some money and skip the personal training sessions. But if you can afford it and you want to switch up your routine or train for a specific goal, an Equinox personal trainer is worth it.
Equinox has its own personal training institute called the Equinox Fitness Training Institute (EFTI). I'm usually skeptical of gyms that have their own personal training education programs, but EFTI has a good reputation.
Equinox's personal trainers are ranked according to five different tiers based on how much education they've completed at EFTI. Trainers start at Tier 1 and must have completed at least 70 hours of coursework at EFTI. The trainers then move up the ranks as they work towards 220 hours at EFTI and earn a Precision Nutrition certification, which is also highly regarded.
Training sessions with trainers in the lower tiers start at around $100/hour and can go up to $150/hour or more for trainers in the higher tiers.
The highest tier of Equinox personal training is called Tier X. The Tier X trainers have to have completed at least 270 hours of education at EFTI and they're required to have degrees in kinesiology or exercise science.
The Tier X program starts with a five-hour assessment that can cost $150 per hour or more depending on the location. When you first start the program, you'll have to fill out a lengthy questionnaire about your sleep habits, nutrition, current exercise routine, and daily schedule. A trainer will then measure your heart rate, blood pressure, and body fat.
You'll also wear an oxygen mask that's supposed to tell you how well your body metabolizes fat versus carbohydrates and perform a test similar to a stress test that measures your max VO2 output.
After the original assessment, Tier X packages start around $2,000 for a three-month package. The trainer will ask you to commit to at least three personal training sessions per week, so it can be a strain on both your wallet and your schedule.
However, I've heard from a few people who've completed the Tier X program and thought it was worth it. If you're lucky enough to have the budget for it and you want to understand more about your body and have someone hold you accountable for your lifestyle changes, the Tier X program can help.
Want our list of gyms with a personal trainer? Check out our guide: 9 Best Gyms With Trainers (And, How Not To Get Ripped Off)
Tips For New Members At Equinox
1. It's Easier To Cancel Your Membership if You Have Proof That Your Financial Situation Has Changed
As I mentioned earlier, Equinox is one of the hardest gyms at which to cancel your membership. But if you've been laid off from your job or your financial situation has changed for any other reason, it's easier to cancel a membership if you have evidence. The staff is more willing to work with you if you have proof that you can no longer afford a membership.
2. It's Possible To Save Money on Your Membership
At most chain gyms, you can negotiate the monthly costs or initiation fees if you're trying to save some money. It's possible to do the same at Equinox.
You can try asking a manager about a lower monthly cost if you pay for your membership in full.
I've also heard that if you sign up after the 23rd of the month, you can essentially get your first month free since Equinox processes its charges on the 23rd. And if you sign up with a roommate or family member who lives with you, you can sometimes get a cheaper group rate.
It's also possible to get a corporate discount if your employer participates in Equinox's corporate wellness program. I know that some employers or insurance companies will reimburse you for your gym membership, too, if you attend the gym a certain number of times each month.
3. If You're Only Interested in the Classes, Consider Signing Up for the Equinox+ App
The group classes are the bread and butter of Equinox. If you want to take the classes but can't afford a membership, consider downloading the Equionx+ app for only $40/month.
With the app, you can take live or on-demand strength or cardio classes, sync your account with Apple Health Kit, and integrate with a WHOOP strap. If you have a spin bike at home, you can also take SoulCycle classes.
Equinox Complaints
It probably comes as no surprise that the most common complaints about Equinox are how hard it is to cancel a membership.
Former members have complained that Equinox continues to charge them even after confirming that the cancellation request was successfully processed. Other members have had a difficult time dealing with staff members when they try to cancel in person.
I've heard that the equipment at some locations isn't well-maintained and despite the high membership costs, cleanliness in the locker rooms, showers, and saunas can vary.
Some members have also expressed unhappiness about Equinox increasing their membership costs each year without notifying them.
Alternatives to Equinox
If you're looking for a gym with more amenities or can't afford an Equinox membership, below are a few alternatives you may want to consider.
1. Life Time Fitness
Life Time Fitness is another luxury gym that costs about the same as Equinox but, at least in NJ, it has more amenities. Life Time Fitness also has more strength equipment, more machines, and in my experience, it didn't feel quite as bougie as Equinox.
Check out our complete review of Life Time Fitness.
2. Gold's Gym
Gold's Gym doesn't have all of the amenities or spa services that Equinox has, but it's still a great gym for beginners and veteran gym-goers alike. It has a ton of equipment, a good variety of group classes, and a supportive atmosphere. It's also much cheaper.
Check out our complete review of Gold's Gym.
3. F45
Although F45 isn't a traditional globo gym, it's known for its challenging group classes. If the Equinox classes appeal to you but you're not interested in all the spa amenities that Equinox has, I recommend F45.
F45 classes are similar to CrossFit and boot camp classes, and you can find a variety of strength-based or endurance-based classes. F45 memberships aren't much cheaper than Equinox memberships, but you'll at least know that you're not paying for stuff you won't ever use.
Check out our complete review of F45.
Other Gym Reviews
Equinox Gym Comparisons
Final Thoughts
If you live in a big city and can afford a membership, I would recommend Equinox. They tend to be nicer and have better amenities even though they get more crowded.
However, in my experience, the suburban locations charge too much for what they offer. There are other gyms that offer the same amount of amenities, if not more, and are more than half the price of an Equinox membership.
---
About The Author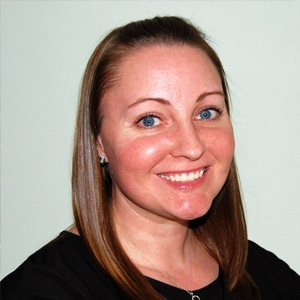 Amanda is a writer and editor in the fitness and nutrition industries. Growing up in a family that loved sports, she learned the importance of staying active from a young age. She started CrossFit in 2015, which led to her interest in powerlifting and weightlifting. She's passionate about helping women overcome their fear of lifting weights and teaching them how to fuel their bodies properly. When she's not training in her garage gym or working, you can find her drinking coffee, walking her dog, or indulging in one too many pieces of chocolate.