Orangetheory is a group fitness studio that promises to deliver results with workouts that take just one hour.
I tried a class at the Wayne, NJ studio to determine the prices and see if the current Orangetheory testimonials are accurate.
If you're looking for honest reviews of Orangetheory, read on to learn about my experience and all that Orangetheory has to offer.
So is an Orangetheory membership worth the money? Orangetheory is worth it if you prefer group training over working out alone and want to take classes combining strength, cardio, and high-intensity interval training (HIIT). However, if you prefer traditional strength training, powerlifting, or weightlifting, I wouldn't recommend Orangetheory.
In this Orangetheory fitness review for 2023, I'll discuss:
The pros and cons of an Orangetheory membership
How much an Orangetheory membership costs
Orangetheory's policies
What kind of equipment you'll find at Orangetheory
Orangetheory workout reviews and available classes
Available amenities
What the coaches at Orangetheory are like
Tips for new Orangetheory members
Common complaints about Orangetheory
Orangetheory alternatives
Orangetheory Review: My Experience
Before I get into my experience at Orangetheory, I think it's important to explain how it works since it's different than other gyms.
Orangetheory is solely a group fitness studio. During each class, you're encouraged to spend time in various color-coded heart rate zones (a percentage of how many beats per minute your heart can handle).
To get the most effective workout possible, Orangetheory recommends spending at least 12 minutes in the orange zone (or zone 4, which is 84-91% of your max heart rate) – hence the name Orangetheory.
This recommendation is based on the belief that training at higher intensities helps you achieve excess post-exercise oxygen consumption (EPOC), which refers to your body's ability to continue burning calories for up to 24 hours after exercise.
You can wear a heart rate monitor during class to have your stats displayed on a monitor so you can keep track of which heart rate zone you're in. You get "splat points" for each minute you spend in the orange zone.
Other than treadmills, bikes, and rowers, Orangetheory doesn't have any other machines. There are dumbbells, but there are no barbells.
Even though I knew that I'd miss doing barbell work, I was excited to try Orangetheory. As much as I enjoy working out at home, I sometimes miss being in a class with others.
I had a lot of fun in the class I took, and I was surprised at how challenging I found certain parts of it even though I'm used to high-intensity exercise from my years of doing CrossFit. The members seemed friendly, and the coach did a good job of walking me through how the class would work before it started. I wasn't too nervous, but he did help me feel more comfortable.
One thing to note is that Orangetheory is very orange. The studio is dark with an orange glow, and I kind of felt like I was working out in a nightclub. But I'm sure I would get used to it if I were to go more frequently.
The clientele at the Orangetheory class I went to was all female. The Wayne location does have a small handful of male members, but its member base is almost all women. I've heard this is the case at most studios. The other members were mostly middle-aged adults, with a few women who looked like they were in college or in their mid-twenties.
All of the facilities in the Wayne studio were clean, which I appreciated. However, I didn't like that the staff was pushy about getting me to sign up for a membership before I left.
I'm not very good at dealing with aggressive salespeople, so maybe they recognized that and tried to take advantage of it. But I was put off by the whole experience.
I would not purchase an Orangetheory membership, but mostly because I prefer powerlifting and CrossFit workouts. I'd also be concerned that I wouldn't be able to recover properly if I tried to add Orangetheory into the mix, and I'm not sure that I would go often enough to justify the Orangetheory membership cost.
As you're reading through this review, keep in mind that it is based on my Orangetheory review based on the Wayne, NJ location. Each studio has its own clientele, rules, and unique atmosphere. Your experience at Orangetheory may be different than mine.
Orangetheory: Pros & Cons
Like all gyms, Orangetheory has both good and bad things. Below are some of its pros and cons.
Pros
The classes are a lot of fun. Orangetheory has fun classes that are taught by energetic group fitness instructors. It can make the hour pass by quickly.
The workouts are already planned for you. At Orangetheory, you won't have to look up a workout to follow or wander around without a plan until you decide what to do once you get to the gym. The classes are planned in advance, and the instructor will walk you through them the entire time.
It allows you to compete with yourself and others. If you wear a heart rate monitor during class, you can see how well you're doing compared to everyone else in the class. Your stats are also available in the mobile app to keep track of your progress over time. This can be motivating if you enjoy competition and like to use data to keep yourself accountable.
You can go at your own pace. At Orangetheory, you're free to move at your own pace. You can walk if you cannot run, and during the lifting portion of the class, you don't have a specific number of reps to complete for each movement. You just do what you're capable of instead of forcing yourself to sacrifice form just to hit more reps within a designated time period.
You will get stronger and faster. As Samantha Policano of the BennettStrong Foundation says, "I've been doing Orange Theory for 7 months and have noticed a difference in my endurance. When I started, I couldn't run on the treadmill for more than 30 seconds at a time, and now I can run for over 5 minutes straight at a higher speed than I started. I've also noticed an increase in my power output on the rowing machine, and I have shaved off over 20 seconds from my 2,000-meter row time."
If you're a college student and can't afford an Orangetheory membership, check out the 5 Best Gyms For College Students (With Student Discounts).
Cons
It is expensive, and the employees can be too salesy. Like other gyms that focus primarily on group fitness, such as F45 or CrossFit, Orangetheory is much more expensive than most standard gyms. And when you go for your first class, the staff can be pushy about getting you to sign up for a membership.
The real-time stats can be discouraging for some. I mentioned the real-time stats as positive, but they can also be negative. Some people don't do well in competitive settings or get intimidated by them. Having your stats on display for everyone to see can be frustrating if you're not doing as well as you want to or are lagging far behind everyone else.
There aren't a lot of amenities. Because it's a group fitness studio and a group fitness studio only, there are no saunas, pools, basketball courts, or other perks that you'd find in regular chain gyms.
Read more: Orangetheory vs CrossFit – Which Is Better for You?
How Much Is Orangetheory Per Month, and What Are the Membership Costs?
How much is Orangetheory per month? Orangetheory prices come in the form of three different membership plans:
Orange Premier ($169/month) – Unlimited monthly classes. This is a great option if you plan to attend the gym class three or more times a week.
Orange Elite ($109/month) – 8 classes per month plus extra one-off classes at a reduced rate. This is a cost-saving alternative to the unlimited plan if you're unlikely to attend more than two weekly classes.
Orange Basic ($69/month)– 4 classes per month plus extra one-off classes at a reduced rate. This plan will suffice for those who can commit to at least one class a week.
You can also purchase a class pack for 10, 20, or 30 classes, and Orange Theory offers corporate memberships at reduced prices (typically around $10 off per month) for employees of participating organizations.
If you want to purchase a heart rate monitor to use during the classes, you can hire them out for $5 per class. You could also purchase one for between $50 and $100, which will be worth it if you've got a class pack and want to attend several classes each month.
I think the Orangetheory prices are reasonable considering what you get.
Free Classes
Most Orangetheory locations offer at least one free class for potential new members.
Looking for the best gyms with classes? Read our full best of review post.
Gym Equipment
The equipment at Orangetheory consists of pieces that you can do cardio, circuit training, or light resistance training workouts with. It has treadmills, bikes, rowers, dumbbells, TRX trainers, benches, medicine balls, and BOSU balls. Classes might include a treadmill portion or circuits that involve using various cardio and weight equipment.
Does Orangetheory Have Squat Racks?
Orangetheory does not have squat racks.
Does Orangetheory Have Deadlift Platforms?
Orangetheory does not have deadlift platforms.
Special Features & Amenities
Because Orangetheory is focused on short, intense, circuit-style workouts and is not a traditional gym, it does not have a lot of amenities.
Does Orangetheory Have a Pool?
Orangetheory does not have pools.
Looking for gyms with pools? Read our article on the 10 Best Gyms With Pools, Saunas, & Hot Tubs.
Does Orangetheory Have a Sauna?
Orangetheory does not have saunas.
Does Orangetheory Have Showers and Locker Rooms?
Some Orangetheory locations have locker rooms, but some only have single-person bathrooms or changing stalls for you to change into. Also, some of the locations with locker rooms don't have lockers that you can lock, so you'd need to be careful with what you leave in them.
Many studios have showers, but they are usually just small shower stalls.
Additionally, most locations don't have free towel service, but you may be able to buy one if you forget yours. Some studios also have shampoo and soap, though these items aren't universally offered.
If you go to work or school straight from the gym and need to shower right after your workout, check out the 18 best gyms with showers.
Does Orangetheory Have Basketball or Racquetball Courts?
Orangetheory does not have basketball or racquetball courts.
Does Orangetheory Have Childcare?
Orangetheory doesn't have childcare.
You can find a list of gyms that do offer childcare in our list of the top 12 gyms with childcare.
Does Orangetheory Have Tanning Beds?
Orangetheory does not have tanning beds.
Check out the best gyms with tanning beds.
Does Orangetheory Have a Yoga Studio?
Orangetheory does not have yoga studios.
Does Orangetheory Have a Smoothie Bar?
Orangetheory does not have smoothie bars.
Does Orangetheory Have Massage Chairs?
Orangetheory does not have massage chairs.
Does Orangetheory Have a Women's-only Area?
Orangetheory doesn't have a women's-only area. However, most of the people that go to Orangetheory are women.
Does Orangetheory Have Group Classes?
Orangetheory is a group training studio, so it inherently has group classes. They are one hour long, half focused on cardio and HIIT, and the other half focused on strength.
Some portions of the classes will also focus on bodyweight exercises, including pull-ups, push-ups, sit-ups, or other core work.
If you prefer to join a gym with a bigger variety of classes, check out the 11 Best Gyms With Classes (What's Included, Schedule, & Types).
Does Orangetheory Have a Cardio Cinema Room?
Orangetheory doesn't operate its classes in a cinema room where movies are played on a big screen while you're working out. However, a large monitor displays stats from the heart rate monitor you wear during each class so you can see how you're doing compared to other members.
Is Orangetheory Open 24 Hours a Day?
Orangetheory is not open 24 hours a day. Each studio has its own set class times, and you can only work out during those times.
Does Orangetheory Have Red Light Therapy?
Orangetheory does not have red light therapy.
Who Does Orangetheory Cater To?
Orangetheory is for anyone who gets bored working out in a traditional gym setting or needs the accountability of structured class times and being surrounded by others to stay consistent.
It's also a good option for you if you prefer working out under the guidance of a coach who can show you proper form and push you to challenge yourself more than you would do on your own.
But while there is a competitive element to Orangetheory classes, you also have the flexibility to take it easy when needed. As Renee Belz, a dentist who has been going to Orangetheory since 2012, says:
"You can always go at your own pace… would you rather walk, jog or run today? Would you rather stick with 5 lb dumbells or go grab the 50 lbs? Everyone in class is extremely supportive of others and it feels like a family. This is unlike most other gyms and studios I've been to where it feels very competitive."
This makes Orangetheory a good option for beginners. You only have to push yourself to what your current abilities allow and don't have to worry about being judged.
For a list of other good gyms for beginners, check out Best Gyms for Beginners: My Top Picks + 7 Things to Consider.
Crystal King, founder of the Amazing Baby app, also recommends Orangetheory for anyone who's looking to lose weight. She shares her own experiences losing weight after joining Orangetheory:
"I started my OTF journey in 2015. My friend had signed up a few months prior and lost a ton of weight really quickly. I wanted to lose weight too, so I signed up for the 8x/month plan…I loved that I could go in for an hour; be guided through workouts and be done! … In 2016 I moved to a different studio that was closer to my home and upgraded to the premium plan (unlimited visits/month). I worked out 4x/week and lost 18 lbs in 3 months."
I wouldn't recommend Orangetheory for powerlifters, Olympic weightlifters, bodybuilders, or anyone who just enjoys lifting weights as their primary form of exercise. Orangetheory classes are tough, and their high-intensity nature of them can be difficult to recover from. This can impact your ability to have enough energy for your other training sessions.
I also don't recommend Orangetheory for anyone who's looking for personal training. While there are coaches who lead each Orangetheory class, they have to divide their attention equally among all of the members. If you're looking for more one-on-one attention, you'll need to consider another gym.
Specific Information For Women
Orangetheory isn't for women only, but most people who go to it are women. There are several male coaches, but people I know who go to Orangetheory have never expressed concerns about them doing anything inappropriate during the classes.
There's always someone manning the front desk when classes are going on, and people aren't allowed into the studio unless they take a class. Many studios also have policies against cell phone use during class, so it's highly unlikely that anyone can take photos or videos of you without your consent.
I have heard of some women feeling uncomfortable in the showers, but that's more due to general apprehension about showering in a public place and not because they're worried about people doing creepy things.
Orangetheory Gym Policies
Re-opening Policy & What Happens to Membership in a Lockdown?
At the beginning of the COVID-19 pandemic, Orangetheory closed all of its corporate-owned studios. Individual franchises closed based on local government mandates. Memberships were automatically suspended at all affected studios. I think it's safe to say that Orangetheory would do the same thing again if we had to go into another lockdown.
With the reopening of gyms, Orangetheory has now placed extra sanitation stations around all of its studios and extended the time between classes to allow for more thorough cleaning after each class.
Members are encouraged to use every other locker to give others enough personal space and are not allowed to linger in the lobby for more than 15 minutes before a class or 20 minutes after a class to keep crowds to a minimum.
At some locations, all staff and members must wear masks the entire time they are in the studio. At others, members only need to wear masks when they are in the lobby and can take them off during class.
Policy on Dropping Weights, Grunting, & Chalk
Grunting isn't forbidden, but based on what I've heard from other members, most people don't appreciate it. If you feel the need to grunt, try not to be too obnoxious about it or do it throughout the class.
Dropping your dumbbells is not allowed at most studios. They have cushioned, bouncy flooring, and there is usually a large class size, so dropping dumbbells (even light ones) on the weight floor can injure you or the other members.
Chalk isn't prohibited, but it's not very common for people to use it during Orangetheory classes.
Cancellation Policy & Contract Length
Because there are no long-term contracts at Orangetheory, you can cancel at any time. The only rule is that you have to notify the front desk or mail or email your request at least 30 days before your next billing period. It then takes 30 days for the cancellation to go into effect, and you can still attend classes during that time.
There are no cancellation fees, but you must make one last payment before your membership is terminated.
If you have an injury or medical issue that prevents you from working out, you can put your membership on hold. You're allowed to do this up to two times per year for a minimum of 30 and a maximum of 60 days. You will still be charged a fee, but it only costs $15-20 per month.
Guest Policy: Can You Bring A Friend or Wife/Husband?
You are allowed to bring a friend or relative with you to an Orangetheory class. If it's their first time at Orangetheory, their visit is free if they show proof that they live locally.
But if you, for example, live in New Jersey and a friend who's visiting from California goes to an Orangetheory class with you, you would have to pay a guest fee because they don't live close to the studio.
Pet Policy: Can You Bring Your Dog To Workout?
Dogs are not allowed at Orangetheory unless they are certified service dogs.
Are Orangetheory Memberships Transferrable?
You can't transfer your Orangetheory membership to another person. Still, you may be able to switch to another location as long as both your current studio and your new one agree to the transfer. You'll have to fill out some paperwork at your current studio, and then the staff will take care of the rest.
It can take up to a month before you see the change reflected in your account on the mobile app.
Does an Orangetheory Membership Work Anywhere?
You can take classes at nearly any Orangetheory studio in the same country as the location where you first signed up. However, some of the premium studios in cities such as New York and Los Angeles are excluded.
One other thing to note is that you cannot schedule a class through the mobile app at a studio that's not your home studio. You must call the location you want to visit to reserve your spot.
Is There A Dress Code?
Orangetheory doesn't have a strict dress code and only states that you must wear appropriate workout attire and closed-toe athletic shoes. But staff also has the ability to turn you away if you're not dressed appropriately. Hence, it's in your best interest to ensure you're adequately covered up and not wearing anything with vulgar or distasteful sayings.
Since you're moving around a lot, I'd also recommend avoiding large pieces of costume jewelry when you go to an Orangetheory class.
Can My Child Workout At Orangetheory?
Children are allowed at Orangetheory once they reach a certain age, but that age varies by studio. At some, it's 13, and at others, it's 14 or 16.
Rules about whether children can work out with parents also vary by the studio. Some locations require parents to sign waiver forms for their child before class starts, but the child is allowed to take the class independently. Other studios only allow minors to take a class if a parent or guardian takes it with them.
Is Orangetheory Personal Training Worth It?
Orangetheory doesn't offer personal training services. Most locations also have policies against approaching an Orangetheory coach about one-on-one training, even if he or she works as a personal trainer at another gym.
If you're concerned about the quality of the coaches, rest assured that they're qualified and knowledgeable not just about the Orangetheory methodology but also about the human body.
Many coaches have degrees in kinesiology, exercise science, or another related field, and some even have advanced degrees in those subjects.
Orangetheory coaches must also have personal training certifications from one of the following:
American College of Sports Medicine (ACSM)
National Academy of Sports Medicine (NASM)
National Strength and Conditioning Association (NSCA)
American Council on Exercise (ACE)
Additionally, all coaches must complete Orangetheory's week-long training program and must keep up with yearly continuing education requirements.
For recommendations on the best gyms with personal trainers, check out 9 Best Gyms With Trainers (And, How Not To Get Ripped Off).
Tips For New Members
1. You Will Need to Eat a Lot
This may sound counterintuitive if you're joining Orangetheory to lose weight, but you will still need to ensure you eat enough calories. Orangetheory classes involve a lot of cardio, and your body will need enough food to give you energy for the workouts and enable you to recover properly afterward.
And if you're worried about gaining weight, don't be. As long as your overall daily calories are in check and your calorie burn is appropriate for the amount of food that you're eating, you won't gain weight. You can figure out how many calories you need using an online calculator like Precision Nutrition.
2. Wear the Right Shoes
I know this seems like a basic tip, but one of the most common questions I see from Orangetheory beginners is what kind of shoes are best.
Many people recommend running shoes, which you can buy online or at a local running store, but I'd suggest getting a pair of shoes that are good for both running and lifting. They'll provide enough cushioning for when you're on the treadmill but will also be supportive enough to give you a stable base for the strength portion of the class.
3. The Heart Rate Monitors Aren't Free
Many people don't realize this, but if you use a heart rate monitor supplied by Orangetheory, it will cost extra. This is because the staff has to sanitize them between classes and check them periodically to ensure they work properly, so the fees help cover the extra work cost.
The fee ranges from $5 to $10 depending on which kind you get (one that straps around your waist or one that goes on your arm), but that can easily add up if you take multiple classes per week.
It would be much more cost-effective to buy your own Orangetheory-branded heart rate monitor. You can also go without one and use another fitness tracker (like a Garmin watch or Apple watch) if you still want to track your heart rate zones. The only downside of doing this is that you won't get to see your stats on the monitor during class.
Orangetheory Gym Complaints
Many Orangetheory gym reviews complain that space in each class is limited, and members often have issues with not getting into their preferred time slot because spots fill up quickly. And if you don't take the number of classes specified in your plan (for example, you only made it to 6 classes one month even though you had a plan for 8), you don't get refunded for the missed classes.
Members also do not like the fact that Orangetheory charges $12 if you cancel your class reservation with less than 8-12 hours' notice.
Other complaints are minor, such as members not liking certain music choices. There are also complaints about the classes being too intense, but you can avoid that by not pushing your body beyond its capabilities. You also don't have to wear the heart rate monitor if you find that it does more harm than good.
Final Thoughts: Is Orangetheory Worth It?
So, let's round up the Orangetheory results reviews…
In my opinion, an Orangetheory membership is worth it if you've got the budget and you enjoy fitness classes. You'll definitely make progress, regardless of your existing fitness levels or abilities, by attending the wide range of Orangetheory fitness classes that are on offer.
However, it's not the best option if you're searching for a gym with many amenities, like a pool, sauna, or sports court.
Similarly, it's probably not worth your money if you don't really enjoy following a group fitness instructor and if your focus is on heavy powerlifting or weightlifting.
Orangetheory gyms are mainly comprised of studios for group classes and have limited weight floor space and equipment, so you won't be able to progressively overload your lifts and make as much progress as you could in other bodybuilding or powerlifting-focused gyms.
Alternatives to Orangetheory
Below are a few alternatives you may want to consider if you're looking for more variety in a gym or a different type of class structure than what Orangetheory offers.
1. F45
For a group fitness training experience similar to Orangetheory, consider F45. F45 is known for its short, intense workouts that require you to move through various stations in each 45-minute class. All studios worldwide follow the same classes on the same day, and there are three cardio classes, three strength classes, and one hybrid class each week.
Check out a direct comparison between Orangetheory and F45.
2. Crunch Fitness
Crunch Fitness is an excellent option if you're looking for a more traditional gym where you can lift heavier weights and use machines in addition to taking group classes.
Crunch Fitness has a wide range of group classes, lifting platforms, and a ton of cardio equipment. You also get access to more amenities such as massage chairs and pools (at select locations) for a much more affordable than the Orangetheory price.
3. Life Time Fitness
If you aren't put off by the price of an Orangetheory membership but are still looking for more than just group classes, consider Life Time Fitness. It's a premium, athletic resort-style gym with pools, basketball courts, rock climbing walls, spas, tennis courts, and more – all in addition to hundreds of classes to choose from each week.
A Life Time membership will likely cost you at least $100 per month, if not more, but the number of amenities, equipment, and classes you get access to justifies the cost.
Other Gym Reviews
Orangetheory Comparisons
---
About The Author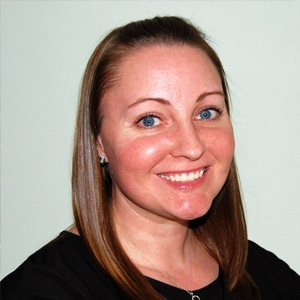 Amanda is a writer and editor in the fitness and nutrition industries. Growing up in a family that loved sports, she learned the importance of staying active from a young age. She started CrossFit in 2015, which led to her interest in powerlifting and weightlifting. She's passionate about helping women overcome their fear of lifting weights and teaching them how to fuel their bodies properly. When she's not training in her garage gym or working, you can find her drinking coffee, walking her dog, or indulging in one too many pieces of chocolate.