PowerliftingTechnique.com is independent and supported by our readers. We may earn a commission if you buy through the links below. For more, see our disclosures page.
If you've been thinking about joining a gym that focuses solely on small group training, you may have heard of Orangetheory and F45. Both offer effective cardio, interval, and strength training workouts, but the classes are structured differently and deliver results in different ways.
So, is Orangetheory or F45 better? Orangetheory is better because it is typically more affordable, has open gym time for people who can't make it to a class, and is more likely to have amenities like showers and locker rooms. However, F45 is better if you're looking for more varied workouts that utilize equipment such as battle ropes and sleds.
In this article, I'll compare how Orangetheory and F45 stack up against each other regarding cost, class structure, equipment used in the classes, and what kind of environment each one has. By the end, you'll be able to decide which gym is a better fit for you and your goals.
Orangetheory Overview
Orangetheory was founded in 2010 and bases its group classes on working out in various heart rate zones (which are percentage ranges based on the maximum number of beats per minute your heart can handle during exercise).
Orangetheory uses a color-coded scale to dictate its targeted heart rate zones during various portions of the class. It recommends spending a minimum of 12 minutes during each one-hour class in zone 4, or the orange zone (hence the name Orangetheory).
This is based on some research that shows this zone is best for improving metabolism and allowing your body to burn a high number of calories for up to 24 hours post-exercise.
Orangetheory doesn't use a lot of high-skill movements in its classes, which makes it a great option for beginners. Because you can burn a significant amount of calories in an Orangetheory class, it's also a good option for people looking to lose weight.
Pros
Instructors are energetic and motivating
All of your stats are available in the mobile app
Friendly, supportive environment
Can burn 500-1,000 calories per class (according to Orangetheory)
Not a lot of highly technical movements to learn
Cons
Expensive membership plans
Doesn't have a lot of amenities
Check out my full review of Orangetheory here.
F45 Overview
F45 is a functional group training experience offering 45-minute classes that combine cardio, high-intensity interval training (HIIT), plyometrics, and strength training. Most of the class is done in a circuit style, meaning you stay at one station for a predetermined amount of time before moving on to the next one.
While there are trainers at each class, they don't actually lead the workouts. They'll demo each of the movements you do during class and walk around to make sure your form is correct and offer words of encouragement, but you follow along with the instructions on a large screen that tell you when to switch stations.
F45 classes can be grueling, but they're also a lot of fun and go by quickly because you're constantly moving. Like Orangetheory, F45 claims that you can burn a significant number of calories in each class, which makes it another great option for anyone who wants to lose weight.
On the other hand, F45 is more focused on functional training that utilizes movements you're most likely to perform in your everyday life such as squatting and picking up heavy objects. It's a bit more advanced, which makes it a good option for anyone with a sports background or who already has some fitness experience.
Pros
Classes take just 45 minutes
Can burn 500-800 calories per class (though this is very individual)
Positive, supportive community
Get to use a lot of different equipment
Knowledgeable and qualified coaches
Cons
Memberships are expensive
Coaches don't actually lead the classes
Not a lot of amenities
Check out my full review of F45 here.
Orangetheory vs F45: 10 Differences
1. Cost
At small group training studios like Orangetheory and F45, class sizes are small and you get more one-on-one attention from the trainers. This means that memberships will be expensive regardless of which one you join, and you'll have to be prepared to spend a lot more money than you would if you were joining a regular chain gym.
Orangetheory
The lowest price I've seen for an Orangetheory membership is $99 per month, but some locations cost $150-$200 per month depending on how many classes you want to take.
F45
An F45 membership typically costs $199 per month but can go up to $250 per month depending on where you live.
The Winner
Both gyms are expensive, but Orangetheory tends to be cheaper.
2. Contract Length
Unlike large chain gyms that typically offer annual and month-to-month contracts, group training studios like Orangetheory and F45 offer contracts that are based on how many classes you want to take each week or each month.
As such, before you join, you should think carefully about how many classes you'll be able to realistically take so you're not paying for classes that you'll never be able to make it to.
Orangetheory
Orangetheory's contracts are based on however many classes per month you want to take, so there are no long-term contracts.
You can choose a plan with unlimited monthly classes, 8 classes per month, or 4 classes per month. There are also monthly packages for 10, 20, or 30 classes.
F45
Most F45 studios offer contracts for unlimited monthly classes, a limited number of classes per month, or a certain number of classes per week. This usually works out to 3 classes per week or 10 classes per month, but each studio is different.
Some locations offer month-to-month, six-month, or annual contracts, though these may still limit you to attending a specified number of classes per month. Some locations also offer bi-weekly packages.
The Winner
It's a tie because both gyms offer flexibility in how many classes you can sign up for per week or per month.
3. Equipment
The type of equipment that's available at gyms like Orangetheory and F45 differs from what you'd find in a big-box gym. There's only enough of it to suit a small number of people, and it's specialized to the types of classes each gym offers.
That said, Orangetheory and F45 classes are not very similar to each other. Therefore, you'll find unique pieces of equipment at each gym. You'll have to decide whether you prefer using just a few basic pieces of equipment or if you want more variety in your workouts.
Orangetheory
Orangetheory utilizes treadmills, rowers, bikes, medicine balls, BOSU balls, dumbbells, and benches in its classes. Each studio also has TRX suspension trainers and pull-up bars.
F45
F45 has dumbbells, kettlebells, sleds, slam balls, sandbags, battle ropes, plyo boxes, Bosu balls, and TRX trainers.
F45 classes also utilize Les Mill barbells, which are shorter than a typical Olympic-style barbell and only have a max weight of 96lbs, and Revo bars, which are long, weighted steel bars coated with rubber.
The Winner
I'd recommend F45 over Orangetheory if you're looking for workouts that you can do with a wider range of equipment.
4. Atmosphere
The atmosphere at small group training studios tends to be friendlier and more supportive than what you'd find in a large big-box gym. But when it comes to Orangetheory and F45, each one caters to a different clientele and fosters a sense of competition in different ways. Which one you ultimately decide on will depend on what best motivates you to stick to your routine.
Orangetheory
Orangetheory has a friendly, welcoming community. It can also be competitive since you can see how you stack up to the other class members if you wear a heart rate monitor. This can motivate you to push yourself more, but if it makes you feel self-conscious, you don't have to wear a monitor.
There's also a gamification element to Orangetheory classes because you can earn "splat points" for each minute you spend in the orange zone. This makes the classes even more interesting and can give you a concrete goal to strive for.
Orangetheory has a high female-to-male ratio, but it caters to people of all different age groups and experience levels.
The only thing I don't like about Orangetheory is that the sales associates are very pushy, which is something to watch out for if you take a trial class.
F45
Like Orangetheory, F45 has a tight-knit, supportive community. It also has a large female clientele, but in my experience, there are more males in an F45 class than in an Orangetheory class.
I've also noticed that F45 caters more to people who have at least some previous training experience. But the fact that you're moving through multiple stations at predetermined time intervals makes it good for beginners as well. You can go at your own pace and don't have to worry about not being able to move on until you reach a certain number of reps.
There is no "scoreboard" in F45, so it doesn't have as competitive of an environment as Orangetheory does. It encourages you to focus only on yourself, which can be beneficial if you don't want to be in a class where you're afraid of coming in last place all the time.
The Winner
There is no clear winner because which atmosphere will suit you better depends on your own personality and preferences. If you need more extrinsic motivation, go with Orangetheory. If you're more motivated by competing with yourself instead of others, go with F45.
5. Gym Policies
Group training studios can often have stricter rules than larger gyms since multiple people are moving around a smaller space at the same time. While the rules are usually not hard to follow, it still helps to understand them before deciding which gym to join so you can ensure the policies won't negatively effect your workout experience.
Orangetheory
There is no strict dress code at Orangetheory. You can wear any kind of athletic apparel as long as it's clean, not too revealing, and doesn't have vulgar or inappropriate sayings. The only firm rule is that you have to wear closed-toe sneakers.
You can grunt, but some members get annoyed by it, so you should do your best not to do it too often. Chalk is technically allowed, but most people don't use it during class. It's also advised not to drop the dumbbells.
You can cancel your membership at any time as long as you notify the staff 30 days before your next billing date. There technically aren't any cancellation fees, but you'll have to pay for one more month until the cancellation goes into effect. You can still take classes during that time.
You're allowed to bring guests for free if they've never been to Orangetheory before and they show a valid ID that proves they live locally. If your guest doesn't live nearby or has been to Orangetheory before, you'll have to pay a guest fee.
F45
F45 has a similar dress code as Orangetheory. Any clean athletic apparel is allowed as long as it doesn't have vulgar sayings, and closed-toe shoes are required at all times.
F45 does not allow chalk or dropping weights. Grunting is technically allowed, but like Orangetheory, some F45 members may get annoyed by it.
F45 doesn't have a universal guest policy. Each studio has its own rules about bringing guests, so you'll have to ask the staff at your local studio if you want to bring a friend or family member. At the very least, your guest can sign up for a trial pass and attend class at the same time as you.
You can cancel your membership at any time if you have a month-to-month contract, but you have to give the staff 30 days' notice. If you have any other type of contract, you'll have to pay either 50% of your remaining balance or a cancellation fee (usually around $150).
The Winner
Orangetheory wins because it has a clear guest policy and no cancellation fees.
6. Class Structure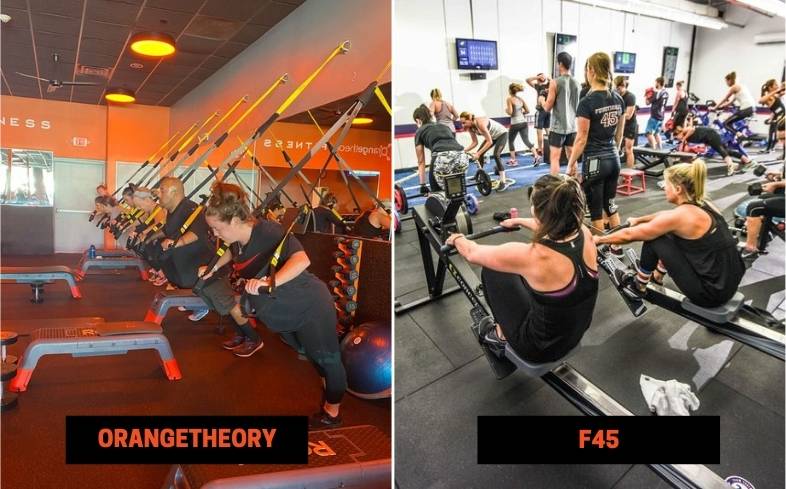 Even though Orangetheory and F45 are both group training studios, the classes at each gym follow a different format. If you know how the classes are structured before you purchase a membership, it can help you decide which gym you'd enjoy better.
Orangetheory
Orangetheory classes are one hour each. They're the same at all studios around the world every day, and they rotate between focusing on strength, power, or endurance.
Classes start on the treadmill, and you have the option to use a bike or strider (a machine that's similar to an elliptical) instead. You then move on to the rowers for more cardio work before ending with some strength training, which can include both bodyweight and dumbbell exercises.
During each class, you can wear a heart rate monitor to keep track of which heart rate zone you're in. There's a large monitor in the studio that displays everyone's progress so you can see how you're doing compared to everyone else.
F45
F45 classes are 45 minutes each. Like Orangetheory, every F45 studio around the world does the same class each day. Throughout the week, there are three cardio days, three strength training days, and one hybrid day.
After a warm-up and some instructions from the trainer, you'll begin to move through various stations in a circuit training format.
Depending on which station you're at, you could be riding a bike, doing plyometrics (such as box jumps or jump squats), using battle ropes, or doing bodyweight exercises. There are several television screens throughout each studio that will tell you when to switch stations.
You have the option to wear a heart rate monitor during F45 classes as well, but there is no scoreboard that displays your progress. It's simply for you to be able to monitor your heart rate zones throughout the class.
The Winner
Even though both gyms have structured classes, I'd choose Orangetheory over F45 since the classes are led by a human being and not a television screen.
7. Amenities
Amenities such as saunas, massage chairs, and basketball courts are common at big-box gyms, but you'd be hard-pressed to find them at group training studios. It's also likely that you may not find showers and locker rooms, which is important to consider if you'll be taking classes on your way to work or school.
Orangetheory
Only a few Orangetheory studios have locker rooms. However, there are usually lockers or cubbies in the lobby where you can leave your belongings during class.
Even though there aren't locker rooms, many studios do have bathrooms with showers, and they supply shampoo and soap. You'll have to bring your own towel, but if you forget one, you can buy one at the front desk.
Orangetheory doesn't have childcare, and there are no smoothie bars. But you can buy bottled water at the front desk if you forget yours.
F45
F45 doesn't have locker rooms, but some studios have gender-specific changing rooms. There are also cubbies that you can leave your stuff in during class.
There are no smoothie bars, but there are water fountains. There are also no showers or childcare services at F45.
The Winner
While neither gym has a lot of amenities, you'll have better luck finding showers and locker rooms at Orangetheory.
8. Personal Training
Neither Orangetheory nor F45 offer personal training services, which is something to keep in mind if you're looking for one-on-one training.
But as you'll see, the coaches at each gym have similar qualifications. And while your decision of which one to join may not come down to personal training, it still helps to know what kind of quality you can expect from the coaches.
Orangetheory
Orangetheory requires its trainers to have certifications through one of the following:
American College of Sports Medicine (ACSM)
National Academy of Sports Medicine (NASM)
National Strength and Conditioning Association (NSCA)
American Council on Exercise (ACE)
Additionally, trainers have to take a week-long Orangetheory training program before they can teach classes. Orangetheory also requires its trainers to keep up with continuing education credits.
Even though many Orangetheory trainers also work as personal trainers, either through their own businesses or at larger chain gyms, they are not allowed to promote their services to Orangetheory members. Members are also not allowed to approach the trainers about personal training.
F45
Some F45 studios require their trainers to have degrees in kinesiology or exercise science as well as personal training certifications, but some only require one or the other. As well, some studios prefer that the coaches have nutrition certifications, but it's not a requirement.
Before they are allowed to teach classes, F45 trainers have to complete courses at the F45 Academy. The academy offers a series of classes that teach the fundamentals of human movement and how to run an F45 class efficiently.
There's also an "optional" fitness test at the end of the Academy training. I put it in quotes because even though it's not required, many studios will choose whether or not to hire trainers based on their fitness test results.
The Winner
The trainers at both gyms have similar qualifications, but F45 edges out Orangetheory ever so slightly because its trainers have to prove that they are good at working out and not just good at passing a test or motivating people.
9. Locations
Orangetheory and F45 have many studios in multiple countries, but their policies around visiting locations other than the one where you signed up vary. If being able to visit other studios is a make-or-break-it factor for you, you'll need to understand how each gym handles drop-ins from members of other studios.
Orangetheory
There are more than 1,400 Orangetheory studios in 25 different countries. Excluding some studios in large cities like New York and Los Angeles, you can visit any studio for free as long as it's in the same country where you purchased a membership.
If you're visiting another country, you can visit an Orangetheory studio for a small fee of about $35 (or whatever the equivalent is in the local currency).
F45
F45 has more than 1,750 studios worldwide, with almost half of them in the US. However, you can only take classes at the studio where you originally signed up. If you want to visit another location, you'll need to pay a drop-in fee of about $25.
The Winner
Even though F45 has more locations, I recommend Orangetheory if you know you'll need to visit other studios on occasion. You don't have to pay a drop-in fee as long as you're visiting another studio in the country where you bought your membership.
10. Hours of Operation
Being able to work out at times that are most convenient for you is important to consider when deciding between two gyms. But at smaller group training studios, you're often limited by their scheduled class times. As such, it's essential that you make sure classes are offered at times you're able to make them so your membership doesn't go to waste.
Orangetheory
Orangetheory class times depend on the studio. During the week, they'll typically be from 5 AM until 10 AM and 4 PM to 7 PM. On Saturdays and Sundays, they'll be from 7 AM until 10 AM or 12 PM.
At some studios, you can also take advantage of open gym time so you can use the rowers and treadmills for up to 45 minutes. If the studio isn't too crowded, you can also use the dumbbells or do floor-based exercises during this time.
F45
F45's hours also depend on which studio you go to. Classes are typically held from 5 AM to 10 AM and 4 PM to 7 PM on weekdays and 7 AM to 11 AM on the weekends.
Whether or not open gym time is available also depends on the studio, though it's not very common.
The Winner
Both gyms have similar operating hours, but Orangetheory wins because it also has open gym time for people who can't make it to a class.
Who Is Orangetheory For?
Orangetheory is for you if you:
Prefer doing simpler workouts without a lot of equipment
Need extrinsic motivators like the opportunity to earn points to stay consistent with a workout routine
Enjoy doing workouts that are more focused on cardio
Want to be able to take classes at other studios, not just the one where you signed up
Who Is F45 For?
F45 is for you if you:
Are looking for workouts that use more varied pieces of equipment
Already have some fitness experience
Don't need a scoreboard for motivation
Only have 45 minutes available to work out each day
Other Gym Comparisons With Orangetheory and F45
---
About The Author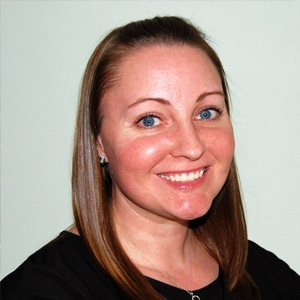 Amanda is a writer and editor in the fitness and nutrition industries. Growing up in a family that loved sports, she learned the importance of staying active from a young age. She started CrossFit in 2015, which led to her interest in powerlifting and weightlifting. She's passionate about helping women overcome their fear of lifting weights and teaching them how to fuel their bodies properly. When she's not training in her garage gym or working, you can find her drinking coffee, walking her dog, or indulging in one too many pieces of chocolate.