F45 is a group fitness franchise that began in Australia and now has locations all over the world. Its workouts consist of 45 minutes of functional training — hence the name F45.
I recently dropped in at the F45 in Wayne, NJ to find out if a membership is worth it.
So, is an F45 membership worth it? If you enjoy group fitness, an F45 membership is worth it. F45 is known for building tight-knit communities and maintaining positive, encouraging environments. However, it's not the gym to go to if your goals are to get as strong as possible or if you have physique-based goals.
Keep reading to find out why F45 isn't for everybody and what other gyms you may want to consider instead.
In this article, I'll also talk about:
My Experience Working Out At F45
As someone who used to belong to a CrossFit box but now works out at home, I was excited to try another high-intensity group class. There are many reasons why I love training at home, but it's not the same as suffering through a workout with other people.
A trainer greeted me as soon as I walked in. He showed me the studio, told me about the history of F45, and explained how the classes work. I wasn't too nervous since I'm no stranger to high-intensity workouts, but the trainer made me feel more at ease.
It was obvious that some of the members attend the same class times every day and have become good friends. They were polite and a few members introduced themselves to me, but I still felt a little left out. I'm sure if I were to go to F45 classes more frequently and got to know the other members better, I would start to fit in more.
The members at the class I went to appeared to be in their late 20s to early 40s. There were both men and women, but the women outnumbered the men.
The atmosphere and overall vibe of the place were very similar to my old CrossFit gym. F45 is basically just one large room with no machines — other than rowers and bikes — and no mirrors. All of the equipment is lined up against the walls.
F45 classes are similar to circuit training, where you rotate from multiple stations and perform different movements at each station. The trainers organize everything you need for that day's workout before class starts, which is nice since you don't have to set everything up yourself.
One thing I didn't know about F45 before I visited is that the trainers don't actually lead the class. They demo the movements you'll do in the workout, but that's it. Once class starts, you follow along to a large screen that shows someone doing each movement and tells you when to switch stations.
The trainers will walk around to make sure everyone is doing the movements correctly and shout out some words of encouragement, but they don't do the class with you. The trainer at the class I took stayed near me most of the time because I was new, but he wasn't obtrusive or annoyingly motivational.
Even though I loved the class I took at F45, I wouldn't purchase a membership. This is mostly because I have a home gym and I have enough equipment that I can do my own workouts similar to F45 at home. But a membership at the F45 by me is quite expensive and while I understand the appeal, I wouldn't be willing to pay that much each month.
I also just love strength training and I'm not willing to give it up to fit F45 into my schedule. F45 does have workout days that are primarily focused on strength, but it's not quite the same as following a strength-based lifting routine.
It's important to remember that this review is based on my experience at the Wayne, NJ location. While all F45 gyms follow the same workouts every day, each location has unique trainers and members. If you're curious about F45, I recommend calling or taking a class at a location by you to see if you like it.
F45: Pros & Cons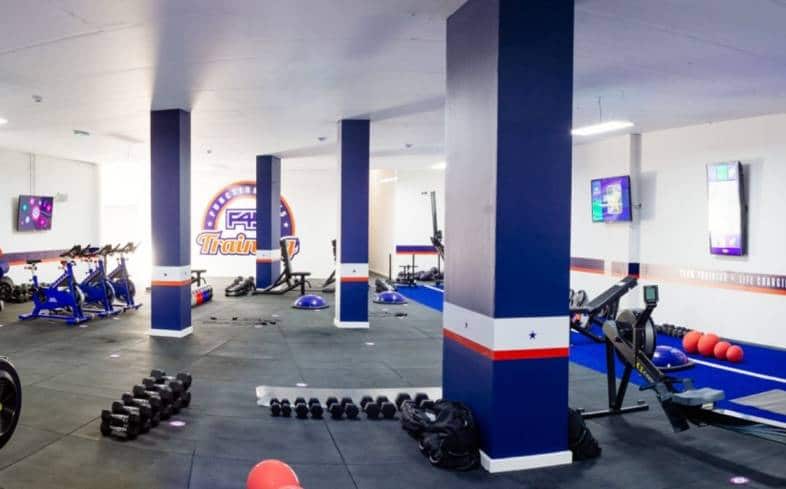 F45 has garnered a cult-like following, but that doesn't mean it's perfect. Below are some of the pros and cons of F45.
Pros
The community you'll find at F45 is positive, friendly, and encouraging. The F45 community reminds me a lot of the CrossFit community. F45 is a great place for people who crave being part of a group but aren't interested in the gymnastics and heavy barbell work you do at CrossFit.
Classes are short and effective. If you don't have hours to spend at the gym every day, F45 is ideal because you can get a complete workout in under an hour.
All F45 gyms follow the same workouts every day. F45 isn't like CrossFit where each gym follows its own programming. At F45, you do the same workout as everyone else in the world. There are three cardio-based workouts and three strength-based workouts plus one hybrid workout each week. This is good for people who like structure or those who do other workouts in addition to F45 since you can plan your other training around it.
Cons
There is no onboarding program. Most chain gyms give you the option of signing up for a free orientation or consultation so a trainer can show you around the gym and teach you how to use some of the equipment. Even most CrossFit gyms make new members complete several fundamental classes before they start taking regular classes. F45 doesn't do this. New F45 studios have to complete a special set of classes for two weeks before they can start the worldwide classes, but after that, new members are expected to jump right in and learn as they go.
You can wind up with bad trainers. F45 trainers are required to have personal training certifications, but that doesn't mean they're good at running group training classes or skilled at teaching people proper technique. And since you follow along with a TV during class, you may also encounter trainers who just cheer for everyone rather than walk around ensuring everyone is using proper form.
How Much Does An F45 Membership Cost?
F45 memberships cost about the same no matter where you go, but each location may have slightly different membership plans and term contracts. Below are the membership options offered at the Wayne, NJ location to give you an idea of how much you can expect to pay.
F45 Membership | Month-to-Month | Monthly
This plan costs $199/month. They call it a month-to-month plan, but in reality, it's only good for four months. You can attend an unlimited amount of classes per month with this plan.
10-Class Pass
A 10-class package costs a one-time fee of $249.
Drop-In
You can drop into a single class for $28. This option is primarily just for existing F45 members who are traveling and want to visit another location.
Free Trials
The Wayne, NJ location offers a one-week free trial, but not all locations do. Depending on which studio you go to, you may need to pay $15 – $30 for a trial week.
If you're a student, membership costs might be cheaper. Check out our article Best Students Gyms.
Gym Equipment
At F45, you won't find resistance machines or Olympic barbells. The classes utilize a lot of kettlebell and dumbbell movements. F45 also sleds, sandbags, slam balls, battle ropes, Ybells, plyo boxes, Bosu balls, and TRX bands.
Most F45 locations, including the one I went to, use Les Mills bars. They're shorter and only have a max weight of 96lbs. They have hex dumbbells that go up to 75lbs. The kettlebells go up to 44lbs and the Ybells are available in 9lbs, 18lbs, or 28lbs. There are also Revo bars, which are weighted steel bars with a rubber covering, that range from 8lbs to 33lbs.
There are no treadmills or ellipticals at F45. For the conditioning portions of its workouts, F45 utilizes Concept 2 rowers and bike ergs. I've also heard that more and more locations are starting to implement ski ergs into their workouts.
Does F45 Have Squat Racks?
The majority of F45 locations don't have squat racks.
Does F45 Have Deadlift Platforms?
F45 does not have deadlift platforms.
Special Features & Amenities
F45 gyms are not the same as other chain gyms. They believe that you don't need a ton of fancy equipment or spa services to live a healthy lifestyle. As such, you won't find the same amenities at F45 that you'll find at globo gyms.
Does F45 Have a Pool?
F45 does not have a pool.
Does F45 Have a Sauna?
F45 does not have saunas.
Does F45 Have Showers and Locker Rooms?
F45 doesn't have lockers, but there are cubbies where you can store your coat and gym bag.
Some locations have separate gender-specific changing rooms. At the very least, you can always change in the bathroom if you need to. Some locations may also have private shower stalls.
Want our full list of gyms with showers? Check out our guide: 18 Best Gyms With Showers (Cleanliness & What's Included).
Does F45 Have a Basketball Court?
F45 does not have a basketball court.
Want a gym that has a basketball court? Check out our guide: Best Gyms With Basketball Courts.
Does F45 Have Childcare?
F45 does not have childcare.
Does F45 Have a Yoga Studio?
F45 does not have a yoga studio.
Does F45 Have a Smoothie Bar?
F45 does not have a smoothie bar.
Does F45 Have Massage Chairs?
F45 does not have massage chairs.
Does F45 Have a Women's-Only Area?
F45 does not have a separate women's workout area. All classes are co-ed.
Does F45 Have Group Classes?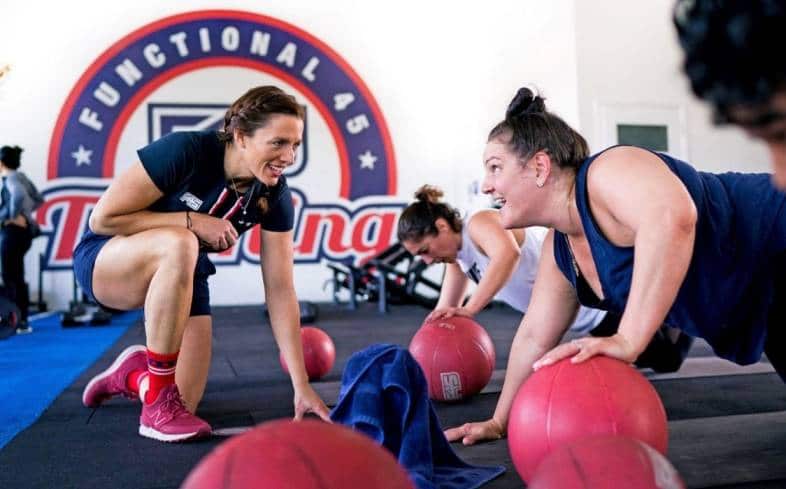 F45 only has group classes. Every gym does the same workouts every day. Certain days of the week are reserved for cardio and other days are reserved for strength. There's also one day that's reserved for hybrid classes.
Want our full list of gyms with classes? Check out our guide: 11 Best Gyms With Classes
Does F45 Have a Cardio Cinema Room?
F45 does not have a cardio cinema room.
Is F45 Open 24 Hours a Day?
F45 is not open 24 hours a day.
Does F45 Have Red Light Therapy?
F45 does not have red light therapy.
Who Does F45 Cater To?
F45 isn't a good gym for powerlifters unless you wanted to use it for GPP training to supplement your powerlifting training. If you were to do this, I'd recommend only doing it during an offseason or as far away from a meet as possible. F45 workouts are tough and you may find it too difficult to recover properly if you try to combine too many of them with your powerlifting training.
F45 is also not the place for bodybuilders. It doesn't have machines and while it has dumbbells and kettlebells, it's not the type of place that most people go to in order to build muscle. You can gain some lean muscle mass from F45 workouts, especially if your nutrition is also on point, but you won't get the same results as you would if you followed a hypertrophy program.
If you thrive in group training environments, you'll enjoy F45. One of the benefits of gyms like this is the community, which you can't often find at globo gyms.
All of the F45 classes are group classes, and you'll usually work out with 10-30 other people. Many F45 gyms also hold events and celebrate their members for reaching certain milestones. It's a fun atmosphere for people who like to feel like they're a part of something.
The community aspect of F45 is also good for people who have done CrossFit in the past. The variety and intensity of F45 workouts are similar to CrossFit WODs. They focus on functional fitness, endurance, and strength. The only drawback is that F45 doesn't include heavy barbell or high-skill gymnastics movements in its classes.
But because F45 workouts focus on bursts of activity with short rest periods in between, they're good for people who enjoy HIIT workouts. F45 also has three cardio-heavy days per week. These classes are excellent for anyone who's looking to improve their conditioning or endurance.
If you're trying to lose weight, F45 is a great place for you. You'll find a good support system from the trainers and other members. And since you'll probably enjoy the workouts a lot, it will be easier for you to remain consistent.
Furthermore, F45 offers challenges throughout the year that can help jumpstart any lifestyle changes you want to make.
Many people suggest that F45 isn't good for beginners, but I don't necessarily agree. After all, everyone is a beginner at some point and you'll never become a non-beginner if you don't start somewhere.
However, the workouts as programmed are a lot for people who have never worked out before. It's important that you talk to the trainers and let them know if you're new to fitness. They can give you suggestions on how to ease your way into the workouts and build up your training frequency over time.
The only caveat with complete beginners joining F45 is that they don't often have enough body awareness or self-discipline to know when to push themselves and when to take it easy. Good coaches can help with this, but you'll also have to learn how to listen to your body.
While F45 has trainers who demo the exercise movements, they're not personal trainers who will work with you one-on-one. If you're looking for private personal training sessions, you'll need to go to another gym or a private personal training studio.
Specific Information For Women
F45 doesn't have women's-only workout areas, and all of the classes are co-ed. From what I saw at the Wayne, NJ location, most classes tend to have more female participants, so women shouldn't feel uncomfortable working out there.
And because you're constantly moving at F45, it's unlikely that you'll come across men who try to flirt with you during class. It's different than going to a regular gym where men may stare at you or stand too close to you while you're lifting weights.
Also, it's pretty much impossible to use your cell phone during an F45 workout. You most likely won't witness any creeps trying to secretly film you or take photos of you.
F45 Policies
Re-Opening Policy & What Happens To Membership In A Lockdown?
Due to COVID-19, F45 has changed the way its classes are run. You still follow the circuit-style format, but you're not always rotating stations with other people.
For example, at some classes, you may have your own box mapped out on the floor that has all of the equipment you need for that day. You rotate between movements but you never leave your designated box.
Some classes do still require you to rotate stations, but members are expected to quickly wipe down the equipment before the next person uses it.
In some areas, classes are limited to 12 members each. Classes have been held outside at some locations as long as weather permits.
F45 gyms are following local mask mandates, so you may or may not need one. I recommend having one with you just in case you're asked to wear one.
In the event of a government-mandated lockdown, each F45 gym will come up with its own policies about what to do with your membership. They may freeze all memberships automatically or temporarily reduce the monthly fee. I've also heard of some F45 owners working out different payment plans with members who have lost their jobs because of COVID.
If you have any questions about what would happen to your F45 location if we had to go into another lockdown, I recommend asking an owner or trainer since the COVID policies vary so widely by location.
Policy On Dropping Weights, Grunting, & Chalk
Chalk is not allowed at F45. But since it's not the place where you'll be doing heavy barbell movements, you probably won't need it, anyway. If you're used to using chalk for pullups, you can try gymnastics grips instead.
Because F45 does not have bumper plates, dropping weights is not allowed. But again, you won't do a lot of heavy strength work at F45, so you should be able to control your weights even if you're fatigued.
Grunting technically is allowed but since you won't be lifting very heavy, you probably won't feel the need to do it.
Cancellation Policy & Contract Length
Each F45 location offers contracts of different lengths, but you should be able to get month-to-month, six-, or twelve-month memberships at most clubs.
In most cases, if you have a month-to-month contract, you can cancel at any time with at least 30 days' notice by contacting your club directly.
If you have a term contract and want to cancel early, you may have to pay at least 50% of your remaining balance or a flat cancellation fee of about $150. You'll also have to provide at least 30 days' notice at most locations.
Guest Policy: Can You Bring A Friend or Wife/Husband?
There is no universal guest policy for F45. If you want to bring a friend or family member, I'd encourage them to sign up for a trial week. You should also talk to your studio owner to find out if your location has its own set of rules regarding guests.
Pet Policy: Can You Bring Your Dog To Workout?
Since F45 isn't a traditional gym, it tends to be a little more lenient about letting you bring your dog with you. However, each location will have its own rules about pets.
If you do bring your dog with you, you'll need to make sure you contain him or her while class is in session to keep both the members and the dog safe during the workout.
Are F45 Memberships Transferrable?
Some F45 locations allow you to transfer your membership to someone else. You may have to pay a transfer fee of about $55.
F45 memberships are not transferable to another location since they're all independently owned and operated.
Does An F45 Membership Work Anywhere?
F45 memberships are only good for the location at which you signed up. If you're traveling and want to visit another studio, you can either pay a drop-in fee for each visit or purchase a 10-class pass. The drop-in fee costs $15 – $30, depending on the location.
Is There A Dress Code?
There is no strict dress code at F45 — any kind of appropriate workout apparel will do.
Even though you won't be doing traditional squats or deadlifts, I recommend shoes that are good for both lifting and running. You can wear these types of shoes for both the strength and cardio days rather than having to alternate footwear based on what kind of workout you're doing.
Can My Child Work Out At F45?
Children under the age of 16 aren't allowed inside F45. Children who are 16 or 17 years old need a certificate of approval from a parent or legal guardian in order to take F45 classes.
Is F45 Personal Training Worth It?
As I've mentioned throughout this article, F45 doesn't have personal trainers who will create workout routines for you and train you one-on-one. There are no personal training packages available at F45.
But if you're curious about what kind of experience and education is required of the F45 trainers, it's not much different than trainers at other gyms.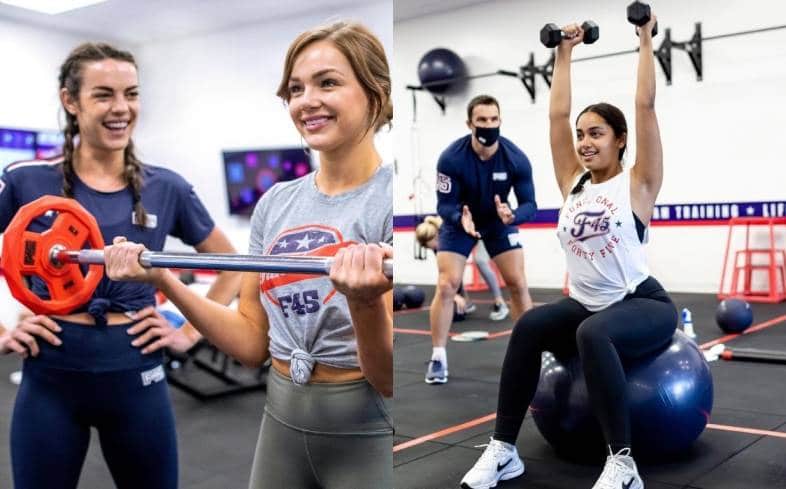 Some locations require their trainers to have both a degree in kinesiology or exercise science and a personal training certificate. Other locations just require one or the other. A nutritional background is preferred but not required at most locations.
F45 trainers must also complete courses at the F45 Academy. These courses cover basic movement patterns for the exercises done at F45 and teach trainers how to run an efficient F45 class.
I've heard that the F45 courses aren't too difficult for people who already have a strong educational background in fitness, but just because someone has a lot of knowledge doesn't mean they're good at leading a class or teaching other people. As such, the quality of F45 trainers will vary from gym to gym.
Want our list of gyms with a personal trainer? Check out our guide: 9 Best Gyms With Trainers (And, How Not To Get Ripped Off)
Tips For New Members
1. Go at Your Own Pace
At F45, it's important to understand when you can push yourself and when you need to take a step back. I know it's hard to go easy in a group setting when you want to keep up with everyone else — I felt the same way when I used to go to a CrossFit box.
But when you're doing workouts as intense as F45's, you'll need to be in tune with your body. It's impossible to be able to train at 100% effort every single day. There's no shame in taking it easy at one or two classes each week. You can prevent injuries and avoid getting burned out this way.
2. You Can Always Try a Different Location if You Don't Click With the Members or Staff at Your Primary Location
It's possible that you won't mesh with the members or trainers at your F45 gym. Community and culture are two important aspects of the F45 model, so it can be disheartening if you feel like you don't fit in.
But the beauty of F45 is that there are so many locations for you to choose from. While you can't transfer a membership from one location to another, you can cancel your membership at your original gym and join another F45 close by if you're looking for a different atmosphere.
3. Eat. A lot.
F45 workouts require a lot of energy. You're constantly moving and putting yourself through whole-body workouts multiple days per week. You'll need to eat plenty of calories throughout the day to support your activity levels.
Eating a lot sounds counterintuitive if you're trying to lose weight, and nutrition is an especially confusing subject for women who are more subject to criticisms about their weight and more likely to fall victim to diet culture.
But whether you're a male or female, you need to eat enough to fuel your workouts and recover properly. Eating enough protein, carbs, and fats throughout the day will not only keep you satiated but will help get you through those tough F45 classes.
F45 Complaints
While F45 is a chain, it's not a typical globo gym and doesn't operate the same as one. Some of the typical complaints you'll find about most chain gyms don't apply to F45, such as complaints about canceling memberships or unethical billing practices. Those issues do exist at F45, but they aren't as prevalent as they are at other gyms.
Most of the complaints about F45 have more to do with the programming itself. F45 workouts are intense, and many former members have complained about getting injured or having to push through the pain to complete a workout. However, this can be avoided by understanding your own body and knowing when you need to scale back on a workout.
And since F45 is like CrossFit where speed and intensity are emphasized, members get caught up in trying to reach a certain number of reps and don't always focus on proper form. A good trainer will address this during class, but a bad trainer will just let it slide.
Alternatives to F45
1. Equinox
Equinox is a luxury gym that's known for its group classes. If you like the idea of F45 classes but also want to be able to lift heavier weights or do some bodybuilding, Equinox is a good option.
Depending on which location you go to, Equinox will cost around the same amount as F45, but you'll have access to a lot more equipment. Equinox also has some really nice amenities and spa services.
Check out our complete review of Equinox.
2. Life Time Fitness
Life Time Fitness is another luxury gym that's also like an adult playground. It has rock-climbing walls, basketball courts, racquetball courts, outdoor swimming pools, and tennis courts.
Life Time Fitness offers a variety of group classes, but the ones that are most similar to F45 are the Alpha Conditioning and Alpha Strength classes. These classes incorporate interval training with strength movements and endurance training.
The Alpha Strength classes include barbell training as well, so they're a good choice for anyone who enjoys F45 but misses heavy barbell work.
Check out our complete review of Life Time Fitness.
3. Gold's Gym
If you're in need of a gym where you can build strength and gain muscle, I recommend Gold's Gym. Gold's Gym has a huge variety of resistance machines and free weights. There are also plenty of cardio machines if you still want to incorporate conditioning workouts as well.
Gold's Gym also offers group classes if you enjoy working out with other people. A Gold's Gym membership is more than half the price of an F45 membership, so you'll save a decent amount of money, too.
Check out our complete review of Gold's Gym.
Other Gym Reviews
F45 Comparisons
Final Thoughts
For people who thrive when they're part of a community, F45 is a fantastic gym. F45 studios are inviting and non-judgmental. If you go to one long enough, you can build strong friendships with the trainers and members.
But if your goals are more strength- or aesthetics-based, F45 isn't the gym for you. There are no Olympic barbells, no plates, no resistance machines — just a bunch of functional training equipment in one large room.
I recommend F45 for anyone who wants quick, efficient workouts to help them stay in shape, but if you want to become a bodybuilder or get as strong as possible, you should consider another gym.
---
About The Author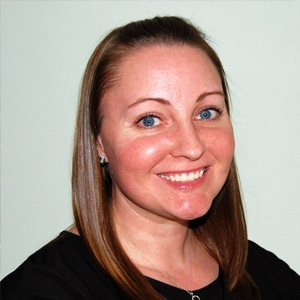 Amanda Dvorak is a freelance writer and powerlifting enthusiast. Amanda played softball for 12 years and discovered her passion for fitness when she was in college. It wasn't until she started CrossFit in 2015 that she became interested in powerlifting and realized how much she loves lifting heavy weights. In addition to powerlifting, Amanda also enjoys running and cycling.