GoodLife Fitness is the largest chain gym in Canada with over 200 locations across the country.
I worked out at a GoodLife Fitness with one of my friends recently to find out if a membership is worth it.
So, is a GoodLife Fitness membership worth it? A GoodLife Fitness membership is worth it because it has plenty of cardio and strength machines, free weights, group classes, and a lot of amenities. Most locations also have equipment for powerlifting and functional fitness workouts. And since many locations are open 24 hours, you can work out at any time.
After reading this article, you'll be able to determine if GoodLife Fitness is the right gym for you.
In this article, I'll also talk about:
My Experience Working Out At GoodLife Fitness
I've heard some conflicting information about the quality of GoodLife Fitness gyms, but I enjoyed my experience there. Aside from my friend, I didn't interact with the other members too much, but I didn't notice anyone doing anything wrong or inappropriate. I was also impressed with the cleanliness of the gym, the locker rooms, and the bathrooms.
The clientele at GoodLife Fitness varies and depends on when you go. The people who go first thing in the morning tend to be middle-aged adults who like to keep to themselves while people who go in the middle of the day are stay-at-home moms or older teenagers. Members who go in the evening are often more focused on socializing than working out.
Some members are judgmental and I've heard people say that you'll get some strange looks when doing powerlifting or bodybuilding workouts. This isn't indicative of every GoodLife location though, so I recommend visiting different locations to see which you feel most comfortable at.
GoodLife Fitness locations are, on average, at least 25,000 square feet, so it's not difficult to find open machines even during peak hours. However, if you want to use a special piece of equipment and there's only one available, you may have to wait.
I didn't run into any issues with the staff while I was there, but I have heard that some employees are rude. I think this will depend on the location and time of day, though.
If I didn't have my own garage gym, I would purchase a GoodLife Fitness membership. I was impressed with the number of amenities it offers, and I also liked that you can do nearly any kind of workout there.
It's important to keep in mind that this is based on my experience at Edmonton's Rabbit Hill Road and 23 Ave location. Other locations may have different pieces of equipment and amenities, so I recommend dropping into one near you to see how you like it.
GoodLife Fitness: Pros & Cons
Every gym will have its positives and negatives. Below are some of the pros and cons I noticed about GoodLife Fitness when I visited.
Pros
You can use your GoodLife Fitness membership at any location. If you're traveling, you can visit any other GoodLife location free of charge.
The gyms are very clean. The location I visited was well-maintained. Everyone cleaned up after themselves and there was no trash left behind. The showers and locker rooms were also pretty much spotless.
The memberships are affordable and there are no locked-in contracts. Since the memberships are month-to-month at most locations, you can cancel at any time.
You can access the gym 24 hours a day. GoodLife Fitness gyms are open 24 hours a day. If you have a busy schedule or work odd hours, you can work out at any time that's convenient for you.
GoodLife has a lot of equipment. There's a large selection of strength and cardio equipment as well as free weights, so GoodLife caters to a wide variety of individuals.
The members and most of the staff are friendly. Although the other members kept to themselves while I was there, my friend who's been attending GoodLife for five years says everyone is friendly and welcoming. The staff who were working while I visited were also helpful and made sure I had everything I needed for my workout.
Unless you only have the basic membership plan, group classes are free. Some gyms charge additional fees per class or per month for group classes. Depending on what membership plan you have at GoodLife, you can take as many group classes as you want without having to pay extra.
Cons
You may have to wait for a deadlift platform or squat rack during busy times. GoodLife Fitness only has a handful of deadlift platforms and squat racks, so it can be hard to find one that's available during peak hours.
The staff is very strict about following gym rules. While the fact that the staff enforces the gym's policies isn't a bad thing, the way they handle certain situations is. Some staff members can be rude and demanding, even when a gentle reminder about the gym rules would suffice.
How Much Does A GoodLife Fitness Membership Cost?
GoodLife Fitness offers three membership plans: Essential, Premium, and Ultimate. Some locations offer a Performance plan instead of an Ultimate plan.
Below is an overview of the three plans available at the Edmonton Rabbit Hill Road and 23 Ave location. Although this location doesn't offer a Performance plan, I included information about that plan below as well.
Essential Membership
The Essential Membership costs $29.99 every two weeks, not including tax. This is the most basic plan. With this membership, you get:
Access to the Edmonton Rabbit Hill Road and 23 Ave location only
Access to all strength and cardio equipment
GoodLife rewards, which I'll talk more about further down in this section
With this plan, you can also temporarily freeze your membership, but you'll still need to pay a monthly fee of $10.
Premium Membership
This plan costs $31.99 every two weeks, not including tax. Like the Essential plan, it only offers access to the strength and cardio equipment and GoodLife rewards, but you can go to any GoodLife gym in Canada.
Ultimate Membership
The Ultimate plan costs $36.99 every two weeks, not including tax. With this membership, you get:
Access to All Locations
Group Fitness
Strength & Cardio Equipment
GoodLife Rewards
mindDEN
Squash
Family Add-Ons
Free Membership Holds
mindDEN is a unique service at some GoodLife locations where members can practice meditation. Meditation sessions are available from 5 to 20 minutes at a time.
Performance Membership
As I mentioned earlier, some GoodLife locations offer this plan instead of the Premium plan. The Performance membership costs $54.99 every two weeks, not including tax, and includes:
Access to All Locations
Group Fitness
Strength & Cardio Equipment
GoodLife Rewards
Hot Yoga
mindDEN
Squash
Family Add-Ons
Free Membership Holds
Performance Programming
Empower HIIT
PEAK
REGYMEN
The Field
Empower HIIT, PEAK, and REGYMEN are specialized group-focused fitness classes that combine HIIT and strength training.
The Empower HIIT and PEAK classes utilize Myzone heart rate monitors so you can receive performance feedback in real-time. REGYMEN classes are similar to CrossFit classes, but there's no heavy barbell work.
While more generic classes such as Zumba and Pilates are included with some GoodLife memberships, the specialized classes cost extra. If you're interested in taking them, I recommend the Performance plan if your location offers it so you don't have to pay separately for each class.
Joining Fees
There is a $50 joining fee for all membership plans.
GoodLife Rewards
GoodLife memberships include rewards for participating businesses throughout Canada. You can get discounts on meals, hotel rooms, apparel, supplements, and more.
Corporate Memberships
Some organizations in Canada partner with GoodLife Fitness to offer discounts of up to 50% on gym memberships for their employees.
In addition to the services I listed above, members with corporate memberships have access to exclusive virtual workouts. GoodLife also offers on-site services such as massages, meditation classes, and nutritional counseling.
Free Trials
GoodLife Fitness offers free trial passes for new members on its website.
Looking for a gym that offers free passes or trials? Check out our detailed guide: 14 Gyms With Free Passes & Trials.
These passes are only good for one visit, but GoodLife sometimes offers 2-week or 4-week free trials. I recommend calling the location you're interested in to see if they have any promotions available for extended trial periods.
If you're a student, membership costs might be cheaper. Check out our article Best Gyms With Student Discounts.
Gym Equipment
Like most chain gyms, GoodLife Fitness has a lot of resistance and cardio machines from Life Fitness and Hammer Strength, which are two of the most popular commercial fitness equipment suppliers.
The spin bikes are from Expresso, and they're nice because you can turn the handlebars and follow virtual road tracks on the screen.
GoodLife Fitness has its own brand of round dumbbells and plates. The dumbbells go up to 100lbs. You can also find preloaded EZ curl bars and barbells that go up to 100lbs as well. At some locations, you can find trap bars or safety bars.
I was surprised to see that GoodLife Fitness has Eleiko barbells and bumper plates because not a lot of chain gyms have high-end equipment like this. However, at some locations, the Eleiko products are only available in the personal training areas.
Does GoodLife Fitness Have Squat Racks?
The GoodLife Fitness location I visited had 6 squat racks. My friend said that it's hard to secure one during the gym's busiest hours, but they're usually available if you go early in the morning or in the middle of the day.
Does GoodLife Fitness Have Deadlift Platforms?
The gym I went to had two deadlift platforms. Like the squat racks, they're not always available during the gym's peak hours, but they're usually free in the mornings and afternoons.
Special Features & Amenities
Each GoodLife Fitness club will have different amenities, but based on my research, they are pretty standard across most locations.
Does GoodLife Fitness Have a Pool?
Most GoodLife Fitness locations have pools. You can swim on your own or take aqua classes.
Want our full list of gyms with pools? Check out our guide: 10 Best Gyms With Pools, Saunas, & Hot Tubs.
Does GoodLife Fitness Have a Sauna?
Most GoodLife Fitness locations have saunas, but you may only be allowed to access them with certain membership plans.
Does GoodLife Fitness Have Showers and Locker Rooms?
GoodLife Fitness has showers and locker rooms. It also has a towel service that is free with corporate memberships but is an extra $10/month for all other members.
The lockers can only be used while you're working out. You aren't allowed to leave your belongings in them overnight.
Want our full list of gyms with showers? Check out our guide: 18 Best Gyms With Showers (Cleanliness & What's Included).
Does GoodLife Fitness Have a Basketball Court?
There are some GoodLife Fitness locations that have full basketball courts and others that just have nets. Some locations have squash courts instead, but you may only have access to them with certain membership plans.
Does GoodLife Fitness Have Childcare?
Within the past couple of years, many GoodLife Fitness locations have stopped offering childcare services. Some locations still provide a childcare service called JUMP, but I recommend calling or visiting the location you wish to join to find out whether or not this service is available.
Want our full list of gyms with childcare? Check out our guide: 12 Best Gyms With Childcare (What To Expect, Rules, Cost)
Does GoodLife Fitness Have Tanning Beds?
Many GoodLife Fitness locations have tanning beds. Access to the tanning beds may be included with your membership or you may have to pay extra for a monthly tanning package.
Want a gym with tanning? Check out our guide: Best Gyms With Tanning (What's Expected, Cost, How To Use)
Does GoodLife Fitness Have a Yoga Studio?
GoodLife Fitness has yoga studios. You can take classes such as Vinyasa, Yin/Yang, and Power yoga. The yoga studios are also used for meditation sessions throughout the day.
Does GoodLife Fitness Have a Smoothie Bar?
GoodLife Fitness has a smoothie bar. You can get a post-workout smoothie for around $5 as well as protein bars, bottles of water, or sports beverages.
Does GoodLife Fitness Have Massage Chairs?
HydroMassage chairs are available at most GoodLife Fitness locations.
Does GoodLife Fitness Have a Women's-Only Area?
GoodLife Fitness has women's-only areas with strength and cardio equipment as well as free weights. They also offer women's-only group classes.
Some locations are strictly for women only. At these locations, members are notified if any men will be around at a particular time — for example, if repairs are being done inside the gym. You can decide whether or not you're comfortable attending the gym during those times.
Does GoodLife Fitness Have Group Classes?
GoodLife Fitness offers a range of group classes that include cycling, aquatics, cardio, strength, yoga, Zumba, and Pilates. Group classes aren't included with the Essential membership plan, but they are included with all other plans.
Some locations also offer a series of performance group classes that are a mix of strength and cardio. These classes utilize heart rate monitors to track your performance and your progress over time. The performance classes are included with the Performance membership plan, but all other members will have to pay extra to take them.
While they aren't necessarily "group" classes, GoodLife Fitness also offers virtual classes that you can take in any studio if you can't make it to a scheduled class.
Want our full list of gyms with classes? Check out our guide: 11 Best Gyms With Classes
Does GoodLife Fitness Have a Cardio Cinema Room?
Some GoodLife Fitness locations have a cardio theatre room so you can watch movies on a big screen while you work out.
Is GoodLife Fitness Open 24 Hours a Day?
Most GoodLife Fitness locations are open 24 hours a day. Even if your location isn't open 24 hours, you can usually go to the gym early in the morning or late in the evening.
Who Does GoodLife Fitness Cater To?
GoodLife Fitness caters to a variety of people including bodybuilders, powerlifters, and general fitness enthusiasts. It has a huge selection of resistance machines as well as treadmills, bikes, ellipticals, and stair climbers. Most locations have squat racks and deadlift platforms.
Some clubs have turf areas where you can do functional fitness or HIIT workouts, which makes GoodLife an excellent gym for people who have done CrossFit or individuals who enjoy more intense styles of training.
GoodLife offers a lot of group classes as well. This is a great perk for people who don't like to use machines and prefer to follow instructor-led workouts.
I wouldn't recommend GoodLife Fitness to anyone who's only interested in working with a personal trainer. The personal training plans are pricey and the quality of trainers is questionable, which I'll discuss in more detail further down in this article.
For this reason, I also don't recommend GoodLife Fitness for beginners. While you can always ask the staff or another member for help if you don't know how to use a machine, I wouldn't rely on the trainers for assistance with creating workout plans and nutrition guidelines.
Specific Information For Women
Most GoodLife Fitness locations are co-ed but have women's-only areas. A handful of locations are specifically for women only. Some of the women's-only gyms aren't open 24/7 though, and there tends to be more cardio equipment than strength equipment. I've also heard some women say that the staff will scold them if they make too much noise while deadlifting.
I asked another friend if she feels comfortable working out at GoodLife, and she said she does. There's usually a good mix of female and male members, so it's rare that there would only be one woman in the weight room. She said she may occasionally find a man staring, but it's not as bad as other gyms she's been to.
GoodLife Fitness Gym Policies
Re-Opening Policy & What Happens To Membership In A Lockdown?
When we first went into lockdown in 2020, GoodLife Fitness automatically froze memberships for members who lived in lockdown zones. Other members were able to freeze their memberships by calling the gym. I think this would likely be the case if we had to go into another lockdown, but each location may also institute its own lockdown policies.
Now that gyms are reopening, GoodLife has started limiting the number of members who are allowed inside at one time. Members have had to make reservations ahead of time and are only allowed to work out during their specified time slot. Certain amenities such as towel services are still not available, but GoodLife has not been charging members for them.
To keep its members safe, GoodLife has started placing its machines at least 6 feet apart or placing barriers in between each machine. Staff members sanitize all equipment throughout the day.
GoodLife Fitness locations follow a color-coded system that indicates their mask policies. Green means masks are a personal choice. Yellow means you only have to wear masks when leaving or entering the gym and when in common areas such as locker rooms. Red means masks are required for all members at all times.
Also, some provinces are only allowing vaccinated individuals to go to gyms, and they must provide proof of vaccination.
Policy On Dropping Weights, Grunting, & Chalk
Based on my research, rules about the use of chalk vary by location. I asked the staff at the location I went to, and I was told that chalk isn't allowed at all. I know people who go to other locations where chalk is allowed. If your location doesn't allow powdered chalk, you can use liquid chalk.
I also asked about dropping weights, and I was told that it's okay when the gym isn't crowded, but I should avoid doing it when there are a lot of people around because some of the members will complain about the noise.
There are no strict rules about grunting, but I recommend keeping it to a minimum whenever possible. Members who don't lift heavy weights may not understand why people do it, and I think it's best to avoid conflicts with other gym-goers.
Cancellation Policy & Contract Length
At most GoodLife locations, contracts are month-to-month. Only a handful of locations offer one- or two-year contracts.
You can cancel your membership within 10 days of signing up and receive a full refund. You'll have to submit a written cancellation request in person, and the notice must include the date of your request.
If you want to cancel a membership that you've had for longer than 10 days, you'll need to notify the gym in writing at least one month in advance following the same stipulations above. You'll also have to pay a cancellation fee that ranges anywhere from $75 to $100.
Guest Policy: Can You Bring A Friend or Wife/Husband?
You can bring a guest during the hours that the gym is staffed or get a guest pass from your membership portal online. The guest may need to sign a guest agreement when they check-in. Some locations may offer the guest passes for free, but others may charge a fee of about $15.
Pet Policy: Can You Bring Your Dog To Workout?
Dogs are not allowed in GoodLife Fitness unless you have a disability and are accompanied by a guide or service dog. You may have to provide a doctor's note or your dog's certificate of training in order for him or her to be allowed in the gym.
Are GoodLife Fitness Memberships Transferrable?
GoodLife Fitness used to allow members to transfer their memberships, but they stopped offering this option several years ago.
Does A GoodLife Fitness Membership Work Anywhere?
The most basic membership plan only allows you to work out at the location where you initially signed up. All other membership plans allow you to visit any location.
Is There A Dress Code?
While there is no dress code stated in the contract, GoodLife Fitness expects its members to dress in appropriate workout attire. This means no jeans, sandals, dress shoes, or baggy clothing that can get caught on the machines.
I've heard of some locations frowning upon women working out in sports bras and booty shorts, but I've also heard of some clubs that are okay with it. I recommend checking with the staff or observing how the other women dress at your GoodLife location to get a sense of what's allowed.
I recommend doing the same if you like to squat or deadlift barefoot. The employees at the location I went to didn't seem to mind me deadlifting in just socks, but as I mentioned earlier, some staff members are sticklers about following the rules. Check with them before you take your shoes off to ensure you aren't breaking any rules.
Can My Child Work Out at GoodLife Fitness?
Children who are at least 12 years old can work out at GoodLife Fitness. A parent or guardian will have to sign for minors, and all members under the age of 18 have to complete a Youth Starter program. This program is available at no extra charge and teaches teens proper gym etiquette and how to use the equipment.
Every summer, children and teens between the ages of 12 and 17 can also sign up for free access to virtual classes. Children who already have a GoodLife membership can choose to freeze their in-club membership for the summer.
Is GoodLife Fitness Personal Training Worth It?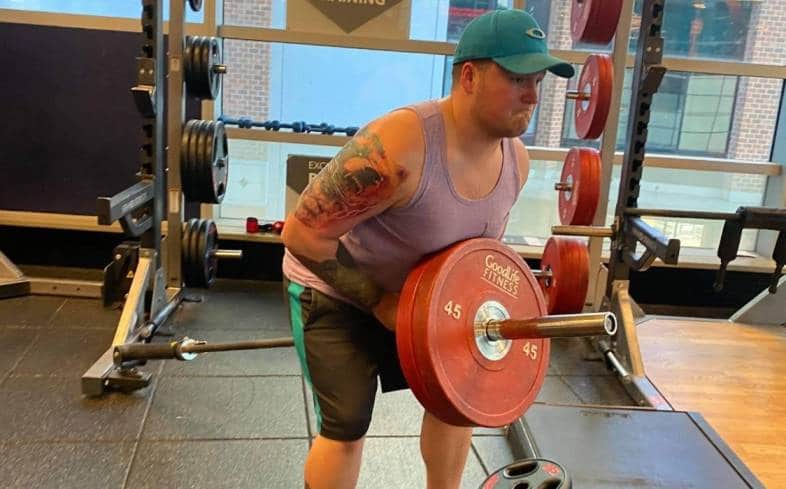 The decision to hire a personal trainer at GoodLife depends on your goals and your training history. It also depends on your budget since you'll have to pay extra for your personal training sessions. However, in most cases, I don't think GoodLife Fitness personal training is worth it.
GoodLife Fitness's trainers are ranked by tiers based on how much education and experience they have. The cost of a personal trainer goes up or down accordingly. Sessions start at $60/hour for level I, II, or III trainers and can go up to $85/hour or more for level IV or V trainers.
Personal trainers at GoodLife must have certifications through the GoodLife Personal Training Institute™ or Canfitpro™, Canada's largest provider of fitness education.
These courses aren't highly regarded, and both tend to have high pass rates, GoodLife personal trainers don't need to have any additional education or training, so you'll find some big disparities in the quality of trainers who earn these certifications.
I've also heard that the lower-level trainers only get to keep a small percentage of the money they bring in. It's likely that some of them won't put in as much effort when they know they're not getting paid a lot of money.
When you sign up for a GoodLife personal training package, you have to agree to a minimum of six months. I think this is too long of a commitment regardless of how much experience you have. Beginners can usually pick up enough knowledge to train on their own within three months, and more seasoned gym-goers can learn new training methods within that same time frame.
If you try to cancel your personal training contract early, you'll have to pay a penalty fee, and you don't get a refund for unused sessions. I'd skip the personal training sessions at GoodLife. If you need guidance, you can work out with a friend, watch YouTube videos to learn proper form, or start with free training plans online.
Want our list of gyms with a personal trainer? Check out our guide: 9 Best Gyms With Trainers (And, How Not To Get Ripped Off)
Tips For New Members
1.Think Carefully About Which Plan You Want Before You Sign a Contract
GoodLife Fitness offers three different membership plans that determine what you get access to.
Before you sign a contract, think about what you'll realistically use the gym for. You don't want to be stuck with an expensive membership when you only use the treadmills, and you don't want to be stuck with the basic plan if you want access to other locations when you travel.
If you need to, you can change your membership plan by speaking to a staff member, but it's easier if you choose the correct plan from the start.
2. Make Sure You Understand All of Your Gym's Rules
This may sound obvious, but since the GoodLife staff members have a reputation for being strict about following the rules, make sure you understand all of your gym's policies before you work out. Some of the employees aren't very forgiving, even for a minor faux pas.
3. Take Advantage of the GoodLife App
GoodLife Fitness members can download the GoodLife mobile app on Android or Apple devices. Through the app, you can look up exercise tutorials, view class schedules, and take virtual classes anywhere. The app also has a unique barcode so you can scan into any GoodLife location with your phone.
GoodLife Fitness Complaints
One of the biggest complaints about GoodLife Fitness is how difficult it is to cancel a membership. This is true of almost every chain gym, but most of the complaints I've seen about GoodLife seem like the members' misunderstandings.
For example, the contract states that you must submit a cancelation request in writing at the location where you initially signed up. A lot of complaints are from members who got upset after they couldn't cancel their memberships over the phone.
Even though GoodLife is supposed to notify members 30-90 days before automatically renewing any contracts, some members have claimed that they never received these notifications.
Recently, GoodLife Fitness has suffered from staff shortages, and members have stated that its customer service is going downhill. When they try to contact the gym via email or phone, it takes days or weeks to receive a response.
While the location I went to was clean and the machines were well-maintained, I've also heard that cleanliness isn't a priority at other locations and other clubs have a lot of broken machines.
Alternatives to GoodLife Fitness
GoodLife Fitness is the most popular chain gym in Canada, but there are plenty of other options if you don't think it's the right gym for you.
1. Gold's Gym
In terms of amenities, Gold's Gym is one of the most similar chain gyms to GoodLife Fitness. Gold's Gym isn't as popular in Canada, though. If there's one near you, I recommend checking it out because you'll find a similar amount of equipment and group classes. You'll likely also find a similar clientele at Gold's Gym.
Check out our complete review of Gold's Gym.
2. LA Fitness
Like Gold's Gym, LA Fitness offers similar amenities to GoodLife Fitness. It's not a 24-hour gym, but it's open early in the morning and late in the evening. An LA Fitness membership is cheaper than GoodLife Fitness, so if you can't afford a GoodLife membership, LA Fitness may be more in line with your budget.
Check out our complete review of LA Fitness.
3. Anytime Fitness
Anytime Fitness is smaller than GoodLife and doesn't offer quite as many amenities, but it's less expensive and it's also available 24 hours a day. Anytime Fitness gyms tend to be smaller than GoodLife Fitness, making it a good option for beginners and people who don't need a ton of machines or equipment.
Check out our complete review of Anytime Fitness.
Other Gym Reviews
GoldLife Fitness Gym Comparisons
World Gym vs GoodLife Fitness
Final Thoughts
GoodLife Fitness is an excellent gym where bodybuilders, powerlifters, CrossFitters, and general fitness enthusiasts can all reach their goals. It has its flaws and it's not the cheapest gym around, but considering all that you get with a monthly membership, the cost is worth it.
---
About The Author
Amanda Parker has a passion for competing and coaching in both powerlifting and weightlifting. She uses her knowledge from her Kinesiology Degree, CSCS, and Precision Nutrition certification to coach athletes and lifestyle clients for performance in training and nutrition. Connect with her on Instagram.