GoodLife Fitness and LA Fitness are two gyms that have been around for decades and are still growing. Both gyms cater to a variety of audiences and have some things in common, but there are also some big differences between the two.
So, is GoodLife Fitness or LA Fitness a better gym? If you live in the US, you'll have to go with LA Fitness because GoodLife is only in Canada. There are a handful of LA Fitness clubs in Canada, but it's primarily a US-based chain. If you do live close to both gyms, I recommend GoodLife because it's larger, has a better quality of equipment, and has more amenities.
Once you decide to join a gym, you may be tempted to pick the one that's closest to your house or the one with the cheapest memberships. But there's a lot more to consider before you sign a contract.
By the end of this article, you'll understand everything you need to think about before joining a gym, and you'll be able to determine whether GoodLife Fitness or LA Fitness is the best gym for you.
GoodLife Fitness Overview
GoodLife Fitness is the largest chain gym in Canada and has more than 450 locations throughout the country.
GoodLife Fitness also has three additional brands underneath it: Fit4Less, which also has locations throughout Canada; EconoFitness, which has 70 locations in Quebec; and Oxygen Yoga and Fitness, a yoga studio that also offers barre and boot camp classes.
In addition to providing a safe and positive gym experience for everyone, GoodLife also encourages volunteerism amongst its employees and has helped teach thousands of children throughout Canada the benefits of physical activity.
Pros
Can use your GoodLife membership at any location
Gyms are accessible 24 hours a day
Group classes are included with some membership plans
Most locations are known for their cleanliness
Don't have to be locked into a long-term contract
Cons
Can be hard to get a squat rack or machine when it's busy
Staff members can be rude at some locations
Check out my full review of GoodLife Fitness here.
LA Fitness Overview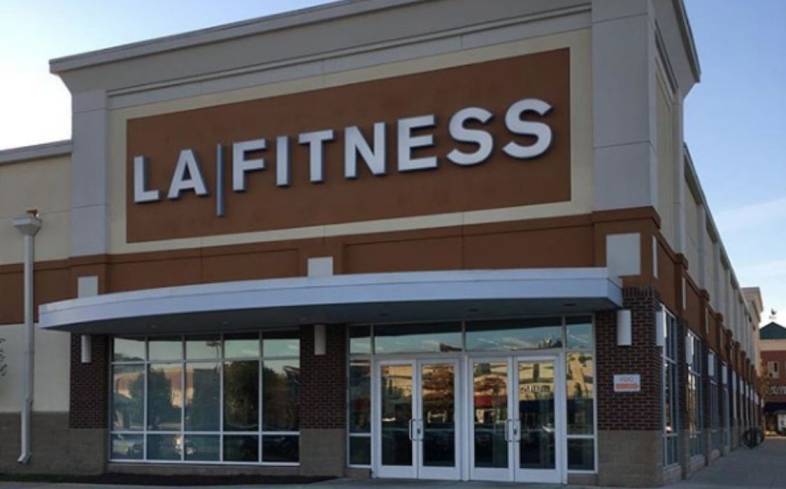 LA Fitness was founded in the 1980s. It originally only had locations in California, but it eventually began expanding its presence by acquiring gym franchises that were struggling to stay open. In 2020, it began opening low-budget clubs called Esporta Fitness, which are intended to compete with other low-priced gyms like Planet Fitness.
LA Fitness doesn't have super modern decor and upscale finishes, but it's not cheap or run-down either. It has a large variety of cardio and strength machines as well as free weights and group classes.
LA Fitness is a good gym for virtually anyone, and you'll likely find people of all experience levels there. While certain exercises like CrossFit may be difficult to do there depending on the equipment and layout of your club, you can do almost any kind of cardio or strength workout at LA Fitness.
Pros
Affordable membership plans
Can use chalk at most locations
Decent selection of amenities such as smoothie bars, childcare services, and basketball and racquetball courts
Most group classes are free with your membership
Can use your membership at most locations (signature clubs may be excluded)
Cons
Members aren't good at putting their weights back
Lack of cleanliness is a problem at some locations
Check out my full review of LA Fitness here.
GoodLife Fitness vs LA Fitness: 10 Differences
As you'll see, there are a lot of differences between GoodLife Fitness and LA Fitness besides their geographic locations.
1. Cost
First and foremost, before you join a gym, you should make sure you can afford it. Some gyms cost upwards of $100/month, but you can also find a gym for a fraction of that price.
If you're the type of person who tracks every single penny and has a set budget for everything, you should also consider things like initiation fees and annual fees. These fees can eat away at your finances if you don't factor them into your overall gym budget.
GoodLife Fitness
GoodLife memberships start at $29.99 every two weeks and can go up to $54.99 every two weeks, not including tax. All membership plans have a $50 joining fee.
GoodLife partners with a lot of businesses in Canada to offer discounted memberships for their employees. If your employer is part of this program, you can save up to 50% on your membership.
You can download a one-day free trial pass on GoodLife's website. If you're lucky, you may even be able to get a 2-week or 4-week free trial pass. Before you visit, you can call your local club to see if they're running any special promotions for extended free trials.
LA Fitness
At LA Fitness, you can expect to pay around $34.99/month plus taxes. You can get a Multi Club plan or a Single Club plan. The Multi Club plan is month-to-month while the Single Club plan requires a six-month commitment.
With both plans, you'll have to pay a $49 annual fee, but you'll only have to pay an initiation fee with the Multi Club plan. That fee is also $49.
Your first and last months' dues are due at signing, so the upfront costs can be anywhere from $70 to $119.
You can download a free five-day pass on LA Fitness's website if you want to try it out before signing a contract.
The Winner
Because it's over $30 cheaper per month, LA Fitness is the gym for you if you're trying to save money.
2. Contract Length
Each gym will have different types of contracts. At some gyms, you can get a month-to-month membership and not worry about getting locked into a long-term contract. Other gyms only offer term contracts.
When trying to decide between two gyms, think carefully about whether or not you can afford a long-term commitment. If you prefer more flexibility, you should make sure your gym has month-to-month membership options.
GoodLife Fitness
Most GoodLife Fitness locations have month-to-month contracts, but you can also sign a one- or two-year contract at some clubs.
LA Fitness
LA Fitness has both month-to-month contracts and term contracts. The length of a term contract varies by location, but it will typically be either six or twelve months.
The Winner
It's a tie. Whether you're ready to commit to a gym for a long time or you prefer to not have a specific end date on your membership, you can likely find both options at GoodLife and LA Fitness.
3. Equipment
I always recommend taking advantage of a free trial pass so you can go to a gym yourself and check out the equipment before you purchase a membership. While it's important that the equipment is in good shape, you should also make sure you can find whatever equipment you'll need to do the workouts you enjoy.
GoodLife Fitness
Most of the cardio and strength machines at GoodLife Fitness are from Hammer Strength and Life Fitness. The spin bikes are from Expresso and allow you to follow virtual trails and turn the handlebars as if you were riding a road bike.
The dumbbells at GoodLife go up to 100lbs, as do the preset EZ curl bars and straight bars. Some clubs also have trap bars and safety squat bars as well as functional training equipment.
GoodLife has Eleiko bumper plates and barbells, though at some locations, these nicer pieces of equipment are only available in the personal training area. You can also usually find several squat racks and deadlift platforms at GoodLife.
LA Fitness
LA Fitness also has cardio and strength machines from Hammer Strength and Life Fitness as well as some machines from Matrix and Star Trac. There are a few Concept 2 rowers, and the spinning studios have spin bikes from Keiser.
The dumbbells go up to 120lbs. LA Fitness has preset EZ curl bars and straight bars as well. You'll find barbells and rubber-coated grip plates from Premier and IGX, but not all locations have bumper plates.
Most LA Fitness locations have two or three squat racks and deadlift platforms.
The Winner
Even though the dumbbells at GoodLife don't go as heavy as the ones at LA Fitness, GoodLife has a larger variety of strength training equipment and better machines. If you want high-quality equipment, GoodLife is the gym for you.
4. Atmosphere
A gym that has an inclusive, supportive environment will be more enjoyable to go to than a gym that won't allow you to train the way you want or doesn't have members who share the same goals as you.
When choosing between two gyms, you should get a feel for the vibe of each place to make sure you'll fit in with the other members and will be able to meet your goals.
GoodLife Fitness
The atmosphere at GoodLife Fitness varies not only from one location to another but from one time of day to another.
First thing in the morning, you're more likely to see people on their way to work who are dedicated to their routines and probably still too tired to converse with you. The people who go in the middle of the day tend to be stay-at-home moms, older teenagers, or middle-aged adults who are working out on their lunch breaks.
The evening crowd tends to skew towards young adults who care more about socializing than working out.
Some locations attract some of the more hardcore gym-goers while others are better suited for people who are just trying to stay in shape. But in general, GoodLife has a supportive environment that caters to a variety of experience levels and training goals.
LA Fitness
The atmosphere at LA Fitness depends on the clientele at each location. For example, the one closest to me has a younger crowd, and they tend to be loud and hog some of the equipment. But as long as you don't go out of your way to start trouble, nobody will bother you.
Aside from that, people of all experience levels go to LA Fitness. I know of a couple of professional bodybuilders who train there, but there are also beginners and people who work out just to stay healthy.
LA Fitness doesn't have a tight-knit community like some smaller gyms do, but it's a good place if you want to work out on your own and don't care about making friends at the gym.
The Winner
It's a tie between GoodLife and LA Fitness. At either gym, the atmosphere is determined by the types of people who go and what time of day they're most likely to be there.
5. Gym Policies
Some policies are similar at all gyms, but things like cancellation fees, dress codes, and rules about using chalk will vary. Before you make a decision about which gym to join, make sure you understand the rules at each one so you don't commit a faux pas once you officially become a member.
GoodLife Fitness
GoodLife Fitness has relatively standard gym policies. There is no strict dress code in its contract, but some locations frown upon members who wear shorts that are too short or show too much skin.
At most locations, you can bring a guest for free, but some locations require a $15 guest fee.
Some people try to get out of a gym membership by attempting to transfer it to another person, but that's not allowed at GoodLife. If you want to cancel your membership, you have to give at least a month's notice and submit a written request in person. You'll have to pay a cancellation fee that ranges anywhere from $75 to $100.
With any plan except for the basic plan, you can visit any GoodLife club in Canada.
Some GoodLife locations are more lenient about using chalk than others. At the very least, you should be able to use liquid chalk. Most locations are okay with you dropping weights, but you may receive some complaints from other members if you make too much noise.
LA Fitness
LA Fitness also has gym policies that are fairly common amongst other gyms. It tends to have a more lenient dress code than GoodLife. Most clothing is allowed as long as it's not too baggy or doesn't have grommets or chains that can get caught on the machines.
To cancel your membership, you can download a form on the website and hand it in at the front desk or send it via certified mail. There are no cancellation fees for month-to-month memberships, but if you have a term contract, you may have to pay a portion of the unused time left on your membership.
Members are allowed to bring one guest each for free. If you want to bring a second guest, you'll have to pay a fee of $20.
With most memberships, you can visit almost any other LA Fitness. Memberships can't be transferred to another person, but you can transfer your home club to another location.
Dropping weights isn't allowed, but powdered and liquid chalk are both allowed.
The Winner
There are only minor differences between the policies at GoodLife and LA Fitness, so neither gym is the clear winner.
6. Group Classes
If you're the kind of person who likes working out in a group setting, you should make sure the gym you join offers group classes. It's also important to check their schedule to ensure you can make it to the classes that interest you.
Also, keep in mind that group classes aren't included in all membership plans. If you'll need to pay extra for them, you should make sure they fit within your gym budget.
GoodLife Fitness
GoodLife Fitness has a large variety of traditional group classes such as Zumba, Pilates, spinning, and yoga. If you can't make it to a scheduled class, you can take a virtual class on-demand in one of the studios.
GoodLife also offers performance-based classes where you can hook up to a heart rate monitor and track your progress. You can only take these classes for free with certain membership plans. But if you do have to pay for them, they're worth the extra money if you're a competitive person who's motivated by visible results.
LA Fitness
LA Fitness also has group classes like Zumba, Pilates, spinning, and yoga, but class offerings vary widely by location. Some locations only have a couple of classes a day, and sometimes they're held at inconvenient times when most people are working.
If you're willing to pay an additional $125/month, you can take classes called HIIT by LAF at LA Fitness's Club Studio®. These classes combine a mix of cardio, strength, and functional training movements. You have the option to wear a heart rate monitor to track your progress and ensure you're in the proper heart rate zone during each portion of the class.
The Winner
GoodLife Fitness edges out LA Fitness because its class schedule is a bit more flexible and you have the option to take classes on-demand.
7. Amenities
Some people want a gym where they can just work out and go straight home when they're done. Other people like having a place to relax or eat a quick snack before they leave the gym.
If you fall into the latter category, be sure to consider what amenities your gym has before you purchase a membership. Not only are the amenities themselves different at each gym but the quality can vary as well.
GoodLife Fitness
The amenities at GoodLife are different at each location, but most clubs have pools, saunas, basketball courts, smoothie bars, massage chairs, and tanning booths. Many locations also have yoga studios and women's-only workout areas.
GoodLife Fitness also has showers and locker rooms. Some locations provide soap and shampoo in the showers. Some clubs also have towel services available for an additional fee.
LA Fitness
LA Fitness has indoor lap pools, basketball courts, racquetball courts, and smoothie bars. Use of the pool is included with almost all memberships, but you may have to pay extra to use the basketball courts and racquetball courts.
Childcare services are also available, but at some locations, you have to pay an additional fee to use them.
There are showers and locker rooms at LA Fitness, but you have to bring your own toiletries and towel.
The Winner
GoodLife Fitness has a larger variety of amenities, and you'll find towels, soap, and shampoo in the locker rooms and showers at most clubs. It's the gym for you if you're looking for a lot of amenities.
8. Personal Training
If you're joining a gym with the hopes of working with a personal trainer, you should consider what kind of packages your gym offers and how good their trainers are. The quality of personal trainers can be inconsistent from gym to gym, and you may be stuck paying a lot of money for a subpar trainer.
GoodLife Fitness
Trainers at GoodLife are required to have certifications from GoodLife's own personal training institute or Canfitpro™, the largest personal training institution in Canada. However, it's not too difficult to pass the exams through either one, so there's a low barrier to entry in becoming a personal trainer at GoodLife.
The trainers at GoodLife work on a tier-based system. They move up the ranks based on how much education and experience they have. It costs around $60/hour to work with a level I, II, or III trainer and up to $85/hour to work with a level IV or V trainer. You can buy sessions in bulk, but you have to agree to a minimum of six months.
Trying to cancel your personal training contract a GoodLife is a huge headache, and you'll have to pay a penalty fee. You also don't get a refund for any unused sessions.
LA Fitness
LA Fitness tends to hire personal trainers who are new to the industry, so they don't always have a lengthy educational background or a long history of training clients. They have to have the appropriate personal training certifications, but they don't need to have degrees in a related subject area.
Personal training packages start at $45 for 30 minutes or $60 for 60 minutes. You can save money by signing up for six-month or 12-month contracts, which start at $240/month and $200/month, respectively. It's difficult to cancel them if you no longer want to work with your trainer, though.
New members get a free personal training consultation upon joining. But if you really don't need a personal trainer, I would skip it. Most of these consultations are just ways for the trainers to convince you to buy a package, so you wouldn't get a lot of value out of them.
The Winner
It's hard to pick a winner. Neither gym is known for having the best personal trainers. However, if I had to choose, I would go with LA Fitness since its personal training packages are a bit more affordable.
Just keep in mind that if you hire a personal trainer at LA Fitness, you may have a difficult time getting out of your contract if you want to cancel.
9. Locations
The gym you choose should be close to where you live or work. If it takes you too long to get there, it'll be easier to make excuses not to go.
Furthermore, if you travel frequently or like to alternate between different clubs, it's nice to know whether or not you can use your gym membership at other locations.
GoodLife Fitness
GoodLife Fitness is only in Canada, but it has over 450 locations throughout the country. With all membership plans except for the most basic one, you can visit any location.
GoodLife Fitness also has a partnership with 24 Hour Fitness in the US. If you travel to the states and there's a 24 Hour Fitness nearby, you can use your GoodLife membership to access it.
LA Fitness
LA Fitness is primarily in the US, but it has a handful of locations in Canada as well. Members are allowed to use their memberships at most locations, although some of the signature clubs don't accept members from other locations.
The Winner
I'm calling a tie on this one because it depends on which country you live in. Whether you're an American or a Canadian, you should be able to find a GoodLife or LA Fitness near you.
10. Hours of Operation
Almost all gyms are open during the middle of the day. But if you like to work out early in the morning or late at night, you'll need to make sure your gym is open during those times.
GoodLife Fitness
GoodLife Fitness is available 24 hours a day. Staff members don't work overnight, but there are security cameras throughout the gym to monitor its activity at all times.
LA Fitness
LA Fitness isn't a 24-hour gym, but most clubs are open from 5 AM to 11 PM on weekdays and 8 AM to 8 PM on the weekends.
The Winner
Since you can go to any GoodLife Fitness location 24 hours a day, GoodLife is the better option if you need a gym with flexible hours.
Who Is GoodLife Fitness For?
GoodLife Fitness is a good gym for:
People who live in Canada
People who are looking for a 24-hour gym
People who want to use their gym membership at other clubs
People who like group classes
People who want access to high-quality equipment and amenities
Who Is LA Fitness For?
LA Fitness is an ideal gym for:
People who live in the US
People who don't care about super fancy amenities or modern decor in the gym
Parents who need someone to watch their children while they work out
People who don't want to spend a lot of money on a gym membership
Powerlifters who are looking for a gym where you can use chalk
Other Gym Comparisons With GoodLife Fitness and LA Fitness
World Gym vs GoodLife Fitness
---
About The Author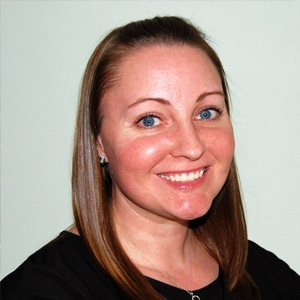 Amanda is a writer and editor in the fitness and nutrition industries. Growing up in a family that loved sports, she learned the importance of staying active from a young age. She started CrossFit in 2015, which led to her interest in powerlifting and weightlifting. She's passionate about helping women overcome their fear of lifting weights and teaching them how to fuel their bodies properly. When she's not training in her garage gym or working, you can find her drinking coffee, walking her dog, or indulging in one too many pieces of chocolate.