Planet Fitness and 24 Hour Fitness are two large chain gyms in North America, but each one caters to different types of gym-goers. I worked out at each one recently to compare the two, and one clearly come out as the winner.
So, is Planet Fitness or 24 Hour Fitness a better gym? Unless you're looking for a super cheap gym membership or interested in amenities like tanning, I recommend LA Fitness. It has more equipment, more group classes, and an atmosphere that's more welcoming of people from a variety of training backgrounds.
Joining the wrong gym can leave you frustrated and hold you back from making progress. It's important to pick the right one from the start so you don't have to go through a lengthy and possibly expensive cancellation process.
In this article, I'll review Planet Fitness and LA Fitness in detail and compare various aspects of the two gyms so you can determine which one is right for you.
Planet Fitness Overview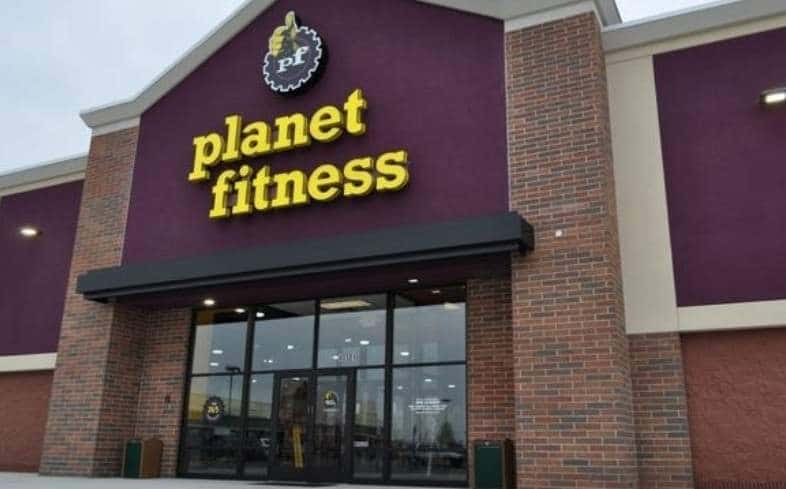 Planet Fitness is currently the fastest-growing gym franchise in the US. Its also one of the most recognizable since its ads are all over TV and social media, and its bright purple and yellow brand colors are hard to miss. The gimmicky lunk alarm is also a distinctive element of this budget-friendly gym.
Planet Fitness's popularity is due to its affordable memberships and judgment-free environment. These are attractive features for people who only work out occasionally or don't enjoy the sound of banging weights, but it's not an ideal gym if you enjoying lifting heavy weights or intense workouts.
Pros
Can use your membership at all locations if you have a Black Card
Reebok.com discounts available for Black Card members
Cons
No barbells, plates, or squat racks
Dumbbells only go up to 60lbs
Can be unwelcoming towards experienced gym-goers
Check out my full review of Planet Fitness here.
LA Fitness Overview
Like other popular gyms such as Gold's Gym and World Gym, LA Fitness got its start in California. After gaining traction in the state in the 80s, it began opening other locations throughout the US. It expanded into Canada in 2010 and launched a budget-friendly alternative called Esporta Fitness in 2020.
While I wouldn't consider LA Fitness an upscale, state-of-the-art gym, it has decent amenities, loads of machines and free weights, and reasonable membership costs. All of this makes it an attractive gym for new and experienced gym-goers alike.
Some LA Fitness locations have subpar personal trainers and poorly-maintained facilities, which you should watch out for if you're considering joining it. But if you find a well-run location with experienced staff members, you'll likely find it to be an ideal gym that can help you reach your goals.
Pros
Large assortment of cardio and strength equipment
Most locations allow chalk
Most group classes are free with any membership
Multi Club members can use their membership at most locations
Good selection of amenities
Cons
Cleanliness can be an issue
Members at some locations aren't good about picking up after themselves
Check out my full review of LA Fitness here.
Planet Fitness vs LA Fitness: 10 Differences
1. Cost
Cost is obviously an important factor to consider when deciding between two gyms. But before you get hung up on the monthly costs, you should also factor in things like taxes, initiation fees, and annual fees to avoid being hit with unexpected charges.
Planet Fitness
Planet Fitness costs $10/month plus taxes if you buy a Classic membership and $22.99/month for a Black Card membership.
Annual fees of $39 are required with both plans. With the Classic membership, you have to pay an initiation fee, but it often costs just $1.
LA Fitness
LA Fitness offers two different types of memberships: a Multi Club membership and a Single Club membership. Each one costs around $34.99/month plus taxes depending on your location.
You'll have to pay a $49 initiation fee regardless of which plan you purchase. If you get the Multi Club plan, you'll also have to pay a $49 annual fee once a year.
Your first and last months' dues are due at signing, which brings your upfront costs to anywhere from $70 to $119.
The Winner
You won't find many gyms that are cheaper than Planet Fitness, so it's a better option if you're looking to save some money.
2. Contract Length
The terms of a contract aren't something many people think about until they're about to sign the dotted line, but it's good to be aware of what kind of commitment you'll have to make before you settle on a gym. It can prevent you from making a hasty decision or getting stuck with an arrangement that you weren't prepared to commit to.
Planet Fitness
The Classic membership is month-to-month. The Black Card membership requires an annual commitment.
LA Fitness
LA Fitness has standard month-to-month and annual contracts, but it offers short-term six-month contracts as well.
The Winner
LA Fitness beats out Planet Fitness ever so slightly because it has more choices due to its six-month contract option.
3. Equipment
Evaluating a gym's equipment may seem obvious, but you should be sure to take a close look at all of the machines and free weights that are available at the gyms you're trying to decide between. You'll fare better at a gym with a wide variety of equipment that enables you to train efficiently and make progress in the long term.
Planet Fitness
Planet Fitness has what seems like an endless number of treadmills, ellipticals, and stationary bikes. It does have some selectorized machines, but it doesn't have any barbells, plates, squat racks, or deadlift platforms.
There is a small number of benches as well as prefixed barbells and EZ curl bars. You'll also find some dumbbells, but at most locations, they only go up to 60lbs.
LA Fitness
LA Fitness has a large assortment of cardio equipment, including treadmills, stationary bikes, ellipticals, step climbers, and rowers. It also has plenty of selectorized machines for isolating nearly every muscle group.
LA Fitness has dumbbells that go up to 120lbs, EZ curl bars, and prefixed straight bars. There are full bench press setups as well as free-standing benches, squat racks, and deadlift platforms. You'll also be able to find barbells and rubber-coated plates, but not all locations have bumper plates.
The Winner
LA Fitness is the better choice since it has equipment that you can do nearly any kind of cardio or strength training workout with.
4. Atmosphere
A gym should have a supportive atmosphere and make you feel welcome whether you're a total newbie or you've been working out for years. If it's a place that you look forward to going to, you'll be more likely to go more often and have an easier time sticking to your routine.
Planet Fitness
Planet Fitness caters almost exclusively to beginners and casual gym-goers. Because of its lack of strength equipment and odd policies about lifting weights (which I'll get to below), it is not the place to go if you're interested in powerlifting, Olympic weightlifting, or even just general strength training. It's also not the most ideal gym for HIIT or CrossFit-style workouts.
Planet Fitness also has the lunk alarm that the staff can set off if they catch you doing something they deem too intimidating for other members. Some staff members at certain locations are more likely to set it off than others, but you should still be aware that this is a possibility if you make a mistake (like accidentally dropping a weight) in the gym.
LA Fitness
In my experience, the atmosphere at LA Fitness is ever-changing based on who's there at any given point in the day. It can also vary based on the demographics of the surrounding area. Some locations cater to college students and young adults while others cater to an older crowd.
It's also likely that you'll come across a lot of bodybuilders and powerlifters, but LA Fitness does have groups of members who are beginners and more casual gym-goers. It doesn't have a strong community vibe, so if you're looking to make friends at the gym, this isn't the place for you.
The Winner
LA Fitness doesn't have a cozy community type of atmosphere, but it's still more welcoming and has a more diverse clientele than Planet Fitness. It's the better choice if you're looking for a gym where you'll fit in regardless of your experience level or training goals.
5. Gym Policies
Many people don't think about a gym's policies until they're ready to sign a contract, but I recommend getting a feel for different gyms' rules before you decide which one to join. It's helpful to know whether a gym's policies will hold you back from making progress so you don't have to potentially start your search over from the very beginning.
Planet Fitness
Because it markets itself as a non-intimidating gym, revealing clothes such as crop tops are not allowed at Planet Fitness. Barefoot lifting, chalk, dropping weights, and grunting are also not allowed. I've even heard of some locations banning certain lifts like overhead presses.
A good thing about Planet Fitness is its guest policy. Any Black Card member is allowed to bring an unlimited number of guests per month.
If you want to cancel your membership, you have to fill out a form at the front desk. Members with month-to-month contracts can cancel at any time without having to pay cancellation fees. Members with Black Card members have to pay $58 for cancelling early.
LA Fitness
The dress code at LA Fitness is pretty laidback. Any clothing that's clean, not too baggy, and isn't decorated with chains or grommets is allowed. LA Fitness also allows its members to lift barefoot (with socks on) and to use chalk, although dropping weights isn't allowed.
Members with Multi Club memberships can bring one guest to the gym for free. If you want to bring more than one guest in a single visit, you'll have to pay a fee of about $20 for any additional guests.
Forms are available on the LA Fitness website that you can fill out if you want to cancel your membership. You have to send them via certified mail or hand them in at the front desk. There are no cancellation fees, but if you have a term contract, you may have to pay for the remaining time left on your plan.
The Winner
LA Fitness has a much more lenient dress code and no lunk alarm, so I recommend it over Planet Fitness if you're looking for a gym without super strict rules.
6. Group Classes
Group classes can be a fun way to work out if you don't like working out by yourself or you struggle with motivation. But the group exercise experience at each gym is different, so if you want to take group classes, you'll need to check with your preferred gym to make sure it offers the ones you're interested in.
Planet Fitness
Instead of group classes, Planet Fitness has classes called PE@PF. These are small group training sessions that consist of three types of workouts:
Orientation classes for beginners who are unfamiliar with how to use all the different machines
Express circuit sessions for people who don't have a lot of time to work out
Targeted classes that go through a series of exercises to work muscle groups such as the back and biceps or legs and shoulders
LA Fitness
LA Fitness offers Zumba, Pilates, spin, and yoga classes free for all members. Some locations also offer aqua aerobics, boxing, and fitness dance classes.
If you're interested in CrossFit, you can also take similar classes at LA Fitness called HIIT by LAF. They combine interval training, endurance, and barbell work. You can also wear a heart rate monitor if you want to track your stats in real time. These classes are only available at certain locations and cost an additional $125/month.
The Winner
LA Fitness is the better option if you're looking for more traditional group fitness classes or if you're interested in CrossFit-style training.
7. Amenities
These days, many commercial gyms do whatever they can to make working out more convenient for their members. Depending on which gym you join, you can get someone to watch your kids, get a post-workout snack, or relax in the sauna after a tough training session.
However, not all gyms offer a large list of amenities. Before deciding which one to join, you'll need to consider whether certain amenities are non-negotiable or if you're okay with not having access to certain conveniences.
Planet Fitness
Planet Fitness doesn't have pools, sports courts, or saunas. There is also no childcare. However, it does have tanning, red light therapy, smoothie bars, and massage chairs. Showers and locker rooms are also available.
LA Fitness
LA Fitness has pools, basketball courts, racquetball courts, childcare, and smoothie bars. There are saunas at some locations. You may have to pay to reserve time slots for the basketball and racquetball courts and take advantage of the childcare, but most other amenities are free.
There are showers and locker rooms available for all members, but LA Fitness doesn't provide towels or toiletries.
The Winner
It's hard to pick a winner since both gyms have amenities even though they vary. If tanning, massage chairs, and red light therapy are more important to you, go with Planet Fitness. If you prefer swimming, playing sports, or need childcare, go with LA Fitness.
8. Personal Training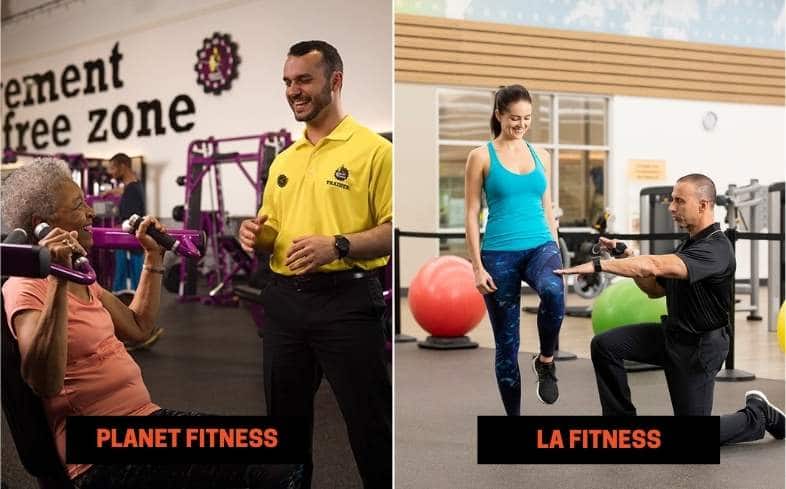 If you're new to training or just want to switch up your routine, a personal trainer can be a worthwhile investment. But not all personal trainers are worth spending the money on, so you'll need to evaluate the trainers at your preferred gym before you sign up for a bunch of sessions.
Planet Fitness
Even though Planet Fitness has personal trainers, they are not available for one-on-one training. They run the PE@PF classes and will provide assistance with the equipment if you need it. They are also available for consultations if you need fitness or nutrition guidance. But they will not be on the floor leading you through your own workout.
LA Fitness
LA Fitness has certified personal trainers, but some are better than others. This is true of the personal trainers at any large chain gym, but LA Fitness in particular seems to have some large disparities in the quality of its trainers.
The trainers are required to have personal training certifications, but they don't have to have college degrees or any additional relevant education.
Sessions can range anywhere from $45 to $60 depending on how long they are. You can get 6- or 12-month personal training contracts for $240/month or $200/month, respectively. However, these contracts can be difficult to get out of, so you should think carefully about whether or not you need personal training before you buy a package.
The Winner
Neither gym has a strong reputation for personal training, but you're more likely to get more value out of the trainers at LA Fitness.
9. Locations
While most people only look at how close a gym is to their home or office, it's also good to find out how many locations in total it has and whether or not you can use your membership at multiple locations. Lack of reciprocity can be a dealbreaker if you lead a nomadic lifestyle or like to visit the gym while you're traveling.
Planet Fitness
Planet Fitness has more than 2,000 locations. The majority of them are in the US, but you'll also find clubs in Canada, Mexico, the Dominican Republic, Puerto Rico, and Panama.
Members with Black Card memberships can visit any location in either of these countries.
LA Fitness
There are about 700 LA Fitness locations in the US and Canada. Anyone with a Multi Club membership can visit most locations, although some exclusive clubs don't accept members from other locations.
The Winner
Planet Fitness has more than double the number of locations of LA Fitness and is available in more countries. This makes it a better option if you're looking for a gym that you can visit whenever you travel internationally.
10. Hours of Operation
Whether you want to go to the gym early in the morning or late at night to avoid crowds or you just don't have any other time in your day to work out, you'll need to join a gym with flexible hours. Fortunately, they aren't hard to come by, and many gyms are even open 24/7.
Planet Fitness
The majority of Planet Fitness locations are open 24/7. The ones that aren't are usually open at 5 AM and stay open until 10 or 11 PM.
LA Fitness
LA Fitness clubs are usually open from 5 AM until 11 PM on the weekdays and 8 AM to 8 PM on the weekends, though hours vary by location.
The Winner
Go with Planet Fitness if you want to join a gym with flexible, 24/7 access.
Who Is Planet Fitness For?
Planet Fitness is a good gym for:
Beginners
Anyone who prefers cardio workouts over lifting weights
Anyone who's looking for a cheap gym membership
Anyone who wants access to tanning and red light therapy
Anyone who wants 24/7 access to the gym
Who Is LA Fitness For?
LA Fitness is a good gym for:
Bodybuilders
Powerlifters
Anyone who wants to use pools and basketball courts
Parents who need childcare when they work out
Anyone who wants to take group classes
Other Gym Comparisons With Planet Fitness and 24 Hour Fitness
---
About The Author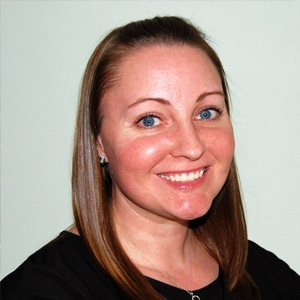 Amanda is a writer and editor in the fitness and nutrition industries. Growing up in a family that loved sports, she learned the importance of staying active from a young age. She started CrossFit in 2015, which led to her interest in powerlifting and weightlifting. She's passionate about helping women overcome their fear of lifting weights and teaching them how to fuel their bodies properly. When she's not training in her garage gym or working, you can find her drinking coffee, walking her dog, or indulging in one too many pieces of chocolate.