Planet Fitness and Fit4Less are two large chain gyms that have cornered the budget-friendly franchise gym market.
But while Planet Fitness is popular all throughout North America, Fit4Less is only in Canada. Aside from that, the two chain gyms have a lot in common, which makes it difficult to determine which one is better.
So, is Fit4Less or Planet Fitness a better gym? Fit4Less and Planet Fitness are similar, but I recommend Fit4Less. It's not quite as judgmental and has a slightly better selection of equipment. It also offers virtual fitness classes, which Planet Fitness doesn't have. However, Fit4Less is only in Canada, which is an obvious drawback if you live in another country.
When you're looking to join a gym, trying to choose between two gyms with a lot of similarities can make your decision even more difficult. In this article, I'll compare Fit4Less and Planet Fitness when it comes to things like cost, amenities, equipment, and personal training. By the end, you'll be able to decide which gym will be the better choice for you.
Fit4Less Overview
Fit4Less is a relative newcomer to the fitness franchise industry, having only been open in Canada for about 10 years. Its founder is the same man who founded GoodLife Fitness, another large Canadian fitness chain, who felt that Canada needed a budget-friendly gym option.
Fit4Less is similar to Planet Fitness in that it doesn't offer a ton of amenities and caters to beginners and casual gym-goers. It also has an "oops alarm" similar to Planet Fitness's lunk alarm, which staff members can ring if they catch you breaking rules in the gym.
However, whereas Planet Fitness's image of being a judgment-free zone is mosly a facade, Fit4Less tends to be more welcoming. It's an ideal gym for anyone looking for a no-frills place where they can get in, work out, and get out quickly.
Pros
Memberships are affordable
Known for clean facilities and well-maintained equipment
Supportive atmosphere with friendly staff
Cons
Dumbbells only go up to 75lbs
Doesn't offer group classes or have personal trainers
Check out my full review of Fit4Less here.
Planet Fitness Overview
It's hard to go to most places in the US and not find a Planet Fitness location nearby. Its signature purple and yellow color scheme and eccentric advertisements are hard to miss.
Planet Fitness claims to be a "judgment-free zone," but that isn't entirely accurate. It can be quite judgmental of people who look too fit or can lift more than 50lbs, and it sometimes feels like the franchise purposefully holds its members back from making any progress. The fact that Planet Fitness has free bagel and pizza days makes this especially evident.
However, Planet Fitness memberships are affordable, and it offers a laidback environment for beginners, older individuals, and anyone who likes to train to stay healthy but doesn't have aspirations to compete in any sport. But if you enjoy high-intensity exercise and lifting heavy weights, there are much better gyms out there.
Pros
Memberships are inexpensive
Black Card members can use their membership at any Planet Fitness location
Reebok.com discounts available for Black Card members
Free Wi-Fi inside the gym
Cons
Not a lot of free weights
Can be judgmental of more serious gym-goers
Check out my full review of Planet Fitness here.
Fit4Less vs Planet Fitness: 10 Differences
1. Cost
There's a large range in the cost of gym memberships depending on where you live and what kind of plan you purchase. And in addition to paying monthly dues, you also have to pay taxes, initiation fees, and annual fees. It's important to take all of this into consideration when trying to figure out which gym will fit into your budget.
Fit4Less
At Fit4Less, you can purchase a 4Less membership for $5.99 plus taxes every two weeks or a Black Card membership for $11.99 plus taxes every two weeks.
You also have the option of signing up for a rate guarantee. It costs $9.95 per quarter, but it guarantees that the rate you pay when you first join will stay the same even if Fit4Less increases its prices.
Planet Fitness
Planet Fitness offers two memberships: a Classic membership and a Black Card membership. The Classic membership costs $10/month plus taxes and the Black Card membership costs $22.99/month plus taxes.
Both plans require an annual fee of $39. If you purchase a Classic plan, you have to pay an initiation fee, but it's often only $1.
The Winner
Fit4Less and Planet Fitness have a similar pricing structure, so you can't go wrong with either gym if you're looking to save money on a gym membership.
2. Contract Length
Knowing how long of a commitment you have to make when you purchase a gym membership can help you decide which gym is better for you. Some gyms offer month-to-month contracts, which are often more flexible, but annual contracts may be more ideal if you plan on attending the same gym for a long time.
Fit4Less
Most Fit4Less locations offer month-to-month contracts only, but some also offer annual contracts.
Planet Fitness
The Class membership is month-to-month. The Black Card membership requires an annual commitment.
The Winner
It's a tie since you can find annual or month-to-month contracts at both gyms.
3. Equipment
The equipment a gym has often reflects its targeted audience. Some gyms have an even mix of cardio and strength equipment. Others have more cardio equipment than free weights or vice versa.
When evaluating a gym, you'll need to consider the types of workouts you enjoy and your goals so you're not held back by a lack of equipment.
Fit4Less
Fit4Less has cardio machines, including treadmills, bikes, and ellipticals, and plate-loaded and cable machines for the upper and lower body. However, since most locations are small, there isn't a huge supply of equipment.
Some Fit4Less locations have squat racks while others don't. Many clubs don't have deadlift platforms. They do have barbells and plates that range from 10lbs to 45lbs, but the dumbbells only go up to 75lbs. There are prefixed barbells and EZ curl bars that go up to 110lbs.
Planet Fitness
Planet Fitness has several rows of cardio machines and a limited selection of strength machines. It doesn't have barbells, plates, squat racks, or deadlift platforms. Most locations only have dumbbells that go up to 60lbs, but some locations have dumbbells up to 80lbs. There are also EZ curl bars and preloaded straight bars.
The Winner
Fit4Less is better than Planet Fitness when it comes to equipment. Although it doesn't have a lot, it does have more free weights than Planet Fitness.
4. Atmosphere
Joining a gym where you feel supported and welcomed will go a long way in helping you reach your goals. Not only will it keep you motivated to stick to your routine but it will also prevent you from feeling too self-conscious while you're working out.
Fit4Less
Fit4Less tends to attract average gym-goers, older individuals, and people who like to work out for overall health. It's not a gym where you'd find a lot of powerlifters or bodybuilders, but this is what makes it a good gym for beginners and people who aren't overly serious about their training.
Fit4Less does have an oops alarm, and it can be a little nerve-wracking wondering if the staff will ring it because of something you did wrong. But that will really only happen if you drop your weights, so you should be fine as long as you don't slam your weights around.
Planet Fitness
Planet Fitness has a laidback environment, which is good for beginners, people who like low-intensity workouts, and people who don't want to hear a lot of slamming weights and grunting while they're working out.
But it's not a good gym for bodybuilders, powerlifters, or anyone who is trying to get stronger due to its lack of strength equipment and the fear of the lunk alarm going off. The staff members at most locations are friendly for the most part, but some are more apt to ring the lunk alarm than others.
The Winner
Fit4Less and Planet Fitness both attract a similar audience, and each has its own alarm that the staff will set off if any members are caught breaking the rules. But Fit4Less will really only set it off when people drop their weights, which makes it a bit of a safer environment for people who are nervous about being embarrassed in the gym.
5. Gym Policies
Gym policies exist for obvious reasons, but some rules can be too stifling and make working out at a particular gym less than desirable. Before you make a decision about which one to join, you should ensure you understand all of its rules so you're not stuck with a membership at a gym that doesn't make you happy.
Fit4Less
Fit4Less doesn't allow chalk, dropping weights, or grunting. The dress code is pretty lenient, but you can't wear anything too revealing, and barefoot lifting is not allowed.
All members are allowed to bring guests for a small fee of $15 plus taxes. You can also bring a friend or family member with you on the last Thursday of the month on Fit4Less's Free Workout Days for non-members.
If you have a Black Card, a friend or family member can use your membership to go to the gym without you. They have to register online first and can only go at least two hours before or two hours after you last attended the gym.
You can cancel your membership by filling out a form at a self-service kiosk in the gym or calling your home club. You have to provide at least 30 days' notice. If you have an annual contract and paid for your membership in full, you don't get a refund if you cancel before your contract expires. If you pay monthly, you'll be required to pay for the months remaining on your plan.
Planet Fitness
Because of its mission to provide a non-intimidating atmosphere for its members, Planet Fitness has strict rules about clothing, dropping weights, and what kind of exercises you can do.
Cropped shirts and short shorts aren't allowed, dropping weights or grunting can result in the staff ringing the lunk alarm, and certain exercises like overhead presses are prohibited at some locations.
On the plus side, Planet Fitness has a good guest policy. Members with Black Card memberships can bring an unlimited number of guests with them per month.
The cancellation policy is also not that bad. You can cancel at any time if you have a month-to-month plan. If you have a Black Card membership and want to cancel early, you have to pay a $58 cancellation fee. This is a lot less than other gyms' cancellation fees. However, you do have to fill out a cancellation form at the front desk, which is a little inconvenient.
The Winner
The rules at Fit4Less and Planet Fitness are similar, though Fit4Less is a bit more flexible when it comes to the dress code. You also won't get in trouble there for doing certain movements.
6. Group Classes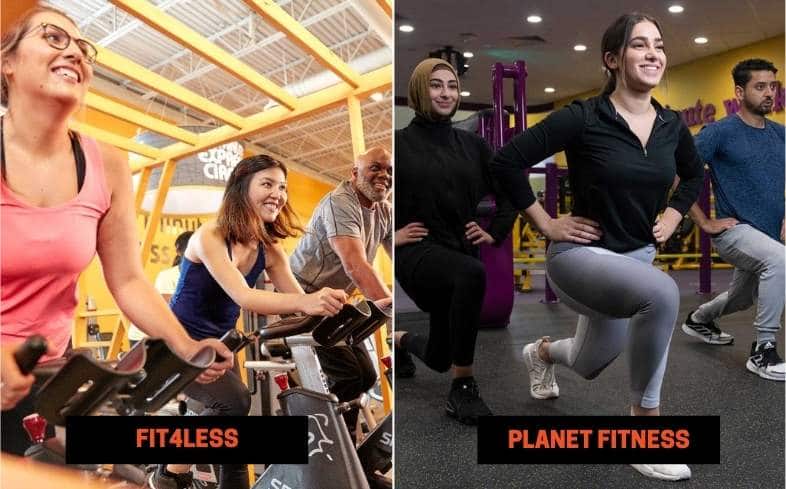 Group classes are a fun way to work out and socialize with others, but the group class experience is different at every gym. Class times and offerings also vary, so if you're interested in group fitness, you'll need to make sure the classes you like the most are available at times that fit your schedule.
Fit4Less
Fit4Less doesn't offer in-person group classes, but you can take virtual classes at the gym. They are available to take live or on-demand, and you can choose from classes such as cycling, cardio dance, and circuit training.
If you do prefer to take the classes live, you can usually take them in the mornings and evenings, though some classes are offered in the afternoon.
Planet Fitness
Instead of group classes, Planet Fitness has small group training sessions called PE@PF. These classes consist of orientation classes for beginners, express circuit training workouts for people who are short on time, and classes for targeting specific muscle groups such as the legs and shoulders.
The Winner
You won't find traditional in-person group fitness classes at either gym, but Fit4Less is better if you want to take instructor-led classes whenever it's convenient for you. Just remember that they are only offered virtually.
7. Amenities
In addition to equipment, many gyms now also provide other services that offer a more holistic approach to health and wellness. With childcare, smoothie bars, and showers, amenities at gyms are also designed to make working out more convenient for you.
However, some gyms don't offer any amenities at all in order to keep their prices low. If you'll want to take advantage of certain amenities, you'll need to make sure your preferred gym has what you're looking for.
Fit4Less
Fit4Less has tanning beds and massage chairs, but it doesn't have childcare, red light therapy, basketball courts, saunas, pools, or smoothie bars.
There are lockers on the main gym floor, but there are no locker rooms. Some clubs have showers, but many of them are for women only since Fit4Less took over some old chain gyms that used to be women's-only gyms.
Planet Fitness
Planet Fitness has tanning booths, red light therapy, smoothie bars, and massage chairs. There are no basketball courts, saunas, pools, or childcare services. Showers and lockers are available for all members.
The Winner
Neither gym has a huge assortment of amenities, but Planet Fitness is a better gym if you want to shower at the gym or get a post-workout snack.
8. Personal Training
Although it's rare, not all chain gyms have personal trainers. But even if your preferred gym does have personal trainers, it doesn't mean that they're qualified enough to help you reach your goals. It's important to check with your preferred gym to ask about their trainers' qualifications and how much attention you can expect to receive from them.
Fit4Less
Fit4Less gyms don't have personal trainers.
Planet Fitness
Planet Fitness has certified personal trainers, but they are only there to provide free consultations and run the PE@PF classes. They can help you with a machine if you need assistance, but they won't offer one-on-one training and guide you through each step of your workouts.
The Winner
The trainers at Planet Fitness are less than stellar, but it'll be the better choice for you if you need some kind of guidance in the gym.
9. Locations
Location is another important factor to consider when deciding between two gyms. But in addition to making sure there's a location close to your home or office, it's also worthwhile to find out how many locations in total there are and if you can use your membership at any club. This will come in handy if you're traveling and want to keep up with your routine.
Fit4Less
There are about 95 Fit4Less locations in Canada. Black Card members can visit any club.
Planet Fitness
Planet Fitness has more than 2,000 locations. Most of them are in the US, but you can also find locations in Canada, Mexico, Panama, Puerto Rico, and the Dominican Republic.
Black Card members can visit any club in any country.
The Winner
Planet Fitness is the better option (unless you live in Canada) since it has more locations in more countries.
10. Hours of Operation
It's rare to find a gym that's not open early in the morning or late at night, but some gyms take it a step further and offer 24/7 access for their members. If you know you'll be working out during odd hours, you'll need to choose the gym that's open when you know you can make it there.
Fit4Less
Members can work out at Fit4Less 24 hours a day, but the staff is only on-site during normal business hours.
Planet Fitness
Most Planet Fitness locations are open 24/7. If you come across one that isn't, it should still be open from 5 AM until 11 PM.
The Winner
It's a tie since both gyms have clubs that are accessible 24/7.
Who Is Planet Fitness For?
Planet Fitness is a good gym for you if you:
Prefer cardio or light circuit training workouts
Travel in the US and North, South, or Central America a lot
Want access to massage chairs and tanning
Want to participate in small group training
Who Is Fit4Less For?
Fit4Less is a good gym for you if you:
Live in Canada
Don't need to hire a personal trainer
Aren't interested in amenities like tanning and pools
Don't want to take group classes or work out in small groups
Other Gym Comparisons With Fit4Less and Planet Fitness
---
About The Author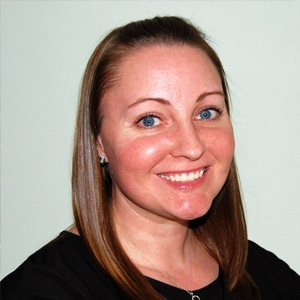 Amanda is a writer and editor in the fitness and nutrition industries. Growing up in a family that loved sports, she learned the importance of staying active from a young age. She started CrossFit in 2015, which led to her interest in powerlifting and weightlifting. She's passionate about helping women overcome their fear of lifting weights and teaching them how to fuel their bodies properly. When she's not training in her garage gym or working, you can find her drinking coffee, walking her dog, or indulging in one too many pieces of chocolate.