Planet Fitness is a giant in the chain gym world. It's one of the fastest-growing gym franchises and currently has nearly 15 million members. But despite its best efforts to maintain a judgment-free zone, its silly rules tend to turn away a large portion of the fitness population.
On the other hand, while Onelife Fitness is a much smaller chain, it's more welcoming of people from all kinds of fitness backgrounds.
So, is Planet Fitness or Onelife Fitness a better gym? Overall, Onelife Fitness is better than Planet Fitness because it has better equipment, better group classes, a more welcoming environment, and more amenities. However, Planet Fitness has more locations and costs less, making it a good option for frequent travelers and people on a budget.
When trying to decide which gym to join, you'll want to consider all of your options and analyze the gym from multiple angles to ensure you don't make the wrong decision.
In this comparison between Planet Fitness and Onelife Fitness, I'll talk about 10 of the most important things you should look for in a gym and review which gym is better in each category. After reading this article, you'll be able to decide whether Planet Fitness or Onelife Fitness can get you the results you want.
Planet Fitness Overview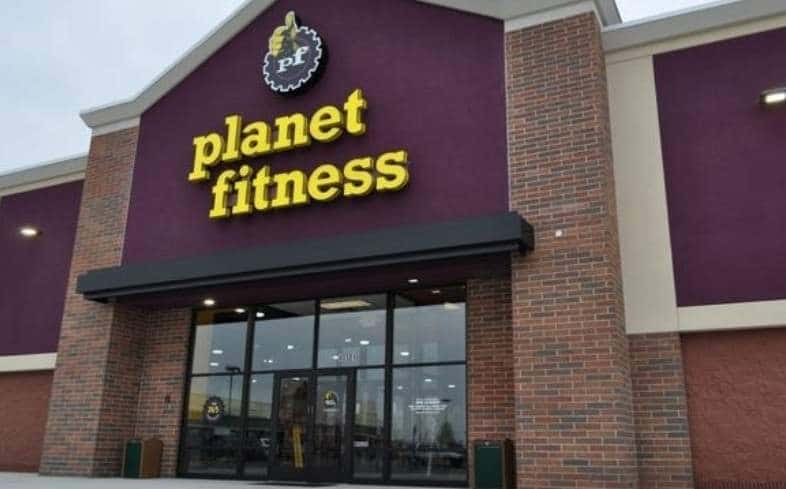 It's hard to picture a gym and not think of Planet Fitness. The chain is seemingly everywhere. Its bold purple and yellow color scheme and free bagels and pizza lure in members who prefer to follow a laidback approach to fitness.
Planet Fitness's growth is a bit surprising given its hypocritical claims of being a non-judgmental gym for the masses. While it's true you won't get judged if you're a beginner or you don't like intense workouts, you won't have a good experience there if you care about making any progress and getting stronger.
In addition to its recognizable brand colors, Planet Fitness is also known for its lunk alarm. Some people claim that it's just a marketing ploy, but the staff at some locations does use it if they catch you breaking gym rules.
Still, if you're a casual gym-goer and you're looking for an inexpensive way to maintain a healthy lifestyle, a Planet Fitness membership is worth considering.
Pros
Membership plans are affordable
Black Card members have access to every single location
Free Wi-Fi available inside the gym
Reebok.com discounts for Black Card members
Cons
Not a lot of strength training equipment
No squat racks or deadlift platforms
Check out my full review of Planet Fitness here.
Onelife Fitness: Overview
Onelife Fitness is a relatively new chain gym, having only opened its first location in 2009. It's part of US Fitness Holdings, which also owns and operates some Crunch Fitness locations. It has large, 50,000 square foot facilities with indoor saltwater pools, saunas, and other modern amenities.
Onelife Fitness is only found in a few states in the US, but it is an excellent gym. It has equipment spread across two floors with multiple squat racks, dozens of cardio machines, strength training equipment, and an area for functional training.
In addition to catering to a variety of training styles, Onelife Fitness also offers complimentary body fat analysis tests with certain memberships. This is a nice perk for anyone who's trying to lose weight or wants to monitor their body fat percentage regularly.
Pros
Well-maintained equipment for a variety of training styles
Excellent selection of group classes
Gym floor and locker rooms are clean
Access to a lot of amenities for a reasonable monthly price
Some locations offer discounts for students, veterans, and seniors
Cons
Check out my full review of Onelife Fitness here.
Planet Fitness vs Onelife Fitness: 10 Differences
When deciding between two gyms, it's important to compare them side-by-side. On the surface, it may seem like one gym is superior to the other. When you look at them more closely though, you may realize that they're similar to each other in many ways.
I've personally never been a huge fan of Planet Fitness, but in comparing it side-by-side with Onelife Fitness, it's clear to see that it doesn't lag behind as much as I would have expected.
1. Cost
When you're looking at the cost of a gym membership, you shouldn't just look at the monthly fees. You'll need to consider enrollment fees, annual fees, and taxes as well.
Planet Fitness
Planet Fitness has a Classic membership plan for $10/month plus taxes and a Black Card membership plan for $22.99/month plus taxes. Both plans require annual fees of $39. Only the Classic membership has an enrollment fee, but it often costs just $1.
You can also get a free one-day pass to try it out before you buy a membership.
Onelife Fitness
Onelife Fitness has Basic and Premier membership options, but the prices vary by location. You can expect to pay around $39.99/month plus taxes for the Basic Plan and $49.99/month plus taxes for the Premier plan.
Initiation fees cost anywhere from $149 to $249, but you can get them for as low as $9 depending on when you join. Onelife Fitness also charges an annual $39 fee for all members.
Free five-day trial passes are available on Onelife Fitness's website.
The Winner
Not many gyms can compete with Planet Fitness's low prices. It's a better choice for anyone who doesn't want to spend a lot of money on a gym membership.
2. Contract Length
Gyms typically offer month-to-month or annual contracts. A month-to-month contract doesn't have a specific end date so you can cancel at any time. Annual contracts expire after a year, and if you're not happy with your gym, canceling your membership early can be costly.
Before you sign a contract, make sure you're confident with your decision and you understand what kind of commitment you have to make.
Planet Fitness
The Classic membership at Planet Fitness is month-to-month while the Black Card membership requires an annual commitment.
Onelife Fitness
All of Onelife Fitness's contracts require annual commitments.
The Winner
Planet Fitness is better if you want a gym with flexible contract options since it has a month-to-month membership.
3. Equipment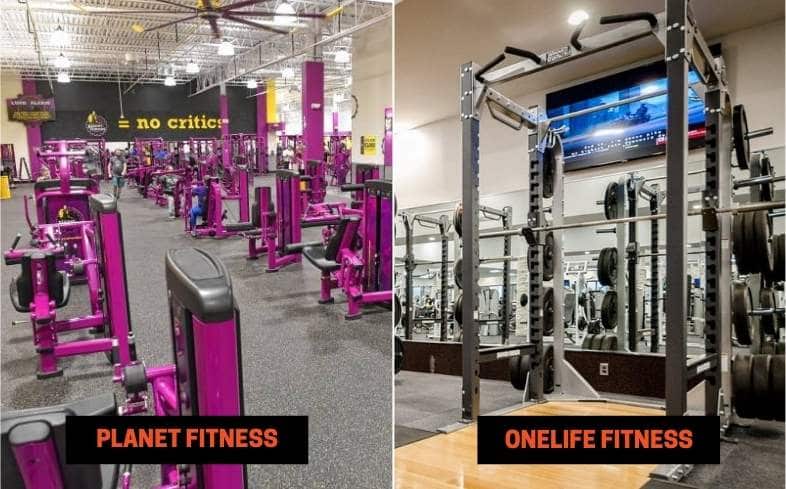 Some gyms have a huge selection of cardio and strength equipment while others have so little equipment that you wonder how they can even call themselves a gym. Before settling on a gym, it's important to check out what equipment it has to make sure you'll be able to do the workouts you enjoy.
Planet Fitness
The number of cardio machines at Planet Fitness far outweighs the amount of strength equipment. Planet Fitness has multiple resistance machines, but beyond that, it doesn't have much of a weight room.
There are no squat racks, deadlift platforms, barbells, or plates. The dumbbells at most locations only go up to 50lbs. However, you can at least find a few benches, preloaded straight bars, and EZ curl bars.
Onelife Fitness
Onelife Fitness has dozens of treadmills, ellipticals, stationary bikes, and step climbers. There's a large number of strength machines, with two of each machine in many cases.
In the free weights area, you'll find benches, squat racks, deadlift platforms, Olympic lifting platforms, EZ curl bars, bumper plates, and hex plates. The dumbbells go up to 100lbs and the kettlebells range in weight from 9lbs to 88lbs. Some locations also have safety squat bars and chains.
Onelife Fitness also has functional training areas with TRX bands, battle ropes, plyo boxes, rowers, Assault Air Runners, sleds, and medicine balls. It even has some Strongman log bars.
The Winner
The amount and variety of equipment at Onelife Fitness beats the equipment selection at Planet Fitness by a long shot.
4. Atmosphere
A gym's atmosphere dictates whether you'll enjoy your workouts or have a miserable experience every time you walk through the door. You should look for a gym with friendly employees and courteous members, which will make you more excited to go.
You should also pay attention to how the other members train and interact with each other. If you like to talk to other people when you work out but the other gym members keep to themselves, you may have a hard time fitting in.
Planet Fitness
Planet Fitness claims to have a judgment-free zone, and it does, to an extent. It's a good gym for beginners, people who prefer cardio over strength training, older individuals, and anyone who wants to work out in a relaxed environment.
But for intermediate and advanced trainees or anyone who enjoys more intense workouts, Planet Fitness isn't where you should go to make progress. It has stipulations about which movements you can perform — it doesn't allow overhead presses, for example — and its lack of strength equipment means you'll stall quickly.
Plus, there's the risk of triggering the lunk alarm if you make the tiniest infraction, so Planet Fitness doesn't have the most welcoming or accepting environment.
Onelife Fitness
As with any gym, Onelife Fitness has a small number of members who hog the equipment and don't rerack their weights. But for the most part, they're all pretty good at cleaning up after themselves and letting other people share machines in between sets.
Because it has a large assortment of equipment, Onelife Fitness is also welcoming for people of all fitness backgrounds and training methodologies.
The personal trainers walk around the gym floor frequently, but they won't get in your way or interrupt your workout as long as you're following the gym's rules.
Onelife Fitness tends to get crowded, especially at night, but most members focus on their own workouts and prefer to train by themselves.
The Winner
Onelife Fitness is more accepting of people from all kinds of training backgrounds and there's no lunk alarm, so you'll have a more enjoyable experience there.
5. Gym Policies
Some gyms have stricter rules than others. They can be quite prohibitive when it comes to what you can wear and how you're allowed to work out. You'll want to check all of the gym's policies before purchasing a membership to make sure their rules won't prevent you from training the way you want.
Planet Fitness
Planet Fitness doesn't allow members to use chalk, drop weights, grunt, or make much noise at all. It also forbids shorts that are too short and shirts that are too revealing, and shoes must be worn at all times.
Black Card members are allowed to bring an unlimited number of guests per month, but you're not allowed to transfer your membership to another person.
If you have the Classic plan, you can cancel your membership at any time. If you have a Black Card membership and want to cancel before your contract expires, you'll have to pay a $58 cancellation fee. You have to visit the gym and fill out a form in person in order to cancel.
Onelife Fitness
Even though Onelife Fitness has lifting platforms and bumper plates, it surprisingly doesn't allow members to drop their weights. Chalk and grunting are also not allowed, but some clubs may let you lift barefoot.
Onelife has a pretty lenient dress code. You can wear any appropriate workout clothing as long as you're adequately covered up and your clothing isn't too baggy or doesn't have any grommets or chains.
Any member can bring guests as long as you pre-register them on Onelife's website.
Onelife memberships can't be transferred to another person, so if you want to get out of your contract, you'll need to cancel. If you cancel before your 12-month contract expires, you'll have to pay at least three months' worth of dues. After the 12-month period, you can cancel at any time with 30 days' notice.
To cancel your membership, you'll need to submit a written letter in person or via certified mail.
The Winner
It's a tie. Planet Fitness and Onelife Fitness have similar policies when it comes to dropping weights, using chalk, and grunting. But Onelife Fitness has a more flexible dress code while Planet Fitness has lower cancellation fees, so they cancel each other out.
6. Group Classes
Group classes are great for people who like working out with others and prefer having more structure, but not all gyms have them. If you're interested in group fitness, you'll need to review the class offerings at the gym you want to join to make sure it has the ones you like.
Planet Fitness
Instead of group classes, Planet Fitness has small group training sessions called [email protected] If you want to participate in these sessions, you can take one of three types of classes:
Orientation sessions where you learn how to use all of the equipment at the gym
Express circuit sessions for when you're short on time and need a quick, full-body workout
Classes that target specific muscle groups such as chest and biceps or legs and shoulders
Onelife Fitness
Group classes at Onelife Fitness are offered all day long. There are spin, Pilates, yoga, barre, Zumba, swimming, Les Mills, martial arts, and cardio kickboxing classes. It also has age-appropriate classes for senior citizens.
If you're looking for something more specialized, Onelife Fitness has signature classes called APEX and SPARK. APEX classes focus on functional training movements while SPARK classes focus on speed and strength drills on the bike.
The Winner
Onelife Fitness has a more robust selection of classes that can fit anyone's schedule, making it a better option for anyone who's interested in group fitness.
7. Amenities
Amenities don't mean much to some people, but others use them as extra motivation to get to the gym. If you know you'll take advantage of things like saunas, massage chairs, or pools, you'll need to make sure they're available at the gym you're interested in joining.
You should also check which ones are included with your membership because some gyms charge extra for certain amenities.
Planet Fitness
Planet Fitness has massage chairs, tanning booths, red light therapy, and smoothie bars. Showers and lockers are also available for all members. However, there are no basketball courts, saunas, swimming pools, or childcare services.
Onelife Fitness
Onelife Fitness has indoor saltwater pools, smoothie bars, and saunas. Members with Premier memberships have access to HydroMassage chairs. Some locations have basketball courts. Onelife Fitness also has showers and locker rooms, and Premier members get free towel service.
Onelife Fitness doesn't offer tanning or red light therapy. Childcare is available, but it costs an extra $17/month.
The Winner
Even though Onelife Fitness doesn't have tanning or red light therapy booths, it still has a higher number of total amenities than Planet Fitness.
8. Personal Training
The quality of personal trainers at each gym varies, as do the services they provide and what they charge for a personal training session. If you're interested in working one-on-one with a trainer, you should review his or her qualifications and make sure you can make it work with your budget.
Planet Fitness
The personal trainers at Planet Fitness aren't there to give you one-on-one attention. You can schedule a consultation with them whenever you want, but they won't be by your side to walk you through your workouts.
The trainers also run the [email protected] sessions. These sessions as well as the consultations are free for all members.
Onelife Fitness
The personal trainers at Onelife Fitness are all certified through places like NASM, ISSA, or ACE. However, some of the trainers are new to the industry, so you may wind up working with an inexperienced trainer.
All new Onelife Fitness members can sign up for a free Smart Start program that includes two one-hour sessions with a trainer. In these sessions, your trainer will create a training program for you and take your measurements. You can then schedule a complimentary follow-up session 30 days later to see how much progress you've made.
When you buy a Onelife Fitness membership, you also have the option to sign up for three personal training sessions for a total of $99. You can then choose to buy packages of 30- or 60-minute sessions starting at around $100/month.
The Winner
Even though the trainers at Onelife Fitness cost more and tend to be new to the industry, they're still more valuable than the trainers at Planet Fitness and will be able to give you more guidance.
9. Locations
While choosing a location that's close to your home or office is important, another thing to consider is how many locations in total a gym has. It's good to know whether or not you can visit another club when you're traveling.
Planet Fitness
Planet Fitness has more than 2,000 locations. Most of them are in the US, but there are some locations in Canada, Mexico, Puerto Rico, the Dominican Republic, and Panama.
Black Card members can visit any location in any country.
Onelife Fitness
Onelife Fitness only has about 40 locations primarily in the mid-Atlantic and southeast regions of the US. Members are only allowed to visit the club where they signed up.
The Winner
If you like to go to the gym while you travel, Planet Fitness will be a better option. You can find a club in all 50 states and several other North and Central American countries.
10. Hours of Operation
Working out early in the morning or late at night is a reality for many people. Luckily, many gyms have hours that accommodate people with busy schedules, and some are even open 24 hours a day.
Planet Fitness
Many Planet Fitness locations are open 24/7. The clubs that aren't 24/7 are open early in the morning and late at night.
Onelife Fitness
Onelife Fitness is typically open from 5 AM to 10 PM on weekdays and 6 AM to 8 PM on the weekends.
The Winner
With the majority of clubs being accessible 24/7, Planet Fitness is ideal for people with busy schedules.
Who Is Planet Fitness For?
Planet Fitness is ideal for:
People who are new to fitness
People who want to use tanning booths or red light therapy booths
People who aren't interested in lifting heavy
People who want to save money on a gym membership
People who want to join a gym with numerous locations
Who Is Onelife Fitness For?
Onelife Fitness is a good gym for:
People who live in the mid-Atlantic or southeast regions in the US
Bodybuilders
People who like group classes
Powerlifters (if you can deal with not using chalk or dropping weights)
People who want access to pools, childcare, and basketball courts
Other Gym Comparisons With Planet Fitness and Onelife Fitness
Workout Anytime vs Planet Fitness
Fit4Less vs Planet Fitness
YMCA vs Planet Fitness
Planet Fitness vs LA Fitness
Planet Fitness vs 24 Hour Fitness
---
About The Author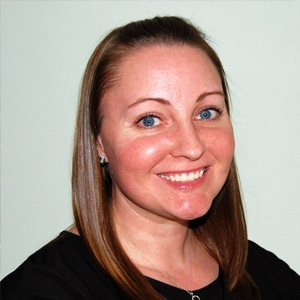 Amanda Dvorak is a freelance writer and powerlifting enthusiast. Amanda played softball for 12 years and discovered her passion for fitness when she was in college. It wasn't until she started CrossFit in 2015 that she became interested in powerlifting and realized how much she loves lifting heavy weights. In addition to powerlifting, Amanda also enjoys running and cycling.