Some links in this article are affiliate links, which means I earn from qualifying purchases.
If you're building a home gym, you might be on the hunt for cheap gym mirrors.
So where can you find the best workout room mirrors? While you can look for workout mirrors on second-hand marketplaces, which may vary in quality and price, the absolute best place to find high-quality but affordable gym mirrors is Amazon. I recommend the Edgewood 4-piece mirrors (click to check today's price) as the best all-round weight room mirrors.
---
In the following article, I'll walk you through everything you need to know about getting a mirror for an exercise room, such as the evaluation criteria, installation guide, and viable alternative options. Let's get started!
Featured Products
Edgewood 4-piece Mirrors – Most Versatile Mirror
BBTO Acrylic Mirror – Budget-Friendly Mirror
PETAFLOP Full-Length Mirror Tiles – Best Large Wall Mirror
Why Trust PowerliftingTechnique
PowerliftingTechnique is a team of expert coaches and trainers passionate about powerlifting and weightlifting. We use our personal experience and professional knowledge to provide the most accurate and detailed reviews of the best products on the market.
How We Chose the Best Home Gym Mirrors
We have tested a wide range of home gym mirrors currently available on the market. We've considered several factors to ensure every product on this list is at the top of each category, such as the best overall budget option or the best full-length cheap home gym mirror.
What Are The Best Affordable Home Gym Mirrors On The Market?
If you're looking for some quality home gym mirrors that will get the job done without costing you an arm and a leg, look no further! Here are some affordable options that you'll find on Amazon, including the best wall mirror for a gym, budget options, and big mirrors for your gym.
Rating 4/5
Pros
Customizable
Affordable
Available in different sizes
Cons
Could start flaking along the edges
The Edgewood 4-piece mirror tiles are perfect for all home gyms. Because you can separate the tiles and place them in any order you like, you can customize your home gym more easily.
You might want to keep the mirrors right next to each other in a line to form a large mirror or keep them separate so you can have a well-rounded view of yourself during your workouts.
The tiles are available in multiple dimensions and package sizes, including 11.5 x 11.5 inches (4-pack), 11.5 x 11.5 inches (8-pack), 14 x 14 inches (4-pack), and 16 x 16 inches (3-pack). They have excellent reflectivity and are pretty cheap for glass mirror tiles.
Rating 4/5
Pros
High-quality acrylic mirror
Affordable
Durable and available in a variety of sizes
Cons
Mirror could be slightly distorted
If you're looking for the cheapest mirror possible with decent quality, the BBTO acrylic mirror should be suitable for you. It's available in two sizes – 6 x 9 x 0.04 inches or 12 x 12 x 0.04 inches. So, whether you need a larger home gym mirror or a smaller option for your wall, you can find a suitably sized mirror.
These glass mirrors are covered with a protective film that protects the surface from damage, which is ideal if you're lifting heavy weights or performing dynamic exercises. Or any exercises with a risk of you dropping the weight too close to the mirrors.
The downside is that these mirrors might appear slightly more distorted than the average home gym mirror. This shouldn't affect your workout performance or your ability to check your form during different movements, but it's worth noting.
Rating 4/5
Pros
Made of HD float glass for high durability
Frosted edging for enhanced aesthetics and security
Easy to install with double-sized adhesives
Cons
May not be suitable for powder-coated walls, as the adhesive stickers might not be strong enough to secure the mirror in place
The Delma Wall Mirror Tiles are made out of a high-quality reflective material called HD Float glass, which is durable and aesthetically pleasing. They're perfect for a home gym mirror wall, as you can place the tiles in whichever fashion you like to meet your needs. They're available in several different package sizes and mirror sizes, including 14 x 12 inches, 12 x 10 inches, and 48 x 24 inches, a wider range than many other home gym mirrors on the market.
The mirror tiles are easy to install, with double-sided stickers on the back of each one. The stickers are strong enough to secure the mirrors in place on most walls, aside from powder-coated walls. So, you'll need to check your walls before purchasing these wall mirrors for your home gym. The company offers returns and refunds if the mirror tiles aren't suitable for your walls after purchase.
Rating 4/5
Pros
Simple design that suits any home gym interior
Four separate tiles that can be placed in whichever way you like
Cons
These mirror tiles are not suitable for brick walls or wallpapered walls
Although labeled as a bedroom mirror online, the PETAFLOP Full-Length Mirror is a great option when you need a relatively large wall mirror for a gym. This wall-mounted mirror comes in four separate tiles that you can place horizontally or vertically using the 36 foam stickers included in the package.
These HD glass mirrors are clear and shatter-proof, making them perfect for your home gym, where you may drop heavy weights on the floor. The simple, frameless mirror design will go well with any home gym interior.
You can easily hang these mirrors onto glass, wood, or tiled walls, but they aren't suitable for wallpapered walls, brick walls, or uneven surfaces. You'll need to be careful when removing the protective coating from the back of the mirror tiles to avoid scratching or cracking the glass.
Rating 4/5
Pros
Aesthetically pleasing crystal crush diamond pattern on outer edges
Easy to install
Available in multiple sizes
Cons
Heavier than other wall mirrors for home gyms
If you're looking for a more visually impactful wall mirror for a home gym, the XIHACTY Crystal Crush Diamond Glass Full-Length Wall Mirror is a great choice. It's a frameless mirror available in three sizes (14 x 11 inches, 11 x 15 inches, and 12 x 12 inches) and two colors (silver and gold), and comes as a single piece.
This mirror is easy to install and comes with foam tape and glue. The decorative frame pattern will look great in your home gym and add class and style to your walls. You won't be disappointed with the quality, either!
The only downside I could see with this mirror is the weight. It's a little heavier than other home gym mirrors but is still light enough to secure properly onto your walls. That, and the fact that this mirror is a little pricey.
Pros
Large in size for a full-length view
Protective anti-rust treatment to reduce oxidization
Explosion-proof film for maximum protection
Cons
A free-standing mirror might be more prone to shaking or wobbling than a wall-mounted mirror
The FORYILLUMI Arched Full-Length Mirror is a free-standing mirror that you can place in the corner of your home gym to check your form during your workouts. It's available with either a black or gold aluminum frame with an arched top, and it measures 65 x 22 inches.
The mirror has an anti-rust coating and an explosion-proof film, making it ideal for a home gym. You won't need to worry about the mirror shattering when you drop heavy weights onto the floor. Plus, if you're working out in your garage, the anti-rust treatment will reduce the risk of moisture inside the garage from oxidizing the mirror.
Pros
Stunning crushed diamond design
Available in more than one size
Secure D-ring hangers at the back of the mirror
Cons
Not the largest option on the market
The GOAND Crystal Decorative Mirror has a stunning crushed diamond border that makes this mirror stand out above the crowd. Although aesthetics might not be as important as functionality for a home gym mirror, it's still a factor to consider when searching for the best option.
This wall-mounted mirror measures 23.6 by 35.4 inches or 27.6 x 19.7 inches. It comes in protective packaging to reduce the risk of damage during transit and is easy to install, with four simple D-ring hangers on the back of the mirror that secures it to the wall.
Pros
Sturdy and high-quality
Aesthetically pleasing gold or black frame
Great price for the quality of the product
Cons
The CASSILANDO Full Length Mirror is available with a black or gold frame with either 65 x 22 or 65 x 24-inch dimensions. It's made with high-quality float glass that makes the reflection appear smooth and clear.
Although this mirror is relatively heavy, it is easy to install, so you'll need to ensure it is well-secured on the wall. The back has a shatter-proof coating for maximum protection during your workouts.
Pros
LED lighting around the frame will brighten up your home gym
Full-length so you can see your whole body during exercises
Has anti-fog and anti-rust properties
Cons
Only available in one size
This NeuType LED Full-Length Mirror will add some brightness to your day with a full frame of bright lights. It's perfect if you tend to work out during early mornings or late evenings when it's dark outside. It will also enhance natural lighting if you're working out during the day, helping to keep you awake and energized during your home workouts.
It has anti-rust and anti-fog properties that keep the mirror in tip-top shape and reduce the risk of wear and tear. It's also produced with copper-free materials, making it environmentally friendly. Although it's only available in one size, this NeuType mirror is a great choice if you're happy with its dimensions.
Pros
Lightweight and versatile
Easy to adhere to the wall
Cons
Adhesives aren't included with the mirror, so you need to buy these separately
Murrey's polished gym mirror tiles are available in three sizes – 12 x 12 inches, 8 x 12 inches, and 10 x 12 inches. They are produced from polished glass and can be placed in any combination so you can cater your home gym mirror according to your needs.
The mirrors are just 2 mm thick, so they will sit flat against your wall. They have smooth, frameless edges that enable you to easily organize them next to one another to create a large, continuous mirror if you wish.
To hang these wall tiles up, you must prepare your wall properly and use your own adhesives, as they don't come inside the packaging. Luckily, the mirror tiles are light enough to stick to your wall using double-sided tape or standard foam stickers.
Pros
Affordable
Simple but effective
Sturdy
Cons
The mounting hangers aren't the best
The Amazon Basics Rectangular Wall Mirror is perfect when you're looking for something simple and affordable. Although basic, it does the job!
The mirror is easy to install and comes with the mounting brackets you need to secure to the wall. The installation instructions are also easy to follow. It's available in sizes 20 x 28 inches, 16 x 20 inches, and 24 x 36 inches, none of which are suitable if you want a full-length mirror for your home gym.
I saw many people complaining about the poor quality of the mounting hangers, with some saying that the hangers on their mirrors were misaligned and had to be readjusted before they could hang the mirror up on the wall.
Different Types of Gym Mirrors
Although most home or gym mirrors look the same, there are several different types. Each one has different features properties and features that make them unique. The three main types of mirrors are:
Plane mirror – a plane mirror reflects light at normal proportions but in reverse. This is the most common type of mirror for a home gym.
Concave mirror – this type of mirror is curved inwardly, a bit like a spoon. The enlarged objects are reflected in the mirror.
Convex mirror – this is a type of spherical mirror that makes the reflected image look smaller.
What To Look For When Getting the Best Home Gym Mirrors
While setting up your home workout mirror for a home gym, you might want to give some extra attention to the mirror you're going to install.
In the following section, I'll walk you through the critical aspects that you need to consider while getting home workout room mirrors.
Size
The size of the mirror is one of the most critical aspects you should consider while getting one.
The maximum size you're allowed to go for will be according to the height and width of your gym wall.
However, for a single-person workout room, you won't need a huge one to check your form for squats, deadlifts, and other exercises. Simply measure your space and make a note of the size. You can create a full mirror wall gym by getting long-length mirrors that fit your walls perfectly.
Materials
Mirrors can be made either of glass or acrylic. Glass is the more reflective one, guaranteeing no distortion in the image, so they're more expensive.
On the other hand, acrylic (highly reflective plastic) mirrors are more reasonably priced, but they will always have slight distortions in the image.
Glass mirrors will be a must-have if you need a wall-mounted mirror to observe your figure. Ideally, you'll also choose a mirror with safety backing.
However, if you only need to observe the technique, the minimal distortion of the acrylic ones won't be noticeable to you.
Sturdiness
Glass is a synonym for "easy to break" for many people, so you must keep that in mind. If you want a slightly more durable mirror, acrylic ones will handle a bit more abuse.
Additionally, since they're much safer, acrylic mirrors are also ideal for children in the house as they're up to 17 times stronger than regular glass mirrors.
Fixed vs. Portable
Wall-mounted mirrors are the go-to option for workout rooms because they're "out of sight, out of mind." They're much safer on the wall with all the barbells and dumbbells that can easily break the mirror on impact.
However, portable gym mirrors give you more flexibility on where to place them and what you see while training.
Also, they're a much more suitable option if you're living in a rental and don't want to strike a hole in the wall or ruin the paint or wallpaper with mirror adhesives.
Frame vs. Frameless
Frameless mirrors are more suitable gym mirrors for a home gym, but they're prone to chipping and cracking on the edges.
They also have the added perk of being expandable. In other words, you can hang 2 or more of them next to each other to have a larger overall mirror.
Framed mirrors are much easier to hang, as you can simply install them using the frame itself. However, they're almost always locked to the dimensions they offer.
Related Article: 20 Home Fitness Equipment Brands (That We Trust)
Where To Get Home Gym Mirrors?
Now that you know the essential criteria for choosing a mirror, it's time to get one. Here are some of the best places to find suitable wall-mounted mirrors for a home gym.
Amazon
Amazon is one of the best places to get small or large wall mirrors for the gym. They have some of the most affordable prices with quick shipping, making them ideal for buyers on a budget.
Not to mention, they save a lot of time and hassle of finding good deals and transporting the mirror back home.
Local Resale Group on Facebook + Facebook Marketplace
You might find some hidden gems on the marketplace on Facebook. However, this is all down to luck and availability at the end of the day.
Home Depot
Home improvement stores are excellent if you're looking for a highly specific gym mirror. However, you'll need to have some experience and a huge mirror to go that far, which isn't necessary for a home gym mirror.
Craigslist & eBay
You may find some used mirrors online too. But again, that would require patience and mirror experience on your behalf.
---
How To Install Your Home Gym Mirrors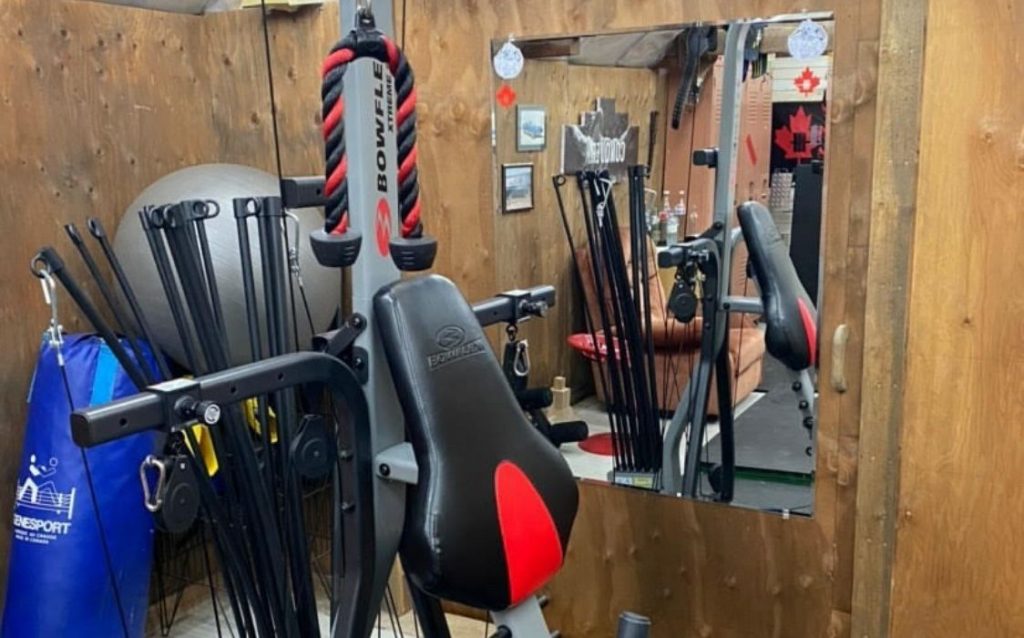 Installing a mirror on your wall is quite simple and can be done in various ways. I'll provide you with a brief guide for each of them, so you can choose the one that suits you better.
The Adhesive Method
The "glute method" for hanging a wall mirror is definitely the easiest. It also provides a remarkably secure installation that won't fall off on its own. For this method, you'll still use some hardware tools, but to a much lesser extent.
The glue method is ideal if you're planning to hang a large mirror in your home gym. Remember that this method will permanently fix the mirror to the wall.
Here's how to do it:
Step 1: Prepare the Tools
You'll need plenty of J-shaped hooks to support the frameless mirror from the bottom, along with the screws needed to fix them to the wall.
Also, you'll need an electric screwdriver to fix the screws and a marker (or pencil) to outline the points on the wall. Lastly, you'll need the mirror glue to finalize the installation process.
Step 2: Outline the Points on the Wall
Before installing the mirror, place it where you want it to be, and outline the mirror edges on the wall with a marker or a pencil. This requires some help, as you'll need someone to hold the mirror while you draw the lines.
However, you can cut a paper template of the mirror, stick it to the wall, and outline the mirror all by yourself.
A pro tip here is to use a simple level balance to ensure that the mirror isn't skewed to one side.
Step 3: Drill the Holes and Install the J Hooks
Install a row of the J hooks at the bottom of the mirror. Make sure that you even out the distance between them to fit multiple hooks for optimal support.
Ideally, a 30 x 36-inch mirror will need 3 to 4 hooks. After you install the hooks, you might want to pad them with cotton or felt to protect the mirror when you hang it.
Step 4: Add the Adhesive and Install the Mirror
Add the mirror adhesive at various spots behind the mirror. The ideal pattern is to squeeze out the adhesive about 3 to 4 inches near the 4 corners of the mirror in addition to the center. After that, install the mirror into the J hooks carefully and let the adhesive solidify, which might take up to 24 hours.
The Hardware-Only Method
The hardware-only method is suitable for smaller mirrors that won't require additional gluing. Additionally, it's much less invasive and won't ruin the wall painting like the adhesive method.
It's pretty similar to the previous method, so you'll need the same tools above except for the mirror adhesive.
Follow the same steps as before regarding drilling the holes and installing the brackets in the bottom. (steps 2 and 3)
However, in this method, you'll install hooks on two or three sides of the mirror. These sides can be bottom and two sides or bottom, top, and a single side
Once you've installed the rows of J hooks, you should slide the mirror in from the free side and keep it secured to the wall with an option to remove it anytime you want.
Other Gym Mirror Alternatives
If you can't install a mirror or you just want a quick way to analyze your lifting form without having a permanent mirror on your wall, here are two reliable alternatives to consider.
Tripods + Phone Camera
A tripod is a great alternative to a mirror because it will save you a lot of money and the hassle of installing a mirror.
Besides being super portable, they also have the added perk of recording. In other words, you'll be able to view your lifting form and compare it to previous ones to keep track of your progress.
I recommend the Torjim 60" Camera Tripod because it's affordable, compatible with smartphones and cameras, and comes with 360-degree rotation functions, and is controlled by remote control and Bluetooth.
Webcams
Webcams are also great if you want to observe your technique. They add the perk of being connected to a larger screen.
In other words, you don't have to be facing forward to see the footage. This makes them great for analyzing your back training techniques.
The Logitech HD Laptop Webcam C615 has a Fold-and-Go Design and 1080p resolution to help you view the tiniest details.
It also has an option for zooming, which is another feature that's not available even in real mirrors!
Frequently Asked Questions
What size mirror do you need for your home gym?
As a rule of thumb, most gym mirrors are usually 36 inches wide and about 5 to 6 feet tall. However, since they're mounted 2 feet up, they measure anywhere from 7 to 8 feet high. At such high and width, the mirror will be able to give plenty of view for everyone using them regardless of their height. However, since a home gym mirror is much less generalized, you might not need a mirror this big. Instead, even a 30 x 20 inches mirror might do.
What kind of mirrors do gyms use?
Most gyms use glass mirrors but might also use acrylic mirrors in some spots to cut down on expenses or to have a more fortified mirror. The difference between glass mirrors and premium-grade acrylic ones is difficult to spot, but they're generally more resilient than glass ones, which makes them great for commercial use.
How much does a home gym mirror cost?
Mirrors vary in price depending on various aspects, such as materials, sizes, thickness, and style. Decorative additions, beveled edges, and LED backlighting will also impact the mirror's price. For a relatively small and simple home gym mirror, you should expect to pay as little as $20 to $40. As you go up in size, quality, and framed options, you should expect them to set you back up to $80 to $100.
What type of mirror is best for a home gym?
The best gym mirrors are wall-mounted mirrors. Opting for a large wall mirror for a home gym saves floor space and is a safer option than free-standing mirrors that might fall or shake when you're lifting.
What is the difference between a gym mirror and a home mirror?
Every mirror is made using a clear, reflective surface. However, gym mirrors are stronger and shinier than traditional home mirrors, meaning they're shinier and more durable. This makes them ideal for gyms, where lifters must clearly see themselves in good lighting and equipment needs to withstand ongoing use.
Is an acrylic mirror as good for a gym?
Acrylic mirrors are good for home gyms and studios because they're strong, shatter-proof, and reflective. Due to these properties, they can withstand slight movement or shaking caused by heavy lifting.
Final Thoughts
That wraps things up for everything you need to know about home gym mirrors. As you can see, choosing the aspects of your mirrors will land you the perfect weight room mirror you've been looking for.
The Edgewood 4-piece Mirror is a great overall option because it allows you to set up the mirrors in the way that suits your style the most, whether vertical or square.
Other Home Gym Equipment
Need other home gym equipment, check out the following reviews: