PowerliftingTechnique.com is independent and supported by our readers. We may earn a commission if you buy through the links below. For more, see our disclosures page.
The female fitness industry is growing by the minute! This population has grown in fame for their amazing physique, determination, and ability to empower other women to embrace their health and fitness.
Are you looking for inspiration in your Instagram, TikTok, or Facebook feed? Maybe some Youtube fitness tutorials?
This list of individuals consists of female fitness models, fitness experts, online bloggers, and entrepreneurs who have built their own fitness apps that allow you to track your fitness goals and reach new heights!

Below, I have ranked individuals based on such as:
Merits
Number of followers
Reach
Engagement
By the end of this list, you will find some of the top female fitness models in the industry that reach up to 10-20 million followers!
Top 50 Female Fitness Models To Follow
Take a look and get to know these individuals' backgrounds, content, and what to expect from their various social media platforms.
50. Ainsley Rodriguez
Ainsley Rodriguez is a fitness and lifestyle coach that provides programming, supplementation, and guidance for all populations. Even new moms!
She believes that if you work hard, you can play hard too. She started her fitness journey at 16 years old, is now certified in personal training and sports nutrition, and was awarded 3rd place at her first bikini competition, the NPC Dayana Cadeau Classic.
Check out some of her content below!
49. Alexa Jean Hunt
Alexa is an advocate for fitness and uses her page to inspire others, especially those who are newer to motherhood. She is the creator of "Alexa Jean Fitness," which was built to be a resource for fitness and nutrition.
She also has used her platform in fitness to fund other opportunities as she is also the founder of "The Wild and Free Project," which is committed to supporting charitable organizations that promote high-quality programs in health-related areas such as childhood cancer.
Her content provides insight into health, fitness, and ventures with business.
48. Anita Herbert
From Budapest, Hungary, Anita Herbert started her fitness journey at the age of 22. Soon, she was undefeated in the National Physique Committee (NPC), which led her to earning her pro card with the IFBB (International Fitness and Bodybuilding Federation).
By 2017, she had the privilege of stepping on stage at the Olympia.
Anita has several programs and ebooks on her website, so if you're looking for guidance and focusing on your physique and fitness, give Antia a look through her social media accounts.
47. Ashleigh Jordan
If you're looking to build your hips, Ashleigh has an Instagram full of tips and tricks. Ashleigh is the owner of the clothing line "NVGTN," that's all things female fitness.
Between her growth to fame and entrepreneurship mindset, Ashleigh has a ton to offer in the health and fitness field.
Follow her content to get more insight on her clothing line and how to improve your hip gains!
46. Ashley Horner
Ashley Horner is a fitness model, athlete, and has an extensive history in performance training for those in the military. Her platform provides a ton of fitness and training material that pertains to human performance.
A fun fact about Ashley is that she actually owns an eatery in Virginia Beach called American Brew!
Check her out on social media to learn more about her training and personal business ventures.
45. Brooke Ence
Brooke is a fitness model and fitness trainer with a background in many traditional sports, such as softball, swimming, and even dance. She found her way into CrossFit and competed professionally, starting in 2015.
Her current content shows a ton of strength training and tips on improving your performance.
44. Bru Luccas
From McDonald's employee to becoming an online sensation, Bru Luccas has grown to being one of the most well-known fitness models on social media.
Followers can see her posts about her physique and fitness with a fashionable approach, tagging businesses on her account, including Bang Energy.
43. Carly Rowena
If you are looking for someone with a unique story, take a look at Carly Rowena. Carly is an advocate for fitness but also posts content about her life, motherhood, and marriage.
Carly's massive engagement stems from all her videos on youtube that pertain to health, fitness, and overall wellness.
She even provides content on how to work out while spending time with her kids!
42. Carriejune Anne
Carriejune is one of the most popular names on this list. Her powerful physique makes her a dominating personality in the health and fitness world.
She just celebrated her 5th year anniversary with her business "Minibeast" and takes on clients for fitness, nutrition, and much more.
Her content showcases her success in the industry and a few workouts that lead her to have such a strong aesthetic in the industry.
41. Cassandre Davis
Cassandre Davis is a bikini fitness model and fitness trainer from Mexico City. She currently resides in Miami, Florida, and has grown a huge online presence through her pursuit of health and fitness.
She is well known for content about lifestyle and fitness and for promoting her own clothing apparel, "Davis Active".
Check out her inspiring content about lifestyle and fitness!
40. Grace Beverley
Grace Beverly is a social media influencer with a passion for fitness. She is mostly known for her previous nickname, "GraceFitUK".
She posts heavily on Instagram and youtube as a lifestyle vlogger that talks about her health, fitness, and vegan diet.
Her content also showcases her workouts, dietary guides, and partnership with the brand "Gymshark".
39. Gracyanne Barbosa
One of the strongest athletes on this list of fitness models is Gracyanne Barbosa. She is a Brazilian fitness model that has grown to fame with her impressive 450-pound squat!
Her dominating physique has massive intrigue from the online community, as well as her background with being a fitness model, samba dancer, musician, and owner of her current health brand.
Check her content to see more of her physique and interests in traveling and lifting!
38. Izabel Goulart
Izabel is a Brazilian model on this list with a reputation built from being a Victoria's Secret "angel" and a Sports Illustrated swimsuit model during the late 2000s.
You will also find her making appearances in Hollywood as she was a part of the "Baywatch" cast in 2017.
Her content consists of fashion, travel, and many posts that relate to her being a female fitness model.
37. Karina Elle
Karina is a previous cheerleader and cross-country runner who has found her place in the health and fitness world. She was the previous winner of the World Fitness Federation Pro Bikini Championship and enjoys her lifestyle in fitness, including running.
You will find content of her in her element, whether she is lifting, performing leisure activities or even catching the sunset while making a striking pose.
36. Katya Elise Henry
Katya is a female fitness model and trainer who provides nutrition and fitness content, including her recent 8-week challenge to build your best "Bikini Booty".
Katya is a recent mother that is using her social media to blog about her experience of embracing her health and fitness during motherhood.
Besides her social media, you can view her website, which has tons of programming and services that help people improve their health and fitness through her coaching.
35. Lauren Simpson
Most individuals who start their fitness journey are perhaps out of shape or overweight. However, Lauren's story stems from being small and insecure about her physique. This drove her to be an advocate for her fitness and allowed her to grow in the fitness industry as an influencer and online trainer.
She sells programming and supplementation, and her content has a ton of great advice and tips about lifting and improving your performance in the weight room.
34. Lita Lewis
Lita Lewis is an online fitness model, wife, mother, and online coach for her own business.
Lita is a great influencer to follow as she helps to demonstrate how to balance fitness, family, and motherhood all at once! Her content also lets you see all sides of her lifestyle, so it's not always geared toward fitness.
If anything, her content helps to promote health, fitness, and overall wellness for a balanced lifestyle.
33. Massy Arias
Massy Arias is a health coach with a broad focus on content that discusses lifting, diet, recipes, and transformation stories from all her clients. Massy has an insane physique that not only embodies strength but femininity as well.
Following her journey through social media should help as it can be a tool to improve your life.
32. Melissa Alcantara
Melissa Alcantara is a well-known fitness trainer who has worked with many celebrities, including Kim Kardashian.
She had a chance to appear on the "Titan Games" as an athlete and has a huge passion for fitness. Her story stems from improving her health by losing 40 pounds in 60 days. She has her own app, "Fit Gurll Mel App," and is also the author of best selling book "Fit Gurl".
Her content is very informational and provides a ton of guidance for those who want to increase their fitness and health.
31. Noel Arevalo
Noel is an online coach and transformation specialist. Her journey with health and fitness started with her own transformation story.
Her documentation during this process allowed her to grow her online presence and become a well-known bikini competitor and fitness model in the industry. She won the 2015 GovCup Open Bikini classification and placed 16th in the NPC USA Championships. She also has a background in powerlifting too.
If you follow Noel, you will not only get a glimpse of her lifestyle of fitness but also lifting tips to improve your efforts in the weight room.
If you are looking for more female models that have a background in powerlifting, check out this article about the top 13 powerlifting girls to follow.
30. Rachel Brathen
Rachel is a Swedish yoga instructor who is the author of best selling book "Yoga Girl". If you follow her account, you will find her love for health, fitness, and overall wellness.
She is also a mother and posts content that shows her balance between motherhood and fitness.
29. Sonia Isaza
Sonia is a Colombian fitness model and previous bodybuilder who's grown her online presence since 2016. Her growth is attributed to her social media blogging, discussing her growth and improvements in fitness.
Sonia's content pertains mostly to her workouts and experience as a female fitness model.
28. Tammy Hembrow
Tammy is an Australian female fitness model, online celebrity, and entrepreneur with a collection called "Saski" and her very own fitness app, "Tammy Fit". Not only is she well-known across social media, but she also has more than 1 million subscribers on youtube.
Following Tammy gives you a glimpse of her online training business, nutritional guidance, and her lifestyle as a mother as well.
27. Valentina Lequeux
Valentina is a female fitness model and fitness trainer with the mantra of focusing on nutrition, workouts, and mindset. This holistic view of health and fitness pushes her to be a strong online presence that posts content that pertains to her brand and exercise guidance.
26. Whitney Simmons
An entrepreneur with three clothing lines, Whitney Simmons has a ton of success that stems from her female fitness career.
Her partnership with Gym Shark and the growth of the workout app "Alive" has pushed her past the competition. Her content showcases her clothing line, workout routines, and personal life.
Get a chance to learn from Whitney and get to know her!
25. Amanda Bisk
Amanda Bisk is an Australian pole vaulter with an extensive background in education. Her merits include exercise physiologist, yoga instructor, pilates instructor, and elite coach.
Her content is heavily surrounded with nutrition, recipes, performance training videos, and her own personal travel.
There is a ton of value in following Amanda!
24. Amanda Lee
Amanda Lee is a well-known fitness female model and trainer from Canada. She loves to train her legs 2-3 days a week, and it's evident when looking at her content.
Following Amanda allows you to see workouts, tips, and her own journey with her health and fitness.
23. Anna Victoria
Anna has a unique journey with health and fitness. Originally, Anna was looking to improve her health and wellness, but while researching, there were no apps or fitness guides present in 2012. This inspired Ann Victoria to build her own app, "Fit Body App".
Now, she has grown her business to be a transformation coach that posts content on her successes and journey with exercise. She is a very inspiring account to follow!
22. Aspen Rae
Aspen is a fitness model and competitor in physique, starting the competition with the NPC in 2016. Soon after, she earned the merit of becoming an "IFBB Figure Pro".
Her presence on social media is growing, posting tons of content about her fitness and travel while using her youtube to show off her chiseled abs and how to attain a strong physique!
21. Chontel Duncan
Chontel is not only an impressive athlete but a mother of 5! With 4 boys and 1 girl, Chontel shows us how it is very possible to continue to promote your health and wellness as the leader of a big family! She is an advocate for high-intensity exercise (HIIT training).
She has content online that shows her being a mother and an impressive athlete who can handle any challenge.
20. Jeanette Jenkins
Jeannette Jenkins is a female fitness model and trainer who authored "The Hollywood Trainer Weight-Loss Plan," a 21-day guide to making healthy living a lifetime habit.
With 30 years of experience and over 500 streaming workouts online, Jeannette has a huge resume of success that can be seen on her social media accounts, as her content provides a ton of material and guidance for a healthy life!
19. Julia Gilas
Originally from Ukraine, Julia's growth in fame stems from her earlier modeling years which led her to a fascination with the idea of fitness modeling.
Her pursuit of health and fitness grew her to have millions of followers and provided a platform to continue documenting her love for fitness. Follow her account for more content about her fitness career and successful journey.
Her Youtube has a ton of content on workouts to do too.
18. Krissy Cela
Krissy is a fitness trainer, and online coach with a ton of success with her Youtube channel claims to "make fitness simple". With more than a million subscribers and followers on youtube and social media, Krissy's fitness journey helps inspire many to improve their own fitness and wellness.
Check her content to see more about her successes and brands "Evolve You" and "Oner Active".
17. Maddy Forberg
Maddy is a growing name as a female fitness model with an extensive background in powerlifting. She made the USA Powerlifting team and, soon after, found her new passion in physique and bodybuilding.
Check out her content for more information on improving your health, fitness, resistance training, and mental health.
If you are looking for youtube channels to follow that would provide more information on powerlifting training, click on this link about the top 15 powerlifting channels to follow.
16. Pamela Reif
Pamela is a German fitness model that began her journey with online fitness as early as 16 years old! Her Instagram and Youtube both have 9 million followers, and rightfully so. She has built a business around performing workouts "at home" that has had so much success she was included in Forbes's "30 under 30," which is a huge accomplishment.
Follow her accounts for great content and ideas on improving your fitness from the comfort of your own home!
15. Stefi Cohen
Dr. Stefi Cohen is a huge name in the fitness industry and the powerlifting and bodybuilding community. Not many would perhaps consider her a traditional "female fitness model", but alongside her ability to perform in the boxing ring and lift insane weights, she has an amazing aesthetic that places her name in the arena of fitness and modeling.
Check her content about exercise, performance training, and some shots from various photoshoots that show off her strong physique.
14. Sommer Ray
Sommer Ray is a social media influencer and female fitness model with a massive 26 million followers. Her fame has allowed her to pursue her brand, "Imarais Beauty," which provides health and wellness products online. Following her content will give you insight into her modeling, brand, and travel lifestyle.
13. Stephanie Sanzo
Stephanie is a strength trainer and owner of her own clothing apparel, "Yondit". Between her social media page and youtube channel, Stephanie provides a ton of content about various strength routines she performs to help her build her dominating physique.
Follow Stephanie Sanzo for an in-depth explanation of exercise and inspiration for meeting your goals!
12. Anllela Sagra
Anllela is a female fitness model from Colombia who started her career as a model. As she continued to grow in the industry, she found herself committing to lifting to help build not only her physique but online presence as well.
With a successful social media following and a youtube dedicated to her training, Anllela has inspired many and built a big following online!
11. Emily Skye
Emily Skye is a female fitness model who uses her platform to help inspire others through her own transformation. If you follow her content, you will see her discuss her transformation into fitness and provide tips and nutrition guides.
If you view her website, you will gain access to exclusive content to improve your health and fitness.
10. Eva Andressa
From novice to IFBB pro, Eva Andressa is a Brazilian fitness model with a big impact on the industry. Some say she has one of the top physiques in bikini fitness models competition. If you follow her content, you might agree.
Check her content to learn more about her industry success!
9. Heidi Somers
Heidi Somers, aka "Buff Bunny," is one of the top female fitness models in the industry. She might seem small, but she's mighty. Heidi isn't scared of the weight room!
Her online success has helped her build her clothing brand, "Buff Bunny Boutique," and has a solid Youtube following that talks about family, nutrition, and lifting heavy!
8. Lauren Drain
Lauren Drain is a female fitness model with an insane resume. Lauren's social media claims she is a registered nurse, fitness coach, bikini professional, New York Times bestselling author, wife, and mother.
Follow Lauren to see more about her fitness journey and her Youtube channel, which serves as a vlog about all aspects of her life, including travel, pregnancy, and more.
7. Nikki Blackketter
Nikki is heavily involved in the youtube community as an advocate for health, wellness, and proper diet. Much of her content discusses how to maintain a healthy lifestyle using unique blends and concepts of diet and fitness, trying to embody more than just the physicality of fitness.
6. Paige Hathaway
Paige Hathaway is a female fitness model with a ton of experience in both fitness and business. With several endorsements and building her brand as an online trainer with over 21,000 transformations, Paige deserves her place on this list and could arguably be higher! Check out her content for inspiring posts that help all types of populations.
5. Kelsey Wells
Kelsey Wells is a fitness trainer that made a big leap in the fitness industry in 2016 by telling women to "screw the scales". This mindset was empowering and inspiring, urging women to think more about their health and not to worry only about the aesthetic.
Kelsey's content showcases her journey with fitness along with tips and guides for embracing your own health and fitness.
4. Ana Cheri
Ana Cheri has an astonishing 12 million followers on Instagram, which has placed her as one of the most successful female fitness models online. Her website hosts several features, including ebooks, programs, nutrition, apparel, and much much more.
Follow her content to see more about her health, fitness, and modeling from all her travels.
3. Michelle Lewin
Michelle Lewin is a female fitness model from Venezuela and has an amazing resume in fitness competitions. She competed in dozens of NPC and IFBB competitions during the early 2000s, which has helped her build a huge presence of 15 million followers on Instagram.
Check out her content for fitness, nutrition, and a glimpse of her life as a new mother.
2. Kayla Itsines
Female fitness model Kayla Itsines is a successful entrepreneur that co-built the company "Sweat," which was an app that had the most sales back in 2016. Her rise to fame stems from her online presence and her original ebook, "Bikini Body Guide," which was a huge success when it first came out, essentially slingshotting her chance to build her previous app, "Sweat".
Kayla's content is built to inspire others who share her story as an advocate of health, fitness, and wellness.
1. Jen Selter
Jen Selter is our #1 female fitness model on the list, with an overwhelming 13 million followers on Instagram, 2 million followers on TikTok, and several endorsements that place her as a highly impactful influencer in the fitness industry. She's not only an influencer but a fitness trainer as well.
She's constantly brought up in the world of fitness, and her female fitness modeling career has trajected her as being the top female model on our list!
Frequently Asked Questions
How much do female fitness models make?
Based on the current market, fitness models have been noted to make annually as little as $16,000 or up to perhaps $110,000. Some of the top models on our list, such as Paige Hathaway, Ana Cheri, and Jen Selter, are currently worth 3-5 million dollars.
Who is the most famous fitness model?
After researching multiple sources and considering merits and engagement, the fitness model with the highest reach and reputation was Jen Selter.
How long does it take to get into fitness model shape?
Many of the fitness models in our top 50 are mentioned to be initiating their journey to fitness between 2012-2016. I believe for you to get settled into fitness model shape and find your rhythm, it could take up to a few years to figure out your routine for consistency.
About The Author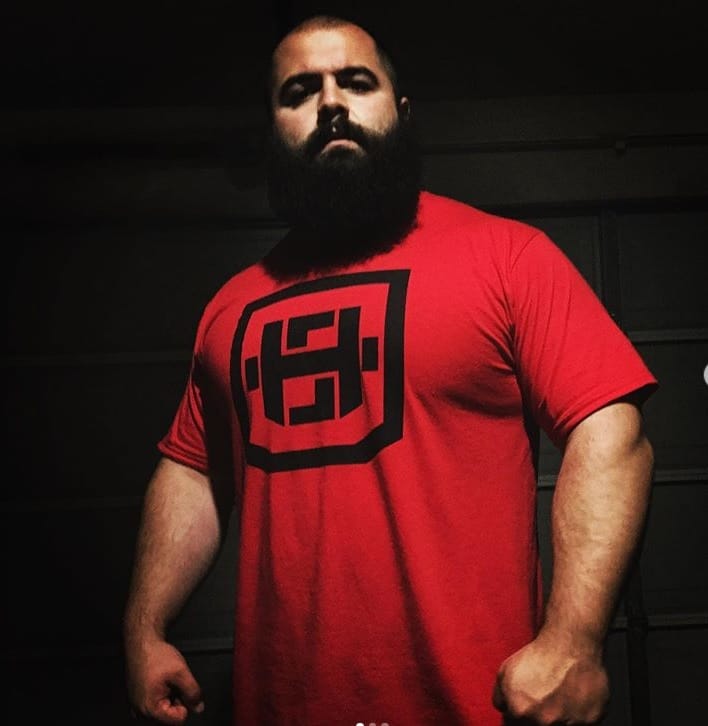 Joseph Lucero is a strength and conditioning specialist who owns his online coaching business "Harvesting Strength." He earned his master's degree from the University of Texas at San Antonio and has his Certified Strength and Conditioning Specialist certification (CSCS) from the NSCA. He coaches all types of strength athletes, including powerlifters and strongmen, and has authored many books on Amazon regarding different topics in strength training!