GoodLife Fitness and Fit4Less are two large gym chains in Canada. But despite the fact that GoodLife owns Fit4Less, there aren't many similarities between the two gyms, and each one offers a different kind of experience for its members.
So, is GoodLife Fitness or Fit4Less a better gym? Fit4Less is good for people who can't afford a pricey membership, but GoodLife Fitness is better in many other ways. GoodLife has more amenities, more group classes, personal trainers, and more locations. It also caters to a larger variety of people and has better equipment.
Most people only look at cost when trying to decide between two gyms, but there are a lot of other factors to consider as well, such as amenities, type of equipment, and the gym's atmosphere.
Joining a gym is a long-term commitment, so it's important that it suits your training preferences and can help you reach your goals. This article examines GoodLife Fitness and Fit4Less from multiple angles and by the end, you'll be able to decide which gym is a better fit for you.
GoodLife Fitness Overview
GoodLife is the largest Canadian chain gym with more than 450 locations across the country. It was founded in 1979 by David Patchell-Evans. He began working out as part of the rehabilitation process following a motorcycle accident and eventually bought the gym he trained in.
GoodLife owns several other Canadian fitness centers: Fit4Less, which I'll talk more about below; EconoFitness, which has 70 locations throughout Quebec; and Oxygen Yoga and Fitness, a yoga and cardio studio with 60 locations throughout the country.
GoodLife also has partnerships with 24 Hour Fitness, a 24-hour chain gym in the US; Jillian Michaels Bodyshred; and Les Mills International.
Pros
Can use your membership at any location or at any 24 Hour Fitness location in the US
No long-term commitments required
Group classes included with most memberships
Cons
Rude staff members at some locations
May have to wait for equipment to become available when it's busy
Check out my full review of GoodLife Fitness here.
Fit4Less Overview
Fit4Less has only been open for about 10 years. It was founded by the same man who created GoodLife when he recognized the need for a more budget-friendly gym in Canada. Interestingly, it was initially named McFit, but Patchell-Evans eventually changed the name to Fit4Less to help consumers associate the brand more with fitness than cheeseburgers.
In many ways, Fit4Less is similar to Planet Fitness, one of the largest chain gyms in the US. It even has an "oops alarm" that closely resembles Planet Fitness's lunk alarm, which employees can ring if members do something egregious in the gym.
However, Fit4Less is more accepting of different training styles, and beginners are just as accepted as experienced gym-goers. It doesn't have the niceties that you'll find in a more upscale gym, but if you want a gym where you can get in and out quickly, Fit4Less is a good option.
Pros
Fit4Less gyms are known for their cleanliness
Non-judgmental atmosphere
Members can visit 24 hours a day
Cons
No showers or locker rooms at most locations
No dumbbells heavier than 75lbs
No group classes or personal trainers
Check out my full review of Fit4Less here.
GoodLife Fitness vs Fit4Less: 10 Differences
As I mentioned earlier, GoodLife and Fit4Less were founded by the same person and they're both only in Canada, but that's where their similarities end. When you consider the most important components of a gym, it's clear that one chain is superior to the other.
1. Cost
One of the most important things to think about when joining a gym is cost. Monthly fees vary widely from gym to gym, so you'll need to make sure you can realistically afford your membership.
When considering purchasing a gym membership, you'll also need to think about things like taxes, annual fees, and enrollment fees, which can eat into your budget.
GoodLife Fitness
GoodLife Fitness has three different memberships that cost anywhere from $29.99 plus tax every two weeks to $54.99 plus tax every two weeks. Regardless of which membership plan you choose, you have to pay a $50 enrollment fee.
You can save up to 50% on your monthly membership if your employer participates in GoodLife's corporate wellness program.
If you're interested in checking out GoodLife before you join, you can download a one-day free trial pass on the website. Occasionally, GoodLife also offers two- or four-week trial passes.
Fit4Less
Fit4Less has two membership options: 4Less Card and Black Card. The 4Less Card costs $5.99 plus taxes every two weeks, and the Black Card costs $11.99 plus taxes every two weeks.
Fit4Less gives members the option to sign up for a rate guarantee, but it costs $9.95 per quarter to stay enrolled in the program. However, you'll receive peace of mind that your monthly fee will never increase even if Fit4Less increases its prices.
Fit4Less doesn't have free trial passes, but you can show up during staffed hours and ask for a free tour of the facilities.
The Winner
Fit4Less memberships are more than half the price of GoodLife memberships, making Fit4Less an ideal gym for people with limited budgets.
2. Contract Length
Month-to-month contracts and annual contracts each have their own pros and cons, but most gym-goers prefer the flexibility of month-to-month plans. They don't have a specific end date, so they're good for people who aren't sure how long they'll stay at a particular gym.
Many gyms offer both types of contracts, but they can also vary by location. It's important to do your research and make sure the gym you want to join offers a contract that suits your needs.
GoodLife Fitness
Some GoodLife locations offer one- or two-year contracts, but most offer month-to-month contracts only.
Fit4Less
Most Fit4Less contracts are month-to-month. Some locations also offer one-year contracts.
The Winner
Both gyms have month-to-month and annual contracts, so it's a tie.
3. Equipment
While it's important that your gym's equipment is in good shape, you should also make sure it suits your preferred training method. There's no sense in joining a gym that only has treadmills and dumbbells if you're interested in powerlifting or CrossFit.
GoodLife Fitness
GoodLife Fitness has cardio and strength machines from Hammer Strength and Life Fitness. It also has spin bikes from Expresso that allow you to ride virtual trails and turn the handlebars for an experience that more closely resembles riding a bike outdoors.
There are Eleiko bumper plates and barbells at GoodLife Fitness, but at some locations, they're only available for personal training clients. However, you can find other barbells and plates in the free weights area. Almost all locations have squat racks and deadlift platforms.
GoodLife has dumbbells, EZ curl bars, and preset straight bars that all go up to 100lbs. You can also find trap bars, safety bars, and functional training equipment at some clubs.
Fit4Less
Fit4Less has cardio and strength machines from Precor and Cybex. But depending on the location, you may only find five or six of each type of cardio machine.
Fit4Less only has dumbbells that go up to 75lbs, and there is no functional training equipment. However, the EZ curl bars go up to 110lbs. Fit4Less has barbells and plates that range from 10lbs to 45lbs, but they're of average quality.
Squat racks are hit or miss at Fit4Less, with most locations only having one or two. There are no deadlift platforms.
The Winner
GoodLife Fitness has more machines, more strength equipment, and higher-quality barbells and plates. If you want access to a larger selection of equipment, you should go with GoodLife.
4. Atmosphere
Visiting a gym before you sign a contract is imperative so you can get a feel for the types of people who work out there. If you're a powerlifter, you probably won't enjoy working out at a gym where everyone else focuses on cardio workouts.
You should also pay attention to how the staff and members interact with each other. If you sense that the gym has a hostile environment, you should look for a different one where everyone is more respectful of each other.
GoodLife Fitness
GoodLife's atmosphere tends to vary throughout the day. Early in the morning, the gym is quiet, and most members aren't interested in talking to anyone else. In the middle of the day, you'll see a lot of middle-aged or older adults who like to work out just for fun. Evenings usually attract younger individuals who go to the gym to socialize.
Each location will have a different clientele, though. It's also important to note that overall, GoodLife has a supportive environment that welcomes people of all different fitness backgrounds and experience levels. You may just have to get used to working out amongst different groups of people depending on what time of day you go.
Fit4Less
Fit4Less gyms are small and don't typically attract a lot of serious powerlifters or bodybuilders. You won't find many people lifting heavy there, and depending on when you go, you'll likely be working out with older individuals or people who work out just to stay in shape.
However, this makes Fit4Less a good place for beginners or anyone who doesn't want to listen to people throwing weights around and grunting during their workouts. The staff is friendly and the members are courteous, so you won't have to worry about being judged.
The Winner
If I had to choose, I would pick GoodLife since it has a more varied clientele, but both gyms have welcoming, supportive environments.
5. Gym Policies
Each gym has its own rules and regulations, and what's allowed at one gym isn't always allowed at another.
When choosing between two gyms, you should read every line of the contract and ask the staff members about the rules. It will help you understand what you can and can't do during your workout, and you'll also get a good understanding of what you need to do if you want to cancel your membership.
GoodLife Fitness
Some GoodLife locations allow chalk while others don't, but you can usually get away with liquid chalk.
Some locations have stricter dress codes than others and frown upon outfits that show too much skin. Whether or not you can lift barefoot also depends on the location. It's best to err on the side of caution, stay covered up, and keep your shoes on until you see how the other members dress.
You can bring guests with you to most GoodLife clubs for free, but some charge guest fees of around $15.
Memberships can't be transferred to another person, so the only way to get out of your membership is to cancel. You have to submit a written notice in person and provide at least a month's worth of notice. GoodLife charges cancellation fees that range anywhere from $75 to $100.
Fit4Less
Chalk, dropping weights, lifting barefoot, and grunting are not allowed at Fit4Less. Shirts are required for both men and women, and shoes must be worn at all times.
You can bring a guest with you, but you'll have to pay a guest fee of $15 plus taxes. If you don't want to pay the fee, you can wait to bring your guest until the last Thursday of the month, when Fit4Less has Free Workout Days for non-members.
If you're a Black Card member, a friend or family member can also use your membership card to visit the gym without you. They just have to sign up online first, and they can't use your card two hours before or two hours after you've last used it.
With a month-to-month membership, you can cancel at any time by filling out a request form at the self-service kiosk inside the gym. You can also cancel over the phone. You have to provide 30 days' notice.
The cancellation process is the same for members with annual contracts. If you paid in full, you don't get a refund for any of the unused time on your contract. If you pay monthly, you have to pay for the months remaining on your contract.
The Winner
There is no clear winner since certain aspects of each gym's policies cancel each other out. Fit4Less has a slightly easier cancellation process, and it's great that a friend or relative can use the gym with your membership card. But for the most part, GoodLife has more flexible rules about chalk and dropping weights and a more lenient dress code.
6. Group Classes
Group classes are pretty common in gyms, but not all gyms have them. And sometimes, the gyms that do have classes only offer them on a limited basis. If you're joining a gym primarily so you can take classes, you should make sure it offers the classes you like and that the class times fit your schedule.
GoodLife Fitness
GoodLife has cycling, yoga, Zumba, and Pilates classes. You can also take cardio dance and strength-based classes.
Most classes are held in the evenings with a couple in the morning and afternoon. You can also take them on-demand in one of the studios if you can't make a certain class time. Classes are free for Performance, Premium, and Ultimate members.
GoodLife also offers high-intensity, performance-based classes. In these classes, you can hook up to an optional heart rate monitor to track your progress. Like the traditional group classes, the performance classes are free with Performance, Premium, and Ultimate memberships.
Fit4Less
Fit4Less doesn't have in-person group classes, but it has virtual classes that you can take at the gym. The classes include cycling, cardio dance, 30-minute strength, and 30-minute express circuits.
Even though the classes are virtual, you can take them in real-time at scheduled times throughout the day. They're mostly offered in the morning and evening, but some classes are held in the afternoon.
The Winner
Virtual classes have their benefits, but it's not the same as taking an in-person class. If working out with other people motivates you, you should go with GoodLife since you can take a variety of group classes.
7. Amenities
Many gyms provide a more holistic approach to health and wellness by offering amenities such as saunas and massage chairs. Other gyms are pretty barebones and have nothing more than exercise equipment, lockers, and bathrooms.
Everyone has different preferences when it comes to amenities, so when you're getting ready to join a gym, you should consider whether or not you'll actually use them.
GoodLife Fitness
Each GoodLife location has different amenities, but you can find pools, saunas, smoothie bars, basketball courts, squash courts, tanning booths, and massage chairs at most clubs. There are also yoga studios and women's-only areas in most clubs. Childcare is available at a small number of locations.
GoodLife has showers and locker rooms, but not all clubs provide toiletries. Some locations have towel services, but you'll have to pay an additional fee for them.
Fit4Less
Because of its low price point, Fit4Less doesn't have a lot of amenities. It doesn't have basketball courts, saunas, pools, smoothie bars, childcare, or red light therapy. But it does have tanning booths and massage chairs.
Fit4Less has lockers, but they're located off to the side of the gym floor. Only a handful of locations have showers. The showers at some locations are for women only since those particular clubs used to be women's-only gyms.
The Winner
GoodLife Fitness has a more robust offering of amenities, so it's a better option for anyone who's looking for a gym with more than just exercise equipment.
8. Personal Training
It's rare to find gyms that don't have personal trainers, but they do exist. If you're interested in working with a personal trainer for accountability or to help you find a workout plan that works for your body, you'll need to make sure your gym has personal training services.
It's also important to consider your budget and how long you're willing to stick with your trainer. Personal training packages aren't cheap, and you'll often have to sign a long-term contract that can be difficult to get out of.
GoodLife Fitness
The trainers at GoodLife are certified either through GoodLife's own personal training institution or Canfitpro™, the largest personal training institution in Canada. However, both certifications are relatively easy to obtain, and you don't have to have a college degree or previous experience as a trainer in order to pass the exams.
GoodLife's trainers fall into five different tiers based on how much professional experience they have. Costs vary depending on which tier your trainer is in. Tier I, II, and III trainers cost about $60/hour, and tier IV and V trainers cost about $85/hour. You can buy sessions in bulk, but you'll have to commit to at least six months' worth of sessions.
Fit4Less
Fit4Less doesn't have any personal trainers, and you're not allowed to bring in a trainer of your own.
The Winner
GoodLife is clearly the better option if you're interested in one-on-one training since Fit4Less doesn't have personal trainers.
9. Locations
The gym you choose should have a location that's within a reasonable commuting distance from where you live or work.
It's also a good idea to check if you can use your membership at multiple locations — if you end up not liking your gym, you can try going to another club instead of canceling your membership and joining a new one. And if you travel a lot, you may want to make sure you can visit another location while you're out of town.
GoodLife Fitness
GoodLife has over 450 locations throughout Canada. Unless you have the basic plan, you can use your membership at any location.
GoodLife also has a partnership with 24 Hour Fitness in the US, so you can use your GoodLife membership at any 24 Hour Fitness club in the states when you travel.
Fit4Less
Fit4Less has about 95 locations throughout Canada. If you have a Black Card membership, you can visit any club.
The Winner
GoodLife Fitness has almost five times the number of clubs as Fit4Less, so it's a better choice for anyone looking for a gym with a widespread presence.
10. Hours of Operation
The gym you choose should be open during times that work best with your schedule. Fortunately, many gyms are accessible 24 hours a day. If you're a night owl, shift worker, or just can't make it to the gym until late at night, these gyms make it easy for you to work out whenever you want.
GoodLife Fitness
Members can visit GoodLife 24 hours a day, though staff members are only onsite during normal business hours.
Fit4Less
Fit4Less is also available 24 hours a day for all members. Like GoodLife, staff is only on the premises during standard operating hours.
The Winner
It's a tie since both gyms are available 24 hours a day.
Who Is GoodLife Fitness For?
GoodLife Fitness is a good gym for you if you:
Are a casual powerlifter or CrossFitter
Travel around Canada frequently
Travel to places in the US with a 24 Hour Fitness nearby
Are interested in one-on-one training
Want to take group classes
Who Is Fit4Less For?
Fit4Less is a good gym for you if you:
Have a limited budget
Aren't interested in group classes
Don't want to work with a personal trainer
Don't care about extra amenities
Other Gym Comparisons With GoodLife Fitness and Fit4Less
World Gym vs GoodLife Fitness
GoodLife Fitness vs LA Fitness
---
About The Author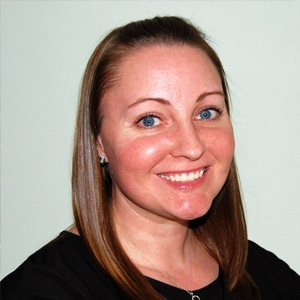 Amanda is a writer and editor in the fitness and nutrition industries. Growing up in a family that loved sports, she learned the importance of staying active from a young age. She started CrossFit in 2015, which led to her interest in powerlifting and weightlifting. She's passionate about helping women overcome their fear of lifting weights and teaching them how to fuel their bodies properly. When she's not training in her garage gym or working, you can find her drinking coffee, walking her dog, or indulging in one too many pieces of chocolate.