Deciding to join a gym is the first step toward becoming healthier and getting in shape, but there are so many different gyms to choose from. So how do you know which gym is best for beginners?
The seven best gyms for beginners are:
Planet Fitness
YouFit
Snap Fitness
Anytime Fitness
YMCA
Blink Fitness
Life Time Fitness
In this article, I'll discuss each of these gyms and why they're good for beginners in more detail. I'll also discuss all the things you should look for in a gym as a beginner, tips for overcoming gym anxiety when you're new, and gym etiquette tips to keep in mind.
Do You Have to Get In Shape Before Joining a Gym?
Before we get into the things you should look for in a gym and review the best gyms for beginners, it's important to get one thing out of the way: you do not need to already be in shape to go to the gym.
There's a common belief amongst people who are new to fitness or are trying to lose weight that they need to become more active or drop a few pounds before they buy a gym membership. But this is far from the truth. After all, that's why gyms exist — to help you become stronger, faster, and more confident in yourself.
It's also important to remember that everyone was a beginner at some point, and you don't move on from being a beginner if you never start in the first place.
Very few people walk into a gym for the first time being able to lift weights with proper form or get through a cardio workout without taking breaks. Working out will get easier the longer you stick with it, so don't let your status as a newbie deter you from joining a gym.
What Beginners Should Look For In A Gym
Seven things beginners should look for in a gym are:
Free trials
Personal training
Atmosphere
Convenience
Affordability
Organization
Mobile apps and digital experiences
1. Free Trials
As a beginner, you may not have a good grasp of what you should look for in a gym when it comes to equipment and amenities. For that reason, I recommend looking for a gym that offers free trials.
Being able to try the gym for free for a few days will give you an opportunity to try the equipment, ask the staff questions, and maybe even try some group classes. This can all help put your mind at ease before you sign a contract and officially become a member.
2. Personal Training
Personal trainers can help show you the ropes when you're new to the gym. They can teach you how to use the machines, create a workout plan for you, and show you proper form.
However, it's important to note that the quality of personal trainers varies greatly. You'll need to vet your trainer carefully before signing a contract to ensure they can help you reach your goals.
Things you should ask regarding the personal training staff at the gym include:
How many years of experience they have
What kind of credentials they are required to have (for example, some gyms require nothing more than a personal training certification while others will also require related college degrees and specializations in other areas such as strength and conditioning)
Whether or not you can switch trainers if you don't like the first one you get
What their client retention rates are
If they have testimonials from previous clients
Many gyms also offer free consultations with personal trainers to new members. These are often just sales pitches to get you to sign up for a personal training package, but you can also take advantage of these sessions to ask questions and have someone show you how to use all of the equipment.
3. Atmosphere
A gym's atmosphere includes everything from friendly staff members to bright, well-lit facilities that make you excited to work out.
You shouldn't feel like you're being judged because you're new, and the space shouldn't be dark and gloomy so it puts you in a bad mood. These things will just make it more difficult for you to create a consistent routine.
4. Convenience
Not having enough time or having too long of a commute to the gym are common reasons for skipping workouts. Those things are easier to deal with once you've developed good habits, but when you're still working on establishing a routine, convenience is important.
As such, when you're a beginner, you should look for a gym that's close to home or work and has convenient hours so you have fewer obstacles in the way of your workouts.
Many gyms these days are even open 24/7, which makes it easier to stick to a routine even if you can only work out in the middle of the night.
5. Affordability
When you're a beginner, joining a super expensive gym doesn't make sense if you're not even sure that you'll enjoy working out. It can also be painful on your wallet to join a pricey gym if you can only make it there once or twice a week.
Until you get a better feel for how often you're able to go and can figure out how long you want to stick with your workout routine, it's best to join a gym with lower membership costs. You can always join a more expensive gym in the future if you outgrow your first gym.
6. Organization
Gyms have a ton of equipment and machines, and it can feel overwhelming when you're new and don't know how everything works. You should look for a gym whose machines are well-organized (i.e. machines are grouped together based on which muscles they target) and provide clear instructions on how to use them.
7. Mobile Apps and Digital Experiences
Many gyms have mobile apps that contain exclusive content for members, such as nutrition tips, recipes, and workout guides. While much of this information can be found elsewhere on the internet, getting it from the staff at your gym can help ensure that what you're reading is accurate and comes from a trustworthy source.
As well, some gyms' apps enable you to take workout classes on-demand from any location. These digital classes can help you get used to working out from the comfort of your own home if you're nervous about exercising in front of other people.
Another cool feature that some gyms include in their mobile apps is a meter that measures their capacity at various points throughout the day. You can use this to see when the gym is busy and wait to go until it's less crowded if you don't want to be surrounded by a lot of people.
7 Best Gyms for Beginners
1. Planet Fitness
With memberships starting at just $10/month, Planet Fitness is an inexpensive way to experiment with fitness and get used to being in a gym setting. It has a laidback atmosphere and you won't find hardcore athletes there, making it a good environment for people who are new to fitness.
A major drawback of Planet Fitness is that it doesn't have any barbells, squat racks, or plates. If you think you might be interested in learning powerlifting or just want to learn movements like squats and deadlifts to train them for fun, you'll need to look elsewhere.
Learn more about everything you can get with a Planet Fitness membership in my Planet Fitness review.
2. YouFit
YouFit is similar to Planet Fitness in that it's affordable, laidback, and doesn't cater to serious bodybuilders or powerlifters who may scare off beginners. It has a better selection of equipment, though. While it's still an excellent entry-level gym, you likely won't feel a need to leave it after just a few months once you get stronger.
YouFit doesn't have a lot of amenities, but it has a bright purple and green color scheme that gives it a fun vibe. All of the machines are color-coded so you can easily tell which ones are for lower body and which ones are for upper body.
Even if you find the color scheme a bit jarring when you walk in, the color-coded system can help you easily identify which machines you should use for which body parts.
Learn more about everything you can get with a YouFit membership in my YouFit review.
3. Snap Fitness
Snap Fitness is on the slightly more expensive side for a gym, with memberships starting around $40/month depending on where you live. But it's small and caters to casual gym-goers, so it's a good gym if you're just getting started on your fitness journey.
Snap Fitness doesn't have a lot of amenities like saunas and massage chairs to lure you in, but the atmosphere is friendly and supportive, which can make you feel more comfortable. It has a good variety of machines and strength equipment, so you can do both cardio and strength workouts.
Snap Fitness also has a robust mobile app that enables you to track your workouts, connect with other Snap Fitness members, and get exclusive recipes. You can also keep track of all of your activities outside of your workouts, which can help you understand how your behaviors outside the gym contribute to your overall health.
Learn more about everything you can get with a Snap Fitness membership in my Snap Fitness review.
4. Anytime Fitness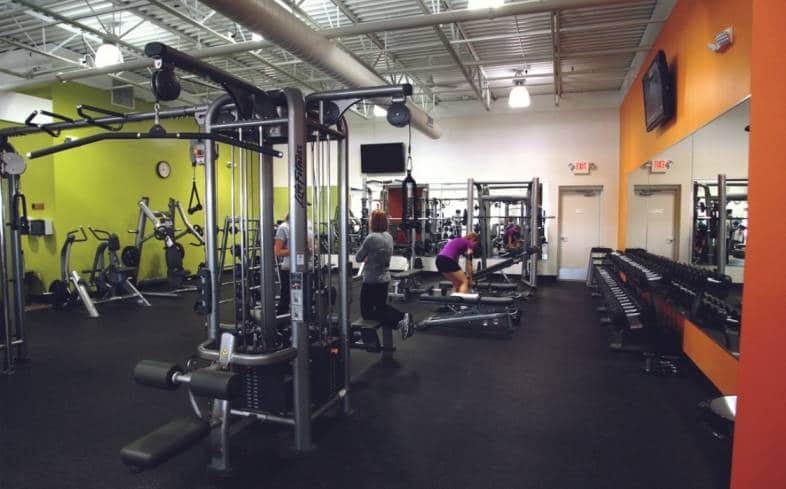 Anytime Fitness is also on the pricey side, but out of all the chain gyms I've visited, it has the best community-oriented environment. It's the kind of gym where the staff greets you by name and the other members are supportive of each other. Those qualities can help put a beginner at ease.
Anytime Fitness facilities are small, so you can quickly learn your way around the gym and not get easily overwhelmed by all the machines and equipment. There are also small group training sessions. These can help you get more comfortable with working out with others if you're apprehensive about exercising in front of a huge group of people.
Learn more about everything you can get with an Anytime Fitness membership in my Anytime Fitness review.
5. YMCA
The YMCA is a family-friendly organization with gyms, pools, basketball courts, and tennis courts at some locations. The staff is mostly volunteers who enjoy contributing to the organization, and the personal trainers seem to really like their jobs. They're usually happy to help, which can help you feel more comfortable when you're new.
The YMCA also has reasonable membership prices, and you can join with a spouse or partner to save some money. Going to the gym with someone you know is beneficial when you're a beginner because you can work out together until you feel more comfortable doing it on your own.
Learn more about everything you can get with a YMCA membership in my YMCA review.
6. Blink Fitness
Blink Fitness is a medium-sized gym that's clean, bright, and well-lit. It gives the gym a positive, motivating, energetic vibe that can help put beginners at ease. It's also inexpensive and has low cancellation fees, so you don't have too much to lose financially if you end up not liking it.
Blink Fitness has a lot more cardio equipment than strength equipment, so it's ideal for anyone who prefers to get started with cardio workouts. But there is also a good amount of barbells, dumbbells, and selectorized machines (machines that enable you to isolate certain body parts), so it's still a good place to get started with strength training.
Blink Fitness also has a mobile app with a ton of exclusive content, recipes, customizable workouts, and classes. In addition, you can keep track of often you go to the gym and earn badges for hitting milestones.
Learn more about everything you can get with a Blink Fitness membership in my Blink Fitness review.
7. Life Time Fitness
Life Time Fitness is a pricey gym chain, which goes against my earlier recommendation of joining an affordable gym as a beginner. But there's so much to do at Life Time Fitness that even if you don't enjoy lifting weights or using cardio machines, you'll likely find another activity you enjoy.
For example, there are rock climbing walls, indoor and outdoor pools, tennis courts, basketball courts, and racquetball courts. You can even join a basketball league, take running- or cycling-specific classes, or choose from a variety of group fitness classes.
All of the machines at Life Time Fitness are also organized by body part, so you'll be able to tell which piece of equipment is best for targeting each muscle group.
In addition, Life Time Fitness has a robust mobile app that offers virtual personal training, live and on-demand classes, and the ability to create your own training routine.
Learn more about everything you can get with a Life Time Fitness membership in my Life Time Fitness review.
Tips for Overcoming Gym Anxiety When You're a Beginner
It's normal to be nervous about going to the gym when you're new. Below are four tips to help ease your apprehension:
Realize that most people won't pay attention to you
Go in with a plan
Don't be afraid to ask for help
Go during off-peak hours
Realize That Most People Won't Pay Attention To You
At the gym, everyone is focused on their own workouts. A lot of people are also too concerned with getting the perfect gym selfie to worry about you.
As long as you're not doing something completely egregious (like doing bicep curls in a squat rack, which other members will get mad at you for), the majority of other members won't care about what you're doing.
Go In With A Plan
Having a plan before you go to the gym will not only help you make consistent progress but will also prevent you from getting overwhelmed and leaving.
You don't have to go in with a complicated workout routine when you're new. Your plan in the very beginning may simply be to alternate between running and walking on the treadmill for 30 minutes. Having some sort of goal in mind before you walk through the door can put your mind at ease so you don't get flustered once you're there.
Don't Be Afraid to Ask For Help
While the more experienced gym-goers may seem intimidating, they're usually happy to help if you aren't sure how to use a machine or need someone to spot you. Just be polite and don't interrupt them when they're in the middle of lifting.
You can also always ask the staff. Personal trainers often walk the gym floor when they're in between clients, so you can grab one of them if you need help.
Go During Off-Peak Hours
Peak hours at the gym are when it tends to be the busiest. For most gyms, this is between 5-7pm when people are just getting off from work. Gyms can also be busy around lunchtime since many people like to work out on their lunch breaks.
If possible, go to the gym for your first few workouts during off-peak hours, such as 5am or between 2-4pm. There will likely be very few people in the gym at those times, so you can get a feel for where everything is and how everything works without also having to deal with crowds.
Gym Etiquette Tips for Beginners
When you've never stepped foot inside a gym before, you may not know how to act and what's appropriate or not. Some things are common sense and are just considerate things to do regardless of where you are, but other gym etiquette rules may not be so obvious.
Clean Up After Yourself
This doesn't just mean wiping down equipment when you're done (though that is still important). You should also put your weights back when you're done and return other equipment (like a free-standing bench or medicine ball) to the place where you found it when you're done using it.
Don't Drop Weights
Many gyms forbid their members from dropping weights. Not only can it damage the equipment but it can also hurt you or other members if the weights roll away from you.
The situation is a bit different if you're in a powerlifting or Olympic weightlifting gym, where dropping weights is allowed. But in typical chain gyms, dropping weights is frowned upon. So set your dumbbells down gently and don't slam the barbells around.
Don't Hog the Equipment or Take Up Too Much Space
If the gym is busy when you get there, try not to hog the equipment. Nobody will mind if you're clearly working hard, but they will get mad if you're just sitting and staring at your phone when there's a line of people waiting to use a machine.
As well, if you're doing dumbbell exercises, don't stand too close to the dumbbell rack or too close to other people. Give other members room to get the equipment they need and perform their exercises safely.
Don't Steal Equipment From Someone Else
It can be difficult to know if someone is done using a machine or if they're just taking a short rest in between a set (meaning how many repetitions of a movement they're doing in a row before taking a break).
If you see a cell phone, notebook, towel, sweatshirt, or any other personal item next to a machine and no one is by it, it's likely that the other person stepped away for a minute but isn't done with it yet. You should wait a couple of minutes to see if someone comes back, and if they don't, feel free to proceed with your set.
Don't Interrupt People When They're in the Middle of a Set
People will be upset if you interrupt them when they're clearly in the middle of a set. The distraction can make them lose count of their repetitions or their ability to focus. If you need to ask them a question or want to share the machine with them, wait until they're resting.
Likewise, if you join a gym where powerlifting or Olympic weightlifting is common, don't walk directly in front of other people while they're lifting. Many lifters like to focus on a spot in front of them while they're lifting, and walking in front of them can break their concentration.
Also, don't walk too close behind them or next to them, especially if they're squatting. They may need to dump the weight, and you could get seriously injured if the weight hits you.
Be Gracious If Someone Offers You Advice
It's not uncommon to receive unsolicited advice from other gym members. People naturally like sharing their knowledge on certain topics, which isn't always a bad thing. However, it is annoying when you're just trying to get your workout done and keep getting interrupted by strangers.
And as unfortunate as it is, females are more likely to be approached by men in the gym who need to inflate their egos by pretending to know what they're talking about. While some people will actually offer solid advice, you may also come across people who share completely inaccurate information with you.
It can be hard to determine what's right and wrong when you're a beginner, so if someone does offer you advice, just say "thank you" and move on. You can always look up what the other person tells you later on to check the validity of their statements.
What If the Gym Isn't For You?
After a few months, you may discover that the gym isn't for you. Sometimes, a particular gym just isn't a good fit, and joining a new gym is the solution. But you may just not enjoy working out, and that's okay. You shouldn't force yourself to go to the gym if you're not enjoying the process.
There are other ways you can get active even if you don't find a gym membership worthwhile. Walking is an underrated form of activity that can positively affect your health. You can also look up bodyweight routines online, join a local sports league in your town, or participate in seasonal activities like skiing, hiking, and kayaking.
The most important thing to do is find an activity you enjoy, whether it requires a gym membership or not.
Additional Gym Resources
---
About The Author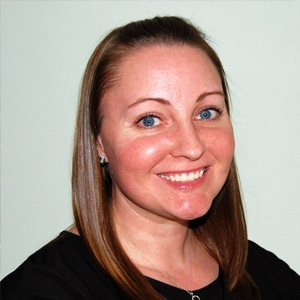 Amanda is a writer and editor in the fitness and nutrition industries. Growing up in a family that loved sports, she learned the importance of staying active from a young age. She started CrossFit in 2015, which led to her interest in powerlifting and weightlifting. She's passionate about helping women overcome their fear of lifting weights and teaching them how to fuel their bodies properly. When she's not training in her garage gym or working, you can find her drinking coffee, walking her dog, or indulging in one too many pieces of chocolate.