Even though Snap Fitness isn't as widely recognized as other chain gyms, it's been growing in popularity.
I visited a Snap Fitness near me with one of my friends recently to find out if a membership is worth it.
So, is a Snap Fitness membership worth it? A Snap Fitness membership is worth it for beginners, people who want to work out in a laid-back environment, and older individuals. However, it's not a good gym for bodybuilders, powerlifters, weightlifters, or people who prefer intense styles of training due to the limited amount of equipment and small space.
Keep reading to find out why I think Snap Fitness is inferior to other commercial gyms.
In this article, I'll also talk about:
My Experience Working Out At Snap Fitness
I didn't enjoy my workout at Snap Fitness as much as I was hoping to. There was nothing wrong with the equipment or the gym itself, but it doesn't work for my preferred style of training.
Snap Fitness has a friendly, welcoming environment. While I was there, the staff came up to me a couple of times to check on how my workout was going and to make sure I didn't have any questions about how to use the equipment. This type of customer service is hard to find in large chain gyms, so it was nice to experience this at Snap Fitness.
Because Snap Fitness is small, the equipment is placed pretty close together. This is nice because you don't have to walk around a huge space to get from one machine to another, but it can feel a bit cramped during its peak times. Since there's a limited amount of equipment, it can also be difficult to find a free machine when the gym is busy.
While I was there, I got the sense that certain staff members will let you get away with things that others won't. For example, I asked the guy at the front desk about using chalk and dropping weights. He said that he didn't mind, but the owner wouldn't allow it. This will vary by location, but it does appear that some staff members are more strict about rules than others.
The Snap Fitness by me had an older demographic who were mostly just using the cardio machines or lifting light weights. I realize that everyone has different training goals and training histories, but this isn't the place I'd go to if I needed motivation from other people because most of the members don't follow the same training methods as me.
For that reason, I wouldn't join Snap Fitness. This is partly due to the fact that I have my own home gym, but I also didn't feel like Snap Fitness was a good fit for my goals. They didn't have a ton of powerlifting equipment and I thought it would be difficult to do CrossFit WODs there.
With that said, I do believe that Snap Fitness is good for beginners, older adults, and individuals who just want to live a healthy lifestyle.
It's also important to keep in mind that this review is based on my experiences at the Montville, NJ location. Each Snap Fitness location will have its own unique clientele, equipment, and class offerings. If you have questions about the Snap Fitness closest to you, I recommend visiting or calling them to talk to someone.
Snap Fitness: Pros & Cons
No gym is perfect, and each one will have its own positive and negative features. Below are the pros and cons of Snap Fitness.
Pros
At Snap Fitness, you can get in and out of the gym quickly. This is actually a positive and a negative. Snap Fitness gyms are small and only have the basic pieces of equipment, but this means you can get in, work out, and leave without getting distracted.
Snap Fitness has a family atmosphere with a welcoming clientele. Because Snap Fitness gyms are small, they tend to have a more relaxed vibe with friendly members. This is especially beneficial for people who are new to exercise or don't want to work out next to more serious athletes.
Snap Fitness doesn't have a lot of hidden fees. Chain gyms often have a lot of hidden fees, but Snap Fitness is one of the better gyms in this regard. Every fee is listed in the contract. In addition to your monthly cost, you'll only have to pay for your access card, a yearly club enhancement fee, and possibly a monthly fee for classes and tanning. There are no other fees unless you want to cancel your contract early.
You can go to Snap Fitness 24 hours a day. Members can use their access cards to get into the building at any time of the day. This is a huge benefit for shift workers or people with busy schedules who can't get to the gym during normal operating hours.
Cons
It's not a good gym for serious powerlifters, weightlifters, or CrossFitters. Snap Fitness gyms aren't designed for very heavy lifting. And while there are some chain gyms where you can easily make a CrossFit WOD work, Snap Fitness isn't one of them.
Snap Fitness doesn't have a ton of amenities. Snap Fitness's monthly cost is similar to that of larger gyms such as Gold's Gym, but they don't offer nearly as many amenities.
Most locations don't have showers or lockers. Only about 20% of Snap Fitness locations have locker rooms and showers, which can be a pain for people who like to work out before work or school. Most locations have changing rooms, but not all of them have lockers, so there's no place for you to store your gym bag.
How Much Does A Snap Fitness Membership Cost?
Snap Fitness's membership plans are straightforward, with most locations only offering one month-to-month plan. The cost for the Montville, NJ location is $39.99/month, and based on my research, you can expect to find similar costs at other locations throughout the US. A small amount of Snap Fitness gyms offer one- or two-year contracts.
When you join Snap Fitness, you may also have to pay an initiation fee that can range anywhere from $49 – $129 as well as a fee to create your access card.
Some Snap Fitness locations offer discounts for students, seniors, military personnel, and law enforcement officers. You may even be able to get family discounts if you share the same address with another member.
A Snap Fitness membership includes access to all strength training and cardio equipment as well as group classes.
Once a year in April, Snap Fitness charges a club enhancement fee for all individuals who have been members for at least 60 days. This fee is usually $35 but may vary by location. It is used to upgrade equipment, add new amenities to the gym, and hire new staff members if necessary.
Planet Fitness made our list of Best Gyms For Seniors. Check out why we recommended it and who else made the list.
One important thing to note is that Snap Fitness charges a $5 fee if your credit card is declined. If you know your credit card is about to expire or you need to change the one on file, you should inform them as soon as possible to avoid this fee.
Snap Fitness offers free trials, but they aren't always advertised on each location's website. I recommend checking your location's social media channels or calling them to ask if they have free trials available. Most free trials are good for 7 days, and only new members are eligible.
Looking for a gym that offers free passes or trials? Check out our detailed guide: 14 Gyms With Free Passes & Trials.
Some Snap Fitness locations can also provide a 30-day pass for less than $10 if you want to test it out for longer than a week.
A great thing about Snap Fitness is that they have a 30-day money-back guarantee. You'll need to have a consultation with a trainer and attend the gym at least twice a week within your first 30 days to be eligible for a refund.
If you're a student, membership costs might be cheaper. Check out our article Best Gyms With Student Discounts.
Gym Equipment
Although you won't find an endless amount of equipment at Snap Fitness, it does have a decent selection of machines and free weights.
The Montville, NJ location I visited has less than 10 treadmills, ellipticals, and bikes, but they were all in good condition. This particular location uses Cybex machines, but I know of other locations that use Matrix cardio machines. The Matrix machines are nice because you can sign into your Netflix, Spotify, or YouTube accounts on them for entertainment while you work out.
Depending on your location, you may also see cardio machines from Octane. The location I went to also just got a Concept 2 rower a few months ago.
Snap Fitness has its own brand of round dumbbells that range in weights from 5 to 100 pounds. They have a couple of bench press stations and adjustable benches by the free weights, but I didn't think any of the benches were very high-quality. There were some rips in the padding and some of them didn't seem very sturdy.
The Snap Fitness I went to was pretty bare-bones and didn't have a large enough space where I could do a metcon. But I have seen other locations that have small turf areas, sleds, battle ropes, and TRX ropes that can all be used for functional fitness or HIIT workouts.
Does Snap Fitness Have Squat Racks?
The Montville, NJ Snap Fitness location only has one squat rack. Some locations have three or four squat racks while others don't have any at all.
You can find a Smith machine at most Snap Fitness clubs, but I don't recommend using them for heavy squats since they don't allow you to achieve an optimal bar path.
Does Snap Fitness Have Deadlift Platforms?
The Snap Fitness location I went to did not have any deadlift platforms and based on my research, only a few locations do. Some locations have functional fitness areas with rubber flooring though, so you can do deadlifts there.
Special Features & Amenities
Unfortunately, Snap Fitness doesn't offer a ton of amenities. This can be a huge selling point for anyone who wants a no-frills gym, but it can also be a turn-off for people who want a gym that offers a lot of member perks.
Does Snap Fitness Have a Pool?
Snap Fitness does not have a pool.
Want a gym that has a pool? Check out our guide: 10 Best Gyms With Pools, Saunas, & Hot Tubs.
Does Snap Fitness Have a Sauna?
Snap Fitness does not have any saunas or steam rooms.
Does Snap Fitness Have Showers and Locker Rooms?
Only a small amount of Snap Fitness locations have showers and locker rooms, but most locations have changing rooms.
Want our full list of gyms with showers? Check out our guide: 18 Best Gyms With Showers (Cleanliness & What's Included).
Does Snap Fitness Have a Basketball Court?
Snap Fitness doesn't have a basketball court. There are also no racquetball courts, tennis courts, or running tracks.
Want a gym that has a basketball court? Check out our guide: Best Gyms With Basketball Courts.
Does Snap Fitness Have Childcare?
The Snap Fitness location I went to did not have childcare services, but there is a limited number of locations that do.
Want our full list of gyms with childcare? Check out our guide: 12 Best Gyms With Childcare (What To Expect, Rules, Cost)
Does Snap Fitness Have Tanning Beds?
The Snap Fitness I went to did not have a tanning bed, but many locations do. Access to them may be included in your monthly membership, but some locations may charge an extra fee of about $15/month to use them.
Want a gym with tanning? Check out our guide: Best Gyms With Tanning (What's Expected, Cost, How To Use)
Does Snap Fitness Have a Yoga Studio?
Most Snap Fitness gyms don't have dedicated yoga studios, but they do offer yoga classes. Members can also use the rooms where group classes are held to practice yoga as long as there are no classes in session.
Does Snap Fitness Have a Smoothie Bar?
The majority of Snap Fitness locations don't have a smoothie bar. However, they have vending machines where you can buy water, bottled protein shakes, and protein bars.
Does Snap Fitness Have Massage Chairs?
Massage chairs aren't a standard amenity at Snap Fitness gyms, but a few locations do have HydroMassage chairs.
Does Snap Fitness Have a Women's-Only Area?
Snap Fitness does not have a women's-only area. However, based on my experience, the members are very respectful and I don't think any women should feel uncomfortable working out at Snap Fitness.
Does Snap Fitness Have Group Classes?
Despite its small size and a limited amount of equipment, Snap Fitness offers a variety of group classes. Depending on your location, you can take yoga, Zumba, Les Mills, Pilates, or strength training classes. I recommend calling or emailing your Snap Fitness location for their class schedule — based on what I've seen, class times vary widely by location.
Is Snap Fitness Open 24 Hours a Day?
Snap Fitness is open 24 hours a day, 7 days a week. However, staff members are not on the premises overnight.
Who Does Snap Fitness Cater To?
Because Snap Fitness has a laidback atmosphere and tries to maintain a judgment-free environment, it's an ideal gym for beginners, older adults, or people who don't have specific training goals but like to work out to stay healthy. Since it doesn't have a ton of equipment, anyone can walk into Snap Fitness without feeling intimidated or overwhelmed.
One benefit of a Snap Fitness membership is that they offer Myzone heart rate monitors for a discounted price. Buying one on your own can cost more than $100, but Snap Fitness offers them to its members for around $30.
This is a nice perk for people who like to stay within certain heart rate zones when they work out or individuals with health conditions who need to monitor their heart rates during exercise.
Many Snap Fitness gyms also offer challenges or competitions to see who can achieve the highest MEPs — Myzone Effort Points — over the course of one to three months. There's also a gamification aspect to the Myzone technology itself, so it's good for people who thrive on extrinsic motivation.
Some Snap Fitness locations also have InBody scales that measure your body composition and tells you how much body fat and lean muscle tissue you have. While scales that measure body fat tend to be inaccurate, InBody scales can produce more reliable results. Individuals who are trying to lose weight can monitor their progress with regular InBody scans.
Snap Fitness offers one-on-one personal training for people who need help with creating a fitness routine. There are also group fitness classes for people who like having more structure and enjoy the camaraderie of working out with others.
However, Snap Fitness is not the gym for powerlifters, CrossFitters, or professional bodybuilders. It doesn't offer a ton of strength training equipment or resistance machines. Some locations don't have squat racks or bench press stations, and at many locations, there's not a lot of open space for CrossFit WODs.
If you're just looking for a gym to do cardio, HIIT workouts, and some light strength training, Snap Fitness is worth it. Otherwise, there are better gyms out there that are better suited for individuals with more fitness experience.
If you are a beginner looking for a gym, you can check out the Best Gyms for Beginners: My Top Picks + 7 Things to Consider.
Specific Information For Women
Snap Fitness does not have a women's-only section. However, it's not the kind of gym where you'll find a lot of hardcore lifters, and it has a very supportive environment. I didn't feel uncomfortable there at all when I visited.
Since Snap Fitness is a 24-hour gym, women should be mindful of their surroundings when going to the gym in the middle of the night. There is no staff at the gym overnight, but most locations have cameras to monitor the premises for suspicious activity. There are also emergency call buttons to push if you feel unsafe.
Snap Fitness Gym Policies
Re-Opening Policy & What Happens To Membership In A Lockdown?
In the US, gyms have reopened and many are operating at full capacity, including Snap Fitness. Each gym has its own policies in relation to local mandates, but there are a few universal guidelines that members are expected to follow.
Masks are required for non-vaccinated individuals and optional for vaccinated individuals. Some locations require temperature checks before members are allowed inside. Extra hand sanitizers and cleansers are available for members to use before, during, and after their workouts.
Each facility is cleaned thoroughly at least once a day, and some locations clean more frequently during off-peak hours. Where possible, the gyms have rearranged their equipment so each machine is spaced at least 6 feet apart.
Snap Fitness didn't institute a mass member freeze when lockdown first began in March 2020. I wouldn't expect the entire chain to do so if we had to go into another lockdown, but individual locations may choose to temporarily freeze all of their memberships.
Snap Fitness does offer on-demand virtual classes for current members, though. If we had to go into another lockdown, it may be worth it to keep your membership so you can access these classes from home.
Policy On Dropping Weights, Grunting, & Chalk
As I mentioned earlier, the rules on using chalk will most likely depend on who's working while you're at the gym. The staff members that were there when I visited didn't care if I used chalk, but they said I wouldn't be allowed to use it if the owner was around. I recommend checking with your location to see if they have any rules about using chalk.
While I was at Snap Fitness, I also asked about dropping weights. I was told that it's fine if I have to drop weights in the case of a missed lift, but they don't like members dropping weights all the time. They also asked me not to drop weights from overhead.
There are no strict rules against grunting, but I'd recommend keeping it to a minimum unless the gym is empty. Snap Fitness isn't the same as a loud powerlifting, weightlifting, or CrossFit gym, and based on the type of clientele it has, I think most of the other members will get annoyed by loud grunting.
Cancellation Policy & Contract Length
As I mentioned earlier, Snap Fitness's contracts are pretty straightforward with almost all locations offering one month-to-month pricing plan.
If you want to cancel your Snap Fitness membership, you'll need to give them 30 day's notice and submit your cancellation request in writing. You'll also have to pay any balances that are due, and they may continue charging you for up to 30 days after your cancellation date.
Also, if you're a member of a Snap Fitness that has a one-year or two-year membership plan and you cancel before your contract expires, you'll have to pay an early cancellation fee of $75.
If you move to a place that doesn't have a Snap Fitness within 25 miles, you'll receive a prorated refund of the unused portion of your membership fees.
If you don't want to cancel but need to temporarily freeze your membership, you'll have to inform the gym at least 5 days before your next billing cycle. You'll be charged a small processing fee. You can freeze your membership for up to 3 months within one calendar year, and you can't cancel your membership while it's in a freeze.
Guest Policy: Can You Bring A Friend or Wife/Husband?
You can bring a friend or family member to Snap Fitness. They can sign up for a guest pass when they arrive at the gym, and they'll need to sign a waiver before they're allowed to work out.
Snap Fitness doesn't allow you to give your access card to someone else and may charge a $20 fee if unauthorized guests enter the gym.
Pet Policy: Can You Bring Your Dog To Workout?
You cannot bring your dog to Snap Fitness unless he or she is a certified service animal.
Are Snap Fitness Memberships Transferrable?
If you move, you can transfer your primary Snap Fitness location to another club closer to your new residence. You can do this by signing into your account online or speaking to a staff member.
Depending on the location, you can transfer your Snap Fitness membership to another individual. You'll have to get the gym's approval first, and the other person will have to pay an initiation fee.
Does a Snap Fitness Membership Work Anywhere?
With a Snap Fitness membership, you can work out at any location all over the world.
In some instances, Snap Fitness will automatically update your primary location if they notice you using a different club more frequently. If this happens, you'll have to pay the membership and club enhancement fees as specified by the new location.
Is There A Dress Code?
Snap Fitness doesn't have a strict dress code, but it's not the kind of gym where you'll see a lot of people wearing booty shorts or working out shirtless. I'd recommend wearing shorts that have a bit more coverage and keeping a shirt on at all times.
One thing that I do like about Snap Fitness is that you can lift without shoes. I asked the guy at the front desk when I went, and he said there was no problem with me squatting or deadlifting in just socks. A lot of chain gyms are sticklers about wearing shoes at all times, so it was nice to find one that was a little more relaxed in this regard.
Can My Child Work Out At Snap Fitness?
At most Snap Fitness locations, you have to be at least 18 years old to have your own membership. Teens who are at least 16 years old can be added to a parent's membership and have their own access card.
Children between the ages of 12 and 16 can work out with an adult, but a parent or guardian will have to sign a waiver form. Since childcare isn't a standard amenity at Snap Fitness, children under the age of 12 are not allowed.
Is Snap Fitness Personal Training Worth It?
Whether or not Snap Fitness personal training is worth it depends on your experience level, your history with injuries or health conditions, and your training goals. Personal trainers can teach you proper form and create a fitness routine for you if you're a beginner. Some trainers also have nutrition certifications and can create nutrition plans for you.
Most Snap Fitness locations offer a free "Basic 8" personal training plan for new members so you can learn how to use the equipment. The trainers will also give you a sample 30-minute workout. After that, it can cost anywhere from $40 – $75 for a one-hour session.
Personal trainers at Snap Fitness are not required to have degrees in kinesiology, sports medicine, or other similar areas, but they have to be certified through the National Academy of Sports Medicine (NASM).
Many people consider NASM the gold standard in personal training certifications, but just because someone has a certification doesn't mean they're a good trainer. But from what I've seen, Snap Fitness trainers have a good reputation and people have achieved good results with them.
If you've never worked out before or you need recommendations on how to work around injuries, I'd recommend hiring a Snap Fitness personal trainer for at least a couple of months. But if you've been to a gym before and you have some fitness experience, the extra cost isn't worth it.
Want our list of gyms with a personal trainer? Check out our guide: 9 Best Gyms With Trainers (And, How Not To Get Ripped Off)
Tips For New Members
1. Be Careful When Working Out Late at Night
Even though members can access Snap Fitness 24 hours a day, there is no overnight staff. If you're working out by yourself, don't push yourself past your limits. There will be no one around to help you if you get hurt.
It's also important to be mindful of your surroundings at all times, including when you're walking to and from the parking lot. There are security cameras and emergency call buttons throughout the gym, but I'd recommend also keeping your cell phone close by in case you need to call someone.
2. The Free Fitness Score Assessment That Comes With Your Membership Is Helpful, but It's Up to You To Follow Through With Your Results
With a Snap Fitness membership, you get a free fitness assessment test. This test gives you an idea of your current levels of strength, endurance, and flexibility so you can monitor your progress over time. A trainer will provide you with training and nutrition guidelines based on your test results.
This assessment is a good tool for beginners so you can understand what your strengths and weaknesses are. It's also good for people who like to analyze numbers and are motivated by tracking data.
However, once you take the assessment, it's up to you to follow through on your fitness and nutrition plan. Unless you sign up for future personal training sessions, there's no one else to hold you accountable. This can be a drawback for people who quickly lose motivation or don't have a lot of self-discipline.
3. You Can Try To Negotiate Your Monthly Fee
This is actually possible at most chain gyms, but I recommend trying to negotiate your monthly fee for Snap Fitness in particular since the cost is high for what you get with a membership. If you don't want to pay almost $40/month, you can try to get a lower rate.
If possible, try not to sign up for a Snap Fitness membership at the beginning of the year. Gyms earn most of their new members in January, and you'll have a harder time getting a lower price on your membership since overall demand is higher. Salespeople will be more likely to work with you in the summer when it's more difficult for them to meet their sales quotas.
When you visit Snap Fitness, don't be afraid to walk away before you sign an agreement. The sales staff won't want you to leave before they close the deal. If you tell them you need time to think about it, the chances are higher that they'll agree to your terms.
You can also try finding a Snap Fitness location near you that doesn't have a large client base. You may have to drive a bit farther, but the less popular locations will be more desperate for new members and may be more willing to agree to a lower monthly fee.
Even if you aren't able to get a lower monthly fee, you can save some money by trying to get out of the initiation fee. Many gyms offer promotions for $0 enrollment fees throughout the year anyway, so they're not missing much by waiving the fee for you.
Snap Fitness Complaints
Like most chain gyms, many complaints about Snap Fitness have to deal with billing errors and difficulty canceling memberships. Although their contracts state that you can cancel at any time, some people's credit cards are still charged for several months after they submit a cancellation request.
There are also complaints about the equipment at some locations being broken or outdated. The Snap Fitness I went to seemed to have well-maintained machines, but I've heard of other locations having dumbbells that are taped together and ellipticals with broken handles. I've also heard of complaints about the monitors on some cardio machines not working.
And because Snap Fitness gyms are small, they get crowded during peak hours, and you may have to wait for a machine to become available. However, you'll find this in a lot of other chain gyms as well, even ones that have much larger facilities than Snap Fitness.
Alternatives to Snap Fitness
If you like the flexibility that a 24-hour gym offers but want a gym with more perks than Snap Fitness, there are other options for you to consider.
1. 24 Hour Fitness
24 Hour Fitness is another chain gym that's open 24 hours a day, 7 days a week. Depending on your location and what plan you sign up for, the cost of a membership is comparable to that of Snap Fitness.
You'll get a lot more bang for your buck at 24 Hour Fitness, though. It has a larger selection of machines, higher-quality equipment, and more amenities.
The only drawback is that 24 Hour Fitness has been struggling financially in the US. As a result, many locations have closed recently. It may be difficult to find one near you, but if there is one close by, I recommend checking it out.
Check out our complete review of 24 Hour Fitness.
2. Anytime Fitness
Anytime Fitness is yet another chain gym where members can work out at any time during the day or night. It's a step above Snap Fitness, but not quite at the level of 24 Hour Fitness.
Anytime Fitness costs more than Snap Fitness, but it has plenty of free weights, squat racks, and cardio machines. It's a great alternative to someone who's looking for more than what Snap Fitness offers but doesn't live near a 24 Hour Fitness.
Check out our complete review of Anytime Fitness.
3. GoodLife Fitness
For Canadians, GoodLife Fitness is an excellent 24-hour gym. The membership is pricier than Snap Fitness, but in addition to having much more equipment, GoodLife Fitness has pools, saunas, childcare services, and a wide variety of group classes.
Check out our complete review of GoodLife Fitness.
Other Gym Reviews
Snap Fitness Gym Comparisons
Final Thoughts
If you're looking for a small, no-frills gym where you can get in a quick cardio or strength workout, Snap Fitness is a good gym. However, it's not the place for people who are serious about lifting heavy weights or those who like to do a lot of metcons.
A Snap Fitness membership is worth it for individuals who prefer to work out in a low-key environment, but you don't get a lot of value for what you pay. If you want to join a gym that offers amenities such as saunas, pools, or smoothie bars, you're better off looking elsewhere.
---
About The Author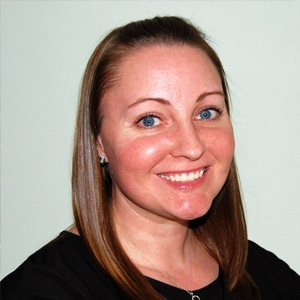 Amanda is a writer and editor in the fitness and nutrition industries. Growing up in a family that loved sports, she learned the importance of staying active from a young age. She started CrossFit in 2015, which led to her interest in powerlifting and weightlifting. She's passionate about helping women overcome their fear of lifting weights and teaching them how to fuel their bodies properly. When she's not training in her garage gym or working, you can find her drinking coffee, walking her dog, or indulging in one too many pieces of chocolate.