You may not think of luxury when you imagine a gym full of sweaty people, but Equinox has managed to create an environment that combines fitness and opulence. But it does, of course, come at a premium price.
On the other hand, LA Fitness targets a more budget-conscious crowd. And while it doesn't have all of the prestige of Equinox, it's still a sufficient gym for the majority of people who fall outside of Equinox's demographic.
So, is Equinox or LA Fitness a better gym? Equinox is better when it comes to the variety of group classes, the quality of personal trainers, and the quality of amenities, but it's one of the most expensive gyms around. If you need to save money, LA Fitness has decent amenities and all of the strength and cardio equipment you need for an effective workout.
While you may be tempted to pick a gym based on cost alone, there are other factors you need to consider before you make a decision.
In this article, I'll review the differences between Equinox and LA Fitness to help make your decision easier so you can start your fitness journey off on the right foot.
Equinox Overview
Equinox is a luxury gym that caters to those with unlimited budgets. The locker rooms, showers, steam rooms, and lobbies have high-end marble and bamboo finishes, and there are eucalyptus-infused towels all over the gym. If you go to a location in New York City, Los Angeles, or another big city, you may even run into a celebrity.
In addition to its high prices and luxurious atmosphere, Equinox is known for its incredible selection of group classes, highly-qualified personal trainers, and upscale spas and salons. It also has a mobile app that's considered by many to be one of the best apps offered by a chain gym due to its robust and user-friendly interface.
Several other fitness brands fall under the Equinox umbrella, including SoulCycle, Pure Yoga, Blink Fitness, and Precision Run. Equinox also owns a luxury hotel brand called Equinox Hotels that features deluxe pools, spas, and restaurants.
Pros
Large assortment of group classes
Luxurious showers and locker rooms with high-end toiletries
Members are allowed to use chalk and drop weights
Robust, intuitive mobile app
Cons
Expensive members and high initiation fees
Locations in big cities tend to get very crowded
Some locations have limited hours
Read more about my experience working out at Equinox here.
LA Fitness Overview
LA Fitness was founded in the 1980s in southern California. It began expanding to other states just a few years after the first location opened and eventually started buying out other struggling fitness centers, which contributed to its fast growth in the 1990s.
Since then, LA Fitness has become one of the largest chain gyms in the US in terms of revenue and number of members. It's a mid-range gym that offers plenty of equipment, classes, and amenities for people who can't afford to drop a couple hundred dollars each month on a gym membership.
LA Fitness doesn't have quite the same reputation of a being bodybuilding gym as other places such as Gold's Gym, but it does cater to people who enjoy lifting weights and chasing strength- or aesthetics-based goals. However, you can do cardio or HIIT workouts there as well if those are more your speed.
Pros
Membership costs are reasonable
Access to pools, basketball courts, and racquetball courts (though you may have to pay a small fee to use them)
Most locations allow chalk
Can use your membership at most locations (some signature locations are excluded)
Most group classes are included with your membership
Cons
Lack of cleanliness at some locations
Members at some locations aren't good about reracking their weights
Read more about my experience working out at LA Fitness here.
Equinox vs LA Fitness: 10 Differences
You may think that the premium cost of an Equinox membership means it's better than other chain gyms, but there are some ways in which LA Fitness beats it. And after comparing the differences between the two, your decision about which one to join will likely be based on personal preference and your individual goals.
1. Cost
Since the cost of gym memberships varies so widely, you'll need to consider how much you're willing to pay. You'll also need to factor in things like enrollment fees and annual fees as well as any other upfront costs you may be responsible for paying.
Equinox
Equinox membership costs vary, but you can expect to pay at least $200/month at most locations. If you want access to multiple clubs, you may have to pay $280/month or more.
Equinox's enrollment fees start at $100, but they're waived or discounted at certain times throughout the year.
You can get a free one-day pass online if you want to try Equinox before you join.
LA Fitness
At LA Fitness, you can purchase either a Multi Club plan or a Single Club plan. Both plans cost $34.99/month plus taxes and require an annual fee of $49. If you purchase a Multi Club plan, you also have to pay an initiation fee of $49.
Your first and last months' dues are due at signing, so you can expect your upfront costs to be anywhere from $70 to $119.
Free five-day trial passes are available on LA Fitness's website for anyone who wants to try it before buying a membership.
The Winner
If you're trying to save money, go with LA Fitness since its memberships are more than half the price of those at Equinox.
2. Contract Length
Many people don't think about the length of a membership agreement when joining a gym, but it's important to understand what kind of commitment you're making.
If you're not sure how long you'll remain a member, you should look for a place that offers a month-to-month contract. But if you're not planning on moving out of the area or switching gyms anytime soon, it may be worth it to consider an annual contract.
Equinox
At most Equinox locations, all contracts require a 12-month commitment.
LA Fitness
LA Fitness's Multi Club plan is month-to-month. If you choose to get the Single Club plan, you'll have to agree to a six-month commitment.
The Winner
If you prefer the flexibility of a month-to-month contract, go with LA Fitness.
3. Equipment
It may seem like common sense, but you should check the equipment at each gym you're considering before you decide which one to join. Many people join a gym without checking the equipment first and later discover that it doesn't have what they need for their workouts.
Also, it's possible that your goals will change in the future. You should make sure there's enough equipment that you can keep making progress over time or you can switch up your routine if you ever want to try something different.
Equinox
As expensive as Equinox is, it doesn't have much equipment that you can't find in any other gym. It does have VersaClimbers, ladder-climbing machines, and self-powered Woodway treadmills, which aren't machines that I've come across in other chain gyms. But other than that, you'll find a standard selection of treadmills, stationary bikes, and ellipticals.
Equinox also has resistance machines as well as dumbbells, rubber-coated plates, bumper plates, barbells, preset straight bars, EZ curl bars, trap bars, and flat and incline benches. You can find squat racks and deadlift platforms at Equinox as well, but how many each location has will vary.
LA Fitness
Like most gyms, you'll find treadmills, ellipticals, step climbers, and stationary bikes at LA Fitness. There are also a few Concept 2 rowers at some locations and a separate set of spin bikes for the spin classes.
You'll also find multiple resistance machines, EZ curl bars, preset straight bars, and dumbbells that go up to 120lbs. There are also barbells and rubber-coated plates, but not all locations have bumper plates. Most locations have at least two or three squat racks and deadlift platforms.
The Winner
Equinox takes the equipment category since it has bumper plates and more variety of cardio machines.
4. Atmosphere
When you're spending several hours of your week at the gym, it should be a place that you're excited to go to, and you should feel welcome and supported.
You should also make sure that you fit the gym's target demographic. If you're a young adult who enjoys powerlifting and the other members of the gym are older individuals who prefer to do cardio, you likely won't enjoy your experience there.
Equinox
Given that it caters to a wealthy audience, Equinox has a bit of an elitist atmosphere. Many of the members wear designer workout apparel and get pricey spa treatments after their workouts. It's a gym that you'd go to if you want to get noticed or show off to your friends. It's not the place for low-maintenance folks who want to work out without calling attention to themselves.
Because of its high membership costs, Equinox has an older, more mature audience. There aren't many college students or young professionals there. And if you join Equinox, you should be prepared to train hard. The people who go there don't pay in the triple digits just to casually walk on the treadmill while they watch TV.
Most of the staff at Equinox is friendly and not uptight or snobbish, but some of the personal trainers get annoyed if they're training someone and you're using a piece of equipment they want to use.
LA Fitness
When I visited an LA Fitness near me, the staff was polite and helpful enough, but I didn't get the sense that they would go out of their way to be extra accommodating.
Who you see at the gym can also vary depending on which location you go to and what time of the day you go. Some locations attract a crowd that fits into the "gym bro" stereotype and prefers to socialize rather than work out, but for the most part, you'll come across people of all ages and fitness backgrounds.
However, most of the members aren't interested in chatting or becoming your new best friend. It's an ideal gym for people who like to train by themselves, but it may not work for you if you're more of a social butterfly.
The Winner
It's hard to pick a clear winner because the atmosphere at LA Fitness and Equinox is so different. If you like being noticed at the gym, I recommend Equinox. But if you just want a place where you can blend in with the other members and work out on your own, go with LA Fitness.
5. Gym Policies
If you've been to a gym before, you should already know some of the most common rules you're expected to follow. But each gym's policies are slightly different, which can make it more difficult to decide which one is best for you.
As such, if you can't decide between two gyms, you'll want to review each of their rules to make sure they won't prevent you from reaching your goals.
Equinox
Equinox has a pretty laidback dress code. Men have to keep their shirts on when they're on the gym floor, but women are allowed to wear just crop tops and sports bras. However, barefoot lifting is not allowed.
Powdered and liquid chalk are both allowed. Most locations will allow you to drop your weights as long as you're on a lifting platform or in a functional training area. But at some locations, you can only drop weights from waist-high.
You can bring a friend or family member with you, but you'll have to register them on the website first.
Equinox has a long cancellation period, requiring members to give at least 45 days' notice before a cancellation goes into effect. You also have to pay a $100 cancellation fee unless you can prove that you're moving to an area with no Equinox club nearby or you have a medical issue that prevents you from working out.
LA Fitness
Dropping weights isn't allowed at LA Fitness, but powdered and liquid chalk are both allowed. LA Fitness also allows you to lift barefoot, and you can wear any kind of appropriate workout apparel.
LA FItness allows members to bring one guest for free each month, but any guests after that cost $20 each.
You can cancel an LA Fitness membership by downloading a form from the website and submitting it to the front desk or sending it via certified mail. You have to notify them five days before your next billing cycle if you want to cancel.
There are no cancellation fees for month-to-month contracts, but you may have to pay for any unused time left on your contract if you have an annual membership.
The Winner
For powerlifters, weightlifters, or CrossFitters, Equinox is better since you can drop your weights there. For everyone else, LA Fitness may be a more suitable choice since it has a better cancellation policy.
6. Group Classes
If you prefer to work out with others instead of by yourself, you should look for a gym that offers group classes. It's also good to look for one that has a variety of classes to choose from, which can prevent you from getting bored and give you something to look forward to every time you go to the gym.
Equinox
Equinox offers anywhere from 80-100 classes per week that are taught by supportive, energetic instructors. The instructors are often considered to be some of the best in the industry and tend to have loyal followings.
You can take classes that you'd find at any other gym like Zumba and barre, but Equinox also specializes in unique classes with a specific goal in mind. Most of its classes focus on running, strength training, cycling, mobility, or metabolic conditioning. Some classes also combine all of these elements into one.
LA Fitness
Although LA Fitness only has a small number of classes each day, you can find yoga, Zumba, Pilates, spin, and yoga classes at most locations. Some locations also offer aquatics and kickboxing classes.
If you enjoy CrossFit or high-intensity exercise, you can also take HIIT by LAF classes at select locations. These classes combine elements of cardio, strength, and functional training, and you have the option of wearing a heart rate monitor during each class. The HIIT by LAF classes cost an additional $125/month.
The Winner
Not many gyms have the variety of classes and caliber of instructors that Equinox does, so go with Equinox if you enjoy group fitness.
7. Amenities
At many gyms, you're not just paying for the equipment. You're also paying for access to showers, smoothie bars, pools, or basketball courts. Even if you have to pay extra to use them, the cost may be worth it if they motivate you to keep going back to the gym.
Equinox
Not all amenities are available at all locations, but most Equinox clubs have yoga studios, juice bars, saunas, and steam rooms. Some of the bigger locations have basketball courts and pools. There's also a Kids Club if you need someone to babysit your children, but you have to pay extra for it every time you use it.
Equinox doesn't have massage chairs or red light therapy, but some locations have HigherDOSE infrared saunas. Massages and other spa treatments are also available at the onsite spa.
Equinox has some of the nicest showers you'll find at a gym with free towels and high-end toiletries. There are also cold eucalyptus towels throughout the gym that you can use to wipe yourself down after your workout.
LA Fitness
At the majority of LA Fitness locations, you'll find indoor lap pools, smoothie bars, basketball courts, and racquetball courts. Most membership plans come with free access to the pools, but you may have to pay extra to use the basketball courts and racquetball courts.
Childcare is also available, but it's not included with your membership at all locations.
There are showers and locker rooms at LA Fitness, but you may not find shampoo, soap, or towels at all locations, so it's best to bring your own.
The Winner
If you like washing up after a workout in showers that are probably nicer than the ones you have at home, go with Equinox. It's tough the beat the spacious, luxurious shower stalls and eucalyptus towels.
8. Personal Training
Personal trainers aren't cheap, but they can be valuable resources if you don't know how to get started or you need help training for a specific purpose. However, not all trainers have the skills and knowledge necessary to help you meet your goals. As such, it's important to consider the qualifications of the trainers at your gym so you don't end up wasting your money.
Equinox
Equinox's personal trainers are highly qualified. They're required to have nationally recognized certifications as well as six months of experience and additional certifications through Equinox's own personal training institute. Many of them also have nutrition certifications through Precision Nutrition.
The cost of a personal training session depends on how much experience your trainer has. Newer trainers start at $100/hour while more experienced trainers can cost $150/hour or more.
If you happen to have an extra $2,000 lying around, you can also sign up for Equinox's Tier X program for three months. This program is run by the most experienced trainers and includes a highly personalized and detailed strategy to overhaul your exercise, nutrition, and sleep habits. It also teaches you stress management and other healthy lifestyle habits.
LA Fitness
The personal trainers at LA Fitness also have nationally recognized certifications from places such as NASM, ACE, or ISSA. But many of them are first-time trainers, so they don't have a ton of experience training clients.
The cost of a personal training session starts at $45 for 30 minutes or $60 for 60 minutes. If you can commit to six or 12 months' worth of sessions, you can buy them in packages for $200 to $240 per month.
LA Fitness also offers complimentary personal training consultations for new members.
The Winner
Equinox's personal trainers are much more expensive, but they're also more qualified and have more experience than the ones at LA Fitness.
9. Locations
While finding a gym that's close to your home or office is essential, it's also a good idea to find out how many locations in total a gym has. You never know when you'll have to unexpectedly go out of town, and it's nice to know if you can use your membership at other clubs while you're away.
Equinox
Equinox has just over 100 locations in the US, Canada, and London. Most locations are in large metro areas, but there are a few suburban locations as well.
If you want to be able to visit other locations, you'll have to buy a membership with multi-club access, which often costs $100 more per month than a membership with single-club access.
LA Fitness
LA Fitness has more than 700 locations in the US and Canada. If you have a membership with Multi Club access, you can visit any location except for a few exclusive clubs.
The Winner
Even though Equinox can be found overseas, LA Fitness has more total locations, so you're more likely to find one that's convenient to your home or office.
10. Hours of Operation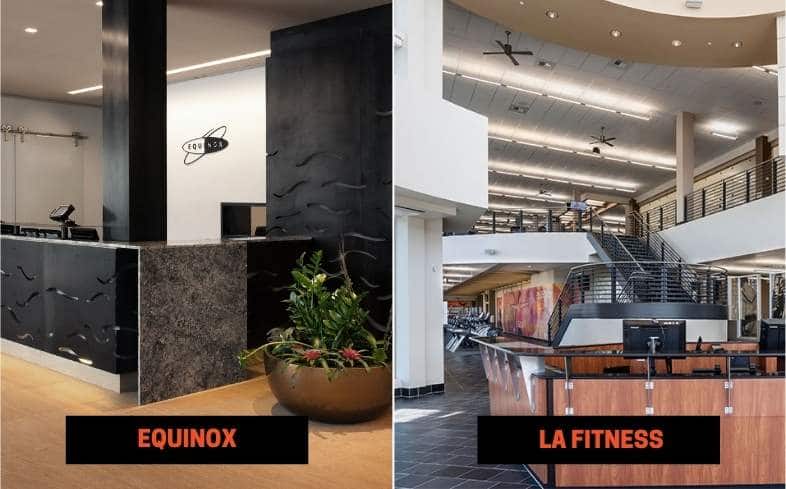 Finding a gym with flexible hours is essential for parents, people with busy jobs, or people who just prefer working out early in the morning or late at night. It's not hard to find a gym that is open as early as 5 AM, but some gyms aren't open very late, and most have limited hours on the weekends.
Equinox
The hours of operation at each Equinox location are slightly different. Most locations are open from 5 AM to 9 PM Monday through Thursday and 5 AM to 7 PM on Friday. On the weekends, they're open from 7 AM until 6 PM.
LA Fitness
Like Equinox, each LA Fitness location has different hours. Most are open from 5 AM until 11 PM during the week and 8 AM to 8 PM on the weekends.
The Winner
LA Fitness wins since it's open later during the week and on the weekends.
Who Is Equinox For?
Equinox is a good gym for you if you:
Have a large budget
Like taking group classes
Want access to world-renowned personal trainers
Are a parent who only needs childcare occasionally
Are a powerlifter, weightlifter, or CrossFitter
Who Is LA Fitness For?
LA Fitness is a good gym for you if you:
Are trying to save money
Don't care about fancy amenities
Are looking for a gym with lots of locations
Don't want to pay a premium price for things like pools and basketball courts
Other Gym Comparisons With Equinox and LA Fitness
---
About The Author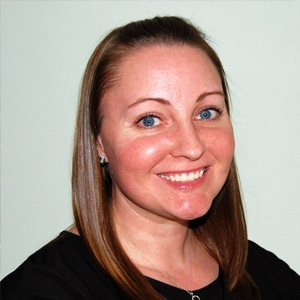 Amanda Dvorak is a freelance writer and powerlifting enthusiast. Amanda played softball for 12 years and discovered her passion for fitness when she was in college. It wasn't until she started CrossFit in 2015 that she became interested in powerlifting and realized how much she loves lifting heavy weights. In addition to powerlifting, Amanda also enjoys running and cycling.