Disclosure: We're supported by our audience, so if you purchase through some links on this post, we may earn a commission at no cost to you.
There are many forms of strength and muscle sports – strongman, CrossFit, bodybuilding – that don't use singlets, so what makes them so specific to powerlifting?
While I don't personally enjoy wearing a singlet, most of us do it because we have to.
So why do powerlifters wear singlets? Powerlifters wear singlets because it's required for competition in any serious powerlifting federation. This is so lifters can't gain an advantage with their apparel over and above another athlete. As well, wearing a singlet helps referees view your lifting mechanics, which factor into whether a lift is successful.
Let's dig into the reasons why powerlifting federations require lifters to wear singlets if they want to compete.
5 Reasons Why Powerlifters Wear Singlets
The 5 reasons why powerlifters wear singlets are:
It's a rule
The judges can see squat depth more easily
The judges can see your butt staying on the bench during the bench press
It provides uniform competition attire
It provides a level of support
1. It's a Rule
Like it or not, wearing a singlet in competition is a rule. Rules don't always have to make sense – if the powers that be make it a rule, you have to abide by it if you want to play in their sport, and that's the case here in powerlifting.
There are dozens of powerlifting federations out there, and each has its own nuances and rules.
Two of the largest feds in the United States are the USAPL (USA Powerlifting) and the USPA (United States Powerlifting Association). To learn about the differences between the two federations, check out USAPL vs USPA: What Are The Differences?
Let's look at the language of the rules for singlets in each of these two federations:
USAPL
The USAPL states that a powerlifting singlet must:
Be form-fitted without any sagging in the material
Be made out of fabric or synthetic textiles that don't provide any extra support to the lifter on any lift
Be a single thickness (in other words, it needs to be single ply), although the material around the crotch area can be layered as long as it doesn't exceed 12cm x 24x in thickness
Have legs that cover at least 3cm of the thighs but do not measure longer than 25cm from the top of the crotch down to the inside of the leg
During every lift at the meet, the suit straps must be worn over the shoulders. Only singlets from the IPF's list of approved apparel manufacturers can be worn (since the IPF and USAPL follow the same rules).
In addition to the rules above, the USAPL also states that singlets cannot have logos unless they are:
The logo of the approved manufacturer
An emblem of the country the lifter is from
The lifter's or coach's name
The name of the current competition or any past USAPL, NAPF, or IPF competition
Logos from USAPL corporate sponsors
The logo of the lifter's or coach's USAPL affiliated gym or club name (though this may be subject to approval from the meet directors)
Official high school or college logos
Logos from the armed forces
USPA
Like the USAPL, the USPA states that a lifting singlet must be single-ply with double thickness in the crotch area only that doesn't exceed 12cm x 24cm. It must be form-fitting but not so tight that it provides any extra support to any of the lifts. The singlet must not have any zippers, buttons, pockets, or reinforced collars or seams. The straps must be worn over the shoulders during every lift.
The singlet can only have logos that represent the lifter's country, sponsor, or the powerlifting association they belong to. It must not make any reference to using performance-enhancing drugs. It also cannot have any offensive language or show the logo, name, or likeness of any other powerlifting association except for the USPA. Covering up unapproved logos, language, or images with tape is not allowed.
The legs of the singlet must not be any shorter than 2in from the crotch. It also cannot extend past the mid-thigh, with the mid-thigh measurement being determined by measuring from the top of the knee to the crotch.
If you make any alterations to the shoulder straps, the excess material cannot be stitched back down to the suit and can only extend two inches above the new seam. The straps cannot be secured with velcro.
As you can see from these rules, the policies on the wearing of singlets are similar, but each federation will have their own nuances to the specifics.
Bottom line: if you want to compete in powerlifting, you're going to need to wear a singlet, and it will need to meet the rules of your federation.
For an up-to-date list of approved competition gear for the USPA and USAPL, check out:
2. The Judges Can See Squat Depth More Easily
Now for the technical reasons we wear singlets – making the lifts easier to judge.
Without diving into the rules of specific federations here, every federation has a rule for squat depth. It typically means the squat must descend "below parallel," or that the crease of your hip must dip below the top of the knee at the bottom of the squat.
As you can imagine, this requires perfect visibility on the part of the referees to make sure this rule is met with each squat attempt. For that reason, lifters wear singlets so referees can clearly see that the crease of the hip passes the top of the knee.
If lifters were wearing loose shorts or shirts that covered their hips, this would be a very subjective and difficult call to make for any referee.
To keep the competition fair and make the job doable and objective for referees, we wear singlets in competition.
3. The Judges Can See Your Butt Staying on the Bench During the Bench Press
The squat isn't the only lift that requires perfect visibility by the judges – the bench press calls for singlets for this reason, too.
During the bench press, it is prohibited in any federation to lift your butt from contact with the bench after you have started a bona fide attempt to perform the lift. Once you unrack the bar and begin descending it to your chest, your butt must stay in contact with the bench until you replace the bar on the rack.
Again, if lifters were wearing baggy clothing, it would be difficult for judges to accurately monitor this rule. It would also be possible for lifters to cheat by making it look like they're obeying the rule, while getting some unfair advantage from their clothing.
So once again, here comes the singlet to save the day. With all lifters wearing a form-fitting singlet, judges can clearly see whether a lifter is in compliance with the butt lift rule on the bench, or if they broke it.
4. It Provides Uniform Competition Attire
The whole point of a competition is to create a level playing field for lifters to determine who is the strongest. That means giving everyone the same judges, the same time, the same rules, and the same equipment so that the only difference is the abilities of the athletes.
Singlets create a standard uniform for all lifters to wear so that no unfair advantage can be introduced in the athlete's attire.
For example, a lifter may try to wear a singlet with multiple layers of tight spandex that can add extra support to the hips, which can give the lifter an advantage in the squat. Wearing a single-ply singlet ensures that there's a level playing field.
Non-supportive singlets have been tested and proven to be the best way to level the field of competition for lifters of all abilities.
Wondering if you can wear a wrestling singlet for powerlifting? Check out Can You Wear a Wrestling Singlet for Powerlifting?
5. It Provides a Level of Support
While a singlet shouldn't be made out of multiple layers of fabric or be so tight that it can provide an excessive amount of support, it still needs to be form-fitting and somewhat supportive.
You'll feel better in the bottom of a squat in a singlet with a tight fit than you would in a loose pair of shorts. And it will provide some support at the bottom of the squat but not to the extent where a lifter can get a huge bounce out of the hole.
Since we all care about being safe and getting as much weight on the bar as possible, it's a nice benefit to know you're getting a little more support and spring when you wear a singlet than from your normal training clothes.
3 Reasons Why I Hate Wearing Singlets
As logical and helpful as the rules and explanations for singlets are, I still hate wearing mine. Some people may like it, but I don't, so I'll share my three bits of beef with singlets.
1. They Look Weird in Commercial Gyms
This is probably the image that came to mind when you first came across a powerlifter in the wild – some dude spending 90 minutes in the squat rack wearing a singlet and a belt with more weight on the bar than you put on the leg press machine.
It's not a common sight in commercial gyms, so it stands out like a sore thumb.
I really hate this because I've trained powerlifting in commercial gyms. And while these gyms have offered me everything I need to get stronger and prepare for competition, they also provide a lot of eyeballs to see me doing it.
The times I've had to show up in my singlet so I can train the way I plan to compete have always been filled with discomfort and anxiety. All I want to do is get my training done, but the singlet stands out and draws attention. Sometimes it's just the silent stares. Other times it's the old men coming over to interrupt my set and tell me about how strong they used to be.
No matter how long I train powerlifting, singlets will always be an uncomfortable reality of training in a commercial gym.
The best I can do is make sure I get really strong so when I do train in a singlet in a commercial gym, I'm moving some serious weight on the bar to let all the onlookers know I'm legit.
2. Some Singlets Are See-Through
Commercial gym or not, nobody likes their clothes unexpectedly revealing what they have on underneath. Especially in a competition setting, everyone participating and watching may be perfectly familiar with the need for singlets in the sport, but the last thing you need is to be thinking about whether or not they can see your underwear when you squat.
I've owned several singlets in my search to find one I'm comfortable wearing for competition and while training for competition. Unfortunately, some of them have turned out to be more see-through than others, which meant I used it very little and had to spend more money finding a replacement.
Unless you like the attention, read reviews and shop carefully for a singlet that won't stretch to transparency while you wear it.
3. They Aren't Practical Outside of the Sport of Powerlifting
There is one reason and one reason only to wear a singlet – powerlifting (or you compete in Olympic weightlifting or wrestling). That's it. There's no other application for wearing the singlet, unless my friends want to have a wrestling-themed party.
It sucks that we have to spend money on a singlet to compete, but we know there is no other reason or way to use the singlet to get our money's worth from it.
This also makes it harder to spring for the brand-name, more expensive singlets on the market. This can lead to the unfortunate alternatives I detailed previously, leading you to purchase singlets that are low quality or otherwise unsatisfactory – which can cost you more than just getting the better singlet in the first place.
As a person who likes to be a little frugal and resourceful with my money, I just have to accept the fact that a singlet is an expense required for powerlifting competitions that won't offer me any value outside of that.
Wondering what else you have to pay for when you compete in powerlifting? Check out How Much Does Powerlifting Cost? Full Breakdown.
Should You Wear Your Powerlifting Singlet In Training?
You don't have to wear a singlet just because you train in the discipline of powerlifting. But if you plan to compete, you should definitely set aside some time to train in your singlet.
The primary reason for this is to reduce the number of variables on competition day. We want to train the way we will compete. That's why powerlifters train to pause their bench press on their chest, they perform squat reps below parallel every time, and even have lifting partners shout commands before and during lifts.
We don't want any surprises on meet day that could take even a pound off of our performance, so we train like we will perform in competition.
This means wearing the same clothing and equipment in preparation for meet day.
For most lifters, a few workouts in the singlet will do the trick to adjust to how it feels, so you can plan to use the singlet in your final weeks leading up to competition.
For me, putting my singlet on has a trained Pavlovian effect on me, where it puts my mind in gear to move serious weight since I only wear it when it's time to max out or compete. For this reason, I actually find some excitement when it comes time to pull my singlet off a hanger before heading to the gym.
However much time you need to adjust to the singlet, make sure you give that time to yourself so the singlet feels natural and normal when you compete.
There's a lot more gear that you need to bring with you to a powerlifting meet. To make sure you don't forget anything, check out What Should You Bring To A Powerlifting Meet? (Checklist).
Do Non-Competitive Powerlifters Need To Wear A Singlet?
If you enjoy training in the style of powerlifting but have no plans or interest in competing, then I have great news for you – you don't need a singlet!
There are no judges to watch you, no rules to follow, and no need to adapt to required clothing for a meet day that will never come.
You can train your squat, bench press, and deadlift in whatever gym clothes you like and enjoy all the benefits of powerlifting.
If you do get the itch to compete, be sure to follow my advice above and get a singlet well ahead of time so you have some time to bite the bullet and get used to it before meet day.
Top Singlet Recommendations
If you're in need of a good singlet for powerlifting, we've done the research and reviews for you to make the search a breeze. You can read our full breakdown of the Best 5 Singlets for Powerlifting or see the top selections I've featured below.
For Males: Titan Triumph Singlet
The best option we can recommend for males is the Titan Triumph singlet. Because of its unique Comprexx fabric, it excels in all the ways we've evaluated it.
Pros
Excellent support (still legal for Raw events)
Wide shoulder straps reduce back chafing
Highly form-fitting
Concealed yet comfortable crotch area
The matte finish grips the bench well
Cons
For Females: Virus v3 Singlet
For ladies, while the requirements for competition are the same as for males, the Virus v3 singlet is the only singlet we've reviewed that seems to be built from the ground up with women in mind. Check out the pros and cons below.
Pros
Highly form-fitting to females
Comfortable crotch
Available in multiple eye-catching designs
Cons
On the expensive side
Not approved for high-level powerlifting competitions
Other Singlet Resources
---
About The Author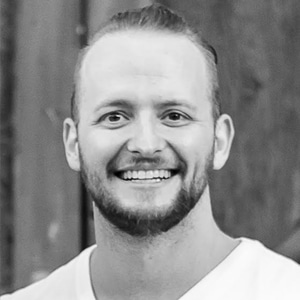 Adam Gardner is a proud resident of Utah, where he lives with his wife and two kids. He has been competing in powerlifting since 2016 in both the USPA and the APF. For the past three years, he and his wife, Merrili, have coached beginning lifters to learn the fundamentals of powerlifting and compete in their first powerlifting competitions.