Powerlifting meets might seem simple on the surface.
Athletes compete in the squat, bench press, and deadlift and try to lift as much weight as possible for 1 repetition. However, just like any other sport, powerlifting competitions have rules and practices that ensure athletes have a safe and fair environment to perform at their best.
Here are 10 things you need to know about how powerlifting meets work:
We'll cover each of these points in more detail below.
But, if you're thinking about competing in powerlifting, understand that it's impossible to know every single rule before starting. Even after competing in 2 or 3 competitions, you'll still pick up on something new that you didn't know before.
1. Signing Up For a Competition
If you're from the US, you can find a list of meets on the USA Powerlifting website by clicking 'calendar'. From here you can sort by state to find competitions near you. Alternatively, you can use the search bar at the top of the website to search for competitions in your state or city.
If you're from Canada, you will need to go to the Canadian Powerlifting Union website, and click "links", then "provincial affiliates". From here, select the province that you live, and find the calendar of events on your provincial association's website.
If you're from other countries, perform a quick Google search with "Powerlifting" and "[COUNTRY]", and navigate to find your National Federation.
Once you've found a meet that you want to register for, you'll start by filling out the entry form.
The entry form will ask you:
Personal details: Name, address, email, phone number
Weight class: you compete in a weight category
Gender: you compete in the men's or women's category. (Side note: Check out my top list of powerlifting girls to follow for lifting tips, advice, and inspiration).
Age class: you compete in an age category
Division: you compete either raw or equipped (click

HERE

if you don't know the difference)
Wondering how to pick your weight class? Read my article on How To Pick Your Weight Class For Powerlifting.
Once you submit your entry form, you will be asked to pay an entry fee. You will also be asked to become a member of your powerlifting association, which includes an annual membership fee.
After the entry form deadline, which is usually 4-6-weeks before a competition, the meet director will release an entry roster and schedule so that athletes can see who has signed up to compete.
At this point, the only thing left is to train hard and show up on competition day.
Check out the differences between the USAPL vs USPA, which are two popular powerlifting federations.
2. Weigh-in Procedure
The weigh-ins will occur 2 hours prior to the start of the meet. So if the competition starts at 9am, then the weigh-ins will begin at 7am.
When you show up on competition day, arrive 15-minutes before the weigh-in. This will give you enough time to find the weigh-in room and check to see where you are on the weigh-in roster.
When looking at the roster, each athlete will take approximately 1-min to weigh-in. So if you are 14th on the list, you can predict that you'll be stepping on the scale 14-minutes after the start of the weigh-in. So make sure you don't wander off when it's almost your turn to weigh-in.
You need to bring 3 things to the weigh-in process:
Rack heights
There are 3 rack heights you need: (1) the rack heights for squats, (2) the rack height for bench press, and (3) the safety rack heights for bench press.
This is another reason why you will want to show up to the competition 15-minutes before weigh-in so that you can get your rack heights on the rack that is going to be used in competition.
Opening attempts in kilos
Powerlifting meets work in kilos. So, do the lbs-kilo conversions beforehand. If you don't have them ready, the referees will ask you to leave the weigh-in room, and you will be put last on the weigh-in roster. It's not a big deal, but it's annoying because you'll likely have to wait another 30-minutes.
Only your opening attempts are given at the weigh-ins. So, what about your other attempts? Your 2nd attempt will be given after you complete your opener. Your 3rd attempt will be given after you complete your 2nd attempt.
When you leave the weigh-in room, you'll be given what's called 'attempt cards'. These cards are how you submit your other attempts throughout the competition. So it's important you keep these with you at all times and don't lose them.
Interested in competing? Check out my article on how strong you need to be at your first powerlifting meet.
Powerlifting membership card
As I mentioned before, when signing up for the competition, you would have had to become a member of your powerlifting association. You need to bring proof of your membership to the weigh-ins.
An important note: In the weigh-ins, you'll receive what's called a "lot number." This lot number becomes important when it comes to the lifting order, which I'll explain in more detail later.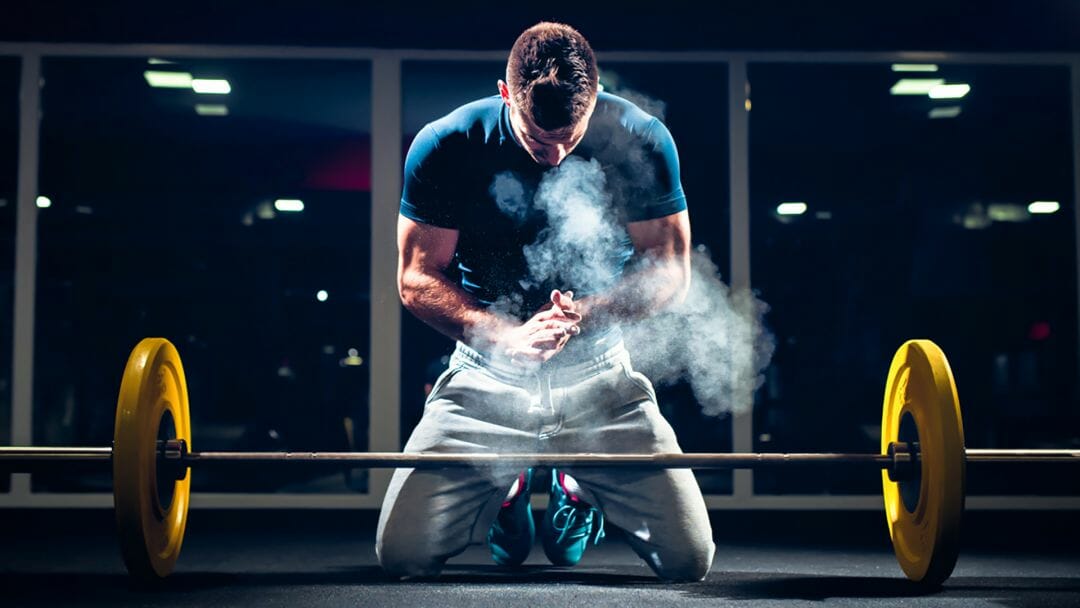 Want to get advice on programming, technique, or competing? Speak with one of our coaches.
3. Equipment Check
At the same time as the weigh-in is happening, there will be other referees who run what's called the "equipment check".
You can do the equipment check either before or after your weigh-in depending on where you are on the weigh-in roster.
You basically stand in a line and wait until a referee checks all of the equipment that you will be wearing on the competition platform. This is everything from your underwear, singlet, and any supportive equipment you choose to wear (wrist wraps, belt, sleeves, etc).
If you want to learn more about the equipment you can or cannot wear in competition, then check out my guide on Competition Gear For Powerlifting. There are rules around the brands you can wear and certain specifications.
Pro tip: put all the gear you plan to wear on the competition platform in a gym bag so that the equipment check is streamlined. Don't wear any of the clothing or equipment on your body.
4. Warm-Up Procedure
The warm-up room is available to you any time after the weigh-ins. Depending on how many warm-ups you need, you'll likely begin 30-45 minutes prior to the start of the event.
It's better to start early and have more time than you need to warm-up versus feeling rushed and having to skip any of your planned warm-ups because you ran out of time.
I like to plan my first few warm-ups with shorter rest times (3-4 minutes). Then, when I get to my last two heavier warm-ups, I slow it down to have at least 10-12 minutes of rest in between sets.
This is what's called being "on the pace of the meet", which mimics the 10-12 minutes of rest you'll likely have in-between your opener and second attempt, and second and third attempt.
If during your warm-ups you want to change your opening attempt, you can do so at any time up until 3-minutes to the start of the event. The speaker will give you warnings on how many minutes are left to change your opener. To change your opener, you write down your new attempt on the attempts cards (which were given at the weigh-ins) and hand it to the scoretable.
A good general rule of thumb is to always get your last warm-up done before the "change deadline" just in case you want to move your opener up or down from the original plan.
Read my guide on how to warm up for powerlifting.
5. Lifting Order
When you're done your warm-ups you will head into the 'staging area', which is an area behind the competition platform where lifters wait until it's their turn to lift.
The order of the competition will be determined by the weight on the barbell. So everyone will do their openers in the order of the lightest to heaviest attempts.
Once the openers are completed, athletes will begin to hand in their loads for the next attempt, which will automatically determine the order for the second attempts.
So what happens if two lifters are set to lift the same weight? Who goes first?
Remember how I said in the weigh-ins, you'll receive a "lot number". The person with the lowest lot number will go first.
It's very easy to know the lifting order because there are screens in the staging area that show the order in real-time. As well, there is an announcer who is giving advance notice on the next 1-3 lifters that are coming to the platform.
If you want to learn about How Long Are Powerlifting Meets then be sure to read my other article breaking down meet day timing.
6. Technical Rules & Movement Standards
Each of the powerlifting movements (squat, bench press, and deadlift) have movement standards that you must follow in competition.
These rules exist so that every athlete is held to the level. For example, you can imagine a scenario where one athlete squats ass-to-grass and another athlete performs a partial squat that they would involve different levels of difficulty. This would provide an unfair advantage for some over others.
Therefore, there are always rules around how an athlete should or should not move while performing the squat, bench press, and deadlift. I cover each of the movement standards in the following articles:
What you should know is that there are three referees on the platform who are judging you based on these movement standards.
After each lift, you will receive either a white or red light from the referees. White lights indicate that you followed the movement standards. Red lights mean that you broke one of the technical rules or you out-right failed the lift.
You only need two white lights out of three from the referees in order for the lift to be considered successful.
You can practice the technical standards in training by doing a mock powerlifting meet. Learn How To Do A Mock Powerlifting Meet.
7. Referee Commands
When it's your turn to lift, the chief referee, who is the one sitting at the front of the platform, will tell you when you can start and finish the movement.
The reason why you can't lift on your own pace is that the referees want to standardize the 'start' and 'finish' position of the lifter. They also want to make sure that you show control on either end of the movement.
In addition, the bench press has an extra command called the "press command". This indicates when the athlete can press the bar, which is after the barbell shows a motionless paused-position on the chest.
Here are the commands you'll hear for each of the movements:
Squat Commands
To start: "Squat"
To finish: "Rack"
Bench Commands
To start: "start"
To press: "Press"
To finish: "Rack"
Deadlift Commands
To start: There is no start command – you can lift the bar whenever you're ready
To finish: "Down"
An important note: When you get called to the platform, a timer will start and you have 60-sec to get the first command or else the lift is automatically forfeited. For the deadlift, since there is no command to start the lift, you simpy need to make an "effort on the barbell" within 60-sec.
8. Picking Attempts
Once you have finished a lift, successful or not, you will need to pick your next attempt.
This is where the attempt cards that you received in your weigh-ins come into play. You will need to write down your next attempt on those cards, and hand it into the score-table, which is usually right next to the competition platform.
There are a few rules you need to understandd around what you can or cannot do in terms of selecting attempts.
So here's what you need to know:
You only have 3 attempts to reach your max
This one is pretty simple: you only have 3 attempts for each of your lifts.
Once you submit an attempt, it's final
As soon as you hand in your attempt card to the score-table, you cannot change your attempt. So if you have second thoughts, too bad.
There is one exception to this, which we'll cover in the section called "third deadlift change".
You cannot go down in weight from your previous selected attempt
Your next attempt cannot be lower than the previous weight you attempted. So if you miss an attempt, then unfortunately your next attempt has to be at minimum the same weight as your previous number.
Attempts must be made in kilos
Remember, powerlifting meets run in kilos. So don't give your attempts in pounds.
Pro tip: print off a currency conversion chart and bring it with you.
Attempts must be made in 2.5kg increments
You can only select attempts in 2.5kg increments. There is one exception to this, and it's if you're going for a record. Any record can be broken in 0.5kg increments.
You have 60-seconds to submit your next attempt
Once you have finished a lift on the competition platform, you have 60-seconds from when you receive your lights, to submit your next attempt.
What happens if you miss the 60-seconds time limit?
If you try to submit an attempt after the 60-second time limit, then one of two scenarios will happen.
If you missed your previous attempts, your next attempt will automatically repeat the same number.
If you made your previous attempt, your next attempt will automatically be bumped up 2.5kg.
9. Third Deadlift Change
All of the attempt selection rules that I just explained in the previous section apply to each attempt.
However, there are some additional rules associated with the third deadlift attempt.
These rules exist for the third deadlift because athletes will by vying for placings at this point.
Here's what you need to know:
You have two opportunities to change your third deadlift
After your second attempt deadlift you will submit your third attempt.
Once you have submitted your third attempt, you can change it up to two more times.
This helps you see what your competitiors are attempting for their third attempt, and then adjust your strategy accordingly to see if you can move up in position by modifying your attempt.
Any changes to your third deadlift can be up or down
After you have submitted your third deadlift attempt, the two changes that are permitted can either be up or down from that original number.
For example, if you put in 250kg for your third deadlift, you can then change it down to 240kg or up to 260kg.
With that said, you can't change it down to lower than your second attempt. So if your second attempt was 245kg, then lowering it to 240kg would not be permissible.
If you're a spectator watching a powerlifting event during the third deadlifts, you'll see the numbers on the scoreboard bouncing around quite rapidly as athletes jockey for position.
10. Award structure
After the powerlifting meet is over, the award ceremony will commence.
There are two types of awards: (1) class medals, and (2) best overall awards.
Class Medals
Class medals are given out based on gender, age, and weight classes.
For example, Men's Open 105kg class or Women's Master 1 57kg class.
The way you rank lifters is by using the "powerlifting total", which is adding up the heaviest successful squat, bench press, and deadlift.
If two athletes have the same total by the end of the powerlifting competition, then the athlete with the lower bodyweight wins.
Check out my other articles on Master Powerlifting:
Best Overall Awards
The Best Overall Award is given to one male and female athlete. This award is also known as the "Champion of Champion" award. It's an award that measures "relative strength" based on bodyweight.
It's calculated by taking your powerlifting total and body-weight and multiplying it by a coefficient to give you the IPF Points score.
For example, an 83kg male lifter with a 700kg powerlifting total has an IPF Points score of 710. A 120kg male lifter with a 845kg powerlifting total has an IPF Points score of 700.
So even though the 120kg lifter achieved a higher total, the 83kg lifter's performance was better based on a relative measure of their body-weight.
What To Read Next
Here are some other guides that will help you get started on your powerlifting journey:
Final Thoughts
This concludes everything you need to know about how powerlifting meets work.
If you've read this guide up until this point, you should feel well prepared to compete in powerlifting. There will be more lessons learned as you compete, like how to get psched up for a big lift or how to handle your emotions after missing a lift.
But for these lessons, you simply need to step on the comeptition platform and gain experience as an athlete (not a spectator).