One of the debates in the world of strength is 'high bar vs. low bar squat – which is better?'
You need to know where to place the bar when you're getting ready to do a set of heavy barbell squats. The squat bar position will change depending on whether you're doing a high bar squat vs low bar squat.
So, what is the difference between low and high bar placement for squats? In a high bar squat, the bar is placed at the base of your neck. The bar is about 2 – 3 inches lower in a low-bar squat. The low bar placement is better for powerlifters, enabling you to lift more. High bar squats are better for weightlifting or bodybuilding, as they enable you to maintain a more upright position. 
There's more to it than that, though. And you'll want to perform the right type of squat for your goal, or else you could be wasting time.
Keep reading to learn about the low bar squat and high bar squat, including muscles targeted, who they're best for, and a full list of benefits.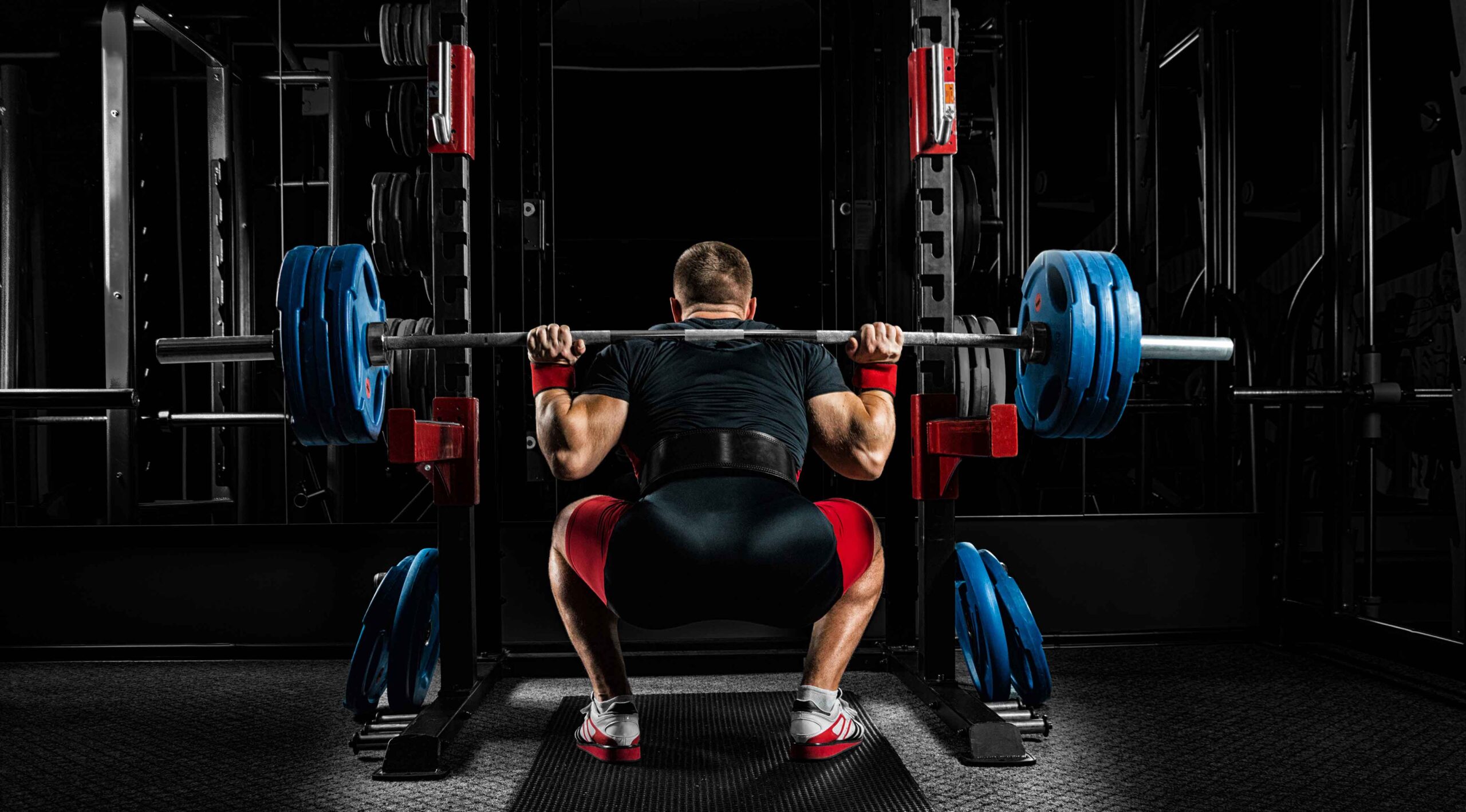 Want to improve your squat technique?
Key Differences in the High Bar vs. Low Bar Squat
| | | |
| --- | --- | --- |
| Difference | High Bar | Low Bar |
| Form | Bar sits on your traps | Bar sits on your posterior deltoids |
| Muscles Targeted | All lower body muscles, but especially the quadriceps | All lower body muscles, but especially the glutes and erector spinae |
| Performance Needs | Better for Olympic weightlifting and beginners | Better for powerlifters and heavy-strength training |
There are a few key differences to consider when deciding where to put the bar when squatting, including:
Form
Muscles Targeted
Performance Needs
Read more: The Different Types of Squat Bars
Form
The main difference between a low bar squat vs. a high bar squat is your form.
Although the bar should always stay directly over the midline of your feet, whether you're doing low bar squats or high bar squats, your form will be slightly different depending on the squat bar placement.
In high bar squats, the barbell sits on your traps (the top of your shoulders), just below your seventh cervical vertebrae.
In a low bar squat, the barbell sits a little further down on the posterior deltoids. In this variation of the barbell squat, you need to squeeze your shoulder blades together to fix the bar in position.
Muscles Targeted
All types of squats will work every muscle in the lower body. Still, the bar placement for squats shifts the exercise's emphasis onto the anterior or posterior chain.
Because the ultimate goal is to keep the bar over the midline of the foot, whether you place the bar higher or lower on your back will change the angles of your back, torso, and knees slightly.
High bar squats place more emphasis on your quadriceps due to the upright position of your torso. To achieve an upright position, you'll need superior ankle mobility and be comfortable with greater forward knee bend at the bottom of the squat. When you have a greater forward knee bend, it shifts the load demands from your glutes and hips toward your quads.
Low bar squats are a little different. In low bar squats, you need to hinge your hips more, and this will cause more forward lean in your torso. This will cause your shins to be more vertical in the bottom range and push the emphasis from your quads to your glutes and erector spinae.
The exact angle of your torso during low bar squats depends on your individual mechanics (such as torso length, femur length, and mobility). As long as your back is neutral (not rounding), you're looking for the bar to be over the mid-point of the foot.
Performance Needs
To decide where to put the bar when doing the barbell squat. You must factor in your performance needs. Both low bar and high bar squats are great for overall lower body strength gains.
However, a low bar squat bar position is best for general strength training and bodybuilding as it elicits greater muscle activity than a high bar squat placement.
More specifically, low bar squats generate higher muscle activation in the gluteus maximus, biceps femoris (hamstrings), rectus femoris, vastus lateralis, and vastus medialis than high bar squats.
Low bar squats are also a better choice if you're powerlifting due to the higher level of muscle activation and the optimal torso position you can achieve in this variation of the barbell squat. You'll be able to safely practice one-rep maxes and heavy power-focused sets of squats.
Depending on your torso and limb length, shoulder, hip, and ankle mobility, you might feel more comfortable placing the bar higher up on your traps and performing high bar squats. You will still notice progression and muscle growth by practicing a high bar squat placement instead of low back squats, as long as you use great form and technique.
If you place the bar too high on your back it might hurt your neck. Check out my article on How To Fix High Bar Squats Hurting Your Neck (6 Tips).
How to Do a High Bar Back Squat
Most people use a high bar squat bar placement when they first begin lifting, whether intentionally or not.
Here's how to correctly perform high back squats:
Load the barbell up to your desired weight.
Lift the bar from the squat rack onto your upper traps, holding it with both hands on either side of your body.
Take a few steps back to distance yourself from the squat rack and place your feet shoulder-width apart.
Keeping your traps and core engaged, hinge at the hips, bend your knees, and press your feet into the ground to lower yourself towards the ground.
Keep your torso relatively upright and the bar path over the midline of your feet.
When you reach your desired depth, activate your quads and glutes to push yourself back up to a standing position.
Repeat this for your desired number of reps before re-racking the barbell.
What Are the Benefits of High Bar Squats?
High bar squats offer several benefits.
Firstly, the high bar back squat form is relatively easy to achieve, even for beginners. High bar squats are ideal if you have good ankle mobility, as you'll find it relatively easy to drop into a deep squat with your torso upright while staying balanced and stable.
The latter offers higher quadriceps muscle activation when comparing low and high bar positions, so it could be the better option if your main aim is quad growth. Because of the shift in emphasis towards your anterior chain, less stress is placed on the spine and lower back too.
Learn more about the high bar squat in my article on Is The High Bar Squat Harder?
How to Do a Low Bar Back Squat
There are key differences in how you perform a high vs. low bar squat, although the setup is very similar.
Here are the key steps to doing a barbell squat with a low bar positioning:
Load the barbell up to your desired weight and step up to the bar.
Lift the loaded barbell onto your upper back, making sure it rests on your rear deltoids (just above your shoulder blades).
Grip the bar on either side of your body with your hands. If you have poor shoulder mobility, you might need to use a wider hand position but aim to keep them as close to your shoulders as possible for increased stability.
Keep your lats and core engaged as you descend into the squat by hinging your hips back and allowing your torso to come slightly forward. The bar path should always remain over the midline of your feet, and your knees should not cave inward.
Bring yourself back to a standing position by squeezing your glutes.
Repeat this process for your desired number of reps and re-rack the barbell onto the squat rack.
Check out my article on Squats For Tall Guys to see my recommendation on whether someone with long legs should use a high bar or low bar position.
What Are the Benefits of Low Bar Squats?
The low bar back squat is better when you want to target your posterior chain (glutes, hamstrings, and spinal extensors).
It's also a good choice if you have limited ankle mobility, as the higher degree of forward lean in your torso makes it easier to sink into a deep squat while decreasing ankle flexion.
The low bar squat generally enables you to lift more weight than the high bar squat, so it's beneficial if you practice heavy powerlifting or push for a one-rep max. On average, you'll be able to lift around 5-10% more weight with a low bar squat vs. a high bar squat.
Your bar placement will also depend on your back angle. Read what the best back angle is for squats. Also, in my article on Powerlifting vs Olympic Squats, I discuss that based on the type of squat you do the bar position on your back will change.
High Bar vs. Low Bar Squat – Which is Better?
The low bar and high bar squats are great for muscle building and strength gains, and both will work all areas of your lower body and core muscles.
However, each of these squat variations offers unique benefits and functions. Depending on your unique anatomy and your training style, one will be better than the other.
When to Use the High Bar Squat
You should use a higher barbell position if:
You're a beginner at weightlifting
You want to strengthen your Olympic weightlifting exercises, like cleans and snatches
You want to target your anterior chain
You have limited wrist mobility
Your lower back hurts with a low back squat bar position
You're an athlete who is using barbell squats to improve your sports performance
When to Use the Low Bar Squat
It's best to use the low bar back squat instead of a high bar back squat when:
You're already able to use great form when squatting
You are a powerlifter and want to lift as heavily as possible
You want to target your posterior chain
You have long femurs
You have limited ankle mobility
You have limited knee mobility or have suffered from previous knee-related issues
If you squat using a high bar position, you'll feel more comfortable in shoes with a high heel. Check out my reviews of squat shoes with the highest heel.
Final Word – High Bar vs. Low Bar Squat
When comparing a high bar vs. low bar squat, the best option for you depends largely on your unique anatomy, joint mobility, training preferences, and workout goals.
If you're a powerlifter, stick with a low bar position when squatting so that you can lift as much as possible without risking an injury.
A high bar position for CrossFitters and Olympic weightlifters will be a better choice as the high bar squat is more transferable to your other lifts.
Whether you use a high vs. low bar squat, the main focus should always be using the correct form and technique. Both low and high bar squats will elicit hypertrophy and strength gains in your lower body, although studies confirm that muscle activation is slightly higher in low bar squats. And remember, the bar path should always follow a straight line directly over the midpoint of your feet.
If you can't hold onto the barbell when low bar squatting, check out my 7 tips.
---
About The Author
Athina is a Biochemistry and Genetics graduate, and a qualified personal trainer with a passion for women's health and fitness. She is passionate about helping women to learn more about the importance of the menstrual cycle and how to balance their hormones. She is the host and producer of Fertility and Freedom podcast, which covers all things women's health and hormones.
---