When teaching the hip hinge you may notice that many people who come from a sedentary background have a lot of trouble completing it without detailed instruction and will likely need some easy to follow cues to help them out.
The 11 most efficient hip hinge cues are:
Feet Shoulder Width Apart
Shoulders Back
Brace the Core
Bend At The Hips
Hips Move Back
Chest To Floor
Keep Soft Knees
Keep Back Flat
Chin Down
Stop At Parallel
Hips Forward, Chest Up
Each of these cues are important because they address a part of the hip hinge movement that I've seen many people, including myself, get wrong in the beginning. In this article, we will go through each one and what its goal is, how to implement it and when to use it.
Note: It's not necessary for your athlete to keep all 11 cues memorized, but rather identify the weaknesses and use just the cues that help them complete the part of the hip hinge they struggle with the most. Remember, the hip hinge is the primary movement pattern in all deadlift variations so if you want a strong deadlift, learning to hinge should be anyone's first step.
Looking for other exercise cues? Check out:
9 Squat Cues To Improve Technique
13 Bench Press Cues To Improve Technique
10 Deadlift Cues To Improve Technique
13 Overhead Press Cues To Improve Technique
Cue #1: Feet Shoulder Width Apart
The goal with "feet shoulder width apart" is to get your hips and feet aligned in a way where the proper muscles in your hamstrings and glutes will be able to fire both efficiently and effectively. Some people may find they want to get their feet an inch or so wider or point their toes outward, however, this is something you should experiment for yourself and see in what stance you feel your hamstrings and glutes engage the most.
Other Commonly Used Cues
Feet hip distance apart
Feet in line with your shoulders
Feet in a ready stance
How To Implement
Stand with your feet apart and waddle a bit from side to side, slightly planting and readjusting your stance until you feel you are in a strong position
Once you've settled on a stance your feet should not move any longer throughout the hip hinge
When To Use
This cue can serve as a good reminder for anyone who may be finding that their hip hinge is not stable, they either can't feel their lower body when they hinge or feel like they will topple over when bringing their chest down.
The first step to feeling the right muscles is making sure the body is in the right position to activate those muscles. Therefore, addressing your stance and determining exactly where to keep your feet is integral to a good hinge.
Cue #2: Shoulders Back
The goal of "shoulders back" is to make sure you are retracting and depressing your shoulders adequately and are not just leaning forward with a hunched back. This cue should also help you keep your torso straight and help even cue the hips to move since the upper body is not able to do the hinging.
Other Commonly Used Cues:
"Proud chest" position
Shoulders back and down
Squeeze your shoulders
Roll your shoulders back
How To Implement
Shrug your shoulders up to your ears
Roll them back and pinch your shoulders blades together
Push the shoulders down and away from your ears, keeping the shoulder blades in the rolled back position
When To Use
This cue is extremely important among novices who tend to lean over as if they are about to tie their shoes or pick up something from the floor, rather than hinging at the hip.
If you are finding your chest collapsing forward, back rounding, or even your hips not moving back enough, this cue will likely help you keep that perfect shoulder and back positioning.
Cue #3: Brace the Core
The goal with bracing your core is to keep the entire torso rigid throughout the hip hinge, help keep your shoulders back, your back flat and to eventually also bear the load of whatever weight you will likely be holding in your arms when implementing the hip hinge for exercise purposes.
Other Commonly Used Cues
Keep a rigid core
Keep a rigid spine
Pretend you're getting punched in the gut
How To Implement
Take a deep breath where your belly expands on the inhale
As you exhale, push your ribs down but keep the 360 pressure and expansion in place around your torso
Maintain this rigidity throughout the movement, it should feel like you are bracing for impact from a punch in the gut
For more details on breathing and bracing, check out our article here: Proper Breathing Technique For Squats (Step-By-Step Guide)
When To Use
Bracing is likely going to be a cue most novices need when performing any movement in the gym, including the hip hinge.
It's not something that will be automatic yet and the bracing itself is an integral part of lifting and will also help perfect the hip hinge.
Therefore, even with those who can perform a semi-decent hip hinge, a quick reminder to brace is always welcome and should be used to just reinforce good technique. This is especially important when hinging for an exercise where you are bearing load.
Cue #4: Bend At The Hips
The goal of this movement is very similar to a lot of the cues for hip hinge, since knowing how to bend at the hips seems to be the largest barrier for beginners. Reinforcing that you need to bend at the hips will allow the athlete to engage their glutes and their hamstrings and prevent them from bending at the knees like in a squat to engage their quads or bending at the torso and hunching over.
Other Commonly Used Cues
Hinge at the hip
Lever at the hips
Break at the hips
How To Implement
Place your hands on your hips to give an external cue for where the movement needs to begin
If needed, press lightly with your fingers into your hip bone to initiate the breaking at the hip
You should feel the glutes opening up and the hamstrings tightening up as your centre of gravity begins to shift
When To Use
Using the bend at the hips cue is very useful for those who bend at every joint that isn't the hips.
There may be some lack of body and muscle awareness in space and it's difficult for some athletes to initiate at the hips.
Therefore keeping the hips in mind and even using the hands as an external cue may be exactly what they need to continue forward with a strong hip hinge.
Cue #5: Hips Move Back
The goal of moving the hips back is to just continue loading the glutes and the hamstrings while adjusting the centre of balance and allowing the chest to come forward. This is to reinforce that this is a hip dominant movement and there shouldn't be any movement at other joints.
Other Commonly Used Cues
Hips to the wall
Poke your hips back
Butt to back
How To Implement
Standing in front of a wall, starting breaking at the hip joint, allowing the chest to come down and think of "hips move back" and keep them moving until they touch the wall behind you
This can be done without a wall but for beginners having the external cue may be helpful
When To Use
Use this cue when you find athletes who initiate the hip hinge correctly where they break at the hips, however as they progressively move into the hinge they instinctively start to bend the knees and start to bend forward as if they are doing a squat-like movement.
Cue #6: Chest To Floor
The goal of "chest to floor" is to ensure the athlete is properly hinging and not nose-diving their head to the floor or leading with their stomach, but rather leading with the chest to allow the hips to shift back.
Other Commonly Used Cues
Chest forward
Chest moves down
How To Implement:
After the athlete has set their shoulder back have them think "chest to floor" so they lead with the chest as they break at the hips
When To Use
This cue can be used when you notice an athlete starting to hunch their shoulders on the way down in the hinge to help them bring their chest up and not let it dip too soon.
Cue #7: Keep Soft Knees
The cue of "keep knees soft" is a cue where the goal of the movement is to allow the hamstrings to activate and load the body in the most effective way. If you keep the knees straight you will find it difficult to load the lower body and the stress will all end up in your back.
Other Commonly Used Cues
Slight knee bend
Bend the knees
How To Implement
Before initiating the movement make a slight bend in the knee and then initiate the hip hinge
As the athlete moves deeper into the hip hinge, think of "keep soft knees" and allow any slight bending allow a more smooth eccentric
When To Use
Keeping soft knees is an important cue to use for athletes who find they can't get low enough in their hip hinge where the torso is not able to come down in a fluid manner and do not feel their legs engaging enough.
It can be most effectively used as a reminder while setting up for the hip hinge to make sure you start off in a good position.
Cue #8: Keep Back Flat
The movement goal of "keep back flat" is to ensure you keep a neutral spine and do not go into a hunched or arched back position. It is to ensure you maintain the brace of the core and don't load your back in a way that can compromise your form and put you in a vulnerable position for injury.
Other Commonly Used Cues
Keep straight back
Keep neutral spine
How To Implement
While initiating the hip hinge, have the athlete think of keeping their back flat as if they are balancing something on their back once they reach parallel.
To give some extra reinforcement, use an external cue of holding a dowel along the spine.
When To Use
Use this cue from the start of the hinge all the way to the point of reaching parallel. This is most useful for those who tend to over arch or hunch their back, the deeper they go into the movement. Warming up with a dowel and practicing this cue can be a great beginner tool for strong deadlifts.
If you're looking for more progressions, including the hip hinge, to improve your deadlift, check out the article: 8 Deadlift Progressions From Beginner To Advanced
Cue #9: Chin Down
The goal of "chin down" is to ensure the athlete keeps a neutral spine and aligns their neck along with the rest of the back. This will allow them to avoid straining their neck and to allow their upper body to move in unison while moving downwards.
Other Commonly Used Cues
Keep head neutral
Head in line with the spine
Chin to chest
How To Implement:
Before the the athlete has initiated any movement at the hips have them tuck their chin and tell them to maintain it throughout the hinge
If you see the head start to move as they head down it can also be used as a reactive cue to remind them to tuck the chin
When To Use
Use this cue for athletes who tend to lose the integrity in their back and head position as they hip hinge. It can be used as a proactive measure before even initiating the movement or as a reactive reminder to keep the chin toward the chest and down or keep the neck aligned with the spine.
Cue #10: Stop At Parallel
The goal of this cue is to ensure that the athlete doesn't overshoot the movement (going too low) and to keep their legs activated and avoid placing their back in a vulnerable position that will be hard to come out from.
Other Commonly Used Cues
Stop when you feel stretch in your hamstring
Chest parallel to the ground
Back parallel to the ground
How To Implement
As the athlete is coming down in the hinge with their hips moving back, tell them to stop once they feel their upper body is parallel to the ground and stop
Have them pause in this position so they can notice what muscles are firing so they can recognize "parallel" in future reps and sets
When To Use
Use this cue when an athlete is overreaching or underreaching with their hinge rather than activating and utilizing the hamstrings and glutes to hinge the body back up.
If you see someone start to stand back up before they have reached parallel or reaching all the way to the ground it will be a good drill to have them pause at parallel while repeating this cue in their head.
Cue #11: Hips Forward, Chest Up
The goal of this cue is to help the athlete reverse the hinge and get back up to the start position by using their hamstrings and glutes to lever them back up without breaking form.
Other Commonly Used Cues
Squeeze the glutes
Push hips through
Stand up straight
How To Implement
The athlete will be in the hinged position so have them pay attention to when their hamstrings are in a stretched position and their back is parallel with the ground
From here tell them to pull their hip forward, as if to thrust the air while simultaneously keeping the chest up or just say "hips forward, chest up"
When To Use
Using this cue is meant for once the athlete has completed the eccentric part of the hinge and they are ready to stand up. This will be important for athletes who struggle to maintain their position as they reverse the movement. You may see the back no longer stay neutral, head crank up, arching or hunching in the back or movement in the knees.
Final Thoughts
The hip hinge is an integral part of all deadlift variations as well as movements like the kettlebell swing and can not be overlooked when learning how to lift weights.
It is a deceivingly difficult movement pattern especially among novices and beginners. It can even continue to be difficult for those who have chronically tight hamstrings and weak glutes; however, with enough practice it is something you can definitely improve for yourself or your athletes.
What To Read Next:
---
About The Author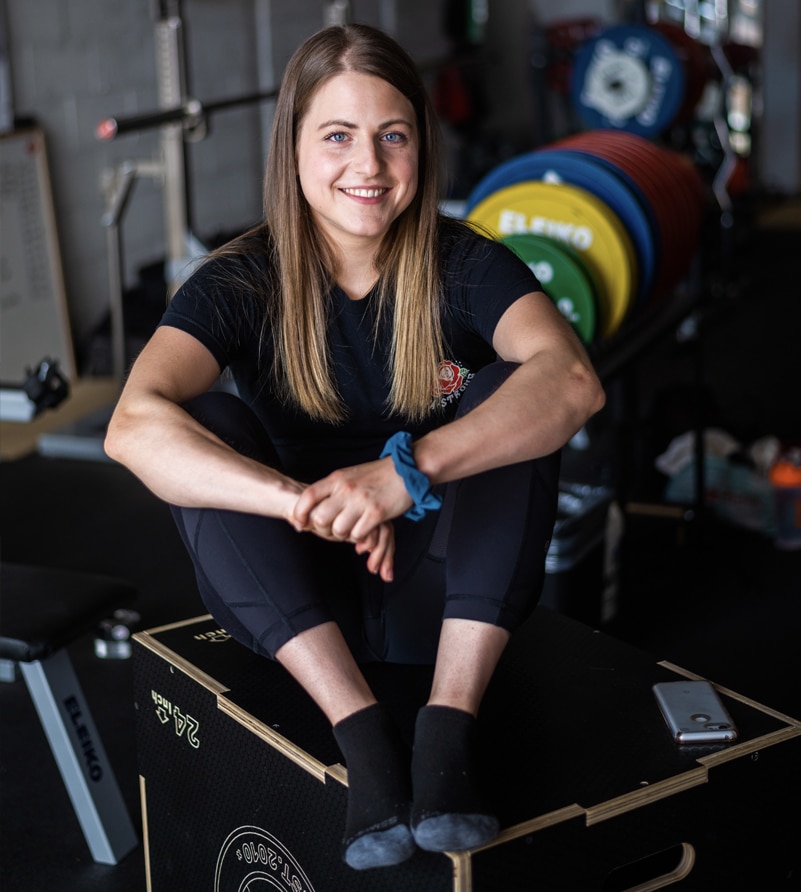 Elena Popadic has worked within the fitness industry for over 6 years, is co-host of the Squats and Thoughts podcast and trains and competes as a powerlifter. She has a BSc in Life Sciences from McMaster University, a Postgrad Certificate in Public Relations from Humber College and is currently pursuing a MSc Occupational Therapy at Western University. Connect with her on Instagram or LinkedIn.