Anytime Fitness and Gold's Gym are both popular gyms for different reasons. Gold's Gym became famous during the 1960s bodybuilding era. Anytime Fitness doesn't have as long of a history, but it's still a good gym with many perks.
But is Anytime Fitness or Gold's Gym a better gym? Gold's Gym is better if you're looking for a gym with a huge amount of equipment, group classes, and amenities. It's also a bit more affordable than Anytime Fitness. However, Anytime Fitness is a better gym for anyone who's looking for a laidback, family-like environment with 24-hour access.
Joining the wrong gym can be a huge pain. The cancellation process is often long and expensive, but trying to stick it out can leave you unmotivated and discouraged. Picking the right gym from the start will save you the hassle of having to cancel your membership and search for a new gym.
In this article, I'll compare Anytime Fitness and Gold's Gym so you can determine which of these two gyms is best suited for your goals.
Anytime Fitness Overview
Anytime Fitness has been in business for over 20 years and is now one of the fastest-growing chain gyms in the world. Its convenient 24-hour access and variety of equipment make it ideal for people with all kinds of backgrounds and training goals.
While each location is unique, in my experience, Anytime Fitness has one of the most supportive environments I've seen in a franchise gym. It's an excellent place for people who are nervous about starting a workout routine or scared to be judged at the gym. However, competitive athletes may want to consider a different gym with a more serious vibe.
Pros
Convenient locations in dozens of countries
Can use your membership at any location after you've been a member for 30 days
Good for beginners and experienced gym-goers alike
Knowledgeable, qualified personal trainers
Strong community-oriented environment
Cons
Can't use chalk or drop weights at most clubs
Only has a small number of amenities
Check out my full Anytime Fitness review
Gold's Gym Overview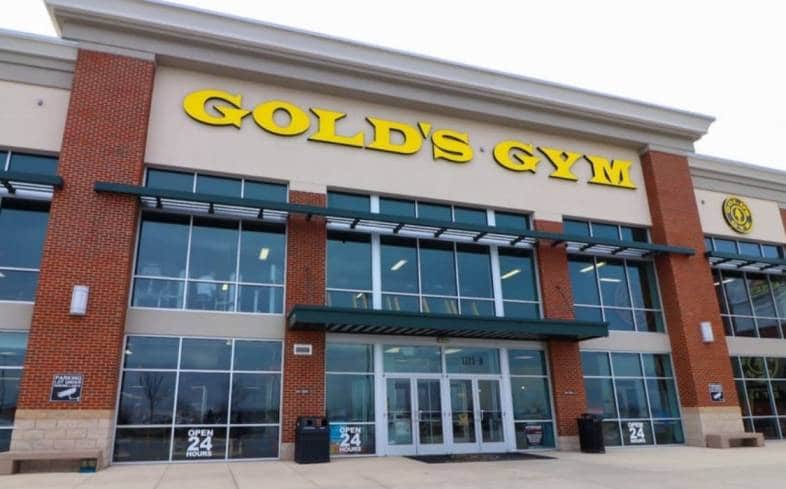 Gold's Gym opened in 1965 in Venice Beach, CA. It quickly gained a reputation of being the "mecca of bodybuilding" and was frequently visited by Arnold Schwarzenegger, Dave Draper, and other famous bodybuilders.
Gold's Gym is still known as a bodybuilding gym, but it's now also a gym for anyone who enjoys working out and staying healthy. Even though Gold's Gym locations are huge, the franchise has been working on offering more of a boutique feel through its mobile app, community training programs, and unique group classes.
Pros
Large 50,000 square foot facilities with a huge assortment of equipment
Good selection of amenities
Fun group classes taught by energetic instructors
Free Wi-Fi inside the gym
Motivating environment with qualified instructors and experienced members
Cons
Most clubs don't allow chalk or dropping weights
Some membership plans don't allow you to visit other locations
Check out my full Gold's Gym review
Anytime Fitness vs Gold's Gym: 10 Differences
1. Cost
It may seem obvious, but one of the first things you should consider when deciding between two gyms is cost. But not only should you make sure the monthly dues fit into your budget, but you'll also need to make sure you can afford things like annual fees and enrollment fees.
Anytime Fitness
The majority of Anytime Fitness locations charge bi-weekly. Each location has different prices, but you can expect to pay between $27 and $30 plus taxes every two weeks.
In addition to the bi-weekly dues, Anytime Fitness has high upfront costs. You'll have to pay for your first two weeks at signing. You'll also have to pay a $25 fee for your key fob and $99 administrative fees.
Gold's Gym
Gold's Gym has different plans and pricing at each location. Some locations allow you to pay for a year in full for a total of around $499 plus taxes. This works out to about $42/month. If you want to buy an annual plan but pay monthly, you can expect to pay $40/month. You'll also have to pay an enrollment fee and a $49 annual fee.
There's also a month-to-month plan for $54/month that doesn't require any enrollment or annual fees.
The Winner
Gold's Gym will typically be a little cheaper than Anytime Fitness, so it's a better choice if you're looking to save some money.
2. Contract Length
You may not think you have to worry about the terms of your gym contract until you're ready to sign it. But knowing what to expect before you visit each of the gyms you're considering can help you prepare for what kind of commitment you're about to make.
Anytime Fitness
Some Anytime Fitness locations offer month-to-month contracts while others offer one- or two-year contracts. A handful of locations offer both.
Gold's Gym
Almost all Gold's Gym locations offer both annual contracts and month-to-month contracts.
The Winner
Even though both gyms offer month-to-month and term contracts, it's more common for Gold's Gym locations to offer both. It's a better choice if you're looking for a gym with various contract options.
3. Equipment
It's important to evaluate the type of equipment that's available at your preferred gym so you can make sure you'll be able to do the workouts you enjoy. You should also consider how your goals may change in the future since it's possible you'll want to try a different type of training at some point.
Anytime Fitness
Anytime Fitness has treadmills, ellipticals, stationary bikes, rowers, and Rogue Echo bikes. In the weight room, it has strength machines for the upper and lower body, prefixed straight bars, EZ curl bars, dumbbells, and flat and incline benches. Squat racks are available at most locations, but deadlift platforms are hard to find.
There is also a functional training area at Anytime Fitness with medicine balls, slam balls, plyo boxes, battle ropes, TRX bands, and kettlebells.
Gold's Gym
Gold's Gym's 50,000 square foot facilities have a large assortment of cardio and strength machines, including treadmills, bikes, step climbers, ellipticals, rowers, and resistance machines for the upper and lower body.
Gold's Gym also has dumbbells, barbells, preset straight bars, EZ curl bars, and kettlebells. Iron plates are available at almost all gyms, but bumper plates are only found at a handful of locations. Most locations also have squat racks and deadlift platforms.
Some locations also have functional fitness equipment like sleds, battle ropes, medicine balls, plyo boxes, resistance bands, and agility ladders.
The Winner
Gold's Gym is better if you want access to a diverse selection of equipment because it's larger and has a larger number of machines and free weights.
4. Atmosphere
The atmosphere at a gym can either help you feel motivated to go or make you dread going. Obviously, the former is more ideal. When you're comparing two gyms, you'll have to think about which one makes you feel more welcome and which one attracts members that share similar goals as you.
Anytime Fitness
Anytime Fitness is a good gym for beginners and experienced gym-goers who aren't competitive athletes. Because its gyms tend to be small, it's also ideal for people who get intimidated in a large gym.
The small size also means that Anytime Fitness is a gym where the staff will know you by name. And if you take small group training sessions or work out at the same time every day, you'll likely also become friends with some of the other members that you'll see regularly at the gym.
Anytime Fitness frequently has in-house competitions, challenges, and social gatherings for its members. This is a huge benefit if you like feeling like part of a team and don't want to just be another face in the crowd.
Gold's Gym
In my experience, Gold's Gym has a welcoming environment, but it does cater to people who are more serious about training.
It's no longer known just for bodybuilding like it was in the past, so you will find a good mix of people who are strength training, doing cardio, or taking classes. It also draws in members of all ages. But it's not the type of gym you should join if you just want to walk on the treadmill for a half-hour a couple of times per week.
I've also found that it's not a social type of gym. You may find groups of friends who sit around and talk a lot, but most of the members mind their own business. However, many locations do offer transformation challenges and other social events during the year, so those can help you get to meet new people if you want to feel like part of a community.
The Winner
For a chain gym, Anytime Fitness has a strong community-oriented atmosphere. It's a better choice if you are looking for support from other people to help you reach your goals.
5. Gym Policies
Gym rules exist for obvious reasons, but some gyms can take their policies overboard and make their clubs miserable places to work out. As such, when comparing two gyms, you should look at each one's policies to make sure you won't have an issue following their rules.
Anytime Fitness
Anytime Fitness has mostly lenient rules. You can bring guests, freeze your membership for a medical reason, and wear any gym-appropriate clothing you want.
However, not all clubs will allow you to lift barefoot. Also, not all gyms allow you to use chalk or drop weights.
Canceling an Anytime Fitness membership isn't difficult, but it is inconvenient. You have to either visit the gym in person or send a letter via certified mail and provide 30 days' notice. And canceling a term contract early will incur a $150 cancellation fee and potentially any outstanding dues left on your plan.
Gold's Gym
Gold's Gym also has pretty standard rules. The dress code is pretty lenient, and you can wear any kind of appropriate workout apparel. Some locations will even let you lift barefoot. And while most clubs don't allow you to drop weights or use powdered chalk, some will let you use liquid chalk.
Each location has a different guest policy, but one- and seven-day guest passes are usually available for friends and family.
To cancel your membership, you need to submit a written letter in person or send it via certified mail. You have to provide 30 days' notice and pay a cancellation fee that ranges from $89 to $200.
You can transfer your membership to another person instead of canceling. However, you'll have to pay a fee that can cost as much as $200, so you're better off just canceling and paying the cancellation fee if you want to get out of your contract.
The Winner
Anytime Fitness wins because it's a bit more lenient about dropping weights and using chalk, and it has lower cancellation fees.
6. Group Classes
Group fitness can be a great way to have fun and meet new friends while you work out. Most gyms offer group classes, but the types of available classes and the times they're offered vary significantly. As such, if you know you'll be taking classes, you'll need to choose a gym that offers the ones you're interested in at times that work with your schedule.
Anytime Fitness
Anytime Fitness only has a small number of classes like boot camp, Pilates, and Zumba. It's more known for its small group training sessions, which it also calls team classes.
There are three types of team classes: a beginner's class, a strength-based class, and an endurance-based class. These classes are typically only offered during the gym's staffed hours, which are 10 AM – 7 PM at most locations.
Gold's Gym
Gold's Gym has a large selection of group classes that range from HIIT, Zumba, kickboxing, circuit training, yoga, and boot camp. The class schedules are different at each location, but most classes are offered in the evenings on weekdays and in the mornings on the weekends.
If you're interested in CrossFit but don't want to join a separate gym, you can also take classes called Gold's Fit, which feature a combination of strength and cardio movements like a traditional CrossFit class. The Gold's Fit classes cost an extra $40/month.
The Winner
Gold's Gym beats out Anytime Fitness due to its wider array of traditional classes and CrossFit-style classes.
7. Amenities
Gyms these days are more like full-fledged health clubs with much more than just gym equipment. Many gyms now also offer areas where you can play other sports, have someone watch your kids, and get a bite to eat to help make working out more convenient for you.
However, many gyms still only offer the essential pieces of equipment, so you'll need to determine whether or not any specific amenities are important to you before you settle on a gym.
Anytime Fitness
Anytime Fitness is a bit basic when it comes to amenities. Some gyms have showers and locker rooms, but many only have changing rooms and cubbies where you can store your belongings. A handful of locations have tanning, red light therapy, smoothie bars, and massage chairs.
However, pools, basketball courts, saunas, and childcare aren't available.
Gold's Gym
Gold's Gym has pools, massage chairs, smoothie bars, and basketball courts. A limited number of locations have tanning booths. Childcare is free for all members, and showers and locker rooms are also available.
The Winner
Gold's Gym offers many more amenities than Anytime Fitness, making it the better choice for anyone looking for more than just gym equipment.
8. Personal Training
Joining a gym with qualified personal trainers is a must if you're looking for someone to hold you accountable and provide you with a routine that can help you reach your goals.
But the quality of personal trainers can vary significantly, and personal training packages can be expensive. You'll need to evaluate the qualifications of the trainers at your gym and make sure you can afford one before you sign up for a bunch of sessions.
Anytime Fitness
In addition to having certifications from NASM or ACE, many Anytime Fitness locations also require their personal trainers to have exercise science or kinesiology degrees.
Personal training sessions are available for 30 or 60 minutes, with costs ranging from $25-$75 per session. Packages of 5, 10, or 20 sessions are available, and buying sessions in bulk can help you save some money.
Gold's Gym
The personal trainers at Gold's Gym are also certified through NASM or ACE, and most of them also have nutrition certifications and degrees in exercise science or kinesiology.
Gold's Gym offers 50-minute personal training sessions, and they cost anywhere from $60 to $100 per session.
The Winner
The trainers at both gyms are required to have similar certifications and backgrounds, so you can't go wrong with either one. But if you'd like to save a bit of money, go with Anytime Fitness.
9. Locations
Knowing how many locations your preferred gym has is beneficial. Even if you plan on spending most of your time at the same location where you sign up, you never know when you may need to unexpectedly go out of town. And if you travel a lot, joining a gym that lets you use your membership at any location can help you keep up with your routine while you're away.
Anytime Fitness
Anytime Fitness has more than 4,500 locations. It has clubs in all 50 states in the US and more than 30 other countries. Members who have been with Anytime Fitness for at least 30 days can visit any club in the world.
Gold's Gym
Gold's Gym has about 700 locations, and more than 250 of them are in the US. It also has locations in Canada, Australia, the UK, India, the UAE, Germany, Mexico, and other countries in Europe, Central America, Asia, and the Middle East.
Not all clubs will accept drop-ins from members of other locations. Some will only let you visit other locations within a certain mile radius of the gym where you signed up. However, you can ask about getting a 14-day travel pass if you want to visit another Gold's Gym while you're traveling.
The Winner
Anytime Fitness is a better choice for you if you want to join a gym where you can visit any club in the US or abroad.
10. Hours of Operation
Gyms that are open 24 hours have become more popular as more and more gym managers recognize that people are busier than ever these days. However, some gyms are still closed during the overnight hours, which can be a drawback if you're a shift worker, night owl, early bird, or just like working out without a lot of other people around.
Anytime Fitness
All Anytime Fitness locations are open 24/7, but the staff is only on-site from around 10 AM until 7 PM.
Gold's Gym
Each Gold's Gym location has different hours, but most are open from 5 AM to 11 PM during the week and 7 AM until 7 PM on the weekends. Some clubs may open or close earlier than that.
The Winner
Anytime Fitness is the gym to go to if you have a busy schedule and can only work out during the overnight hours.
Who Is Anytime Fitness For?
Anytime Fitness is an ideal gym for:
Beginners
People who travel internationally and want to be able to work out while they're away
People who prefer to work out in a more laidback environment
People who want to be able to work out at any time of the day
Who Is Gold's Gym For?
Gold's Gym is an ideal gym for:
Competitive or recreational bodybuilders
People interested in amenities like massage chairs, pools, smoothie bars, and basketball courts
Trainees with at least 6 months to 1 year of training
People who want a gym with a large assortment of equipment
Other Gym Comparisons With Anytime Fitness and Gold's Gym
---
About The Author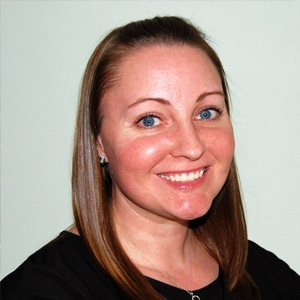 Amanda is a writer and editor in the fitness and nutrition industries. Growing up in a family that loved sports, she learned the importance of staying active from a young age. She started CrossFit in 2015, which led to her interest in powerlifting and weightlifting. She's passionate about helping women overcome their fear of lifting weights and teaching them how to fuel their bodies properly. When she's not training in her garage gym or working, you can find her drinking coffee, walking her dog, or indulging in one too many pieces of chocolate.