Disclosure: We're supported by our audience, so if you purchase through some links on this post, we may earn a commission at no cost to you.
The best liquid chalk will give you the benefit of chalk without the mess, so you can use it at your local commercial gym.
If you're like me and you train at home, you can use as much chalk as you want because you're the only one using your equipment, and you're the one responsible for cleaning it up. But many commercial gym owners don't allow powdered chalk because of the mess it can leave behind on their equipment and floors.
Bans on chalk can make it difficult for lifters to train in a commercial gym. To alleviate the concerns of gym owners and allow athletes to continue using chalk during their workouts, manufacturers started creating liquid chalk.
So what is the best liquid chalk on the market? The best liquid chalk is the Warm Body Cold Mind liquid chalk. It dries fast, smells pleasant, and doesn't leave a lot of residue behind. You don't need to reapply it often, and it lasts for a long time. Depending on how much you use and what size bottle you buy, you can get anywhere from 45 to 225 uses per bottle.
---
In this article, I'll review the top eight liquid chalk products on the market. I'll also talk about the criteria for buying liquid chalk, whether liquid chalk is better than powdered chalk, and frequently asked questions about liquid chalk.
8 Best Liquid Chalk for Lifters
The eight best liquid chalk products are:
Pros
Travel-sized bottle has a hole for a carabiner clip
No strong fragrances
Easy to wash off
One bottle can last for several months depending on how often you use it
Low percentage of alcohol makes it a good option for sensitive skin
Cons
Leaves some residue on clothes and equipment
Thick consistency is hard to get out of the bottle
As I mentioned earlier, I work out at home, so I can (and do) use powdered chalk. Lately, though, I've been reaching for the Warm Body Cold Mind Liquid Chalk more often.
Warm Body Cold Mind was founded in 2016 by Oleksiy Torokhtiy, who competed in weightlifting in the 2008 and 2012 Olympics and has won numerous world championships. The slogan "Warm Body Cold Mind" was initially only printed on T-shirts, but the brand eventually expanded into apparel, singlets, straps, lifting tape, and other weightlifting accessories, including liquid chalk.
I like this liquid chalk for a few reasons.
Smell: The first thing I noticed was the smell. I've used other liquid chalk brands before that smelled strongly of alcohol or artificial fragrances, but the Warm Body Cold Mind liquid chalk has a subtle citrusy scent.
Thick consistency: I also like that this liquid chalk has a thicker, paste-like consistency. It's a little difficult to squeeze out of the bottle, but you don't need much. It produces a thick, even layer on your hands once you rub it in and dries in about 30 seconds.
I noticed that the chalk started wearing off about halfway through my workouts, but it lasted through multiple sets of deadlifts and bench presses.
I don't usually use a lot of chalk for my accessory movements anyway, so the fact that it didn't last long didn't bother me. But if you're using it for a long Olympic weightlifting session or like to use chalk for all your exercises, you may need to apply it more than once.
I also used the Warm Body Cold Mind liquid chalk for a CrossFit WOD with a lot of kettlebell swings. I had no issues with the kettlebell slipping from my hands, and the chalk didn't wear off once I started sweating. It rubbed off on my clothes and equipment a little, but not nearly as much as powdered chalk does.
My hands felt a little dry after I washed it off, but now that the temperatures are getting cooler where I live, my skin is drier than usual to begin with. The alcohol content is only 5%, so even if you have sensitive skin, this product would work better for you than liquid chalk with higher levels of alcohol.
You can get this liquid chalk in 250ml or 50ml bottles. The smaller bottle has a hole at the top that you can loop a carabiner through and clip to the outside of your gym bag for easy access.
---
Pros
Provides excellent grip for heavy deadlifts, snatches, and cleans
Dries quickly
Washes off easily
Honey helps prevent skin from becoming too dry
Cons
Can flake off on the barbell or your clothes
May have to reapply at least once during your workout
The SPORTMEDIQ Pro Grade Liquid Chalk is great for powerlifters and weightlifters because it provides a superior grip without being excessively sticky.
Honey is one of the main ingredients, making this liquid chalk grippier than other brands. Honey simultaneously acts as an astringent and a moisturizer, so it helps balance out the drying effects of liquid chalk.
This chalk dries with a soft, powdery consistency, so it can rub off on your barbell or your clothes, but it's easy to wipe off. It's also easy to wash off your hands when you're done with your workout.
One drawback to this liquid chalk is that it wears off quickly, and you'll have to reapply it at least once during your workout. It dries within 25 seconds, so you won't have to wait too long to get back to lifting when you reapply.
---
Pros
Ideal for high-rep movements in CrossFit
One application can last for up to 60 minutes
Not quite as expensive as other premium liquid chalk brands
Made in the USA
Cons
Leaves some dust on your clothes
Strong alcohol scent
Made in the USA, Spider Chalk Black Widow Liquid Chalk includes several bonding agents, tackifiers, and nano-resins that aren't found in other liquid chalk brands.
All of these ingredients enable the chalk to last for workouts of at least 60 minutes. For CrossFitters, this is a huge benefit.
You can apply the chalk at the beginning of class, and it will stay on throughout your strength work and the daily WOD. And if the WOD has a lot of pullups, deadlifts, snatches, cleans, kettlebell swings, or muscle ups, you won't have to reapply it and waste time while you wait for it to dry.
It has a strong alcohol odor that dissipates once it dries, but it is a little off-putting when you first open the bottle. It also rubs off on clothes easily.
You can get about 200 uses out of one bottle. Even if you do CrossFit four to five days a week, that's enough to last several months.
---
Pros
Can last for a year or more if you only use it 2-3 times per week
Helps prevent calluses from tearing
Doesn't leave any residue behind
No need to reapply during your workout
Cons
Expensive
Dries out your hands
Has a strong fragrance (but if you like the smell of coconut, this may not be an issue)
If you like to lift weights but you also participate in other activities, you'll need liquid chalk that works well for multiple sports. The Liquid Grip Liquid Chalk is a versatile product for all types of athletics, including rock climbers, Strongman competitors, kettlebell sport competitors, gymnasts, golfers, and more.
Liquid Grip isn't cheap, but if you use it for a sport like powerlifting, where you maybe only need chalk a couple of times a week, one bottle can last a year or more.
A dime-sized amount of Liquid Grip is enough to provide full coverage that lasts through many sets and reps. It has a runny consistency though, so you may need to apply a larger amount to get the coverage you want. But one application is usually enough to last an entire workout.
Another benefit of this product is it can help prevent calluses from tearing, unlike other brands that make your hands more prone to rips and tears.
Liquid Grip has a strong coconut smell, but this can be either a positive or a negative, depending on how much you like coconut.
---
Pros
Won't dry out or irritate your skin
Holds up in humid climates and when you sweat a lot
Doesn't have strong odors
Made with high purity magnesium carbonate
Smooth consistency that spreads easily
Cons
Expensive
Only lasts for about 100 uses
Takes longer to dry than liquid chalk with alcohol
As the name implies, the Friction Labs Alcohol-Free Secret Stuff doesn't contain any alcohol. It won't sting if you apply it to broken skin and it's not as drying.
This liquid chalk will absorb moisture if you live in a humid climate or sweat a lot, but since it won't dry your skin out, it's also ideal for people who live in arid climates.
The alcohol-free formula also makes this liquid chalk a good choice for people with sensitive skin. However, because there's no alcohol, it takes at least 60 seconds to dry, which is about double the drying time of alcohol-based products.
A 75ml bottle only lasts for about 100 uses, and this product is at the higher end of the price range for liquid chalk. However, it's worth the price if you want a product that won't irritate your skin or cause excessive dryness.
---
Pros
Reasonably priced combo kit comes with large and travel-sized bottles
Can get up to 250 uses with the combo kit
Takes less than 20 seconds to dry
Has a pleasant scent
Cons
Can coagulate in the bottle after a few months
Leaves some residue behind on clothes and equipment
May have to apply it more than once during longer workouts
If you're looking for the best bang for your buck, consider the Iron American Liquid Chalk. You can often get a combo package with an 8.3 oz bottle and a 1.7 oz bottle for the same price as one bottle of another brand.
That's a good thing, too, because if your workout is long, you sweat a lot, or you train in humid conditions, you may have to apply it more than once. However, you need less than a dime-sized amount to get full coverage, so a bottle will still last for a long time.
The Iron American liquid chalk doesn't have a strong odor and takes less than 20 seconds to dry. It does tend to separate in the bottle after a few months, though. If that happens, you'll need to shake it really well before you apply it.
---
Pros
Only need one application to get through a full workout
Dries fast
Only has a slight odor that goes away quickly
Purchases help support a small, veteran-owned business
Cons
High price point
Dries out skin and can cause rips or tears
Have to wash hands more than once to get it off
In general, liquid chalk is designed to last longer in between applications than powdered chalk. But for truly long-lasting coverage, Fire Team Fit Liquid Chalk is an excellent product.
This liquid chalk has a thin consistency that's similar to a lotion, so if you like a lot of coverage, you'll need to apply a bit more than usual. But depending on how many sets and reps you do, you can get through an entire training session without needing to reapply it.
It has a slight odor, but it goes away quickly, making it a good option for people who don't like strong smells.
The Fire Team Fit liquid chalk is one of the most expensive products on the market. However, the company is owned by former US Marines, so the cost is worth it if you like supporting small, veteran-owned businesses.
---
Pros
Antibacterial properties
One application lasts for a long time
Washes off easily
Low price point
Gold tint makes it easy to see how much coverage you're getting
Cons
The larger bottle doesn't have a hole for a carabiner clip
Strong alcohol smell
All liquid chalk has antibacterial properties to some extent because it contains alcohol, which kills viruses and bacteria in high enough quantities.
The MIDAS liquid chalk takes it one step further. It's formulated to clean your hands on contact, which is a nice feature for anyone who shares equipment with other people.
When it first comes out of the bottle, it has a gold tint that makes it easier to see how much is on your hands after you rub it in. Most liquid chalk appears invisible until it dries, so the gold color sets this product apart from the competition.
The MIDAS liquid chalk has a lotion-like consistency but provides a lot of coverage and absorbs sweat and moisture. It doesn't rub off on your clothes too much and is easy to wash off.
---
How To Choose The Best Liquid Chalk? (6 Criteria)
Even though liquid chalk is a relatively simple product, there are still quite a few things you should look for when you're shopping around for it.
1. Ingredients
Powdered chalk usually has just one ingredient: magnesium carbonate. Liquid chalk also contains fragrance and colophony, a type of resin made from the sap of trees such as pine, juniper, or fir. These ingredients can cause skin irritations in people with eczema or other skin conditions.
Additionally, almost all liquid chalk has isopropyl alcohol, which can dry out your skin. And if you have cuts or tears on your hands, the alcohol can sting.
2. Consistency
Liquid chalk usually has a gel-like consistency, but some brands add thickening agents to their products to make them thicker. It helps prevent separation in the bottle but also gives the liquid chalk more of a paste-like consistency.
The consistency of liquid chalk can make it easier or more difficult to rub into your hands and determine how much coverage it will provide once it dries. It doesn't affect its performance in any way — you'll just have to think about whether you prefer thicker or thinner coverage.
3. Smell
The alcohol in liquid chalk can give off an odor, so many brands try to cover it up with fragrance. If you're sensitive to strong smells, you may want to find liquid chalk that has a low alcohol content or one that doesn't have a lot of fragrance added to it.
4. How long a bottle will last
Most liquid chalk brands will include the expected number of uses on the bottle. This number may not be 100% accurate since it will depend on how much you apply and how often you use it, but it will give you a good idea of how long you can expect one bottle to last.
5. Drying time
Factors such as the ingredients, air temperature, and humidity levels can all determine how long liquid chalk takes to try once you apply it. Still, it usually takes anywhere from 10 to 90 seconds.
That's not a significant amount of time, but it can still eat into your time at the gym. Furthermore, if you apply liquid chalk in between sets, you'll have to factor in the drying time when timing your rest periods.
Another thing to consider is if you use liquid chalk for CrossFit, you should look for a product with a shorter drying time since it's inconvenient to wait for it to dry if you apply it in the middle of a WOD.
6. How much it improves your grip
Unfortunately, there's no way to tell how much a specific liquid chalk brand will improve your grip until you use it. But you can read the product reviews online or borrow liquid chalk from someone else at the gym to get a feel for it before you buy it.
Liquid chalk will 100% be better for your grip than no chalk at all.
But it's just very hard to tell between brands which allows you to have a better grip. I'd say most are pretty much the same at improving the quality of your grip.
Is Liquid Chalk Better Than Powdered Chalk?
Liquid chalk has many benefits over powdered chalk. It's less messy, it's more convenient to carry to the gym or a powerlifting meet, and it's more hygienic because people aren't sharing a communal chalk bucket. It's also easier to get an even layer of liquid chalk on your hands, and because it doesn't cause dust, you don't lose as much of it when you apply it.
Liquid chalk also causes fewer respiratory problems because you're not inhaling a lot of dust.
But many lifters prefer powdered chalk because they feel it gives them a better grip on the bar. Powdered chalk also makes your hands less susceptible to blisters and doesn't dry them out as much.
Furthermore, you can rub powdered chalk on the back of your shirt to prevent the bar from slipping on your back during squats or your shoulders from sliding on the bench during bench presses. Some lifters rub liquid chalk directly on the barbell, but that makes the bar more difficult to wipe down after your workout.
Powdered chalk is cheaper as well, which is a benefit for athletes who go through a lot of it.
If you work out at home or in a gym that allows chalk, you're probably better off using powdered chalk. However, it can get all over the other gear in your gym bag if you don't store it properly and it's less convenient to carry around than a small bottle of liquid chalk.
Therefore, it's a good idea to keep liquid chalk with you to reduce the mess. And many commercial gyms that don't allow powdered chalk will allow liquid chalk, so there's no harm in leaving a small bottle in your bag.
Liquid Chalk: Buyer's Guide
How Does Liquid Chalk Work?
Liquid chalk is designed to evaporate when it hits the air. You rub a small amount into your hands, wave them around, and wait 30 to 60 seconds for the product to dry.
Once it's dried, it leaves behind an even layer of chalk that settles into your hands' creases and crevices.
What Is Liquid Chalk Made From?
The main ingredient in liquid chalk is magnesium carbonate. It also contains resin and isopropyl alcohol. The resin helps the chalk stick to your hands so you can better hold onto the bar. The alcohol evaporates once it hits the air, which allows the chalk to dry after you rub it on your hands.
Can You Use Too Much Liquid Chalk?
It is possible to use too much liquid chalk. Most brands recommend no more than a dime-sized amount, but how much you use depends on your personal preferences.
However, too much liquid chalk makes it sticky and decreases the amount of friction on your hands. This defeats the purpose of using it in the first place. Excess liquid chalk can also dry out your hands more than normal.
How Frequently Do You Need To Apply Liquid Chalk?
How often you need to apply liquid chalk can vary. Liquid chalk generally lasts longer than powdered chalk, but some lower-quality brands wear off faster than others. If you do a lot of high-rep movements in your training, you'll also need to apply it more than someone who just uses it for a few sets of deadlifts.
For many lifters, one application of liquid chalk can last an entire training session. At a minimum, you should be able to get at least 20 minutes out of one application. But factors such as how humid your environment is and how much you sweat can also affect how often you need to apply it.
How Long Does A Bottle Of Liquid Chalk Last?
A typical bottle of liquid chalk can last anywhere from three to six months. Some may even last up to a year. Many brands specify how many uses you can expect to get out of it, but that number can be higher or lower depending on how often you use it.
Does Liquid Chalk Cause A Mess?
Liquid chalk is much less messy than powdered chalk. It doesn't cause a lot of dust and won't leave a ton of white residue on the barbell or the floor around you. And if you spill it, it's a lot easier to clean up than if you knocked over a full bucket of powdered chalk.
Liquid chalk can rub off on your clothes, but it comes off easily in the wash.
Does Liquid Chalk Cause Dry Hands?
Liquid chalk can dry out your hands due to the alcohol that's in it. You should wash your hands immediately after using liquid chalk and use a good moisturizer. You'll also want to make sure you take care of your calluses, which can tear and bleed if they get too dry.
If your hands get exceptionally dry, you can look for alcohol-free liquid chalk, which will help absorb sweat and moisture but won't dry your skin out even more.
Does Liquid Chalk Smell?
Liquid chalk does have an odor. The smell of alcohol is very evident in many brands, some of which use fragrances such as coconut, pine, citrus, or lavender to cover it up.
Whether your liquid chalk has fragrance added to it or not, the smell goes away quickly once you apply it.
Does Liquid Chalk Expire?
Liquid chalk has a pretty long shelf life. You may notice an expiration date on some bottles, but manufacturers add that mostly as a formality. You can use liquid chalk long after the listed expiration date because it doesn't go bad the same way food does.
Liquid chalk can dry up or lose its effectiveness if you leave the bottle open, though. When you're done using it, you should make sure to seal the cap properly so it will last a long time.
Is There Invisible Liquid Chalk?
Some brands of liquid chalk are made from silica instead of magnesium carbonate, which doesn't leave your hands covered in white.
This type of chalk tends to be more common amongst athletes in sports such as tennis or golf. However, it's not as effective in improving your grip for heavy lifts, so it's not often used by powerlifters or weightlifters.
Do Commercial Gyms Allow Liquid Chalk?
Many commercial gyms don't allow liquid chalk, but some do. In my experience, GoodLife Fitness, LA Fitness, Blink Fitness, and World Gym all allow liquid chalk. However, it's best to call your local gym and ask whether chalk is allowed.
Can You Use Liquid Chalk In Powerlifting & Weightlifting Competitions?
Liquid chalk is allowed in both powerlifting and weightlifting competitions. Powdered chalk is usually provided, but you can bring your own liquid chalk with you if you prefer to use that instead. It's also good to have if the supplied chalk runs out.
The USAPL, IPF, and IWF rulebooks all specify that magnesium carbonate chalk is allowed. If you want to use invisible liquid chalk with a silica base, you should check with the meet organizers to see if it's allowed.
Other Chalk Resources
Final Thoughts
The best liquid chalk for lifters is easy to apply, doesn't have a strong odor and lasts a long time. I think the best option is Warm Body Cold Mind Liquid Chalk. It doesn't leave any residue behind, so it's also an excellent choice for people who work out in commercial gyms.
For great liquid chalk that's more suitable for dry or irritated skin, I recommend the Friction Labs Alcohol-Free Liquid Chalk. Because it doesn't have alcohol, it won't make your hands dry, and it won't aggravate your skin if you have cuts on your skin or suffer from a skin condition.
---
About The Author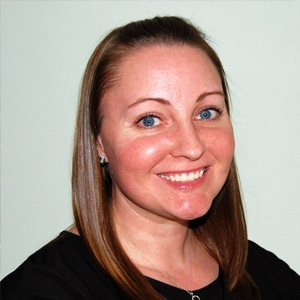 Amanda is a writer and editor in the fitness and nutrition industries. Growing up in a family that loved sports, she learned the importance of staying active from a young age. She started CrossFit in 2015, which led to her interest in powerlifting and weightlifting. She's passionate about helping women overcome their fear of lifting weights and teaching them how to fuel their bodies properly. When she's not training in her garage gym or working, you can find her drinking coffee, walking her dog, or indulging in one too many pieces of chocolate.