PowerliftingTechnique.com is independent and supported by our readers. We may earn a commission if you buy through the links below. For more, see our disclosures page.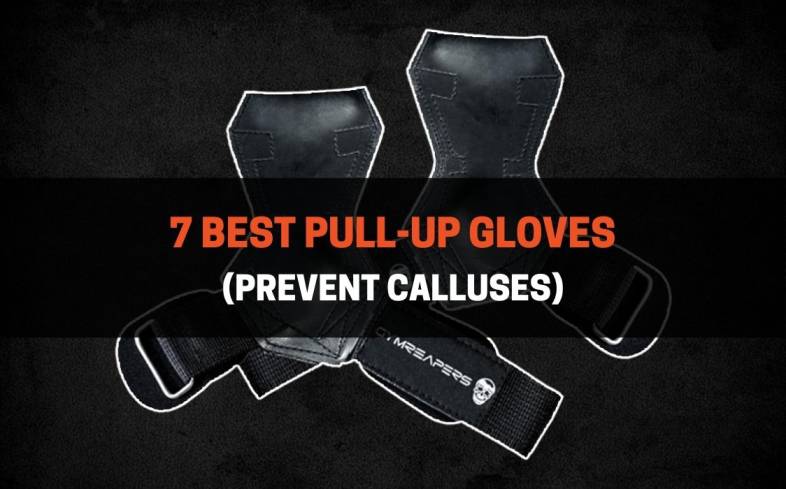 ---
One of the most common problems that anyone who does pull-ups is the formation of calluses and blisters. Luckily, there are plenty of pull-up gloves to help you prevent them.
So what are the best pull-up gloves? The best pull-up gloves are the Gymreapers Weight Lifting Grips, which have the best balance between protecting your hands from calluses, but not being overly bulky, which can negatively affect your grip strength. They are also very rugged and are built to last without fraying after repeated gym use.
Check to see whether the gloves are cheaper on Amazon or direct from Gymreapers. If there are no price differences, I recommend ordering direct from Gymreapers to get better customer service.
I've gone through my fair share of lifting gloves, and I've reviewed the top 7 gloves on the market that are the most suitable for pull-ups (but can also be used for deadlifts as well).
Let's get started!
Top 7 Pull-Up Gloves Available on the Market
The best liftin gloves for pull-ups are:
Automatically what you're going to notice about the Gymreapers Weight Lifting Grips is that they are not lifting gloves.
These are called "lifting grips", which are a much better piece of equipment when it comes to protecting your hands during the pull-up.
One of the negatives about using gloves for pull-ups is that they usually have a thicker material, which causes grip issues. The greater the distance between your hand and the pull-up attachment (because of bulky material), the harder it is to hold your grip.
The last thing you want is to fail your pull-up because of grip strength and not back strength.
As a result, the Gymreaper Weight Lifting Grips offer a great balance between protecting your hands from calluses and maintaining a decent grip over the barbell or pull up bar.
The way you wear these "grips" is that you wrap the cuff around your wrist, which is fastened with Velcro. Then you wrap the leather material around the pull-up bar, which acts as a protective barrier between your hand and the bar. It's the leather that keeps your palm from developing calluses.
I like that the cuff around your wrist is padded with neoprene, which makes them highly comfortable to use. Moreover, they're super breathable and the leather is durable to last you for a long time.
While the "grips" are slightly more expensive than traditional weightlifting gloves, I believe they solve the problem of developing calluses to a much greater extent, which is why they're my top pick.
Pros
Excellent design to protect the hands without compromising grip power
Available in many colors
Ultra-durable and comfy materials
Cons
Pricier than a traditional weight lifting glove
Check to see whether the gloves are cheaper on Amazon or direct from Gymreapers. If there are no price differences, I recommend ordering direct from Gymreapers to get better customer service.
---
If you want a versatile glove that can give you the proper wrist support to overcome this problem as well as protecting you from calluses while doing pull-ups, consider the Harbinger Pro.
Pull-ups are known for putting huge stress on the gripping and wrist muscles, making them one of the common causes of hand and wrist injuries.
This happens mainly because these muscles may not be as powerful as your lats and arms. Therefore, your body weight might drive you to fail the rep.
So if you already know that you have issues with your wrists (i.e. it's hard to keep them neutral or you get wrist sprains easily), then I would opt for the Harbinger Pro over the other options.
Pros
Extremely durable construction
The wrist support allows you to use the gloves for lifting too
Comes with a generous warranty
Cons
Takes time to put on and off
---
If you want a glove to give you more than just pull-ups, I highly recommend the Cross Training glove from Mava Sports.
Despite looking a bit odd compared to traditional gloves, this one is excellent at maintaining grip for pull-ups as well as Crossfit and WOD exercises.
The material on the palm also helps in boosting the traction of the gloves and makes it great for such intense sessions, even if you have extra-sweaty hands.
Pros
Excellent choice for lifters with sweaty hands
Breathable design to keep the hands dry
Allows you to adjust the wrist to secure the fit
Cons
The wrist support is a bit flimsy, but that shouldn't be an issue while doing pull-ups
---
Mava Sports are known for offering products at a wide range of prices. So, if you're on a budget, they still have you covered.
This one is available in a wide variety of sizes to suit all kinds of hands. Additionally, the glove is remarkably thin so it won't impact your grip.
Also, the inner lining of this minimalistic glove is made from microfiber and mesh, which is great for breathability and keeping your hands dry.
Pros
A good choice for someone looking for a bargain
Suits a lot of hands due to the variety of sizes
Breathable design
Cons
Microfiber is generally flimsy
---
Some people might suffer from extra sensitivity towards calluses. In that case, you might need a full-finger glove.
Unlike most bulky gloves on the market, This glove has caught my attention for being extra thin. Yet, it still has a few foam-padded pods at calluses sites only for added protection.
Despite that, I would still only recommend such a style if you already have serious blisters or develop ulcerations easily.
Pros
Ideal for maximum protection against blisters
A viable option for pull-ups in the cold
Foam pads at calluses site for extra comfort
Cons
Not suitable for small hands
---
A lot of women wear gloves while lifting to avoid the heavy impact of blisters on their hands.
Honestly, there's not much different about this glove compared with other gloves on the market in terms of callus protection. It offers the same features and will get the job done.
So what makes this for suited for women? Simply, it has more colors, including pink. So if that's your thing, then this option is for you.
As well, this glove does come in smaller sizes, which might fit a bit better if you have small hands. However, I think the next glove on my list is better for small hands.
Pros
Lightweight design
Silicone beads to enhance grip
The design of the glove makes it easy to put on and off with nails
Cons
The dye bleeds upon machine washing
---
The RIMsports workout gloves are among my all-time favorites because they can work for almost everyone without being too expensive.
The gloves come in various sizes and are made of lycra fibers, which are stretchy and thin enough to provide a snug fit without being too big or too small.
I also like that the gloves come with a lifetime warranty, which adds an extra layer of security to your purchase.
Pros
Available in small sizes and in a lightweight design
Affordable price
Comes with a lifetime guarantee
Cons
The colors might bleed into your hands through the first couple of uses.
---
Main Features: Choosing The Right Pull-Up Gloves
Here's a quick look at some of the main features to keep in mind while picking a suitable pull-up glove:
Thickness
Although I usually prefer starting with the materials of any gym gear because it reveals a lot about its quality, the thickness here is the most critical aspect, which is why I started with it.
Luckily, my recommendation here is as straight as it gets! Always look for a thin glove because a thick pull-up glove can greatly impact your grip power.
Materials
Leather and neoprene are the best materials when it comes to durability and grip while microfiber is affordable but a bit thick.
Since they're all suitable options, the choice here depends on your grip power, your budget, and how often you're planning to use the gloves.
Design and Coverage
The design and coverage of the gloves depend on the level of protection and purpose of using the gloves.
Some designs might also offer decent wrist support, which adds some versatility and hand stability needed to do other exercises!
It goes without saying that a metal bar hanging in your unheated garage would also be quite difficult to touch in winter. However, the best lifting and pullup gloves for the cold are usually full-fingered and slightly thick.
Benefits of Wearing Gloves For Pull-Ups
There are plenty of benefits and advantages that make wearing pull-up gloves a must for many athletes. Here's a quick look at some of these aspects:
1. They Protect Your Hands from Calluses and Blisters (And the Cold!)
Calluses are small and rough patches that show up at the connection between fingers and palms due to the contact between the bones of the knuckle and the bar while hanging from it.
The excessive friction combined with the pressure of your weight blisters the skin, causing it to harden and dry off, forming what is known as "calluses".
2. They Prevent Sweaty Hands from Slipping
Some people naturally sweat extensively from their palms, even if they're not doing serious exercises, let alone a hand-intensive one.
If you suffer from this condition, known as "Hyperhidrosis", pull-ups without wearing proper gloves can be technically impossible.
Of course, chalk is also a solution to this problem and you can always rely on it as an alternative to pull-up gloves.
However, chalk can be extremely messy and won't protect you from calluses like gloves. (more about this in the following sections)
Cons of Wearing Gloves For Pull-Ups
While pull-up gloves are great for various needs and offer different benefits, they're not flawless. So here are some of the drawbacks of wearing gloves for pull-ups
1. They Won't Help if Your Grip is Generally Weak
As you know, pull-ups are one of the most grip-intensive workouts out there because you rely on your grip power to support the entire weight of your body plus more.
Although I've previously mentioned that gloves, in general, can have a little boost to your grip performance, it has nothing to do with gripping power.
This is because some people have lats and biceps that are much stronger than their hands from a muscular point of view. So, while your body is able to do the pull-up rep, your hands can't tolerate the weight or maintain a stable grip.
In other words, if your grip is naturally weak due to small hand size or differential strength between what you can pull up and what your hands can handle, pull-up gloves won't be able to help you.
Instead, you need to work on improving your grip naturally to match up the muscular power of your body.
Luckily, there are plenty of exercises and items that you can use to improve your grip power and I have written a full review about the best hand strengtheners as well as how to use them properly.
Ideally, my recommendation here is the original IronMind Captain of Crush Hand Grippers because they're extremely accurate when it comes to the resistance level and highly durable to last you for a very long time!
2. Might Impact Grip if the Material is Too Thick
As I've stated above, the key benefit of having a pull-up glove in your gear is to protect your hands from calluses and skin injuries from continuous friction on the bars and hard plastic handles.
Yet, there is a limited benefit of extra grip strength by providing some form of slip resistance and traction pods lining in the gloves.
However, you should keep in mind that some gloves can be a little counter-intuitive if you're looking for something to improve your grip strength.
Although the special materials lining the palm might improve grip power, a thick glove with too much of these materials can easily overshadow this benefit and even reduce your overall grip power.
This problem would be more evident if you have small hands that naturally lack grip strength. In that case, almost all gloves on the market won't pose some issues when it comes to gripping power.
This is because the material, no matter how thin it is, acts as an extra thickness on the pull-up bar, which makes it hard to maintain proper grip when you're trying to lift your entire body plus any potential extra weights!
Should You Wear Pull-Up Gloves?
Now that you have a better idea about the pros and cons of wearing gloves, it should be easier for you to decide whether you need to wear them or not.
Ideally, the answer here depends on a variety of factors, including the purpose of wearing, the main pain points that make you need pull-up gloves, and the physical status of your hands.
For example, the main advantage of wearing pullup gloves is avoiding calluses and blisters from forming, then you definitely should wear them.
But, if you were only looking for an extra boost of grip, you need to pause for a minute and consider the size of your hands as well as the strength of your grip.
If you have a weak grip or very small hands but they get heavily sweaty, chalk should be a better solution for you.
In that case, I'd recommend Z Athletic Chalk Ball in powder form or Fire Team Fit Chalk in liquid form, which is much easier to clean.
Related Article: Is It Better To Do Pull-Ups Fast Or Slow?
How Should The Gloves Fit For Pull-Ups?
Sizing is a critical aspect of choosing any glove, yet it's almost always overlooked. Although you can get away with overlooking the size of the glove in a different situation, you won't be able to use a lifting or pull-up glove unless it's the perfect size for you.
As a rule of thumb, your gloves will only be a snug fit when they're not too big or too small when compared to your hand size, and here are some reasons for that:
A glove that is too small will be extremely difficult to put on and off due to the difficultly of passing your fingers through. Moreover, the glove will cut off the circulation to your fingertips, which causes pain, discomfort, and numbness.
A glove that is too large would still protect your hands from calluses, but will easily slide right off your hands while hanging from the bar, which makes it pointless.
For these reasons, you must make sure that the gloves aren't too tight or too loose on your hands, you should also test out your grip in the gloves and make sure that they don't limit them by flexing your fingers and see if you can do it with ease and comfort.
Additionally, if the gloves have built-in straps, you should be able to wrap them around to secure them from slipping off your hands.
Frequently Asked Questions
How Can You Protect Your Hands When Doing Pull-Ups?
The problem with pullups is that you carry the entire weight of your body on your palms, which causes severe calluses and ulceration in the hands.
There are also other issues that you may encounter. For example, the palm pain due to the intense weight pressure while doing the pullups or other WOD exercises in CrossFit.
Luckily, a glove is a simple solution to all these kinds of problems as long as you consider the key aspects of choosing a pull-up glove that suits your needs.
How Do You Clean Your Pull-Up Gloves?
Each glove comes with its own set of care instructions, which are usually written on the package. However, even if your gloves are machine washable, you can also wash them by hand.
To clean the gloves, you should fill up your sink with warm soapy water and soak the gloves in them for 30 minutes.
Make sure that you go through every finger in each glove and rub off any grime, then squeeze all the water out before flipping them inside out to let them air dry.
Ideally, if you use your gloves every day, you'll need to clean them once a week to prevent them from getting smelly.
Chalk vs Pull Up Gloves: Which Is Better?
Both chalk and pull-up gloves are great solutions for sweaty hands and avoiding slippy accidents while doing pull-ups or lifting a barbell.
Yet, pull-up gloves have the added perk of protecting your hands from calluses and blisters as well as disturbing the weight pressure on the palms to alleviate post-workout pain, all without causing powdery mess around you.
Although chalk has a technical edge at providing excellent tactile sensation and avoiding grip issues that thick materials do, I still believe that the pros of gloves outweigh the limited advantages of chalk.
Wrap Up
There you have it! A complete guide with everything you need to know about the pull-up gloves, so you can choose the best one for your needs.
Ideally, I pick the Gymreapers Weight Lifting Grips as the best pull-up gloves because they offer full protection against calluses without compromising grip power.
However, if you're looking for something a little more affordable, you may want to consider the Mava Sports Ventilated Workout Gloves.
Other Gloves Resources