Disclosure: We're supported by our audience, so if you purchase through some links on this post, we may earn a commission at no cost to you.
In the winter, I find it harder to get motivated to work out in my garage. But by having multiple heating options, it makes working out in a cold space more tolerable.
I've gone through multiple heaters since I started training in my garage several years ago, and I found a product that outperforms the others even when the temperatures drop into the single digits.
So what is the best heater for a garage gym? The best heater for a garage gym is the Dr Infrared Portable Space Heater. It can heat up 400-500 square foot rooms quickly and the temperature is easy to control. It also comes with several safety features and doesn't use a lot of electricity or external sources of fuel, making it a cost-effective option.
Working out in a cold room makes it harder for your muscles to stay limber, which increases your risk of injury. Dressing in cold-weather apparel can only do so much, and too many layers makes it more difficult to move comfortably.
In this article, I'll review six of the best heaters for garage gyms so you can stay warm while you're working out in the winter. I'll also discuss everything you should consider before buying a heater for your garage gym and provide tips on how to choose the right heater for you.
10 Factors to Consider When Buying a Heater for Your Garage Gym
This is a long list, but it's an important one. Anything involving heat and electricity requires careful planning. It's essential to think through each of these items so you can reduce the risk of dangerous accidents and keep your heater functioning properly.
1. The Size of Your Garage
You'll likely be able to heat up a 100 square foot garage with just one heater, but a larger garage may require more heating options. My garage is about 400 square feet, and even though I only keep heaters directed towards my workout area, I use two different ones on very cold days.
A good way to determine what kind of heater you'll need for the size of your garage is to look at the British Thermal Unit (BTU), which measures the amount of energy it takes to raise the temperature of a room.
Heaters with higher BTUs can heat up larger spaces more efficiently. This calculator can help you determine how many BTUs you'll need.
2. Whether or Not You Have Access to an Outlet
Most heaters need to be plugged in, but they can't always be plugged into a regular outlet.
If there's no outlet in your garage or you're not sure if the outlet you have is the correct voltage, you'll need to consider another heating option or hire an electrician to install an outlet for you.
3. Energy Efficiency
Most modern space heaters are energy efficient and won't rack up your electricity bills that much, especially if you don't run them all day long.
But if you work out for several hours a day, you'll want to look for energy-efficient heaters that won't cause significant increases in your electricity bills.
4. How Cold Your Garage Gets in the Winter
If you live in a climate with mild winters, your garage may never get colder than 30°F or 40°F. You won't need a complicated heater to warm it up to a more comfortable temperature.
But if temperatures regularly fall into the single digits where you live, you might want to consider using more than one heater or buying one with a higher BTU.
5. How Much Ventilation Your Garage Has
Some heaters are powered by propane or kerosene.
They can heat up your garage to a high temperature in just a few minutes, but you'll need to keep a window or door open slightly because the fumes can be bothersome. It's also wise to put a carbon monoxide detector in your garage if you use one of these types of heaters.
6. Budget
In addition to considering how much your actual heater will cost, you may also need extra supplies depending on what kind of heater you get.
For example, you'll need a propane tank to run certain types of forced air heaters, and you'll likely need to fill the tank four or five times throughout the winter.
And if you need to hire an electrician or HVAC technician to help you install your heater, that will cost you a couple hundred dollars.
7. Safety
When used incorrectly, space heaters can cause fires.
If this is a concern of yours (and it should be), you should look for a heater with safety features such as automatic shut-off.
Because heaters can get hot to the touch, you should also consider getting one with cool-touch surfaces so you don't burn yourself if you accidentally come into contact with the unit.
8. Noise
If you live with other people, you may want to look for heaters that aren't too noisy.
This is especially the case if you work out very early in the morning or very late at night.
9. Where To Put Your Heater
In a large garage, you have more flexibility with where to place your heater. But if you have a small home gym, you'll need to think about the best place to put it.
If you have to keep the heater on the floor, you should put it in a spot where you won't knock it over during your workout. It's also recommended to clear at least three feet of space around it to avoid starting fires. If you mount the heater to a wall, it should be far enough away from other wall hangings or decorations that it won't ruin them.
10. How Much Control You Want Over the Temperature
Some heaters allow you to specify an exact temperature for your garage.
If you're particular about how warm you want your garage to be, you may want to look for a heater that you can set to a specific temperature.
6 Best Heaters for Garage Gyms
The 6 best heaters for garage gyms are:
The best overall heater for a garage gym is the Dr Infrared Portable Space Heater because it can heat up large spaces quickly, it has excellent safety features, and it doesn't make a lot of noise.
A unique thing about infrared heaters is that they don't increase the temperature of the air around you, but they warm up the objects in the room by transferring heat onto them. If you hate having to put your hands on a cold barbell, an infrared heater is an excellent option for you.
The Dr Infrared heater comes with a 12-hour automatic timer. You can set it to turn on before your workout so your equipment is warmed up by the time you're ready to train.
I don't like leaving my heaters plugged in when I'm not using them so I've never tried the automatic timer, but I have turned this heater on about 15-30 minutes before my workout, and it does a good job of warming everything up ahead of time.
What I also like about this heater is that I can set it to an exact temperature. While I like being warm when I'm working out, I don't like getting too hot. The thermostat allows me to control how warm I get so I can stay comfortable during my entire workout.
This heater weighs 24lbs, which isn't very heavy, but it is bulky. However, it comes on wheels that make it easier to move around.
Pros
Comes equipped with an automatic timer
Tip-over protection
Sleek design
Low noise level
Can set the thermostat to an exact temperature
Cons
More expensive than some other options
Have to clean the filter at the end of the season (but it's easy to do by vacuuming it)
---
If your garage is larger than 500 square feet, a propane heater like the Sunnydaze Forced Air Propane Heater is an excellent choice. This heater has the ability to heat rooms up to 1,080 square feet in just a few minutes.
Because this heater uses propane as its main energy source, it can only be used in well-ventilated areas. But even though you have to keep a window or door open when you use it, it still does a good job of keeping your space warm.
One drawback of this heater is that you have to buy a propane tank separately, and it goes through propane quickly. A 20lb tank will only last for about three hours. However, you can hook it up to propane tanks up to 100lbs if you want the propane to last longer.
Another thing to be aware of is that propane heaters like the Sunnydaze Forced Air Heater introduce some moisture into the air, which can leave condensation behind and cause your barbell to rust. Making sure your garage is well-ventilated and not using this heater in too small of a room can alleviate this.
Pros
Lightweight and easy to move around
Automatically shuts off once it reaches 85°F
Heats up rooms up to 1,080 square feet within 10-15 minutes
Cons
Expensive
Propane tank and fuel need to be purchased separately
Should only be used in well-ventilated areas
---
I don't have this exact heater, but I have one very similar to the De'Longhi Oil-Filled Radiator Space Heater. It's best for heating up spaces up to 250sq ft. My garage is larger than that, so it doesn't heat up the entire garage, but I like to sit next to it in between my sets to stay warm.
Although this is an oil-filled heater, you will never need to replace the oil. The radiator doesn't leak, and it's made with rust-proof finishes. You don't have to worry about getting oil all over your floor, and if you get a small amount of moisture in your garage, it won't damage the surface of the heater.
This heater also comes with an automatic shut-off feature that will cut off the power supply if the temperature gets too high. I've never had this happen with my heater, but it's nice to know the feature exists because I get very paranoid about anything related to heat and electricity.
Pros
Wheels make it easy to move out of the way
Has a cool-touch handle so you don't burn yourself when moving it
Never needs to be refilled
Doesn't make any noise
Leak-proof and rust-proof design
Cons
Isn't enough to heat up a large garage on its own
Have to sit close to it in order to feel the heat
---
If your garage is small and you can't afford to have a heater taking up space on the floor, I recommend a wall-mounted heater like that Heat Storm Infrared Heater.
Like the Dr Infrared heater above, the Heat Storm heater works by warming up objects in a room instead of increasing the air temperature. It also starts to work quickly. I've been setting the heater to 68°F, and I start to feel warm within five minutes.
I also like that this heater can be controlled via the Smart Life mobile app, Amazon Alexa, or Google Assistant rather than a remote control, which is one less thing to worry about losing if you have a messy garage like I do.
It's also nice that you can turn the heater on without having to go out to your garage. Like I mentioned earlier, I'm very particular about not leaving heaters plugged in when I'm not using them, so I don't use the app unless I'm in my garage.
There was no owner's manual in the box I received, but I was able to find a digital version of it online. My box also didn't come with any of the tools I needed for installation, but my husband and I were able to mount it with screws and anchors we already had at home. Once we found the correct tools, installation only took a few minutes.
It's possible that my missing supplies were an isolated incident, but you should be aware that you may need to purchase extra items before you install this heater.
Pros
Doesn't take a long time to start working
Only weighs 9lbs
Easy installation
Can be controlled via the Smart Life mobile app, Amazon Alexa, or Google Assistant
Cons
Has to be elevated if you don't mount it to the wall and the feet are sold separately
Not ideal for very large garages
---
Another space-saving option for garage gym heaters is a ceiling-mounted heater like the Fahrenheat Electric Heater. You can easily mount it into a corner of your garage so it doesn't take up precious floor space, and you can point it towards whichever direction you want the heat to go.
This heater prevents the circulation of cold air by delaying the start of the fan until the heating elements have warmed up. If you forget to turn it on before your workout, you won't have to worry about more cold air blowing through your garage until the heat starts working.
Even though this heater is an excellent product and does a great job of heating up large spaces quickly, there are a couple of drawbacks.
It has to be hardwired to your electrical system, so you won't be able to hook it up yourself unless you happen to be an electrician.
And while this product has a built-in thermostat, it's not very accurate. You may want to ask your electrician to connect it to an external thermostat, as the heater can make your space quite warm if you're not careful.
Pros
Automatic shut-off if it gets too hot
Built-in fan quickly cools down the unit when you're done using it
Can be mounted to the ceiling to save space
Easy installation
Cons
Expensive
Need an electrician to hardwire it to your electrical system
Built-in thermostat isn't very accurate
---
Like the portable radiator I mentioned above, I don't have this exact model of the space heater, but the one I have in my garage is just like the Lasko Oscillating Electric Ceramic Space Heater. I like to keep it pointed towards my squat rack and leave it on the oscillating feature so it blows warm air around my workout space.
Combined with my portable radiator, the space heater keeps my garage warm enough that I can work out in just a T-shirt or tank top even when the outside temperatures dip into the 20s or below. But if it gets any colder than that, I still need to bundle up more.
This space heater comes with two heat settings, which is great because you can adjust it based on how cold your garage is on any given day. I start my workout with my heater on the higher setting, but by the time I'm halfway done, I usually have to turn it down to the lower setting.
The Lasko Oscillating Space Heater can heat up rooms up to 300sq ft. When it's running, the outside of the unit stays cool to the touch. If you accidentally come into contact with it, you won't get burned. However, the plug gets hot if you leave it running for more than a couple of hours.
Pros
Doesn't make a lot of noise
Doesn't take up a lot of room
Affordable
Stays cool to the touch even when it's running
Cons
Won't heat up a large garage on its own
Plug gets hot if the heater is running for too long
---
Buyer's Guide: How to Choose the Right Heater for Your Garage Gym
What Temperature Should Your Garage Gym Be?
The ideal temperature for working out is 68-74°F, but it also depends on your personal preferences.
If you're like me and you don't like being too warm when you work out, you should aim to keep your garage's temperature at the lower end of that range. But if you perform best in hotter areas, you'll likely keep the temperature at the higher end.
Will Putting a Heater in Your Garage Increase Your Electricity Bill?
The majority of heaters on the market today are energy-efficient and won't increase your electricity bill too much. One 1,500W heater costs an average of $0.20/hour to run, which only equates to an extra $6/month.
If you're concerned about electricity costs, you can also insulate your garage if you haven't already done so. While insulation alone won't make your garage feel like 70°F when it's 20°F outside, it will add an extra layer of protection from the cold. You also won't have to put your heater on the highest setting or run it for an extended period of time to stay warm.
Furthermore, sealing gaps on your garage doors and windows and putting area rugs on the floors (though not where you're working out) can further prevent cold air from seeping in. This will help warm up your garage even more so you don't have to rely on a heater as much.
How Can You Stay Safe Using a Heater in Your Garage?
Many heaters are equipped with safety features such as cool-touch surfaces and automatic shut off. But regardless of which heater you get, there are several precautions you should take to ensure you stay safe and reduce your risk of starting a fire:
Keep the heater out of the reach of children and pets
Keep other belongings at least three feet away from the heater
Put the heater in a place where it won't get knocked over by a dropped barbell
Follow all of the manufacturer's instructions carefully
Keep the heater away from places where snow or rain can come into contact with it
Don't plug a heater into a power strip or extension cord
Don't leave the heater unattended for a long period of time
Only plug the heater into an outlet with the appropriate voltage, which you can find on the electrical cord label or in the user's manual
Do Heaters Come with Warranties?
Whether or not your heater comes with a warranty depends on the manufacturer and where you buy the unit. Most heaters do have warranties, but the length and stipulations can vary.
For example, your heater may have a limited one-year warranty that becomes void if it's damaged from improper use such as plugging it into a power strip.
You can find the warranty in the user's manual or on the manufacturer's website.
What Kind of Outlet Can You Plug Your Heater Into?
The type of heater you get will dictate what kind of outlet you can plug it into (or if you need to plug it in at all). Some kerosene or propane heaters don't require any electrical outlets because they run on different types of fuel.
Most other heaters, including space heaters, portable radiators, and infrared heaters, can be plugged into 120V outlets. It's not recommended to plug them into extension cords or power strips because it increases the risk of a fire.
What Size Heater Do You Need for Your Garage?
How big your garage is, what kind of climate you live in, and how much of your garage you actually want to warm up will determine what size heater you need. And when looking for a heater, you'll want to look for BTUs as opposed to the size of the product itself. The BTUs will tell you how large of a space the heater can warm up.
The exact BTUs you need for your garage will vary, but if you live in a cold climate, you'll likely need 50-60 BTUs/square foot to warm up your garage. If you can't find a heater that's sufficient enough on its own, you can also purchase two separate ones and space them out throughout your garage.
Final Thoughts
For a safe heater that can warm up your garage within just a few minutes, I recommend the Dr Infrared Portable Space Heater. It's quiet, it has a built-in adjustable thermostat, and it has an automatic timer so you can set it to start running before you begin your workout. And although it's a bit bulky, it's easy to move around.
If you have a large garage, I recommend the Sunnydaze Forced Air Propane Heater. It only takes 10-15 minutes to heat up garages as large as 1,080 square feet. Just keep in mind that it goes through propane quickly, and when you use it, you'll need to keep a window or door slightly open for ventilation.
Other Home Gym Equipment
Need other home gym equipment, check out the following reviews:
---
About The Author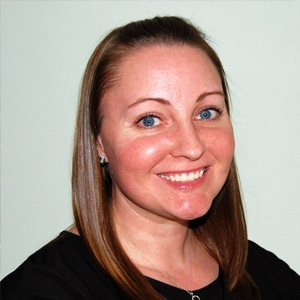 Amanda is a writer and editor in the fitness and nutrition industries. Growing up in a family that loved sports, she learned the importance of staying active from a young age. She started CrossFit in 2015, which led to her interest in powerlifting and weightlifting. She's passionate about helping women overcome their fear of lifting weights and teaching them how to fuel their bodies properly. When she's not training in her garage gym or working, you can find her drinking coffee, walking her dog, or indulging in one too many pieces of chocolate.