When I'm working out at home, I have to be really careful so I don't damage my floor. I've been training in my garage gym for about four years now, and over that time I've come up with several different ways to protect the floor.
The 6 best ways to protect your floor from weights are:
Do a lot of rack pulls
Use bumper plates
Put horse stall mats down
Use rolled rubber mats or interlocking rubber tiles
Build or purchase a lifting platform
Use crash mats
I created this list specifically with garage floors in mind, but you can follow these tips even if you train in a living room or bedroom.
In this article, I'll review:
The six best ways to protect your floor from weights
What to put under your squat rack
How to protect your floor from deadlifts
Whether carpet, wood, or rubber is the best for protecting your floors
6 Ways To Protect Your Floor From Weights
1. Do a Lot of Rack Pulls
While most people think that floor damage can only occur if you drop a loaded barbell from overhead, even just setting the bar down with too much force after deadlifts can crack your floor.
To reduce the amount of stress your floor has to handle, incorporate more rack pulls into your routine. Rack pulls are a fantastic exercise for strengthening the glutes and spinal erectors, and it's a beneficial movement for lifters who are weak at the knees. Doing more rack pulls will not only improve your deadlift but will give your floor a bit of a break.
Of course, you shouldn't completely stop deadlifting from the floor. But incorporating more rack pulls will reduce how often you drop weights on the floor in between reps.
2. Use Bumper Plates
Bumper plates are steel plates that are covered with a thick protective coating made out of rubber. Weightlifters and CrossFitters use them because they can drop them from overhead after doing movements like snatches and clean and jerks. However, powerlifters and other individuals who train at home should use them as well since they are less likely to damage your floor.
The main advantage of bumper plates is that they absorb shock and don't cause as much vibration when they're dropped. Instead of all of the force going into the floor, the plates absorb some of it so the floor doesn't have to take the brunt of the impact.
The most affordable bumper plates I can recommend are the ones from Fringe Sport.
I don't believe you need to purchase competition-style bumper plates (like the ones from Rogue Fitness) if you are just stocking your home gym.
One drawback of bumper plates is that they have a large diameter so you can't fit as many plates on the bar. If you can deadlift a lot of weight, you can even use bumper plates in combination with metal plates.
This won't protect your floors as much since the bumper plates will then have to absorb shock from both the floor and the metal plates, but it's a safer alternative to using metal plates on their own.
I recommend using a 1:1 ratio of bumper plates to metal plates. So if you load the bar with two 25lb bumper plates on each side, you shouldn't use anything more than two 25lb metal plates. I also advise that you don't do this for any movements where you're dropping weights from overhead, since you can crack the inserts on the bumper plates.
Bumper plates are more expensive than other kinds of plates, but the cost is worth it. I've been using bumper plates in my garage gym for years, and so far I've been fortunate enough to have never damaged my floor.
However, it's important to note that even though bumper plates are less likely to cause significant damage to your floor than other types of plates, they're not foolproof. Even if you train with bumper plates, you should still use a platform or rubber mats, as I'll talk about below.
3. Use Horse Stall Mats
In addition to protecting your floor, horse stall mats provide a non-slip surface and help keep sweat, chalk, and dirt from building up on your floor.
These horse mats are the ones that I have in my home gym (I recommend the 1/2 inch or 3/4 inch thick mats):
The primary purpose of horse stall mats is to provide a comfortable surface for horses and other large animals, but their shock-absorbent properties make them ideal for home gyms. You can buy horse stall mats from a tractor supply store.
Horse stall mats are inexpensive, durable, and slip- and moisture-resistant. They're also non-compressible so they won't sink over time under heavy weights, and they help reduce noise. The only downsides are that they're heavy and they need to be left outside for several days before you lay them down to let the rubber odor dissipate.
Horse stall mats are commonly sold in 4'x6' sheets. No matter the size of your home gym, you can cut them with a strong utility knife to fit in your space. They come in different levels of thickness, but I recommend getting mats that are at least ¾ of an inch thick.
Related Article: 11 Best Bumper Plate Storage Ideas (Trees, Racks, & DIY)
4. Use Rolled Rubber Mats or Interlocking Rubber Tiles
If you don't want horse stall mats, you can get rolled rubber mats such as these Gorilla Mats.
Interlocking rubber tiles such as these American Floor Mats are an option as well.
Rubber mats like these are durable, waterproof, and slip-resistant. They can support the weight of a squat rack while allowing you to get a good grip on the floor for squats and deadlifts. They're designed to absorb shock and vibrations so they'll help protect your floor from dropped weights.
Like horse stall mats, rolled rubber mats and tiles are available in different levels of thickness. I recommend getting mats that are at least ⅜-inch thick, but if you lift very heavy weights, you should consider mats that are at least ½-inch thick.
You may also want to secure them to the floor with double-sided tape so they don't slide while you're lifting.
5. Build or Purchase a Lifting Platform
If you're a very strong individual or you train the Olympic lifts, rubber mats may not be enough to protect your floor from weights. You may want to consider building or buying a lifting platform for extra protection.
A lifting platform can save your floor from damage because it not only absorbs the force from a dropped barbell but it also spreads the weight over a larger surface area. This helps protect your floor from both direct impacts and load over time. You can buy a platform from places such as Rogue or build your own.
To build your own lifting platform, you'll need four 4'x8' pieces of ¾-inch plywood, 1.25"-inch nails, three or four tubes of liquid nails, and a 4'8'' ¾-inch thick rubber mat or horse stall mat. You'll also need a piece of ¾-inch thick oak or maple plywood to put in the center of your platform.
Place two sheets of plywood down, making sure there's no gap between them. Squeeze a tube of liquid nails all over them. Lay the other two sheets of plywood on top perpendicularly. Screw nails into the plywood about 15" apart. Cut the rubber mat in half, then squeeze more liquid nails along the sides of the platform and lay the mats down.
Squeeze more liquid nails over the center of platform where the oak or maple plywood will go. Lay the plywood down, then put weights all over the platform to help seal the liquid nails. Let it sit overnight.
6. Use Crash Mats
Crash mats are intended to dampen noise, but they also help protect floors from dropped weights. High-quality crash mats are made out of heavy-duty foam, and most are covered with durable vinyl that won't rip easily.
Crash mats are portable, so if you work out in a small space, you can move them out of the way when you don't need them. However, using crash mats for deadlifts forces you to lift from a higher height, and they could get in the way if you have a wide sumo stance.
Crash pads are best for Olympic lifting or conventional deadlifts, but if you use them, you'll have to stand on something that puts you at an even level.
Related Article: Hex Dumbbells vs Round Dumbbells: Which Are Better?
Frequently Asked Questions: Protecting Your Floor from Weights
What Do You Put Under Your Weight Rack?
What to put under your weight rack depends on a few factors, including what kind of squat rack you have, what kind of floor you have, what kind of lifting you do, and whether or not you want to bolt the rack to the floor.
Some squat racks have rubber feet that protect your floor while also preventing the rack from slipping. If your squat rack has rubber feet, you can put it directly on a concrete floor in your basement or garage. This is what I do, and the floor underneath my squat rack is still in good shape.
If you're putting a squat rack on hardwood or carpet, or if you do any Olympic lifting, I recommend putting some plywood underneath your squat rack.
It's best to use ¾-inch thick plywood. If you're really concerned about your floor, you can layer three or four pieces of plywood and secure them with nails and liquid nails. You can also put a rubber mat or a horse stall mat over the plywood for extra traction and shock absorption.
Putting down plywood is also necessary if you want to bolt your squat rack to the floor, especially if you have carpet, tile, or hardwood floors. You can bolt a squat rack into a concrete floor, but drilling into any other floor type can harm the structural integrity of the floor.
If you're putting plywood or a platform on a hardwood floor, I recommend putting a non-slip pad down first. It will prevent the floor from getting scratched or stained.
How Do You Protect Your Floor From Deadlifts?
If you can deadlift a lot of weight, putting a rubber mat down may not be enough on its own to protect your floor. And even if you swear you'll control the descent after each rep, you'll still probably have times when the bar slips from your hands or you accidentally let it go before it's on the floor.
As such, the best way to protect your floor from deadlifts is to use a lifting platform. You can buy one or build your own following the instructions I provided above.
Can Weights Break Your Floor?
Weights can break your floor. Even if you don't drop your barbell from overhead, the repeated impact from hitting the same spot on the floor in between deadlift reps can cause cracks in the floor over time. This is especially true for hardwood or tile floors, but even concrete floors can break due to the consistent stress of having weights dropped on them.
It's important to keep in mind that if you drop weights, it's not just the weight of the bar that the floor has to support. You also have to be mindful of the shock load, or the sudden force that occurs when an object accelerates or decelerates.
Even if you drop a barbell that's only loaded with 150lbs from hip-height, the shock load can be equivalent to several thousands of pounds. Doing that in the same spot over several months or years can eventually cause your floor to crack or pulverize.
Carpet vs Wood vs Rubber Mats: Which Is Better To Protect Your Floor?
Depending on how heavy you lift, what kind of floor you have, and what kind of plates you use, rubber mats, wood, or a combination of the two are the best options for protecting your floor.
Carpet isn't made for absorbing the type of shock that occurs from dropped weights, so you still run the risk of damaging the subfloor even if you install carpet.
It's not advisable to lift on carpet, anyway. Even low pile commercial carpet is too soft and doesn't provide enough of a stable surface that you'll need when squatting or deadlifting. Carpet is also more likely to absorb sweat and chalk and hold onto odors, and it's more difficult to clean.
If you're deadlifing several hundred pounds or doing snatches and clean jerks, you'll want to protect your floor with a plywood platform and rubber mats.
Rubber mats on their own won't be able to absorb all of the force of a dropped barbell, but plywood adds another layer of protection, especially when you layer multiple sheets of plywood on top of each other.
Other Home Gym Resources
Final Thoughts
Having to repair a damaged floor is costly. Using rubber mats, crash pads, or a lifting platform in your home gym can all help protect your floor from cracking.
Investing in bumper plates will also help protect your floor. They're more expensive than other types of plates, but it's much cheaper than having to repair a broken floor.
---
About The Author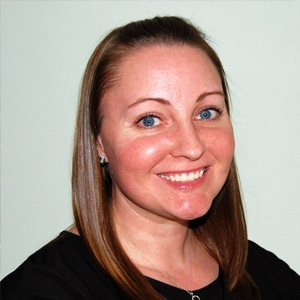 Amanda is a writer and editor in the fitness and nutrition industries. Growing up in a family that loved sports, she learned the importance of staying active from a young age. She started CrossFit in 2015, which led to her interest in powerlifting and weightlifting. She's passionate about helping women overcome their fear of lifting weights and teaching them how to fuel their bodies properly. When she's not training in her garage gym or working, you can find her drinking coffee, walking her dog, or indulging in one too many pieces of chocolate.