PowerliftingTechnique.com is independent and supported by our readers. We may earn a commission if you buy through the links below. For more, see our disclosures page.
As someone who lives in an area with harsh winters and trains in a garage gym, staying warm during my workouts is important. Putting my training on hold for an entire season isn't something I'm willing to do, so I've found several ways to keep my garage warm while I work out.
Below are my 10 tips for warming up your garage gym:
Use space heaters or portable radiators
Use a forced-air heater
Wear layers
Insulate your garage
Weatherstrip your garage doors and windows
Seal the bottom of your garage door
Cover your floor
Install electric heating panels
Install a ductless heating system
Mount an electric heater to the ceiling
After reading this article, you'll be able to train comfortably in your garage gym even as the temperatures drop.
10 Tips for Warming Up Your Garage Gym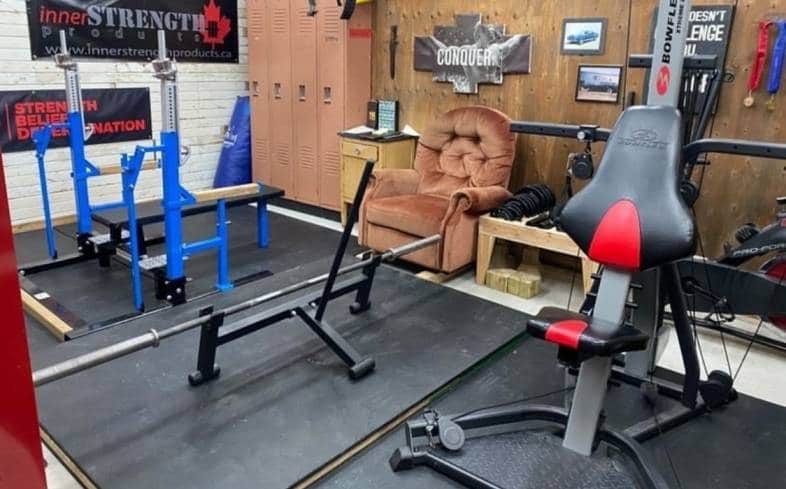 1. Use Space Heaters or Portable Radiators
I have both a space heater and a portable radiator in my garage, and they keep it pretty toasty, even if the temperatures dip into single digits. The space heater is good for circulating warm air while the portable radiator is nice to sit next to so I can stay warm in between my sets.
I like to turn on both units about 10-15 minutes before I start working out. While I wait for the heat to kick in, I'll do whatever warm-ups I can inside so I'm ready to go once the garage is warmed up.
How long you keep the heaters running for depends on how cold it is and how warm you like your room to be when you work out. Sometimes I'll leave both heaters on full-blast for the duration of my workout. Other times I'll turn off the space heater halfway through and just leave the portable radiator on.
For a space heater, I recommend the Lasko 1500W Oscillating Electric Ceramic Heater. It's quiet, energy-efficient, and has an adjustable thermostat so you can heat your garage gym to your desired temperature. It may not be enough to heat up a large garage, but it can provide warmth for spaces up to 300 square feet.
For a portable radiator, I recommend the De'Longhi Comfort Temp Full Room Radiant Heater. This radiator has an adjustable thermostat and three heat settings so you can control the temperature of your garage gym. It also has built-in safety features that prevent it from overheating.
Want more reviews? Check out my article on the 6 Best Heaters For Garage Gyms.
2. Use a Portable Forced-Air Heater
An alternative to a space heater or portable radiator is a forced-air heater, also known as a torpedo heater. Torpedo heaters produce a lot of heat — some can heat up a room as large as 1,500 square feet in just a few minutes. The most common types of forced-air heaters are fueled by either kerosene or propane.
Even though forced-air heaters are effective at warming up cold areas, there are a few downsides to using them. They are noisy, which will not only be annoying to you while you're working out but can disrupt everyone else who lives with you. And they introduce moisture into the air, which can leave condensation on your equipment and cause your barbell to rust.
It's also extremely important that your garage has some ventilation when you use a forced-air heater. They can produce a fuel odor that can cause some side effects with long-term exposure. If you plan on leaving a forced-air heater on for a long time, you should also keep a carbon monoxide detector in the garage.
I recommend the Sunnydaze 125,000 BTU Forced Air Propane Heater. It's a bit pricey and you'll have to buy a propane tank separately to connect it to the heater. But it's small, lightweight, and it can heat up a room as large as 1,080 square feet in just 10-15 minutes.
3. Wear Layers
This technically isn't a tip about warming up your garage, but it is still important to keep your body warm as well. When you dress in layers, you can remove articles of clothing as your garage warms up and your body's temperature rises so you'll stay comfortable throughout your workout.
I like to be comfortably warm when I work out, but I don't like being too hot. I'll usually wear a hoodie while I'm warming up and sometimes I'll keep it on for my first couple of sets, but after that, I just wear a thin long-sleeved shirt or a T-shirt. And if there are really cold days where I can't get myself warm enough, I'll wrap myself in a blanket to stay warm during my rest periods.
When the temperatures dip below freezing, I recommend wearing fleece-lined leggings or long pants and a hoodie or base layer over a T-shirt or tank top. It's not too many layers that you can't move freely, but it's enough that it will keep your body warm. You can always remove layers if you get uncomfortable.
I also recommend wearing gloves to keep your hands warm, especially if your barbell is too cold to hold onto.
4. Insulate Your Garage
Insulating your garage is one of the most important components of keeping your garage warm, especially if the temperatures where you live drop into the single digits. The other tips in this article won't help much if your garage isn't adequately insulated.
The process may seem daunting, but it's possible to do it yourself. The most common types of insulation are spray foam, fiberglass, and rigid panel insulation, but fiberglass is the cheapest and easiest to install yourself.
It's best to install fiberglass insulation when the studs of your garage aren't already covered with drywall. Further down in this article, I provide instructions for how to install fiberglass insulation.
If your garage walls aren't insulated but they're already covered with drywall, it's best to have a professional install insulation for you. You can drill holes in the walls and use spray foam, but in many cases, the cost of buying the spray foam and renting a machine to apply it is more expensive than hiring someone else to do the job for you.
You should also insulate your garage door. Wooden garage doors should be insulated with rigid insulation panels, while metal doors can be insulated with either rigid insulation or fiberglass batts. You can buy the insulation and all of the installation tools individually, or you can purchase a kit that has everything you need.
One final note — if you do go the DIY route, make sure that whatever insulation you choose doesn't contain formaldehyde, as long-term exposure can lead to certain types of cancers.
5. Weatherstrip Your Garage Doors and Windows
Your garage door and the windows in your garage should have weatherstripping. Weatherstripping is a barrier that helps seal gaps and reduce air leaks in your garage.
Weatherstripping goes along the top and sides of a door jamb. It can last for two years or longer, but being exposed to the elements, being scratched by critters, and normal wear and tear can cause it to break down faster.
There are several different kinds of weatherstripping. Metal weatherstripping is the most durable, but it's difficult to install. If you're installing weatherstripping yourself, you should look for vinyl or rubber. You can find weatherstripping kits at any hardware or home improvement store.
The weatherstripping process only takes about an hour. You'll need a power drill and a razor knife or something to get the stripping to the correct size. If your weatherstripping doesn't come with nails, you'll need 1.5-inch nails.
Before you begin, remove any old weatherstripping and wipe the doors and windows clean with warm soapy water. This will clear away dirt and debris that can affect how well the new weatherstripping functions.
Measure the spaces you need to seal and cut the weatherstripping to size with a razor knife. Your weatherstripping may have divots to indicate where the nails should go. If it doesn't, pre-load the nails about 12 inches apart. This will make it easier to secure them once you've applied the weatherstripping.
Starting in the center, line the weatherstripping up against the gap along the door or window and secure the nails with a power drill. I recommend not screwing the nails in all the way at first. You should test your garage door to make sure it opens and closes properly before securing the nails all the way.
6. Seal the Bottom of Your Garage Door
Like weatherstripping, the seal on the bottom of your garage door helps block cold air from seeping into your garage. Your garage door likely already has a seal, but if your garage is colder than usual, you may need to replace it.
Installing a seal to the bottom of your garage door is similar to weatherstripping, but the type of seal you get depends on what kind of door you have. Metal garage doors usually have a track on the bottom, but wooden doors don't. You can find both kinds of seals at any hardware or home improvement store.
Before you begin the process of installing a new seal, you'll need to remove the old one. If your door doesn't have a track, it's likely that the old seal was nailed into place. You can just remove the nails with a nail extractor, screwdriver, or pliers and strip the seal away.
If your door does have a track, you'll need to remove the screws that are securing the old seal in place and slide the seal out from one end of the track. The seal may be broken into small fragments, so you'll have to slide it out in increments. If any pieces get stuck inside the track, use a flathead screwdriver to bend the track and move the seal along.
Once the old seal is removed, clean the bottom of the door with warm soapy water to remove any debris. If you don't have a track, you can simply line the seal up with the bottom of the door and nail it into place.
If your door has a track, you'll notice that it has two grooves that the seal will slide into. Fold the seal in half so it makes a U-shape and can easily feed into the grooves. Slide it all the way through the track until there are a few extra inches of material at the end. You'll trim away this excess material later.
Replace the screws on either end of the track to secure the seal in place, then trim the excess material with a utility knife.
7. Cover Your Floors
Garage floors are often made out of concrete, which takes a long time to absorb heat. Putting rubber mats or horse stall mats down where you workout will not only protect the floor from damage but will also act as insulation to keep cold air from coming up from the ground.
You can also put rugs down on your garage floor. I wouldn't recommend putting them down where you'll be lifting, but placing them over other areas of your garage will help block some of the cold air from the ground.
It's likely that your garage floor is covered with epoxy, but if not, you should consider applying it. Epoxy is durable and moisture-resistant. It doesn't provide as much warmth as other floor coverings, but it does add another layer of protection against the cold. The easiest way to apply it yourself is to use a DIY kit that you can buy at a local hardware store.
8. Install an Infrared Heater
Infrared heaters warm the objects in an area rather than trying to warm up the air. They transfer heat from the source onto solid objects, so you'll feel warm even if the air around you is cold. This means your barbell and all of your other equipment will become warm as well.
Infrared heating panels are ideal for garages because you won't waste energy trying to warm the air in a large space. And if you have a small garage, you can mount an infrared heater to the wall instead of taking up precious floor space.
While infrared heaters do need to be plugged into an outlet, they don't need to be hardwired to your electrical system. They're also one of the safest heating methods available since they don't need a fuel source, and many manufacturers have started adding automatic shut-off features and encasing the heaters in protective coverings to prevent burns.
9. Install a Ductless Heating System
Ductless heating systems are sometimes also called mini-splits because some models can provide both heating and cooling. Since they use less energy than other heat sources, they're safe, reliable, and cost-effective. They're also environmentally-friendly.
In addition to an indoor unit, ductless heating systems also require an outdoor unit. They work by transferring warm air from one location to another through a cycle of evaporation and condensation. During that process, a refrigerant cycles through the system through a compressor.
Ductless heating systems have two heat exchanger coils. One coil condenses the refrigerant while the other coil evaporates it. The refrigerant absorbs heat during the evaporation process while the condensing process releases heat that was previously absorbed.
Ductless heating systems aren't difficult to install, but they are expensive and it's best to have an HVAC technician install them. However, they can last for 20-30 years.
10. Mount an Electric Heater to the Ceiling
A ceiling-mounted electric heater like the Fahrenheat Electric Heater has several benefits. They won't take up any floor space, which is important if you work out in a small garage. They operate on a thermostat, so you can heat the garage up to an exact temperature. You can also swivel them to direct the heat at any specific area.
These types of heaters are effective at heating large spaces such as commercial shops and warehouses, so they can easily keep a garage warm. However, they need to be hardwired to your electrical system. It's best to have an electrician do the wiring for you since they can't simply be plugged into a wall.
How Can I Heat My Garage Gym Cheaply?
The most cost-effective way to heat up your garage gym is to install insulation.
You'll have to pay more upfront whether you install it yourself or have a professional do it, but once it's done, it can last for decades. You'll end up saving money in the long run because you won't have to use electricity to run heaters or spend money on a fuel source.
With that said, using electric heaters won't cause that much of an increase in your electric bill, especially since many heaters available today are energy-efficient. If installing insulation isn't a possibility, buying one or two space heaters is the best alternative for heating up your garage.
Frequently Asked Questions: Keeping Your Garage Gym Warm
Is It OK To Work Out in a Cold Garage?
Although it's not ideal, it's fine to work out in a cold garage as long as you take some precautions to keep yourself and your garage warm.
Following the tips I shared above will help take the chill out of your garage. You should also dress warmly and wear layers that you can remove as your core temperature rises. And while following a solid warm-up routine is necessary no matter what, it's especially important in the winter when your joints are more likely to be stiffer and your body is less mobile.
If your barbell is cold, there are a few things you can do to warm it up. You can keep a towel or blanket wrapped around it when you're not using it to protect it from the cold air. You can also run a hairdryer over it right before you work out. And if possible, you can bring it inside when you're not training so it stays warm.
What Is the Most Efficient Way To Heat a Garage Gym?
Aside from installing insulation, the most efficient way to heat a garage gym is to use space heaters or portable radiators. They're not too large, they don't need to be plugged into a special outlet, and they're simple to operate.
How Do I Keep My Garage Gym Warm in the Winter?
Installing insulation and weatherstripping the doors and windows is the best way to keep your garage warm in the winter. Although it won't magically make your garage 68° on its own, the insulation will help block cold air from seeping in through the walls.
Putting rugs or rubber mats down will also block cold air from coming up from the floors. Since the air will still probably be chilly even with insulation, you can use portable heaters or have an electrician install a heating unit for you.
Should I Insulate My Garage Gym?
If you live in an area with extremely harsh winters, you should insulate your garage gym. Warm layers and space heaters may not be enough to keep you warm when you're dealing with consistent below-freezing temperatures.
If you have milder winters or the temperatures rarely drop below freezing where you live, it might not be worth it to insulate your garage gym. Insulating just the garage door may be enough, and you can also use portable heaters to warm up the garage.
How Do I Insulate My Garage Gym?
If you only have small cracks or gaps that let cold air into your garage, you can fill them with a low-expanding spray foam that will help insulate the space.
If your entire garage needs to be insulated and you're a handy person, you can install insulation yourself. As I mentioned earlier, it's easiest to do this if you don't already have drywall installed, and fiberglass is the best option for DIY projects.
To Install Fiberglass Insulation on Walls That Aren't Already Covered With Drywall:
Remove anything that's mounted to the walls
Check the interior and exterior of your garage for cracks or gaps. If you find any, seal them by applying a waterproof masonry sealant with a caulking gun. Allow it to dry completely before proceeding
Install the batts of fiberglass in between the wall studs. If necessary, cut it with a utility knife to fit into awkward spaces. Secure the insulation to the studs with a staple gun
Apply a vapor barrier on the warm side of the insulation. If you live in an area with a warm climate, the vapor barrier should point to the outside of the house so moisture from the outdoor humidity doesn't seep in. If you live in a cold climate, the vapor barrier should point to the inside to prevent warmer air from escaping.
Unless you want to keep the insulation exposed, you'll need to install drywall. Measure the walls to find out how much drywall, tape, and drywall compound you need.
Use drywall screws to secure the drywall to the studs.
Apply the compound with a 6-inch putty knife to build up the edges of drywall where it's beveled. Apply drywall tape over the compound by starting in the middle of the room and working your way out, smoothing it with a putty knife as you go.
Let the first coat of compound dry overnight, then apply a second layer with a 10-inch putty knife. Let the second layer dry overnight as well.
Before applying a third coat of compound, thin it out so it's the consistency of pudding. You can do this by dumping the compound into a 5-gallon bucket and adding ½ – 1 cup of water until it reaches the right consistency. Use a handheld drywall mud masher to mix it.
Apply the third coat of compound with a 12-inch putty knife and let it dry overnight.
Sand the surface with a pole sander and 120-grit paper. If you want, you can then paint the walls.
Once you've insulated the walls of your garage, you should insulate your garage door as well. You can do this with a DIY garage door insulation kit such as the Reach Barrier 3009 kit.
Other Home Gym Resources
Final Thoughts
Just because your garage gets cold in the winters doesn't mean you have to put your training on hold for an entire season. By following the tips I shared in this article, you can keep your garage warm and continue training comfortably even in the winter months.
---
About The Author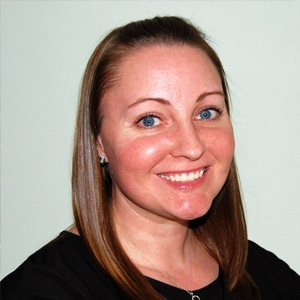 Amanda is a writer and editor in the fitness and nutrition industries. Growing up in a family that loved sports, she learned the importance of staying active from a young age. She started CrossFit in 2015, which led to her interest in powerlifting and weightlifting. She's passionate about helping women overcome their fear of lifting weights and teaching them how to fuel their bodies properly. When she's not training in her garage gym or working, you can find her drinking coffee, walking her dog, or indulging in one too many pieces of chocolate.