If you're building a home gym or looking to add new equipment to your commercial gym, you may be considering round or hex dumbbells. Pound for pound, there shouldn't be a difference between hex and round dumbbells of comparable weights. But which type of dumbbell you choose comes down to things like price, intended use, and durability.
So are hex dumbbells or round dumbbells better? Which type of dumbbell is better depends on several factors. Hex dumbbells are often cheaper, which makes them attractive to home gym owners. They're also safer because they don't roll on the ground. Round dumbbells can be more expensive, but they're often more durable, making them a better option for commercial gyms.
In this article, I'll cover:
What hex and round dumbbells are
The pros and cons of each
How hex and round dumbbells compare in terms of price, durability, and more
Who should use hex and round dumbbells
Hex Dumbbells vs Round Dumbbells: Overview
Before we get into the head-to-head comparison, let's take a closer look at hex dumbbells and round dumbbells and what makes them different.
Hex Dumbbells
Hex dumbbells are dumbbells with hexagonal-shaped heads. Many hex dumbbells have chrome or iron handles with rubberized heads, but some hex dumbbells are made fully of cast iron.
You can also find hex-shaped dumbbells coated with vinyl or neoprene. However, these are most often used for circuit training in group exercise classes or in rehab settings. They aren't available in weights higher than 15-20lbs and aren't considered to be true hex dumbbells.
Hex dumbbells are ideal for a number of reasons. Because they have flat edges, they won't roll when you set them on the floor. This makes it easy to do exercises like renegade rows in which you hold yourself in a plank position and row one dumbbell at a time up to your chest.
They'll also stay in place when you leave them on the floor, so you don't have to worry about them rolling under your feet throughout your entire workout.
And hex dumbbells also come in smaller weight increments. For example, at lighter weights, you can find dumbbells that increase in weight by 2.5lb increments. These lighter weights are beneficial for exercises like lateral raises or rear delt flies that you may not be able to do with a lot of weight.
There are a couple of drawbacks to hex dumbbells, however. At heavier weights, the dumbbell heads can be very thick and take up a lot of space, which makes them hard to store.
The rubber on hex dumbbell heads can also smell when you first get them. The odor goes away after a couple of weeks, but people who are sensitive to strong smells may not be able to use their new dumbbells right away.
Pros
Won't roll when placed on the ground
Are often cheaper than round dumbbells
Can be found in 2.5lb increments at lighter weights
Cons
Require more storage space at higher weights
Can have an odor
Wondering if you can drop hex dumbbells? Check out my article 7 Best Dumbbells That You Can Drop Without Damaging Them.
Round Dumbbells
Round dumbbells are dumbbells with round heads that can be either rubberized or made out of iron or another kind of metal. They're most frequently found in commercial chain gyms, though certain kinds of round dumbbells are available to purchase for home gym use as well.
The round dumbbells that you'll see in most commercial gyms are called pro-style dumbbells. They're often machined by bolting small plates to each side of a handle made out of chrome, iron, or stainless steel. The diameter of these plates is usually the same no matter how heavy the weight is, which makes storage a bit easier.
At most gyms, you'll find them in weights up to 100-125lbs, but some gyms that cater to a bodybuilding or powerlifting crowd may have pro-style dumbbells as heavy as 200lbs.
Round dumbbells can also have heads that are covered in urethane. Urethane is a highly durable, higher-quality type of rubber. Because it's not easily damaged, urethane dumbbells are another common choice for commercial gyms. Like pro-style dumbbells, you can purchase urethane dumbbells for home gym use as well, but they're pretty expensive.
One of the most obvious drawbacks of round dumbbells is that they will roll, especially if you're working out on an uneven floor. They're also not as stable when doing exercises like renegade rows.
Round dumbbells are also not easily found in smaller weight increments, which is a drawback for beginner lifters, anyone who's rehabbing an injury and can't lift heavy, or for lifters who struggle with exercises like reverse flies.
Pros
Most round dumbbells tend to be more durable than hex dumbbells
Can be easier to store since some round dumbbells aren't as large as hex dumbbells
Come in weights up to 200lbs depending on where you buy them
Cons
Will roll when placed on an uneven floor
Are often more expensive than hex dumbbells
Looking for dumbbell exercises you can do for the chest? Check out 12 Dumbbell Chest Exercises Without A Bench (With Pictures).
Hex Dumbbells vs Round Dumbbells: Head-to-Head Comparison
Let's look at how hex dumbbells and round dumbbells compare when it comes to durability, price, the types of workouts you can do with them, and more.
Durability
The durability of dumbbells depends more on the quality of materials they're made out of, as both types of dumbbells can be cheaply made by lesser-known brands.
However, round dumbbells tend to hold up better to repeated use. This is especially true of dumbbells with urethane heads since the urethane won't crack or chip easily. Urethane is also shock-absorbent, so round urethane dumbbells can be dropped without breaking easily.
On the other hand, the rubber on hex dumbbells can chip or crack if they're repeatedly placed on rough surfaces or exposed to direct sunlight. And the rubber that most hex dumbbells are made with isn't quite as shock-absorbent as urethane. So while you can drop hex dumbbells, they may not survive the impact.
Price
Hex dumbbells are often cheaper than round dumbbells and are usually priced per pound. Part of this is because of the fact that many round dumbbells are made with urethane, which is more expensive than regular rubber.
And when it comes to pro-style round dumbbells, they're made by bolting several individual plates to both sides of a handle. There are extra parts and labor involved in putting them together, and their higher prices reflect that.
Rust
Whether or not dumbbells are prone to rust has more to do with the materials they're made out of rather than their shape. Any dumbbell that has any components made out of chrome or iron has the potential to rust.
With that said, since round dumbbells are more likely to be made completely out of iron or metal materials, rust can cover a larger surface area. But rust can only occur on the handles of dumbbells with rubber or urethane heads regardless of if they're round or hexagonal in shape.
Related Article: Bumper Plates vs Metal Plates Rubber Plates
Commercial vs Home Gym Use
The type of gym you're buying dumbbells for dictates whether hex or round dumbbells will be better for you. Round dumbbells are often better for commercial gyms while hex dumbbells are better for home gyms.
This is because round dumbbells tend to be more durable, so they can withstand heavy abuse from dozens of people using them all day long. Pro-style round dumbbells can also be tightened or repaired if any parts become loose. If a hex dumbbell breaks, you have to replace the whole thing.
But because hex dumbbells are often cheaper and are used far less frequently than dumbbells in a commercial gym, they're better for home gym owners who don't necessarily need to pay top dollar for their equipment.
Hex dumbbells are also a better choice for CrossFit or functional fitness gyms due to the nature of the workouts they'll be used for, as I'll explain below.
Looking for a barbell to add to your home gym as well? If you're a female, check out my recommendations for the top 10 women's weightlifting bars.
Types of Workouts
Hex and round dumbbells are each ideal for different types of workouts. For regular strength training, either type of dumbbell is sufficient. But for more specialized workouts, you'll want to think carefully about which type of dumbbell you reach for.
For example, hex dumbbells are better for CrossFit and other functional fitness workouts. Because they won't roll, you won't have to worry about them getting under your feet when you're transitioning quickly between movements.
Hex dumbbells are also good for these types of workouts because the rubber-coated heads are less likely to damage your floors when doing movements like dumbbell deadlifts or dumbbell snatches. However, it should also be noted that any type of dumbbell can damage certain types of floors like wood or tile if they're heavy enough or dropped at just the right angle.
If you're concerned about damaging your floor, check out my 6 tips for protecting your floor from weights.
Furthermore, hex dumbbells often have contoured handles, which can be more comfortable to hold on to for high reps.
On the other hand, round dumbbells typically have shorter straight handles. The shorter length means the weight will feel more balanced in your hands, and you won't be putting as much stress on your wrists. And in exercises like dumbbell bench presses, you don't have to worry about the weights banging together when your arms are overhead.
Storage
The heads of hex dumbbells are very large once the weight gets up into the 30s and 40s. On the other hand, the diameter of round dumbbells doesn't change significantly as the weight gets heavier, especially on urethane dumbbells. On round pro-style dumbbells, manufacturers simply add more plates to the ends to make them heavier.
This makes round dumbbells easier to store because they won't take up as much room on a storage rack. If you have a small home gym and can only fit a storage rack that holds a small number of dumbbells, round dumbbells may be more space-efficient.
In addition to considering how much space you need for storage, you'll also need to consider the temperature of your gym and whether or not the dumbbells will be exposed to harsh weather. High heat won't cause the rubber heads on hex dumbbells to crack, but being left in direct sunlight will.
If you have a home gym that's only partially covered or your garage gym gets very humid, I also wouldn't recommend pro-style dumbbells, which can rust when exposed to extreme weather. But if you get round urethane dumbbells, the urethane will be able to handle being stored in hot or cold temperatures.
If you're building a home gym and not sure how much equipment you can fit, check out these floor plans for small home gyms that our interior architect created.
Who Should Use Hex Dumbbells vs Round Dumbbells?
If you're still having trouble deciding if hex or round dumbbells are better for you, use the recap below as a guide.
Use Hex Dumbbells If:
You do a lot of exercises like renegade rows in which you'll be holding on to the dumbbells on the ground.
You work out in a gym with uneven flooring.
You do CrossFit or functional fitness.
You're trying to save money.
Use Round Dumbbells If:
You only need dumbbells for strength training.
You need to save space on your dumbbell storage rack.
You're looking for more durable dumbbells for a commercial gym.
Related Article: How To Store Dumbbells At Home (My Top 4 Favorite Ways)
Hex vs Round Dumbbells: Product Recommendations
If you're looking for dumbbells to add to your gym, below are a few hex and round dumbbells that I recommend.
Hex Dumbbells
The Rep Fitness Rubber Hex dumbbells are constructed using a friction welding technique, which is a welding technique that helps maintain the structural integrity of the original materials. As such, this makes them more durable than dumbbells created with other welding techniques.
The handles are fully knurled so you can get a good grip on them no matter where you hold them, and the heads feature a low-odor rubber so you can start using the dumbbells right away without waiting for the smell to go away.
They also come with a lifetime warranty for home gym use, so you can get them replaced if they get damaged due to the manufacturer's defects or poor craftsmanship.
The Fringe Sport hex dumbbells are another durable option that are encased in virgin rubber and feature a steel chrome handle. They're also manufactured with a unique pin mechanism that makes it possible for them to be dropped without loosening or breaking.
These dumbbells are available in weights from 3-100lbs, so beginner and experienced lifters alike can find weights that suit their current strength levels.
Round Dumbbells
The Rogue urethane dumbbells are on the pricey side, but they're made out of solid steel with a hardened chrome handle for extra durability. The urethane heads are also shock-absorbent, so you can drop them without breaking them. Knowing that you won't have to replace them justifies their high price point.
The high price coupled with the fact that they are available up to 150lbs makes them ideal for more serious lifters who train at home, but they are still suitable for anyone who wants a high-quality pair of dumbbells that will last for years.
The Yes4All urethane dumbbells only go up to 50lbs, so they're ideal for beginner lifters who are training at home. They're also good for individuals who only need a couple of pairs of dumbbells at home to supplement their training when they can't get to the gym.
These dumbbells are more affordable than other urethane dumbbells, which makes them an excellent option if you want durable dumbbells without breaking the bank.
Related Article: Cheap vs Expensive Dumbbells: Is There REALLY a Difference?
Final Thoughts
It may seem like the only difference between round and hex dumbbells is the shape of the heads, but each type of dumbbell is made for different purposes.
Hex dumbbells are ideal for home gym owners due to their affordable price. They're also better for CrossFit and functional fitness because you can do floor-based exercises with them, and they won't roll when they're on the floor.
Round dumbbells tend to be more durable, especially the iron pro-style dumbbells that you'll find at most gyms. They're also more expensive, especially if the heads are covered with urethane. They're more ideal for commercial gym use, but if you're willing to spend the extra money, they'll make a suitable addition to any home gym.
Related Article: Deadlifting With Hex Plates: How To Do It Properly
---
About The Author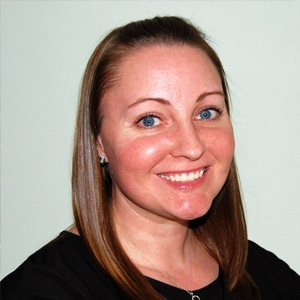 Amanda Dvorak is a freelance writer and powerlifting enthusiast. Amanda played softball for 12 years and discovered her passion for fitness when she was in college. It wasn't until she started CrossFit in 2015 that she became interested in powerlifting and realized how much she loves lifting heavy weights. In addition to powerlifting, Amanda also enjoys running and cycling.