PowerliftingTechnique.com is independent and supported by our readers. We may earn a commission if you buy through the links below. For more, see our disclosures page.
As a powerlifter, you spend hours upon hours in the gym a week, it only makes sense that you put some time and attention into the clothes you choose to wear to the gym as well.
The 20 powerlifting clothing brands are:
While some lifters might not put much thought into what they wear, I think it's important that even as a powerlifter you invest some money in good quality clothes to help you move well and feel good every single time you step up to the bar.
The following list is a collection of big and small names that are all impacting the strength community in different ways and are sure to carry whatever it is that you're looking for.
If you're a powerlifter, make sure to check out my complete competition gear list of everything you need when competing in powerlifting.
The Best Powerlifting Clothing Brands For Comfortable Workouts
Barbell Apparel all started with a pair of denim jeans designed for athletic bodies and has exploded into a fully-fledged apparel company offering clothing for your time spent inside and outside the gym.
Their mission is "…to inspire you to reach your full potential. Your fitness isn't about what you do today. It results from what you are willing to do every day."
What I love most about them is that they carry athletic and casual clothing that you can order from the same place at once. Because as great as stretchy pants and t-shirts are, even as powerlifters, we could use a comfortable pair of denim pants or chinos that fit us right.
Bacon and Barbells is a powerlifting gear and athletic apparel company with grassroots beginnings in Ontario, Canada. Its popularity has spread beyond Canadian borders because of its incredibly comfortable clothing as well as a dose of humor often injected in the form of slogans on shirts and sweaters.
What makes them stand out is that you can be sure to find something unique to come out of each launch as they test new products or designs for the season. I like them because it is a small business run by a handful of passionate lifters who just want to serve the community.
Rogue Fitness is one of the most popular names in the fitness game, particularly among Crossfit and strength athletes. Their mission is entirely built on sourcing locally and building the U.S. manufacturing ecosystem within Ohio and the country itself.
They offer apparel for men, women, and kids, with adult sizes going all the way up to 4XL for men and up to 2XL in some products for women. They also have successfully crossed barriers between sports and do not just cater to one group exclusively. Rogue's wrist wraps and knee sleeves are also on our list of recommended products.
Rogue-sponsored athletes include 7-time IPF world champion Kimberly Walford and superheavyweight hero Ray Williams as well as several others outside of powerlifting like Hafthor Bjornsson, Brian Shaw, and weightlifter Mattie Rogers.
I ranked the Rogue Hoodie as one of my favorite hoodies for powerlifting. Check out the other brands that made the list in my article on the Best Powerlifting Hoodies.
SBD is a UK-founded company and arguably one of the best-known names in raw powerlifting because of its dedication to creating IPF competition-approved gear and apparel. Their designs remain simple but you can rest assured you are always purchasing something of excellent quality.
They are most popular for their powerlifting accessories such as knee sleeves and singlets, but they also make wrist wraps, t-shirts, deadlift socks, and lifting belts. In 2020, they launched the first-ever women's cut singlet, widened the leg opening on the singlet, and shaped it to better fit the average woman's body.
SBD is a major sponsor of the IPF world championship, providing gear and apparel to the competitors who qualify for the international stage.
SBD has also been known to pay athletes. You can learn more in my article on Can You Make Money In Powerlifting?
A7 is all about demanding greatness and never stopping progress. They are known for their great everyday gym wear and a large variety of IPF competition-approved gear, including singlets, t-shirts, and wrist wraps.
While any type of athlete can wear A7, it really gears its products and branding towards powerlifters, becoming a favorite among many through its bar grip line of t-shirts and sweaters.
The bar grip spreads across the upper back of their shirts to ensure that you can squat without the bar slipping or shifting around.
Apeman Strong is a clothing brand that sells men, women, and kids' clothing and accessories and competition gear for powerlifters.
What I like most about Apeman is definitely its mission and philosophy which places a strong focus on bringing up those who have overcome great odds and survived great lows in their life.
On their website, you will find descriptions of the meaning behind each shirt they make and several stories of lifters overcoming physical and mental limitations. With a strong mission of raising awareness about prevalent issues and spreading the power of resilience, it's no wonder why Apeman is a favorite among the powerlifting community.
Hybrid Legacy started as just a line of t-shirts and tanks created by powerlifting champ Stefi Cohen and partner Hayden Bowe. It has developed over the years into a broader line of apparel that can easily be worn out on the streets and inside the gym.
With a strong focus on design and creating trendy pieces, you'll definitely stand out with anything from the Hybrid team. They are still relatively young in the apparel game so it's definitely a brand I would watch out for to see what they come up with next.
Iron Strong Apparel is a clothing company built on perseverance, discipline, and dedication, and love for t-shirts and lifting. It is a small, Canadian-owned business that focuses mainly on shirts but does offer some bottoms and even hats.
What I love most about Iron Strong is that they operate on a print-by-demand system where they do not keep a massive stockpile of products and, as a result, create excessive waste. The shirt designs are great for everyday training, from tank tops to ¾ sleeves, great for anyone training in a colder environment.
Girls Who Powerlift is a powerlifting clothing brand entirely geared toward women and girls who lift. It is one of the first powerlifting-specific apparel companies designed entirely for women by a woman who was looking for other like-minded women.
GWPL focuses on community and education and works hard to highlight athletes within the sport through their social media feeds and website blog. Their slogan is to uplift and lift heavy and they are a go-to for many women within powerlifting because of their inclusive messaging.
Notably, you will find sizes to run up to 2X or 3X in both tops and bottoms to ensure whoever enters the sport can look and feel like the athlete they are.
Doughnuts and Deadlifts was founded in 2014, where it started as a hashtag about literally eating donuts and doing deadlifts. It continues to be a company that runs on the motto of "Eat. Lift. Live." and is represented by athletes who are tired of fitness trends and just want to lift weights, live their lives, and eat doughnuts.
They drop seasonal collections for men and women that eventually run out until the next drop, meaning their designs are always fresh and unique for that year.
Powerlifter Yangsu Ren and 2x world's strongest man, Anthony Fuhrman are both currently affiliated with the brand.
Buff Bunny Collection is an athletic apparel clothing line exclusively for women who "embrace their fears and celebrate their uniqueness." Although its website marketing isn't powerlifting-specific, the clothing is much loved by women who lift weights, including reigning 84kg IPF World champion Amanda Lawrence and 3x IPF World champion Daniella Melo who are both affiliated with the company.
The brand prides itself in being entirely run by women for women and places lots of attention in design and fabric selection which is all done in-house. This is the place to go if you're looking for comfortable and timeless pieces that will never go out of style.
HVIII is a lifestyle apparel company for the strength community. It stands on a philosophy of turning negativity into positive results and focuses on providing great quality clothing. They offer items in small batches, often making them in limited supply.
Although appropriate for the gym, I like that their clothes can also be worn outside and not necessarily be mistaken for gym clothes, even offering outerwear and casual tops and bottoms.
Powerlifter and coach Bonnie Shroeder, junior powerlifter Abigayle Race and elite powerlifter Riki Tyminski are all affiliated with the brand and often seen wearing their clothing in training.
Virus is a brand committed to creating the best performance pieces for the athletes in the respective sports it caters to, one of which is powerlifting. It creates clothing for everyday training in the gym, as well as competition singlets for powerlifters and weightlifters.
If you're a man looking for compression tights, this is also the place to look, as they carry a wide variety of both full-length and cropped options.
What's particularly interesting about Virus is that they put lots of attention in their fabrics and detail the technology on their website so you know exactly what it's designed to do. They also have very timeless basics and a wide selection of items, making it a great one-stop shop for all your needs.
Check out my article on the Virus Singlet Review, which I ranked as the #1 singlet for female powerlifters.
Raskol Apparel is predominantly a clothing brand focused on very unique t-shirt designs and prides itself on breaking away from the "established order." The shirts often have satirical, fitness-related sayings but are far from just a plain t-shirt.
The graphic designs are by far what make them stand out, and in 2020, they even broke the mold and launched a crop top for men.
83kg USAPL lifter Rich Young, as well as 72kg international IPF lifter Jessica Buettner, are both proudly sponsored by the brand.
Like its name implies, Notorious Bastards is all about the risk-takers and the rule-breakers. They want to empower the black sheep and those who go against the grain with their really unique designs.
They mainly specialize in t-shirts and tanks, but what I love most about their clothing line is that some of the designs look like works of art that can be easily worn anywhere if you want to make a statement.
57kg IPF world champ Kimmy Johnson is one their athletes and regularly sports their shirts and sweatshirts in and out of training.
Ritual Apparel is a clothing brand founded on the principle of building strength through ritual. It offers everything from t-shirts to sports bras to bottoms, socks, singlets, and competition shirts.
They have a handful of essential items that are readily replenished, as well as seasonal designs that change over time. Ritual is dedicated to contributing to the powerlifting community through thought-provoking blogs. 
So, not only do they have some great designs, but they also care about your success as an athlete.
Kinda Fit Kinda Fat is about ensuring you feel good in your body no matter what stage in your fitness or strength journey. They mostly carry t-shirts as well as some training shorts and outerwear.
The designs really stand out and might even make you a little hungry as they often feature delicious food. Kinda Fit Kinda Fat is also an official apparel sponsor of World's Strongest Man, and some of their designs are actually Strongman competitors lifting different food items.
Rise is an athletic apparel brand that's been around since 2014 and offers everything from tops and bottoms to socks, hats, and men's boxers. They also carry some lifting accessories like wrist wraps, straps and lifting belts so you can get everything you need in one place.
The brand's philosophy is never to stop dreaming and going after what you want, and they are looking to become a world leader in sports apparel.
Rise stands out because of its great variety of items for both men and women. Each item is unique in some way yet has a very classic look that isn't overly flashy with its printing or branding.
Grrrl is all about women's empowerment and freedom through their clothing brand. They often say their clothes won't change the world, but the women who wear them will. They carry bottoms and tops, all appropriate for training, leisure, or work.
Grrrl has by far the most innovative way of determining the size that has nothing to do with numbers or the words small or extra large. They have outlined athlete ambassadors along with their body measurements and you just need to find the one that most closely resembles your body type.
One of their athletes is Amenah Razhegi, an IPL record-holding powerlifter who has competed in Strongman and America's Strongest Woman competitions.
Medve Performance is a powerlifting apparel company specifically dedicated to creating bar grip shirts for both men and women. The shirt will prevent slipping off the bar on your back or shifting on the bench during your bench press.
This is a great consideration for any powerlifting in training, but especially for those who are members in facilities that prohibit or limit the use of chalk. Medve also carries some classic t-shirts as well as hoodies for everyday wear.
Final Thoughts
While the list is long, there are endless options for powerlifters worldwide to look good and move well both inside and outside the gym. Depending on whether you're looking for timeless basics or really unique designs that speak to your personal training philosophy, you are sure to find a clothing brand that will not disappoint you.
The best part about shopping from these brands is knowing you're helping support a community of like-minded people who are all about great performance and becoming the best version of yourself.
---
About The Author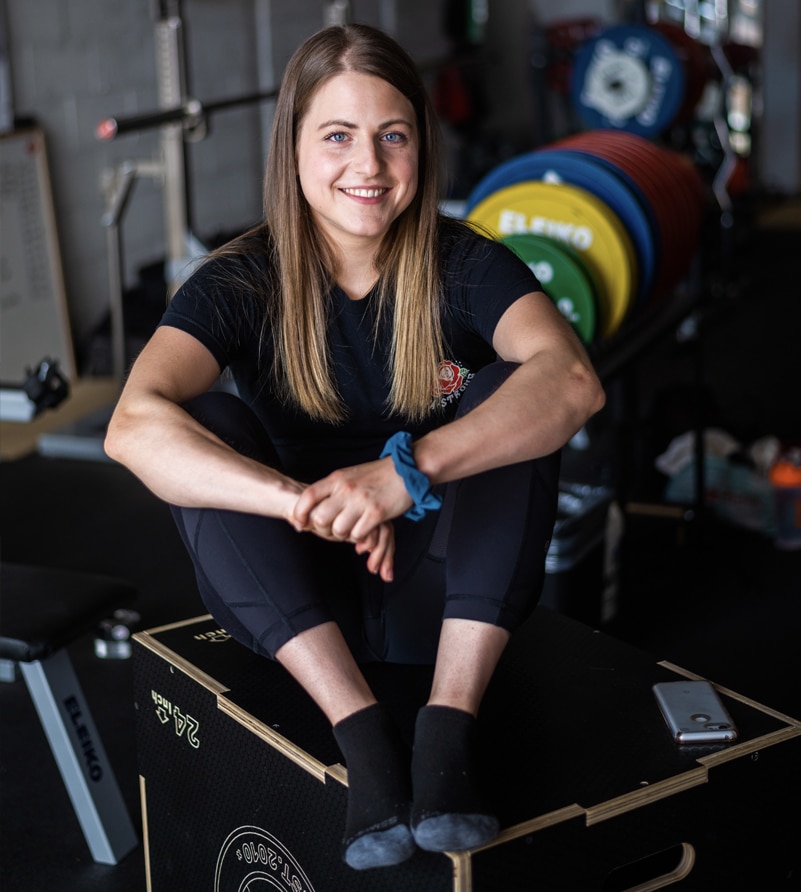 Elena Popadic has worked within the fitness industry for over 6 years, is co-host of the Squats and Thoughts podcast and trains and competes as a powerlifter. She has a BSc in Life Sciences from McMaster University, a Postgrad Certificate in Public Relations from Humber College and is currently pursuing a MSc Occupational Therapy at Western University. Connect with her on Instagram or LinkedIn.