PowerliftingTechnique.com is independent and supported by our readers. We may earn a commission if you buy through the links below. For more, see our disclosures page.
iHerb is one of the largest U.S.-based online retailers of nutritional supplements, including products such as protein, pre-workout, and personal care products. The mission of iHerb is to make health and wellness accessible to all, wherever you are located.
As a strength coach, I appreciate the dedication and commitment to providing a vast catalog of products to most countries. But you may have seen comments on Reddit or forums wondering if iHerb is legit.
So, is iHerb a reputable company? iHerb has 4.8 out of 5 stars on the App Store and Play Store after more than 700K reviews. More than 33 million reviews about their products are also on iHerb's site, helping you find high-quality products. They have more than 30,000 products and ship to over 180 countries. If you live outside the US, then verify the shipping times and costs since that's the topic of most negative reviews.
In this article, I will review iHerb and continue to discuss its legitimacy, who it's best for, what products to purchase from iHerb, and how to purchase from iHerb.
For athletes, lifters, and fitness buffs, iHerb has a range of products you may not be able to find elsewhere.
Knowing iHerb's catalog will allow you to understand if this company is compatible with your needs. You won't want to search this website if they don't necessarily provide what you need. 
Let's move forward and discuss more about this company!
Is iHerb A Reputable Company? 
Can iHerb be trusted? iHerb is a trustworthy company with 4.8 out of 5 stars ratings on the Play Store with more than 600K reviews and 4.8 out of 5 stars ratings on the App Store with more than 100K reviews.
They've been in business for more than 20 years and are known for delivering over 30,000 product options that ship to over 180 countries. Traveler friends of mine often use them to order protein or supplements in places like Japan, Canada, and more.  
iHerb products are delivered as fresh as any of their competitors, with many climate-controlled warehouses to store their products. 
iHerb also promotes eco-friendly initiatives to promote sustainability and contribute to a healthier planet. These values and principles of their business prove to make iHerb a great place to shop. 
Does iHerb Have Negative Reviews?
Although there are many positives to iHerb, there have also been some negative reviews as well. Some of the iHerb concerns are unexpected fees for delivery and returns and limited customer service. 
With iHerb shipping all products from the USA worldwide, most of the feedback centers around issues with this. 
Some international customers were surprised by the high taxes and duties they had to pay for customs clearance. Some countries heavily tax certain imported items, such as dietary supplements. Other orders could get stuck at customs and take a long time to arrive. 
I know from experience this isn't just limited to iHerb, and if you were to use another online retailer, ordering products wouldn't be as easy as in the USA. 
iHerb also doesn't have customer service by phone, only email or chat. While the chat and email work effectively, not having customer service reps to talk to could be a no-go for some customers. 
However, if you're passionate about strength training like myself and my clients and want the benefits of so many products to choose from, then iHerb is a trusted resource.
Overview of iHerb
iHerb is an online retailer specializing in health and wellness products. With an impressive inventory of over 30,000 products, iHerb has become a global hub for individuals seeking high-quality supplements, vitamins, skincare items, and more. 
What sets iHerb apart is its commitment to making health and wellness accessible to people worldwide. They offer international shipping to over 180 countries, ensuring customers from diverse locations benefit from their vast selection. 
While iHerb began its business in California in 1996, it has now expanded its reach far beyond U.S. borders. In 2018, the company achieved a significant milestone by selling more than $1 billion of products and launching its first international location in China. This expansion showcases iHerb's dedication to its mission of promoting well-being on a universal scale.
iHerb's product range caters to various health and wellness needs, from pre-workout supplements to protein powders and skincare essentials. Its commitment to eco-friendly brands and products that align with its mission statement is impressive. 
By prioritizing sustainable and health-conscious choices, iHerb supports individual well-being and contributes to a healthier planet. iHerb website reviews praise iHerb and its mission for a cleaner world. Whether you're an athlete seeking top-level supplements or someone interested in natural skincare, iHerb's extensive selection ensures something for everyone.
Do you have a lactose intolerance? See which lactose-free protein powders are available on the market today.
Who is iHerb Best For?
iHerb has accommodated tons of customers worldwide. However, based on iHerb's extensive catalog and reach, this company would benefit international customers, strength athletes, and those with eco-conscious interests. 
Strength Athletes
iHerb offers a vast array of nutritional supplements and sports-specific products tailored to the needs of strength athletes. This includes protein powders, creatine, branched-chain amino acids (BCAAs), and specialized pre-workout and post-workout formulas. 
One of the more popular brands offered is Muscle Tech, a product I use. Strength athletes can easily find and access supplements that can help enhance their muscle recovery, growth, and overall performance.
International Customers
iHerb's global shipping options make it an excellent resource for individuals outside the United States. People from diverse countries can access various health and wellness products that may not be readily available in their local markets. This includes nutritional supplements, vitamins, organic foods, and more.  
I know when I'm speaking with traveler friends that iHerb is a lifesaver. In many countries, you can't find the options for protein and creatine that you would in the US. 
Eco-Conscious Consumers
Based on my research, those who value environmentally conscious and sustainable products will find iHerb a valuable resource. iHerb actively promotes eco-friendly brands and products that align with their mission of a healthier planet. 
Customers who prioritize sustainability can explore various environmentally friendly options, including organic and natural products with sustainable packaging.  
Interested in pea protein? Check out this article about the top pea protein supplements in the industry!
What Products Can You Buy On iHerb?
iHerb offers a comprehensive selection of dietary supplements designed to support various aspects of health and wellness. Below, we will highlight iHerb's inventory concerning protein powders, workout supplements, and health and wellness supplements. 
Protein Powders
iHerb offers an immense catalog of protein powders to support recovery and lean muscle mass. Some of these products are plant-based as well, serving the vegan populations of lifters. With this amount of products, some might wonder is iHerb reliable and is iHerb safe to order from. Fortunately, through iHerb company reviews, we can prove to our audience that iHerb is safe to order for all your needs. 
Below, we will identify the top brands of protein powders on iHerb's website. 
California Gold Nutrition SPORT Whey Protein Isolate is one of the most popular protein options on iHerb, so I tested it out. And here's my take.
High-Quality Protein For Serious Gains
Every serving of this Whey Protein Isolate delivers a hefty 27 grams of protein and an impressive 6.1 grams of BCAAs. Why does that matter? Branched Chain Amino Acids (BCAAs) are the building blocks your muscles need after an intense workout. The quality and the concentration of this protein, manufactured through cold micro-filtration isolation, speaks to its superior formulation.
Digestibility: A Crucial Factor
As someone who advises athletes day in and day out, I understand the importance of digestibility. With this protein isolate, even those with sensitive stomachs can rest easy. It's rapidly absorbing and minimizes stomach distress, a significant win for those constantly pushing their limits.
Taste and Mixability: A Game Changer
While the unflavored nature might catch some off guard, I found it to be a blessing in disguise. It offers versatility – mix it in with your favorite beverages or other flavored protein powders to suit your palate. For me, blending it with almond milk and organic flax seed powder created a concoction I looked forward to post-training. Plus, the effortless mixability without clumping is a huge plus!
Value For Money
Considering its top-tier quality and its benefits to my training regimen, it offers substantial value, especially when snagged on a discount. As someone who prides in recommending only the best to fellow lifters, California Gold Nutrition SPORT Whey Protein Isolate definitely makes the cut. Whether you're prepping for a competition or just chasing personal records in your home gym, this protein powder could be the ally you need.
Optimum Nutrition Gold Standard Whey is a top-tier protein supplement renowned for its muscle-supporting properties. Each serving contains an impressive 24 grams of high-quality protein, making it an ideal choice for those seeking to build and maintain muscle mass. Its primary ingredient, Whey Protein Isolate (WPI), sets this product apart, which delivers protein while minimizing unnecessary carbs and fats. 
Beyond its protein content, it contains 11 grams of naturally occurring essential amino acids (EAAs), crucial for muscle recovery. Optimum Nutrition builds this brand of protein designed for maximum mixability and drinkability, making it a convenient and effective choice for individuals dedicated to their strength training, sports, or active lifestyles.
MuscleTech Nitro Tech Whey Protein is a high-quality protein supplement designed to support recovery and enhance lean muscle growth. Each serving provides 24 grams of protein, making it an ideal choice for individuals looking to build size and strength. This supplement stands out with its emphasis on purity, featuring a blend of whey protein peptides and isolates, ensuring rapid absorption and digestion. 
Each scoop includes 5.4 grams of Branched-Chain Amino Acids (BCAAs) and 4 grams of glutamine and precursor from whey protein, ensuring your muscles have the necessary fuel to perform at their peak. These micronutrients are a big perk to this product.
Raw Organic Protein offers a clean and complete protein solution, perfect for those seeking a pure and organic protein source. This USDA Organic and Non-GMO Project Verified product is free from stevia and sugar, delivering 22 grams of protein per serving. It's certified kosher, vegan, and gluten-free, meeting the highest quality and purity standards. 
Raw Organic Protein is designed to fuel, build, and repair your body with the goodness of organic peas, sprouted grains, seeds, legumes, probiotics, and enzymes, ensuring you get truly clean and easily digestible protein.
In addition to these ingredients, this product incorporates 4 grams of Branched-Chain Amino Acids (BCAAs) for enhanced performance. Incorporating BCAAs is what makes any protein a much more valuable purchase. 
Looking to increase your protein intake? Check out this article of the best protein powders for smoothies today!
Workout Supplements
iHerb provides a ton of workout supplements for anyone looking to build their size and strength. Some of these supplements are BCAAs, creatine, electrolytes, L-arginine, L-carnitine, and L-glutamine as well.
BCAA (Branched-Chain Amino Acids)
BCAAs, which include leucine, isoleucine, and valine, are essential amino acids crucial for muscle protein synthesis and recovery. Athletes and fitness enthusiasts often use BCAA supplements to support muscle growth, reduce muscle soreness, and enhance exercise performance.  
Creatine
Creatine is a well-researched supplement known for its ability to increase muscle strength and power by providing more muscular endurance to movement. Creatine supplementation is popular among athletes and bodybuilders seeking to improve their performance during resistance training and high-intensity workouts.  
Hydration & Electrolytes
Proper hydration is essential for overall health and athletic performance. Hydration supplements, often containing electrolytes like sodium, potassium, and magnesium, help maintain the body's fluid balance during exercise. These supplements are vital for preventing dehydration, muscle cramps, and heat-related issues. 
L-Arginine
L-Arginine is an amino acid that plays a role in nitric oxide production, which can help dilate blood vessels and improve blood flow. This supplement is often used to enhance circulation and support cardiovascular health.  
L-Carnitine
L-Carnitine is a compound involved in the transport of fatty acids into cells for energy production. It is commonly used as a supplement to support fat metabolism and potentially boost endurance during aerobic exercise.  
L-Glutamine
L-Glutamine is an amino acid that serves various functions in the body, including supporting the immune system and aiding in muscle recovery. Athletes and individuals engaged in intense training often take L-Glutamine supplements to reduce muscle soreness, increase muscle size and support overall immune health.  
Health and Wellness Supplements
iHerb offers a diverse range of health and wellness products beyond proteins and workout supplements. Their extensive catalog includes vitamins, minerals, herbal supplements, dietary aids, probiotics, and essential nutrients, catering to various health goals and needs. From immune support to joint health, skincare, and sports nutrition, iHerb provides a comprehensive selection of trusted brands and eco-friendly options, ensuring customers can find products that align with their specific health objectives.  
How To Order on iHerb
iHerb takes pride in its customer-friendly ordering process, ensuring that products are sourced directly from the company. This means they do not provide services from third-party sellers. This approach guarantees consistent product quality and reliable customer service.
For customers in the USA, ordering from iHerb is a straightforward experience. All iHerb's products are shipped from the US, meaning shipping should take 1-3 days. This could be a similar timeline to closer nations like Canada. 
A big perk right now is that iHerb offers free shipping with a purchase of $25 or more. Since this is a health and wellness distributor, spending $25 should not be a problem at all.
For international customers, iHerb has expanded its global shipping options, enabling people worldwide to access its diverse product offerings. Unlike purchases for US customers, international customers might experience customs fees and local taxes. 
Not only could the price increase on these purchases but because of customs and regulations, some delivery times could last multiple days. For some, like in South America, it could take 21-25 days for a package to be delivered. 
Why is iHerb So Cheap?
Excluding international customs fees and taxes, iHerb is a pretty affordable option for those looking to buy supplements. Some wonder how they can stay affordable and if iHerb is a good company.
iHerb's competitive prices stem from their exclusive partnerships with various brands and the fact that the products they sell are typically lightweight.
iHerb has exclusive partnerships with well-established brands that have been offered the iHerb catalog for a while. This company has around 200 house brands and iHerb exclusives among its extensive product range of over 30,000 items. This, in addition to some of the markups in retail pricing, helps to build a profit for iHerb even when they offer promotions such as "free shipping" on specific purchases. 
Another factor in their pricing is that health supplements are typically lightweight and have minimal weight variance compared to other types of goods, making them a logical choice for offering free shipping as part of their marketing strategy.
Looking to bulk up and gain some weight? Check out this article about the top protein powders to help you start gaining weight for increasing size!
Are iHerb Returns Free?
iHerb brand items are given an extended 90-day return period. Items must be undamaged in their original packaging to be eligible for return or reshipment. 
Submitting a refund or return request involves visiting the orders page, selecting the relevant order, indicating the reason for the request, and specifying whether you prefer a refund or reshipment. Our research doesn't indicate if you will be refunded for shipping the product back to iHerb. 
iHerb offers the option of receiving refunds as store credit, which typically becomes available within 24 hours. If you want an actual refund of the purchase, you need to ship the product in its original box back to iHerb after filling out a report on their order's page. 
Once the product has been received and approved, processing may take 7-10 business days.  Customers outside the United States may experience longer refund processing times, up to 35 days, with store credit being the swiftest option, typically available within 24 hours. 
Why Do Weightlifters Order Protein Powder on iHerb?
Weightlifters should consider iHerb for their supplementation to maximize size, strength, and recovery. The reasons to trust iHerb for supplementation, especially for protein powder, are that there are various brands and types, quality assurance, and competitive pricing. 
Variety of Brands and Types
iHerb offers a wide selection of protein powders, including whey, casein, and plant-based (for example – pea, hemp, and rice protein) for massive diversity and to serve different populations of athletes and dietary restrictions. This variety allows weightlifters to choose the type of protein that best suits their dietary preferences and fitness goals.
Quality Assurance
iHerb is known for carrying reputable brands and products. Many weightlifters prioritize high-quality protein sources, and iHerb's stringent quality control standards and customer reviews can help them make informed choices.
Competitive Prices
iHerb often offers competitive prices on protein powders compared to the competition, making it an affordable option for those who consume protein supplements regularly. 
Are you wondering if protein powder is right for you? Check out this article about if you should drink a protein shake without working out.
FAQ
Does iHerb sell fake products?
iHerb does not sell fake products. They take pride in their product selection, partnering with several brands and guaranteeing authentic products.
Is there an iHerb in Australia?
Currently, there is no iHerb location in Australia. Most locations are in the US, although some international locations now exist.
Is iHerb approved by FDA?
On iHerb's website, they do not mention being FDA-approved. However, all iHerb brands meet strict standards and Current Good Manufacturing Practices set by the FDA. We use only well-researched raw materials, unique ingredients, and trusted blends.
Final Thoughts
In this review of iHerb, you've learned about the goals and mission of this global health and wellness retailer. 
iHerb gets top-notch reviews on both app stores, has all the hard-to-find products that strength athletes and lifters need, and can ship almost anywhere in the world. 
With more than two decades of business experience and a commitment to quality, it's clear that iHerb has earned its place as a top health and wellness distributor. 
If you're outside the US, read about the shipping options in your country and try a small order first to see how it goes. In most cases, you should be fine, but there are more chances for unexpected fees or delays at customs.  
In my research for this iHerb review, I found iHerb to be a convenient and cost-effective source for various health and wellness products, including protein powders and workout supplements. The platform's diversity of brands and types, quality assurance, and competitive pricing make it a reliable choice for weightlifters and fitness enthusiasts seeking to meet their nutritional needs.
About The Author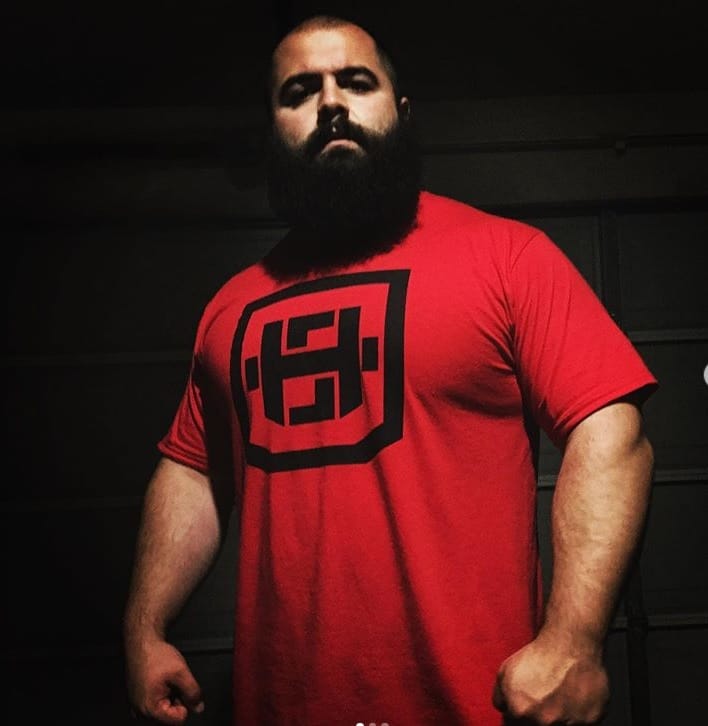 Joseph Lucero is a Strength Coach and Author and owns Harvesting Strength LLC. He's CSCS Certified, and when he's not helping clients get stronger, he writes about strength and conditioning to help readers. You can connect with him on LinkedIn and Instagram.