PowerliftingTechnique.com is independent and supported by our readers. We may earn a commission if you buy through the links below. For more, see our disclosures page.
Choosing the best weightlifting shoes should not be rushed. Committing to purchasing a pair of weightlifting shoes is likely going to be a long commitment and significant investment, as they can potentially cost over $200. Knowing your budget and needs will help you determine which ones are best for you.
So what are the best weightlifting shoes? The best shoes for weightlifting are the Reebok Legacy Lifter II because they have a very supportive, wide metatarsal strap positioned in just the right place, and they have the highest heel, which is superior for performance. They also have great support but enough flexibility at the toe box.
These are the best weightlifting shoes overall, but that does not necessarily mean that they are universally suitable for everyone.
In this article, I will go through what to consider when buying weightlifting shoes, the best lifting shoes for various scenarios, and everything you need to know to help you decide which ones to buy.
Featured Products
4 Things To Consider When Buying Weightlifting Shoes
There are 4 main things you need to consider when buying weightlifting shoes:
Budget
Sport
Anthropometry
Foot shape
Budget
The first and most important aspect of buying weightlifting shoes is deciding your budget. It does not matter how suitable a pair of weightlifting shoes are if you cannot afford them.
As a rule of thumb, expect to spend between $100 to $250 for a pair of top weightlifting shoes. As much as they can range in price, weightlifting shoes will generally last quite a long time. Even if you have to spend a lot of money upfront, it's not a purchase you'll have to make often.
Sport
The sport you participate in will dictate what types of activities you'll perform and what sort of shoes you'll need.
For example, whether you do Olympic weightlifting, powerlifting, or some form of cross-training will determine the heel height and level of stiffness you need.
Anthropometry
Anthropometry refers to the proportions of the different parts of your body. The most influential part of your anthropometry is your femur length relative to your torso length.
If you have relatively long femurs, you may want a shoe with a higher heel. If you have short femurs, you may not need high heels.
Are you a tall or long-legged lifter who struggles with squats? Check out our tips for squatting with long legs.
Foot Shape
Foot shape can dictate which shoes and sizes you may want to buy. For example, having a wide foot or needing more arch support will influence which shoes for weightlifting you should buy.
How We Ranked and Compared the Weightlifting Shoes in This List
It is important to know what matters when it comes to comparing weightlifting shoes. This is why we do not necessarily want to discuss aesthetics, as looks don't necessarily affect the shoe's function.
Instead, we based our reviews on the following:
Personal experience
Speaking with experienced athletes
Speaking with experienced coaches
When compiling this list, we spoke with powerlifting, weightlifting, and strength and conditioning coaches and athletes to get their opinions on the shoes they were already wearing or have worn in the past. We understand why it is so important to find the most accurate recommendations, and the best way to figure this out is to speak to frequent users.
We also took our personal experience with these weightlifting shoes into account to help you understand the various options and determine which model is best for you.
10 Best Weightlifting Shoes
| Model | Best For | Price | Heel | Overall Rating |
| --- | --- | --- | --- | --- |
| Reebok Legacy Lifter II | Overall | $$$ | 0.86 inches | 5/5 |
| Do Win Weightlifting Shoes | Budget | $ | 0.75 inches | 3/5 |
| Nike Romaleos 4 | Split Jerkers | $$$ | 0.78 inches | 5/5 |
| Nike Savaleos | CrossFit | $$ | 0.59 inches | 3/5 |
| Do Win Classic Lifter | Average-Height Lifters | $$ | 0.75 inches | 3/5 |
| Adidas Powerlift 5 | Powerlifting | $$ | 0.59 inches | 3/5 |
| Reebok Lifter PR III | Short Femurs | $ | 0.6 inches | 5/5 |
| Adidas Adipower III | Foot Support | $$$ | 0.86 inches | 5/5 |
| Inov-8 Fastlift Power G 380 | Women | $$$ | 0.86 inches | 4/5 |
| Core Weightlifting Shoes | New Gym-Goers | $ | 1.2 inches | 2/5 |
Rating: 5/5
Pros
The high heel height of 0.86 inches makes it useful for athletes who are tall or have long femurs
Robust toe cap that can withstand repeated forward pressure from the front of the foot or toes over time
Large surface area on the base of the outer sole, maximizing traction with the ground to minimize the risk of slipping
Cons
With the high heel and heavy weight, they are not versatile for any cross-training activity
A very expensive shoe that requires a high level of investment
---
The Legacy Lifter II is a premium weightlifting shoe made by Reebok to compete with other premium shoes from lifting shoe brands like Nike (Romaleos 4) and Adidas (Adipower 3). They are some of the best lifting shoes for men and women.
The Reebok Legacy Lifter II is unique because it has a higher heel of 0.86 inches. This makes it a particularly suitable shoe for Olympic weightlifters with longer femurs. It helps them maintain uprightness and squat depth while having limb lengths that would otherwise make them quite back-dominant.
Also, its collar has an antimicrobial ETC lining that helps reduce heat and friction against the Achilles heel. It has a full foam lining for extra comfort and support.
Rather than having two metatarsal straps, it has one thick strap across the middle, which some people may prefer.
Rating: 3/5
Pros
Dual metatarsal straps for a firm custom fit around the mid-portion of the foot
Reasonably priced for the weightlifter who is on a budget but wants to have good value for money
Suitable for wider feet
Cons
Not suitable for those who are taller and need a higher heel to squat deeper
Do not have a heel collar pull tab, so putting them on may take more effort and you may accidentally fold the back of the heel
---
The Do Win brand is known in the Olympic weightlifting community as a reasonably priced brand of weightlifting shoes. It has been making weightlifting shoes for many years. The shoes are cheaper than the models made by the big brands, but they have not compromised that much on design and build.
The current and most updated model comes with two straps and a hard plastic base similar to the old Nike Romaleos 2 heel base.
The Do Win weightlifting shoes have a modest heel of 0.75 inches, which is normal for most Olympic weightlifting shoes. The two metatarsal straps are very useful for people with wider feet who want to find a perfect fit. However, if you have narrow feet, you may want to get a half-size smaller.
There is a mild toe spring and an outer sole base of the forefoot area with a molded surface for flexibility and durability. This is essential for weightlifters who perform the split jerk, where they often need to bend at the front of their forefoot. The stripey base also provides good friction so weightlifters can get a good grip on the floor.
Because of their wide base, the Do Win weightlifting shoes are also good lifting shoes for people with plantar fasciitis.
Rating: 5/5
Pros
Metatarsal strap under the midsole offers more active arch support and a snug fit around the foot
Wider heel extends behind your heel for maximal contact area with the floor
Robust manufacturing that will lead to longevity and high volumes of use with the shoe
Mesh front allows more freedom and molding around the toes for comfort
Cons
High price is not suitable for Olympic weightlifters on a serious budget
No heel collar pull tab, so it can be annoying to undo your shoelaces and straps before putting them on
---
The Romaleos 4 are some of the best shoes for weightlifting that come at a premium price. They are manufactured by Nike, which is known for creating exceptional products. These Nike lifting shoes come at a higher cost, but it is definitely worth the investment if it is within your budget.
They have a wide base of support at the back of the heel, reducing the chances of rolling onto the edge of your heel during lifting. They also have two metatarsal straps, which are now fitted at the right length. The Romaleos 2 infamously had an excessively long strap, which was often left hanging by the floor.
Their two metatarsal straps, combined with the firm but flexible toe box, make them very suitable for Olympic weightlifters who perform the split jerk in their training.
These Olympic lifting shoes have a moderate heel height of 0.78 inches or 20mm. This makes it suitable for most body sizes. They also have an effective patterned sole, which creates a good grip on the floor. The hardness of the heel will also create good force transfer during explosive lifts like the snatch and clean.
4. Nike Savaleos – Best Weightlifting Shoes for CrossFit
Rating: 3/5
Pros
Suitable for athletes who perform cross-training activities that include Olympic weightlifting
Offers more cushioning and comfort to give more impact support around the heels and ankles
More suitable option and great value for money for the budget athlete
Cons
The lower level of rigidity and smaller heel surface area make it a less stable shoe for advanced weightlifters
Lower heel elevation makes it less suitable for tall lifters or those with long femurs who have a harder time not overloading the back and hips when squatting
---
The Nike Savaleos were designed for CrossFit-type workouts, where there may be a combination of Olympic weightlifting, powerlifting, jumping movements, and other dynamic exercises.
They are lighter than the Nike Romaleos 4, a pure weightlifting shoe. The Nike Savaleos have a heel suitable for Olympic weightlifting but with more flexibility across the whole sole for dynamic movements, such as plyometrics and jumps.
The Nike Savaleos are more comfortable and have more padding to make them suitable for wearing throughout an entire workout.
However, they have a more conservative heel elevation of only 0.59 inches, which is roughly a 25% reduction in heel height compared to the Nike Romaleos 4.
Rating: 3/5
Pros
The suede and mesh upper offers breathability, so moisture can escape during long, hard sessions
Moderately priced shoes for weightlifting that offer a snug and custom fit with two metatarsal straps
Reasonable heel height makes it suitable for most weightlifters of different heights and limb lengths
Cons
The wood can wear down over time
The layers between the wood and the rest of the shoe can separate over time through chronic wear and tear
The suede front can soften very quickly and wear out over time, exposing your toes
---
The Do Win Classic Lifter is the relaunched version of the Rogue weightlifting shoe that was manufactured by Do Win. The unique part of the Do Win Classic Lifter that many weightlifting enthusiasts like is the retro-style wooden heel, which was what most of the old weightlifting shoe heels were made of.
It has a very simple design with two metatarsal straps to secure the foot and keep it snug inside. The heel also has the same height as the Do Win weightlifting shoe, 0.75 inches. This makes this shoe suitable for most average-height and average-build lifters who do not have extremely short or long femurs.
The toe box area is made of suede, which gives it more flexibility to contour around the foot. I also like that these weightlifting shoes do not have such a rigid and hard toe box as other weightlifting shoes, which I know some people do not like.
Rating: 3/5
Pros
An average-priced weightlifting shoe that can be used by both weightlifters and powerlifters
A very flexible toe zone makes it good for molding around wide feet
Suitable for people who want to do split jerks in their weightlifting
A heel collar pull tab makes it very easy to get these shoes on
Cons
A lower and softer heel makes it less suitable for more advanced Olympic weightlifters
A relatively lower heel elevation makes them less suitable for advanced weightlifters who want to maximize squat depth
---
The Adidas Powerlift 5s are some of the best shoes for powerlifting but can be considered a hybrid shoe. They aren't hybrid in that they can be used for cross-training like the Nike Saveleos, but they are suitable for both powerlifters and Olympic weightlifters.
They have a more conservative heel height of 0.59 inches, as powerlifters generally do not need to hit very deep squats. However, the lower heel height can be suitable for Olympic weightlifters with short femurs or good squatting mobility who do not need a high heel.
The Adidas Powerlift 5s have a classic outer sole design that has been used for many versions of the shoe (including the previous Adidas Powerlift 4s, which made our list of the best men's lifting shoes) with anti-slip rubber.
The Adidas Powerlift 5s also cost much less than other premium weightlifting shoes, making them some of the best shoes for lifting for individuals on a budget.
7. Reebok Lifter PR II – Best Weightlifting Shoes for Lifters With Short Femurs
Rating: 3/5
Pros
A very good value-for-money budget alternative to the Legacy Lifter II
Low-cut design for freedom of ankle movement makes it suitable for cross-training
Breathable mesh construction allows sweat to evaporate and feet to stay cool when lifting
Cons
Some lifters report discrepancies between the left and right shoes
The insole does not fit perfectly inside
Not as sturdy for advanced weightlifters
---
The Reebok Lifter PR II is a much cheaper alternative to the Reebok Legacy Lifter II. It has a breathable textile upper to let sweat evaporate and an EVA foam midsole for lightweight cushioning.
The Lifter PR II also has a single metatarsal strap and anti-slip outer sole design similar to the Legacy Lifter II. But unlike the Legacy Lifter II, it has a longer tongue and a lower-cut design to allow for more ankle motion.
It has a much lower heel of about 0.6 inches, a common trend among affordable weightlifting shoes. The lower heel makes this shoe very suitable for people with shorter femurs or thigh lengths, as they do not need much heel elevation to squat deep and maintain uprightness.
8. Adidas Adipower III – Most Supportive Weightlifting Shoes
Rating: 3/5
Pros
A decently high heel, which makes it suitable for competitive Olympic weightlifters who want to maximize squat depth to lift as efficiently as possible
A well-constructed and hard heel makes feeling your center of mass on your foot very easy, which is important for competitive weightlifters
A large surface area on the heel maximizes contact area with the ground, which increases traction for stability and reduces slipping
Cons
Very uniform surface area of the outer sole, which can erode more over time if used on a rougher gym floor
Only have one metatarsal strap (though they still offer plenty of support)
---
The Adipower IIIs are the best weightlifting shoes for men and women who need extra support. They are a premium weightlifting shoe from Adidas. Their heel height is similar to the Reebok Legacy Lifter II but higher than the Nike Romaleos 4. They also come in a large range of sizes — the smallest size is 3, and the largest size is size 15.
They have a high-density TPU midsole for support and stability around the foot and a single metatarsal hook and loop strap with flat laces. Flat laces are considered to be better for shoes that are used in multidirectional movements.
The Adipower IIIs have a similar fit to the previous generations. If you wore older models and liked them, you cannot go wrong with the Adipower IIIs. They have a much higher heel (0.86 inches) than the Powerlift 5 and are made from harder plastic.
With a very high heel and strong foot support, the Adipower IIIs are also some of the best shoes for weightlifting for lifters who are tall or have very long femurs. They are also a good shoe for lifters who are advanced in their sport and lift heavy weights.
Rating: 4/5
Pros
At 380g, the Inov-8 Fastlift Power G 380 is light compared to other premium models
For a premium model weightlifting shoe, it is relatively easier to break in
The durable Ripstop upper allows good airflow and breathability so you can let your sweat escape better
The contour of the forefoot gives it better durability and better functionality
Cons
The toe box is a narrower than average
They are on the higher end of pricing
---
The Inov-8 Fastlift Power G 380 is currently Inov-8's latest premium weightlifting shoe. However, it is not as expensive as the ones from the bigger brands like Nike or Adidas. The 380 in the name refers to the shoe's weight, 380 grams or 0.84 lbs. It has a wide support base and a wide velcro metatarsal strap, which makes it useful for supporting women with unstable foot arches.
The Fastlift Power G 380 also has a more exaggerated toe roll and heel roll than the other weightlifting shoes on this list. It has a graphene rubber outsole for creating good traction on most surfaces.
Although it does not have a heel collar pull tab, you can often accidentally fold the back of the shoe's heel. This can reduce its longevity over time.
Rating: 2/5
Pros
The high heel makes it super efficient for maintaining a more upright torso and squatting as deep as possible
Affordable for a first-time weightlifting shoe if you want to try the sport without making a huge initial investment
Suitable for beginners who may not initially need to lift a huge amount of weight and need a high heel to get good depth
Cons
The high heel may make it a harder for some people to stay on their heels
The uniform surface area of the outer sole wears down quickly, reducing traction over time
---
Core weightlifting shoes are a budget pair of weightlifting shoes. They are not as common as the other big brand shoes but offer much value for money. This makes them a good option for new lifters who may not want to spend a lot of money until they become more advanced.
One of the key distinguishing features of this shoe is that it has a 1.2-inch heel, which is far higher than the other shoes.
The extremely high heel allows tall people, people with long femurs, or people with poor mobility to squat deep. It also helps new lifters who are still working on improving their squat depth. It has single metatarsal velcro straps with laces to secure a custom fit around the foot.
It has a very flat and even outer sole for maximum surface area for a maximum contact area.
For other shoes that are also good for new lifters, check out the 5 best lifting shoes for beginners.
Weightlifting Shoe Buying Guide
Here is a list of qualities you should look for when buying a weightlifting shoe:
Heel height
Heel material and structure
Laces and straps
Toe box
Outsole surface
Heel Height
Heel height is not necessarily proportional to the shoes being better, as it depends on your physical characteristics and what you want to achieve. Higher heel heights generally mean you can squat deeper, which is important if you plan to become a competitive Olympic weightlifter.
If you want to find weightlifting shoes for cross-training purposes, you may not want such an exaggerated heel height. It may negatively impact your other activities outside the Olympic lifts.
If you are a powerlifter, you may want a reduced heel height, as squatting very deep may not be a requirement.
On the other hand, taller lifters may want to consider a high heel height so the pressure does not go all the way to the back and hips during squats or Olympic lifts.
Heel Material and Structure
Heel material and structure refer to what the heels are made of and how they are shaped. Pure Olympic weightlifters or powerlifters need a hard heel material, so they can feel grounded on their feet and feel their center of mass when lifting.
The hardness of the heel will also ensure you remain stable. A softer heel may make you feel less stable and negatively affect your performance.
Laces and Straps
The laces and straps determine how well the shoes fit around the foot and how much they can support the arch. Weightlifting shoes normally come with straps, but they may come in different widths and positions on the shoe or have a different number of straps.
Straps can be very short on the top of the shoe, or they can be long and wrap around it quite a bit, giving more arch support.
Where the straps are located can give you an idea of where you may feel the most support – i.e., whether they're higher up the foot near the ankle or near the midfoot.
A higher number of straps can be advantageous for most people, giving the shoe a more custom fit.
Toe Box
The toe box refers to the construction of the front portion of the shoe. This portion can vary among models.
Toe boxes can be shaped in a way that makes them more suitable for people with narrower or wider feet. This can determine which size you want to buy.
Also, the toe box material can determine how durable it is, how easy it is to break in, and how well it can bend by the toes. Some toe boxes are hard to break in but are durable. Some toe boxes are easier to break in but have lower longevity. Some are somewhere in between.
Outer Sole Surface
The outer sole surface refers to the shoe's base. Olympic weightlifters normally want as much traction as possible. This means maximizing the surface area is key.
The best shoes for lifting weights should also have intelligent contouring of the surface area to allow toe bending at the front while maximizing friction that they will have against the floor.
Why Should You Wear Weightlifting Shoes When You Lift?
Here are three reasons why you should wear weightlifting shoes when you lift.
Base of Stability
Weightlifting shoes provide a base of stability by giving you a strong foundation for feeling your center of mass on your foot without them absorbing your weight. The flatness of the bottom of the shoe allows you to feel the whole foot on the ground simultaneously to give you feedback on where your body weight is in space.
Mobility
Weightlifting shoes are constructed to allow for split jerking and bending at the tarsals and metatarsals. Without this, wear and tear on the shoes will happen very rapidly.
Heel Elevation
Heel elevation will provide you with an enhanced ability to perform deeper squats by allowing you to let your knees travel further. This will increase the uprightness of your torso and allow your pelvis to sit closer to your heels.
This is important for Olympic weightlifting, as the deeper the athlete can squat, the more efficient their performance of the snatch and clean and jerk.
What Are the Differences Between Weightlifting Shoes and Cross-Training Shoes?
There are three main differences between weightlifting and cross-training shoes:
Heel height
Hardness of heel
Weight of shoe
Weightlifting shoes tend to have a higher heel height and a harder material for the heel to tolerate higher absolute loads. They also tend to be heavier in construction, so they can be sturdy under heavy squatting.
Cross-training shoes tend to have a lower heel height with more of a heel roll. The heels are softer, allowing them to absorb more impact from plyometric and jumping movements. They also tend to be much lighter, so you can move around more efficiently.
For shoes that are good for cross-training, check out our list of the best shoes for running and lifting.
What Are The Best Powerlifting Shoe Brands?
Is it better to use powerlifting shoes instead of weightlifting shoes? When training for powerlifting, the right shoes can make a huge difference in how much weight you can lift and how protected your feet are during heavy lifts. There are a lot of different shoes on the market, so we rounded up the top 7 shoe brands for powerlifting.
The top 7 powerlifting shoe brands in 2023 are:
Nike

Adidas

Reebok

Sabo

Converse

Inov-8

NoBull
Finding the right brand and style of shoe that works for you can take some trial and error, but the proper footwear can help you maximize your training.
Frequently Asked Questions
Does It Matter What Shoes You Wear for Lifting?
Yes it matters what shoes you wear for lifting. You want a shoe with a sturdy, flat sole instead of a cushioned shoe because it gives you a more stable base, allows you to feel where your center of mass is on your foot, and influences how you manage your posture in the rest of your body.
Are Converse Good for Lifting?
Converses can be good for powerlifting as they provide a flat base of support with minimal foot elevation. Converses are also good for general strength training but aren't good for Olympic weightlifting since they aren't supportive enough for heavy, dynamic lifts like the snatch and clean and jerk.
Do Weightlifting Shoes Really Help?
Yes, weightlifting shoes can help you squat deeper and with better form by providing an elevated heel, which can keep you more upright, and a sturdy non-compressible sole, so you can feel your center of mass on your foot.
---
About The Author: Norman Cheung ASCC, British Powerlifting Team Coach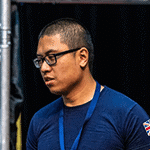 Norman Cheung is a powerlifting, and accredited strength and conditioning coach under the UKSCA. He has been coaching powerlifting since 2012 and has been an IPF Team GB coach since 2016. He has experience coaching various lifters, from novices to international medallists and international university teams. Alongside coaching, he takes interest in helping powerlifters take their first step into coaching. He currently runs his coaching services at strongambitionscoaching.com