Before opening my gym in Westminster, California, I did a lot of research on the best squat racks. Most aren't cheap, so to help you avoid wasting money, I've narrowed the list down to what I think are the highest-quality squat racks.
Top 3 Squat Racks:
The right squat rack for you will depend on your goals and how much space you have. 
In this article, I'll share a clear guide on the best racks for garage gyms and show you what to look for when deciding which is right for you and your situation.
Why You Should Trust PowerliftingTechnique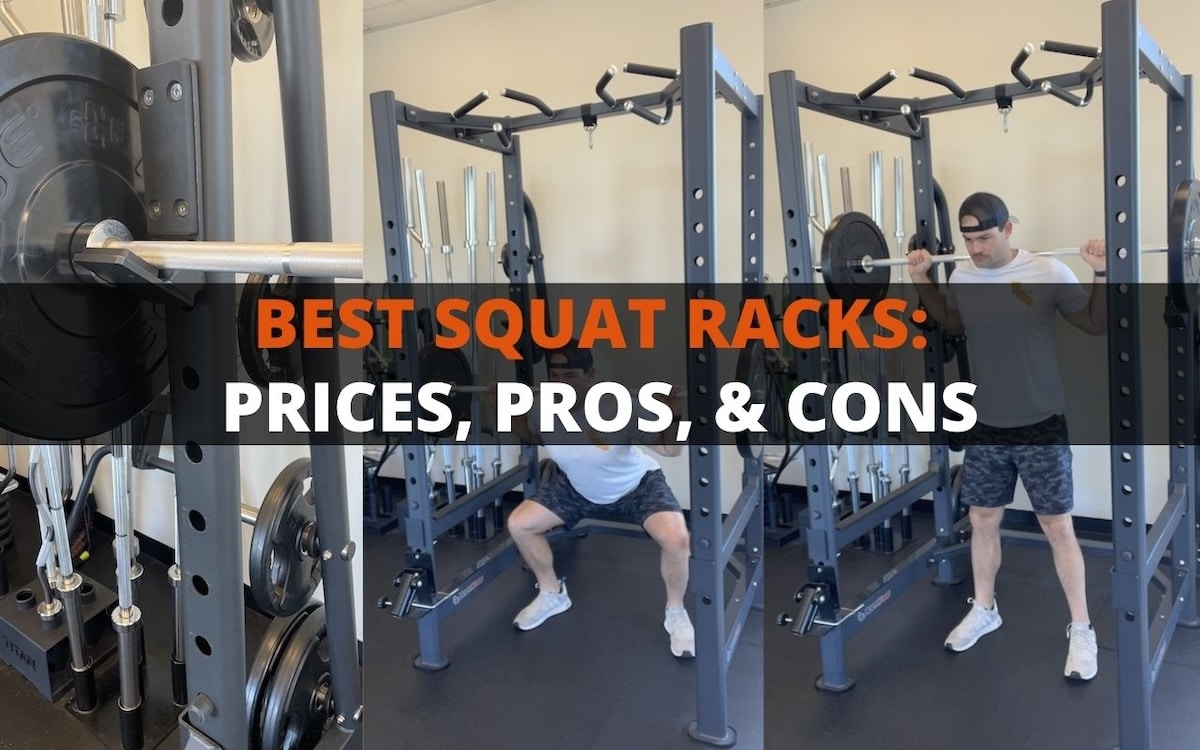 Our team comprises powerlifting coaches, strength and conditioning coaches, athletes, physical therapists, and trainers who have competed and helped athletes and clients at the highest levels.
How I Chose the Best Squat Racks
I tested out +10 squat racks before buying one for my gym, KB Fitness Training Studio. I also asked team members like Derek Reasch and Joseph Lucero about their experience with squat racks. I then narrowed that list based on each rack's cost, size, weight capacity, versatility, and durability. 
10 Best Squat Racks
Rating: 4.8/5
Specifications
Price – $300
Footprint – 47" D x 44" W
Height – 85"
Material – 13-gauge steel
Weight capacity – 1,000 lbs
Pros
Lots of options for expansion
Affordable
Easy assembly
Cons
It can wobble, which can be a stability issue
Holes for J-cups can be at in-between heights for some people
I love the Hulkfit Pro Series Power Cage for several reasons. Most importantly for home gym users, it's affordable and easy to assemble. There are also a lot of customizable add-ons, like a lat pulldown cable, dip bars, and safety straps, that you can use to add some variety to your training. 
The spacing for the J-cup holes makes it a challenge to find the right height for some exercises. In some instances, they're either too high or too low, and you have to pick the best option for the exercise you're doing. The rack can wobble a bit when doing bodyweight exercises, like dips, but it does hold together.
But the value and number of add-ons you can bring to the rack make it the best squat rack for a home gym.
Rating: 4.0/5
Specifications
Price – $115
Footprint – 50" D x 46" W
Height – 85"
Material – 11- and 12-gauge steel
Weight capacity – 500 lbs
Pros
Affordable
Assortment of colors
Plate storage
Cons
Can wobble, so sturdiness is a concern
Lack of attachment options
If you're looking for a budget-friendly garage gym squat rack that doesn't have a lot of bells and whistles, the CAP Barbell FM-905Q Power Rack is your best choice. It's perfect for your lifting needs at an affordable price and is sturdy enough for most exercises, including squats and strict pull-ups. It also has two storage pegs to load your weight plates on.
Where this squat rack runs into trouble is in how much weight it can hold. It is only measured to support 300-500 lbs. This makes it a perfect option for beginners.
Rating: 4.7/5
Specifications
Price – $200
Footprint – 12" D x 42" W, 18" D x 42" W, or 24" D x 42" W
Height – 91" or 102"
Material – 11-gauge steel
Weight capacity – 1,000 lbs
Pros
Low price point
Three depth options and two height options
Small footprint
Cons
No assembly instructions
Mounting it to the wall can be a challenge
If you're limited on the space in your garage gym, the Titan Fitness T-3 series is the best home squat rack for you. It gives you the functionality of a squat rack without taking up much space. It also comes with three depth and two height options to make it more customizable to your available space.
The drawback to this squat rack is the assembly. It's complicated, and you'll need a trip to the hardware store and some basic tools to set this rack up. I would not recommend this if you're concerned about your assembly ability.
Here are some of my favorite squat racks for small spaces that don't involve much assembly.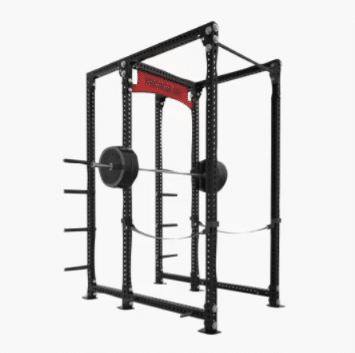 Rating: 4.9/5
Specifications
Price – $2300
Footprint – 76" L x 49" W
Height – 90", 100", or 108"
Material – 11-gauge steel
Weight capacity – 1,000 lbs
Pros
Very versatile
Multiple options for attachments
Plate storage
Cons
Expensive
Narrow width makes it hard to rack/unrack the barbell
Takes up a lot of space
If money were no option, this would be the squat rack I use in my gym. The Rogue RM-6 Monster Rack 2.0 is among the most impressive on the market, as it has all the bells and whistles you'd want in a squat rack. It is fully customizable in that you can pick the pull-up bar, J-cups, safety bars, and even the rack color.
There is also a wide range of secondary Rogue attachments you can add to it, such as a pulley cable system for upper body exercises, a single leg roller for exercises like Bulgarian split squats, or a landmine attachment for shoulder presses.
The only downside to this squat rack is that it takes up a lot of space and is pricey. 
If you love Rogue products as I do, check out the 10 Best Rogue Racks.
Rating: 4.6/5
Specifications
Price – $500
Footprint – 27.5" D x 49" W
Height – 90"
Material – 14-gauge steel
Weight capacity – 1,000 lbs
Pros
Space saving
Super easy to fold
Durable
Cons
It's tall, so ceiling height can be an issue
Expensive
If you want to maximize space savings, the PRx Performance is the squat rack for you. It takes very little time to fold up for storage and unfold to get to your workout. Because of this, it makes it perfect for any home gym.
It does have a large height requirement, so if you don't have a lot of overhead space, you may want to look for a shorter squat rack, especially if you want to do something like pull-ups.
The only downside is that this squat stand can be more expensive than other wall-mounted racks, but it's worth the price because of its quality and easy use.
Check out some of my top 10 foldable squat racks.
Rating: 4.6/5
Specifications
Price – $500
Footprint – 24" D x 46" W or 36" D x 46" W
Height – 82" or 91"
Material – 11-gauge steel
Weight capacity – 1,000 lbs
Pros
Has a wide base, which increases stability
Lots of attachments and accessories can be used
Option for plate holders
Cons
I love the quality of all the Titan Fitness products I have. The Titan Fitness T-3 Power Rack is no exception. 
They offer solid products at prices that don't break the bank. This is a perfect option for those with home gyms who don't have much space to work with but still want a place to squat and a rack that can utilize different attachments. 
The holes on the uprights are compatible with other companies, such as Rogue Fitness, so this expands your available options to customize your rack and can help maximize your strength and hypertrophy goals.
Rating: 4.6/5
Specifications
Price – $400
Footprint – 48" D x 58" W
Height – 83.6"
Material – 14-gauge steel
Weight capacity – 700 lbs
Pros
Several add-on options
Easy to assemble
Affordable
Cons
Small uprights
Lightweight which could lead to stability issues
REP provides no way to bolt it to the floor
The Rep Fitness PR-1000 Rack is my choice for the best power rack because it is affordable, durable, and easy to assemble.
One of the highlights I enjoyed the most, which led to this being my best power rack choice, was the availability of attachments. You can, for example, purchase a lat pulldown pulley system separately for more versatility.
Stability can be an issue since it comes in at a light weight of 137 lbs, especially if you lift outside the rack. It does, however, have pegs on the back for weight plate storage. This helps both stabilize the rack and keep your gym tidy.
Rating: 4.5/5
Specifications
Price – $750
Footprint – 48" D x 49" W
Height – 92"
Material – 11-gauge steel
Weight capacity – 1,000 lbs
Pros
Very stable
Customizable
Small footprint
Cons
Single pull-up bar
Safety bars not included
The Rogue HR-2 Half Rack has a lot of value, as it comes with a pull-up bar and a small footprint. It is still large and stable enough that it doesn't necessarily have to be bolted to the floor, but it is an option.
There is a full list of customizable options, like adding plate storage pegs or safety pins. You can also choose between a 90/70-foot height or a 108/90-foot height, with the higher height in each option being the height of the pull-up bar.
If you prefer the Rogue Fitness brand and still haven't decided which rack to buy, I also tested the best Rogue racks on the market.
Rating: 4.2/5
Specifications
Price – $350
Footprint – 48" L x 49" W
Height – 92"
Material – 11-gauge steel
Weight capacity – 1,000 lbs
Pros
Great for low ceilings
Easy to put together
Small footprint
Cons
No pull-up Bar
No plate storage
Attachments sold separately 
The Rogue SML-1 comes in two heights, but the 70" one is the way to go if you work with a low ceiling. This height can fit in most spaces, making it a top pick when deciding on a squat rack for your home.
The one drawback to this model is there is no pull-up bar at the top, and you are limited with the number of attachments you can use. Since there is no upper attachment, the uprights can wobble a bit when there is a lot of load on the bar.
If ceiling height is your main concern, here are more options for you: 7 Best Short Power Racks
Rating: 4.6/5
Specifications
Price – $340
Footprint – 23" L x 42.5" W
Height – 86"
Material – 11-gauge steel
Weight capacity – 1,000 lbs
Pros
Good value
Easy to assemble
Sturdy
Cons
Arms tend to wobble under high loads
Bottom post needs a level floor 
If you're looking for a compact squat rack to mount to your wall, look no further than the Hulkfit Pro Series Wall-Mounted Power Cage. It's hard to argue with the price point of this squat rack. It's easy to assemble, and the pull-up bar can be adjusted via a pin lock mechanism for height requirements.
The drawback to this squat rack is the adjustable pull-up bar. It can make the rack feel wobbly.
If you live in an apartment, check out our tips for putting a squat rack in an apartment.
Buying Guide: What To Look For in a Squat Rack
When trying to make the best choice in a squat rack, there are a few considerations to look for.
Here is a quick checklist of things to look for in a squat rack:
Material
Versatility
Weight capacity
Safety
Footprint
Height
Budget
Brand reputation
Material
The best quality squat racks are made of thick gauge steel, so you want to look for strong thicknesses. One thing to note is that as a gauge number increases, the thickness decreases, so try to find a squat rack that doesn't exceed 12. This will ensure that the squat rack has the durability to last.
Versatility
The best squat racks offer versatility, meaning you can use them for multiple things: a different exercise, plate storage, other attachments, or adjustable heights.
As you look for the best home gym squat rack, you may want one that can be adjusted easily to accommodate other exercises like a bench press.
You will also want to look for a squat rack to add other attachments, like a pull-up bar, landmine attachment, plate storage pegs, and dip bars.
Weight Capacity
For obvious reasons, if you're putting a barbell on the squat rack to squat, you want it to hold up against what you're lifting. This is not only for the durability of your squat rack but for your safety.
When looking at weight capacity, pick one that will support more than you'd likely ever lift. Aside from size and budget, this is the most important thing to look for and not skimp on.
Spacing
The footprint of the squat rack is how much space it will take up on your floor, so you want to know how wide and deep it is. Knowing the space you have available, you'll want to ensure the dimensions of the squat rack fit.
In addition to how much space the squat rack takes up on the floor, you'll want to know the height that fits what you have available. If you are training in your basement or a room with low ceilings, you may not have the height for some squat racks.
Budget
The squat rack you choose should align with the budget you set and the needs of your workout. However, while you can find cheap squat racks, it might be better to spend a little more as you weigh the cost with quality. A quality squat rack is a long-term investment, so choosing durability and quality over price might be better.
Brand Reputation
Several name brands on the market are known for the quality of work they put out. Consider a company's reputation based on reviews from other customers and what you hear from those around you before choosing.
Frequently Asked Questions
Is a Squat Rack Worth It?
A squat rack is worth it if you want a safe, secure space to maximize your strength training and add versatility and efficiency to your workouts. It will allow you to squat, bench press, and overhead press with a barbell. You can do pull-ups or hanging ab exercises if your rack has a pull-up bar.
How Much Does a Decent Squat Rack Cost?
A decent squat rack will cost you anywhere between $300 and $600 and will depend on several factors, like which style you want, as well as any added attachments you feel are necessary.
If a Squat Rack Is Cheap, Does That Mean It's Unsafe?
A cheap squat rack doesn't automatically mean it's unsafe. However, you'll want to do your homework to make sure it's made of quality materials, has a steel frame, and has good reviews from other lifters.
Are Power Racks Safer Than Squat Racks?
Power racks are generally considered safer than squat racks due to their added safety features, like safety bars or spotter arms. Additionally, with four posts instead of two, they will be more stable.
To dive deeper into this topic, check out Squat Rack vs Power Rack.
What Is the Difference Between a Squat Rack and a Squat Stand?
A squat stand and a squat rack may look the same, but key differences exist. A squat rack will have a wider base and usually one or two bars running across the top for extra support. The vertical bars on a squat stand are usually not linked.
If you'd like to learn more about the nuances of squat racks, this is perfect for you: 18 Types of Squat Racks Explained.
Is a Half Rack or Full Rack Better?
A full rack is better if you have ample space, money, and goals that have you lifting heavy. If you have less space, need to stick to a budget, and lift a moderate amount of weight, a half rack will be fine.
Final Verdict: What Is the Best Squat Rack for a Home Gym?
When considering all of the factors that went into deciding on the best squat racks for home gyms, the Hulkfit Pro Series Power Cage is my top choice. It is cost-effective and comes with a lot of potential accessories.
If you're looking for an option that takes up less room, I would consider the Rogue SML-1 70" Monster Lite Squat Stand. It's available in a 70" height to fit under low ceilings. While it does have a decent footprint of 48" L x 49" W, it's still smaller than a power cage.
About The Author