According to the USDA, the average scoop of protein powder is 32 grams, roughly 1/3 of a cup, or about 2 tablespoons. But scoop sizes vary from 20g to 45g.
Calculating serving size for protein is pretty simple, but if you get it wrong, you could be taking too much and wasting money. Or if you take too little, you may not get the gains you want.
I've been lifting for over 20 years and consistently take Dynamtize protein with 30-gram scoop sizes. Below, I listed the scoop size of the top protein brands on iHerb since they list it in the nutritional information, unlike other popular retailers. 
Check out the latest protein deals on iHerb for Black Friday and Cyber Monday. You can get 25% off for Black Friday using the code: 25BF23 between 11/23 – 11/25. Or you can get 22% off on Cyber Monday using the code: 22CM23 between 11/27 – 11/29.
How Many Grams Is One Scoop of Protein?
The average scoop size of protein powder is 32g, but sizes can vary from 20g to 40g. I looked through the USDA's FoodData Central database for "protein powder", and this was the most relevant result. But each brand's scoop size varies.
Whey protein like EVLution Nutrition tends to have larger scoop sizes, around 40g, while plant-based or pea protein powders like NaturesPlus are around 20g. Protein with creatine, like MuscleTech could have scoop sizes around 45g.
This is because pea protein powders are heavier than whey protein, so the scoop size doesn't need to be as large to add more.
Pro Tip: Scoop size matters less than the grams of protein in each serving. For example, EVLution Nutrition has 40.3 grams of scoop size but only offers 25 grams of protein.
Looking to make a high-protein smoothie? Check out this article about the best protein powders to use for making protein smoothies.
Why Do Different Brands Have Different Scoops?
Different brands have different scoops due to:
Different serving sizes
Different macronutrient profiles
Additional supplements such as amino acids and creatine
One of the reasons that different brands use different scoops is the serving size. Some brands have half the serving size, such as 15 grams, which might cater to populations that don't want a heaping amount of protein per serving. Therefore, the scoop size will be half the size as a brand with a larger serving.
This is important to understand. You shouldn't use a different scoop than what the brand provides. Not all scoops are the same size, so using a different scoop than intended could cause you to miscalculate the amount of supplementation you desire.
Different brands also have different scoops for their protein powder based on the nutritional content inside their protein powder. Some protein powders may offer various supplements for fats or carbohydrates as well. These nutrients can influence the size of the scoop for protein powder.
For example, California Gold Nutrition Sport Whey Protein Isolate has this breakdown of the nutritional info:
31g scoop size
27g protein per serving
0g fat
0g carbs
4g miscellaneous
Other brands like MuscleTech have a protein and creatine blend, so here's the breakdown of the nutritional info:
45g scoop size
30g protein per serving
2.5g fat
4g carbs
3g creatine
5.5g miscellaneous
Are you lactose intolerant but still want to gain the benefits of protein powder? Check out this list of the best lactose free protein powders that are currently available in the market.
How To Measure a Scoop of Protein Powder
To measure 1 scoop of protein powder, check the directions to see whether it should be an "exact" or a "heaping" scoop.
Exact scoops shouldn't have protein spilling over the top.
Heaping scoops should have protein spilling over the top.
What is equivalent to 1 scoop of protein powder? If you lose your scooper for protein powder, you can estimate an average protein serving size of about 2 tablespoons of protein powder. Or you can check the serving size and calculate that 1 tablespoon = about 15 grams. That's about half the average protein powder serving size.
Pro Tip: One of my favorite things when serving protein powder is to break the seal but keep part of the seal intact and make it a flat surface to scrape protein off.
Looking for a new protein brand? The protein powder I currently use is Dymatize ISO 100. Each scoop of protein powder is 30 grams, with 25 grams of actual protein. It tastes great, is easy to digest, and helps me reach my protein goals daily.
We know people drink protein powder after workouts, but can you drink it without a workout? Check out this article that discusses drinking protein powder without working out and if there are any benefits.
FAQ
How many calories in a scoop of protein powder?
On average, you should expect around 100-120 calories per scoop of protein powder. This accounts for around 25 grams of protein and small amounts of fats and carbohydrates.
What is the equivalent amount of eggs in 1 scoop of whey protein?
If each egg is around 6 grams of protein, then each scoop of whey protein should consist of around 4 whole eggs, as most scoops of protein powder are 24-25 grams of protein.
Are you a female powerlifter trying to figure out your diet? Check out this article that talks about female powerlifting diets to help you hit your goals in powerlifting.
About The Author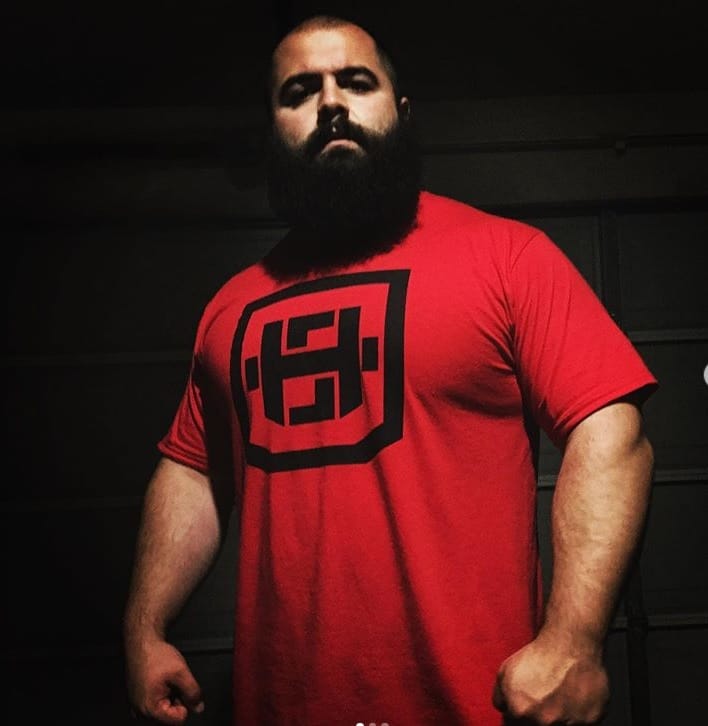 Joseph Lucero is a Strength Coach and Author and owns Harvesting Strength LLC. He's CSCS Certified, and when he's not helping clients get stronger, he writes about strength and conditioning to help readers. You can connect with him on LinkedIn and Instagram.