PowerliftingTechnique.com is independent and supported by our readers. We may earn a commission if you buy through the links below. For more, see our disclosures page.
The best deadlift shoes increase your stability, balance, and support while decreasing your range of motion. This helps you lift more!
Many lifters don't realize that a key part of deadlifting technique is reducing your range of motion. This requires a specific type of shoe that places your foot as close to the ground as possible.
This is why I recommend the Sabo Deadlift Shoe as the best shoe for deadlifting. It is a minimalistic shoe and will keep your body position balanced, protect your ankle, and ensure your feet don't slip (important for sumo deadlifting).
Don't make the mistake of buying a weightlifting shoe for deadlifts. The elevated heel will not help your deadlifts and could cause problems. That's why you'll see weightlifting shoes and even Converse shoes in our list.
Choosing the ideal footwear for deadlifts requires understanding the movement technique as a whole. So today, I'll provide you with everything you need to know so that you can choose the best shoes for deadlifts!
Top 8 Deadlift Shoes Shoes
There are many powerlifting shoe brands that qualify as deadlift shoes.
Here are my top 8 deadlifiting shoes:
Sabo Deadlift Shoe – Best Overall Pick
Converse Chuck Taylors – Best Budget Pick
Asics Matflex Wrestling Shoe – Best for a Secure Grip on the Floor
Adidas Men's Wrestling Shoe – Best Deadlifting Shoe for Narrow Feet
Otomix Stingray Boxing Shoe – Best Deadlift Shoe With Ankle Support
No Bull High Top Trainer – Most Versatile Deadlifting Shoe
Merrell Vapor Glove 5 – Most Breathable Deadlifting Shoe
Deadlift Slippers – Best for Barefoot Deadlifting
---
Pros
Designed specifically for deadlifts
Super-thin flat sole
Ankle collar with metatarsal and ankle straps
Available in multiple sizes and colors
Multiple traction pods in the outsole for the maximum grip
Cons
The velcro on the metatarsal straps is a bit flimsy
Rating: 5/5 Stars
Because this is my number one pick, I wrote an in-depth review of the Sabo Deadlift Shoe.
As the name suggests, the Sabo Deadlift Shoe (click for today's price on Amazon) is one of the few shoes on the market dedicated to deadlifting. This means you should expect everything about these shoes to be on point.
The Sabo Deadlift Shoe is also my pick for the best deadlift shoe for sumo pulling because of the high ankle support and the best deadlift shoe for wide feet because it has the widest toe box on the market.
The soles on the Sabo deadlift shoes are on another level. First of all, they're only about 2 to 5 mm thin, allowing your feet to be as close to the ground as possible. Despite being ultra-thin, the sole is thick enough to provide support and minimize your feets' range of motion.
Adding to their superb stability, Sabo is one of the few deadlift shoes in the market with ankle and metatarsal straps. These straps ensure you can adjust the shoe size according to your foot. This turns this shoe into a custom-made one!
One of the problems with flat shoes is that they're a bit harsh on your arch. However, you'll be delighted to know that Sabo deadlift shoes solved this problem.
These deadlifting shoes have tiny arch support that rises from 2 mm to 5 mm in the middle part of the shoe. Also, once you secure the metatarsal strap, you'll enhance the arch support by pulling the midfoot section up.
---
Pros
An excellent choice for buyers on a budget
High-top models have a supportive ankle collar
They have a super flat sole with no toe drop
Cons
They have a relatively thick sole (about 10 mm)
Canvas isn't as durable as other shoe materials
Rating: 4.4/5 Stars
Chuck Taylors are some of the best shoes to deadlift in. As discussed in our article on Why Powerlifters Wear Converse Shoes, the good old Converse shoes have been the budget footwear of choice for many years and by many lifters.
Their versatility makes them even more cost-effective. Many lifters consider them the best shoes for squatting and deadlifting. If you prefer to squat in a flat shoe, you can wear Chuck Taylors instead of a traditional squat shoe, so you don't have to purchase multiple pairs of shoes.
They also have the added perk of comfort, so you can wear them casually when you're not working out.
After a thorough inspection, Chuck Taylors technically have much in common with the requirements for proper deadlift shoes.
Although they aren't a favorite for everyone because they don't have enough cushioning, this is exactly why they're great for deadlifting!
Anatomically, Converse shoes have flat soles that are also durable and fairly rigid. This allows them to distribute weights evenly for a stable deadlift.
The soles are made of rubber, which has minimal compression. You might not even notice the difference unless you're lifting super-heavy weights.
The shoe's body is made of canvas, which is a double-edged weapon. On the one hand, it's great for flexibility, and the raised ankle collar provides ankle support if you lace it tightly. On the other hand, it doesn't provide as much support as other shoes with straps.
All in all, Chuck Taylors are a great option if you're on a budget. They'll provide you with sufficient levels of stability while tackling heavy deadlifts.
---
Pros
Thin soles are great for minimal ROM and great stability
Minimal padding to increase your stability while lifting
The raised collar supports the ankle when fully laced
Cons
Although they're good enough, they aren't entirely flat
Rating: 4.7/5 Stars
Although Asics Matflex shoes are designed for wrestling, they have been a favorite in the deadlifting community for a long time. So are wrestling shoes good for deadlifts? Let's find out!
In fact, wrestling shoes have all the required characteristics to be good for weightlifting in general. Not only are they good shoes for deadlifting, but they're great for squats too!
If you put the aspects that make a good deadlifting shoe in mind, you'll find that this shoe ticks many boxes. First, they have a rubber sole that is durable against compression while lifting heavier weights.
Also, the soles are almost entirely flat. In fact, they're flat where it matters, as they have no heel elevation. This protects you from losing your balance and keeps the barbell on you all the time.
The outsoles also have traction buds similar to the ones in the deadlifting shoes. They provide excellent traction and grip that's much better than those in the Chuck Taylors.
They also have a raised ankle collar that you can lace tightly, allowing you to support your ankle while deadlifting. Asics Matlfex shoes are known for their relatively thin soles too. They're 5 mm thick, which is half what you get with Converse shoes.
---
Pros
Impressive design with multiple color options
Flat sole with no cushioning for added stability
Excellent fitting
High collared design for ankle support
Cons
Can be a bit pricey
Doesn't have gripping buds
Rating: 4.3/5 Stars
If you like the wrestling shoe construction but you're looking for higher quality deadlifting shoes, Adidas Men's Wrestling Shoe is your way to go!
Right off the bat, these shoes look great. They're available in multiple colors and styles to suit your workout outfits. Not only that, but they have a reputation for being an excellent fit for all sizes.
One thing that gives this wrestling shoe an edge over the others is that it's flat. This minimizes the range of motion of your feet, so your feet won't wobble while deadlifting.
The soles are also super thin, allowing for excellent stability while holding the heavy weights on you.
What's also great about this shoe is the lack of cushioning and the high collar. These features provide excellent support to your feet while lifting.
However, they run narrow, so they aren't the best deadlifting shoes for lifters with wide feet. The high ankle collar can also limit your ankle dorsiflexion when squatting, so they aren't the best shoes for squats and deadlifts. If you have squats and deadlifts in the same workout, be prepared to change your shoes for each lift.
---
Pros
Excellent ankle support with the hi-top ankle collar
Thin and flat soles are great for stability and minimal ROM
Lightweight and highly flexible while staying durable
Cons
Lacks midfoot and arch support
Rating: 4.4/5 Stars
As you've probably noticed, any shoes that fulfill the required specifications of a deadlifting shoe can be a good alternative to them. In addition to wrestling shoes, boxing shoes like the Otomix Stingray are some of the best shoes for deadlifting.
The Otomix Stingray is famous for its ankle coverage. It comes with an extra-tall ankle collar that provides excellent ankle support.
This makes it ideal for deadlifters who prefer extra support on their ankle while lifting heavy weights.
Unlike many shoes in the market, these are characterized by their lightweight design. While this might not be necessary for a deadlift, some users would prefer their shoes not to be super heavy on their feet.
What makes the Otomix Stingray special is that it has a relatively thinner and flatter sole than most boxing shoes. The rubber also gives it durability against heavy compression.
Like other hi-top shoes, these aren't the best shoes for squats and deadlifts because the hi-top can limit your ankle's movement during squats. They work best as deadlifting shoes, but you can also wear them on your upper body training days.
I've linked the men's Otomix shoes, but the women's model is top-notch too.
---
6. No Bull Trainer+ – Most Versatile Deadlifting Shoe
Pros
Available in multiple colors with top-notch fitting
Versatility makes them good for Olympic weightlifting, CrossFit, and general strength training
Highly durable and flexible with the SuperFabric Guard plates
Cons
They have relatively thick soles
Rating: 4.5/5 Stars
The NOBULL Trainer+ is another shoe that fits the requirements of a good deadlifting shoe.
Besides being elegant, they're highly durable and flexible, with many features that earned them a spot on the list of the best shoes for deadlifting.
Because NOBULL shoes were originally designed for CrossFit, you can wear them for nearly any lift type. This makes them some of the best shoes for deadlifting and squats. They're also excellent for running and jumping workouts, making them a great all-purpose shoe.
The shoes' unique construction is achieved thanks to the SuperFabric Guard plates on the mesh base layer. They can stand the test of time and endure heavy loads.
One downside is that they have a relatively thick sole, which might cause wobbliness on super-heavy loads.
---
Pros
Super thin and flat soles that are ideal for deadlifts
No cushioning for maximum stability while pulling
Easily washed and maintained
Cons
Rating: 4.6/5 Stars
Although barefoot deadlifting is a bit impractical, it has a lot of excellent qualities that shoemakers are aware of. That's why there are many attempts to combine the best of both worlds.
Running shoes are notorious for being one of the worst shoes for deadlifting. However, barefoot-style running shoes, like the Merrell Vapor Glove 5, are an excellent alternative to going completely barefooted.
These shoes have minimalistic soles that are thin enough for deadlifts. Not only that, but they're flat all across the foot with no toe drops. If you also like to squat barefoot, the flat soles make these good shoes for deadlifting and squats.
Also, the outsoles are designed to offer excellent grip. This ensures the highest level of slip resistance while pulling heavy weights.
The shoe upper is flexible and breathable, making them great shoes for both summer and winter.
---
Pros
Ideal for barefooted deadlifting fans
Reasonable price and multiple sizes and colors
Provides a much-needed slip-resistance
Cons
Lacks full metatarsal and ankle support
Rating: 4.5/5 Stars
Lastly, if you're a huge fan of barefoot deadlifting, this awesome alternative should be on your radar as the best shoes for deadlifting!
These Deadlift Slippers from FitKicks make a super-thin barrier between you and the ground. However, this is enough to protect your feet from germs and fungus.
Also, the rubber sole has an extra advantage over socks, giving a much better grip and slip resistance on slippery platforms.
The sole also has a zero-degree toe drop. This makes it completely flat, which provides you with the maximum level of stability.
One of the things you miss out on while deadlifting barefoot is the lack of foot support. The deadlift slippers provide your feet with much better support and make them more compact.
They are also inexpensive and readily available in multiple colors, styles, and sizes.
---
Benefits of a Deadlift Shoe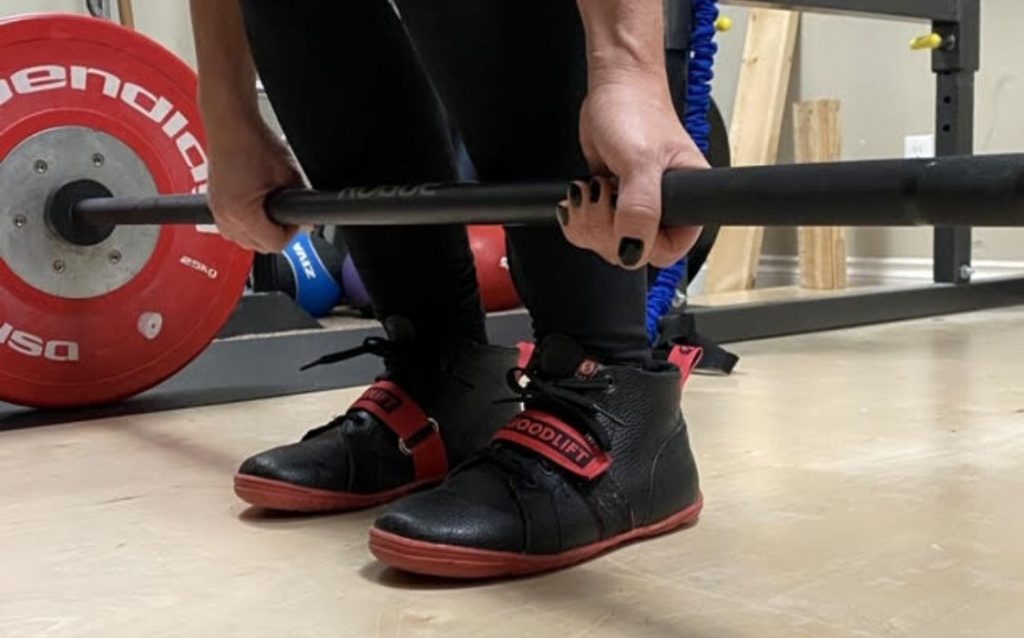 Powerlifting with good deadlifting shoes can give you a huge edge. You don't have to be a professional to benefit from the right shoe; the difference is highly noticeable in all situations.
Here are all the advantages you might get from wearing proper deadlift shoes.
Increases Your Stability and Balance
When you're pulling a heavy weight off the ground, the first thing you can't afford is to lose your balance.
What's great about deadlift shoes is that they boost the stability level of your lower body by keeping you in maximum contact with the ground.
Deadlift shoes have specific characteristics, such as a flat, hard sole.
The flat soles keep your entire feet fully supported and in direct contact with the floor. The hard soles provide a strong ground for your feet to stand on while supporting. Think of it as if every point in your sole supports the adjacent ones.
In addition to supporting the bottom of your feet, many deadlifting shoes come with a strapped collar, which plays a pivotal role in keeping your ankle secured and balanced (important if deadlifting using the sumo stance).
Reduces Your Range of Motion
Another great benefit of deadlift shoes is their thin soles. While hard and fully flat, they keep you as close to the floor as possible.
Think of it this way, if your shoe had a 2-inch heel, then that's an extra 2-inches that you need to pull the barbell.
You might think that a 2-inch difference in the distance the bar needs to travel isn't much, but when you're going for a 1-rep max lift, you want every advantage possible. This is why you can't deadlift in your squat shoes.
Provides Foot Support
Pulling off a successful deadlift depends mainly on two points in your foot. These points are the ankle and the middle part of your foot.
What's great about deadlift shoes is that they're engineered to provide these points with ultimate support. This enables you to focus on achieving the best results.
Is Ankle Support Important When Deadlifting?
Your ankle joint is a crucial one for deadlifting. You need to keep it stable by minimizing its upward movement. However, it needs to be flexible enough to bend backward and retract your feet, known as "dorsiflexion."
Many shoes for deadlifting are designed with a high-collared front strap. This strap comes at different levels of rigidity to support your ankle the way you prefer. Supporting the ankle is critical when deadlifting using the sumo stance.
Is Mid-Foot Support Important When Deadlifting?
Mid-foot support is also important when deadlifting. The middle part of your foot comprises the upper metatarsal bones and the lower arch of your foot soles.
Unlike the ankle joint, the metatarsal bones in your foot need to be as tightly packed as possible while deadlifting. Almost all of the best deadlift shoes come with a strap for the metatarsal region that stabilizes this area without choking the blood supply.
The problem with a flat sole is that it doesn't run smoothly with the curvature of your foot arch, making them uncomfortable to wear for a long time.
To solve this problem, modern deadlift shoes (especially those made for flat feet) provide slight arch support in a smart design that adds no padding to your feet. In that case, the metatarsal strap will stabilize your feet and prevent the arch support from putting you off balance.
This way, you can feel more comfortable while securing your feet and limiting their range of motion when wearing deadlift shoes.
Protects You From Injuries
At the end of the day, your feet are a network of muscles, joints, and bones that work together to achieve tasks. If one of these parts fails, they quickly follow. However, the worst-case scenario is that you might get injured in the process.
The vast majority of injuries caused by a deadlift come from incorrect execution. Since deadlift shoes ensure that your feet stay balanced while lifting, they contribute to aiding in the proper technique that will allow you to stay injury-free.
Also, the non-slipping nature of deadlift shoes sole protects you from slipping. In the sumo deadlift, having your feet slip is common, especially when you're lifting on a wooden deadlift platform, which can lead to adductor strains or, worse, dropping the plates on your feet.
Maintains a Good Posture and Improves Results
As you've figured from the previous benefits, a dedicated deadlift shoe has everything that keeps you in the correct position to lift.
As a rule of thumb, consistent performance is the key to the best results. Since you will have maximum stability while deadlifting, consistency and reproducibility will improve too.
Moreover, the higher levels of consistency translate into more training time with proper technique. In other words, you should expect better results and performance.
Deadlift Shoes vs. Going Barefoot
While in the gym, you might stumble across many lifters who take their shoes off while deadlifting. So, which is better?
As you already know, being as close to the floor as possible has a lot of benefits in limiting the range of motion. That's why going barefoot while deadlifting has become a huge trend recently.
Going barefoot has a lot of benefits. For example, being in direct connection with the floor gives you a boost of balance. Additionally, it shortens your range of motion more than any shoe.
It also helps in engaging more muscle groups while deadlifting. This helps in achieving a balance between your hip and knee extensors while deadlifting.
However, there are some downsides to going barefoot. The first and most common problem is that you won't get any ankle or midfoot support without a dedicated deadlift shoe. You'd also miss the grippy outer sole that protects you from slipping.
Another issue is that your gym may have a rule that prevents barefoot training. However, even if it allows it, you would want to avoid being in direct contact with all the germs and fungus on the floor. Let alone the risks of dropping weights on your bare feet.
Lastly, you can't deadlift competitively without a shoe. This means that you must train your technique while wearing shoes to avoid unwanted surprises during the competition.
That's why I recommend deadlifting while wearing deadlift shoes. Fortunately, modern deadlift shoes are designed to give the best of both worlds!
Deadlift Shoes vs Weightlifting Shoes: Can You Deadlift in Weightlifting Shoes?
As you saw above, deadlifting shoes have a hard, flat, rubbery sole and minimal to no cushioning. Some of the best deadlifting shoes also come in a hi-top style that offers extra ankle support.
Weightlifting shoes also have hard soles, but they are somewhat flat. They can have a raised heel that adds 0.5 – 1" height. The added height makes it easier for lifters to get into a deeper position for squats, snatches, and cleans, but it is not ideal for deadlifts.
Deadlifting in shoes with a raised heel increases the range of motion, making the deadlift more difficult to execute. It also emphasizes the quads more than the posterior muscle groups like the glutes and hamstrings.
Furthermore, because your foot isn't completely flat on the ground, deadlifting in weightlifting shoes can make you feel off-balance.
If you're looking for shoes for deadlifting and squats, consider an all-purpose shoe like the NOBULL Trainer+. Any other shoe with a flat sole and minimal cushioning is also good for squats and deadlifts.
Deadlift Shoes vs Regular Sneakers: Which Are Better for Deadlifts?
You might think, "If regular sneakers are good enough for all kinds of activities in the gym, can't they just work fine with deadlifts?"
Not exactly. Regular sneakers don't make the best shoes for the deadlift and squat.
Let's quickly look at the drawbacks of using regular and heeled shoes for deadlifts.
The Elevated Heel Decreases Stability While Deadlifting
Regular and heeled shoes might be great for a lot of things. For example, they're padded with a soft insole cushioning, making them highly comfortable and easy for regular exercise.
All these qualities make them great for running or High-Intensity Interval training. However, for the same reason, a shoe with a raised heel is unsuitable for deadlifting.
This makes all running shoes bad for deadlifting. The spongy foam and gel-filled soles absorb all the force you exert to lift the weight off the floor.
This causes a lot of strain on your body while deadlifting, which kills your results and can lead to potential injury.
The Free Range of Motion is Bad for Deadlifting
As you've learned above, deadlifting requires stable feet with a limited range of motion. This means that your feet technically have no option but to stay in the right position for deadlifting.
In addition to being lightweight, all regular gym shoes are designed to give you a full range of motion. This is the exact opposite of what you want while lifting twice or three times your weight.
They Disrupt Your Center of Gravity
While deadlifting, you need to focus on keeping the weight on your body all the time. This requires your feet to be as flat as possible.
Regular shoes usually come with rocker heels that help your foot sway back and forth. This disrupts your center of gravity remarkably, causing you to lean forward with the weight.
The forward lean will put more load on your upper back and lats to counteract, which develops serious injuries.
This affects your kinetic chain badly as your feet begin to wobble. Since regular shoes also have no collar support, your ankles will also lose control. This puts you at risk of failing your deadlift.
Common Errors While Deadlifting in the Wrong Shoes
Here are some of the most common mistakes when deadlifting with the wrong type of footwear:
The Barbell Comes Off of You
This happens because the wrong shoe has a raised heel. In that case, you lose your balance, and the barbell eventually pulls your torso forward. When the barbell comes off your body, your low and mid back will need to work much harder to stabilize the movement.
So not only is it a more ineffective movement pattern, you can risk injury under heavy load.
Slipping While Lifting
In some deadlift stances, you might slip wearing the wrong shoe. This happens in deadlift stances like the sumo deadlift stance, which can cause adductor strains. I've also seen sumo deadlifters have their feet slip as they return the barbell to the floor and crush their feet.
Harder Lockout
This happens when you wear a shoe with a raised heel while deadlifting. In this case, you're pulling an extra range of motion, making it much harder to achieve a lockout.
Hips Start Too High
If you're wearing a shoe with a raised heel, your center of gravity is altered to make your hips start at a higher position.
In addition to losing your balance, this will emphasize your low/mid-back versus your legs.
Features to Look for in a Deadlift Shoe
Now that you know the problem with regular and heeled shoes, it's time to learn about what qualifies a shoe as a good one for deadlifts. Let's have a look at the important aspects you should look for.
Hard Outsole Material
The material that goes into making the outsole is among the most important things to care about, as it impacts many of the following aspects.
Many materials are fit for making soles for shoes. However, only some of them are ideal for deadlift shoes. For example, rubber, polyurethane, and wood are among the best materials for a deadlift shoe sole.
These materials are hard enough and provide your feet with the required support and stability. On the other hand, you should avoid lightweight materials that don't provide much support. This includes materials like Ethylene-vinyl acetate (EVA) and foam.
Sole Rigidity
Different materials also have different levels between rigidity and flexibility. You're good to go as long as your shoes' outsoles are hard enough to support you.
As a rule of thumb, hard plastic and wood have the highest rigidity and compression resistance levels. However, they might be a bit rough on your feet.
On the flip side, the more rubbery your shoes are, the more flexible they'll be. Yet, unlike foam and EVA, the rubber will retain the compression resistance and support needed for deadlifts.
Yet, you should avoid the ultra-flexible rubber, as it might need help properly supporting your feet. That's why you must find the ideal balance between flexibility and rigidity according to your liking.
Sole Thickness
While you might think that sole thickness contributes to the level of support it offers, you shouldn't forget that thicker soles mean higher elevations.
Since you're trying to mimic the benefits of barefoot deadlifting without its disadvantages, you need a zero-angle shoe with a thin outsole and minimal cushioning and padding inside.
Check out my top recommendations for the best lifting shoes for narrow feet.
Straps and Ankle Support
The biggest edge that deadlift shoes have over barefoot deadlifting is the amount of support your feet get in deadlift shoes.
Besides making your feet compact, they also help lock your feet in the right position for lifting.
Always look for shoes with straps to keep your ankle and metatarsal region in place. As you already know, these straps prevent your feet from wobbling and over-extending.
This lateral support is one characteristic that makes collared shoes with ankle and midfoot straps ideal for deadlifting.
Want more high top recommendations for deadlifting? Check out my article on the Best High Top Lifting Shoes.
Slip Resistance
One of the biggest problems that lifters with socks face while deadlifting is the danger of slipping. Next to foot support, it's one of the biggest advantages of wearing a deadlift shoe.
Rubbery materials are among the best materials that offer slip resistance. They also play a role in securing your stance and position while lifting.
Looking for other shoe options? Check out my articles on Are Vans Good For Lifting? and the 7 Best Toe Shoes For Working Out.
Flanges
Some deadlift shoes have flanges. Flanges are parts of the soles that extend beyond the area where your foot would go. They give you a wider base, adding more stability as you pull the weight off the floor.
Flanges aren't totally necessary in a deadlift shoe. But they're a nice touch if you can find shoes that meet all the other criteria for a good deadlift shoe and have flanges.
Frequently Asked Questions
Are Converse Shoes the Best for Deadlifting?
Converse shoes are an excellent choice for deadlifting.
Converse shoes technically have all the essential aspects that make them great for deadlifting. For example, they have a flat sole with a zero heel drop. This helps them maintain their balance while deadlifting.
Their main downside might be their lack of support and that they have thick soles (about 10 mm thick). However, they're still an excellent budget-friendly alternative for deadlifting shoes.
Are Flat Shoes Better for Deadlifts?
Flat shoes are better for deadlifts. They keep your entire foot close to the floor, shortening the range of motion to make deadlifts easier and allowing you to push into the floor as you pull the weight effectively. They also tend to have hard, grippy soles that offer support and prevent your feet from slipping.
Are Sneakers Good to Deadlift?
Sneakers with a flat sole are good to deadlift in. They provide a flat, stable base that lets you transfer force into the floor as you're lifting. Cushioned sneakers like running shoes aren't good for deadlifts because they can make you feel unbalanced and affect your ability to push against the floor effectively.
Is It Good to Deadlift in Squat Shoes?
It is not ideal to deadlift in squat shoes. Because squat shoes have an elevated heel, they increase the range of motion of the deadlift and make the lift harder to execute. Deadlifting in a shoe with a raised heel will also emphasize the quads more than the muscles at the back of the body.
Why Do People Deadlift in Socks?
People deadlift in socks because it's the next best thing to deadlifting barefoot in gyms that don't allow it or to protect their feet from bacteria and fungus. Deadlifting in socks allows lifters to keep their feet in full contact with the floor to transfer force into the floor and push against it as they deadlift.
Check out my complete list of Powerlifting Equipment For Women, which includes 9 must-have items if you're a competitive lifter.
Final Thoughts
Your ideal deadlift shoes can help you safely lift more. As you can see, these shoes have different properties, making the winner for this round up to your personal preferences.
But, if I get to pick a winner, I'd pick the Sabo Deadlift Shoes as the best deadlift shoes. From the thin flat sole to the ankle and midfoot straps, they have everything you might be looking for in deadlifting shoes.
However, if you're looking for the best shoes for deadlifts that won't break the bank, go for Converse Chuck Taylors. Many lifters swear that they work flawlessly for them without costing an arm and a leg!
Which ever model you choose, do pick up a top deadlift shoe so you can get the most from your lifts and time.
If you're a competitive powerlifter, check out my article on all of the IPF & USAPL Approved Competition Gear and Equipment.