Some links in this article are affiliate links, which means I earn from qualifying purchases.
Converse, or "chucks", is one of the most popular brands of shoes on the planet.  It's also the go-to footwear for many powerlifters who choose to wear them as both squat shoes and deadlift shoes. 
So why do powerlifters wear converse shoes?   Converse shoes are ideal for powerlifting because of their flat sole and high ankle support.  The flat sole allows lifters to feel better connected to the floor, which increases balance and reduces the overall range of motion (during deadlifts).  The high ankle support allows extra stability when the ankle moves under load.
Converse shoes are actually one of the best shoes for powerlifters.  We're here to cover why, alongside giving you some fantastic recommendations if you're a powerlifter not already sporting a fresh pair of Chuck Taylors. 
Quick Navigation
[ez-toc]
8 Main Reasons Why Powerlifters Wear Converse Shoes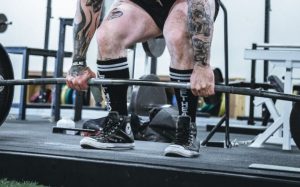 Converse Chuck Taylor All-Stars are shoes that have lasted a pretty long time. They've not even changed all that much since 1917. They were initially designed to be a basketball shoe but they've made a name for themselves in the powerlifting world too. Converse is one of the top powerlifting shoe brands.
Okay, so there are a couple of main reasons why powerlifters wear converse:
They're cheap
They have flat soles
They make you closer to the ground
They're easy to find
They have less cushioning 
They're comfortable
They're an established brand
They look good
They protect your feet
There are a lot of people that choose to wear running shoes to the gym which is fantastic if you're running, but not so much for those lifting weight. Converse provides you with a much-needed balance that's needed when lifting weights.
They also really helpful because when you're trying to lift weights off the ground they make you closer to the floor, making a lot less work for you as there aren't any inches on the soles. The lack of cushioning is good in this case too as it helps you to push up off the ground with intensive workouts. More cushion means more restriction of the leg movements.
They're also fairly inexpensive! So with that being said, let's dive deeper into each reason. 
They're Cheap
Weightlifting and powerlifting shoes can get very expensive, which is why converse shoes are such a breath of fresh air. You can get them from pretty much anywhere, with prices around 50 to 60 dollars.
That being said, you still need to ensure that the shoes are of good quality, even if they are cheap. While they are cheap you shouldn't be sacrificing quality. In the same subject, not every super expensive shoe is high quality either. You can find a lot of reliable products for fairly cheap prices.
You're likely to find converse most anywhere you look on the internet, and their prices usually start at around $50 as we said. In some places you can even get them starting around $30. They also come with free shipping and returns if you aren't happy with them or the fit isn't right.
They Have Flat Soles
The vast majority of shoes have curved soles in order to support the feet. This is ideal for running, walking and just wearing shoes in general but, powerlifters need something flatter in order to properly support them. This may not sound like a good thing, but for powerlifting as we previously mentioned, flat soles are particularly helpful.
These shoes aid in helping you to efficiently push off the ground when you're doing lifts such as squats and deadlifts. A lot of people prefer to wear no shoes at all, but this isn't always practical. 
Converse come with good support up to the ankle with high tops and are very flat in comparison to lots of other shoes. They're also made out of canvas which means they're very lightweight. This is why so many casual and professional powerlifters love them. If you're in a gym that won't allow you to exercise without shoes on, converse shoes are the next best thing.
It's very important that your feet are in the right shape in order to help you keep good posture, and it's vital for ensuring the proper muscle alignment, so it's important to get good shoes both for in and outside of the gym. 
Want more high top recommendations?  Check out my article on the Best High Top Lifting Shoes.
They Make You Closer to the Ground
As we previously said, the bottoms of converse shoes are very thin when you compare them to other types of shoes. While this may seem pretty unimportant, for lifts like deadlift this is very important. It can give you a huge advantage in comparison to other weightlifters and gives you a lot of room for self-improvement if you're training solo.
If you already do deadlifts then this may not be important information for you, but if you don't know what it is then read on. Essentially when you deadlift you're doing a mixture of bending and squatting in order to get the weight off the ground. Then, as you bring the weight back up you're straightening up your body and standing back up. This is then repeated and when you're done you just place the weight back on the ground.
Converse are much closer to the ground, so of course in light of the previous information, it's a lot easier to deadlift because you have less of a distance to lift the weights. This ensures that it's easier for you to lift even more weight and do more reps when you're working out.
A lot of shoes will give you more lift from the ground as they have thick rubber soles, whereas converse has very thin soles which still give your feet the support that they need. This tiny difference can make a lot of difference when lifting weights.
They're Easy To Find
When we say converse are everywhere, we mean it. You can walk into any shoe store or shoe website and bang, there's a pair of converse. They're not exactly rare.
These shoes have been around for a hundred years and not much has changed with their design, which is the opposite to traditional powerlifting shoes.
The majority of shoe stores don't stock powerlifting shoes and they're normally not cheap or good if they do. Usually online stores won't either unless you're browsing a site designed for powerlifting. As you may imagine, this isn't cheap either.
This is in contrast to converse, which you'll find anywhere and are inexpensive. 
They Have Less Cushioning
Converse shoes don't have as much cushioning in them as normal shoes do. It's good that normal running or training shoes have lots of cushioning, but for powerlifting it can be a hindrance to your performance.
When you're squatting or deadlift, you need to push up off the ground with your legs and feet. When your shoes have large cushioning you're going to be pushing down on the cushioning before you get to push off the ground.
Shoes like converse will give you a closer connection to the ground so you push straight off the ground immediately, allowing you to create a much more seedy lift with a lot more stability. Your stance isn't likely to be as stable with too much cushion, so you can eradicate this problem with a pair of converse. 
Try to envision doing a heavy squat on top of a mattress, and that's basically what it feels like to try and wear running shoes to lift a deadlift. 
The Converse shoes made my top list of best lifting shoes for beginners, which you can check out for more details.
They're Comfortable
Converse shoes are incredibly comfortable. 
They're not like slipper level comfortable, or as comfortable as not wearing shoes but they're pretty good nonetheless.
Powerlifting shoes don't tend to be all that comfortable and a lot of people that have them complain that they're not comfortable at all.
This is why for many people Converse are much better for lifting weights than shoes designed specifically for powerlifting. 
As well, if you have wide feet the Converse shoes can fit your foot much better than a traditional deadlifting shoe. 
They're an Established Brand
Converse as a brand has been running since 1908, so they're not new to the market.
They've been making good quality shoes for over 100 years and not much has changed about them in that time. If you have something nailed, why change it?
Converse most definitely gets the job done and there's a reason they have such a reputation for excellence.
They Look Good
A lot of people buy converse based on their timeless, unique design.
Pretty much everyone recognizes converse and you can get them in a range of different designs and patterns.
If what you look like is important to you while you're lifting weights, you can't go wrong with a good pair of Chuck Taylors. 
Protecting Your Feet
Your feet make a huge impact on your overall posture and influence your flexibility and lifting form.
As a result of this, it's vital to have the best possible shoes that you can so when your feet interact with the ground you aren't going to damage your feet. If you don't choose the right shoes then your overall form and health will suffer as a result.
Converse Chuck Taylors also sport a breathable, lightweight canvas material so when you get sweaty the shoes won't feel uncomfortable on you.
However, I would not wear converse shoes if you are looking for deadlift shoes for flat feet.  There are several other options on the market that provide your feet with better support.   
Converse for Powerlifting
So now that we've covered why you should wear converse for powerlifting, what ones should you buy?
Here are some potential options!
Why Do Powerlifters Wear Converse Shoes? – Comparison Table
Why Do Powerlifters Wear Converse Shoes? – Reviews
High Tops 
High tops tend to have a thinner rubber sole in comparison to normal Converse All Stars, which is helpful for powerlifting. If you're planning on wearing your converse for fashion purposes, you should consider what kind of outfits will go with the high top design, such as skinny jeans for example. Obviously the thing that distinguishes the high top from the low top is the height of the ankle collar. Because there is more fabric, they are slightly heavier and work well for bigger men.

Our Pick
The White/Volt/Black Converse give you a classic look to sport in the gym when you're powerlifting. These are bound to go with any outfit, but we wouldn't recommend walking them through mud! If you want something understated yet still eye catching, this is definitely worth your time to consider. 
Converse Chuck Taylor All Star High Top Sneakers are a good fit no matter what your age is, or what your gender is. There are a bunch of different color options too, so there will definitely be an option there to suit you…
If you want to add a splash of color to your workout gear, these bright pink High Top Sneakers were made for you! The contrast of the white tip with the pink canvas design, and the logo make these really eye catching in the gym!
Low Tops
As we mentioned, there's not a huge difference as far as high tops and low tops are concerned but they are slightly more lightweight. Low tops are also able to go with different kinds of outfits too if you are fashion conscious. There also isn't as much ankle support with low tops either. 
These shoes come in a bunch of fun colors and designs so there's always going to be something that will be a good fit for you.

Our Pick
These converse sneakers are perfect for a classic look with a pop of color. The Cyan Space edition provides the wearer with a fresh look without being too excessive, and they are bound to get some attention in the gym. You can both feel comfortable powerlifting with these shoes and look good doing so.
Rather than the block colors of the converse we've already covered, these have an intriguing perforated stars design that's bound to turn some heads. The white speckled stars really stand out against the bright red canvas. You already know these are going to be perfect for the gym when it literally mentions it in the name!
These Converse have a very distinctive look, featuring an almost sequined look that will really make any outfit you have on pop. The texture looks intriguing, though they do range a little in price depending on your size. As with other low tops, they're fairly lightweight and are very well suited to powerlifting ladies.
Why Do Powerlifters Wear Converse Shoes? – Buyers Guide
Frequently Asked Questions
Should I wear shoes or not when squatting?
It's actually quite helpful to go barefoot when you're squatting.
This is mainly because your feet are able to naturally connect with the floor so your form will be better while you're lifting. It's not always a viable option however, as some gyms forbid it. Other gyms may be dirty, or you may not be comfortable with going around barefoot around strangers. Either way you're not really missing out as a lot of people do squats while they're wearing shoes.
Check out my comparison of wearing squat shoes or converse shoes while lifting. 
Can I run in converse? 
Converse are ideal for lifting as we've already covered, but they aren't a good fit for running. Both of these activities impact your body differently with different movement requirements.
Converse are brilliant for certain things but for running you should opt for something else as you could end up causing yourself injuries. Running shoes are designed to properly support your feet and absorb shock as your feet rapidly hit the ground, which is not something that converses offer. 
Looking for other shoe options? Check out my other articles:
What size Converse should I get?
When you're looking for a pair of converse, you should bear in mind that the shoes are a little bit long so wearers recommend that you buy a size down from your regular size to ensure that you've got the right fit. It's best not to look like a clown when you're completing a deadlift!
How do I wash Converse?
Whatever you do, don't just throw them into the washing machine!
When cleaning your converse, just wipe them over with a damp cloth, using mild soap and lukewarm water. When you're scrubbing the toe cap and rubber base you can use a small brush or a toothbrush. Make sure you aren't scrubbing too hard either as this is simply not necessary.
They're fairly simple to clean, no extra hassle required. Your converse will be looking like new in no time!