PowerliftingTechnique.com is independent and supported by our readers. We may earn a commission if you buy through the links below. For more, see our disclosures page.
For years it really felt like shorts manufacturers forgot athletes with thick thighs also want bottoms that fit well and are functional, but thankfully we have plenty of companies who have stepped up and are working to free our thighs from restrictive cuts and materials.
The best workout shorts for thick thighs are the Virus Box Tech Shorts from VIRUS. Buying shorts can be a challenge since often the leg hole either isn't wide enough or is too compressive, the inseam can be too short and will promote the, often painful, "chub rub," or they roll up the legs and you're stuck pulling them down all the time.
---
Workout shorts need to not only be functional and wick-away sweat and stay in place, but they should also feel comfortable and hopefully also flatter your physique. Usually one of these features comes at the cost of another, pushing many lifters to just stick to wearing leggings.
In this article, I will go over:
The various factors you should consider when purchasing shorts if you have thick thighs
Reviews for the top shorts on the market for lifters and athletes
A buyer guide to ensure you know exactly what to look for when going shopping for shorts
The Biggest 3 Factors To Consider For Shorts For Thick Thighs
If you have thick thighs there are a few things to keep in mind when going shopping for a pair of shorts to ensure you will continue to love them once you take them home.
Inseam length is an important factor to look for especially if your legs are structured in a way that makes them prone to chafing. Chafing is the most common reason I've seen for choosing to not wear shorts in the gym and so opting for a longer inseam may be the answer you're looking for.
Leg opening size is a great measurement to pay attention to when looking for shorts. If shopping in person make sure the leg opening isn't cutting into your leg when you try it on, if you are shopping online, some companies will disclose a thigh measurement in their size chart so make sure to check size charts. Otherwise check reviews and see what people have to say!
Non-slip material can mean several different things but you're looking to buy a pair of shorts that won't roll up and end up looking like underwear 5 minutes into the workout. Some companies will add a strip of elastic rubber to prevent rolling and moving of the leg hole. Other strategies include making the shorts of a thin and light, but sturdy, material like nylon.
Top 5 Workout Shorts for Thick Thighs
The top 5 workout shorts for thick thighs are:
| Inseam Length | 2.5" – short and might risk of chafing | 4/5 |
| --- | --- | --- |
| Inseam Length | 2.5" – short and might risk of chafing | 4/5 |
| Material | Nylex (likely a Nylon and Spandex blend), 4-way stretch allows for generous sizing. | 5/5 |
| Sizing | Discloses thigh size in addition to hip and waist, no elastic in leg hole and very open and stretchy. | 5/5 |
| Price | $44 – standard market price | 4/5 |
The Virus Box Tech Shorts are an extremely comfortable, light weight short that will be a favourite among many even those with thicker thighs. The leg opening is non-compressive and won't suffocate your legs.
The website also discloses thigh measurements on the size chart so you can be sure to know you are purchasing your true size. The material is extremely lightweight and made of nylon and spandex which gives superior stretch and will fit your body like a glove without being overly tight.
They are also designed in a flattering and aesthetic way with some details and mesh, making it a nice option for those who want something that isn't overly plain.
The main drawback with the Virus shorts are the short inseam which sits at 2.5 inches. This may be less of a factor for those who do not suffer from chafing, but would be a major deciding factor for those who do need a material barrier between their legs.
Pros
Lightweight material
Sizing for thighs
High waisted
Non-compressive, no elastic
Cons
Short inseam
More expensive
---
| Inseam Length | 4" - long and chafe protection | 5/5 |
| --- | --- | --- |
| Inseam Length | 4" - long and chafe protection | 5/5 |
| Material | Buttery soft, thin and breathable and will mold to your shape | 5/5 |
| Sizing | Don't disclose thigh size but it is a very stretchy fabric sure to let the thighs be comfortable. Made with lifters in mind. Back contour to flatter curves, 4" waist band. | 4/5 |
| Price | $43.95 - standard market price | 4/5 |
The runner up choice for someone with thick thighs are the FLEO True High Contour shorts because of their overall coverage, stretchy fabric and tailored cut for curvy athletes.
The inseam on these shorts will provide coverage most people will need to prevent from chafing of the thighs and additionally it provides 4" of coverage on the waist for added coverage and support.
The design of the seam is contoured to flatter your waist and hips, adding a fashionable element to the shorts. The FLEO brand is also created by athletes, for athletes, which will give you peace of mind that the shorts are both functional and fit comfortably even with an athletic body type.
It is a single-layer, breathable and ultra soft material that will mold to your body change instead of cut into your in all the wrong places.
If you have thick thighs and need a pair of shorts that look and feel great these are likely to be one of the safest options for purchase.
Pros
Contoured fit
Longer inseam
Higher waist, 4" band
Cons
Less affordable
Can't purchase based on thigh size
---
| Inseam Length | 4" - long and chafe protection | 5/5 |
| --- | --- | --- |
| Inseam Length | 4" – long and chafe protection | 5/5 |
| Material | 92% Polyester, 8% Spandex, lower end spandex percentage but still somewhat stretchy. Waist band is a bit tighter. | 3/5 |
| Sizing | Thigh size not in size chart but material is stretchy and goes up to 2XL | 4/5 |
| Price | Very low price | 5/5 |
If you're on a budget, the HLTPRO High Waist Biker shorts are a great option that will provide you with a 4" inseam and a stretchy and soft fabric that will fit even thick thighs.
While the waistband is a bit restrictive on top and may not be suitable for those with thicker waists, there isn't an elastic in the leg opening and will provide enough room for larger legs.
The shorts also have a pocket which is a nice feature for carrying a phone, keys or training notes while at the gym or wearing them outside. The sizing is also super inclusive and runs up to 2XL which is difficult to come by with some of the better known athletic brands.
The inseam is long enough to be considered chafe-proof, however the fabric blend is a bit thicker than others and so this fabric may be a little less sweat wicking or lightweight during sweaty workouts.
Pros
Sizes up to 2XL
Low price
Soft and comfortable material
Pockets
Cons
Tighter waist band
Can't size based on thighs
Thicker material
---
| Inseam Length | 4-5.5", increases with increasing sizes to accommodate | 5/5 |
| --- | --- | --- |
| Inseam Length | 4-5.5", increases with increasing sizes to accommodate | 5/5 |
| Material | 87% Polyester, 13% Spandex, comparable blend to higher end shorts. *some colours are a cotton blend and will not be squat proof | 4/5 |
| Sizing | Up to 5XL sizing, no thigh size specifications but no elastic on thighs so will be good for most. | 4/5 |
| Price | Low price | 5/5 |
The BALEAF women's biker shorts are similar to the HLTPRO but with an even wider size range and longer inseam for larger sizes.
These shorts are very comfortable and soft and do not compress the legs even though the inseam runs long. The waistband is also a bit softer and more comfortable than the HLTPRO; however, it's major drawback is that certain varieties are a cotton blend and will not be squat proof.
It's important to check when purchasing a given colour that it is the polyester and spandex blend in order to get the more functional pair of shorts for lifting weights.
The shorts with the right material blend are comparable to higher end shorts that sell for about double the price and so are definitely a great option for anyone on a budget.
Pros
Low price
Sizing up to 5XL
Long inseam
Cons
Not all colours squat proof
Thicker material if cotton blend
---
| Inseam Length | 3.5" (medium size), extra inch of material than shortest short options. | 4/5 |
| --- | --- | --- |
| Inseam Length | 3.5" (medium size), extra inch of material than shortest short options. | 4/5 |
| Material | 87% Nylon, 13% Lycra/Spandex, most stretchy blend, no elastic compression on the thighs | 5/5 |
| Sizing | Discloses thigh size in size chart with ranges to suit thicker thighs | 5/5 |
| Price | Standard market price | 4/5 |
The Born Primitive brand is another company that was started by athletes who lift weights, for athletes who lift weights. This means their size charts take into account thigh size and are made from the stretchiest fabric blend available: nylon and spandex.
These shorts are similar to the Virus ones except they have pockets and have a 1" longer inseam for a little bit more length, so even though some customers did claim they rolled up a little, it wasn't as bothersome since they still stayed within a reasonable length.
These shorts are a great buy for those who want a comfortable, thick-thigh friendly pair of shorts that are longer than 2.5" inseam but also aren't a "biker" short that will come halfway down their thighs.
These will keep you very comfortable and cool throughout any sweaty workouts and are sure to easily become a staple in your wardrobe.
Pros
Can size for thighs
No compression on the thighs
Mid-length inseam (between short and long)
Ultra stretchy and lightweight
Cons
Price
Plain design
Mid waisted (can also be a pro)
---
Workout Shorts For Thick Thighs: Buying Guide
Shopping can be overwhelming when you don't know what you are looking for, so I've come up with some top considerations for you to keep in mind when reading through product features online.
Long vs. Short Inseams
Inseams are the measurement that runs from the crotch to the end of the leg on a pair of shorts or pants. When it comes to athletic shorts you'll notice similar inseam measurements across different brands.
While 2.5" inseams are the most commonly used inseam for short shorts, you will find measurements between 3-6" also available. If your main concern regarding purchasing shorts is that your thighs rub together, opting for a longer inseam will be a must.
For some a 3.5" inseam may give them enough protection, like with the Born Primitive Rise and Grind Booty shorts, while others may want to go even longer with a 4-6" inseam like the Baleaf Biker shorts.
Tip: You may also want to look for a pair that doesn't have a thick inseam as that can further exacerbate the chafing by adding extra friction.
Picking a Material
When in doubt, make sure it has spandex, elastane or lycra (spoiler: they're all the same material) in the blend. This material is not only going to make sure the fabric is super stretchy but will also make it lightweight and sweatproof.
You should stay away from cotton blends or polyester that hasn't been mixed with a stretchy material as they will either be too thick, not sweat-wicking or will become sheer as you squat down.
You're most likely going to come across polyester and spandex blends among activewear but in some cases it will also be a nylon and spandex blend, like with the Virus High Rise Box shorts.
Nylon and spandex both have high stretchability and will thus likely be the most comfortable fits if you are curvier.
High or Low Waisted?
While choosing between high or low waisted shorts it will ultimately come down to your personal preference; however, if you have thicker thighs you may prefer a higher waisted option to elongate the legs for a more flattering fit like with the FLEO True High Contour shorts.
If you have a very small waist in comparison to your hips and thighs you may find waist bands to be too loose, and may instead prefer a lower or mid-rise options like the Born Primitive Rise and Grind Booty Shorts.
When it comes to shorts rolling down, It's most important that the waist band is wide, but where it lands on your torso comes down to personal preference as there are great shorts available in a variety of styles.
Finding the Right Fit
Clothing can be a pain to fit appropriately because we are all built uniquely. However, if thick thighs are your biggest pain point, look to companies that disclose "thigh size" on the size chart like Virus and Born Primitive shorts.
If you are pear shaped you will want to make sure your hip measurement is aligned with the size you buy rather than waist, while the waistband will likely be elastic and will contour to your body you don't want the material stretching at the legs or hips as it will make them appear sheer or cut into you in an uncomfortable way.
If you're struggling to find your size, the shorts with the most wide range of sizes, up to 5XL, are the Baleaf High Waist Biker Shorts.
Are they Squat Proof?
As someone who lifts weights in a public environment you will want to make sure the shorts are squat proof and don't become sheer as you squat down or hip hinge for a deadlift.
It's always best to opt for darker colours like black or navy if you're not willing to risk it. Also with materials it is best to choose stretchy materials with spandex and staying away from cotton blends. Additionally, choosing a size that fits well and doesn't have to stretch to be pulled up your legs will also provide more coverage.
Therefore choose darker colours, stretchy materials and make sure to size it correctly and possibly also look into options with an extra layer built into the shorts.
Other Short Reviews
Check out our other short reviews:
5 Best Women's Workout Shorts With A Liner
Final Thoughts
While we are all built a little differently, finding bottoms that fit thighs is a common issue among lifters so it was only about time until companies started catering to our needs.
There are options available, no matter your budget and preferences for style, but my top recommendation are the Virus High Rise Box Shorts, which tick off all the boxes when it comes to fitting and flattering those with thicker thighs and high performance needs.
A close contender for those would be the FLEO True High Contour Bounce shorts, which will give you the chafe protection, stretchy material and squat proof material.
Thick thighs are no reason to avoid purchasing shorts for the rest of your life, all it takes is a little awareness of the inseam, sizing and material and you're sure to find some that suit your needs and body shape.
---
About The Author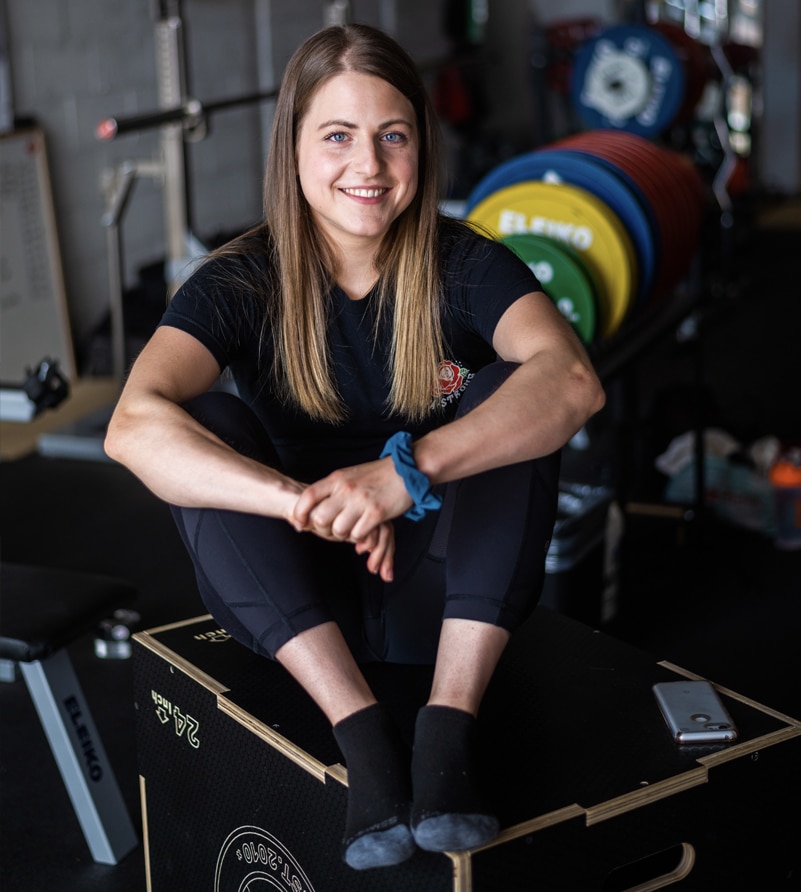 Elena Popadic has worked within the fitness industry for over 6 years, is co-host of the Squats and Thoughts podcast and trains and competes as a powerlifter. She has a BSc in Life Sciences from McMaster University, a Postgrad Certificate in Public Relations from Humber College and is currently pursuing a MSc Occupational Therapy at Western University. Connect with her on Instagram or LinkedIn.