Some links in this article are affiliate links, which means I earn from qualifying purchases.
---
Lifting gloves are an excellent way to prevent calluses from forming, prevent the calluses you already have from ripping, and protect your hands from germs and bacteria. They're also a great alternative to using chalk to absorb sweat if you train in a commercial gym that doesn't allow chalk.
But not all lifting gloves are designed specifically for females, making it challenging to find ones that fit women's hands. After testing multiple lifting gloves for the past several months, I've found the best lifting gloves on the market for women.
The top 10 workout gloves for women are:
I looked at the features that will be most important to various types of lifters, and below, you'll find a table with important features. Then below you can learn all the details about the gloves that could work for you.
10 Best Women's Workout Gloves: Comparison Table
| | Best For | Price Range | Materials | Level of Padding | Finger Coverage |
| --- | --- | --- | --- | --- | --- |
| Bear Grips Weight Lifting Gloves | Overall | $$ | Synthetic leather, spandex, rubber | Medium to high | Full |
| Contraband Pink Label Women's Weightlifting Gloves | Women who prefer open-finger gloves | $$ | Vegan leather, lycra | Light to medium | Half |
| Harbinger Women's Power Weightlifting Gloves | Women on a budget | $ to $$ | Leather, mesh | Medium | Half |
| SIMARI Unisex Workout Gloves | Wrist support | $$ | Leather, microfiber, spandex | High | Half |
| Grip Power Pads Women's Mimi Gym Gloves | A strong grip | $$ to $$$ | Rubber, leather, mesh | Medium | Half |
| Contraband Pink Label Women's Micro Weightlifting Gloves | Women who prefer minimalist gloves | $$$ | Polyester, nylon, silicone, leather, rubber | Medium | Half |
| SIMARI Full-Finger Workout Gloves | Working out in cold weather | $$ | Microfiber, silica | High | Full |
| ihuan Ventilated Workout Gloves | Lifting heavy weights | $$ to $$$ | Neoprene, microfiber | Medium | Half |
| Fit Active Sports New Ventilated Weightlifting Gloves | Breathability | $$ | Neoprene | Medium to high | Half |
| Trideer Breathable Workout Gloves for Women | A lightweight feel | $ | Elastic mesh, microfiber | Medium to high | Half |
10 Best Women's Workout Gloves
Pros
Touchscreen-compatible fingertips
Size chart is accurate
Rubber strips on the palms to prevent weights from slipping
Unisex design
Triple-stitched for extra durability
Cons
Only available in one colorway
Hands can get warm and sweaty after wearing them for a while
Cushioning on the palms can make it difficult to feel the barbell in your hands
The Bear Grips shield gloves are my top choice for the best lifting gloves for women. They offer full-finger protection, have non-slip padding on the palms, and are triple-stitched for durability.
My favorite feature of these training gloves is the touchscreen fingertips. If you like to record notes about your workout on your phone, play music from your phone, or scroll through it between sets, you don't have to take the gloves off.
These gloves have suede palms with cushioning at the base of the fingers (where you're most likely to get calluses) and the thumb's padding. The cushioning is about 3mm thick. While it prevents my hands from ripping or getting sore when I lift, it inhibits my ability to feel the bar during deadlifts and bench presses.
I do, however, like that the cushioned sections have small rubber strips, which prevent the bar from slipping or rolling in my hands.
I hate when products don't have accurate size charts, but that wasn't the case with these weight-lifting gloves. If you follow the instructions for how to measure your hands, you should get a good fit. The opening is tight at first, but it stretches over time. However, it won't get to the point where the gloves become too loose that they slide off.
There are holes on the fingers for breathability, but I find that these gloves make my hands very warm and sweaty. They're okay to wear for a few sets at a time, but I have to take them off a couple of times during my workouts to let my hands breathe.
The only other thing I don't like about these gloves is that they're only available in one colorway (black and gray), but that's more of a style preference and doesn't have any bearing on their performance.
---
Pros
Soft interior makes it comfortable to wear for a long time
Silicone beads offer excellent traction
Lightweight design doesn't restrict grip
Cons
Wrist support could be improved
Ideal for weightlifting, gymnastics, and cross-fit workouts, the Contraband Pink Label gloves are a solid pair of workout gloves for women with an open-finger design. The design, combined with the breathable mesh fabric, means you won't have to worry about sweat.
These gloves have a leather palm with a polyester interior. It's soft and provides added comfort during the workout. It also offers extra protection from calluses and blisters.
The gloves' padding is just right and suitable for different fitness activities. They feature GRIP-LOCK padding at the palms for an anti-slip grip.
These weight-lifting gloves close with a large velcro strap at the front. Moreover, you can easily take them off using the finger tabs.
If you're looking for gloves with significant wrist support, these Contraband gloves may not be the best choice. The Velcro closes just above the wrist, offering little wrist support.
---
Pros
Versatile and flexible, making them go-to workout gloves
Padded leather and double-layered thumb protect from calluses and blisters
Breathable mesh top and open back for sweat-free hands
Cons
Low wrist support compared to other options
The Harbinger women's powerlifting gloves are versatile, all-purpose gloves. They're the only gloves you'll need for most workouts. They provide enough protection for weightlifting, yet they're flexible enough to allow your hands to move freely.
The inside is made of padded leather to offer extra protection from calluses and blisters. It also allows you to grip weights and equipment securely. These training gloves feature an open design and breathable mesh top for enhanced ventilation.
The highlight of the Harbinger women's gloves is the double-layered thumb. It provides protection where it's most needed to prevent injury. Moreover, the gloves feature an adjustable velcro closure and a pull tab for easy removal.
4. SIMARI Unisex Workout Gloves: Best Women's Weight Lifting Gloves With Wrist Support
Pros
Wide wrap-around wrist provides excellent support
Cut out top for more breathability
Convenient terry cloth thumbs to wipe off sweat
Wide size variety ensures a good fit even for women with smaller hands
Cons
Some people may find the long wrist wrap inconvenient
Not comfortable to wear with a smartwatch
If you're looking for workout gloves to withstand intense workout sessions, the SIMARI workout gloves could be for you! The highlight of the SIMARI workout gloves is the fantastic wrist support. The long wrap-around wrist ensures a proper fit and excellent wrist protection.
These training gloves feature a leather palm for a safe anti-slip grip during your workout, whether you're lifting weights or doing pull-ups. The back of the glove is ventilated, thanks to the open-back design and breathable mesh top.
Moreover, the terry cloth on the back of the thumbs is convenient for wiping off sweat. Also, the ring and middle finger tabs allow you to take the gloves on and off quickly.
Check out my complete review of the best lifting gloves with wrist support.
---
Pros
Palm and fingers are fully padded with rubber, providing a secure grip
Specially designed for women, which ensures a good fit
Comfortable amount of padding
Cons
May initially feel tight
Velcro is a bit difficult to adjust, especially during a workout
Relatively low wrist support compared to other options on the list
The Grip Power Pads women's gloves are popular women's lifting gloves for several reasons.
The rubber patches covering the palm area and fingers offer extra grip on gym equipment and weights. These weight-lifting gloves also feature rubberized dots around the patches.
Furthermore, the padding offers extra palm protection, so you can train without worrying about your skin ripping. You can easily take the gloves on and off with the two loops attached to the fingers. The gloves are secured with a wide, angled velcro strap that closes on the top of the hand.
The Grip Power Pads training gloves may be tight initially, but they stretch and become more comfortable after a few uses.
---
Pros
An excellent choice for those who don't like to cover their full palm
Flexible and versatile thanks to its half-glove design
Adequate padding helps prevent calluses
Cons
Doesn't offer wrist support
Not suitable for those with sweaty hands
If you don't like the feeling of wearing gloves but want some form of palm protection during your workout, these minimal training gloves by Contraband are a good choice.
Although they won't give you wrist support, they're an excellent option for preventing blisters and calluses at the base of your fingers, thanks to the proper padding. The palm features rubber dots for a good grip, while the top is made of breathable mesh for ventilation.
Because the Contraband micro weight lifting gloves only cover a small part of your hands, they give your hands more flexibility. Moreover, the velcro strap is adjustable, so you can fit it to your liking. The gloves come with tabs on the middle and ring finger for easy removal.
---
Pros
A convenient option for working out in cold temperatures
Adequate, anti-slip foam padding
Lightweight microfiber makes it flexible
Cons
On the other end of the spectrum, from the Contraband Micro Gloves, we have the SIMARI full-finger gloves. These gloves can be a lifesaver if you train outdoors in winter or your gym isn't heated.
The SIMARI full-finger weight-lifting gloves feature foam padding in the palm for comfort and extra grip on your equipment. The back is made of breathable mesh, while the thumb features terry cloth for quickly wiping off sweat.
The gloves feature a velcro adjustable strap at the back. However, it doesn't provide as much wrist support as the strap on the SIMARI unisex workout gloves.
---
Pros
Wrist band protects the wrist from injury and wrong form
Silicone-printed neoprene prevents slippage
Mesh back allows the hands to breathe, reducing sweat
Cons
Bulky compared to other options
Looking for a pair of training gloves to stand the test of time and keep up with intense strength training sessions? Check out the ihuan workout gloves! The palm is designed with silicone-printed neoprene for a safe grip when lifting heavy weights.
It's also one of the best gloves on this list when it comes to wrist support. Furthermore, the padding is exactly where it needs to be to prevent calluses and blisters, yet flexible enough to allow you to comfortably weightlift.
They're also one of the best gloves on this list regarding wrist support. Furthermore, the padding is exactly where it needs to be to prevent calluses and blisters when lifting weights or doing pull-ups. However, the gloves are flexible enough to allow your hands to move freely.
The fingers feature pull tabs for easy removal, and the back is made of breathable mesh that allows sweat to evaporate.
If you have a smaller-than-average hand size for a woman, check out my article 5 Best Lifting Gloves For Small Hands.
---
Pros
Open back design allows for ventilation
Silicone beads offer good traction
Neoprene material makes it quite durable
Cons
Runs a little large
The wrist wrap isn't as soft as other options
The Fit Active Sports weightlifting gloves offer proper protection to the palm while allowing the back of the hands to breathe.
These gloves offer an exceptional grip. The durable neoprene palm and fingers are fitted with silicone beads, making the gloves anti-slip.
The back features an open design, so you can expect less sweaty hands. The neoprene wrist wrap is wide for adequate wrist protection. It's also adjustable.
Pros
Mesh back enhances breathability and ventilation
Silica gel palm patches for a better grip
Hook and look adjustable wrist wrap for comfort and wrist protection
Excellent customer service in case you'd like to exchange or return the gloves
Cons
The Trideer workout gloves are the best lightweight workout gloves for women.
They're made of light microfiber material, making them flexible and breathable. The gloves feature a mesh back, adding to their breathability. The gloves' palm area has silica gel patches, allowing you to grip your weights safely.
Moreover, the Trideer gloves feature a hook-and-loop adjustable wrist strap for better fit and wrist protection. A feature I appreciate is the pull buckles on the fingertips. The pull buckles make taking off the glove after a sweaty workout quite easy.
Most users found the Trideer women's gloves true to size. However, if you order one and it doesn't fit you, you can easily exchange it for another size.
Why You Should Trust PowerliftingTechnique
We're a team comprised of powerlifters and powerlifting coaches who have competed and trained athletes at the highest levels. We know how impactful the right training gear is on your workouts because we've used it ourselves. We've experienced first-hand how the right products affect our performance during training and competition.
How We Tested These Women's Weight-Lifting Gloves
We tested the gloves on this list by wearing them for various workouts, including strength training and CrossFit workouts with gymnastics movements. We also tested them in various temperatures and with multiple pieces of equipment, including barbells, dumbbells, kettlebells, and pull-up bars.
Do Women Need Weightlifting Gloves?
While some people swear by weightlifting gloves, others believe gloves hinder their performance.
For instance, weightlifters aren't allowed to wear lifting gloves during competitions. Therefore, they may not prefer to wear them during their training sessions. On the other hand, many bodybuilders like to wear them for palm protection to avoid calluses.
Some people argue that gloves interfere with their ability to feel and control the weight. However, if you choose the right weightlifting gloves, this should never be a problem.
Some weightlifters use chalk while lifting. Chalk will dry up your hand, allowing you to have a better grip. It's cheap and easy to find. However, chalk can be very messy, and many gyms don't allow it. While it does offer a secure grip, it won't protect your hands from blisters and calluses.
I prefer weightlifting gloves. The right weightlifting gloves will keep your hands comfortable and offer protection without compromising form or control.
Looking for a lifting belt? Check out my review of the Best Women's Powerlifting Belt.
Benefits of Wearing Weightlifting Gloves for Women
Protection from Blisters and Calluses
Many women who love strength training hate the rough skin that comes with it and find it unattractive. If you've been in the gym long enough, you've probably experienced calluses at some point.
Even if you don't mind their appearance, calluses cause discomfort and pain, which could distract you during your workout. That's when weightlifting gloves come in handy.
If you lift light weights, workout gloves can prevent calluses and blisters altogether. If you lift heavy weights, workout gloves may not fully protect your hands, but they'll help limit the damage.
Even if you're already experiencing calluses, switching to training with gloves will help over time.
A Better Grip
Who doesn't hate sweaty palms? If you sweat during your workout, you may find it challenging to grip barbells and dumbbells. Slippery hands can also be very dangerous if you're lifting heavy weights above your head.
Fortunately, accessories like workout gloves and lifting straps can help. Workout gloves are designed with non-slip materials so you can easily grip workout equipment. That way, you don't have to worry about weights slipping out of your hands.
Wrist Support
Our wrists allow us to move our hands in different ways, thanks to the many small joints in them. They're very flexible, which also means they're prone to injury.
Weightlifting is one of the common causes of wrist injuries. If you accidentally move your wrist beyond its normal range of motion, you risk spraining it. That's why protective wrist wraps and workout gloves can be very beneficial.
Good workout gloves support your wrists while lifting, preventing injury.
Better Lifting
Weight gloves are designed to distribute the weight along your forearms. The result? You can lift heavier weights than usual. This is especially true with workouts like deadlifts and upright rows.
More Comfort and Focus
Workout gloves can keep your hands comfortable during a workout. Especially during the winter days, weights can be exceptionally cold and uncomfortable to grip. Although this may not sound like a big deal, there's no reason not to make your gym experience more pleasant.
Weightlifting gloves can also keep you more mentally focused on your workout. When you're not worrying about calluses, slippery hands, wrist injuries, and cold barbells, you can fully concentrate on improving your technique.
Looking for lifting shoes? Check out my reviews of the Best Women's Powerlifting Shoes.
Are There Any Drawbacks To Wearing Weightlifting Gloves for Women?
One issue with wearing workout gloves is that you'll never get used to calluses. Some weightlifters argue that if you continue working out without gloves, you'll eventually get used to calluses. Over time, calluses flatten and become smoother. But they'll never completely heal.
Another drawback is that some worry about becoming too dependent on their workout gloves. They argue that this makes their workout routine less flexible since they'll always need gloves.
Lastly, gloves can make it challenging to grip thicker bars because they add another layer, especially if the gloves have a thick leather palm. However, if you choose a glove with the right materials and fit, this shouldn't be an issue.
Considering all the pros and cons, I still prefer wearing workout gloves. Overall, I think the advantages of wearing them outweigh the disadvantages.
If you're training in a cold garage gym, you'll want to check out my article on the Best Lifting Gloves For Cold Weather.
Women's Weightlifting Glove Materials: What To Watch For?
Leather, neoprene, and microfiber are the most popular options. Each material comes with its benefits.
For instance, leather gloves are known for their durability. They can withstand intense workout sessions and also provide an excellent grip.
Neoprene workout gloves also offer a good grip, along with being thermal and water-resistant. This is an excellent feature, especially for those who sweat a lot.
Silicone is sometimes added to neoprene gloves to give them an extra grip. Moreover, many brands use cotton mesh in their workout gloves because it is breathable and offers adequate ventilation.
Microfiber isn't as durable as leather and neoprene but breathable and flexible. Although microfiber can be slippery, most microfiber gloves offer good traction in the palm and fingers by incorporating other materials like silicone.
Features of a Women's Weightlifting Glove
It can be challenging to find the right workout glove for you, especially with so many options out there. Here are a few features to consider before buying weightlifting gloves.
Grip
Since a better grip is one of the significant benefits of a workout glove, it makes sense to start by considering it.
The right workout gloves come with specially-designed exteriors that provide a good grip and prevent slippage. Grips are essential if you're a beginner, so make sure you opt for gloves with good grip patterns to ensure a safe workout.
Cushioning
Cushioning in your workout gloves ensure your hands are protected to avoid blisters and calluses. Choosing a weightlifting glove with the right padding can be a bit challenging. With cushioning and padding, more isn't necessarily better.
Too much cushioning means, you may not be able to grip the barbell or dumbbells properly. It also means that the gloves may not be breathable, and its flexibility may be compromised.
On the flip side, padding that's too thin won't provide you with the protection you need. Avoid gloves that are too thick or too thin.
Support
Workout gloves can provide plenty of support to your hands and wrists during a training session. If your wrists are relatively weak or you find that it's sore while you workout, you'll want to invest in gloves with wrist wraps.
Wrist straps can reduce pain and minimize the risk of a wrist injury. They're usually adjustable so you can adjust them for maximum comfort and support.
In general, the wider the wrist wrap, the more support it provides.
Finger Length
Women's weightlifting gloves are available in three-finger lengths
The three available finger lengths provide excellent support as well as good control while lifting.
Full-finger weightlifting gloves are also available. I don't recommend them since they aren't as breathable as the other options.
However, they can be a convenient choice if you're working out in cold weather. Otherwise, gloves that don't cover the fingertips are ideal.
How Should Weightlifting Gloves Fit for Women?
When it comes to the fit of lifting gloves, women's gloves are no different than men's. Women's training gloves should offer a snug fit. Gloves that are too loose will move out of place and won't give you a good grip.
On the other hand, gloves that are too tight will limit blood flow to your hands. This can be very uncomfortable and dangerous.
Gloves may come in one size or several sizes. Check the size chart of each glove since each brand's fit may be different.
Also, remember that women's hands are usually smaller than men's. A unisex pair of gloves may not always offer a good fit. Moreover, some gloves have an adjustable feature to precisely fit you.
How Should You Care for Your Weightlifting Gloves?
After a workout session, you'll probably dump your weightlifting gloves in your gym bag along with sweaty clothes and shoes. If you don't take proper care of your gloves, they may grow bacteria. So it's a good idea to clean them once a week.
Here's how.
Soak the Gloves
Fill the sink or a washbowl with warm water and dishwashing soap. Make sure you don't use too much soap as it can be difficult to rinse out. Immerse your weightlifting gloves in the water and gently massage them.
Use a soft toothbrush or your fingers to scrub off stubborn stains or grime.
Flip the Gloves
Next, flip your gloves inside out and repeat step one to make sure it's thoroughly cleaned from the inside. If you still feel that the gloves aren't clean enough, leave them in the soap mixture for an hour. Then, rinse them properly until the gloves are soap-free.
Dry the Gloves
It's best to air-dry your gloves indoors. Too much heat from the sun can damage your gloves. Avoid using the dryer too. If you absolutely must use the dryer, make sure to close any Velcro straps and check the manufacturer's care instructions first.
Machine Washing
Although it's best to hand wash your gloves, you may not find the time. Try washing your gloves in the washing machine on a gentle or delicate cycle. Make sure the heat setting is low, and close the velcro straps.
Again, check the manufacturer's care instructions first to see if they advise against using a washing machine.
Looking for a workout vest? Check out my reviews of the best women's weighted vest.
Frequently Asked Questions
Should Girls Wear Gloves at the Gym?
You don't have to wear gloves at the gym if you're a woman. But if you want to protect your hands from bacteria and avoid calluses or you work out in a cold gym, gloves are a good option. They can help keep your hands clean and smooth and make it easier to hold cold barbells or dumbbell handles.
Do Gym Gloves Stop Calluses?
Gym gloves don't completely prevent calluses. Even with gloves, some friction can still occur when lifting weights, leading to calluses. However, gloves reduce how severe calluses can become. Wearing gloves when you already have calluses can also help prevent them from worsening.
Is It Better to Lift Weights With or Without Gloves?
In general, it's best to lift weights without gloves. Gloves add another layer between your hands, and the barbell or dumbbell handles, making it more difficult to feel and control the weight. However, it's fine to wear gloves occasionally if you want protection from bacteria, calluses, or blisters.
Can You Wash Your Weight Lifting Gloves?
You can wash weight-lifting gloves. Hand-washing them in warm water with dishwashing soap is best. Use a soft toothbrush if needed to get rid of stains, and let them air dry. You can machine wash some lifting gloves on the delicate cycle and air dry them, but check the manufacturer's instructions first.
Final Verdict
Workout gloves can help you make the most out of your time at the gym. My number one choice is the Bear Grips Shield Gloves for women. It offers wrist protection, anti-slip features, and wrist support. It's also specially designed for women's hands. A close second is the Contraband Pink Label women's weightlifting gloves. It's reasonably padded, comfortable to wear for a long time, and provides incredible traction.
---
Other Gloves Resources
---
About The Author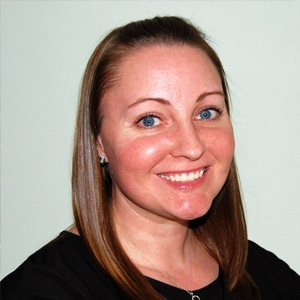 Amanda is a writer and editor in the fitness and nutrition industries. Growing up in a family that loved sports, she learned the importance of staying active from a young age. She started CrossFit in 2015, which led to her interest in powerlifting and weightlifting. She's passionate about helping women overcome their fear of lifting weights and teaching them how to fuel their bodies properly. When she's not training in her garage gym or working, you can find her drinking coffee, walking her dog, or indulging in one too many pieces of chocolate.