Some links in this article are affiliate links, which means I earn from qualifying purchases.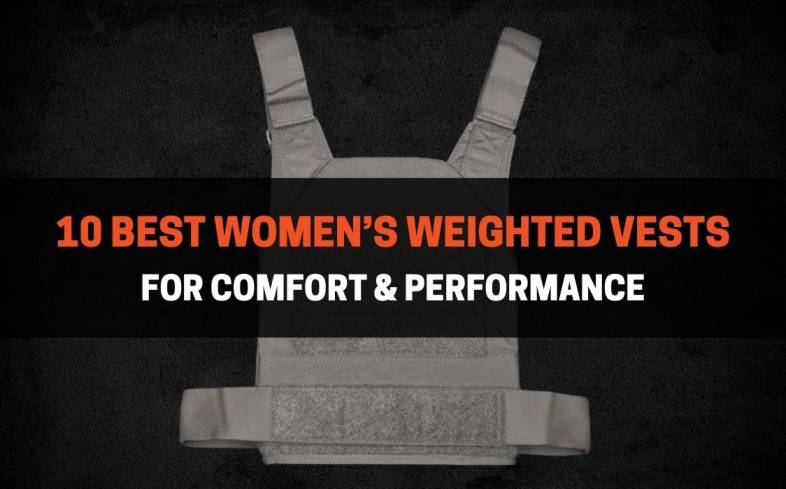 A weighted vest is a must-have training item if you want to add load to your bodyweight exercises, such as dips, pull-ups, box jumps, or even cardio activities like walking on the Stairmaster.
So what's the best women's weighted vest? My number one pick for the best women's weighted vest is the ROGUE Plate Carrier (click for today's price on Rogue Fitness).  This vest is made from ultra-durable material for all types of activities.  It's also more comfortable than other weighted vests on the market as it will not dig into your rib cage or chest you're working out.  It's also 100% adjustable to fit all different sizes and builds. 
If you want to know more about women's weighted vests, what they do, and how to pick the perfect one for your needs, keep on reading!
Top 10 Women's Weighted Vests Available On The Market
The upper body physiology of a woman requires special consideration while picking a weighted vest. You need to feel comfortable but still have a full range of motion while using the vest.
To make the search process more streamlined for you, I've compiled some of the highest-rated recommendations for weighted vests that are suitable for women.
The top 10 best women's weighted vests are:
Let's start with one of the best overall options for a weighted vest that is ideal for both women and men. This one is made by ROGUE, which is one of the biggest brands when it comes to fitness equipment.
The US-made Plate Carrier is made of 1000 Denier and 500 Denier Cordura fabric, which is one of the highest-grade nylon/cotton blends available out there.
This gives the plate carrier unmatched durability, so you don't have to replace the weighted vest for years.
Another reason to have this Plate Carrier for a long time is that, similar to most premium weighted vests, it allows you to load in the amount of weight you want.
The Plate Carrier is compatible with both Rogue Echo Vest Plates and Rogue USA Cast Vest Plates, so you can add them directly into your weighted vest, carrying up to 20 lbs of weight.
The weighted vest uses superb velcro fasteners for easy on and off without hassle. It's also more durable than most flimsy buckles that break with time, rendering their vests useless.
Pros
Extremely durable and sturdy build
Easily loaded with an adjustable amount of weight plates
Unique full-chest design for support and comfort
Cons
---
5.11 is another top-shelf brand that makes excellent fitness equipment, and this 5.11 TacTec Ballistic weight carrier lives up to the name of the brand!
The vest is designed with highly durable 500 Denier nylon, which is super rugged and resists wear and tear to keep weight plates secure.
The vest itself weighs 2.5 lbs without plates. The tactical design of the weighted vest makes it remarkably unique when compared to other options on the market.
Although the design gives the impression that it's a tough shell, the vest is designed with shoulder pads to absorb impacts and friction.
Pros
Available in a variety of colors and styles
Features a one-handed quick-release option
Excellent airflow for a full-chest weighted vest
Cons
---
If you're looking for a weighted vest with the highest weight capacity, you should opt for the CAP Barbell adjustable vest
This one is made from reinforced polyester and nylon, which allows it to carry up to 150 lbs of weight.
The weighted vest is super versatile and can be also used for bodyweight training and parachute run training.
CAP adds a reflective strip to the weighted vest to keep you visible to cars and bikers at low light situations.
Pros
Carries up to 150 lbs of weight
Adjustable straps and weight pouches
Features pockets, reflective strips, and hook anchors for parachute running
Cons
A bit overkill for most beginners
---
If you're on a strict budget, you may want to consider a more affordable option. In that case, the best budget option that still works quite well is ZELUS weighted vest.
This one is made of neoprene rubber and has double stitching around the weight bars to ensure stability and balanced distribution of weight
The shoulder straps are comfortable and padded to keep you comfortable while running. Also, the straps are easy to adjust, making them resistant to excessive bounce.
Keep in mind that this x-style vest will have pre-filled weights that are built into it. So, you'll have to buy a new one if you want to change the loaded weight.
Pros
Ideal for buyers on a budget
Available in different colors
Adjustable and prevents bounce
Cons
---
For a beginner who wants a casual weighted vest to give it a try, you need a comfortable one without costing you a lot of money.
The Aduro Sport Weight Vest is a good option here because it'll give you that great first impression you're seeking from using the vest.
The vest starts from as low as 4 lbs, making it a great option for any early morning runs and spicing up your hikes without weighing you down as much.
The vest is made of comfortable neoprene and features a limited lifetime warranty for a worry-free purchase
Pros
Ultra-lightweight options for beginners
Comes with a limited lifetime warranty
Affordable price
Cons
Has a little bounce while running
---
Adding a few extra pounds to your weight is enough to trigger more muscles and a higher metabolic response, which helps in losing more weight and building more muscles.
If you want a pre-loaded weighted vest that doesn't bounce around, you should consider a full-chest model.
ZFOsports weighted vests combine these two features, offering a truly unique design that enhances back support and offers a snug fit without forcing you to adjust weights frequently.
Fitting the female body contours perfectly makes this model bounce-free and remarkably comfortable, all the while maintaining amazing performance!
Pros
Easily fitted to prevent bouncing
Pre-loaded model
Features a water bottle holder
Cons
Available in relatively heavier weights only
---
CrossFit is all about endurance and high intensity. That's why you need a weight vest that handles heavyweight plates without being too pricey.
Similar to the ROGUE Plate Carrier, this one also supports adjustable weights using ROGUE weight plates, so it's a great pick for anywhere from a serious beginner to advanced.
Unlike other weight-adjustable options, the UnbrokenShop WOD vest works with any kind of gym plates, offering great room for versatility and spares you the hassle of carrying the special weights around.
Additionally, the tensional bands on the vest are highly adjustable, making the vest suitable for different kinds of bodies and fits just right on your body.
Pros
Works with different weight plates
Easy to adjust
Great for different types of exercises
Cons
Might be uncomfortable for the chest training for some
---
Runners require a special weight vest with specific aspects to stay comfortable. For example, it needs to be highly breathable to avoid over-sweating.
The Prodigen running weight vest comes with a mesh fabric that makes it the right tool for the job.
The vest is available in different color and weight choices for you to pick from. The fabric is made of chloroprene, which is stretchy enough to give you a snug fit.
Also, the reflective strip keeps you visible in low light situations, so you won't have to worry about passerby runners, cyclists, or even vehicles.
Pros
Available in different colors and weight options
Designed to fit perfectly while running
Highly breathable to prevent overheating while running
Cons
The stitching doesn't survive intense usage
---
What I like about CAP is that all their products are made with the highest quality materials that are built to last. This one is no exception.
So, if you liked the CAP Barbell Adjustable Weighted Vest but want one with a x-style design, you should consider this one.
It works like a charm for bodyweight exercise and it's specifically designed to fit women's contours.
The durable vest is made of nylon/polyester blend, which ensures an excellent level of durability and sturdiness even with intense use.
Pros
Made from durable materials
Adjustable weight with iron ore fines
Velcro strap on the waist for an easy fit
Cons
---
Lastly, if you want to enjoy the most comfortable vest without compromising performance, you should consider this tone fitness weighted vest.
The vest has a special design that is specifically made for women, offering a great fit that unisex vests don't match.
The vest is available in ultra-soft neoprene that doesn't trigger skin irritation or cause chafing while exercising.
Also, it has various airflow channels that allow the air circulation without affecting the stability of the vest.
Pros
Ultra-comfortable neoprene construction
Single front bucks for easy adjustment
Extra soft padding for added cushioning
Cons
---
What To Look For When Buying A Women's Weighted Vest
A weighted vest is supposed to be a long-lasting investment. That's why you need to put some critical aspects into your considerations before making your final decision.
In this section, you'll find some of the essential buying points that you need to look for while shopping for a weighted vest for women.
Materials & Durability
Weighted vests in general can be made of a wide variety of materials. These materials used while manufacturing a weighted vest will permanently dictate a lot of its properties.
Among the most common fabrics used for the vests are nylon, polyester, spandex, and neoprene.
Ideally, nylon is a great material to add wear and tear resistance to the weighted vest, making it ideal for long-term buyers.
Polyester is also durable but comes at a more affordable price. Also, it adds a little more flexibility to the vest, which enhances comfort.
The spandex used in the vests is usually to enhance the fit and prevent excessive bounce while running.
If you're looking for the most inexpensive alternative that will still get the job done, neoprene vests are your way to go!
Design & Performance
While materials won't differ between men's and women's weighted vests, the design can vary slightly to fit women's contours better, while other designs are mostly unisex and can be used by both men and women.
The most popular styles for women's weighted vests are the ones that cover the chest completely, the backpack style, and the x-shaped style.
The chest supporting style is usually the most expensive. However, they're also the most durable and give the most support.
If you're looking for a budget-friendly alternative that provides decent performance, x-shaped style vests might work for you.
Yet, the choice here will mainly depend on personal preferences as well as the size of the chest and how comfortable you are in each style.
Comfort
When we talk about comfort while wearing a weighted vest, we're considering two major criteria: padding and adjustability.
As with most fitness equipment, you want to be as minimally irritated by what you're wearing as possible.
That's why the fabric of the weighted vest needs to be quite soft and padded enough to prevent the tough shell from bruising your body.
Additionally, a weighted vest that is too loose will bounce so much while running while strapping it too tight might make it hard to breathe in it.
For that reason, a highly adjustable weighted vest means ample room for a comfortable fit that suits your unique body measurements.
Weight Capacity
Since most women's weighted vests are made by the same manufacturers that make unisex vests, they all follow the same formula when it comes to weight capacity.
Most weighted vests use sandbags or metal bars to load the vest with weight. Some of them are adjustable and let you choose how much weight to load into the vest.
Yet, most of the reasonably priced models will have the weight bags permanently sewn into the vest.
The choice here depends on your room for growth. For instance, if you're a bodyweight training rookie who's willing to add in more weight as you tolerate the vest, you should go for the first option.
However, if you're only going for kicking your cardio routine up a notch and only want to spend extra effort while doing your cardio, the pre-filled option might be a good pick here.
In that case, make sure that the weight inside the vest is evenly distributed to maintain your balance while running.
Additional Features
Some weighted vests will also have room for water bottles, pockets to store your items while running, or reflective strips to keep you visible at night for road safety.
If you usually carry items around while training, having some of these extra features built directly into your vest will make it a greater bang for your buck!
How To Size & Fit A Weighted Vest For Women
Luckily, most weighted vests on the market come in a one size fit all style. This makes it a lot easier to size and fit the weighted vest no matter how large or small your body stature is.
Instead of picking a size for your vest, you should consider the amount of weight added in the vest.
Even if the weighted vest has a suitable size, that doesn't mean that it'll fit you well, and that's where the adjustable straps come in handy!
After wearing the weighted vest, make sure that you pull the straps enough that it gives you a snug fit that isn't too tight that it affects how you breathe or too loose that it starts bouncing around while working out.
In some cases, vests do come in various sizes. To get your size, measure the circumference of your torso at about 2 to 3 inches above your belly button then refer to the sizing chart included with the product.
How Heavy Should Your Weighted Vest Be?
Unfortunately, no studies have been made to assess the ideal amount of weight to be added in the weighted vest for men or women.
However, since wearing a weighted vest is remarkably similar to wearing a backpack, a lot of physical therapists use the recommended weight limit of the backpack as a reference.
According to a 2014 study regarding this matter, it was found that a backpack shouldn't be heavier than 20% of your body weight.
For instance, if you weigh 160 lbs, your backpack shouldn't exceed a 30 lbs limit. However, while wearing a weighted vest, running can add even more force on your joints, which can do more harm than good if you're not careful.
That's why a weighted vest should be a maximum of 5 to 10% for exercises like running or CrossFit and 15% for bodyweight training.
Benefits Of Wearing A Weightlifting Vest For Women
Similar to men, athletic women can benefit greatly from throwing a weighted vest into their workout routine. Here are some of the benefits you should expect to get from using one:
1. Helps you accelerate your gains for enhanced speed and endurance
2. Boosts cardiovascular benefits by raising your heart rate even more while working out
3. Adds some variation to your workout routine to stay committed
4. Helps in enhancing metabolism and burning more calories
5. Improve leg speed and quickness
Types Of Activities You Can Do With A Weighted Vest
Weighted vests can be used for a wide variety of activities. The most common exercise used for weighted vests is just running.
You can also use the weighted vest while hiking and climbing to make it more challenging and benefit from the endurance benefits.
In addition to running, you can also incorporate weighted vests into your bodyweight training, such as air squats, lunges, sit-ups, bridges, and more!
Crossfitters can also benefit from weighted vests while working out because adding extra weight makes the workout even more challenging and trains your speed and endurance.
Frequently Asked Questions
Does a weighted vest help you lose weight?
According to a 2013 study conducted by the American Council on Exercise (ACE), wearing a weighted vest while exercising does help in burning extra calories.
Participants who wore a vest that's about 15% of their body weight during walks have burned extra calories for an average of 6.3 calories burned per minute. That accounts for an extra 27 calories burned per 45-minute walk.
According to the recent 2020 study by the University of Gothenburg, Sweden, running with relatively heavy weighted vests or even using it during daily activities can help you lose extra weight.
The test subjects who wore heavier vest 8 hours a day for 3 weeks lost 1.6 kg (3.5 lbs) as opposed to 0.3 kg (0.6 lbs) with lighter ones
Is wearing a weighted vest safe for women?
As long as you're a healthy person who doesn't suffer from any medical issues that prevent them from bearing extra weight on their back or knees, a weighted vest should be harmless for you.
Since a weighted vest increases the loaded force on your knees and back while landing, too much weight can cause some joint problems in the long run. For that reason, limiting the weight capacity of the weighted vest to a bearable limit is critical.
Since no medical studies test the ideal amount of weight added to the vests, most therapists recommend a maximum of 5% to 12% of your body weight added to the vest.
Other Women's Workout Gear
Check out my other women's workout reviews:
Wrap Up
Wearing a weighted vest is an exquisite way to add an air of change to your workout routine, lose extra weight, or even gain more muscles to tone your body to your liking!
If you're looking for the best all-round weighted vest out there, I recommend the Rogue Plate Carrier as the best option on the market.
Despite being a bit pricey, it'll last you a lifetime with its unmatched durability and stitching. The weighted vest is highly adjustable and easy to use, all with US-made materials that ensure both quality and performance.
But if you're a beginner and looking for a budget-friendly weighted vest for your workouts, ZELUS Weighted Vest should be on your radar.
Despite being astonishingly affordable, the vest is comfortable and fits perfectly. Also, it comes with dual-storage compartments.
---