Disclosure: We're supported by our audience, so if you purchase through some links on this post, we may earn a commission at no cost to you.
SBD and Titan are two widely-recognized brands in powerlifting that sell a variety of powerlifting gear, including singlets. SBD only has one model of singlet available in a few different colors — most of which are limited editions — while Titan has several different models. The most popular Titan singlet is the Triumph.
Is the SBD or Titan Triumph singlet better? The Titan Triumph is better because it's made out of better materials, is more affordable, and provides a lot of support while meeting IPF criteria for a legal singlet. It also has thick straps that keep the bar in place during squats and a matte finish that prevents you from slipping on the bench during bench presses.
In this article, I'll provide a list of pros and cons for the SBD and Titan Triumph singlets, compare the features of each singlet, and review which type of lifter each singlet is best for to help you choose which one is right for you.
Quick Overview: SBD Powerlifting Singlet vs Titan Triumph Singlet
Before we compare the two singlets, let's take a look at the history of each singlet.
SBD's very first singlet wasn't well-received. The material was thin, the shoulder straps weren't very wide, the legs kept riding up, and many lifters complained about it being see-through.
SBD recently launched a new version of its singlet, and it's a big improvement. They modeled it after the Titan Triumph singlet based on that singlet's popularity in the powerlifting community and created a product with better materials, wider straps, and more support.
I reached out to Ryan Stinn, the owner of Inner Strength Products, and he had this to say about the upgraded SBD singlet:
"The new SBD singlet, first released late in 2019 in the Eclipse collection, is a significant upgrade. Using a much heavier weight material that has noticeably more compression. The singlet is also available in a women's fit that has been very popular."
Pros
Several different colors available (though most of them are limited editions)
IPF and USAPL approved
Shorter legs can help you stay cooler during a meet but still keep everything adequately covered
Cons
Expensive
Can be difficult to determine your size
---
Titan makes a couple of different singlets, but the Triumph is unique due to its wider shoulder straps and the larger amount of coverage it provides in the chest and upper back. Powerlifters like this because the material grips the bar well during back squats and, combined with the matte finish, helps keep them stable on the bench during bench presses.
The only major drawback of the Triumph singlet is that it's not very flattering on women. I'll get into that more below, but there's not much else that's wrong with this singlet.
Pros
Matte finish prevents slipping on the bench
Wide shoulder straps allow the bar to stay in place on your back during squats
IPF, USAPL, and USPA approved
Stretchy but supportive material and inclusive sizes
Made in the USA
Cons
---
SBD Powerlifting Singlet vs Titan Triumph Singlet: Face-To-Face Comparison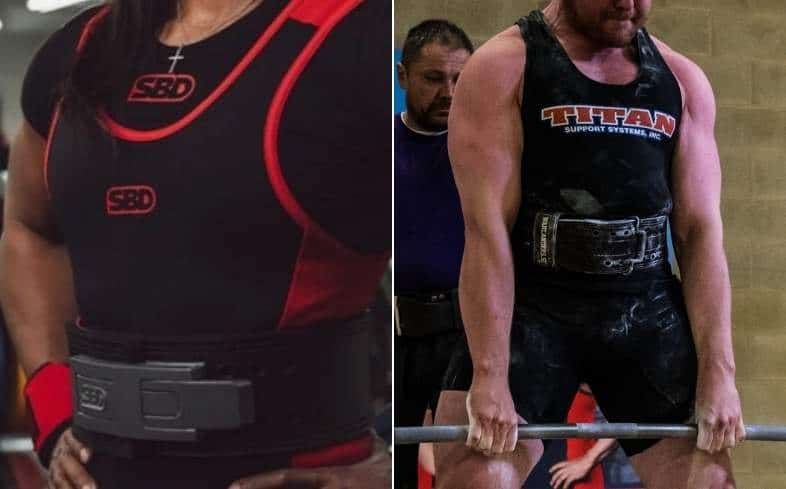 Approval for Competition
If you're a competitive powerlifter, one of the first things you should look for in a singlet is whether or not it's approved for competition.
To be legal for competition, a singlet must:
Be produced by an

IPF-approved brand

and
Meet the technical specifications set forth by the IPF
Both the SBD Powerlifting singlet and Titan Triumph singlet are approved by the IPF and, by extension, the USAPL. The Titan Triumph singlet is also legal for USPA competitions, but the SBD singlet is only USPA-compliant.
Therefore, if you compete in the USPA, the Titan Triumph singlet will be a better choice for you.
Materials and Design
SBD
The original singlet was made out of flimsy Lycra material. Lycra is still found in the new singlet, but it also features heavy-duty 350gm double jersey fabric and Meryl® fibers that are stretchy yet compressive and keep you cool and comfortable.
The singlet is available in black and red, gray and blue, maroon and white, black and military green, and black and white. They're all offered as separate lines within the singlet collection.
There were a lot of complaints about the colored side panels on the original singlet being see-through. The new singlet not only has thicker material but the colored panels stop at the top of your hips. Even if you can still see through it, you won't reveal a lot of skin because all anyone else will see underneath is your T-shirt.
Titan Triumph
The Titan Triumph singlet is made out of Comprexx, a patented fabric that stretches up to 600% but still provides the compression and support you need for your lifts while meeting the IPF standards. It will also help you stay warm in between each of your attempts during a meet.
The standard Titan Triumph singlet is all black, but there are other versions available with red or blue colored side panels.
The Winner: Titan Triumph
The new SBD singlet has come a long way since the original model, but Titan Triumph is still the better choice because you can't compete with the Comprexx material.
Size and Fit
SBD
I've heard complaints about the SBD singlet being too tight on the quads. Some male lifters that I know have also said it's uncomfortably tight in the crotch area, and many female lifters find it too tight in the chest.
The legs on the SBD singlet are on the shorter side, but they still provide a good amount of coverage, even for taller lifters.
The singlet is available in sizes from XS – 5XL for men and XS – 3XL for women. The weight ranges for each size are the same for both genders, but the women's cut is more tailored to the shape and measurements of a female's body.
Titan Triumph
The Titan Triumph singlet is available in sizes from XS – 6XL, with the 6XL being able to fit lifters who weigh more than 385lbs.
Most lifters I know who use this singlet say the size chart is accurate and the fit is snug but comfortable all over. It also has a longer leg length, which is a great feature for lifters who like more leg coverage.
Many females don't find the Titan Triumph very flattering because it's not tailored to fit the shape of a woman's body. But unfortunately, many female-specific singlets aren't IPF approved. For females, I'd still recommend the Titan Triumph over the SBD singlet for competitions because it will still perform well even if you don't think you look good in it.
The Winner: Titan Triumph
Even though Titan isn't the best singlet for women, most male lifters find it form-fitting in a comfortable way. The longer leg coverage is also ideal for anyone who's worried about exposing themselves during their lifts.
If you're a female powerlifter, I highly recommend you read my review of the Virus V3 Singlet, which is my #1 pick for women.
Price
SBD
The SBD singlet is one of the pricier products on the market. It's fine if you don't mind spending the extra money, but while the newer version is a big improvement over the original model, I still don't think it's worth the cost.
Titan Triumph
The Titan Triumph singlet falls in the mid-tier price range. It's not as cheap as some entry-level singlets but is much less expensive than the SBD singlet. And for the price, you'll get a well-made, durable product that you won't have to replace very often.
The Winner: Titan Triumph
While it's not what some people would consider cheap, the Titan Triumph singlet is priced very reasonably for the quality and durability you get from it.
What Are the Differences Between the SBD Singlet and the Titan Triumph Singlet?
To recap, below is an overview of each singlet's features to help you decide which one is best for you.
SBD
It has more color options. If SBD's standard black singlet is too boring for you, you can choose a different color that suits your style and personality better.
It has a slightly shorter leg length but still provides ample coverage. The legs aren't as long as the ones on the Titan Triumph, but they still keep you well-covered so you won't feel too exposed.
It's not USPA-approved. Anyone who wants to enter a USPA-sanctioned event won't be able to wear this singlet in competition.
Titan Triumph
It's better for large, heavy lifters. The Titan Triumph is available in sizes up to 6XL and stretches up to 600%, so it's better for large lifters who want compression and support without feeling constricted.
It's more affordable. The Titan Triumph is much cheaper than the SBD singlet, and you'll get a higher-quality product while still being able to save some money.
It has wider shoulder straps and a matte finish. Each of these features can enhance your performance by keeping the bar on your back without slipping during back squats and preventing you from sliding on the bench during bench presses.
The Final Word
If you're still confused about which singlet to buy, the recap below can help make your decision easier.
Wear the SBD singlet if:
You have thinner quads or a smaller chest.
You only compete in IPF or USAPL events.
You want a singlet with shorter legs but still want to be covered.
Wear the Titan Triumph singlet if:
You compete in the USPA.
You're a male.
You're a large lifter who weighs more than 385lbs.
You want a singlet with more leg coverage.
Other Singlet Resources
---
About The Author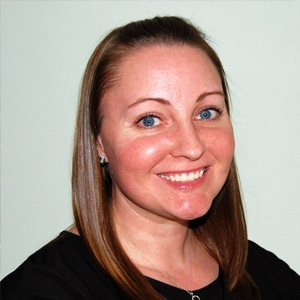 Amanda is a writer and editor in the fitness and nutrition industries. Growing up in a family that loved sports, she learned the importance of staying active from a young age. She started CrossFit in 2015, which led to her interest in powerlifting and weightlifting. She's passionate about helping women overcome their fear of lifting weights and teaching them how to fuel their bodies properly. When she's not training in her garage gym or working, you can find her drinking coffee, walking her dog, or indulging in one too many pieces of chocolate.