There's a reason why the squat is an exercise that has been around for thousands of years. When it comes to its benefits, it seems like there's nothing they can't do.
But what about growing your glutes? Do squats make your butt bigger?
Squats and other squat variation exercises have been proven to produce high levels of electrical muscle activity in the gluteus maximus (the largest glute muscle). This correlates to more muscle stimulation and growth, and a bigger butt.
But to get the most growth from your squats, you must pay attention to a few specific training factors, which you'll learn below.
Read on to understand what to do if your glutes don't want to grow and frequently asked questions on the topic of getting a bigger butt from squats.
A Quick Piece of Advice for Better Success
I want you to have massive success in your fitness endeavors. Before we look at all squatting specifics and how to round out your rump, there's one caveat that needs to be mentioned, assuming you don't want to waste your time in your squatting endeavors:
Squats and other leg exercises have been scientifically shown to produce high amounts of gluteal activation (more on that in a bit). However, that alone won't mean much if your beautiful butt muscles are obscured by poor body composition. So, if getting a bigger butt is your primary objective, it will come down to more than just performing squatting exercises.
In addition to following the insights below, obtaining a lean physique will pay massive dividends to help accentuate the curves and contours of the gluteal and hip muscles you'll build through your squats. This will further create the illusion of size. A set of 36-inch hips with a 32-inch waist will appear night and day bigger than 36-inch hips with a 36-inch waist.
Think of it this way: Imagine trying to show off all the muscle and definition in your biceps and triceps. What's a better way to do so: wear a thin, snug-fitting T-shirt or a puffy winter jacket?
It's the same way with squats. Growing your glute muscles won't be obvious if your waist and hips are covered in excessive amounts of adipose tissue (fat tissue).
Assuming you want your butt to grow from adding muscle (and not from depositing excessive fat in the region), you'll likely only see that hard-earned muscle growth with a lean physique.
Alright, now let's get to the squat specifics.
Which Muscles Do Squats Work?
To understand how squats can make your butt bigger, it's important to understand all the muscles used in the movement and how the glutes, in particular, play a role.
The traditional squat (and any possible squatting variation, including ass-to-grass squats) is known as a compound movement for the glutes and lower body, meaning it targets multiple muscle groups when producing the movement.
The primary muscle groups (known as agnostic muscles) that work to complete a squat include:
The gluteus maximus
The hamstrings (a set of three muscles on the back of the thigh)
The quadriceps muscles (a set of four muscles on the front of the thigh)
Muscles that assist the primary muscles during the squat (known as accessory muscles) include:
The gluteus medius and minimus muscles (the smaller of the three glute muscles)
The erector spinae muscles (muscles of the lower back)
The adductor muscles (muscles on the inner thigh)
There are, of course, more accessory muscles than these, but they are beyond the scope and need of this article. If you want to learn more, check out our full guide on the muscles used in the squat.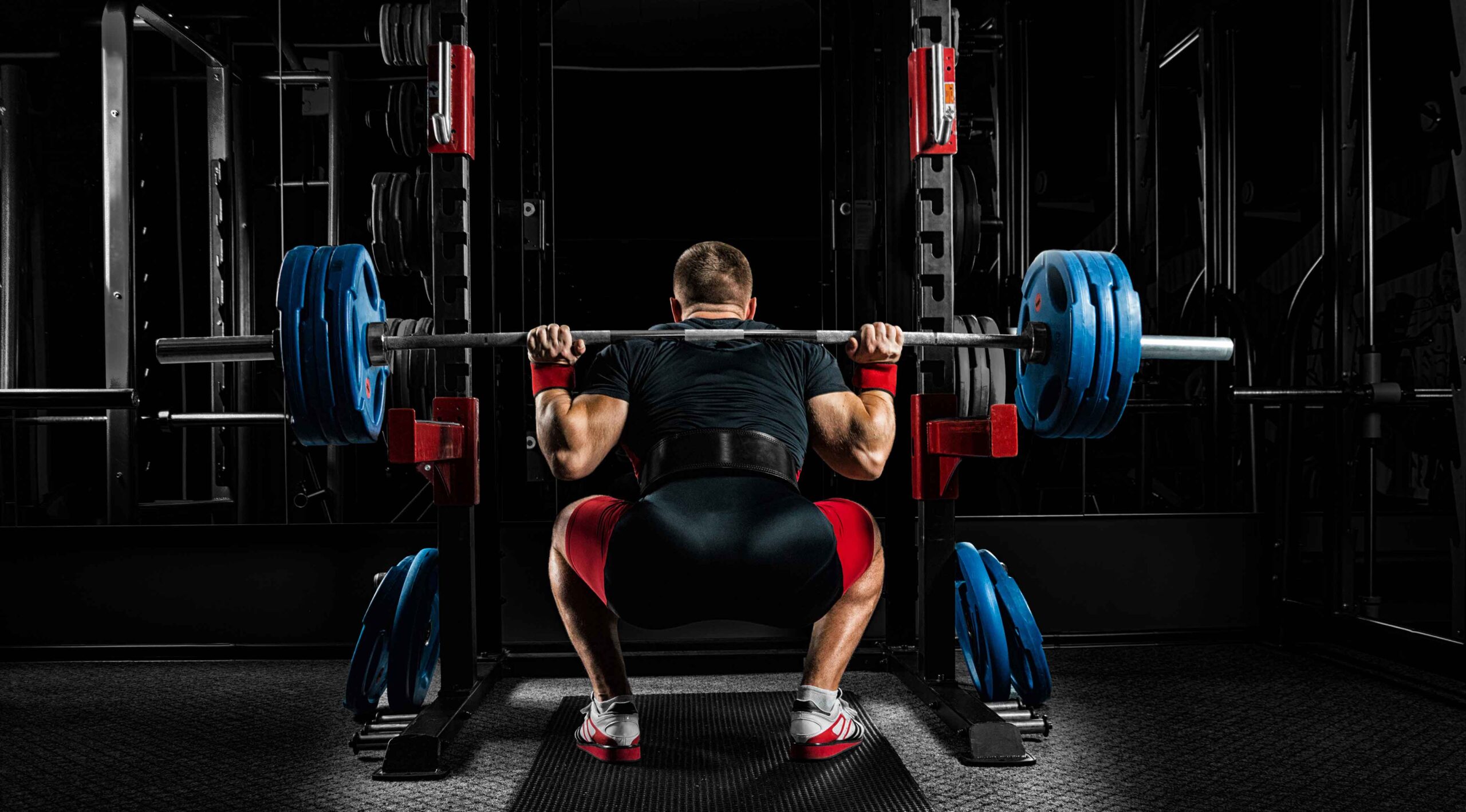 Want to improve your squat technique?
The Function of the Gluteal Muscles When Squatting
The gluteus maximus is the hip muscle most lifters and fitness-goers are familiar with. It's the big rump muscle that makes up the butt itself. Its primary role is to extend (straighten) the hip, such as when rising from the bottom of the squat.
The gluteus maximus is also a powerful hip abductor, meaning it helps to pull the leg away from the midline of the body. It produces this movement isometrically during the squat, which helps to prevent the knees from caving inwards.
The gluteus medius and glute minimus are the other two smaller (and lesser known) gluteal muscles of the hip. They work primarily to produce hip abduction when moving the leg and help to provide hip stability during the squat (and various other lower-body exercises).
How To Use Squats To Grow Your Glutes
If you want to grow your glutes using squats, your success will hinge on multiple factors, many of which will come from dialing in effective and appropriate acute training variables.
Dial In Your Acute Training Variables
Acute training variables are the components of your strength and fitness routine that can be manipulated within an individual exercise. These variables include:
Number of repetitions performed per set
Number of sets performed for each squatting exercise
The amount of rest you take in between sets
The amount of weight (often termed "load") you use for each set
The tempo (speed) at which you perform every repetition
A detailed breakdown of these training variables is beyond the scope of this article. However, as a general starting point, muscle hypertrophy (the process of a muscle physically growing larger) is often best achieved with the following training variables:1–4
A repetition range on the higher end (typically, between 8-15 repetitions)
A slower squat tempo (increasing the muscle's time under tension)
Shorter rest durations (typically between 30-60 seconds between each set)
Performing 1-3 sets of your squats if you're a novice and 3-6 sets if you're an advanced lifter
Dial In Your Training Frequency
Dialing in a perfect set of acute training variables won't amount to much if you don't combine them with optimal training frequency.
The "perfect" training frequency for gluteal gains will depend upon numerous individual factors. Still, the scientific consensus is generally that it's best to train your glutes twice weekly.5 Whether training a muscle group three times per week more than that remains to be conclusively determined.
So, if you're wondering, "Will doing squats every day make my bum bigger?" the answer is it may. But there are no scientifically-backed benefits to doing so, and you may be wasting your time.
Learn whether or not you should squat every day in Squatting Every Day: Pros, Cons, Should You Do It?
Focus on Slower Movement for All of Your Squatting Exercises
Fast or quick squats (quickly dropping down and then quickly rising up) likely won't get you very far for muscle growth. As alluded to previously, performing a relatively slower squat will increase the duration for which your gluteal muscles are under mechanical tension (the time under tension phenomenon), which has been shown to significantly increase muscle hypertrophy.1–3
Performing slower squats will involve using a lighter load than you'd typically need for a standard set of ten repetitions. Still, since it will take much longer to complete, the extent of muscle fatigue you'll generate will be substantially greater. Set your ego aside if you are used to squatting heavy.
Over my years of training hundreds of individuals, I've had success with using tempos ranging from three seconds for each phase of the squat (i.e., six seconds for a single rep) to five seconds for each phase (i.e., ten seconds for a single rep). They're exhausting but tend to produce solid benefits.
As a general rule, you'll want to shoot for approximately one minute of continual time under tension. Try not to take a break at the top of each repetition, as doing so will reduce your time under tension.
If it takes four seconds to complete a single rep, this equates to fifteen reps. Five repetitions per set would equate to twelve repetitions. (Simply divide the number 60 by the number of seconds it takes you to complete each repetition.)
What To Do If Your Glutes Aren't Growing
Now you know the answer to the question, do squats really make your booty bigger? But what if you're following the guidelines above and you're glutes aren't growing?
When troubleshooting gluteal growth, some common issues can hinder a lifter's progress – many of which are simple mistakes that can easily be rectified.
Below are the most common issues I've encountered in my years of training dedicated powerlifters, athletes, fitness professionals, and weekend warriors.
Issue 1: You're Not Consuming Enough Protein
This issue rears its ugly head in more than half of those I work with. You must understand that muscle growth requires a high-protein diet.
How you achieve adequate protein intake and which types of protein you consume is up to you, but the result will always be the same. Without sufficient dietary protein, your chances of gluteal growth are slim-to-none.
To ensure you also consume an adequate number of calories for muscle growth, check out: How Many Calories Should I Eat To Gain Muscle? (Complete Guide).
Issue 2: You're Not Giving the Muscle Growth Process Enough Time
It's not a sexy piece of advice, I know, but if your training parameters are dialed in, you need to trust the process.
For the average, relatively untrained individual, noticeable muscle growth won't be evident for well over the first six to eight weeks of training. These initial weeks often produce training adaptations that are largely neuromuscular (the functioning of the nervous system talking to the muscles is what improves, not the actual size of the muscles themselves).6
For the exercise geeks or those who are curious, neuromuscular efficiency refers to an improvement in the body's ability to recruit (and, thus, contract) a greater number of muscle fibers from a motor unit. A motor unit represents a single nerve fiber and all muscle fibers it innervates or "talks to."
This is why "newbie" strength gains are often significant within the first month or two of resistance training. Once your neuromuscular efficiency is vastly improved, muscle hypertrophy will thereafter follow.
So stick to your squats – they will pay off!
Issue 3: You're Not Incorporating Other Gluteal-Dominant Exercises Into Your Training
If the name of the game is solely growing the size of your butt, there are plenty of squatting variations you can implement that have been scientifically shown to target your glutes.
For many athletes and individuals, one squatting-based exercise within a workout or training session might not be enough to adequately stimulate the glutes to grow.
Therefore, it may be worth trying any of the following squat-based exercises, which have been shown through systemic review to produce exceptionally high levels of glute activation:7
Lateral (sideways) step-ups
Diagonal step-ups
Cross over step-ups
Conventional deadlifts
Barbell and banded hip thrusts
Belt squats
The appropriateness of these exercises will depend on numerous personal aspects, so you'll likely need to take some time to figure out which exercise is most practical and appropriate for your needs.
Frequently Asked Questions
If you still have a few questions on how squats can make your butt bigger, here are some answers to some similar (and very common) questions.
What Exercises Make Your Butt Bigger?
Exercises that effectively target and stimulate the glute muscles are best for a bigger bum (since these are the muscles around your hips). Pick exercises that force you to extend (straighten) your hip, which is primarily done by the gluteus maximus, or move your legs away from your midline (known as hip abduction).
Do Squats Make Your Hips Wider?
Hip width is largely genetic. If you think an exercise that targets the gluteus maximus will make your hips wider, you're off the mark. The glute medius and glute minimus play a larger role in making your hips wider. However, the extent of hypertrophy they can undergo to make the hips appear wider is likely insufficient.
Do 100 Squats a Day Make Your Butt Bigger?
Performing 100 squats per day is a very uneducated way to increase gluteal mass. You can do it if you want a general fitness challenge or want to get more daily activity. But the parameters are too vague (and essentially non-existent) to align with the scientific research for maximizing gluteal growth.
If you don't want to heed my personal (and scientific) insight, try doing the following for your 100 daily squats, which will likely give you a much better bang for your buck:
Perform as many unbroken repetitions as possible (meaning you don't take any breaks between reps). If you can get to 100 reps without taking more than a single break, good on you.
Take at least four seconds to complete each rep (stare at a stopwatch or the second hand on a clock to ensure you're not cheating).
Final Thoughts: Do Squats Make Your Butt Bigger?
So what's the verdict? Do squats actually make your butt bigger?
It's possible to get a bigger butt from squats, but there's more to it than mindlessly squatting away without considering the additional factors that science has shown to be necessary. You'll want to pay attention to the finer details, particularly how you perform your squats.
If you're bound and determined to grow your glutes from squats, you must ensure that your diet is on-point, you eat lots of protein, and focus on body composition.
From there, you'll want to train various squat variations (barbell back squats, Bulgarian split squats, etc.) at least twice per week using ideal training parameters (sets, reps, rest breaks, etc.)
References:
1. Krzysztofik M, Wilk M, Wojda\la G, Go\laś A. Maximizing muscle hypertrophy: a systematic review of advanced resistance training techniques and methods. Int J Environ Res Public Health. 2019;16(24):4897.
2. Pereira PEA, Motoyama YL, Esteves GJ, et al. Resistance training with slow speed of movement is better for hypertrophy and muscle strength gains than fast speed of movement. Int J Appl Exerc Physiol. 2016;5(2).
3. Tran QT, Docherty D, Behm D. The effects of varying time under tension and volume load on acute neuromuscular responses. Eur J Appl Physiol. 2006;98(4):402-410.
4. Schoenfeld BJ, Ogborn D, Krieger JW. Dose-response relationship between weekly resistance training volume and increases in muscle mass: A systematic review and meta-analysis. J Sports Sci. 2017;35(11):1073-1082. doi:10.1080/02640414.2016.1210197
5. Schoenfeld BJ, Ogborn D, Krieger JW. Effects of resistance training frequency on measures of muscle hypertrophy: a systematic review and meta-analysis. Sports Med. 2016;46(11):1689-1697.
6. Häkkinen K. Neuromuscular and hormonal adaptations during strength and power training. A review. J Sports Med Phys Fitness. 1989;29(1):9-26.
7.      Neto WK, Soares EG, Vieira TL, et al. Gluteus maximus activation during common strength and hypertrophy exercises: A systematic review. J Sports Sci Med. 2020;19(1):195.
---
About The Author
Jim is a physical therapist, strength & conditioning specialist and former competitive powerlifter. He loves treating lifters and other active individuals in the clinic and working with them in the gym in order to help them move better, feel better and maximize their training potential.
Website: www.strengthresurgence.com