PowerliftingTechnique.com is independent and supported by our readers. We may earn a commission if you buy through the links below. For more, see our disclosures page.
For the last two months, I've been using and testing the Bells of Steel Barenaked Powerlifting Barbell 2.0 in my personal workouts. My wife (also a competitive powerlifter) and a few powerlifting clients I train in my home gym have also tested it.
Overall, the Barenaked Powerlifting Barbell 2.0 offers high quality at a budget price point. This barbell is certified for competition and will stand the test of time with its strength and durability. It can work for powerlifting and general use applications to lifters outside of powerlifting who want a sturdy barbell at a fair price.
But this product isn't for everyone, so read on to learn everything you need to know to understand if you can add it to your home gym.
In this Bells of Steel powerlifting bar review, I'll discuss:
An overview of Bells of Steel and the Barenaked Powerlifting Bar 2.0
The pros and cons of this barbell
Key features of this barbell
What other lifters say about this barbell
Alternatives to this Bells of Steel barbell
Things to consider when buying a powerlifting barbell
Bells of Steel Barenaked Powerlifting Bar 2.0: Overview
As we dive into my experience with this powerlifting barbell, it's worth sharing a few things about the Barenaked Powerlifting Bar 2.0 that aren't a matter of opinion.
Material
Length
Weight
20 kg / 44 lbs
Weight capacity
680 kg / 1,500 lbs
Diameter
1"
Tensile strength
210,000 PSI
IPF approval
Not IPF-certified but is made to IPF specifications
Materials

Shaft: Bare steel

Sleeves:

Chrome

Knurling

Aggressive

Rating

4.5 / 5
Across all these specs, the things that stand out to me are that you get a barbell that takes no liberties in meeting powerlifting-specific criteria, feeling exactly like a barbell you'd handle in an official competition.
It's got a max weight capacity that exceeds ANYTHING any human on Earth would need to load it to, meaning you'll never outgrow this bar. The tensile strength rating gives you the confidence that your bar won't whip and bow under sub-max loads, throwing off the balance of your lift.
One important thing to note is the construction materials. The bare steel is strong and durable and is a major reason for the barbell's economical price point.
But the lack of coating with chrome or Cerakote comes with some drawbacks. If you have a garage gym or outdoor gym or live in a humid climate, be aware of the rust factor when exploring bare steel products like this Bells of Steel power bar.
Bells of Steel Barenaked Powerlifting Bar 2.0: Pros, Cons, & My Experience
As I've used this barbell for the past couple of months, I've taken notes on the things that stand out to me most — the good, the bad, and my personal opinions of it all.
Pros
Let's start with the good things about this bar. Overall, my review is very positive, and it comes down to these main reasons:
Quality
When I opened the packaging, I was impressed with this barbell. Having used all sorts of barbells, from cheap all-purpose barbells in commercial gyms to top-of-the-line, powerlifting-specific barbells, this one had all the marks of quality workmanship right out of the shipping tube.
I have my personal preferences with brands and styles of barbells for my lifting, and without bringing those specifics into this discussion, I have a hard time finding things I don't like about the quality of this bar compared to others.
It's quiet, doesn't rattle around the collars, has sharp knurling, weighs exactly 20kg, and has powerlifting-specific nocks in the knurling. These knurling marks are indicators on the bar, evenly spaced apart to provide a sense of space and consistency when gripping the bar.
These markings vary based on the bar's intended use. For example, Olympic and CrossFit barbells have different knurl marks to accommodate wider grips more commonly used in the snatch and clean and jerk.
Feel
Aside from the quality, I enjoy the feel of this bar in squat, bench, and deadlift workouts. While the knurling is aggressive and sharp, that's exactly what I want in a good powerlifting barbell.
The biggest benefit to me is that it's designed and built to IPF specs. The bar feels exactly like I expect it to after six years of competitive powerlifting.
While many barbells I handle for the first time when I'm traveling or using a commercial gym feel a little different or a little off, the Bells of Steel Barenaked Powerlifting Bar 2.0 brings no unexpected surprises when I grip it, unrack it, or put it on my back.
Price
Best of all, I can't believe the price of this barbell. If you had asked me to handle it, use it, and review it before telling me the price, I would tell you it would be a few hundred dollars more than the list price.
But it's not! Bells of Steel has crafted a high-quality, IPF-specked powerlifting-specific barbell at a price point many home gym owners can afford.
Cons
With all the positives, there is just one downside I've found (maybe out of personal preference) with this barbell, and that's the modified collars on the sleeves.
Bells of Steel boasts thin collars where the knurling meets the sleeves for loading plates, with the advantage being the ability to load more plates and weight onto the bar by not taking up that space with a fatter collar like other bars have.
This sounded awesome as I read the description. But as I used it for barbell exercises like squats and bench presses, the plates were so close to the graspable part of the bar that I often hit the plates against my rack when I returned the bar to the rack.
This would happen with squats as I walked it back in, hitting the plates against the rack and needing to better align myself more accurately to re-rack the bar. The same happened with my bench presses as I finished a press and returned the bar to the rack overhead.
I've never dealt with this issue so commonly with any other bar.
Maybe it's something about the combination of this bar and my combo rack, or maybe it's the bar with any rack. But I found myself grumbling and irritated every time I just wanted to get the weight off my back or out of my hands and was impeded by the plates hitting the rack because of the slimmer collars putting the weight closer to the center.
My Experience
Overall, I enjoyed training with this bar. I could learn to adapt to the difference in collars and how I habitually unrack and re-rack the bar after a squat or bench press. That issue doesn't ruin the barbell for me and certainly pales compared to all the benefits I saw in it.
With sharp knurling, IPF-specific construction, and quality steel, this Bells of Steel powerlifting bar is a fantastic bar for the price.
Interested in the Bells of Steel Barenaked Powerlifting Bar 2.0 but not sure how to store it? We have a full guide on the best ways to store barbells.
Bells of Steel Barenaked Powerlifting Bar 2.0: Key Features
As I think about what makes this bar unique and worth consideration, there are three key features to pay attention to:
IPF-Specific Construction
This benefit covers a lot of bases – the dimensions, the weight, the strength, the positioning of the nocks in the knurling, and more.
The fact that it's built so specifically to IPF specifications means you can train confidently in your gym or home gym and feel very comfortable stepping up to a bar on the platform at a competition and using a bar that meets the same specifications.
This feature should give any powerlifter complete confidence in using this Bells of Steel bar.
Ultra Thin Collars
I mentioned I'm not a fan of them, but that may not be an issue for other lifters and the racks you use to squat or bench press!
Whether you have the same issue as I did with hitting the rack with the plates, you can't ignore the benefit that you can fit more plates and more weight on the sleeves due to this design feature. And for most lifters, that's a big plus.
Especially for home gym owners who probably don't own the thinner, calibrated KG plates, when you're dealing with cheaper, fatter plates, this can be a huge help to get all the weight you need on the bar for your lifts.
Price
We all like saving money, and that's the final feature I love about this barbell. I can't believe the value you get with the Bells of Steel Barenaked Powerlifting Bar 2.0.
For all the reasons stated, this barbell is your best value for money when shopping for a powerlifting-specific 20KG barbell.
Looking for other budget barbells? Check out our list of the best affordable barbells that are still good quality.
Bells of Steel Barenaked Powerlifting Bar 2.0 Reviews: What Do Other Athletes Say?
Users have been overwhelmingly positive in their feedback. As of the time of this writing, this barbell has 4.8/5 stars across 295 unique reviews on the Bells of Steel website! There are currently no 1-star reviews, only three 2-star reviews, seven 3-star reviews, and 258 5-star reviews.
This shows that my experience with the bar is not isolated in how much I've enjoyed using it, and look forward to keeping it as a staple of my home gym barbell rotation.
As with most low-rated reviews, the issues that upset customers the most were shipping or other concerns outside of the product itself, like this one:
Even more positive reviews still call out shipping issues but also point to more specific feedback like the whip. A barbell's whip is the temporary bending of the bar when plates are loaded on each end. In the case of the Bells of Steel barbell, the whip was more than some customers expected.
While many lifters prefer more or less whip, it's worth noting this customer's opinions on it:
But again, feedback like that is also a matter of opinion. The 5-star reviewer below praises the lack of whip compared to other bars they've used:
If you're interested in seeing reviews from more customers, Bells of Steel compiled this testimonial video:
Best Alternatives to the Bells of Steel Barenaked Powerlifting Bar 2.0
For lifters looking for some comparisons, I recommend two other options that are very similar but offer their own unique pros and cons:
Rogue makes a power bar in two weights, a 45 lb bar and a 20 kg bar (which is a little less than 45 lbs). This 20KG bar is an excellent comparison to the Bells of Steel Barenaked Powerlifting bar. It also meets IPF specs and incorporates a reduced collar to accommodate more plate loading on the sleeves.
Also built to powerlifting specs and weighing 20 kg, this bar has medium knurling for those that don't like gripping a cheese grater when they lift! With excellent weight capacity and quality craftsmanship, this may be another option for you to consider.
Looking for a women's-specific barbell for Olympic weightlifting? Check out our favorite women's barbells.
3 Things To Consider When Buying a Powerlifting Barbell
Whether you're pretty set on the Bells of Steel Barenaked Powerlifting Barbell or some other option, there are three things you should consider when shopping for a barbell:
Sport specificity
Lift specificity
Stiffness preference
Sport Specificity
Ask yourself why you need a barbell and how you want to use it. Are you training specifically for powerlifting? Olympic lifting? CrossFit? Bodybuilding? The answer will shape what kind of barbell is best for your needs, whether you want something all-purpose, specific to powerlifting, or specific to another sport.
Things like the knurling style and design, placement of the nocks in the knurling, length, and weight will be differentiators depending on your intended use of the barbell.
Lift Specificity
Another factor to consider is the lifts you'll be doing with the barbell. While some barbells are specific to powerlifting, even within that realm, there are variations – multi-use power bars, deadlift bars, squat bars, bench press bars, and other specialty bars like the safety squat bar or cambered bar.
Even knowing the sport you are training for doesn't quite give you all the information you need, as there are options for each lift.
Outside of powerlifting, barbells specific to CrossFit, Olympic lifting, and general gym use vary in length, diameter, and weight specific to male/female lifters and other elements of those sports.
Define what lifts you'll use the bar for when you shop to find the right option and avoid picking one too specific or too general for your needs.
Stiffness Preference
Finally, be aware that not all bars are equally stiff. Some bars, like deadlift bars, are longer and thinner, designed to whip and bend when loading with weight. Bars like this are not ideal for squatting, so squat bars are extra thick and extra stiff to remain steady and stable on a lifter's back.
For some lifters, this will be a matter of preference. For others with sport-specific or lift-specific needs, they'll want options to have a barbell specific to their taste in those circumstances.
Be aware of these factors before you buy, so you aren't upset with a bar that doesn't behave like you expect when you load it up with weight and start your lifts.
Final Verdict: Should You Buy the Bells of Steel Barenaked Powerlifting Bar 2.0?
Overall, if you can't tell by now, I'm a big fan of the Bells of Steel Barenaked Powerlifting Bar 2.0. If you are a powerlifting-focused lifter on a budget needing a barbell to cover all three lifts and get the job done in training that will feel like a bar you use in competition, this is a great one.
Maybe you aren't a powerlifter, but you like that this barbell is tried and tested by lifters more focused and more intense than you, and you want a good bar to use for any lift. In that case, this is also a fantastic option that won't break the bank!
Truly, for any lifter on a budget who wants a reliable bar and doesn't have specific needs for a barbell, like extra or less thickness or more or less whip, the Barenaked Powerlifting Bar 2.0 is a fantastic buy.
---
About The Author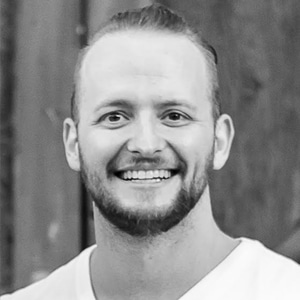 Adam Gardner is a proud resident of Utah, where he lives with his wife and two kids. He has been competing in powerlifting since 2016 in both the USPA and the APF. For the past three years, he and his wife, Merrili, have coached beginning lifters to learn the fundamentals of powerlifting and compete in their first powerlifting competitions.