PowerliftingTechnique.com is independent and supported by our readers. We may earn a commission if you buy through the links below. For more, see our disclosures page.
A barbell is an important piece of equipment to add to any home gym, but you don't have to pay top dollar to get a bar that performs well and is durable. I've been testing different budget barbells over the past 4 to 5 months, and I'm here to tell you give you my thoughts on which one is the best.
So what is the best budget barbell? The best budget barbell is the RitFit ToughFit 7ft Olympic barbell. It's an all-purpose barbell, so it's suitable for anyone who does a combination of CrossFit, weightlifting, and powerlifting. It has a 1,200lb weight capacity, a black e-coat finish to prevent rust, and strong knurling to give you a good grip.
Getting the right barbell for your home gym is important because you don't want to get one that you'll have to replace within a few months or be stuck with one that doesn't work with your style of training.
In this article, I'll review 10 of the best budget barbells on the market to help you decide which one is best for your needs.
Things to Consider When Buying a Budget Barbell
Three things to consider when buying a budget barbell are:
Intended use
Barbell storage
Budget
1. Intended Use
A lot of budget barbells are designed to be all-purpose barbells, meaning you can use them for powerlifting, weightlifting, CrossFit, or general strength training. But some barbells are meant to be used for one type of lifting only.
You'll need to consider what type of workouts you'll use your barbell for so you can train effectively with it.
2. Barbell Storage
Even though you may not be spending a significant amount of money on your barbell, you should still take care of it properly. First and foremost, that means storing your barbell properly.
For example, if you'll be leaving your barbell in a humid garage, you'll want to look for one with a finish that has anti-corrosion properties to prevent it from rusting. This will save you from having to spend a lot of time trying to remove the rust or replacing the barbell entirely.
3. Budget
The term "budget barbells" is relatively subjective, as everyone will have a different opinion about what a budget barbell is. You may know that you don't want to spend a lot of money even if you're not entirely sure exactly how much you're willing to spend.
The least amount of money I'd recommend spending on a barbell is $200-$250. But your mileage may vary, and there are certainly options available that are even less than that, though they're not always very durable. You'll have to decide whether you're okay with sacrificing some quality to save a few bucks.
10 Best Cheap Olympic Barbells
The 10 best budget barbells are:
RitFit ToughFit 7ft Olympic Barbell – Best Overall Cheap Barbell
IFAST Fitness 7ft Weightlifting Barbell – Best Multi-Purpose Cheap Barbell
Rogue Bella Barbell – Best Budget Barbell for Women
Synergee Games Barbell – Best Barbell Under $300
Rogue Bar 2.0 – Best Budget Barbell for CrossFit
Titan Fitness Atlas Bar – Best Budget Barbell Under $200
Rep Fitness Basic Barbell – Best Budget Barbell for Beginners
Rogue 45lb Bare Steel Ohio Power Bar – Best Budget Barbell for Powerlifting
Rogue Echo Bar – Best Budget Barbell for Male Weightlifters
Valor Fitness Olympic Barbell – Best for General Strength Training
I've had the RitFit ToughFit 7ft Olympic barbell for about 4 months now, and I've been impressed with its performance. It's one of the most affordable barbells that hasn't skimped out on materials or weight capacity (RitFit claims it can hold 1,200lbs).
The first thing I noticed as soon as I got this barbell was the fast, smooth spin. This is thanks to the four needle bearings, which help it stand out amongst budget barbells, many of which use bushings instead and don't rotate as freely. (Bushings and bearings refer to the mechanisms that allow a barbell's sleeves to spin.)
The fast spin is a good feature when doing snatches and clean and jerks. But I've found that it throws me off when doing heavy deadlifts, though interestingly, it's not quite as bothersome for me when doing bench presses.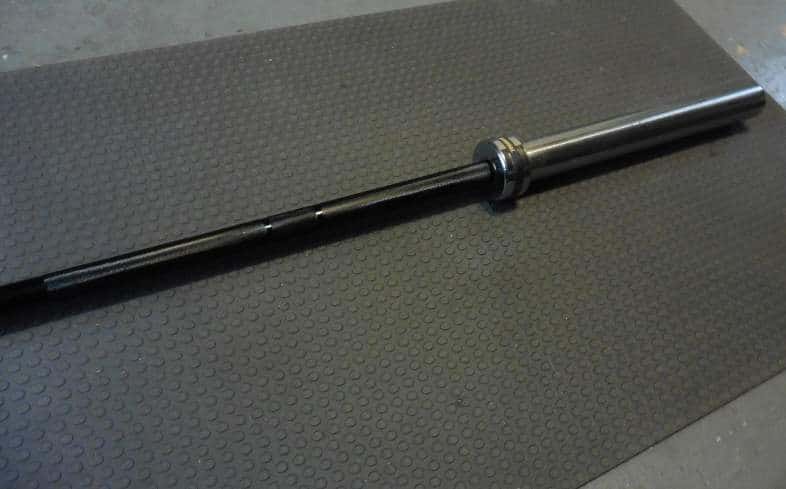 This barbell has diamond knurling that's neither too aggressive nor too passive, so you can do multiple exercises without your hands ripping too badly. It also has a black e-coat finish to prevent oxidation. I've only had my barbell for a few months, but I haven't yet noticed any rust or wearing down of the finish.
Like most budget all-purpose barbells, it has dual knurl marks — one to act as a visual guideline for where to place your hands when doing snatches and the other to indicate the widest grip you can take for a bench press to be legal in a powerlifting meet.
This barbell also has no center knurl, which is done intentionally so you can do cleans and front squats without scraping your collarbones.
Pros
Black e-coat finish for durability
Dual knurl marks for weightlifting or powerlifting
Fast spin
High weight capacity
Cons
Spin can be too much for the powerlifts
Check out my full review of the Ritfit ToughFit Olympic barbell.
Over the past 5 months, I've been alternating between the RitFit barbell and the IFAST Fitness 7ft weightlifting barbell. The IFAST Fitness barbell has more aggressive knurling, which I like, and has even more spin than the RitFit barbell since it has five needle bearings instead of four.
I've been using this barbell for CrossFit workouts with a lot of cleans and snatches as well as my deadlift and bench press workouts. Interestingly, the spin hasn't bothered me as much when doing heavy lifts as the spin on the RitFit barbell has.
The reason I put it in the second spot is that I question its durability. I've been careful to wipe it down after I use it and I've only ever dropped it on crash pads, and it's held up well so far. But the steel feels thinner than the steel used on the RitFit barbell and my Bella barbell from Rogue, and I'm also not confident that it can hold 700lbs like IFAST claims it can.
With that said, I did reach out to IFAST to see if they had done any testing on the barbell, and they sent me the following video where you can clearly see the barbell not losing integrity under 700lbs:
In my opinion, though, you wouldn't want to be pushing the barbell to its 700lb capacity frequently.
I don't think this is a worry for most people, especially if you're not a competitive weightlifter or powerlifter, as you may never get to a point where you're lifting that much. This barbell is an excellent budget option if you're looking for a multi-purpose bar that performs well for lifting and CrossFit/functional training.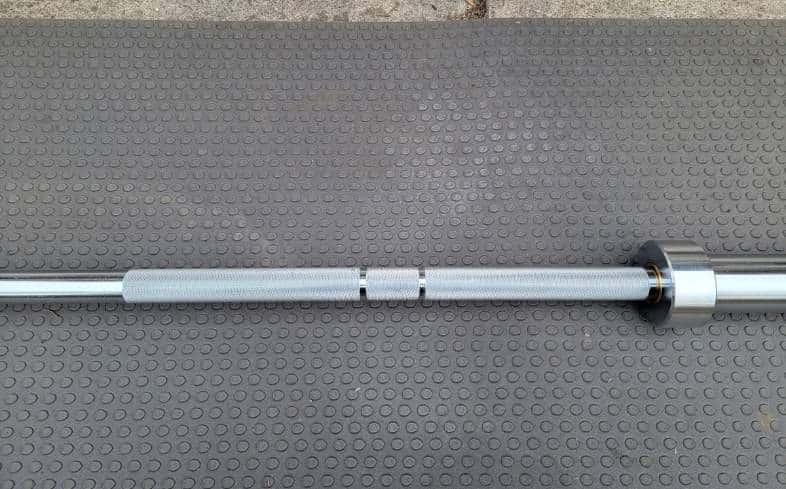 Like other multi-purpose barbells, this bar doesn't have center knurling. This hasn't been a huge factor for me, but if you like having the center knurl to provide a better grip on your back during squats, you'll need to consider another barbell.
Pros
Good knurling
Dual knurl marks make it versatile for both powerlifting and weightlifting
Lots of spin
Cons
Thin steel
No center knurling
If you want a 12% discount, use the code "powerlifting" when checking out.
Check out this complete review: IFAST Fitness Barbell Review: Tried & Tested With 20+ Workouts
I've used the Rogue Bella barbell in my own home gym as well as in the CrossFit gym I used to belong to, and I'm a big fan of it. I still use it regularly because I find it to be a good all-purpose bar that I can do any CrossFit or strength training workout with.
This bar is made specifically for females. The biggest differences between female weightlifting bars and male weightlifting bars are the diameter and weight. Women's barbells weigh 15kg (~33lbs) while men's bars weigh 20kg (~44lbs) and have a 25mm diameter while men's bars have a 28mm diameter. This is so women can use the hook grip more easily.
The Bella bar isn't exactly the cheapest women's barbell you'll find, but spending the extra bit of money will provide you with a long-lasting barbell. I've had mine for nearly 5 years, and there's been no major damage to it even though I was once using it 4-5 days per week.
It's backed with a construction warranty, so if it breaks due to faulty craftsmanship, you can get it replaced at no cost to you.
One thing to be mindful of is that different finishes on this bar come at different price points. The black zinc and black e-coat finishes are the most affordable. Of the two, I recommend the black e-coat. I have the black zinc, and the color has faded quite a bit. It hasn't affected the bar's performance in any way, but it's made it less aesthetically pleasing.
The knurling is a bit passive, but this can be a benefit for CrossFitters who do a lot of reps in their workouts and want to keep calluses under control. The bar is also made with bushings instead of bearings so the spin is a bit slow. It's best for casual female lifters who just do CrossFit or weightlifting for fun.
Pros
Durable
Comes with a construction warranty
Can be used for a variety of workouts
Cons
Black zinc finish can fade over time
Spin isn't as fast as a bar with bearings
I talk more about what I like and don't like about this barbell in my full Bella barbell review.
If you don't want to spend more than $300 on a barbell, I recommend the Synergee Games barbell. Synergee is a fast-growing fitness brand that caters to home gym owners who want high-quality equipment at affordable prices. The Games barbell is one of its most popular and durable barbells.
What makes this bar so durable is the Cerakote coating. Cerakote is a ceramic-based finish that's known for its anti-corrosion properties. It's becoming more common on barbells to help prevent rust. However, the Cerakote finish does make the knurling less aggressive.
You can get this barbell in 20kg or 15kg, so men and women can both benefit from it. It also has dual knurl marks that make it a good barbell for either weightlifting or powerlifting.
The Games bar has five needle bearings on each sleeve, which enable the sleeves to spin freely and smoothly during snatches and clean and jerks. It also has a 1,500lb weight capacity, making it a good option for beginners and experienced lifters alike.
Pros
Cerakote finish enhances its durability
Both men's and women's barbells available
1-year limited manufacturer's warranty
Cons
Looking for women's-specific bars that can be used for weightlifting? Check out my top 10 weightlifting bars for women.
5.

Rogue Bar 2.0

– Best Budget Barbell for CrossFit
The Rogue Bar 2.0 is starting to get up into the upper tier of what I'd consider a cheap barbell, but it's one of the best barbells you can buy if do CrossFit at home. It's the same barbell that's used at the CrossFit Games, so you know it can take a beating.
This barbell has bushings instead of bearings, which isn't unusual in a barbell that needs to serve different purposes (i.e. max lift attempts, high-rep training, and a mixture of Olympic lifting and powerlifting).
But unlike other bushing barbells, it uses self-lubricating composite bushings that enable the sleeves to spin faster and more smoothly.
The only thing I don't like about this bar is that it's coated in black zinc. As I mentioned earlier, black zinc has a tendency to fade over time, and while it doesn't affect the bar's performance, it does make it look like a lower-quality barbell than it really is.
It's also important to note that there is no women's version of this bar, as it's only available in 20kg.
Pros
Comes with a limited lifetime warranty
Self-lubricating bushings give the sleeves fast spin
Good knurling
Durable
Cons
No women's version
Black zinc coating can fade over time
The Titan Fitness Atlas bar is one of the best barbells you can find under $200. It's an all-purpose barbell that's made from cold-rolled steel and coated in chrome to prevent rust from developing. However, the chrome plating can flake off after several months.
This bar is another multi-purpose option that's suitable for powerlifting, weightlifting, or CrossFit. It has dual knurl marks and moderate knurling and has a high tensile strength of 220,000 PSI. Many barbells in this price range only have a tensile strength closer to 190,000 PSI, so the Titan Atlas bar stands out in this regard.
Titan claims this barbell is made for intermediate and advanced lifters, but at its price point, I'd consider it a good barbell for beginners as well. It has a weight capacity of 1,500lbs, so unless it were to break, you could use it all throughout your lifting journey.
Pros
Coated in chrome to prevent rust (though the chrome can flake off)
Fast spin
Lack of center knurling protects your neck and collar bones from abrasions
Cons
Chrome plating can wear off easily
If you're brand new to lifting weights, you may just need a simple barbell with which you can practice squats, deadlifts, and bench presses. The Rep Fitness basic barbell fits the bill.
This barbell has a 700lb weight capacity, which is why it's marketed as an entry-level bar. But even if you can progressively add weight to your lifts each week in the beginning, you should still be able to get a good year or two of training out of this bar until you need to upgrade.
The diameter of this bar is 30mm. This is slightly larger than a barbell you'd use in a powerlifting competition, which is something to consider if you think you might want to compete in powerlifting someday.
Another important thing to note is that this barbell is intended for powerlifting or general strength training only. It only has one knurl mark and is made with bushings instead of bearings, so it's not ideal if you're looking for a multi-purpose or weightlifting bar.
The knurling on the shaft is neither too passive nor too aggressive, which makes it a good option for beginners so you can work out without tearing up your hands too badly. It also has a center knurl to help it stay secure on your back during back squats.
Pros
Comes with a one-year warranty
Medium knurling is good for beginners who haven't yet built up calluses
Center knurl to prevent the bar from slipping on your back during back squats
Cons
Only has a 700lb weight capacity
Not intended for CrossFit or Olympic weightlifting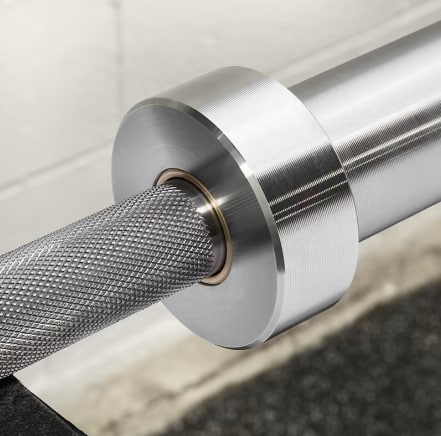 The Ohio bar from Rogue is a popular option amongst powerlifters who train at home due to its low whip (how much a barbell will flex without permanently bending) and high tensile strength (how much weight the steel can handle before it breaks).
It comes in several different models at varying price points, but the bare steel Ohio power bar is the most cost-effective option. It has a single IPF knurl mark, center knurling, and an aggressive knurl on the shaft so you can get a good grip on the bar.
Because this barbell doesn't have any protective coating, it will rust if exposed to moisture. You'll need to make sure it's dry before you store it after a workout and try to avoid using it in humid garages or basements. If possible, you can also store it in a temperature-controlled room to help prolong any rusting.
Pros
Tensile strength of 205,000 PSI
Low whip is ideal for the three powerlifts
Made in the US
Center knurling to prevent the bar from slipping on your back
Aggressive knurling on the shaft for better gripability
Cons
Bare steel can rust easily
If you're not sure of the best way to store your barbell, I cover several different barbell storage options in my article Barbell Storage Ideas: 4 Ways To Properly Store Barbells.
9.

Rogue Echo Bar

– Best Budget Barbell for Male Weightlifters
If you haven't figured it out by now, Rogue is a leader in the fitness equipment space, which is why the brand has appeared on this list several times. Another great product in its barbell lineup is the Echo bar, which is an excellent option for male weightlifters who work out at home.
The bar is manufactured in the US and coated with a layer of zinc to protect the steel from rusting.
It has bushings instead of bearings, which is unusual to find in a bar that's designed solely for Olympic weightlifting, but it helps keep the price down. There's only a single IWF knurl mark and no center knurl, which makes it possible for you to do a lot of cleans while protecting the skin on your neck and collar bones from abrasions.
Pros
Coated with zinc to protect it from rust
Made in the US
Comes with a limited one-year warranty
Cons
Has bushings instead of needle bearings
If you're willing to spend more money on a high-quality weightlifting barbell, the Rogue Pyrros bar is an excellent option.
If you don't need a barbell that's specific to weightlifting or powerlifting, you have more budget options available. The Valor Fitness Olympic barbell, for instance, is ideal if you're looking for a simple barbell that you can use for lightweight exercises or the occasional CrossFit workout.
It only has a 750lb weight capacity, which makes it far from ideal for competitive powerlifters. But it's suitable for beginners or anyone who's just lifting weights to stay healthy.
Even though many barbells in the same price range of this one have bushings, this barbell has two needle bearings. The sleeves spin freely but not so quickly that they'll throw off your stability during your lifts.
This bar has a black zinc finish on both the shaft and the sleeves. Aside from the aesthetic issues of black zinc that I spoke about earlier, on the Valor barbell, the zinc coating also chips easily. And because it's on the sleeves as well, it can rub off on the inserts on your weight plates.
Pros
Affordable price
Durable
Decent amount of spin
Cons
Can rust quickly
Low weight capacity
What Is Considered a Cheap Barbell?
Defining a cheap barbell is a bit subjective since everyone has a different definition of "cheap." Someone may think a $250 barbell is cheap while someone else may think any barbell under $500 is cheap.
In general, I'd recommend not spending less than $200 on a barbell. You may be able to get away with a $150 barbell if you're really strapped for cash, you're a complete beginner, or you know you won't ever lift more than a couple hundred pounds. But it's likely that you'll have to replace the barbell within a short period of time.
What Are You Compromising With A Cheap Barbell?
Materials and Weight Capacity
Cheap barbells may be made with lower-quality steel, and they may have low tensile strength (a rating that indicates how much weight a barbell can handle before it breaks).
But tensile strength isn't the only thing to consider when looking for a barbell. You also have to look at the yield strength, which indicates how much weight the barbell can handle before it permanently bends.
Some cheap barbells can have a high tensile strength but a low yield strength, so it's important to look at both numbers when shopping for a barbell.
Finishes
Cheap barbells may be coated with cheap finishes that rust quickly or fade and turn the barbell a funny color. Some may even have sleeves with these cheap finishes, which can rub off on the inserts on your plates or make it difficult to get the plates on and off.
Slower Spin
Using a barbell with slow spin is fine for powerlifting or general strength training, but it's not advisable for snatches and clean and jerks.
These two movements are dynamic and powerful in nature, and the spin allows the sleeves to rotate freely so the force of the weight moving isn't transferred directly onto the lifter's joints during each lift.
Cheap barbells are often made with bushings instead of needle bearings, and bushings don't spin as quickly or smoothly. So if you want to save some money, you may have to settle for a barbell that doesn't spin as fast even if you do a lot of Olympic weightlifting.
Knurling
In my experience, cheap barbells have either super aggressive knurling or very passive knurling. While knurling is necessary to give you a good grip, it shouldn't be so sharp that you're cutting yourself every time you use your barbell.
Similarly, the knurling shouldn't be so soft that it's constantly slipping out of your hands with every single rep.
As well, you may also notice that the knurled sections on some cheap barbells stop several inches before the collar. For most lifters, this isn't a huge drawback, but it can be a negative if you're a long-limbed weightlifter who likes to use a very wide grip for the snatch.
Inaccurate Dimensions
Cheap barbells may be several pounds lighter than their listed weight, have shorter sleeves that affect how many plates you can fit on the bar, or have sleeves whose diameter is too small to fit your plates.
As well, many cheap barbell manufacturers make barbells with 30mm or 32mm diameters, which is more than the diameter for IPF-approved barbells and IWF-approved men's barbells. They do this to make up for the lack of sturdiness that can result from using lower-quality steel.
Durability
Cheap barbells usually aren't made to last. They'll either start to bend after some time or develop rust, which won't harm you but can wear down the materials of the barbell quicker. In worst-case scenarios, your barbell may even break in half, or the sleeves may entirely pop off the shaft.
In some cases, if a barbell's sleeve gets damaged, you may be able to replace it. I talk about how to do this in my article Barbell Sleeve Replacement: How Do You Fix A Barbell Sleeve?
Final Thoughts
If you're looking for an affordable but high-quality barbell, I recommend the RitFit ToughFit 7ft Olympic barbell. It has a 1,200lb weight capacity, good knurling, and a black e-coat finish to prevent it from rusting. The only major drawback is that it's not available in a women's version.
If you need a good women's barbell for an affordable price, I recommend the Rogue Bella barbell. It's an all-purpose barbell that can be used for weightlifting, CrossFit, or the three powerlifts, but I'd advise getting it with the e-coat finish instead of black zinc since the zinc can fade over time.
---
About The Author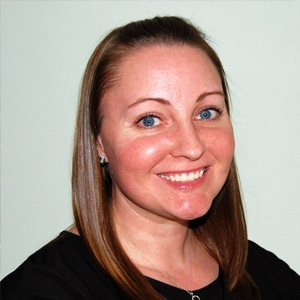 Amanda is a writer and editor in the fitness and nutrition industries. Growing up in a family that loved sports, she learned the importance of staying active from a young age. She started CrossFit in 2015, which led to her interest in powerlifting and weightlifting. She's passionate about helping women overcome their fear of lifting weights and teaching them how to fuel their bodies properly. When she's not training in her garage gym or working, you can find her drinking coffee, walking her dog, or indulging in one too many pieces of chocolate.