Some links in this article are affiliate links, which means I earn from qualifying purchases.
There are so many different barbells on the market, but not all of them deliver the quality and superior performance they promise. This is especially true of budget barbells, which are great for saving money but often don't hold up well in the long run.
One brand that has managed to strike a great balance between affordability and quality in its barbells is RitFit. I've been training with the ToughFit 7ft Olympic Barbell 2.0 for several months, and I've been impressed with its performance for both strength training and CrossFit workouts. However, the barbell isn't for everyone.
So is the RitFit barbell worth it? The RitFit ToughFit 7ft Olympic Barbell 2.0 is a solid choice for home gym owners who need an affordable all-purpose barbell. It has a good amount of spin for the Olympic lifts, decent knurling, and good tensile strength. However, I don't recommend it for powerlifting because there's a bit too much spin for deadlifts.
To help you decide if the RitFit ToughFit barbell 2.0 would be a good addition to your home gym, I'll provide a detailed overview of the barbell and discuss its pros, cons, and key features. I'll also discuss the differences between all of RitFit's barbells so you can determine if another bar will suit you better.
RitFit ToughFit 7ft Olympic Barbell 2.0: A Detailed Overview
RitFit is a company that specializes in equipment for home gyms. One of its signature products is the ToughFit 7ft Olympic Barbell 2.0, a tougher, more advanced version of its other ToughFit barbell. I'll discuss the differences between the two later in this article.
The ToughFit 2.0 barbell is an all-purpose barbell that's suitable for Olympic weightlifting, CrossFit, and general strength training. It weighs 20kg (~45lbs) and has a 28mm shaft diameter and a 2" sleeve diameter.
It also comes with needle bearings, which give it a lot of spin, and has diamond knurling that isn't super aggressive but still allows you to get a good grip on the bar without tearing your skin too badly.
Rips and calluses on your hands are always a possibility regardless of what kind of barbell you use. For tips on how to take care of them, check out How To Deal With Calluses From Lifting (5 Tips).
The bar also comes with two knurl marks that are positioned to the IWF and IPF specifications. There is no center knurl, which is a requirement for men's competition weightlifting barbells but is sometimes not featured on non-competition bars.
The lack of the center knurl helps protect the skin on your neck and collar bones from abrasions when you're doing a lot of cleans and front squats. It can make the bar more prone to slipping during back squats, but I've yet to have that happen with the ToughFit barbell.
This particular barbell has a 1,200lb weight capacity and tensile strength of 190,000 PSI. The weight capacity refers to how much weight can be put on the bar before it gets deformed while the tensile strength refers to how much load it can handle before breaking.
A 190,000 PSI is getting into the upper range of tensile strength, so you can trust that the RitFit barbell can handle a lot of weight.
Looking for a way to store your ToughFit barbell? Check out my recommendations for some of the best barbell storage options.
Differences Between RitFit's Barbells
RitFit sells different types of barbells:
Two ToughFit 7ft barbells, one with a 500lb capacity and another one with a 1,200lb capacity
Another 7ft Olympic barbell with weight capacity options of 500lbs, 700lbs, or 1,000lbs
Three training bars that are 47, 59, or 71 inches in length
All of RitFit's barbells are made in China but are reshipped from RitFit's facilities in the US.
The two ToughFit barbells are made from the same materials and feature the same black e-coat protective coating, dual knurl marks, and yellow end caps.
Version 1.0 of the barbell is considered a starter barbell. It has a 500lb capacity and a combination of bushings and bearings, but its knurling is quite passive. RitFit states that this bar is ideal for CrossFit, which makes sense since you typically don't lift a lot of weight during a WOD.
However, it's not much cheaper than the 2.0 version, so I'd recommend just getting that one. You'll be able to grow with it rather than potentially having to replace it if you get to a point where you can lift more than 500lbs.
It's made out of the same materials as the 500lb-rated bar, but, as you can probably guess, is able to hold twice the amount of weight before it bends or breaks. It would be a good option for powerlifters or anyone who is strong enough to lift more than 500lbs.
RitFit's other 7ft Olympic barbell is available in 500, 700, or 1,000lb weight capacity. It's made entirely of alloy steel, which means it could oxidize over time if it's not taken care of properly. The 500lb-capacity bar has a center knurl, but the 700lb and 1,000lb capacity bars don't.
All three options come with dual knurl marks and needle bearings but have relatively passive knurling. Even though the weight capacity is lower than that of the ToughFit 2.0 barbell, the Olympic barbell option is another good choice for CrossFit and general strength training.
RitFit's training barbells are all much smaller than standard barbells. They have shorter shafts and sleeves, weigh between 15-31lbs, and have much lower weight capacities. They're fine if you only plan on doing light strength training or want an entry-level barbell to learn the Olympic lifts on, but they're not suitable for CrossFit or any kind of heavy lifting.
If you've been powerlifting for a while but want to give weightlifting a try, follow our tips for transitioning from powerlifting to weightlifting.
RitFit ToughFit 7ft Olympic Barbell 2.0: Pros and Cons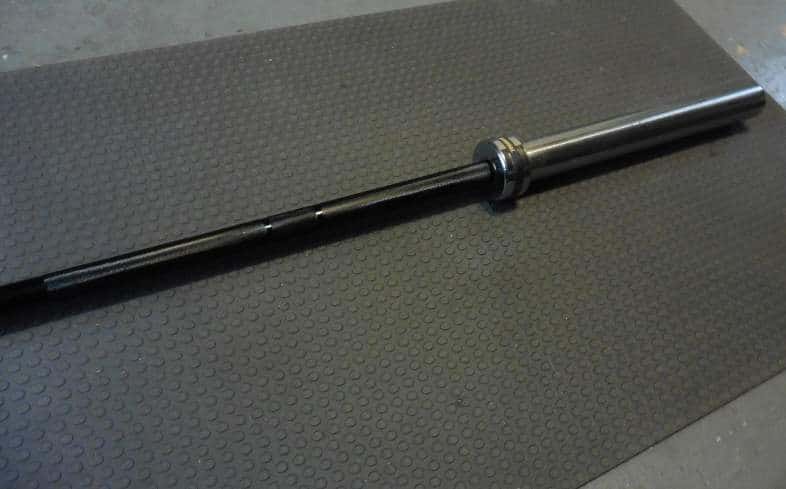 Because it's made by a company that caters to home gym owners, the ToughFit barbell 2.0 is an affordably-priced bar.
While there's something to be said for spending a bit more money on high-quality equipment, you don't need a top-of-the-line barbell unless you're a competitive athlete. This barbell is a great option if you want a high-quality bar without breaking the bank.
Unlike some barbells on the market, the RitFit ToughFit barbell has an e-coat finish. E-coat is a highly durable coating that was originally used in the auto industry because of its anti-corrosion properties.
I've only had the barbell for a couple of months and haven't gone through a hot, humid season with it yet, so I personally can't speak to whether or not it's prone to rust. But I've made sure to brush the chalk off it after every use and wipe it down with a towel as well, and I haven't had any issues so far.
The barbell does seem very durable, and it still looks new even though I've been using it 4-5 days per week for several months. I'm confident that it's durable enough to hold up to long-term use.
One of my favorite things about the barbell is that it has a decent amount of spin. Even though I usually only do the Olympic lifts when they show up in my CrossFit workouts, I definitely noticed how much smoother my cleans and snatches felt compared to doing them with my Bella barbell from Rogue.
However, the spin on the bar is almost too much for heavy deadlifts. Even when I use a mixed grip, I can feel the bar spin in my hands quite a bit.
Interestingly, I also notice that the bar "bounces" a bit if I set it down too hard in between each deadlift rep. I train primarily with bumper plates, which are meant to rebound a bit to prevent the floor from having to absorb all of the impact from the weight being dropped. But I've noticed this bouncing effect much more with the ToughFit barbell than any other barbell I've used before.
This is a nice feature for doing fast, high-rep deadlifts in CrossFit workouts, but it gets annoying when deadlifting for strength. For this reason, I don't recommend this barbell for anyone who strictly focuses on powerlifting.
Another big con of the RitFit barbell is more of a drawback about the company as a whole: there is no women's-specific barbell available.
Women's weightlifting barbells have different specifications than men's bars — most noticeably, a smaller diameter of 25mm compared to 28mm that's seen on men's bars. The smaller diameter makes it easier for women, who typically have smaller hands than men, to use the hook grip.
One of the training bars I spoke about earlier does have a 25mm diameter. But it also only weighs 15lbs, has no knurl marks, and is only 47" in length. It's meant to be used for teaching the Olympic lifts to complete beginners and is nowhere near suitable for heavy lifting.
Another thing to watch out for when you purchase a RitFit barbell is the packaging it's shipped in. When I got mine, the cardboard tube it came in was ripped around the middle. The seal on one end of the tube was also broken. Fortunately, there was no damage to the sleeve, but there was a small scratch on the shaft.
It's hard to tell if these issues were due to poor packaging on RitFit's part or if the damage was done somewhere else along the shipping process, so I can't completely fault the company for that. Even so, this is something you should be aware of if you purchase a barbell directly from the company.
Pros
Affordable price
Decent amount of spin
Durable, black e-coat finish
High weight capacity and tensile strength
Cons
Doesn't meet the specifications for a women's weightlifting bar
Not ideal for powerlifting
May get damaged during shipping
RitFit ToughFit 7ft Olympic Barbell 2.0: Key Features and Benefits
There are three key features of the ToughFit 2.0 barbell:
E-coat finish
Needle bearings
1,200lb weight capacity
E-coat Finish
Barbells are commonly made from some kind of steel, and many of them are finished with zinc or Cerakote, a protective ceramic coating. It's also becoming more common for barbells to have e-coat finishes, but some brands haven't gotten on board with this trend.
RitFit has caught on to the reliability and protective capabilities of e-coat, and the ToughFit barbell is coated with this corrosion-resistant finish. Compared to the zinc coating on my Bella barbell, the e-coat finish on the ToughFit barbell feels much better. It looks like it would feel more slippery in the hands, but I actually quite like the grip I'm able to get on the bar.
Needle Bearings
The ToughFit barbell has needle bearings instead of bushings. This gives the bar a good amount of spin, but while it's great for snatches and clean and jerks, it's a bit too much spin for deadlifts. However, the barbell still performs well for bench presses and squats.
This is why I still consider the needle bearings a notable feature of the ToughFit barbell. It's one of the few all-purpose barbells I've come across that has bearings instead of bushings, and in my opinion, that makes the barbell more versatile than some of its competitors. And despite it not being the best for deadlifts, I still reach for this barbell more than my other bars.
If you're looking for a deadlift-specific bar to use in conjunction with your RitFit barbell, check out the differences between the various types of deadlift bars on the market so you can make sure you get one that best suits your needs.
1,200lb Weight Capacity
All barbells are rated to a certain weight capacity that indicates how much load they can handle. The ToughFit 2.0 barbell has a 1,200lb weight capacity while many other barbells designed for recreational, home gym use only have a weight capacity of 700-800lbs.
The vast majority of lifters will never lift 1,200lbs, but it's still nice to know that the barbell can handle extremely heavy weights. In general, barbells with higher weight capacities also stand up better to frequent use and can handle being dropped repeatedly, which is beneficial if you do a lot of Olympic weightlifting or CrossFit.
Alternative Weightlifting Barbells
Below are a couple of alternatives you may want to consider if the ToughFit barbell isn't for you.
If you're looking for a competition-style weightlifting bar, very few barbells can compete with the Rogue Pyrros bar. It's an ideal barbell for competitive weightlifters who want to train with an IWF-certified bar. Men's and women's Pyrros bars are available, making it an excellent option for all weightlifters.
However, because this is a top-of-the-line barbell, it is much more expensive than most barbells that are intended for home gym or recreational use. Spending a ton of money isn't necessary unless you compete or plan to compete in weightlifting someday.
As I mentioned earlier, RitFit doesn't offer a women's-specific all-purpose barbell. If you're a female who wants a women's bar that you can use for a combination of weightlifting, powerlifting, and CrossFit, I recommend the Titan Fitness Women's Bombshell Bar.
This barbell has bushings instead of bearings, but it still has a decent amount of spin for snatches and clean and jerks. It's available in three different colors, which is nice if you want to add some personality to your home gym. I also like that it is finished with Cerakote, which is another durable and rust-resistant finish.
Things to Consider When Buying a Barbell
There are six things you need to consider when buying a barbell:
Budget
Intended use
Bushings vs bearings
Specifications
Knurling
Warranties
1. Budget
If you can afford a top-of-the-line barbell there's no reason why you shouldn't get one, but there are also plenty of affordable yet excellent options on the market.
With that said, good barbells will cost at least a couple of hundred dollars no matter what. The higher-priced bars also tend to be more durable, are made out of better materials, and are less likely to rust or break from repeated use.
2. Intended Use
How you plan on using your barbell will dictate what kind you should get. If you only participate in weightlifting or powerlifting, it's best to get a specialized barbell for your sport. But if you also do CrossFit or you just need a barbell for general strength training, look for a bar that's designed for multi-purpose use.
3. Bushings vs Bearings
Bushings and bearings are what allow the sleeves of the barbell to rotate as it's moved during a lift. They prevent friction from occurring between the bar and the plates and prevent an excess amount of force from being applied to the joints during the snatch and clean and jerk.
Olympic weightlifting barbells have bearings because they allow the bar to rotate more freely, which is important due to the fast and dynamic nature of the Olympic lifts. Barbells with bearings are often more expensive and require more upkeep because they have to be cleaned and relubricated every few weeks.
Bushings also allow the barbell to spin, just not as quickly or smoothly. They're more common in barbells that are used in powerlifting, where too much spin can make you feel unstable during the squat, bench press, or deadlift.
All-purpose barbells are commonly made from bushings, but some barbells are considered hybrid and have a combination of bearings and bushings. These bars are ideal if you do CrossFit or if most of your training involves the Olympic lifts but you don't compete in weightlifting.
4. Specifications
Unless you're a competitive weightlifter or powerlifter, your barbell doesn't have to meet any exact specifications. I would just make sure the sleeves are at least 2" in diameter, the shaft is 25mm or 28mm in diameter (for females and males, respectively), and the bar weighs at least 33lbs/15kg for women's bars or ~45lbs/20kg for men's bars.
But if you do compete in weightlifting or powerlifting, it's beneficial to train with a barbell that closely mimics the types of bars you'd use in competition, which you can find below.
Women's Weightlifting Barbell Specifications
Below are the IWF specifications for women's barbells:
Chromed steel construction
Grip sections must have knurling
Must weigh 15kg (33lbs)
Must be 201cm in length
Should have a grip section that is 2.5cm in diameter and 131cm long
Grip sections must be spaced 42cm apart
Must have a single knurl mark that is 19.5cm from the inner sleeve
No center knurl
Must have yellow markings at each end and in the center of the bar (though this is more important for barbells used in competition)
Sleeves must rotate freely and be 32cm long and be 5cm in diameter
Men's Weightlifting Barbell Specifications
Below are the IWF specifications for men's barbells:
Chromed steel construction
Grip sections must have knurling
Must weigh 20kg (roughly 45lbs)
Must be 220cm in length
Should have a grip section that is 2.8cm in diameter and 131cm long
Grip sections must be spaced 45cm apart
Must have a single knurl mark that is 19.5cm from the inner sleeve
Must have a center knurl
Must have blue markings at each end and in the center of the bar (for bars used in competition)
Sleeves must rotate freely and be 41.5cm long and 5cm in diameter
Powerlifting Barbell Specifications
Below are the IPF specifications for powerlifting barbells:
Length cannot exceed 2.2m
Distance between the collar faces cannot be more than 1.32m or shorter than 1.31m
Diameter of the barbell cannot be more than 29mm or less than 28mm
Weight of the bar plus collars must be 25kg
Diameter of the sleeves cannot be more than 52mm or less than 50mm
5. Knurlings
A barbell's knurling is the etched pattern on the shaft where you place your hands. There are three types of knurling: mountain, hill, and volcano.
Mountain knurling is the most aggressive and is common in deadlift bars and bars that are used in powerlifting. Hill knurling is more passive and is less likely to cause rips and tears, but it can also make the bar more difficult to hold onto.
Barbells should also have knurl marks to indicate where your hands should be. For powerlifting, the knurl mark indicates how wide you can take your grip in the bench press. There are no rules about grip width in weightlifting, but the knurl marks act as a guide that represents where you might want to place your hands for the snatch.
All-purpose barbells tend to have two knurl marks. The inner ring represents the powerlifting knurl ring while the outer ring represents the weightlifting knurl mark.
6. Warranties
Companies that sell barbells and other pieces of gym equipment should offer some kind of warranty on their products. This ensures that you can replace the item without having to spend a ton of extra money if it becomes damaged due to the manufacturer's defects.
Some companies offer lifetime warranties, but this isn't the norm. One-year warranties are much more common. It would be frustrating to have something happen to your barbell once the one-year mark has passed, but it's still better than nothing.
Other Barbell Resources
Final Thoughts
If you're looking for a barbell for your home gym, the RitFit ToughFit 7ft Olympic Barbell 2.0 is a solid choice. It's one of the more affordable options on the market, and while a lower price often means lower quality, that's not the case with this barbell. It performs very well for CrossFit, strength training, and Olympic weightlifting.
I wouldn't recommend this barbell for competitive powerlifters. While the barbell works just fine for squats and bench presses, the spin is just a bit too much for heavy deadlifts. I also don't recommend it for female competitive weightlifters since the diameter is too large. But for anyone else who's looking for an all-purpose barbell, you can't go wrong with this one.
---
About The Author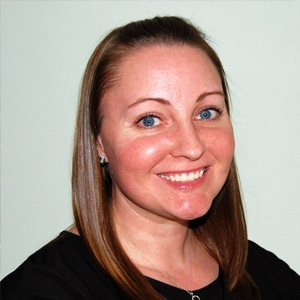 Amanda Dvorak is a freelance writer and powerlifting enthusiast. Amanda played softball for 12 years and discovered her passion for fitness when she was in college. It wasn't until she started CrossFit in 2015 that she became interested in powerlifting and realized how much she loves lifting heavy weights. In addition to powerlifting, Amanda also enjoys running and cycling.