PowerliftingTechnique.com is independent and supported by our readers. We may earn a commission if you buy through the links below. For more, see our disclosures page.
A barbell is one of the most important purchases you can make when you're building a home gym. When I started working out at home, I did a lot of research on barbells before I decided to buy the Rogue Bella Barbell 2.0.
Is the Rogue Bella Barbell 2.0 worth it? The Rogue Bella bar is worth it if you're looking for a good all-around barbell for CrossFit WODs and casual lifting. The price is reasonable for a barbell of its caliber, and it will last for years. However, if you're a competitive weightlifter or powerlifter, you should get a bar that's more specific to your sport.
---
In this article, I'll:
Provide a detailed overview of the Rogue Bella bar
Discuss the pros and cons of the Rogue Bella bar
Discuss the key features and benefits of the Rogue Bella bar
Provide recommendations for alternative women's barbells
Discuss the things you should look for when buying a women's barbell
Rogue Bella Barbell 2.0: Detailed Overview
The Rogue Bella Barbell 2.0 is an all-around women's barbell that's used in both home gyms and commercial gym settings. I've been using one in my garage gym for almost five years, and I also used it at a CrossFit gym I used to belong to.
The Bella bar is considered a women's-specific barbell because it weighs 33lbs (15kg) and has a diameter of 25mm, as opposed to men's bars that weigh 45lbs (20kg) and have a diameter of 28mm. The smaller diameter makes it easier for women to use the hook grip.
It has dual knurl marks that you can use as guidance for your grip width on the bench press, snatch, or clean. However, it doesn't have a center knurl, so it's not quite as grippy on the upper back during back squats.
But I've never actually had the bar slip on my back when I've used it for squats, and the lack of a center knurl makes it more comfortable on my collarbones when I'm doing front squats and cleans.
The Bella bar is available in several different finishes: stainless steel, black zinc, e-coat, and cerakote. Stainless steel is the most durable and the least impervious to rust and oxidation. However, it's the most expensive and costs about $95 more than the other finishes.
Cerakote is the second-most durable option thanks to its rust-resistant properties. If you want to add some style to your home gym, you can also get the cerakote finish in a variety of colors. It's about $60 more than the zinc and e-coat bars.
The black zinc coating will protect the bar from rust, but as I'll discuss below, it doesn't hold up well aesthetically over time. The e-coat finish is made with the same coating that's used in the automotive industry because it's corrosion-resistant. The black zinc and e-coat bars are the most affordable versions of the Bella bar.
The Rogue Bella Bar recently made my list of the best women's weightlifting bars. Check out the full list in my article 10 Best Women's Weightlifting Bars.
Rogue Bella Barbell 2.0: Pros & Cons
For anyone who does CrossFit or trains snatches and clean and jerks at home recreationally, the Bella bar is an excellent barbell. Even though it's intended for use by women, I know of men who share it with their wives or girlfriends because they have smaller hands and it's more comfortable to hold onto than a 45lb bar.
The Bella bar is made with bushings instead of bearings, which don't spin as fast. But I've been quite pleased with the amount of rotation it has, which I think is sufficient for doing snatches and cleans in a CrossFit WOD. However, if you're a competitive weightlifter, a barbell with bearings that has faster rotation would be better for you.
The Bella bar is a relatively affordable barbell, and you'll get a lot of value out of it if you use it several days per week. And even if you think the price is steep, a high-quality barbell like this one should be an investment that you only have to make once.
One of the only things I don't like about my Bella bar is that the black zinc coating has become dull and developed a cloudy film over the years. I brush the chalk out of it after I use it, so it surprises me that the finish hasn't held up well. It hasn't affected the knurling or the spin in any way though, and I have never felt like I needed to replace it.
The temperatures in my garage fluctuate a lot due to the changing seasons where I live, so that could have contributed to the finish wearing down. But the barbell has shown no signs of rust or other damage, and it's otherwise very durable.
It's also important to note that the knurling on the Bella bar is somewhat passive. It can be difficult to maintain your grip on the bar without using chalk or wearing grips when your hands get sweaty. However, this makes it a good bar for beginner lifters or people who do a lot of high-rep movements because you don't have to worry about tearing your hands.
Pros
Relatively passive knurling is good for beginners and isn't too rough on hands when doing a high amount of reps
Good all-around bar for casual CrossFitters or weightlifters who also occasionally do powerlifting movements
Not too expensive for a barbell of its caliber
Cons
Not ideal for powerlifting
Certain finishes can fade or develop a cloudy film over time
Bushings instead of bearings make it less ideal for weightlifting
Rogue Bella Barbell 2.0: Key Features & Benefits
Below are three of my favorite features of the Bella barbell:
Tensile strength
Durability
Grooved sleeves
Tensile Strength
The tensile strength of a barbell refers to how much load it can handle before it bends or fractures. The Bella bar has a tensile strength of 190,000 PSI, meaning it can handle 190,000lbs of force per square inch before it breaks.
This is lower than some higher-priced weightlifting-specific bars, but it's still more than enough for a casual weightlifter who trains at home. It's also on par with some of Rogue's men's barbells, which is a testament to just how much abuse the Bella bar can take considering it weighs less and is smaller than a men's bar.
Durability
One of the things you can almost always guarantee when you buy a Rogue product is that it will last for a long time. That includes the Bella bar.
Aside from the aesthetic issues I've had with mine due to the black zinc coating becoming dull over time, I've had no other problems with my Bella bar. I use it 4-5 days a week for strength training and CrossFit WODs, and it's still performing well.
The Bella bar is also used in many CrossFit gyms. The box I belonged to for two years used Bella bars and never had to replace them during the entire time I was a member. If it can withstand being used 5-6 times a day by multiple people dropping it from overhead frequently, it will be more than sufficient for home gym use.
Grooved Sleeves
One of the things I like about the Bella bar that doesn't exist on all barbells is the grooved sleeves. I don't always use collars to secure my plates in place, but I've never been worried about them sliding off the bar.
The plates will come off if you really tilt the barbell on an angle, but they'll stay in place even if the bar is slightly uneven. And even with the grooves, it's still easy to slide the plates on and off when you're loading or unloading the bar.
What Others Say About the Bella Barbell
As you can probably tell, I enjoy my Bella bar. But to show just how good of a barbell it is, I spoke to a few of my friends who train with the Bella bar to get their opinions on it.
Most of them are in agreement with me that it's a good all-purpose barbell but not the best for competitive weightlifting. Here is what they had to say.
AJ Facendi, Crossfitter, Powerlifter, and Weightlifter
I own both a women's Bella Bar and the women's 25mm Olympic Weightlifting Bar. I originally purchased the Bella bar for home training having used it a lot at a local CrossFit gym, therefore knowing I liked it. It is great for Crossfit, general weight training, and/or a more Powerlifting focus (it didn't matter to me that it was only a 15kg bar as I was no longer competing in powerlifting)…If you want to focus on Oly lifting I would recommend the Rogue Oly specific (bearing) bars but if you are looking for an all-around bar the Bella bar is great.

AJ Facendi , Crossfitter, Powerlifter, and Weightlifter
Christina Lazo, Powerlifter and Weightlifter
I specifically only use this bar for WL. To perform the exercises of snatch and clean and jerk or other movements in relation to these specific exercises. The bar seems to hold up well during workouts. There isn't much I don't like about the bar, it seems to function as it should and the quality is Rogue quality. I've never had any issues with the bar. The bar is great for my intended use in Olympic Weightlifting.

Christina Lazo, Powerlifter and Weightlifter
Stephanie Janes, CrossFitter and RN/CCNO with the Canadian Armed Forces
The Bella Bar 2.0 is a good all-around Bar for general purpose use. I have been able to use this Bar for crossfit style workouts and for Olympic Weightlifting workouts and it performs to an adequate standard for both activities. What I like about the bar is its versatility, dual knurling and a generous 'whip' when doing Jerks or pulling off the floor and it has a nice collar spin for a general purpose bar. What I don't like is the knurling is not very aggressive, making it slip under hand on heavy fast movements. Also, If you're about aesthetics, the black coating has a tendency to fade with use.

Stephanie Janes, CrossFitter and RN/CCNO with the Canadian Armed Forces
Alternative Female Weightlifting Barbells
If the Rogue Bella bar isn't for you, the women's barbells below may be better suited for your needs.
The Rogue 25mm Pyrros Bar is best for competitive female weightlifters. It was made in collaboration with Pyrros Dimas, the technical director for USA Weightlifting and a former Olympic weightlifting champion.
This bar is IWF-certified (I'll explain what that means down below), has a fast and smooth spin, and is made from stainless steel that won't rust or oxidize.
The Pyrros bar is pricey, but if you're looking for a competition-style barbell that you can train at home with, it will last for years.
The Body-Solid Women's Extreme Olympic Barbell is an affordable women's barbell for lifters on a budget. It has a 1,000lb weight capacity, is coated with rust-resistant black zinc, and has dual knurl marks so you can use it for either weightlifting or powerlifting movements.
As well, the sleeves on this barbell are made out of chrome, which helps prevent them from scratches from your bumper plate inserts.
Things To Consider When Buying A Female Weightlifting Barbell
Below are 6 things you should look for when buying a women's weightlifting barbell:
Budget
Intended use
Specifications
Bushings vs bearings
Knurling type and knurl marks
Manufacturer's warranty
1. Budget
Your budget will determine the quality of barbell you get, but it is possible to get a high-quality barbell without breaking the bank.
You can expect to pay in the triple digits no matter what, but higher-priced bars will be made out of better materials and last longer while cheaper bars are more likely to rust or lose their knurling and may not weigh what they claim to weigh.
2. Intended Use
Barbells are made for different purposes. Some are more ideal for weightlifting, some are best for powerlifting, and some can be used for general lifting and functional fitness. You'll need to think about how you will use your barbell so you can get one that best suits your needs.
Wondering what the differences are between all the various squat, bench, and deadlift bars? Check out the below articles:
3. Specifications
A women's weightlifting barbell should be 33lbs (15kg) and have a diameter of 25mm.
Some barbells are certified by the International Weightlifting Federation (IWF), meaning they're made to the exact barbell specifications set forth by the IWF.
If you don't compete in weightlifting, it doesn't really matter if you get a bar that's not IWF-certified. But if you are a competitive weightlifter, you may want to get a bar to train with that's as close as possible to the barbells you'll use in competition.
The IWF specifications state that a woman's barbell must:
Be made out of chromed steel
Have knurling in the grip sections
Have a grip section that is 2.5cm in diameter and 131 cm long
Have grip sections that are spaced 42cm apart, are 2.5cm in diameter, and are 131cm long
Have a non-grip section in the middle without a center knurl that is 19.5cm from the inner sleeve
Have yellow markings at each end and in the center of the bar (this is mostly for bars that are supplied at competitions, though)
Have sleeves that rotate freely
4. Bushings vs bearings
Bushings or bearings are the thick, circular pieces that sit between the sleeves of the barbell where the plates go and the part of the bar that you hold onto. They allow the bar to rotate, which reduces the amount of friction between the bar and the plates.
For Olympic weightlifters, they also reduce stress on the joints. The plates can move freely as the bar changes direction in the snatch or clean and jerk, which prevents an excessive amount of force from being placed on your shoulders, wrists, and forearms.
Weightlifting barbells are typically made with bearings instead of bushings. Bearings spin more easily but require more maintenance since you have to lubricate the bar every couple of weeks. They also tend to be more expensive.
Barbells with bushings have some rotation but don't spin as much as those with bearings. For this reason, they're used in barbells for powerlifting because too much spin can make you feel unstable when doing deadlifts, squats, or bench presses.
Many all-purpose bars are also made from bushings instead of bearings. They're ideal for recreational lifters or those with home gyms because they're more affordable and don't require quite as much upkeep.
5. Knurling Type and Knurl Marks
The knurling on a barbell refers to the etching on the grip section that determines how rough or smooth it feels in your hands. A rougher knurl will be easier to hold onto but can tear your hands while a smoother knurl offers some protection from tears but can feel more slippery.
Barbells will typically have one of three types of knurling:
Hill – a flat, passive knurl that won't hurt your hands but can be difficult to maintain your grip when the weight is very heavy
Mountain – diamond-shaped knurling that's rough and sharp and is more common in power bars and deadlifting bars
Volcano – a cross between hill and mountain knurling that's not as sharp but still allows you to get a good grip on the bar
Barbells should also have knurl marks that act as guides for where you can place your hands. Weightlifting barbells only need to have one knurl mark on each side. There are no rules regarding how far apart you can set your hands for the snatch or clean and jerk, so the knurl marks are just there to give you a visual reference of how wide your grip is.
However, many multi-purpose barbells have dual knurl marks. In powerlifting, the inner knurl mark indicates the widest grip width allowed on the bench press. Your fingers need to be in contact with that knurl mark in order for the bench press to be a legal lift.
If you use the hook grip a lot and your barbell's knurling is tearing the skin on your thumbs, you may want to consider using lifting tape. Check out my recommendations for the top 5 lifting tape on the market.
6. Manufacturer's Warranty
Most barbell manufacturers offer a warranty that will let you replace the barbell if it gets damaged due to defects in workmanship and construction. The length of the warranties varies from 30 days to 5 years, and some companies even offer lifetime warranties.
However, the warranties are typically voided when damage has occurred due to user error, improper storage, or normal wear and tear.
If you know you're going to put your barbell through the wringer, you should look for one that has a good warranty so you can get it replaced instead of having to purchase a new one.
Looking for barbell storage tips? Check out my article Barbell Storage Ideas: 4 Ways to Properly Store Barbells.
Other Barbell Resources
IFAST Fitness Barbell Review
Final Thoughts
The Rogue Bella Barbell 2.0 is an excellent barbell for women who need a bar for CrossFit WODs and casual lifting. It's durable, doesn't easily rust, and can easily withstand home gym use.
However, if you compete in weightlifting, I'd recommend getting a bar that more closely resembles the barbells you'd use in competition. The Bella bar has passive knurling and is made with bushings instead of bearings, so it's not ideal for competitive weightlifters.
---
About The Author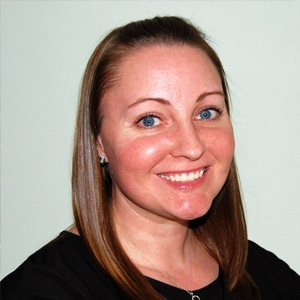 Amanda is a writer and editor in the fitness and nutrition industries. Growing up in a family that loved sports, she learned the importance of staying active from a young age. She started CrossFit in 2015, which led to her interest in powerlifting and weightlifting. She's passionate about helping women overcome their fear of lifting weights and teaching them how to fuel their bodies properly. When she's not training in her garage gym or working, you can find her drinking coffee, walking her dog, or indulging in one too many pieces of chocolate.