Disclosure: We're supported by our audience, so if you purchase through some links on this post, we may earn a commission at no cost to you.
There are a lot of weightlifting belts out there. Many are unique, but many others are the same and just have a different label attached to them.
The Gymreapers 10mm lever belt may be one that's caught your eye, but is it the best option for you, your style of lifting, and the goals you have set for yourself?
The Gymreapers 10mm lever belt is a great option for lifters of any experience level. With a price point right in line with other quality lever belts, this belt is comfortable, durable, and reliable when performing the squat, bench press, deadlift, and other compound movements.
But that information alone isn't enough to tell you if it's the best belt for you, so I've prepared even more detail for you below.
In this article, I'll provide:
A detailed overview of the Gymreapers 10mm lever belt
The pros and cons of this belt
The key features and benefits of this belt
A look at what other athletes have to say about this belt
Alternative belt options
Gymreapers 10mm Lever Belt: A Detailed Overview
Gymreapers offers a large catalog of products for powerlifters, bodybuilders, CrossFitters, and all kinds of gym-goers, ranging from gym apparel and belts to knee sleeves and training equipment. Included in its product lineup is the 10mm lever belt.
The Gymreapers 10mm lever belt is marketed to serious powerlifters wanting to move heavy weight. It's described as a product created by athletes for athletes and is tested under intense conditions to make sure it's doing the job you need it to do when you have the barbell in your hands.
The company offers the 10mm lever belt in a range of colors as well as a 13mm alternative for additional support. The belt comes in 6 sizes from XS to XXL.
The belt features reinforced stitching to enhance its durability and a suede lining that not only makes it comfortable to wear but also protects the leather from sweat.
Things to Consider Before Buying a Lifting Belt
When considering purchasing any belt, you need to define what you want to accomplish and then make sure the product you're considering fits that intent.
Here are a few points to consider when buying a lifting belt:
Style of lifting
Buckle function
Thickness/width preference
Size
Powerlifting federation approval
Style of Lifting
When searching for weightlifting belts, the first step is to define the type of lifting you do.
Do you lift in a powerlifting style, where the belt is only necessary for heavy, intense lifts? Do you lift like a bodybuilder, where the belt is less about performance and worn during an entire workout? Do you lift like a CrossFitter, where you'll want more mobility while wearing the belt?
In the case of the Gymreapers 10mm lever belt, it's designed for short, intense stints of use.
With powerlifters in mind, the creators of the lever belt designed a function that would allow them to quickly tighten the belt for maximum tightness and support, perform a compound lift for a few heavy, intense reps, and then quickly loosen it for normal breathing and movement.
If this is the use case you are shopping for in a belt, then you're on the right path. If your style of lifting paints more of a picture where you wear the belt the whole workout or for a variety of exercises, then the Gymreapers 10mm lever belt is likely a very wrong choice for you.
Wondering what the differences are between powerlifting belts and Olympic weightlifting belts? Check out Powerlifting vs Weightlifting Belt: Which One Is Best?
Buckle Function
Once you have defined your lifting activities and know you want a powerlifting style belt, make sure you actually want a lever belt over a traditional belt with a prong-style buckle.
A prong-style belt is like any belt that you'd wear with a pair of pants. It can have one or two prongs, though double-prong belts are more difficult to adjust. With a lever-style belt, all you have to do is slide the teeth into the holes you want and snap the buckle closed.
There's no right or wrong here — it's all a matter of preference. Some people don't like lever belts as they fear the lever will pop open in the middle of a heavy lift. Others avoid prong buckles because of the time and energy it takes to cinch it to the right hole before a lift and the time it takes to undo it after a lift and be able to breathe normally.
The Gymreapers 10mm lever belt is adjustable, but adjusting it requires much greater effort than a prong buckle. If your body weight and midsection dimensions are fluctuating, you'll spend more time than you like adjusting your belt than if you had a prong buckle.
Takeaway: While both prong and lever belts are standard for powerlifters and gym-goers wanting to hit personal records outside of competition, you'll want to consider what you prefer before making a choice.
Learn more about the differences between a lever belt and a prong belt.
Thickness/Width Preference
Once you've narrowed your focus to the lever belt, you want to consider the dimensions of the belt. The Gymreapers lever belt is offered in two different thicknesses – 10mm and 13mm.
The 10mm, being slightly thinner, offers greater mobility and flexibility even when it's fully tightened on your body. The 13mm is much more rigid, which may limit your ability to get into a deadlift starting position, for example.
While the Gymreapers belt only comes in one standard width of 4", the market offers a couple options, typically between a 3" or a 4" width on lever belts.
The 3" models will offer slightly less support but may be more appropriate for lifters with short torsos. While the 4" width certainly offers more support, it may be cumbersome to lifters with short torsos and ideal for lifters with long torsos.
If you like the Gymreaper belt at first glance, make sure you understand that it's marked as a 4" belt and that 4" is the thickness you are looking for.
Size
You've got to know what size to get. That may sound pretty simple and straightforward, but belt sizing isn't the same as shopping for a pair of pants.
Gymreapers offers a very useful sizing guide on their site, so figuring out your current size should be pretty straightforward.
The bigger consideration I'm recommending is what your body will look like a year or two from the time you buy your belt. In my powerlifting career over the last 6 years, my weight has fluctuated up and down as much as 40lbs. I've competed in the bottom of the 90kg (198lbs) weight class to the 110kg (242lbs) weight class.
If you are expecting your body weight to go up or down significantly, take that into consideration to get as much out of your belt as possible. Pick a belt that fits you well now but has room to loosen or tighten up for your future goals.
If you're a bigger lifter, check out our favorite lifting belts for big guys.
Powerlifting Federation Approval
Finally, if you are planning to compete in powerlifting, all your clothing and equipment needs to meet federation standards in order for you to use it in competition.
Every federation has its own list of approved brands and products as well as guidelines for equipment that's not brand-specific. Be sure to check with your powerlifting federation's rules to ensure the belt you want to purchase is one you can use in competition.
In the case of the Gymreapers 10mm Lever Belt, it's specifically marketed as a USPA-approved belt.
For a full list of products that are approved by the USPA and IPF, check out IPF & USAPL Approved Equipment & Gear For Competition and USPA Approved Gear & Equipment For Competition (2022).
Gymreapers Lifting Belt: Pros, Cons, and My Experience
The most important factor to me in any belt is whether or not it does the job of being supportive while I lift. In my nearly 30 workouts with the Gymreapers lever belt, it has done its job of being supportive.
My squats have ranged from 6-rep sets to 1-rep sets in that time, and whether I was needing the belt for the heavy single rep or the cardio-like 6-rep sets, I felt very confident at all times.
My deadlift workouts are always the times when I complain about my belt being uncomfortable. Something about the starting position, whether I'm pulling conventional or sumo, always makes my belt jab into my ribs and hip bones. This has been the case with 3 other belts I've owned.
The Gymreapers belt, however, never gave me that problem! I even looked forward to using this belt specifically for my deadlift workouts because it offered all the support I needed and was comfortable the whole time.
Between the soft material on the inside, the slim 10mm thickness, and the width of the belt, I enjoy all the support and none of the pain. While deadlifts highlighted this benefit most, it remains true when I've worn this belt for bench presses and squats.
If your belt is too stiff when you first get it, follow these tips for breaking in a lifting belt.
My first impression pulling the belt out of the box was that it didn't feel strong and durable. But having tested it and been convinced of the support and comfort it provides, I've changed my tune.
Now, I really like how lightweight it is. It's a cool combination to have all the support and not feel the added weight while you wear it. And as much as I like lifting heavy weights, I don't want a heavy gym bag. A lighter belt helps keep my gym bag to a reasonable weight.
The real test for me was the lever itself and whether it was high quality. I've had 3 other lever belts in my life — one sucked, one was good, another was excellent. I can confidently say that the lever on the Gymreapers belt is on par with the excellent lever belt I already own.
The hinges work smoothly, and the parts all line up beautifully when it's closed. It stays tight in the sizing position I've set it and has never popped open unexpectedly. Even if I ever did run into an issue with the belt itself, I'd be confident transplanting this lever to another belt if I needed to.
But as much as I like this belt, there are some drawbacks. The first is that it's not really 4" wide like the product description says.
I own a 4" belt, and I could tell right away the Gymreapers belt was not a full 4". I measured it, and sure enough, it's 3.75" wide."
Granted, the narrower width may be a reason it feels comfortable when I deadlift, but I'd rather get exactly what I paid for when I'm buying a product. For lifters who already know they prefer the 4" belt, you're not getting that here.
Another thing I don't like is the massive logo on the back. I get it, that's how branding works. Gymreapers is a legitimate business, and they want to let the world know they made this belt so they can sell more of them.
That said, the logo is massive and stitched in white thread against the black leather across the entire back of the belt, so you can't miss it. As a guy who wears as few logos on my clothes as possible, this is a big downside for me.
While I have not had this belt come undone while lifting, it is frustratingly loose when I unlatch the lever.
Usually when I lift, I leave the belt around my waist and just unfasten the lever until my next set. For some reason, the lever just doesn't like to stay hooked on the holes unless it's fastened tight. I can't tell if it's because the prongs on the end of the lever aren't biting or if the holes they go into are too loose, but it's annoying.
For performance, this isn't an issue. At the worst, it's fallen off when I reach down to fasten it right before I step up for a lift. As I said, it has never popped open on me during a lift. But man, I hate how it doesn't stay around my waist between sets.
Pros
Supportive
Comfortable
Lightweight
Strong lever that doesn't pop open unexpectedly
Cons
Not quite 4" wide
Logo on the back isn't very aesthetically pleasing
Can be very loose when lever is unlatched
Gymreapers 10mm Lever Belt: Key Features & Benefits
There are 3 key features of the Gymreapers 10mm lever belt that stood out to me:
Quality lever
Adjustable size
Clean seams
Quality Lever
The lever on this belt is truly the best part of the belt. It's sturdy, well constructed, and looks good, too. I've yet to see any of the matte black paint fade or chip anywhere on it, even after hard use (and plenty of ceremonious belt flicks after big lifts).
The lever is what makes the belt do its job, holding its form and keeping things tight for you to brace against as you lift. This lever does that job well.
Adjustable Size
Each belt offers enough holes to adjust the lever to 7 different sizes. Across 7 belt sizes, that's over 40 different sizes you can tailor this belt to fit.
As powerlifters come in all different shapes and sizes, you can have confidence that you can find the right belt for you. With the Gymreapers 10mm lever belt, you'll be able to adjust it a little bit at a time to keep it fitting great, no matter how your body adapts and changes.
If you're not sure how tight a weightlifting belt should be, check out How Tight Should A Lifting Belt Be? (Breakdown Per Exercise).
Clean Seams
The devil is in the details, they say, and Gymreapers doesn't shy away from the details. While the belt is constructed of a few layers of leather, the edge seams are beautifully smoothed over and painted black to match the rest of the belt.
Over the course of my workouts, I haven't experienced any separation on these seams or edges, or even discoloration.
As this belt is meant for lifters performing the most intense lifts with maximal weight, it's great to see the product holds up and can stand the test of those workouts.
What Do Other Athletes Have to Say About the Gymreapers 10mm Lever Belt?
Gymreapers does a great job of collecting user feedback, so you can read many user reviews of this particular product before buying.
The overwhelming majority of reviewers have left positive feedback on the Gymreapers site, citing that they successfully hit new PR's with the belt and that it holds up to all its advertised promises.
Even when the reviews have downsides, they are minor, like in this one:
This person, who seems unfamiliar with lever belts, feels like it should have a lock or latch when you close the lever.
While the lever does feel loose even if it's closed when it's not on your body, it does stay closed when you're wearing it due to the pressure of the tightness around your body. I believe with some use, this reviewer will learn that the lever won't come open.
If you're wearing a lifting belt for the first time and not sure how to put it on, check out How To Put On A Weightlifting Belt? (Step-By-Step).
Best Alternatives for the Gymreapers 10mm Lever Belt
If you're not sure the Gymreapers 10mm Lever Belt is for you, check out a couple of alternatives:
You don't have to wander far if you just want something thicker and sturdier than the 10mm option because Gymreapers has their own upgraded option in their 13mm model.
While I have not handled or tested this model, I imagine the same issue exists where their 4" width is actually 3.75", so be aware of that.
Based on the reviews and product description, you'll enjoy all the same benefits of the 10mm belt, but with the added support and durability of a thicker belt.
It is understandably more expensive, but the price difference isn't significant.
Another similar option is the Rogue branded 13mm lever belt. This product looks almost identical to the Gymreapers 13mm model but is slightly more expensive — most likely for the brand name of Rogue stamped across the back more than anything else.
But like most Rogue products, this belt is durable, high quality, and made in the USA. It features a single-prong system so you can get it off and on quickly, and it's lined with suede to keep it from slipping on your back.
If you like the Rogue brand and are willing to pay the premium for it, you'll likely enjoy a quality product here.
Still not sure which belt suits your goals and preferences better? Check out these top 10 lifting belts.
Additional Belt Reviews
Final Thoughts
At the end of the day, the best belt for you is the one that supports your style of lifting and goals and meets your preferences and size. The Gymreapers 10mm belt is a great candidate to check all of those boxes.
Personally, I like a thicker, stiffer belt when I squat, so I won't likely keep using the Gymreapers 10mm lever belt for my squat workouts. However, the thinner width and thickness make for a much more comfortable deadlift experience, so I'll very likely keep using it for those workouts.
As you look at your lifting habits and preferences, you might find the Gymreapers 10mm Lever Belt is exactly what you're looking for. If you want something a little different, you won't find much in the form of alternatives through the Gymreapers brand, so you may need to check out some other brands or styles.
---
About The Author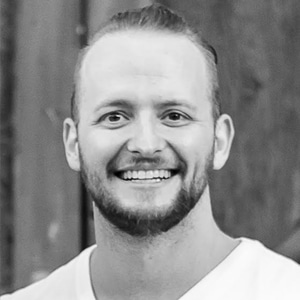 Adam Gardner is a proud resident of Utah, where he lives with his wife and two kids. He has been competing in powerlifting since 2016 in both the USPA and the APF. For the past three years, he and his wife, Merrili, have coached beginning lifters to learn the fundamentals of powerlifting and compete in their first powerlifting competitions.