So, you're looking to improve your squat strength and you're wondering: do hip thrusts help squats?
Yes, hip thrusts can help squats, especially if you have weak glutes. The hip thrust is one of the best exercises to target the glute muscles, and since glute strength is required to extend the hips in the mid and top range of the squat, lifters who are weak in these ranges should use the hip thrust to help squats.
In order to better understand how hip thrusts can transfer over to squats, we need to grasp the differences between these two movements and how they benefit each other.
There are 4 main points that I'll cover in this article as to how hip thrusts help squats:
1. Back Squats Require High Glute Effort
2. Glutes Trained Uniquely With Hip Thrusts
3. Failing And Progressive Overload Advantages
4. Hip Thrusts Proven To Increase Squat Strength
Here's to a stronger set of glutes — let's get started!
If you don't feel your glutes while hip thrusting, read my article on 9 Tips To Feel Your Glutes More While Hip Thrusting.
Hip Thrust Overview
Before diving into the science, let's briefly review the hip thrust mechanics and muscles used so you know how it transfers to the squat.
What Is The Hip Thrust?
The hip thrust requires the lifter to extend their hips by driving a loaded barbell upwards as it sits in the crease of their hips.
Hip Thrust: Mechanics & Muscles Used
Overall, the glutes perform 3 actions that all involve movement at the hip:

Hip Extension
Hip Abduction
Hip External Rotation
Glute Action #1: Hip Extension
Hip extension is the act of the hip joint going from a bent position to a straighter position. It is the primary action occurring in the hip thrust, as the hips are extending significantly in order to drive the barbell to the lockout position.
Glute Action #2: Hip Abduction
Hip abduction is another action performed by the glutes, moving the leg away from the midline at the hip. There's a limited amount of abduction occurring in the hip thrust, but more can be achieved by taking a wider stance, which I recommend if you want to improve your squat.
Glute Action #3: Hip External Rotation
Hip external rotation is the last action of the glutes, which causes outer rotation of the leg at the hip joint to make your feet turn outward. Varying degrees of external rotation can occur during the hip thrust, depending on the lifter's preferred amount of foot flare.
While there's also a small amount of knee extension that happens in the hip thrust (which would activate your quads), it's key to understand that this exercise is predominantly about training your hip extensor muscles (glutes).
Little known fact: the hip thrust can also improve your deadlift as well! Check out my article to learn all 18 Exercises To Improve Deadlift Strength (Science-Backed)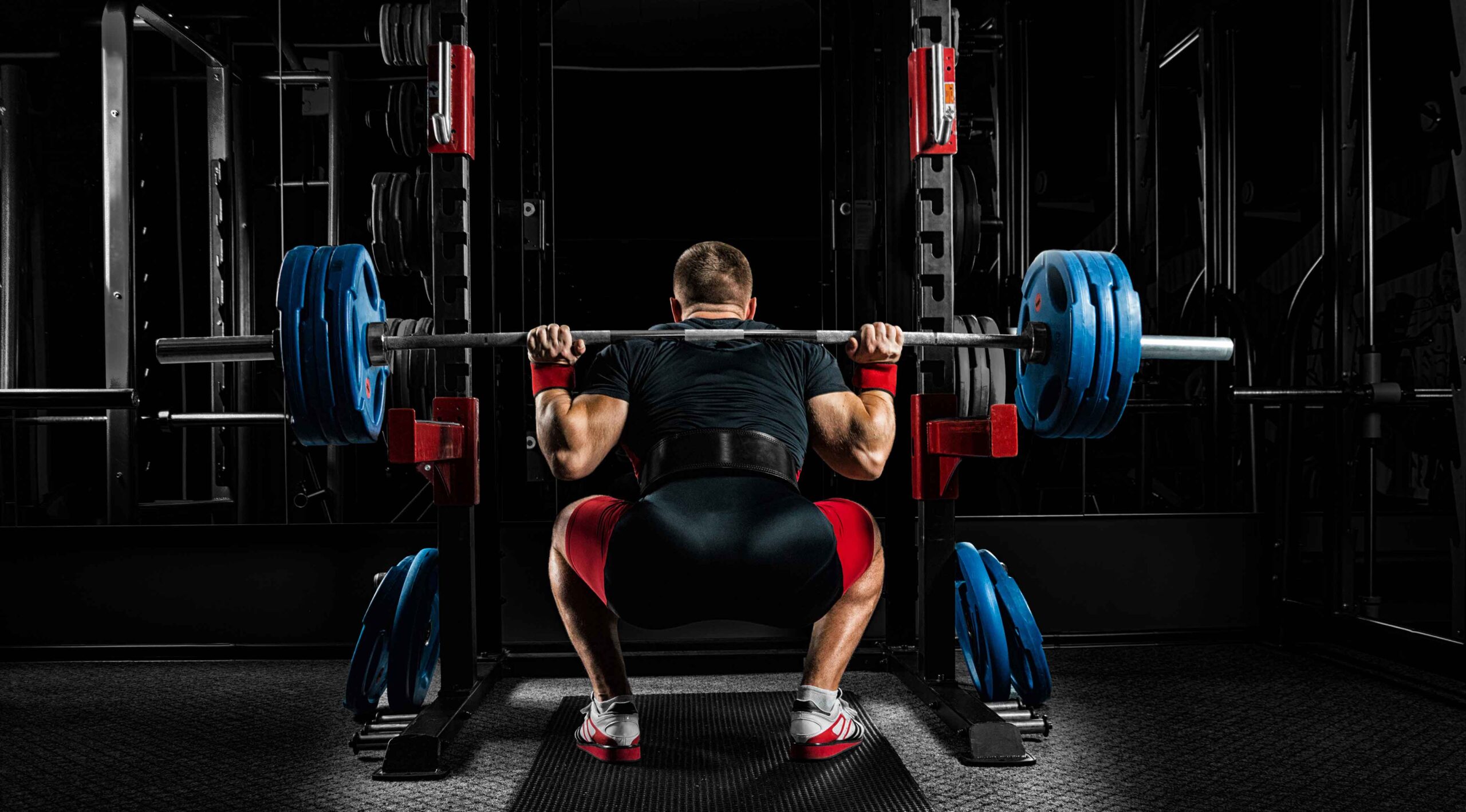 Want to improve your squat technique?
The Science Of How Hip Thrusts Help Squats
There are four ways that hip thrusts can help squats:
1. Back Squats Require High Glute Effort
In 2012, Bryanton and colleagues showed that the relative muscular effort of the hip extensors (your glutes and adductors) increases in the squat as the weight of the barbell increases. This effect is also seen with squat depth; the hip extensors' relative muscular effort rises as the lifter squats to lower depths.
According to this study, the hip extensors play a key component in the barbell back squat. Understandably, we can infer that building stronger hip extensors should assist back squat performance when you decide to build and test your squat strength.
While hip thrusts have long been deemed a tool that highly recruits the glute muscles, it wasn't until a study by Contreras et al (2014) compared the hip thrust and back squat in 13 female lifters.
What they found was that the gluteus maximus and biceps femoris (part of the hamstring muscle group) were recruited much more in the hip thrust, versus in the back squat exercise.
Takeaway: Your glutes have to work very hard during back squats, both when the weight is heavy and when you squat low. Strong hip extensors are key for a big squat, and the hip thrust is a great candidate to highly recruit your glutes.
Make sure that you don't miss out on any of these 5 Tips To Improve Your Squat Lockout (That Actually Work)
2. Glutes Trained Uniquely With Hip Thrusts
In the back squat or deadlift, your glutes help you stand tall to complete the lift. But they are not activated through the entire range of motion as they are in the hip thrust.
In fact, Delgado and colleagues (2019) demonstrated that there is greater gluteus maximus activity in the hip thrust than in the barbell back squat.
Further, Contreras et al (2011) found that, "…as maximal voluntary isometric contraction electromyographic activity of the gluteus maximus has been shown to increase as the hips move from flexion to extension."
Since the glutes still have serious tension on them at the top of the hip thrust (the entire barbell), it's fair to say that few exercises can target the glutes as effectively.
Takeaway: The hip thrust applies high tension on the glutes since its horizontal loading keeps the glutes engaged as they fully extend through the entire range of motion. If you find you have weak glutes overall, which is impacting your squat strength, there is no better exercise for increasing glute activation than the hip thrust.
Looking for other exercises to help you build your glutes? Open up my article on the 9 Best Barbell Hip Thrust Alternatives, so you'll never run out of ideas!
3. Failing And Progressive Overload Advantages
Like the deadlift, the barbell can simply be returned to the ground if you feel like a certain repetition just isn't in the cards. Unlike the deadlift, your main point of contact is the crease of your hips and this puts you in even better control of its descent than just your hands on the barbell.
Additionally, failing a repetition on the hip thrust doesn't shift loading demand on your lower back. Instead of having your back round over (like what tends to happen in the deadlift), you'll simply not be able to lock out the rep at the top of your hip thrust. Not a bad way to "fail" a rep, after all.
Finally, the biomechanically advantageous position for producing hip extension and the relatively shorter range of motion in the hip thrust allows a predominant benefit: it's easier to add weight to the barbell. In turn, you can progress faster on this lift by adding weight to the bar more frequently than you can in a glute isolation exercise (like a kickback).
Takeaway: The hip thrust is a very safe exercise to fail on and provides an easy means for progressive overload, making it one of the best exercises for building your glute strength.
Hip thrusts have actually been shown to improve jump performance as well. Take a look at my article on Do Hip Thrusts Help You Jump Higher where I cover all of the research on the topic and provide a sample hip thrusting program.
4. Hip Thrusts Proven To Increase Squat Strength
So far, I've made the case as to why the hip thrust is a fantastic candidate when it comes to building your glute strength.
In case you're looking for more concrete evidence, here's a detailed look at a study by Lin and colleagues (2017) that shows the hip thrust increasing squat strength.
Study Design
In this 8-week study, subjects were randomly assigned into two groups: the hip thrust group or the control group.
For the hip thrust group, they performed the barbell hip thrust in addition to their standard baseball-training regimen (mostly baseball technical training with some upper body strength training).
The control group only did the baseball-standard training for the 8 weeks.
Participants
This study was conducted on 20 recreational college baseball players. On average, they were 19-22 years old with a height between 5'6" and 5'11, and weighing from 120-190 pounds.
Experience
All participants had at least 1 year of experience with the back squat, with a squat max average of 188 pounds. No participants had previous hip thrust experience. Participants also had at least 2 years of baseball training.
Testing
The following protocols were tested before and after the 8-week training regimen: 1RM back squat, 3RM hip thrust, vertical jump, standing long jump, and 30-meter sprint.
Results
After the 8 weeks, significant improvements were found in 1RM squat strength (on average: 185 pounds to 235 pounds) and 3RM hip thrust strength (on average: 295 pounds to 392 pounds). No significant difference in the vertical jump, long jump, or the 30-m sprint.
Takeaway: The hip thrust improved subjects' squat strength, despite not training the back squat for 8 weeks.
I reviewed the 10 best barbell hip thrust pads. Check out my article for the top picks!
Are There Better Exercises Than Hip Thrusts To Help Squats?
Despite all that's been shown so far, I'll play devil's advocate for a minute to show you the limitations of what's been discussed so far.
Strength is a display of force production on a specific exercise, and a key distinction to be made is that the hip thrust is not a squat. The squat pattern itself requires two things: deep knee flexion and deep hip flexion. The hip thrust has a reasonable amount of hip flexion occurring, but little knee flexion.
The principle of exercise specificity suggests that strength adaptations will be more likely to transfer between exercises that closely resemble each other. Because of this, many lifters would probably get even greater benefit to their squats from doing pause squats or partial squats — selecting the variation that best targets their weak range of motion.
The hip thrust clearly has some benefit in improving glute strength.
That said, the hip thrust will not strengthen your quads even close to the same as any squat variation will. For this reason, a lifter who is struggling on squats due to weak quads will be unlikely to see any benefit from incorporating the hip thrust into their program.
Related articles you can check out:
Final Thoughts
Yes, hip thrusts can help you improve your squat by strengthening your glutes.
However, it's critical to understand that hip thrusts will help you squat more over months and years — not in a matter of weeks. By increasing your glute hypertrophy, you'll have greater amounts of muscle fibers available to teach how to produce more force for a squatting exercise.
On the other hand, if you're struggling with squats due to sloppy technique, weak quads, or back rounding, hammering away at hip thrusts is unlikely to solve your problems. These things would be better addressed by tempo work, adding in partial reps, or incorporating pause squats into your program.
In closing, program in hip thrusts when you're focusing on adding some hypertrophy to your glutes. Over months and years, this will pay off with more weight on the bar for your squats.
Before you go, check out my other article comparing the Hip Thrust vs Deadlift.