The hex bar, also known as the trap bar, is a seriously underrated barbell used for the deadlift exercise. It may seem intimidating and complicated to use, but it is surprisingly more beginner friendly than regular barbell conventional deadlifts.
So what is a hex bar, and how do you do a hex bar deadlift? The hex bar is a hexagonal-shaped barbell with parallel bars in the middle to grab onto. To perform the hex bar deadlift (sometimes called the trap bar deadlift), you stand in the middle of the hex bar, grab the handles with your hands at your sides in a neutral grip, and stand up with the bar with a flat back.
In this article, I will go through everything you need to know about the hex bar deadlift, how it differs from regular deadlifts, and how to implement it into your training.
What Is a Hex Bar Deadlift?
The hex bar is a barbell traditionally with a hexagonal metal frame with two parallel handles in the middle of the frame and a sleeve on either side of the end of the frame.
The hex bar deadlift is a lower body exercise that the hex bar is designed for. It is primarily a quad, glute, and hamstring exercise. Instead of having the weight in front of you like a traditional barbell deadlift, the weight is at your sides.
More modern variations of the hex bar are shaped differently, but the essence of the hex bar is still there.
Some variations of the hex bar offer different height handles to give you a choice in the range of motion. On other variations, the frame is incomplete on one side so that you can tip it on its edge for ease of loading plates.
Want to improve your deadlift technique?
What Are the Differences Between a Hex Bar Deadlift and a Deadlift?
The main difference between the hex bar deadlift and a regular deadlift is that the hex bar deadlift can allow your knees and hips to come forward more, turning it into more of a knee- and quad-dominant exercise.
The conventional deadlift requires you to keep the barbell above mid-foot throughout the movement. During execution, you must initially push your hips and knees backward, making the movement very glute, hamstring, and lower back dominant. 
With a hex bar deadlift, you also have your hands at your sides in a neutral grip (palms facing each other). Whereas with a conventional or sumo deadlift, you usually use a double-overhand grip (sometimes with a hook grip) or mixed grip. Many lifters find that the hand position in a hex bar deadlift allows them to lift more weight.
Another difference between a hex bar deadlift and a deadlift is that you typically start the hex bar deadlift with a more upright torso angle. As such, doing a deadlift with a hex bar puts less stress on the lower back and requires less mobility to get into a good starting position.
How To Do a Hex Bar Deadlift
Here is a simple step to step guide to how to deadlift with a hex bar:
Step 1: Load the hex bar.
Add your desired or prescribed weight to the hex bar and ensure that you put barbell collars on the end of the barbell. If you are somewhat imbalanced, the collars will prevent the plates from sliding off.
Step 2: Stand in the hex bar
Stand in the middle of the hex bar with your feet roughly parallel to each other or slightly pointed out. Depending on your body size, you can keep your feet about hip-width or shoulder-width apart. The taller you are, the more you may want to go for a wider stance.
Step 3: Descend to hold the bar
With a neutral spine, bend at your hips and knees, stretch your arms towards the hex bar handles, and grab the middle of the handles.
Step 4: Breath and brace
Take a deep breath into your torso, hold your breath, and brace your core hard. If you are wearing a lifting belt, you should feel an expansion inside your belt.
Step 5: Stand up
Push your legs into the ground while pushing through your midfoot, and stand up until your hips and knees are fully extended. You can exhale at the top or as you get closer to the top.
Step 6: Descend
Slowly return the hex bar down to the floor while breathing in. Ensure that you keep your center of mass over your midfoot and your back flat throughout the descent.
Muscles Worked During Hex Bar Deadlifts
When utilizing the proper hex bar deadlift form, you can target the following muscles:
Glutes
Hamstrings
Quadriceps
Adductors (inner thighs)
Back extensors
Lats
Traps
Glutes
These are your buttock muscles located at the back of the hip area. They are responsible for extending your hips. These are most active at the top of hex bar deadlifts.
Hamstrings
The hamstrings are located at the back of the thigh bones. These muscles cross the knee and hip joints. In the hex bar deadlift, they assist the glutes in extending your hips forward.
Quadriceps
The quadriceps are located at the front of the thigh bones and are responsible for extending your knees.
The front squat is another lift that targets your quads. Learn more about the differences between front squats and hex bar deadlifts in Trap Bar Deadlift vs. Front Squat: Differences, Pros, Cons.
Adductors
The adductors, or hip adductors, are located on the inner thighs. They are responsible for stabilizing the hip. In the hex deadlift, they help the glutes and hamstrings extend the hips. These are most active at the bottom of the lift.
Back Extensors
The back extensors are the muscles along the middle and lower back. They keep your back from rounding during the hex bar deadlift. Individual muscles that make up your back extensors include the erector spinae and quadratus lumborum.
Lats
The latissimus dorsi (lats for short) is a large, flat muscle on each side of your back. The lats help stabilize your back during the hex bar deadlift. They also work to extend the shoulders as you bring your arms down to grab the handles.
Traps
The trapezius muscle (traps for short) runs along the base of your neck and the middle of your upper back. In the hex bar deadlift, the traps help you bring your shoulders down and back and keep them in position throughout the entire lift.
6 Benefits of Hex Bar Deadlifts
1. Less Stress on Your Back Extensors
The biggest benefit of the hex bar deadlift is that when you are in the starting position, you can shift your knees forward more and keep your torso more upright. In this upright position, you place less stress on your back extensors and emphasize your knees and quads more.
For this reason, the hex bar deadlift is a fantastic deadlift alternative for anyone who does not want to overload their lower back.
2. Easier To Learn Execution
Many people often ask, "Is a hex bar deadlift easier?" The answer is yes. In many cases, learning how to hex bar deadlift takes less time and is easier to execute, regardless of your training experience.
All you need to do is think about pushing vertically into the ground and standing up. While the hex bar deadlift form is important, there is no need to focus on timing the knee and hip movement like you would in a regular deadlift.
3. Can Train the Deadlift Movement Without Needing Mobility
Regular deadlifts require a certain level of hip and hamstring mobility to get into the correct starting position. The hex bar can adapt to your starting position regardless of how well you move.
4. Change the Starting Position to Change Muscular Emphasis
You can perform the hex bar deadlift in various ways by adjusting your hip and knee position through a continuous range. For example, you can make the hex bar deadlift more hip-dominant by keeping the shins more vertical and hips high.
5. Easier To Train Closer to Failure
As you fatigue in the hex bar deadlift, your hips and knees may shift more towards your stronger side, but you can still execute the lift safely. When you push towards fatigue in a set with conventional deadlifts, deviating from good technique may put other muscle groups at higher risk of injuries.
6. Develops Lower Body Power More Than Traditional Deadlifts
Research has shown that hex bar lifting produces more acceleration and power than lifting with a regular barbell. This means trap bar deadlifts have exceptional carryover to any sports where force output is an important factor.
Not sure what the best kind of bar is for deadlifts? We provide a full guide on the different types of deadlift bars, including the hexagon deadlift bar, and their pros and cons.
3 Drawbacks of Hex Bar Deadlifts
1. Not Every Gym Has a Hex Bar
The hex bar is a large piece of free-weight equipment, and not every gym will have one. It can also be a bulky bar to keep in a small home gym.
If you're looking for a hex bar that you can use to train at home, check out our list of the best trap bars for home gyms.
2. Less Specific for Powerlifting
If you are a powerlifter, the hexagon bar deadlift is a less specific variation and may not necessarily give you technical improvements in your competition-style deadlift form.
3. Risk of Wobbling During Execution
As the hex bar has a lot of freedom of movement around your body, you risk feeling very wobbly when you extend and lock out the lift.
Common Hex Bar Deadlift Mistakes and How To Avoid Them
1. Not Keeping Your Knees in Line With Your Feet
Keeping your knees in line with your feet throughout the movement is important. Some people may accidentally spread their feet too far out to the point that their ankle and foot arches collapse. As a result, they may find themselves shifting their center of mass too far forward.
2. Yanking the Barbell off the Floor
The hex bar deadlift can require a lot of effort to execute, but a common problem I see is that some people yank the barbell off the floor to the point that their lower back rounds.
It is important to try to pull the slack out of the barbell first to let the whole body build up tension so that it is ready to engage to lift the bar off the floor.
How To Program Hex Bar Deadlifts
Putting the hexagon deadlift into your training will be useful, but knowing how to program it is another consideration. Here is a guide that explains how you may want to program the hexagon deadlift for different goals:
Explosive Strength
Sets and Reps
For explosive strength, you are not looking to train that hard, so the volume you do will be on the lower end. A good place to start is 3 to 4 sets of 3 to 5 repetitions.
Frequency
When training the hex bar deadlift for explosive strength, you will not need long and hard workouts. You may consider training the lift 1 to 3 times per week, depending on whether you incorporate many other lower body exercises.
Intensity
If you are trying to develop explosive strength, you do not need very high absolute intensities, and you do not want to be close to failure. You need to have at least 5 or more repetitions in reserve. You should aim for 50% to 80% of your 1 rep max.
Example Week
3×5 @ 55% 1RM
3×4 @ 65% 1RM
3×3 @ 75% 1RM
Maximum Strength
Sets and Reps
For maximum strength, consider using higher intensities, so your reps are on the single-digit end. A good place to start is 3 to 4 sets of 3 to 8 repetitions.
Frequency
Training the hex bar deadlift for maximum strength will require enough rest days between hard workouts, so consider training the lift 2 times per week.
Intensity
Aim for between 75% to 90% of your 1 rep max. You should keep between 2 to 5 repetitions left in reserve.
Example Week
3×5 @ 80% 1RM
4×3 @ 85% 1RM
Muscle Hypertrophy
Sets and Reps
To build muscle hypertrophy, you should consider incorporating higher-volume training. Your rep range may be on the higher end. A good place to start is 3 to 4 sets of 8 to 15 repetitions.
Frequency
Training muscle groups 2x per week is sensible for most people with muscle-building goals. You may want an easy session followed by a harder one, or you can have 2 moderate-effort sessions.
Intensity
You can build muscle across a long spectrum of percentages. If you incorporate lower percentages, you may need to train closer to failure. If you use higher percentages, you can have more repetitions in reserve.
You should keep between 2 to 5 repetitions in reserve. You should also aim for 50% to 80% of your 1 rep max.
Example Week
3×8 @ 70% 1RM
3×12 @ 60% 1RM
Frequently Asked Questions
Is a Hex Bar Better for Deadlifts?
The hex bar can be better for deadlifts in the sense that it is an easier learning curve to master, and it offers more freedom on how you want to execute it. It enables you to put less stress on your lower back. The hex bar deadlift is also more intuitive to execute.
What Muscles Do Hex Bar Deadlifts Work?
The hex bar deadlift works your leg, hip, and back muscles. These muscles include the quadriceps, hamstrings, adductors, glutes, and back extensors. You may also find that the lats and traps are engaged during execution to help stabilize your posture.
Is Deadlifting With a Hex Bar Safer?
Deadlifting with the hex bar can be safer for your back because it allows you to move tension away from the lower back and onto the legs. This makes it a safer variation for those with a history of lower back injuries.
---
About The Author: Norman Cheung ASCC, British Powerlifting Team Coach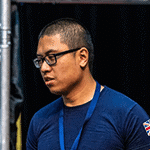 Norman Cheung is a powerlifting, and accredited strength and conditioning coach under the UKSCA. He has been coaching powerlifting since 2012 and has been an IPF Team GB coach since 2016. He has experience coaching various lifters, from novices to international medallists and international university teams. Alongside coaching, he takes interest in helping powerlifters take their first step into coaching. He currently runs his coaching services at strongambitionscoaching.com