PowerliftingTechnique.com is independent and supported by our readers. We may earn a commission if you buy through the links below. For more, see our disclosures page.
A personal trainer may feel like a luxury, especially for those with limited budgets or busy schedules. But with the rise in popularity of personal training apps, fitness has become more accessible than ever.
The best personal training apps are:
Future – Best Overall
Lululemon Studio: The Mirror – Most Convenient
CoPilot – Best for Those Who Struggle With Consistency
Kickoff – Best for Personal Training and Nutrition Coaching
FlexIt – Best for Live Virtual Training
Caliber – Best for Those Who Want To Lose Weight
Aaptiv – Best for Instructor-Led Classes
Virtual personal training and fitness programming can make your life much easier by removing most obstacles preventing you from working out consistently. However, signing up for a personal training app that doesn't suit your lifestyle or training preferences can be a huge waste of money.
In this article, I'll discuss the pros and cons of the best workout plan apps. By the end, you'll be able to make a confident decision about which app will best help you reach your goals.
What Is a Personal Trainer App?
A personal training app is a mobile app that connects you to personal trainers from anywhere in the world.
The trainers provide customized workout plans based on your goals, injury history, experience level, and preferred training style. As you complete the workouts, the trainers will learn more about your strengths and weaknesses. They'll use that information to tweak your program and make it even more personalized.
You can contact your trainer any time via text message, an in-app messaging tool, or a video call. However, the communication methods vary by app.
Many personal training apps also offer live sessions, though those may come with an extra fee.
7 Best Personal Training Apps
| App | Cost | Free Trial | Ideal For | Key Features |
| --- | --- | --- | --- | --- |
| Future | $149 per month | No | Those without access to a gym | Coaching feedback based on workout data from Apple Health or Google Health |
| The Mirror | $39 per month, equipment starting at $995 | 20 days | Beginners wanting real-time feedback from home | 10,000 workout options |
| CoPilot | $129 per month | 14 days | Anyone who needs help establishing consistency with fitness and nutrition | Earn points to get badges and help with consistency |
| Kickoff | $95 per month for a monthly plan $513 for a six-month plan $912 for a yearly plan | No | Those who need a high level of accountability | Mindfulness and recovery coaching |
| FlexIt | Starting at $32 per session | One free workout | Those who want live virtual training and want to improve multiple aspects of their health at the same time | Access to registered dietitians, physical therapists, yogis, meditation experts, and more |
| Caliber | $7 per day | No | Those who want to lose weight while getting stronger | Training and nutrition plans based on science-backed approaches |
| Aaptiv | $14.99 per month or $99.99 per year | Seven days | Self-motivated individuals who want to follow instructor-led training plans | Goal-oriented training programs (i.e., training for a marathon) |
1. Future – Best Overall
Rating: 4.9/5
Pros
Corporate wellness programs available
Can pause your membership for up to three months
Trainers can create plans based on whatever equipment you have available
Communicate directly with your coach via the in-app messaging tool
In-app consistency tracker helps keep you motivated
Cons
Must have a smartwatch to get the full benefits of the app
Future is my top pick for the best personal training app because you get access to highly qualified trainers who genuinely care about your progress and can create a personalized routine with workouts you can do anywhere. While access to a full gym is beneficial, your trainer can also create an effective routine regardless of what equipment you have available.
While your trainer won't watch your workout in real-time, you'll receive workout prompts within the app to guide you through your training session. Video demos accompany each exercise, so you can ensure you perform each movement correctly.
Aside from providing personalized, weekly workout routines, the trainers check in regularly to ensure you stay on track with your workouts. They also provide feedback on your performance and use your assessment of each session to adjust future workouts.
Future is available on the App Store or on Google Play.
But one important thing to note is that you need an Apple watch to take full advantage of the trainers' coaching. If you don't have Apple products, you can use a Google Pixel Watch, Samsung Galaxy Watch, or any watch that operates on WearOS 3.0 or above.
The trainers use workout stats from the watch to gather data on your performance and guide your workout plan over time. The watch isn't 100% necessary, but you'll miss out on some valuable insights from your trainer if you don't wear one.
How Much Does Future Cost?
Future costs $149 per month.
Does Future Offer a Free Trial?
Future does not offer a free trial. However, as of this writing, Future is offering a 30-day trial for $19. You can get a full refund if you're not happy at the end of the trial.
Are the Trainers on the Future App Certified?
Future's coaches hold certifications in various areas, including personal training, powerlifting, performance coaching, yoga, strength and conditioning, and lifestyle coaching.
Check the prices on Future and see if one of their coaches can help you with your goals.
Rating: 4.8/5
Pros
The real-time feedback is top-notch
10,000 workout options including strength training
Design-wise, it's sleek and doesn't take up much space
Cons
Strength workouts are best for beginners
Won't cover bench press, squats, or deadlifts
Higher end of the price scale
I mostly dove into the strength stuff on The Mirror, and I've got to say, there were moments that took me back to my earlier gym days – in a good way. Combining bodyweight exercises with kettlebell swings in one session was both challenging and fun.
What I really appreciated though, was the personal training right in my living room. It felt like having a trainer keeping an eye on me, ensuring my form was right on every rep.
If you're keen on getting a solid workout, and especially if you're into the idea of personal training sessions at home, The Mirror's worth a look. It might not replace the gym for die-hard lifters, but it sure does add a fun twist to home workouts.
How Much Does The Mirror Cost?
$39 per month + the equipment starts at $995
Does The Mirror Offer a Free Trial?
You can try the Mirror for 30 days risk-free.
Are the Trainers on The Mirror Certified?
All the trainers on The Mirror are certified.
3. CoPilot – Best for Those Who Struggle With Consistency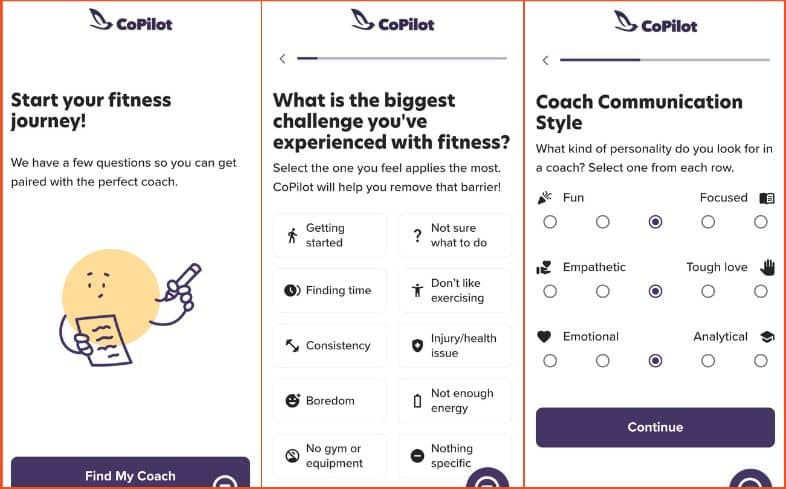 Rating: 4.8/5
Pros
Motivating, supportive trainers
Track workouts and nutrition in one app
Earn points for each workout and get bonus points for staying consistent
Cons
Like Future, CoPilot connects you with a personal trainer who will create a customized workout plan and update it as you progress. However, CoPilot's consistency trackers are a step above Future's.
For example, CoPilot offers gamification elements to make fitness more fun and enjoyable. You earn points for each workout you complete and get bonus points the more consistent you are. You also get bonus points for workouts where you ramp up the intensity and push yourself harder than usual.
CoPilot's coaches give you all the tools you need to succeed on your own. They not only help you reach your goals but also teach you how to maintain healthy habits once you've accomplished those goals.
While you don't need a smartwatch to take full advantage of CoPilot, it can help. CoPilot has a built-in app on the Apple Watch, so the coaches can easily pull workout data from Apple Watch wearers.
You can also use any other smartwatch or heart rate tracker that connects to Apple Health or Google Health if you want your trainer to have easy access to your workout stats.
How Much Does CoPilot Cost?
CoPilot costs $129 per month.
Does CoPilot Offer a Free Trial?
CoPilot offers a 14-day free trial.
Are the Trainers on CoPilot Certified?
All of CoPilot's coaches have personal training certifications. Some also have advanced degrees in exercise science (or related areas) and specialized nutrition certifications.
3. Kickoff – Best for Personal Training and Nutrition Coaching
Rating: 4.5/5
Pros
Track workouts and nutrition in one place
Coaches offer daily check-ins via text message
Change coaches at any time
More affordable than some other apps
Unlimited workouts per month
Cons
Live personal training sessions cost extra
Working out and eating healthy go hand in hand, but you often have to track your workouts and eating habits in separate apps. Like CoPilot, Kickoff bridges that gap by enabling you to track your workout and nutrition habits in one place.
The difference is that the Kickoff coaches create customized meal plans, so you know exactly what to eat to make reaching your goals easier. The meal plans help you feel energized for your workouts but offer flexibility so that you can still enjoy an occasional treat.
Kickoff also offers coaching in mindfulness and recovery. These components are important because they help ensure your mind and body are prepared for every workout. Mindfulness coaching, in particular, teaches you more about maintaining consistency during busy or stressful times.
The Kickoff trainers are skilled and knowledgeable in various facets of fitness. Whether you enjoy cardio, strength training, hiking, high-intensity interval training (HIIT), or boot camp workouts, your trainer can incorporate your favorite activities into your routine.
How Much Does Kickoff Cost?
Kickoff costs $95 per month for access to personalized workouts, daily feedback, and nutrition coaching. A six-month plan costs $513, billed every six months, and a yearly plan costs $912, billed annually.
You can add live training sessions starting at $27 per session.
Does Kickoff Offer a Free Trial?
Kickoff does not offer a free trial.
Are the Trainers on the Kickoff App Certified?
All of Kickoff's trainers are certified. Many also specialize in other areas, such as powerlifting, endurance training, rehabilitation, and weight loss.
4. FlexIt – Best for Live Virtual Training
Rating: 4.2/5
Pros
Sign up for live training or opt for customized programming only
Access to a vast network of health and wellness experts
Train with multiple coaches rather than staying with one trainer
Cons
More expensive than other apps
FlexIt is one of the only personal training apps I've come across that offers live, one-on-one training.
The personal trainers on most apps simply provide workout programs once a week that you have to complete on your own. FlexIt trainers monitor your workouts in real-time, so they can provide instant feedback on your form and offer words of encouragement when you start getting tired.
FlexIt partners with other health and wellness professionals, including registered dietitians, physical therapists, and mindfulness experts. You can work with multiple professionals at the same time if you want to improve various aspects of your health.
I also like that you don't have to commit to one trainer. You can book multiple training sessions with different trainers, so you don't have to stick with a coach you don't get along with.
For those who are just looking for a customized workout program, you can sign up for FlexIt's Connected Training™ program. You get 16 workouts per month and a weekly consultation with a trainer. It's more of a self-guided approach since you have to do the workouts on your own, but you still get the benefit of having a personalized routine created for you.
How Much Does FlexIt Cost?
FlexIt offers multiple plans starting at $32 per session, depending on the duration, for up to 12 sessions.
Does FlexIt Offer a Free Trial?
FlexIt offers one risk-free session for new users.
Are the Trainers on the FlexIt App Certified?
All of the FlexIt trainers have personal training certifications.
If you're new to working out and think a gym membership will suit you better, check out the best gyms for beginners.
5. Caliber – Best for Those Who Want To Lose Weight
Rating: 4.4/5
Pros
Caliber Lessons teach you how to maintain healthy habits
Strength Score and Strength Balance show you which body parts are stronger than others
Frequent check-ins with your coach
In-app video and text messaging available
Video and text-based instructions for over 500 exercises
Cons
Caliber's trainers use science-based approaches to develop effective, personalized workout routines. They don't create programs with pointless exercises or unnecessarily high amounts of volume. The movements they include are proven to be the most beneficial for building muscle and getting stronger.
Caliber also offers science-backed nutrition coaching. If you've been trying to lose weight on your own and aren't making progress, Caliber's coaches can help you achieve better results. You can also track your weight and the meals you eat daily within the app, so you can visualize how your workouts and nutrition affect one another.
Furthermore, Caliber arms you with data that can help you make your own decisions about your health. The app offers Caliber Lessons that teach you how to develop long-lasting fitness and nutrition habits.
The app also offers Strength Score and Strength Balance metrics that provide insights into your body composition and which parts of your body are stronger or weaker than others.
All of this information, combined with the support of a Caliber coach, can help you reach your goals sooner than you may be able to on your own.
How Much Does Caliber Cost?
A three-month plan with Caliber costs around $7 per day.
Does Caliber Offer a Free Trial?
Caliber does not have a free trial, but it has a free version for those who want to train without a coach's guidance. The company also offers a 30-day money-back guarantee.
Are the Trainers on the Caliber App Certified?
All of the coaches on Caliber are certified personal trainers.
6. Aaptiv – Best for Instructor-Led Classes
Rating: 3.8/5
Pros
Access a community of 200,000 members
Schedule workouts with the in-app calendar function
Log non-Aaptiv workouts to get a high-level view of how consistent you are
Cons
Workouts are audio-only
No live classes
Aaptiv is ideal for those who enjoy fitness classes but don't have time to get to a gym. It provides access to thousands of classes, including outdoor running, treadmill running, walking, yoga, elliptical, barre, and boxing. The workouts are set to fun, energizing music to keep you engaged and motivated.
Within the Aaptiv app, you can filter workouts by duration, type of music, intensity level, trainers, and incline level (for machine-based workouts). However, the lack of videos is a drawback for those who like to see their instructors on the screen.
If you're training for a specific event, such as a marathon, you can follow one of Aaptiv's goal-oriented programs. These programs suit every skill level, so you can feel prepared for your competition, whether it's your first or fiftieth.
How Much Does Aaptiv Cost?
Aaptiv costs $14.99 per month or $99.99 per year.
Does Aaptiv Offer a Free Trial?
Aaptiv offers a seven-day free trial.
Are the Trainers on the Aaptiv App Certified?
Aaptiv trainers are certified in multiple areas, including personal training, kettlebell, health coaching, pre-natal and post-natal coaching, yoga, meditation, and group fitness.
If you enjoy kettlebell training, check out our favorite kettlebell apps.
What To Consider Before Signing Up for a Personal Training App
Goals
Are you preparing for a powerlifting competition or a marathon? Do you prefer strength training or HIIT workouts? Or do you just want to get back in shape after not working out for a long time?
Think about what you hope to accomplish before signing up for a personal training app. You'll have more success if you find an app whose trainers have helped clients meet similar goals.
Budget
Personal training apps range in price, but most cost around $100 – $150 per month. This is much cheaper than in-person training sessions, but it's still a cost you have to account for each month.
Also, look for an app with a free trial or flexible refund policy. This way, you won't waste your money if you don't enjoy the app.
Certifications
When searching for a training app, look for one whose coaches have personal training certifications and/or related college degrees, such as an exercise science degree. These individuals have a lot of knowledge, so you can trust that their programs are safe and effective.
Level of Coaching
As you saw from the list above, some personal training apps offer one-on-one coaching, while others only connect you with personal trainers who deliver workout programs.
If you like being told what exercises to do but are a self-motivated person, you'll likely find success with an app whose trainers only provide workout programs. If you need more accountability, an app that offers live one-on-one sessions will suit you better.
Whether or Not You Need Help With Nutrition
Some personal training apps also offer nutrition coaching, but that's not always the case.
If you already use a separate app to track your meals, or you're not interested in working with a nutrition coach, an app that only offers workout programming is sufficient.
But if you want to clean up your diet and keep everything within one app, look for an app that can connect you with personal trainers and nutrition coaches or registered dietitians. It will also be beneficial if you can track your daily meals in the app because you won't have to use a separate calorie-tracking app.
Benefits of Using Personal Training Apps
Convenience
One of the biggest benefits of personal training apps is convenience. You don't have to commute to and from the gym or pack a gym bag. If you have kids, you don't have to worry about leaving them in childcare at the gym or finding a babysitter.
Furthermore, if you want to take a fitness class, you aren't limited to the class times at your local gym or fitness studio.
Personal training apps also enable you to work out from any location. It's easy to keep up with your routine when you are on vacation, traveling for work, or can't get to a gym for some reason.
Better Pricing
One-hour personal training sessions at a gym can cost upwards of $200, and you usually meet with your trainer at least once a week. With a personal training app, you pay a biweekly or monthly flat fee. You can save a significant amount of money by signing up for an app instead of hiring an in-person trainer.
For example, say you want to buy four one-hour sessions at your local gym for $100 per session. That equals $400 per month. You can download a personal training app instead for $150 per month and save $250.
Connect With Personal Trainers Regardless of Location
I mentioned earlier that you could work out from any location with a personal training app. Similarly, personal training apps enable you to connect with trainers from anywhere in the world. Geographic limitations no longer prohibit you from working with highly-rated coaches who don't live locally to you.
Work Out in a Comfortable Environment
Some people get self-conscious when working out in front of others. Some also get overwhelmed by all of the equipment and machines at the gym, even if a personal trainer is there to guide them throughout their workout.
Personal training apps remove those barriers by allowing individuals to work out in a comfortable, familiar space.
Easier Cancellation Policies
When you sign a personal training contract at a gym, it can feel like you're signing your life away. These contracts are also often difficult to cancel. If you try to cancel in person, the trainer or a salesperson at the gym may pressure you to change your mind.
However, canceling a fitness coach app is much simpler. Most apps enable you to cancel your subscription within the app or on the company's desktop website. You don't have to speak with a customer service rep and deal with their pushy sales tactics to try to get you to stay.
Risks of Using Personal Training Apps
Injuries From Incorrect Form
Not all personal training apps offer live coaching sessions. You receive your workout routine, and then you're on your own. You can become injured if you don't know how to do a movement correctly.
While most apps provide video demos for various movements, it's different from having someone watch you and provide technique corrections in real-time.
Privacy Concerns
Personal training apps ask for sensitive data, such as your birthdate and health information. You may have to provide a home address. You also have to enter a credit card to pay for the subscription.
If that information falls into the wrong hands, it can become a huge security risk. The apps may also sell your data to third parties, and you won't know who has access to your personal information.
Frequently Asked Questions
What Is the Best Online Personal Training App?
The best personal trainer app is Future. The certified coaches specialize in various areas of fitness and create customized workouts you can do from anywhere. They regularly review your workout performance to adjust your plan. They can also update your routine to accommodate your schedule if you're busy or traveling.
How Much Does a Personal Training App Cost?
A personal training app can cost $15 – $150 per month or more. It depends on how in-depth the coaching is and whether the app also offers access to other health and wellness coaches.
Final Thoughts
If you're searching for the best personal training apps, you can't go wrong with Future. Its highly-qualified trainers create thoughtful, effective workout programs that suit various training styles and goals. The trainers adjust your routine as you get stronger and check in with you regularly to hold you accountable.
If you're looking for an app that enables you to track your nutrition along with your workout history, check out Kickoff. You'll receive customized training programs and meal plans to keep your body fueled for your workouts. Kickoff also offers mindfulness coaching to help you develop long-lasting healthy habits.
---
About The Author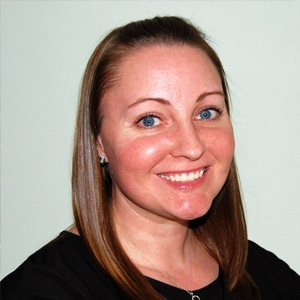 Amanda is a writer and editor in the fitness and nutrition industries. Growing up in a family that loved sports, she learned the importance of staying active from a young age. She started CrossFit in 2015, which led to her interest in powerlifting and weightlifting. She's passionate about helping women overcome their fear of lifting weights and teaching them how to fuel their bodies properly. When she's not training in her garage gym or working, you can find her drinking coffee, walking her dog, or indulging in one too many pieces of chocolate.