PowerliftingTechnique.com is independent and supported by our readers. We may earn a commission if you buy through the links below. For more, see our disclosures page.
When you do CrossFit frequently, your hands take a beating from all the pull-ups, muscle-ups, and toes-to-bars you do. While you can't completely stop calluses from forming, you can wear grips to lessen their severity and prevent them from tearing.
As someone who's done CrossFit since 2015, I've used many of the most popular grips on the market. Since the materials, styles, and coverage they provide vary, you may not know which ones will work best for you.
To help you narrow your search, I've compiled a list of the 7 best CrossFit grips:
In this article, I'll discuss the pros and cons of these grips and review them in more detail. I'll also list everything you need to consider before buying bar grips for CrossFit, show you how to use grips correctly, and discuss the best times to wear grips.
7 Best CrossFit Grips
Rating: 4.9/5
Specifications
Material – carbon fiber
Sizes – S to XL
Number of finger holes – two or three
Pros
Sticky carbon fiber material for a better grip on the bar
Triple-stitched for extra durability
Comfortable wrist strap that doesn't dig into the skin
Can choose between two or three finger holes
Cons
Finger holes may be uncomfortable until the grips are broken in
The Bear KompleX 2 and 3 Hole Carbon Hand Grips are the best CrossFit hand grips because they're durable, provide an excellent grip on the bar, and are more comfortable than other options.
The carbon material is sticky and grippy, allowing you to maintain your grip on the pull-up bar for longer. It's also thin, so you'll still be able to "feel" the bar better than using grips with bulkier leather material. While they were designed specifically for pull-up bar exercises, you can use these grips for other grip-heavy movements, such as kettlebell swings.
I find the wrist straps more comfortable than those on other grips. As you're hanging from the bar and sweating during a WOD (workout of the day), they don't dig into your wrists or irritate your skin.
The grips are also more durable than others on the market. All CrossFit grips have to be replaced eventually. However, you can get at least a year's worth of use out of the Bear KompleX Carbon 2 and 3 Hole Carbon Hand Grips, depending on how often you use them. Other grips only last a few months before you need to replace them.
The carbon hand grips are available with two or three-finger holes. I recommend the ones with three holes because they have a larger surface area to protect more of your palm. The finger holes can be uncomfortable initially, so you should give them a few practice runs before wearing them for WODs.
2. PICSIL Azor Grips – Most Breathable CrossFit Grips
Rating: 4.6/5
Specifications
Material – patented micro-perforated fabric
Sizes – S to XL
Number of finger holes – none, two, or three
Pros
Soft, flexible material for increased comfort
Vegan and allergen-free
Available in several colors
Cons
Not as grippy as other options
For those with sensitive skin or those who are just looking for a comfortable pair of grips, the PICSIL Azor grips fit the bill. They feature a soft, breathable micro-perforated material and an anti-allergy Velcro strap to help reduce irritation on the hands and wrists.
The micro-perforated fabric can also hold onto chalk better, so you can spend less time at the chalk bucket and more time completing your reps during WODs.
The Velcro strap is sturdy and won't come undone in the middle of a workout. It also provides extra support to reduce pressure on the wrists and forearms during high-rep exercises.
I also love that these grips are easy to care for. They're not machine-washable, but you can hand-wash them with mild soap and warm water and lay them out to air dry.
The only major drawback of these grips is that they aren't as sticky as some of their competitors. They still provide a good grip on the bar, but you may not be able to perform as many unbroken reps with these as you can with other grips.
Rating: 3.8/5
Specifications
Material – N/A
Sizes – N/A
Number of finger holes – three
Pros
Flexible material allows for more freedom of hand movement
No bulky materials that can make it hard for you to "feel" the bar
Three-hole design and three-inch width to protect a large portion of your hand
Cons
Not very cost-effective since you constantly have to buy new packages
Single-use design makes them more wasteful than other grips
WOD and Done grips are single-use grips. They're a combination of lifting tape and grips — they're adhesive, so they stick directly to your hand, but they have three finger holes just like leather or fabric grips. The adhesive is sticky and will stay on your hand even if your palms get sweaty, and the material absorbs chalk well if you need it for an even better grip on the bar.
Because the tape is thin, it allows you to still feel the bar and gives your hands more freedom to move naturally as you do pull-ups and other pull-up bar exercises. However, at three inches wide, the WOD and Done grips still provide ample protection for a large portion of your palm.
As you can probably imagine, these grips cause a lot of extra waste since you can only wear them once. And because one package only has 10 pairs, you'll go through them quickly, and they're not the most cost-effective option. Eco-conscious or budget-savvy CrossFitters may want to consider different grips instead.
4. WOD Nation – Best Budget CrossFit Grips
Rating: 3.5/5
Specifications
Material – leather, nylon
Sizes – S to L
Number of finger holes – two
Pros
Affordable price
Triple-stitched for extra durability
Hold chalk well
Cons
Two-hole design may not offer enough coverage
Become less grippy once your hands get sweaty
The dye can bleed onto your hands
The WOD Nation grips are a solid choice if you're on a tight budget. They're less expensive than other options but still plenty durable. The reasonable price also makes these the best CrossFit grips for beginners who don't want to spend a lot of money on more premium grips just yet.
The leather is thinner than their competitors, but they're triple-stitched, so they'll still last at least a few months before you need to replace them. They have two finger holes, making them the best CrossFit grips for small hands. However, athletes with larger hands may want to consider three-hole grips instead.
They aren't as grippy as other options, especially when your hands start to sweat. But they hold chalk well, so you can use chalk on top of them if you need extra assistance with your grip.
Rating: 4.4/5
Specifications
Material – isoprene polymer
Sizes – S to L
Number of finger holes – no holes, but there are three loops on the back of the grip to put your fingers through (grips are also available in a no-loop style)
Pros
Wrist strap can be cut for a more custom fit
Grippy, even without chalk
Padding on the wrist strap for extra comfort
Has three loops instead of holes, which can be less restrictive on your fingers
Also available in a no-hole, no-loop style
Reasonable price
Cons
Only available in black
Material may be too thick for some
Even the best CrossFit pull-up grips have wrist straps that dig into and irritate the skin. That's not an issue with the Element 26 IsoGrip Hand Grips due to the extra padding on the wrist strap. They also feature finger loops made of stretchy cotton material instead of holes, so the grip doesn't pull on your fingers as you hang from the bar.
I also like that the finger loops make these grips easier to take on and off. If you don't want them on for barbell movements, double unders, or any other movement that requires more dexterity, you won't waste time getting the grips off your fingers.
Unlike other grips with which you still need to use chalk, the Element 26 IsoGrips don't require any chalk. They stick to the bar well on their own, and you can spend less time at the chalk bucket in the middle of your WOD and more time chipping away at reps on the pull-up bar.
These grips are only available in black, which can be a drawback if you like more colorful gear. They are also thicker than many leather grips. If you don't like bulky material between your hands and the bar, these may not be the right grips for you.
If you have a weak grip that prevents you from doing a lot of unbroken pull-up reps, try using a hand grip strengthener to improve your grip.
6. JerkFit WODies – Best CrossFit Grips With Wrist Support
Rating: 4/5
Specifications
Material – neoprene
Sizes – S to XL
Number of Finger Holes – three
Pros
Can choose between several color options for the trim
Don't bunch like other grips
Made in the US
Machine washable
Three-inch wrist wrap for wrist support
Cons
Only available in black
Material may be too thick for some
For those who prefer to keep their grips on during barbell movements, the JerkFit WODies are a great choice. They feature a three-inch wrist strap that offers support for thrusters, jerks, and snatches. Their three-hole design also covers a large area of your palm.
These grips are made of neoprene, which is good and bad. Neoprene is soft and elastic, so your hands can move freely whether you're on the pull-up bar, handstand walking, or holding a barbell overhead.
But because neoprene absorbs sweat, you need to chalk the grips if your hands get sweaty to prevent slipping. You must also air them out after every use to prevent odors from building up. They are machine washable, though. If they start to smell, you can throw them in the washing machine with the rest of your laundry and let them air dry.
Rating: 4.8/5
Specifications
Material – Kevlar, rubber polymer
Sizes – M to XL
Number of finger holes – none
Pros
Available in both men's and women's versions
Material is abrasion-resistant and won't wear down quickly
Provides nearly full coverage on your palms
No metal or plastic pieces on the wrist strap, making them more comfortable on the wrist
Cons
The Victory Tactical Freedom grips are the best no-hole pull-up grips for CrossFit due to their sturdiness, the amount of coverage they offer, and their grippiness. Like the Element 26 grips above, the Victory Tactical Freedom Grips don't require any chalk, so you won't waste precious time chalking up your hands in the middle of your workout.
While many grips are made of leather, these are made of Kevlar. Kevlar is a durable, heat-resistant synthetic material. It's abrasion-resistant, so the grips won't deteriorate quickly. Unlike other grips you may need to replace after three or four months, the Victory Tactical Freedom grips can last for at least six months if you care for them properly (i.e., not putting them in the washing machine).
My favorite feature of these grips is that they don't have a metal or plastic buckle. Instead, you hook the wrist strap through a fabric loop. This helps prevent discomfort on your wrists.
The grips also extend past your palm to hook around the edges of your hands. They offer more coverage than you'll get on other grips, and the material won't bunch when doing kipping movements.
These grips are the most expensive option on this list, but their durability, coverage, and comfortability make them a solid choice for CrossFitters who don't mind spending extra on their gear.
Why You Should Trust PowerliftingTechnique
The PowerliftingTechnique team includes CrossFitters, powerlifting athletes and coaches, strength and conditioning coaches, and other experts with decades of collective experience in the fitness industry.
We've used gear and equipment from all of the top fitness brands in our home and commercial gyms, and we know which companies are reputable and which ones you should avoid. We only recommend products from the brands we trust.
How We Chose the Best CrossFit Grips
We used our experience and knowledge of the top CrossFit grip brands to develop the list above. We've either used most of the grips on the list above ourselves or know other CrossFitters who do and took their opinions into consideration.
For grips we weren't familiar with, we reviewed customer reviews online and comments on the brands' social media pages to determine what CrossFitters like and don't like about their grips.
Buying Guide: What To Look for in Grips for CrossFit
Number of Finger Holes
The best grips for CrossFit typically have two or three-finger holes. Many options have no holes at all. While the number of holes you should look for often depends on personal preference, I recommend grips with no finger holes or three finger holes. They have a larger surface area, so they can provide more coverage and offer the best hand protection for CrossFit.
But between no-hole grips and three-hole grips, there are advantages and disadvantages.
Grips without finger holes are more convenient to use in a WOD. You can easily and quickly transition from movements on the pull-up bar to other exercises where you may prefer using your bare hands without having to keep putting the grips on and taking them off again.
Furthermore, if you use grips with finger holes, the material may pull on your fingers as you cycle through your reps on the pull-up bar. For this reason, grips without finger holes tend to be more comfortable.
However, using grips with holes allows you to create a dowel effect. Gymnastics grips that competitive gymnasts use have an actual dowel in them. This dowel is a small rod that helps the gymnasts get a better grip on the bar.
Grips with dowels aren't allowed in CrossFit, but you can create a dowel effect by making a flap that goes between the bar and your palm. It's easier to do this with grips with finger holes because the grips are more connected to your hand.
While you can use grips with finger holes without putting your fingers through them, it's not recommended. These grips tend to be longer, and too much extra material may be hanging off the bar. If that extra material gets wedged between your hands and the bar, you may not be able to safely release from the bar.
Design and Materials
Grips are made of leather, synthetic microfiber, or neoprene Leather grips tend to be more durable, but they're also more expensive. Microfiber grips are more lightweight and breathable. Microfiber grips are also thinner, which is beneficial if you don't want extra bulk between your hands and the bar.
Neoprene grips are thin, too. They require more chalk because they're not as grippy, especially if they get wet. But they are more flexible and easier to wear for movements that require more dexterity.
Durability
No grips last forever, but you'll still want to ensure the ones you buy hold up for a while. Ideally, they should last at least six months or closer to four months if you use them for multiple workouts a day throughout the week. If your grips only last two or three months, it may indicate a problem with the quality, how you use them, and how you take care of them.
For example, burying them in your gym bag under your lifting shoes, meal prep containers, and other heavy items can make them wear down faster. Similarly, machine washing them or throwing them in the dryer can cause the material to degrade.
Check the online reviews to see what customers say about the durability of the grips you want. Also, follow the manufacturer's instructions for how to store and wash them to boost their longevity.
Price
Grips aren't the most expensive things you can buy for CrossFit, but price is important to consider. If you find a pair of grips you love, you'll likely want to keep buying the same ones when you need to replace them. If you choose an expensive pair, spending a lot of money every couple of months can add up.
You shouldn't necessarily go for the cheapest option you can find. They may be made of lower-quality materials and wear down faster than grips that cost more. But once you find grips you enjoy, make sure you can afford to replace them every four to six months.
Wrist Straps
The wrist strap for CrossFit grips can be thick or thin, depending on the brand. If you have weak wrists or a history of wrist injuries, a thicker wrist strap can be better for you because it provides more support. But a thinner wrist strap may feel better if you're concerned about comfort.
Also, consider whether the wrist straps have Velcro or a buckle fastening mechanism. Velcro is easy to fasten and unfasten during a workout if you need to adjust the grips. But buckles can last longer and feel more secure.
Sizing
Grips are available in sizes from small to large. Some go up to a size XL. The brand will provide instructions on how to measure your hands to find the correct size, and it's imperative that you follow these guidelines to ensure adequate coverage and a proper fit. If the grips don't fit right or cover enough of your palm, they won't do much to keep your hands from tearing.
Benefits of CrossFit Grips
Protection Against Rips and Tears
For anyone who does CrossFit, hand protection is a top priority, and one of the biggest benefits of using CrossFit grips is that they protect your hands from tears.
High-rep, fast-paced pull-ups, muscle-ups, and toes-to-bars cause a lot of friction, leading to the skin on your palms ripping. Grips add an extra layer between your skin and the pull-up bar (or gymnastics rings) to help reduce that friction and, thus, the chances of your skin tearing.
There is still a chance that your skin may rip even when you wear grips. But the grips can reduce the severity of the tears and act as a protective layer for calluses that may have already ripped.
If you're looking for even more hand protection when doing pull-ups outside of a CrossFit WOD, check out our favorite pull-up gloves.
Better Grip on the Bar
The best gymnastics grips for CrossFit can provide a better grip on the pull-up bar. While chalk absorbs sweat and oils on your hands and can make a slick bar less slippery, it doesn't provide any stickiness that can make it easier to hold onto the bar. Grips provide that extra level of adhesion that can allow you to maintain your grip on the bar for longer.
Furthermore, grips reduce the stress your hands, wrists, and forearms are under when hanging from the bar. This can also help increase the amount of time you can hold onto the bar.
If you want to improve your grip strength and endurance, you can also use fat grips to increase your pull-up bar's diameter.
Perform More Reps
As a result of protecting your hands from tears and improving your grip, the best grips for pull-ups can allow you to perform more unbroken reps of pull-ups, muscle-ups, or toes-to-bars.
Every second counts in a CrossFit WOD where you want to get the best score possible. Using a tool that can help improve your grip endurance and allow you to hold onto the bar for longer, you can complete more reps faster.
How To Use CrossFit Grips
The best grips for CrossFit won't protect your hands much if you don't use them properly.
First, it's important to find the right fit. Too tight grips will pull on your wrists and fingers (if they have finger holes), digging into your skin and causing irritation. This can also happen if the grips are too short for your hand. While you may think short grips look and feel fine when you first put them on, you'll notice the poor fit when you jump up to the pull-up bar, and the grips don't have much flexibility.
Additionally, you don't want the finger holes to be too close to your palms. They should sit higher up on your fingers, allowing you to create a dowel effect. This means creating a fake "rod" with the fabric at the base of your fingers to help provide a better grip.
If you use grips without finger holes or prefer not to use the holes on your grips, you'll have to cup your hands before jumping up to the bar to ensure the grips stay in place. Some extra fabric may be hanging off the bar, but it shouldn't be too long. If the excess material gets under your hands, you'll have a harder time releasing the bar.
For a visual guide on how to use grips correctly, check out this video:
When Should You Use CrossFit Grips?
There are no hard and fast rules for when you should or shouldn't use CrossFit grips. But based on my years of doing CrossFit, there are some guidelines I recommend following.
When You're Just Starting CrossFit
For most beginners, I advise waiting at least a few months before using grips so that you can build up calluses on your palms first. Calluses may not always look or feel nice, but they can help reduce the irritation you may feel on your skin when holding onto the bar.
But if you'll spend a lot of time doing drills to help you master pull-ups, toes-to-bars, and/or muscle-ups, you may want to start wearing grips sooner. This way, you can protect your hands from tears immediately.
Plus, as you become stronger and more efficient at doing exercises on the pull-up bar, you'll already be accustomed to wearing the grips. You won't have to spend time getting used to wearing them for your WODs because you'll already be familiar with how they feel.
When Doing Exercises on the Pull-Up Bar
The best gymnastics grips for CrossFit aren't necessary for every workout or movement. The most common time to wear them is when doing high-rep pull-ups, muscle-ups, and toes-to-bars, whether those movements show up in a WOD or you're practicing drills to improve your proficiency.
You can use grips for barbell work, but it will affect their longevity, and you may have to replace them more often. Chalk is usually sufficient if you're looking to keep your hands dry for barbell movements. If you're looking for a way to improve your grip endurance when training exercises like deadlifts for strength, lifting straps are better than gymnastics grips.
When You Want to Protect an Open Wound
If you already have an open tear on your palm, CrossFit grips can add a protective layer to prevent it from worsening. They'll also reduce the possibility of blood getting onto the pull-up bar or germs on the bar getting into your wound, improving your and other gym-goers' safety.
Frequently Asked Questions
Are Two- or Three-Hole Grips Better?
Three-hole grips are better, especially if you want more coverage or have larger hands. They cover more of your palm and protect more of your skin from tearing. However, two-hole CrossFit gymnastics grips may be better for those with small hands or those who still want to feel the bar a bit with their bare hands.
What Grips Do CrossFit Athletes Use?
CrossFit Athletes use grips from a variety of brands. The most popular ones are Bear KompleX, PICSIL, and Victory Grips. These brands are known for producing high-quality, durable grips in multiple styles to suit athletes with different hand sizes and who prefer more or less hand coverage.
How Big Should My CrossFit Grips Be?
CrossFit grips should be big enough to comfortably put your fingers through the finger holes without them being too snug. They shouldn't pull on your fingers and wrists as you hang from the bar. If you use grips with no finger holes, only a couple of inches of fabric should be hanging off the edge.
When Should I Replace My CrossFit Grips?
You should replace your CrossFit grips at least every six months. If you use them frequently, you may need to replace them every three to four months. You'll know you need to replace them when the material starts wearing down, they no longer provide a secure grip, or your hands get hot when you use them.
Final Verdict: What Is the Best CrossFit Grip?
The best CrossFit grips are the Bear KompleX 2 and 3 Hole Carbon Hand Grips because they're durable, have a comfortable wrist strap, and provide an excellent grip on the bar.
If you prefer grips without finger holes, consider the Victory Tactical Freedom grips. Even though they're more expensive, they provide more coverage and don't have any plastic or metal buckles, so they feel more comfortable on the wrists.
---
About The Author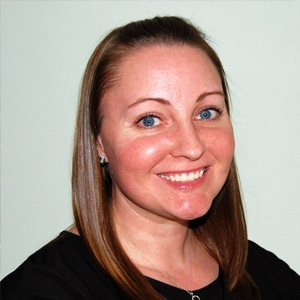 Amanda is a writer and editor in the fitness and nutrition industries. Growing up in a family that loved sports, she learned the importance of staying active from a young age. She started CrossFit in 2015, which led to her interest in powerlifting and weightlifting. She's passionate about helping women overcome their fear of lifting weights and teaching them how to fuel their bodies properly. When she's not training in her garage gym or working, you can find her drinking coffee, walking her dog, or indulging in one too many pieces of chocolate.