Sissy squats are a variation of the back squat and will hammer your quads like never before. Contrary to the name, the sissy squat is the real deal.
So, what is a sissy squat? The sissy squat is a quadricep-focused squat variation. The movement depends on leaning back and bending through the knees versus hinging through the hips like a traditional squat.
When I try sissy squats with my clients for the first time, most struggle. Sissy squats are not easy, so read to the end to be able to add them to your program safely and successfully. Trust me, you won't want to miss out on these quadricep gains.
In this article, I will cover:
What is a sissy squat?
How to do sissy squats with proper form
Muscles worked in a sissy squat
Sissy squat benefits
Sissy squat drawbacks
Tips for sissy squats
Common sissy squat mistakes
How to implement sissy squats
Variations of sissy squats
Alternatives to sissy squats
Who should do sissy squats
Sissy Squat: Overview
The sissy squat exercise is an important squat variation meant to isolate your quadriceps. The biggest difference between the sissy squat and any other squat variation is the immense forward lean through the knee bend.
You can use a machine or do this exercise free-standing, and the form/technique changes a bit for both of these. For the sake of this article, I will be focusing on the free standing method.
Fun Fact: The "sissy" squat is not named after someone lacking courage or strength. Instead, it's a reference to King Sisyphus in Greek Mythology who was punished by having to roll a massive boulder to the top of a hill. Then when he finished, he had to roll it down and repeat— for eternity. If you give these a try, I'm sure you'll understand the reference.
How To Do A Sissy Squat With Proper Form
There are 3 steps to perform a bodyweight sissy squat with perfect form:
Step 1: Positioning
The starting position is key to do a sissy squat. Stand with your feet at shoulder width apart and on the balls of your feet. Make sure your toes are pointed straight forward.
For beginners, I recommend holding onto something, like a rail or rack, for balance support and assistance while doing this exercise.
Step 2: Descent
Initiate the movement by bending your knees and sinking low to the floor. The key is to move your knees forward in front of your toes. Make sure you are still on the balls of your feet.
As you are descending, lean your torso backward so the tension is on the front of your quads through the descent. You should be able to draw a straight line from your knees to your head.
Continue lowering to a tolerable range of motion while maintaining proper form.
Coach's Tip: Remember, a sissy squat is dependent on knee movement and not the hips.
Step 3: Ascent
Once you've reached your desired depth, it's time to stand back up. Reverse the motion to return to the starting position.
Push your toes hard into the ground and squeeze your quads tightly as you rise up to the starting position of the exercise.
Check out our complete list of the 50 best squat variations to grow your legs.
Sissy Squat: Muscles Worked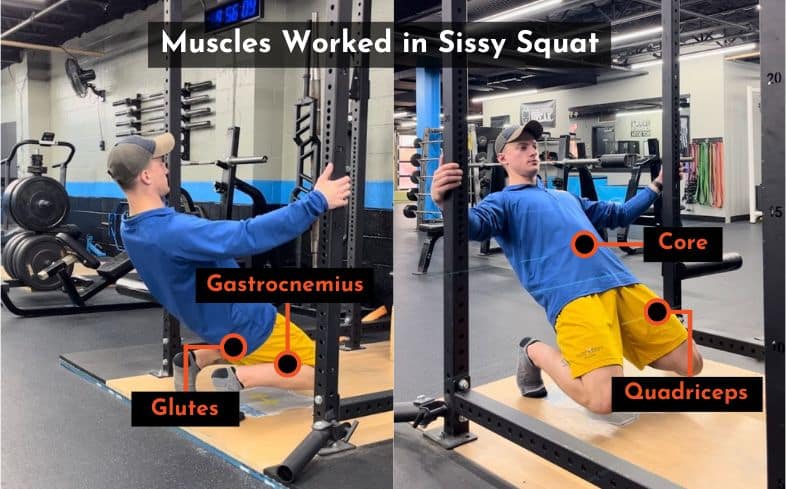 The muscles worked in a sissy squat are the:
Quadriceps
Glutes
Core
Gastrocnemius
The primary muscles worked are the quads. The movement is all about flexion and extension of the knee; the two movements for the quads are primarily responsible for.
Your glutes and core muscles (abdominals, obliques, and lower back) will act as stabilizers and accessory muscles during a sissy squat. Your glutes and core will remain braced during the movement so you don't fall over.
Your gastrocnemius is your calf muscle. This muscle produces plantar flexion of the ankle. By staying up on your toes for the whole exercise, there is an isometric contraction of the gastrocnemius for the entire movement.
Sissy Squat Benefits
Below are 3 benefits to doing sissy squat workouts:
Quad Growth
The way this squat is performed, with mass amounts of knee flexion and limited hip movement, hits the quads like most other squat techniques won't. Even just a bodyweight sissy squat will produce enough stimulus for your quads to get stronger and grow.
According to research, squats with the knees shifted forward produced more electromyography activation in the quads during the ascent compared to a traditional squat.
Knee Health
Strengthening your quads is a great way to keep your knees healthy and pain-free. As we age, we become more prone to conditions like osteoarthritis. One study found that knee joint pain was relieved and knee function was improved following isolated quadriceps exercises.
Check out our full guide, Are Sissy Squats Good for the Knees?
Sissy Squats Require No Equipment
As sissy squats are an exercise that can be performed bodyweight, there is no equipment needed. That makes it a great option for those who do home workouts or have limited space.
There is no setup required, so the ease of doing sissy squats at home is a big benefit. This can also save time at the gym since you won't have to wait for any equipment to free up.
Sissy Squat Drawbacks
Despite their great benefits, sissy squats do have a couple of drawbacks.
May Be Uncomfortable
For some people, getting into a deep knee flexion angle can cause knee discomfort. The more knee bend there is, the more force goes through the knee joint. For some people, it may be too much and be uncomfortable on the knees.
A good bit of ankle mobility is required, too. Sissy squats require the ankles to have enough stability to hold the posture but enough mobility to move through the exercise. If you have weak ankles, sissy squats might be uncomfortable.
Not For Beginners
This is an advanced and difficult exercise to complete. Beginners and novice lifters typically won't have enough quad and core strength to do a sissy squat with proper technique.
For leg exercises more suitable for beginner lifters, check out our article about the 9 best Smith machine squat variations.
Tips For Sissy Squats
Below you will find my 3 best tips to do a sissy squat as a strength and conditioning coach.
Control The Tempo
Tempo refers to the pace of the exercise. A slow, eccentric movement will promote more muscle growth. On the descent, make sure you lower yourself slowly, pause for a second at the bottom, and then return to the starting position. Your muscles will grow more by following a slow tempo, compared to flying through the exercise.
Example: 3 second eccentric contraction (down), 2 second eccentric isometric contraction (pause), 1 second concentric contraction (up)
Elevate Heels
If your ankle strength is the limiting factor in doing a bodyweight sissy squat, elevate your heels. You can use a block, plate, or platform to have your heels on.
This way, you can still lead the movement through your knees, but you will have a little more support through your ankles.
Use Foam Pads
Place foam pads on the floor as a target to reach. Do your sissy squats, but touch the pads with your knees at the bottom.
Begin with as many pads as needed (I typically use 2-3 with my clients). That gives you a visual and tactical cue on how far down you need to lower your knees.
Once the height of the pads becomes easy, remove a pad so you will have to sit lower. Continue with this strategy until you can do it with no pads and your knees can reach the floor.
Sissy Squat: Common Mistakes
Below are the 3 most common mistakes I see with clients performing a sissy squat.
Hinging Through Hips
Sissy squats will feel unnatural at first. Technique-wise, they go against everything I coach in a normal squat. I have seen many clients treat a sissy squat as I coach them on traditional squats at first. Many people will hinge at the hips first, but sissy squats are designed for your knees to travel forward.
Not Bracing Core
The core needs to remain rigid and tight throughout the whole movement. Keeping the abdominals and glutes braced while maintaining spinal posture is crucial for this exercise. I have seen clients struggle with sissy squats simply because they are not keeping their trunk stable.
Torso Angle
During the descent, you should be able to draw a straight line from your knees to your head. I have seen people do a sissy squat by bending their torso too far forward or by bending too far back. Leaning your torso forward too much will kick your hip flexors much more. Leaning too far back may irritate your lower back. A good reference is your chest should be facing about 45° from parallel to the ground.
How To Program Sissy Squats
Sissy squats can be incorporated into your workouts in a variety of ways. If your focus of the day is quads, incorporate these pretty early in your workout before you become fatigued.
I recommend starting with only 1 day/week of doing these, as they are pretty taxing on your muscles, then increasing the frequency over time.
Muscle Growth
Complete 3 sets of 8-12 reps.
Remember to control your tempo; your legs will grow more!
Stability
3 sets of 10-20 seconds.
Complete a static hold at the bottom of the squat. Once mastered, increase the time.
Variations Of Sissy Squats
There are a few variations of the sissy squat, which I have ordered from easiest to most difficult.
Kneeling Sissy Squat
Also known as reverse Nordic curls, the major difference is you are kneeling with both knees on the floor. This variation mimics a sissy squat in a shorter range of motion, making it easier.
This is a great way to begin incorporating sissy squats into your workouts.
Band-Assisted Sissy Squat
Attach a resistance band to something secure above you (a squat rack works perfectly). The purpose is to use the elastic tension of the band to assist you during this variation.
Face the rack so the band is in front of your body. The tension from the band will help assist you on the ascent of the squat.
This is a great variation to move to once you have mastered the kneeling sissy squats.
Weighted Sissy Squat
I only recommend adding a load for expert lifters looking for a challenge. A small dumbbell or kettlebell will do the trick. This exercise works well with just body weight, but you certainly can add weight if you're up for the challenge.
Make sure never to sacrifice form for weight.
Alternatives To Sissy Squats
I have added 3 sissy squat variations that will still work your quadriceps just as hard.
Leg Extension Machine
The tried and true leg extension machine won't fail you. Every single gym has this machine, and most people will use it to work on their quads. The prime movements of this exercise are knee flexion and extension so that it will work your quads just like a sissy squat.
A nice benefit of this machine is that you can adjust the weight based on your strength needs. It is more suitable for the everyday gym-goer compared to the sissy squat.
Hack Squat
Hack squats force your legs into a knees-over-toes position, similar to the sissy squat. You can reach deep levels of knee flexion, which will stress your quads.
The hack squat is a rear-loaded exercise, so the weight is behind your legs. This allows for more weight to be loaded on without directly compressing your spine with a bar.
A benefit to the hack squat is you will be able to do this with more weight, compared to a sissy squat.
Banded Spanish Squat
The banded Spanish squat is an exercise that targets the quads without a lot of load on the knee joint. I will use these with older clients or those rehabbing back from a knee injury.
Tie a heavy resistance band around something sturdy like a squat rack, and step in the band so it is behind your knees. The band behind your knees will act as a stabilizer through this movement. This movement differs from the sissy squat in that you want to keep your knees in the same spot but push your hips back.
As you sit back, you will begin to feel your quads contract. There is constant tension in the quads throughout the whole movement, with little stress through the knee joint.
A pro tip with the Spanish squat is maintaining a vertical shin and torso angle.
For a full guide on alternatives to the sissy squat, check out our article on 17 Sissy Squat Alternatives.
Who Should Do Sissy Squats?
Everybody can incorporate sissy squats or at least a variation of them. However, I will focus on a few specific populations.
Bodybuilders
Bodybuilding focuses mainly on isolating specific muscle groups to get a good contraction with that muscle. Sissy squats are pretty isolated towards the quadriceps, so this is a good exercise for any bodybuilder to incorporate for their quads.
Plus, sissy squats will grow the quads and make them more aesthetically pleasing. What bodybuilder doesn't want good-looking quads?
Calisthenic Lifters
Calisthenic workouts are a form of strength training that relies on gross body movements and coordination. Most calisthenic exercises are performed bodyweight, just like the sissy squat.
Many calisthenic movements require a good bit of mobility to hit deep ranges of muscles. Sissy squats can help bulletproof their quads, knees, and ankles to assist in some of the other exercises typically performed.
Runners
Quad strains, knee pain, and ankle sprains are all too common for runners. These are 3 of the most common injuries for road runners. Undulating terrain will put a lot of stress on the quads while running up and downhill.
As a marathon runner myself, I know the importance of having strong quads and healthy knees. Sissy squats are an awesome exercise for runners to incorporate because of the benefits that will translate to performance.
Frequently Asked Questions
What are sissy squats good for?
Sissy squats are good for building size and strength in your quads, as well as protecting your knees from injury. Sissy squats target your quads so that they will become more muscular and stronger. Strong quads can help protect your knees from injury.
Are sissy squats good for bad knees?
When performed properly, sissy squats are safe and beneficial for knee health. Exercises with knee flexion and extension, like the sissy squat, will strengthen your quads and protect your knees. There are variations like the kneeling sissy squat and band assisted sissy squat that are easier on the knees.
Can I do sissy squats with weight?
You can do sissy squats with weight. However, the stimulus from doing bodyweight sissy squats will be enough for most people. I recommend only elite lifters to add weight on sissy squats.
Can you build big legs with sissy squats?
Sissy squats will build big legs. Sissy squats isolate your quads, and your quads make up a large portion of your legs. Big quads are visible while looking at somebody from the front and side. Adding sissy squats to your workouts will help you strengthen and build size in your legs.
Final Thoughts
Sissy squats are a challenging exercise to bulletproof your quads, knees, and even ankles. There is a huge focus on the quadriceps because of the deep knee flexion required in sissy squats.
Sissy squats can be performed at home or at a gym to craft your legs and keep your knees healthy. I listed multiple variations and tips to make sure you get the most out of your sissy squats.
So, are you ready to start doing sissy squats on your next leg day?
About the Author
Jake Woodruff has an MS in Sports Medicine from the University of Pittsburgh. He is currently a strength and conditioning sports performance coach at a private Pittsburgh facility. He is a former college athlete and currently plays semi-pro soccer. You can connect with him on Instagram.